This article may contain affiliate links; if you click on a shopping link and make a purchase I may receive a commission. As an Amazon Associate, I earn from qualifying purchases. 
Recently I wrote this post about shirts for full busts.  I mentioned a company, Rebecca & Drew, who specializes in shirts for women with large busts.  I admitted I had never tried the company so I couldn't comment on their quality or customer service.
Recently reader Lisa contacted me, letting me know that after my post, she placed an order with Rebecca & Drew.  She was kind enough to send me her review and I wanted to share it with you readers who have the same issue with finding well-fitting tailored shirts: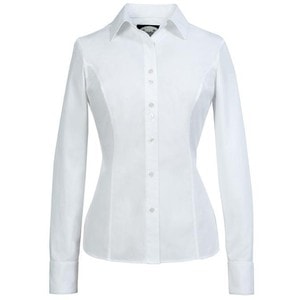 I ordered a shirt from Rebecca & Drew. Their shirts are based on three measurements: 
Bra size (duh-why didn't anybody else think of this??); 
Shoulder width; and 
Length
I ordered a long sleeve shirt in white, size 34D, narrow shoulders, regular length. First, let me say I was very impressed with their customer service. I got an email the next day suggesting that I might want to order the long length if I was over 5'3″. I emailed back and said that I would like to change the order to a long. I got a nice email confirming and one day later I had my new shirt!
The style is great. Princess seaming in the front is very slimming and gives the shirt a nice structure. And….NO GAPING!!! Yup, it's true. I put it on and tried bending over, reaching, stretching, anything I could think of and not one bit of a gap or pull between the buttons!! And yes, that was without pins, tape, or anything else to hold it together!. My husband thought the shirt looked great on me, too.
A couple of other thoughts. The fabric was a bit sheerer than I would have liked. Not so much that I would send it back, but I wish it was a bit heavier. Second thing–this baby fits like a glove. It really emphasizes curves (in a positive way), but more so than a typical shirt. I think that's because it actually fits the bust without being huge all over.
All in all I'm quite happy. This is the first shirt I've had in years that really fits. It was $150 (free shipping, no tax). Not cheap, but to have one great shirt that absolutely fits? Priceless.

Thanks so much Lisa, for sharing your experience with Rebecca & Drew!  Your review makes this company sound all the more awesome!