This article may contain affiliate links; if you click on a shopping link and make a purchase I may receive a commission. As an Amazon Associate, I earn from qualifying purchases. 
If I'm not mistaken, your husband is tall and slim. Where does he find clothing? My boyfriend is 6'5" and I want to help him update his closet for 2018. We didn't find anything at the mall, where do you go?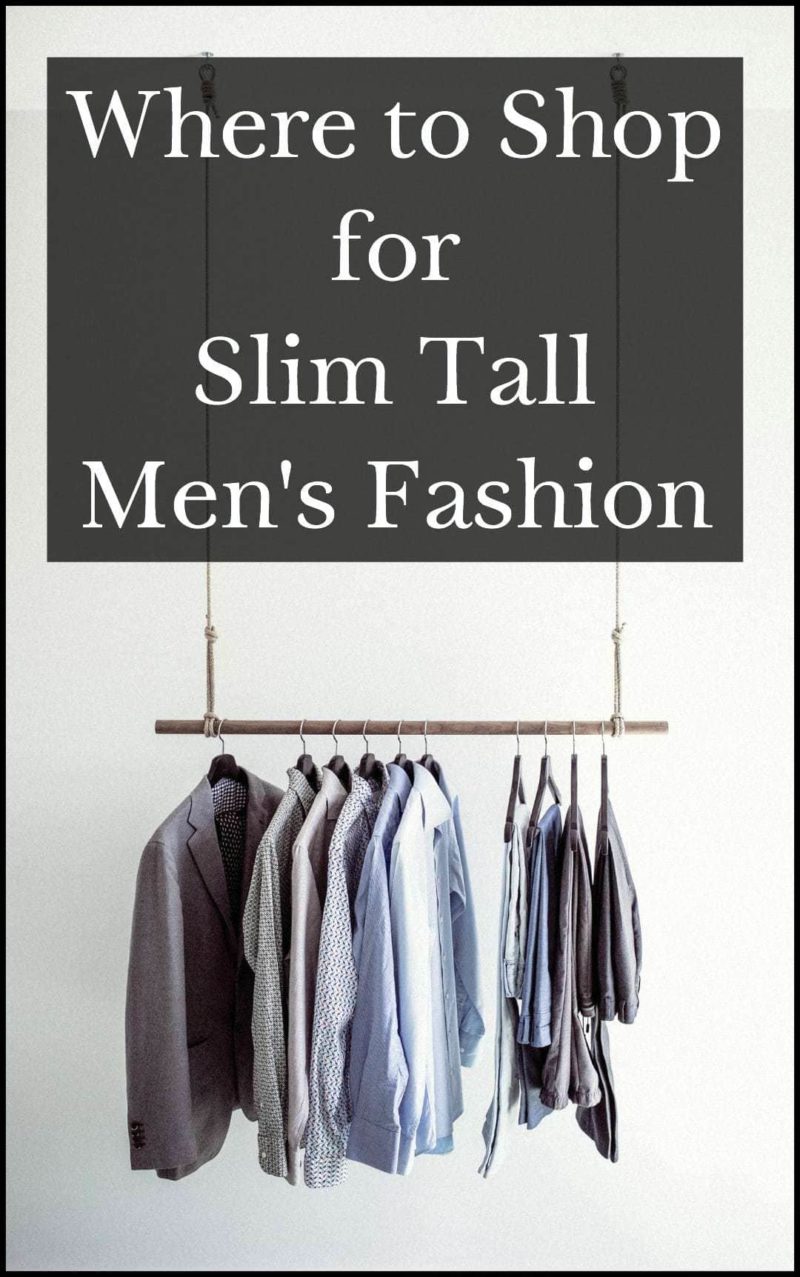 It's a challenge to find stylish slim and tall men's fashion. There's stores for those who are big and tall, but few places to go when you are slim and tall. If you need longer than a 34" inseam or longer length coats, jackets, and shirts, selection can be limited. Add to that if you need a shoe larger than a size 12. My husband is over 6′ tall, slim, and has a 36″ inseam. Below I share the retailers I shop or know of that provide a good selection of quality tall men's fashion:
Where to Shop for Slim Tall Men's Fashion: My Picks
Gap
Gap online has a whole shop within their website for men who are 6' and taller. It's a great resource for wardrobe workhorses with a focus on weekend and business casual. It's a great go-to for khakis that aren't frumpy, jeans in a good variety of silhouettes and washes, button-front shirts, and tees. Gap also has some amazing gems throughout the year for cool patterned shirts, high quality sweaters in unique styles, and novelty jackets. Some of my husband's favorite wardrobe pieces like a subtly printed denim western shirt and a chunky knit cardigan with toggle closures came from Gap. We've found the quality to be quite good with pieces lasting for many years even with a lot of wear and washings. Gap's Tall collection usually only goes up to 36" inseam, with sizes from M-XXL or 32-38 W.


Banana Republic
Banana Republic used to promote their Tall Shop as prominently as Gap but in the past year they've changed their site and hidden the tall clothing. Now you need to click on items and cross your fingers that they are available in tall sizes. However, like Gap, you can click on a category and then at the top of the category page, filter by size and Tall is one of the options. They have a great selection of tall clothing, from tee shirts to tuxedos.
Banana Republic is one of our favorite places to shop because the fit is straighter but there's room in the shoulders. Gap can be a bit… curvy and cut for an athletic figure or at least a guy with a round rear. Banana Republic's tall clothes are more for a lean shape. Because of that, we love it for suits. You can often find suits on sale and with a promo code, you can get high quality and style for the same price or less than you can find at that suiting chain in the strip mall. Since it's online there isn't onsite tailoring but you can and I recommend taking any online suit purchase to a tailor to get it to properly fit. Tailoring will make a suit look twice as expensive.


J. Crew
J. Crew was our go-to for many years because their tall selection was extensive, the quality excellent, and the style cool but not too trendy or over the top. Over the years J. Crew has had an identity crisis and it extended into the men's selection where it got boring as all get out, then really lame, then super weird, then boring again. However, J. Crew remains a great choice for shorts since they offer a variety of hem lengths, they have nice tee shirts, and pretty great outerwear. While J. Crew advertises a Tall Shop on their website menu, that's just for above the waist. Longer inseams are mixed in with all pants and jeans, but the side menu lets you filter by waist and inseam. I find a lot of good tall items on sale, often buying my husband sweaters in July and shorts in January but at 50% off and more.


ASOS
If you're looking for trendy, unique, or novelty pieces in tall sizes, ASOS is your site. Leather biker jackets, bomber jackets, trendy cuts of suits in fabulous prints and colors, band tee shirts, going-out shirts, novelty denim, loungewear, and some badass outerwear all available in long lengths. The prices really vary, but in general are very low. The quality isn't the best, but this in general is novelty fashion and for items like suits a bit of tailoring can make them look more expensive. We found a silver sequined tux jacket for less than $100; it's not the type of thing one can wear everyday but it's a great wardrobe addition for those certain events. I found an ASOS tall biker jacket on Poshmark and found the quality equal to leather clothing stores in malls. A plus is that ASOS has free shipping and returns so you can easily try a bunch of things without losing out.


Lands' End
In the main navigation of the Lands' End website you can find all of their clothing for Tall Men, as well as a separate category for Big & Tall Men. You're not going to find trendy fashion in these categories, but what you will find is coats that will keep his elbows warm and not pull at the shoulders, sweats that cover the ankles and don't give wedgies, flannel shirts long enough to tuck in, and great basics like henleys, fleeces, and pajamas that are cut for tall men. Lands' End is a great place for outdoor and winter gear like long underwear, waterproof and snow proof separates, and gorgeous classic wool coats in long lengths. We have Lands' End pieces that are well over a decade old and still look and act like new.


L.L.Bean
L.L.Bean is also a great place for trusty wardrobe classics, active wear, and outdoor apparel in tall men's sizes. Click Clothing, then Men, and then in the sidebar you can narrow down by Men's Tall Sizes. Again, this isn't where I'd recommend looking for stylish suiting or workwear, but it's fantastic for classic sweaters, outerwear, and casual knits. You can't go wrong with their sweaters, they're the type that remain classic and stylish for decades. Their coats are phenomenal, their sweats are high quality, and they have a nice selection of sleepwear and robes in long lengths that hold up for years. I wouldn't be surprised if a third of my husband's wardrobe is from L.L.Bean.


Bonobos
We stopped shopping at Bonobos when they were purchased by Walmart. However, I know how hard it is to find stylish slim tall men's fashion and Bonobos is one store that offers it. Their suits are pretty stellar with jackets going up to 46L and pants delivered with a 37" unfinished inseam so you can get them tailored to the right length. They're also great for cool patterned button-front shirts with short sleeves that don't make you look like you're missing a pocket protector or a shuffleboard court.
American Tall
A lot of guys feels sized out of the previous retailers, either for not having small enough options or not long enough options. American Tall comes in two sizes – Tall and Extra Tall. Their waistbands go from 30-42, and inseams from 34-40. They have the measurements of their models on the site so you can get a better feel of how the clothing will work for you. For you Canadian readers, American Tall is Canadian based and shipping to North America is free (and yes, there is international shipping for a fee).
Ratio Clothing
For high quality custom made shirts crafted in the United States, check out Ratio Clothing. Each shirt is custom made just for you, and the site provides great instruction on how to measure yourself or a shirt you own to place an order. Shirts for work, for play, and for formal events in a variety of patterns, fabrics, and customizations.
Suitsupply
Suitsupply is an online store but a company that has shops with onsite tailors all across the globe. They create custom suits for reasonable prices and production times, and offer pre-made stylish clothing with jackets up to 46L, shirts up to 18L, and pant inseams varying by waistband size (yet in general run longer than most retailers). If you choose in-store delivery, free tailoring is included. Suitsupply offers free shipping and returns anywhere in the USA.
2Tall
2Tall is a UK company that ships to other countries as well (the US pays a $15 shipping fee). With inseams starting at 36" and jackets from 38" – 46" 2Tall offers casual to formal tops, bottoms, and suits in classic yet not dowdy styles.
Levi's
Levi's offers up to a 38" inseam on their website, and a whole page dedicated to their Big & Tall selections. Unfortunately, the only items that are tall are their jeans; the jackets they feature only come in larger widths not lengths. However, we've found Levi's runs a bit longer than they claim; a 36 is often more like a 37" inseam which can be a perk if you wish to have a bit of a break in your jeans or need more than 38" of leg.


Nordstrom
Did you think I could write a post without sharing my favorite online retailer? While at first glance Nordstrom's Tall Men's Collection may skew Dad Fashion, a closer glance will find hot denim brands like AG and Paige, well-made classic sweaters from Nordstrom's own brand, stylish shirts from brands like Ted Baker, and elegant suits from designers like BOSS. Nordstrom also carries brands previously mentioned like Levi's and Bonobos and has free shipping, free returns, and tailors in stores to alter purchases.


Where to Buy Men's Shoes Larger than a Size 12
Tall men often have larger feet, but many retailers don't go over a size 12 with their footwear. My husband wears a size 14 and these are the places and brands we look to for men's footwear in larger sizes:
SaveSave
SaveSave
SaveSave
SaveSave