This article may contain affiliate links; if you click on a shopping link and make a purchase I may receive a commission. As an Amazon Associate, I earn from qualifying purchases. 
Yet another Friday where I just didn't post – this time I had a reason. Catching up for taking off Thursday really made the workday crazy and as you know, i had an event after work so no time to post. I have also made a commitment to myself to limit Internet time outside of work so I can relax, get home things done and spend time with loved ones. 🙂
So Thursday night I stayed easy with blueberries from the local produce market, organic vanilla ice cream and I succumbed to the new ads and go the Cool Whip in the can (tastes like the original and is very easy to use). It was perfect since dinner was very summery and relaxed – while wheat pasta with pesto made from basil from their garden, sliced tomatoes, homemade sourdough, cucumber salad. It was a really nice time.
Friday: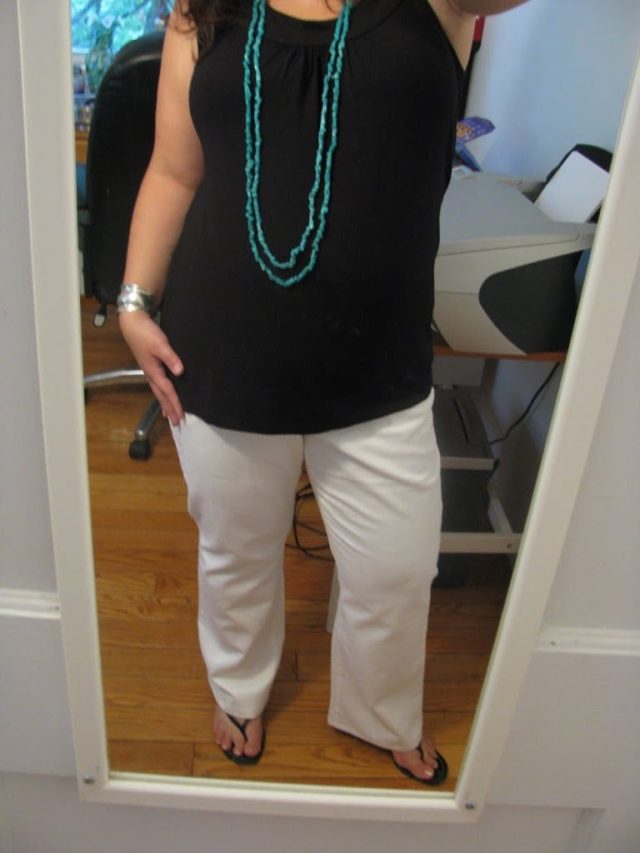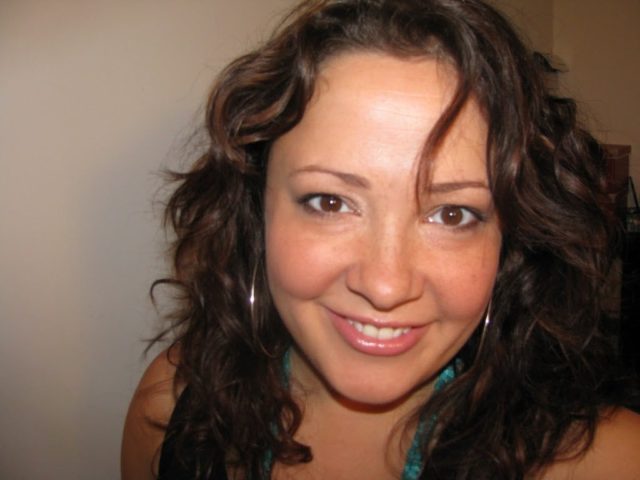 Attire:
Josephine Chaus – Black jersey tank
Ann Taylor Loft Maternity – White bootcut jeans (nicely hemmed by my new dry cleaner)
H&M – Turquoise necklaces
B.P. for Nordstrom – Black heeled sandals
Silver hoops and cuff
Hair:
Second day
Beauty:
L'Oreal – True Match foundation in C3 as concealer
Body Shop – Shimmer Cubes in Warmth – peach on lid, chocolate inc rease and along lash line
Cargo – Matte BeachBlush in Tenerife
Revlon – Super Lustrous lip gloss in Pink Afterglow
Imju Fiberwig
Maybelline – Brow Powder in dark brown
Migraine was gone by Thursday afternoon, back still a little funny but far better. As I previously mentioned, work was pretty busy but a good busy.
The women's circle was lovely, I made a dip and was going to make pita chips but last minute decided to switch it to carrot, celery and pepper sticks. It was good because it was different from what everyone else brought.
Saturday:
Saturday I did my yoga video while my husband went to teach his class. We then did a couple hours of chores and errands and then spent the rest of the day relaxing – reading, watching a movie, having a light dinner, long walk and off to bed early.
As for attire, I wore my turquoise New York & Company dress with flip flops. Nothing thrilling.
Sunday:
Sunday was a pretty great day. We woke up very early and headed out for breakfast at a local diner. We then came back and headed to the nearby lake for a yoga class my husband teaches, and then walked over to the town center to the farmer's market for the week's produce and bread. Came home to have iced tea and cantaloupe on the back deck while reading. We then did my prenatal yoga video together (which confirmed my husband's suspicions that he could never teach a class of that sort and be taken seriously). I said I needed a pedicure badly, so we headed to get ourselves one (the hubby gets them from time to time since his feet are on display with yoga – no polish though). We came home, took a quick nap before my husband had to leave (he went to a concert with a friend).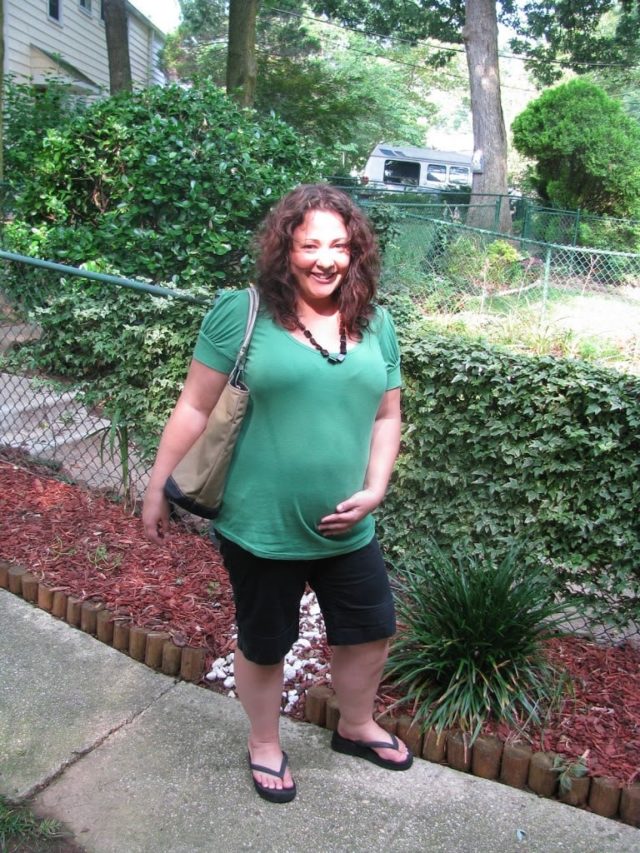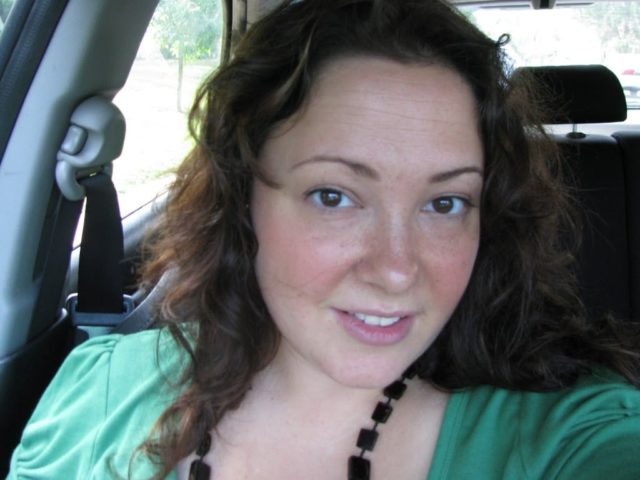 Attire:
Old Navy Maternity – Green puff sleeved tee
Ingrid & Isabel – Black Bella Band
Gap Outlet – Black city shorts
J. Crew – Black flops
Black coral necklace my husband got me from Mexico
Hardware Handbags tote – worked as purse and carryall for goodies from the farmer's market
Hair:
Second day and not even brushed – knew I would get very sweaty
Beauty:
Imju Fiberwig mascara
Maybelline: Brow powder in Dark Brown
Revlon: Super Lustrous Lip Gloss in Pink Afterglow
Monday: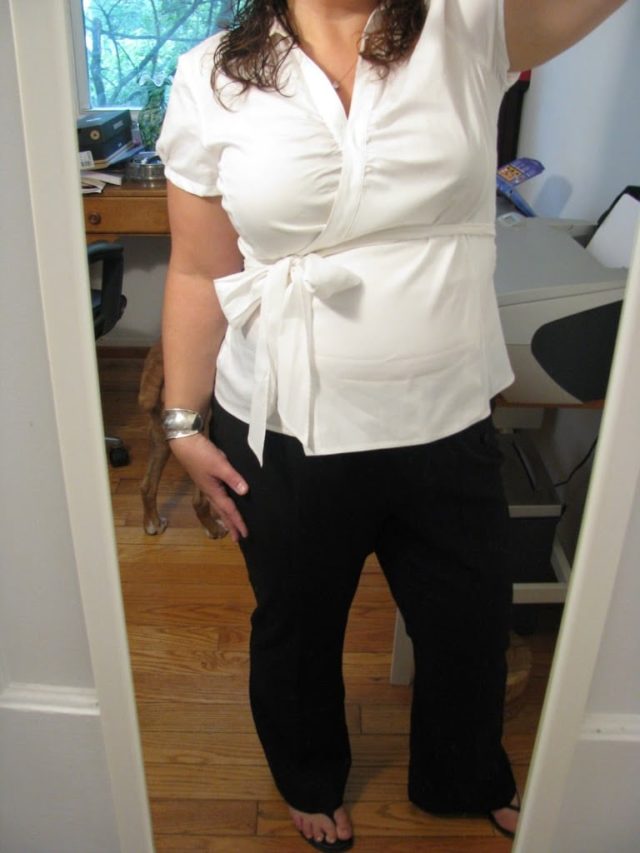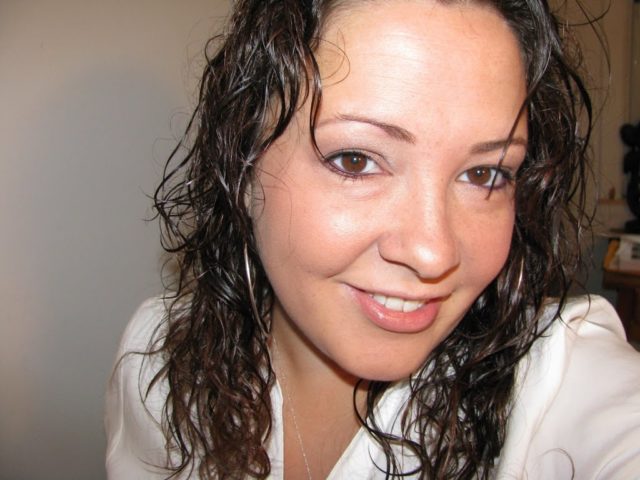 Attire:
Ann Taylor – White cotton wrap shirt
Liz Lange for Target – Black trousers (that are the right length AND were on sale!) B.P. for Nordstrom – Black leather heeled sandals
Diamond Nexus Labs – Solitaire necklace
Silver hoops and cuff
Hair:
Washed and conditioned
Matrix Curl.Life Conditioning Milk
Air Dry (dry by time I got to the train)
Beauty:
L'Oreal – True Match foundation in C3 as concealer
Smashbox – Soft Lights in Tint
Cargo – Matte BeachBlush in Tenerife
Clinique – Shadow duo in Like Mink, mascara
Victoria's Secret – Lip Gloss in French Kiss
Avon – Luxury Eye Liner in Eggplant
Maybelline – Brow powder in Dark Brown