This article may contain affiliate links; if you click on a shopping link and make a purchase I may receive a commission. As an Amazon Associate, I earn from qualifying purchases.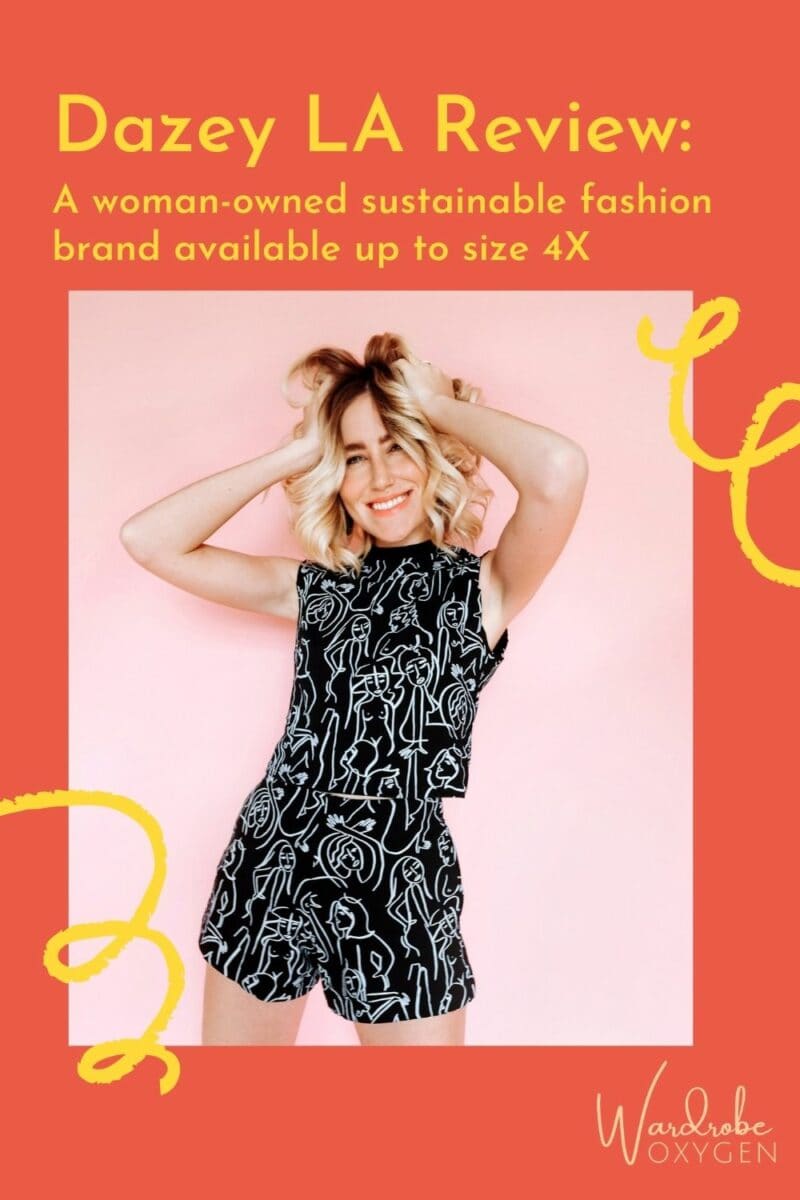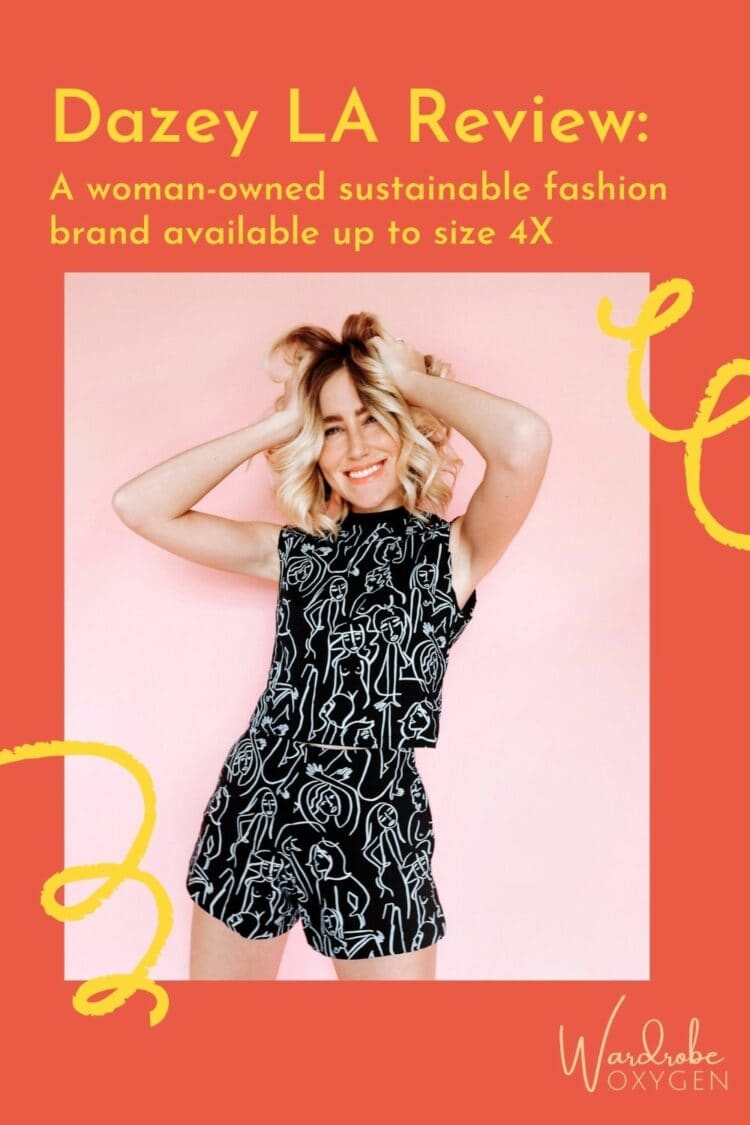 My new hobby this past year has been finding super cool items sold at multi-brand retailers, researching the brands, and when possible, shopping from them directly. This is a way to ensure the smaller brands get the full revenue from the purchase, while also learning more about these brands. And this is how I learned about Dazey LA.
I saw Dazey LA shirts at Anthropologie and Nordstrom and was interested in the aesthetic, but wanted different styles and sizes. That and more I found on the Dazey LA website. And on the website, I learned how this is a US-made, sustainable and ethical clothing company.
What is Dazey LA?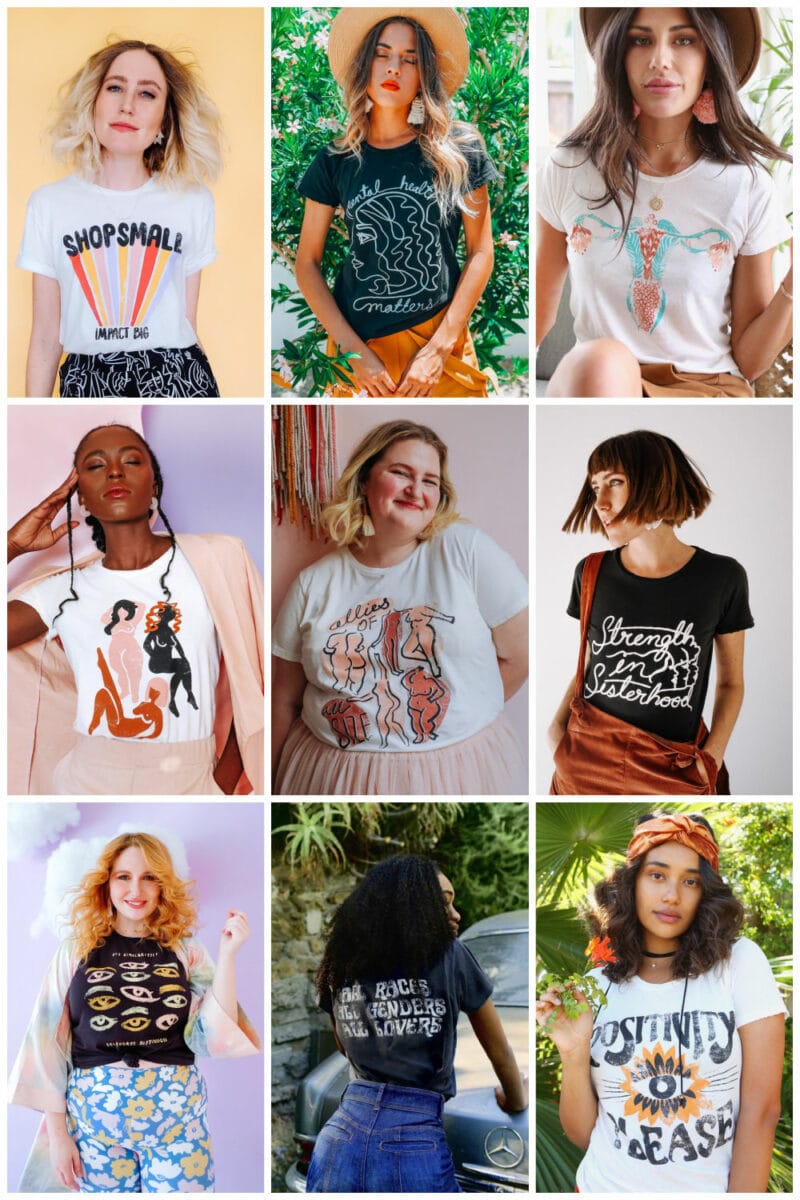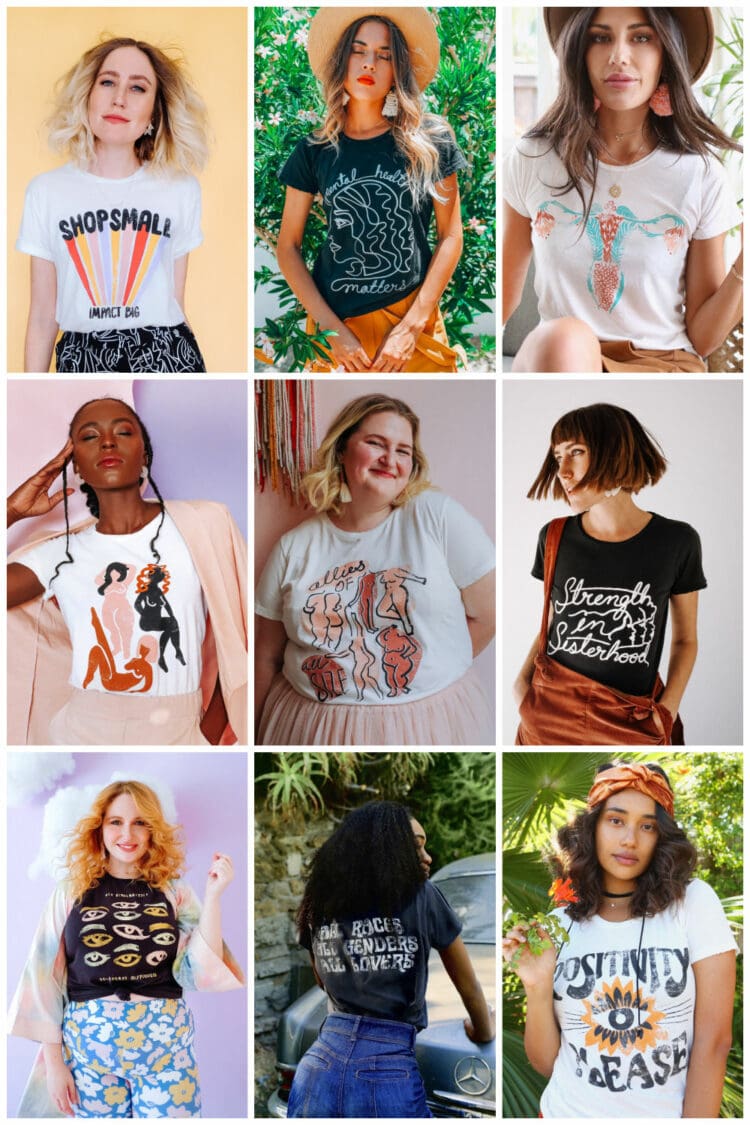 Dazey LA is a sustainable and ethical woman-owned apparel company based in California by Dani Nagel. For years, Nagel created t-shirts for other brands as a freelance designer. Inspired by a podcast she thought, if she can help other brands succeed, why not start her own? With $4,000 of her own money, Nagel did her first run of t-shirts in 2016 and Dazey LA came to be.
Every design is hand-drawn by Nagel and handmade to order in Los Angeles. Unlike other retailers that buy "blanks" and screenprint their designs, Dazey LA even makes the actual t-shirt bodies, and they are all from 100% organic cotton.
Dazey LA has expanded to also carry dresses, knit separates, swimwear, jewelry, and much more. Dazey LA also features other female entrepreneurs with ethical business practices on their website, and several products have a portion of the proceeds donated to charitable organizations.
Dazey LA's production process is ethical and their garment workers are paid a living wage and work in clean safe facilities, something most fashion companies can not claim. Dazey LA is made to order to reduce waste.
All apparel at Dazey LA goes up to at least XL; much of the apparel goes up to 2XL and t-shirts are available up to 4XL.
Dazey LA can also be found at Modcloth, Anthropologie, Shop Purpose, Zebra Club, Meadow Collective, and the National Museum of Women in the Arts. However, the most extensive size range and selection is on the Dazey LA website.
Dazey LA Shipping, Delivery, and Returns
On August 30th, I placed an order at Dazey LA of the Nudes Print Tank and Nudes Print Pants both in size XL, and the matching face mask. I received order confirmation, and in that confirmation it reminded me that this was slow fashion, made to order, and that especially with COVID this may take time to arrive.
On September 25th, I received an email from Dazey LA saying that they were out of stock of the black face masks, and was I okay with switching out the order to another mask to not delay my order. I said sure, send me the white mask instead.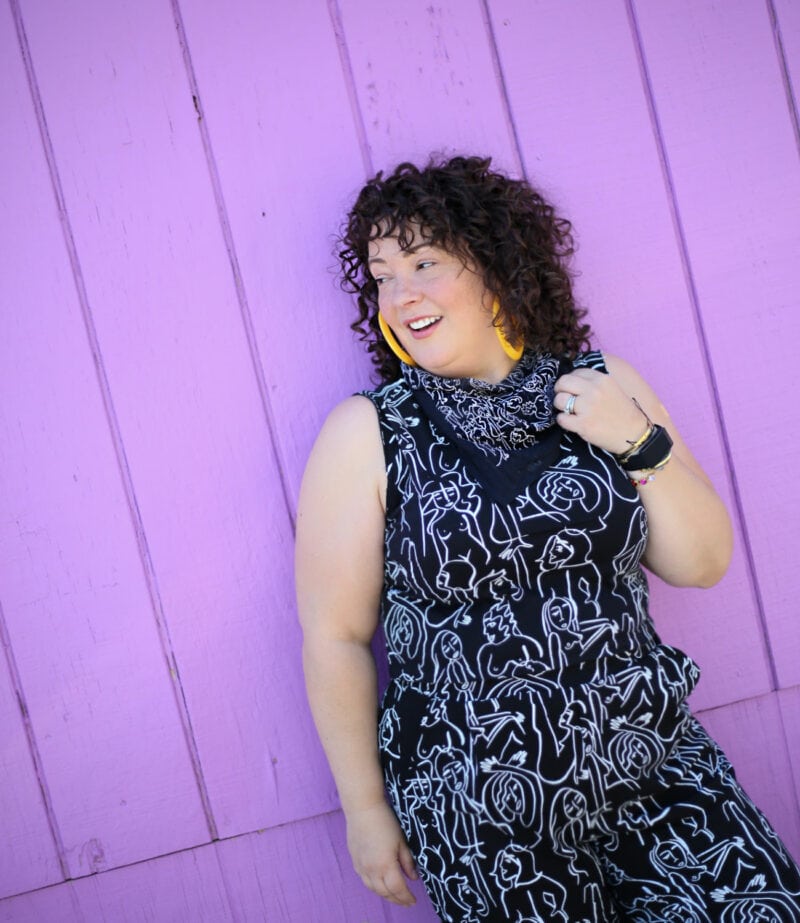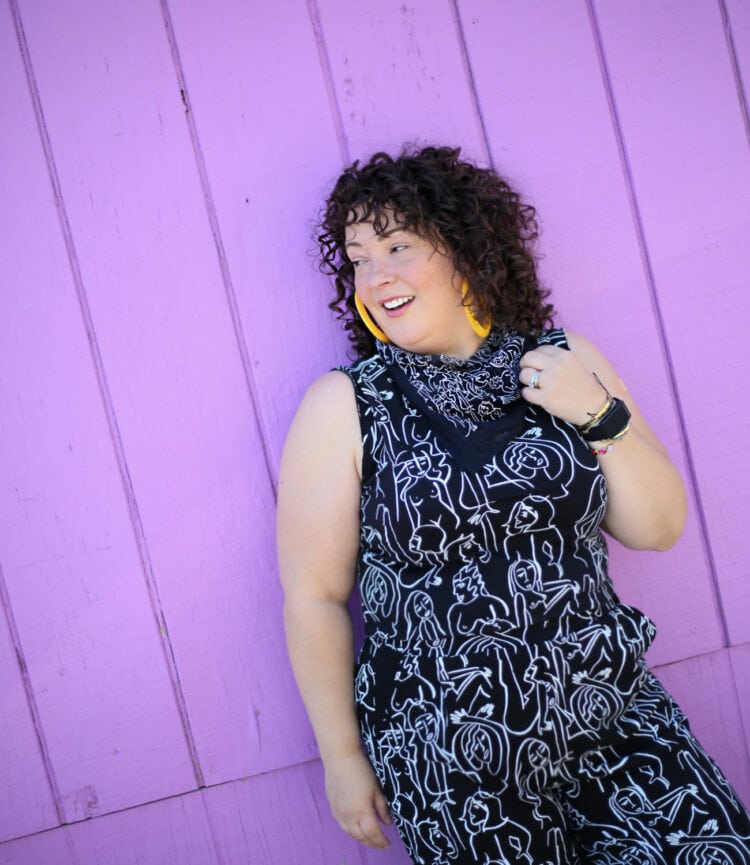 On November 9th, I received the shirt and the white face mask. The pants arrived December 30th. The face mask was NOT a good match and cut strangely so I literally had a butt on my face. But I liked the print so much, in January I ordered the matching bandana, which arrived about a week later.
I'll be honest, I was annoyed that it took THIS long. I was also annoyed that when my order did ship out, the black face mask was back in stock. But I also know it's important to have grace with small businesses, especially with such a difficult year as 2020.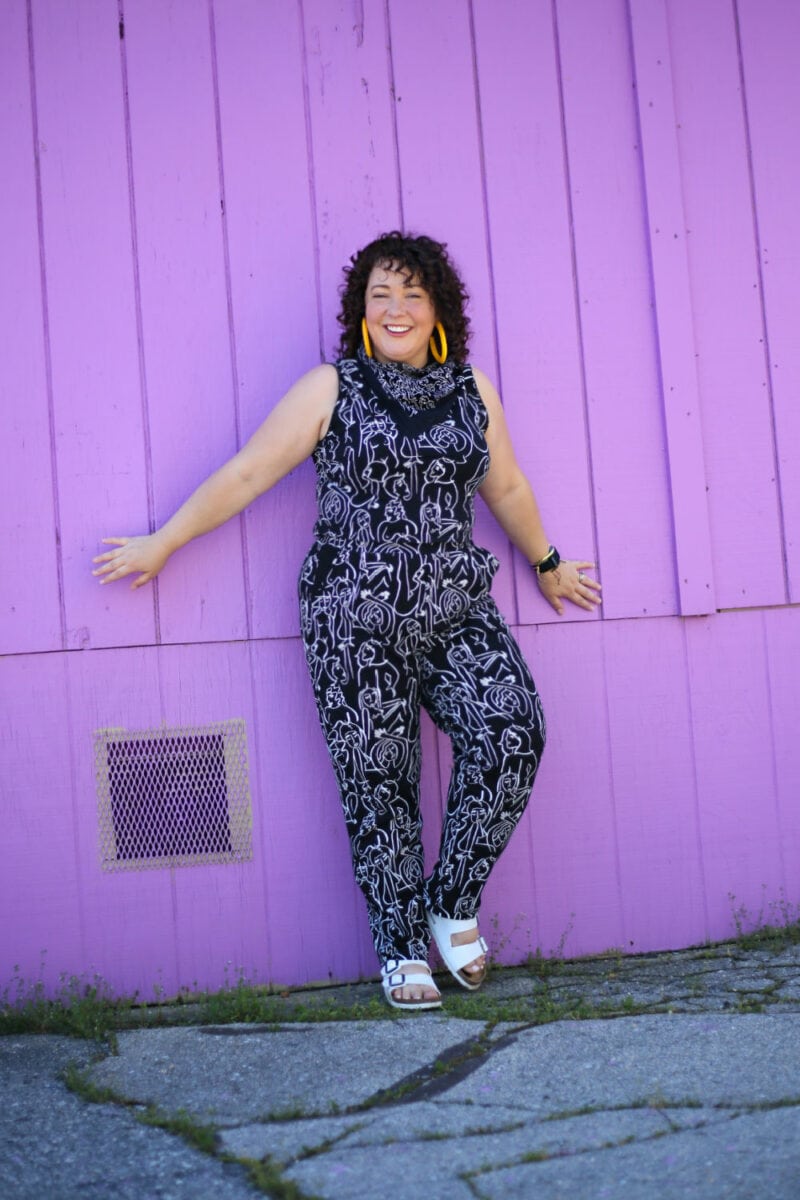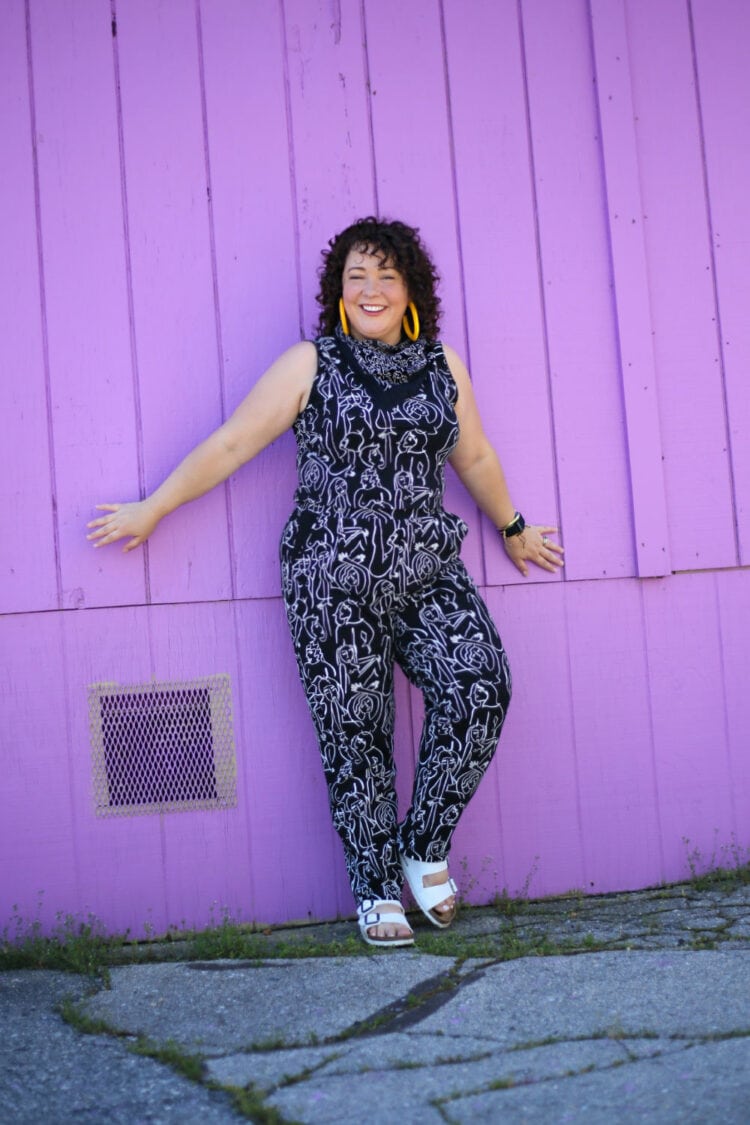 But because of the delivery time, I wasn't able to wear this look until now. I tried styling it with a turtleneck underneath, the pants with something else, the top over a dress, the look with a jacket… yeah this look is for warm weather only.
Dazey LA orders can be returned within 30 days of receipt for store credit. Return credit cannot be applied towards future sales and/or promotions. Purchases from the Dazey Lady Shop are not available for exchange and are non-refundable. Orders cannot be canceled. This may seem complicated, but again remember this is a small business that makes all their products made-to-order.
Dazey LA Apparel Review
The mask, as I mentioned, had the fabric cut so I had a butt right over my mouth. It is a two-layer mask of organic cotton knit. It has a subtle shape to accommodate a nose and a seam at the bottom half and a serged knit band around the top and bottom which were also the ear straps.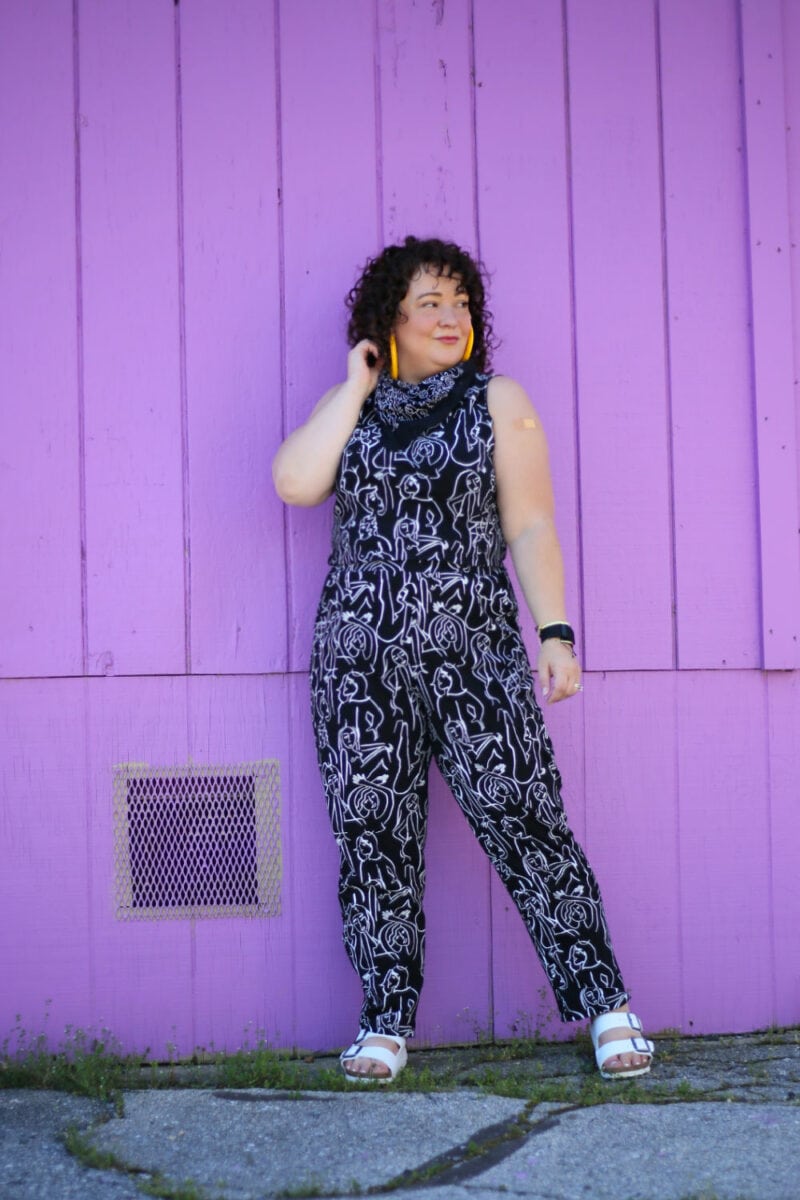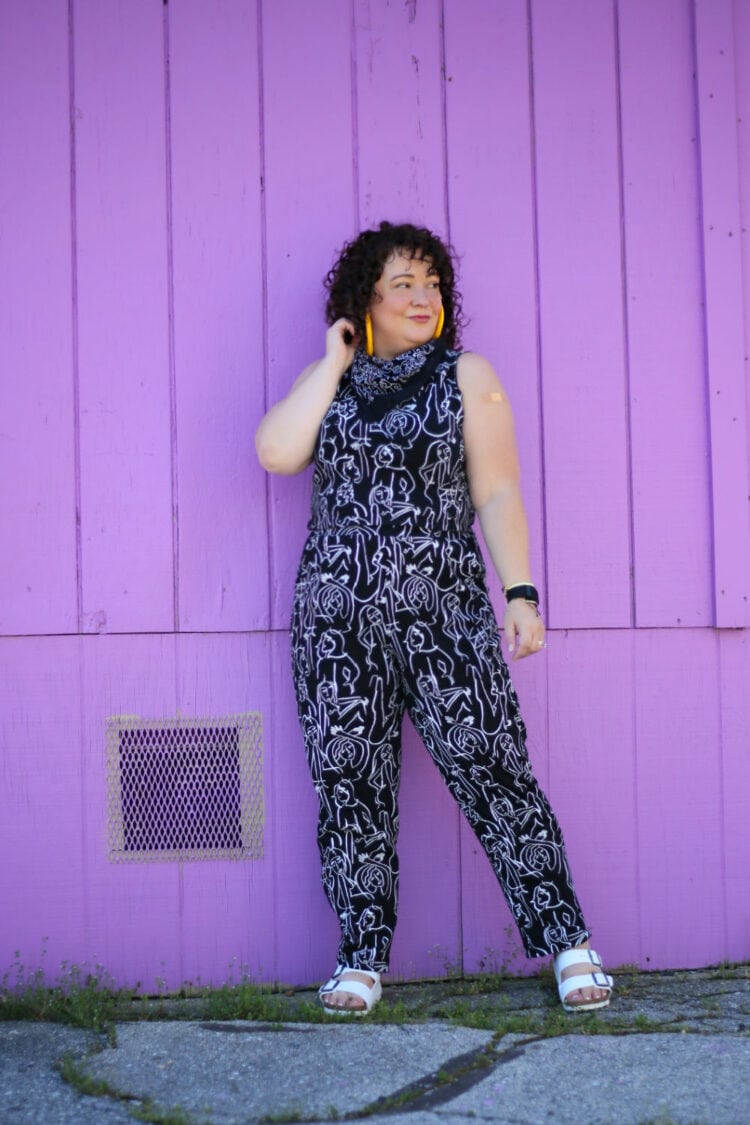 The shirt has a standard t-shirt collar and hem, but the arm openings are unfinished and have a ragged finish. This feature is mentioned on the website, but I didn't expect it to look so much like… a mistake. That plus standard serged seams with a few loose threads on the edges, it looks like I turned my t-shirt into a muscle shirt with a pair of cuticle scissors. But it's purposeful and fits with Dazey LA's aesthetic so maybe I need to get over having issue with this.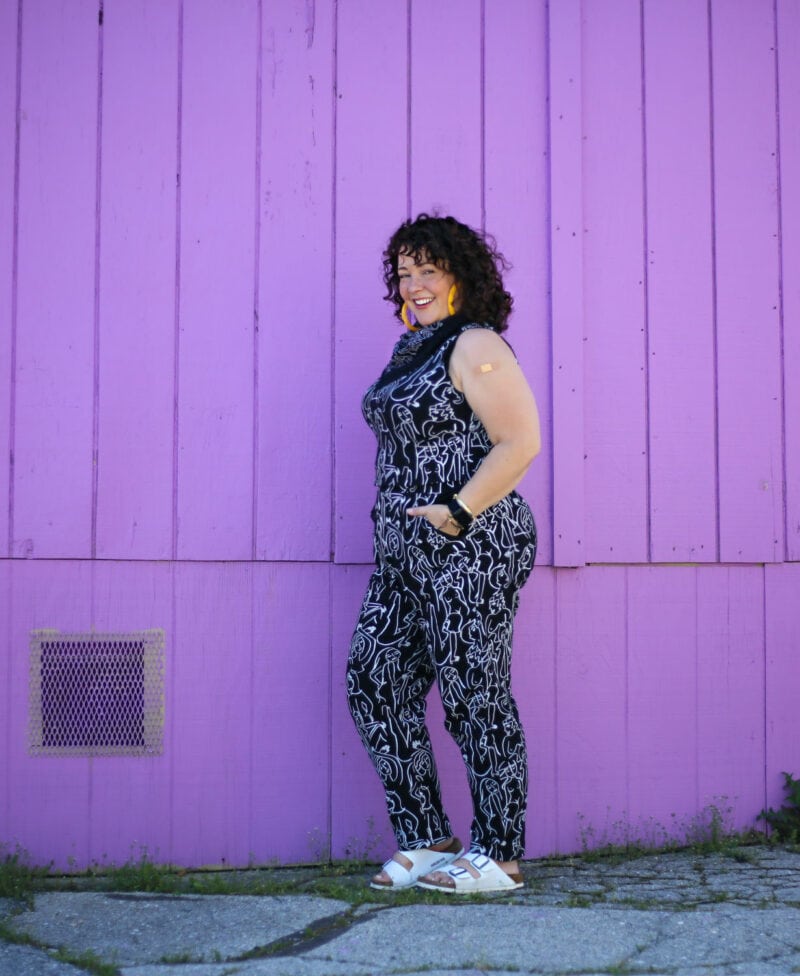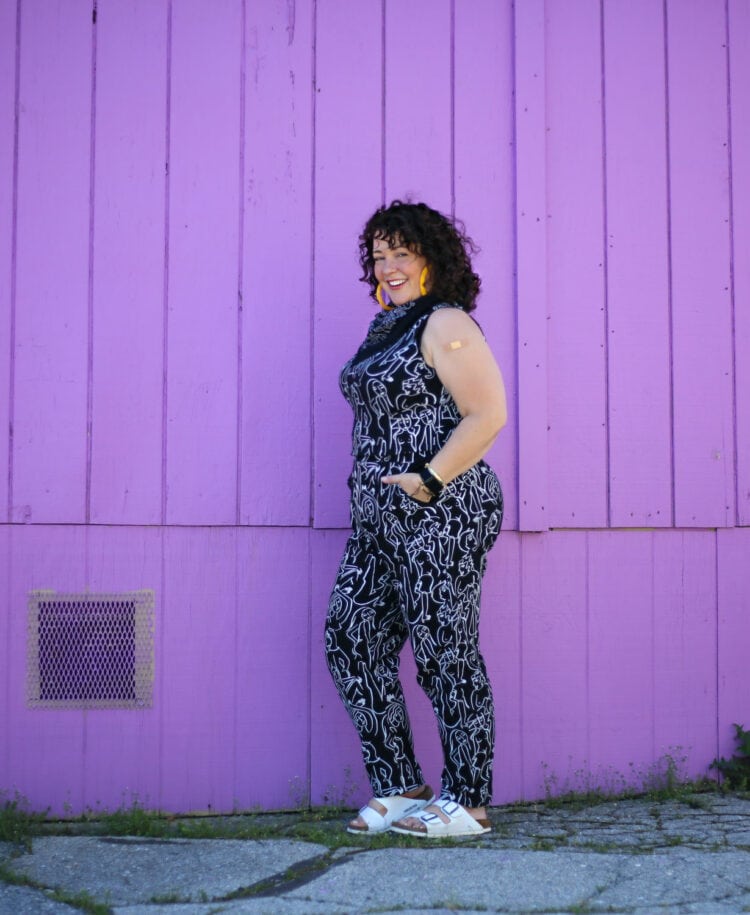 The pants impressed me more. They are a slightly heavier knit than the top, and essentially a high-waisted jogger. The high waist complimented the crop top and unless I raise my arms, I am not exposing any skin. The inseam on this size (the largest) was a hair over 27″ making it cropped on most humans and full length on my 5'3″ self.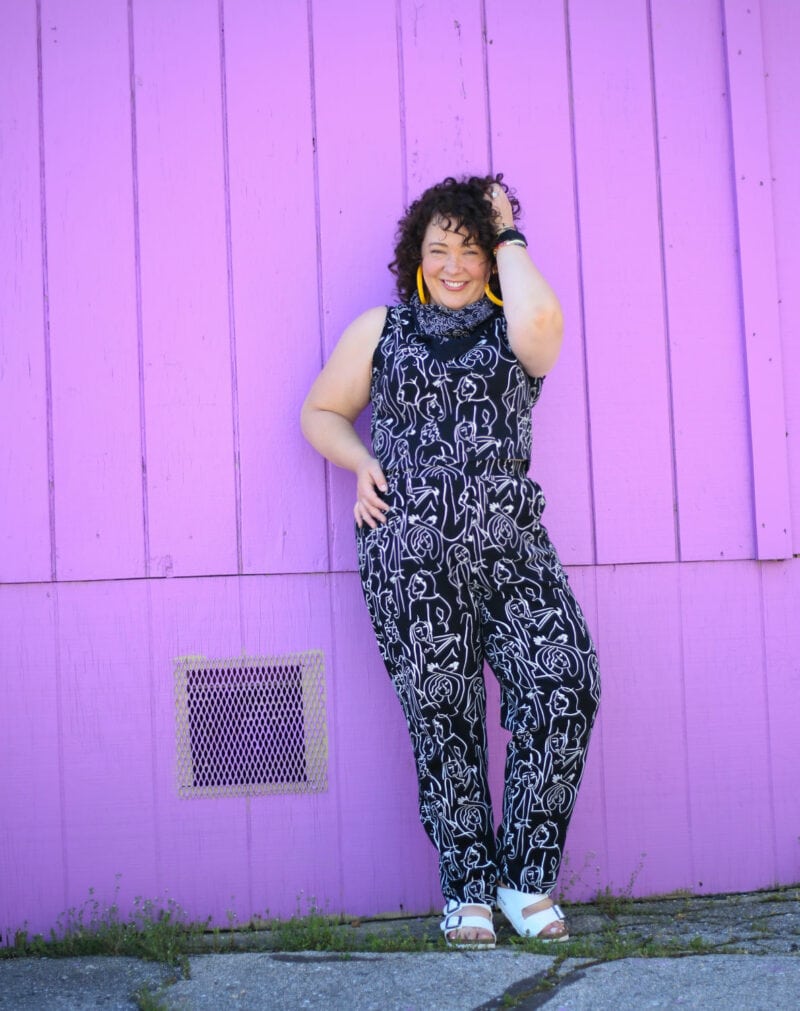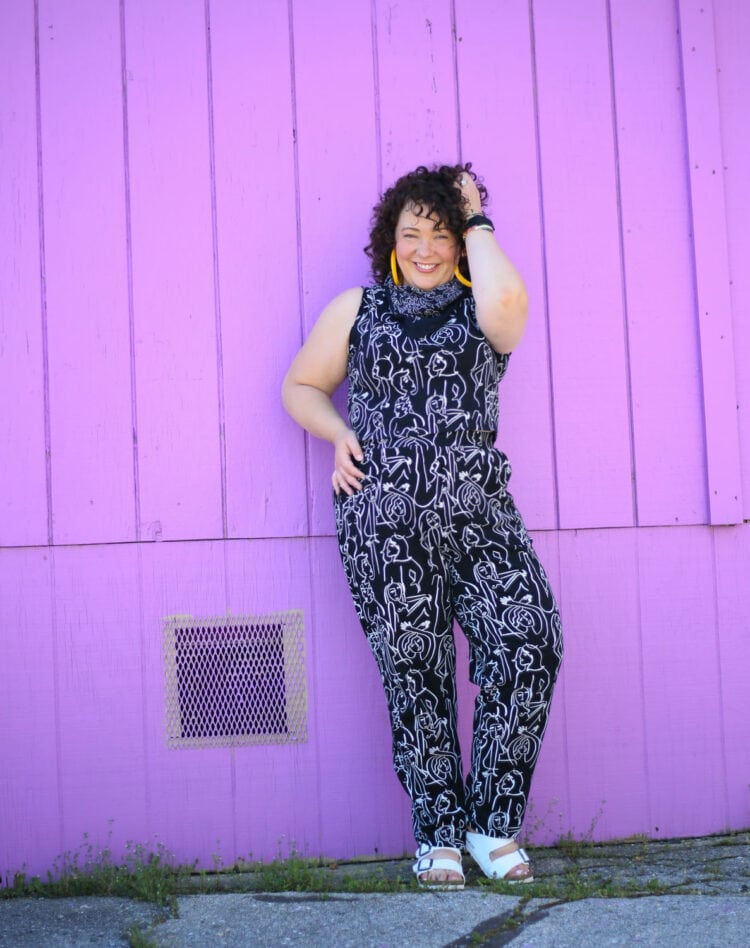 The elasticized waist is tacked down in places so it still has plenty of stretch without any chance of rolling or folding over with wear. The pants have a faux fly which I found weird until I put the pants on and liked that the extra layer and detail gave more coverage for my tummy.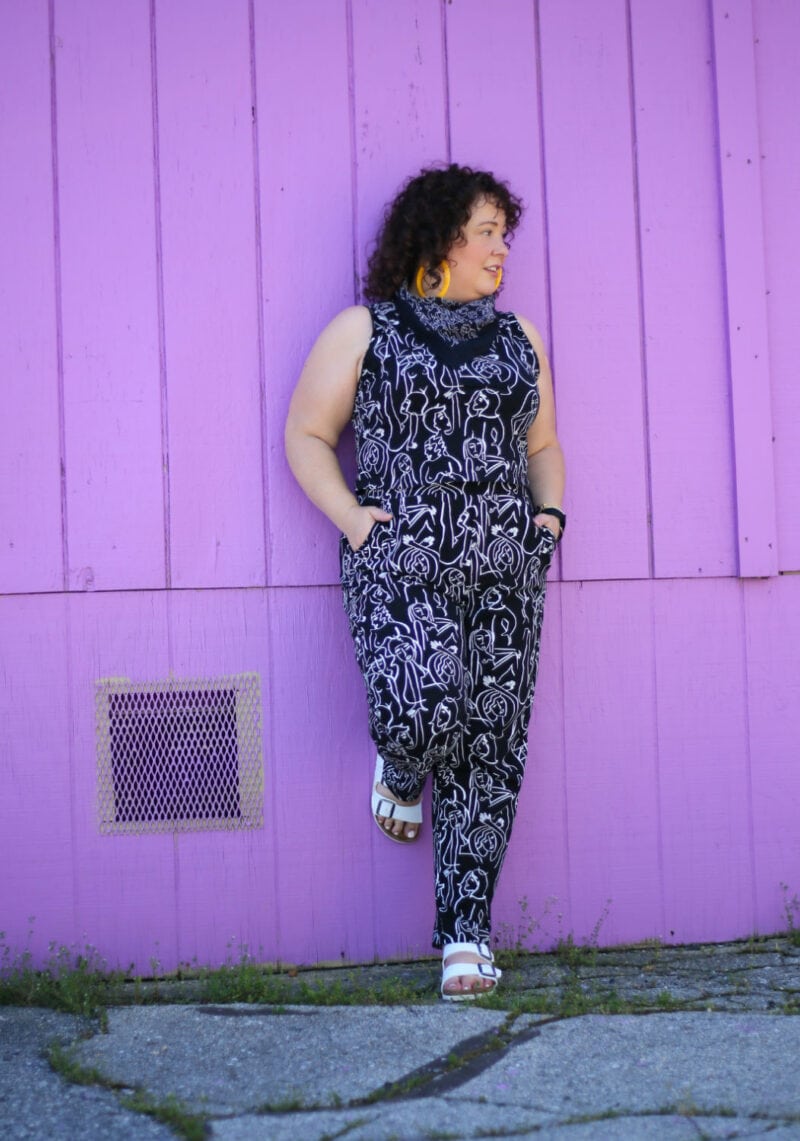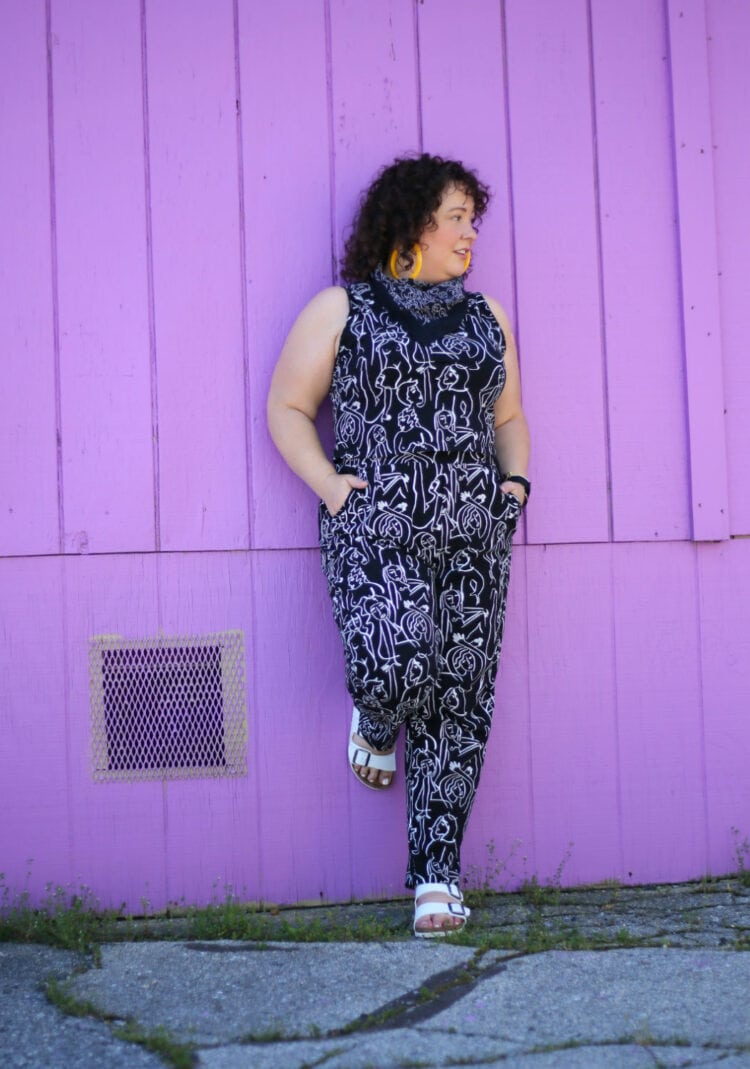 The 100% organic cotton is silkscreened before cutting; it's that kind of ink that is slightly raised and is far fancier than a mass-produced t-shirt or printed twinset. After one wear, I saw wearing/fading of the silkscreening between my thighs and under my arms where there was friction. I feel care was taken to match up pieces so there aren't any unfortunate moments at the seams.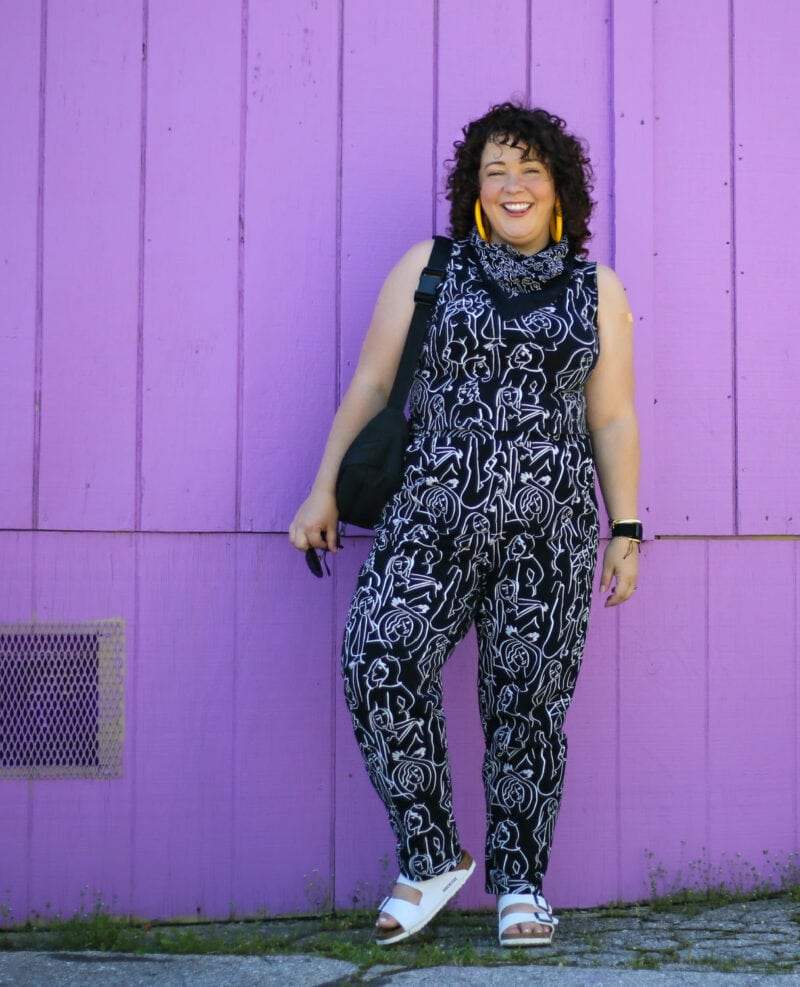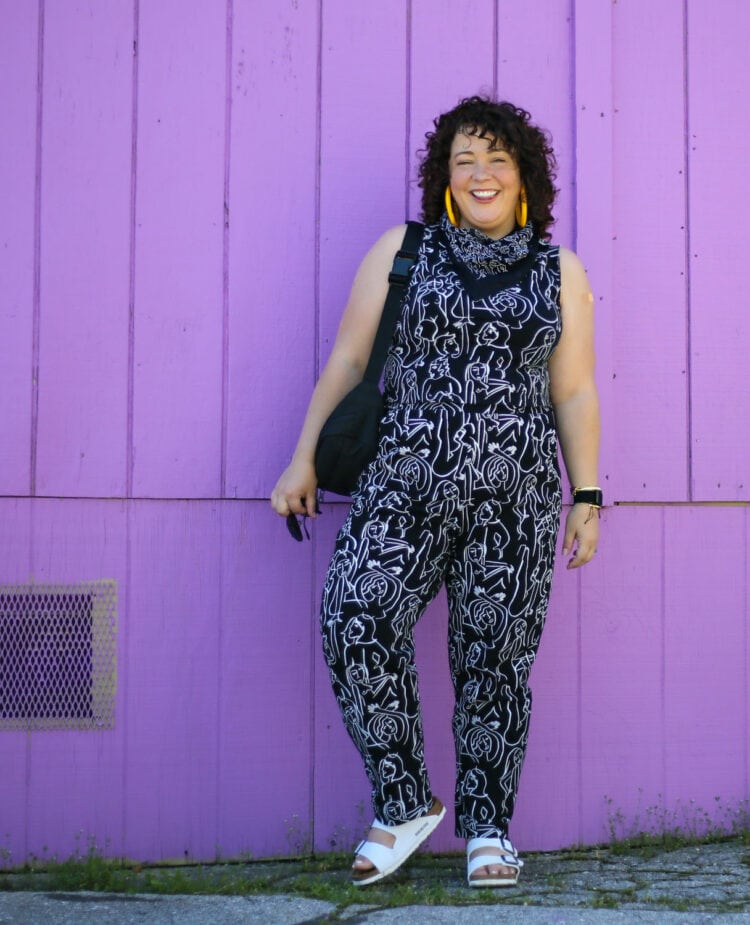 The bandana is a standard size, of cotton voile with hemmed, not rolled edges. The label says, "from mila x Dazey LA" and that it is designed in USA/made in India of 100% cotton. The print is the same as on the shirt and pants, but smaller.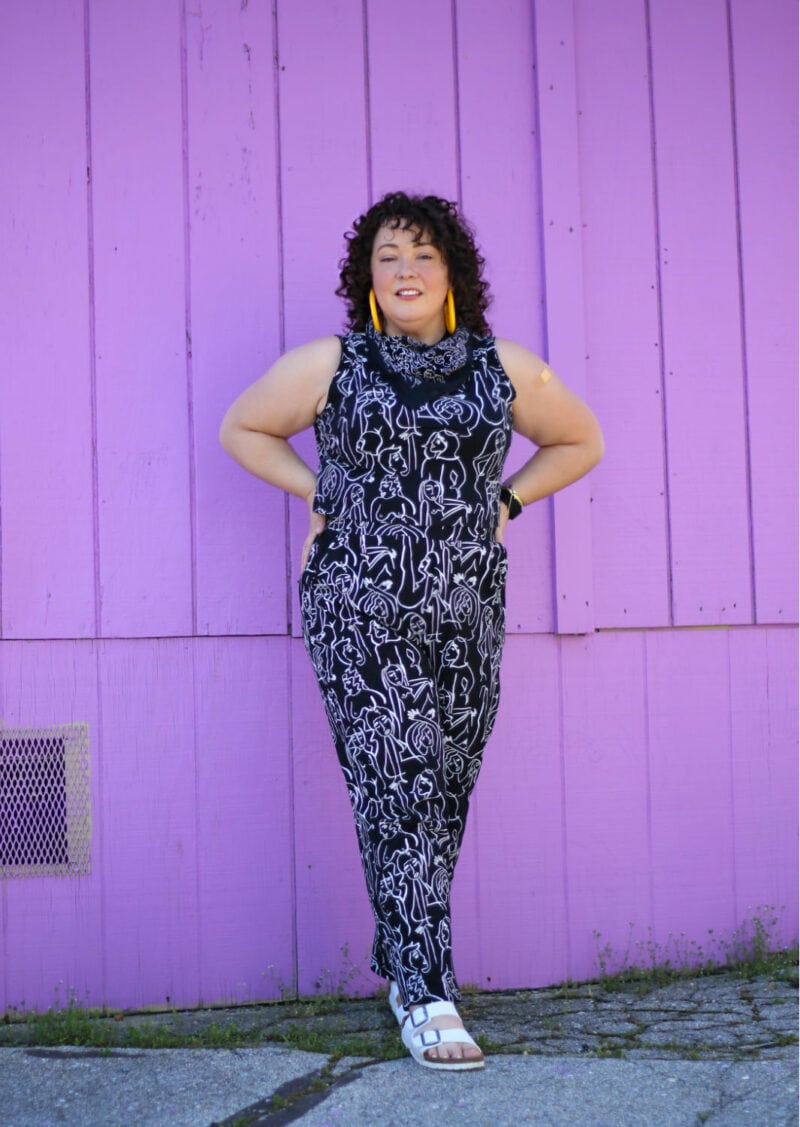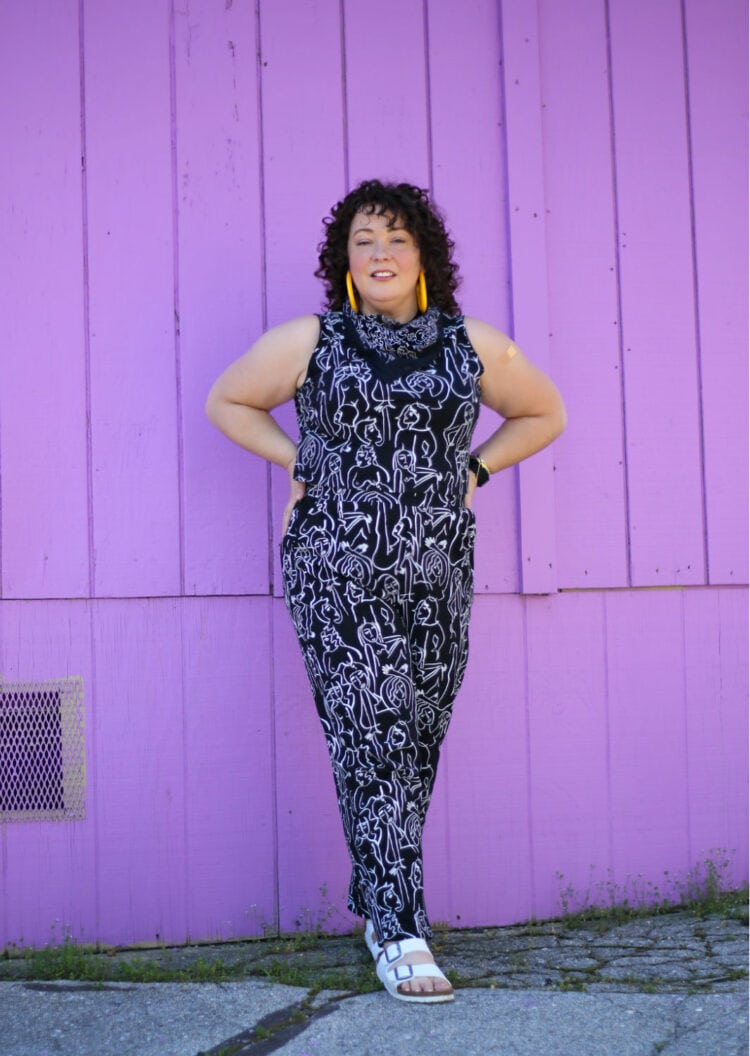 The bandana is by From Mila and is in the Dazey Lady Shop which features other women entrepreneurss. From Mila was founded by Nargis and Farida, a mother-daughter duo out of Orange County, CA. Inspired by their love for travel and places around the world, each piece is hand block printed with hand-carved wooden blocks and printed with non-toxic dyes in Jaipur, India.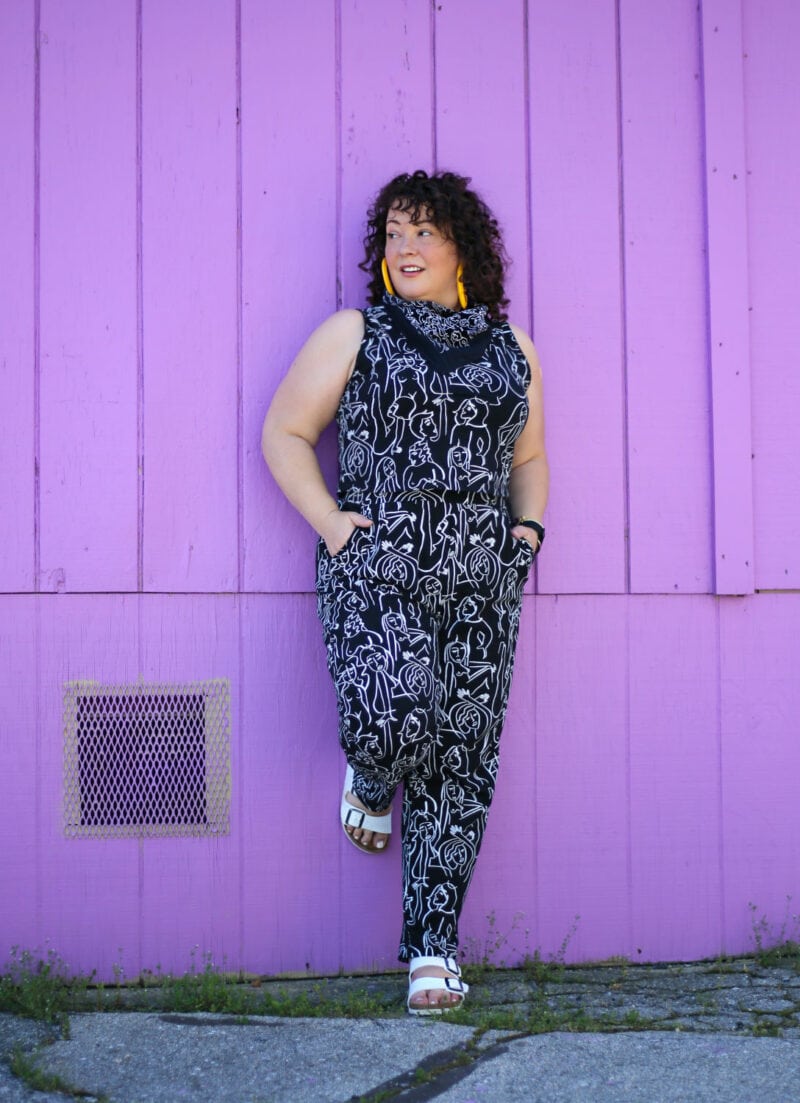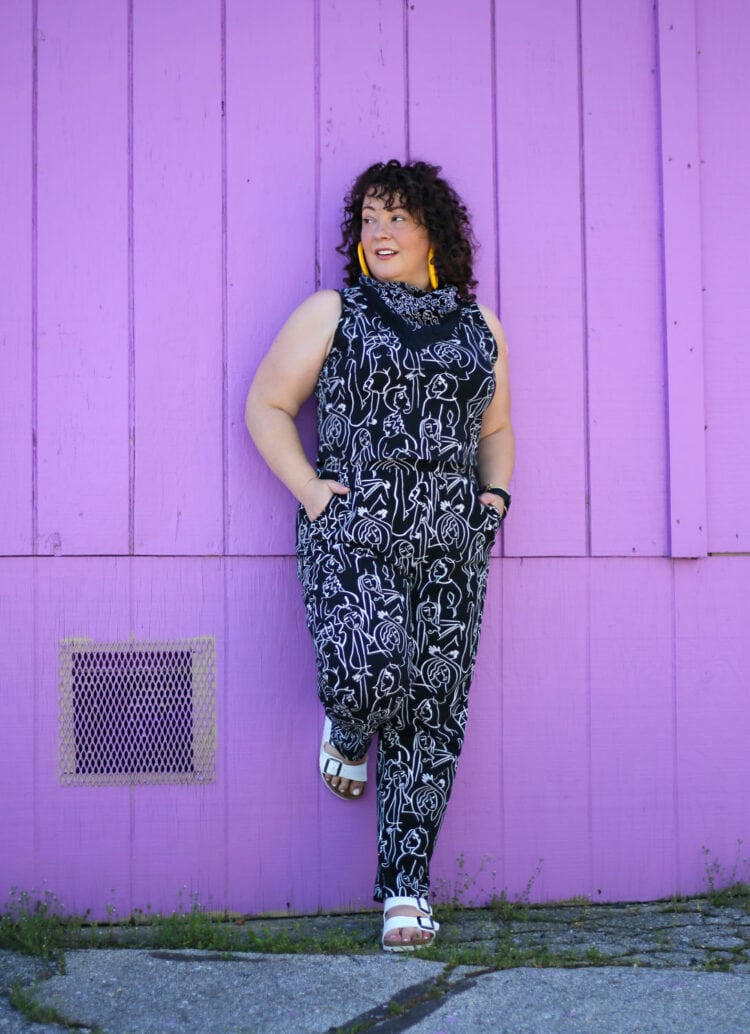 Because this bandana was via the Dazey Lady Shop, it shipped separately (and more quickly) than the made-to-order items from Dazey LA.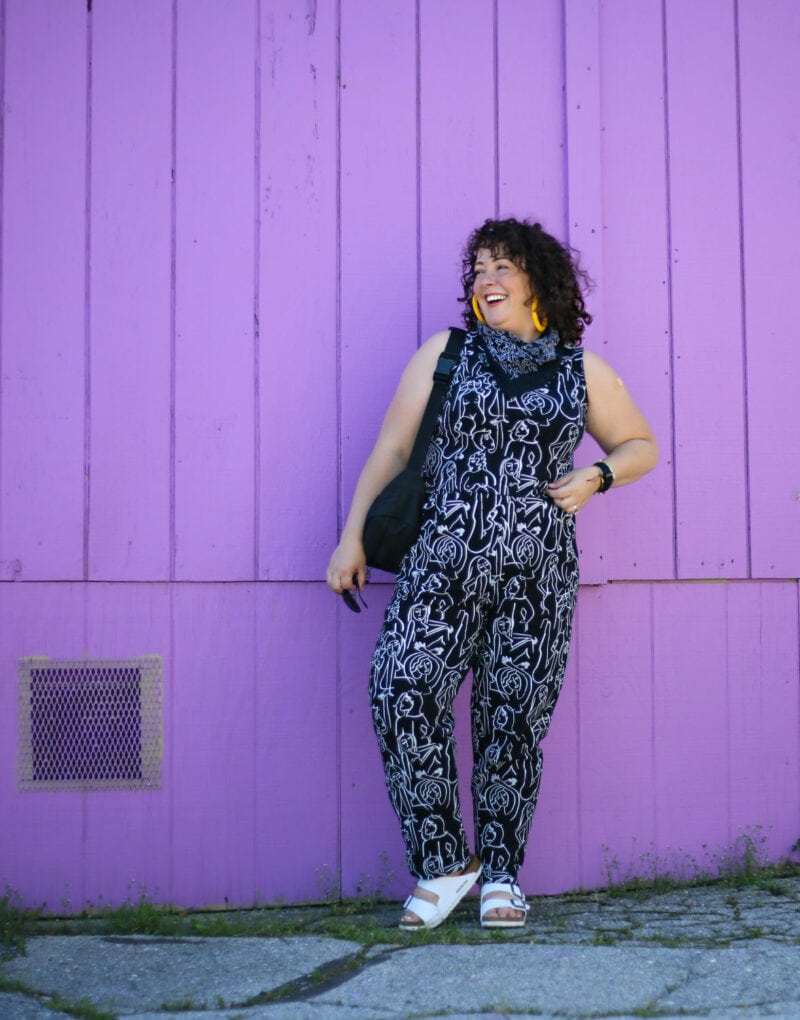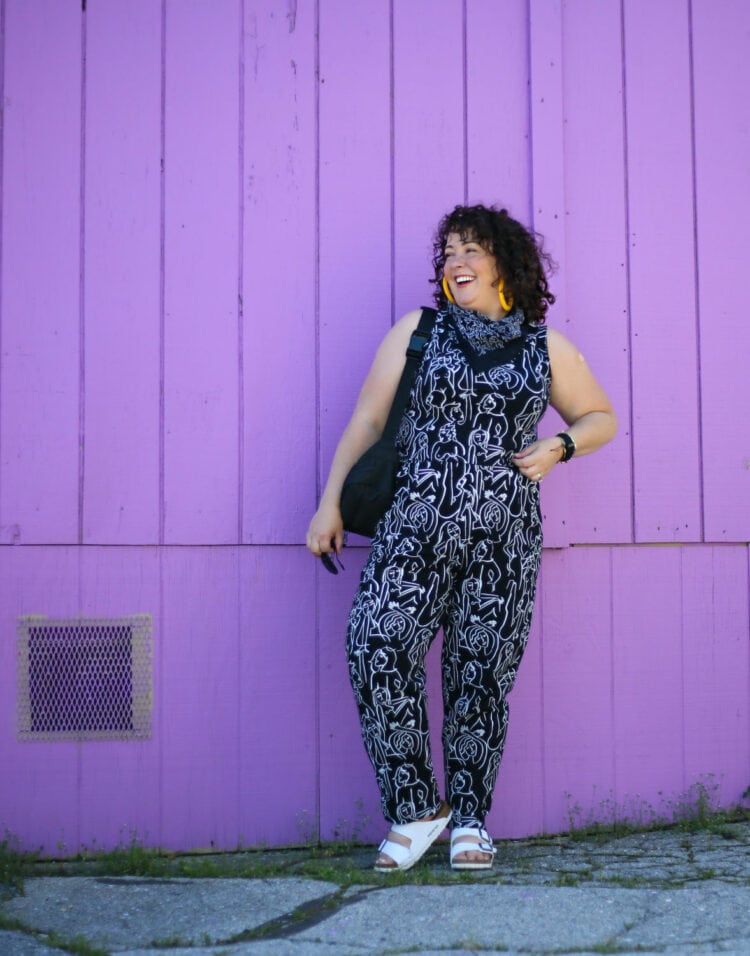 Styling Dazey LA for Spring
The day I got my second vaccine shot was warm and sunny and I celebrated the occasion by wearing this look for the first time out of the house. I kept my Band-Aid on because heck, this spring it is by FAR the most stylish accessory!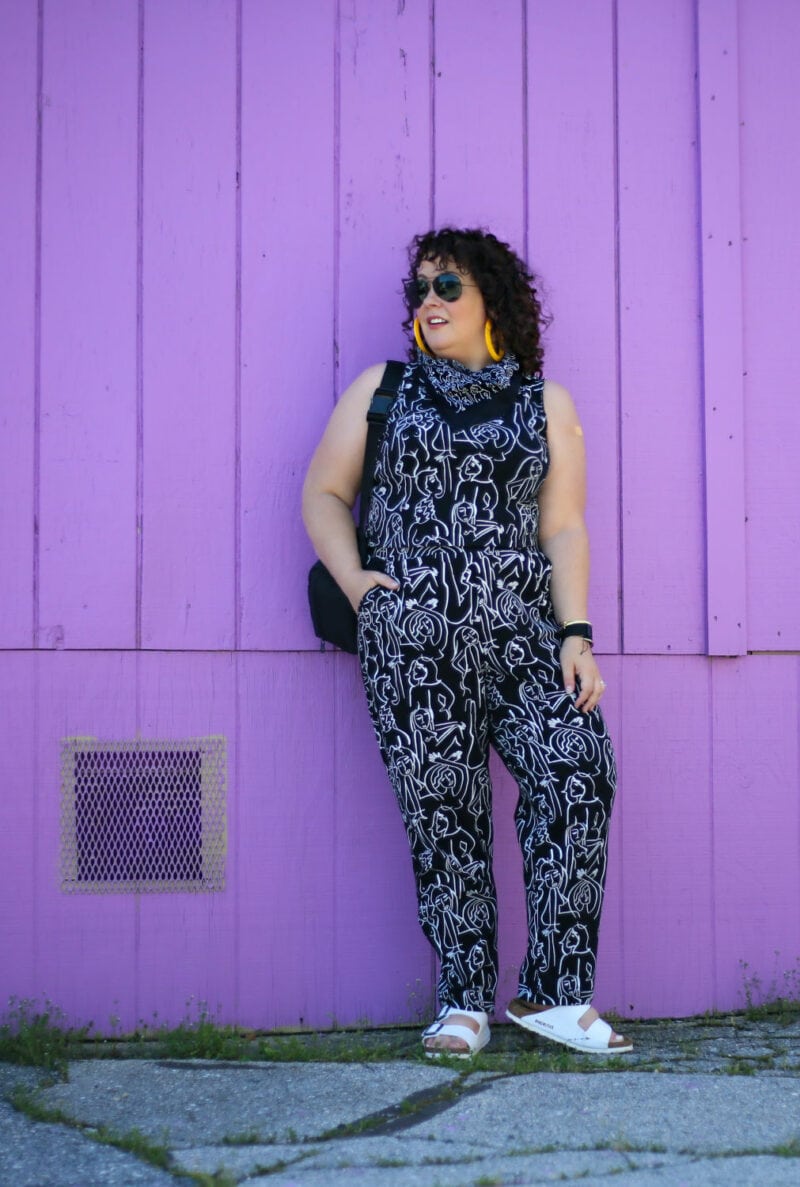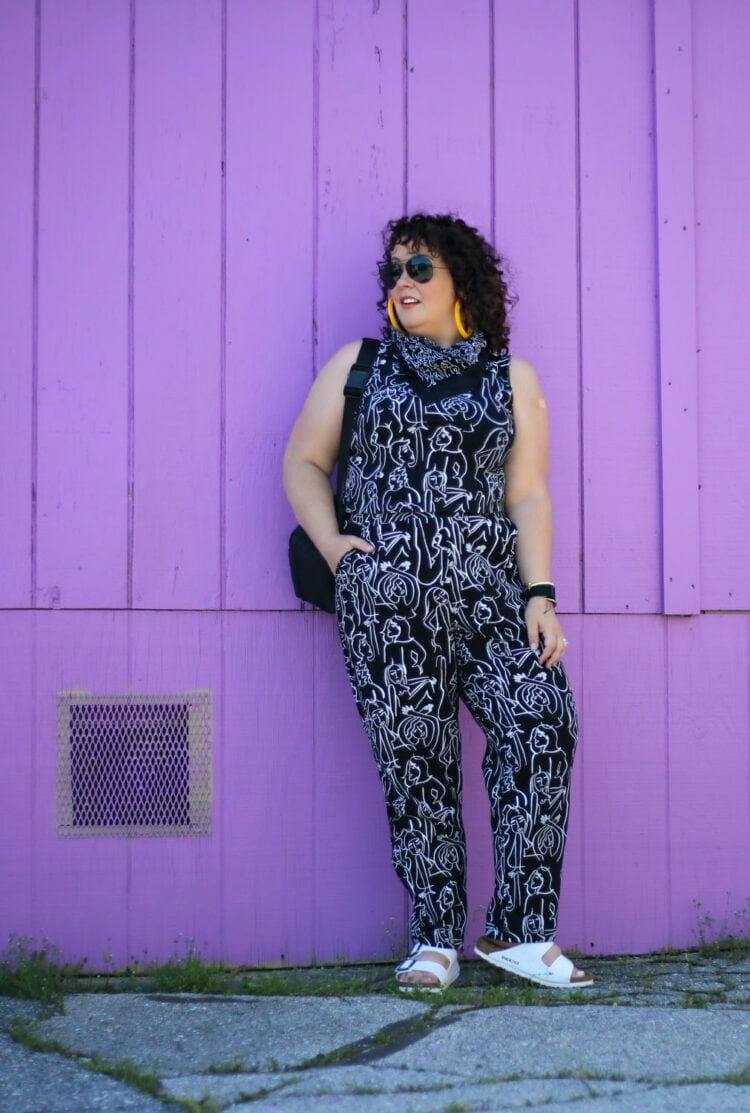 The yellow hoop earrings are vintage from the plus-friendly online vintage shop More Than Your Average (these are similar and from an Etsy shop I've bought from before). The shoes are Birkenstock, the sunglasses Ray-Ban. The belt bag is from Girlfriend; it is also plus-friendly and comes in a variety of colors.

Will I Shop Dazey LA Again?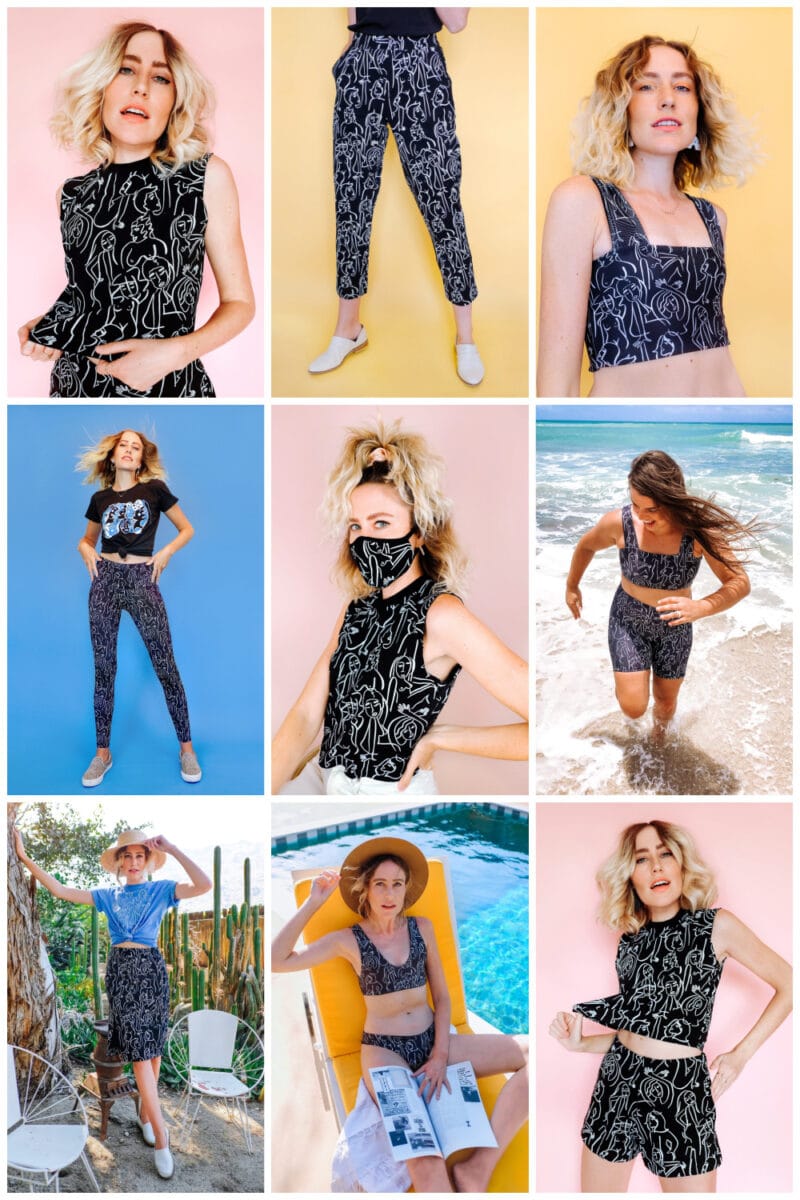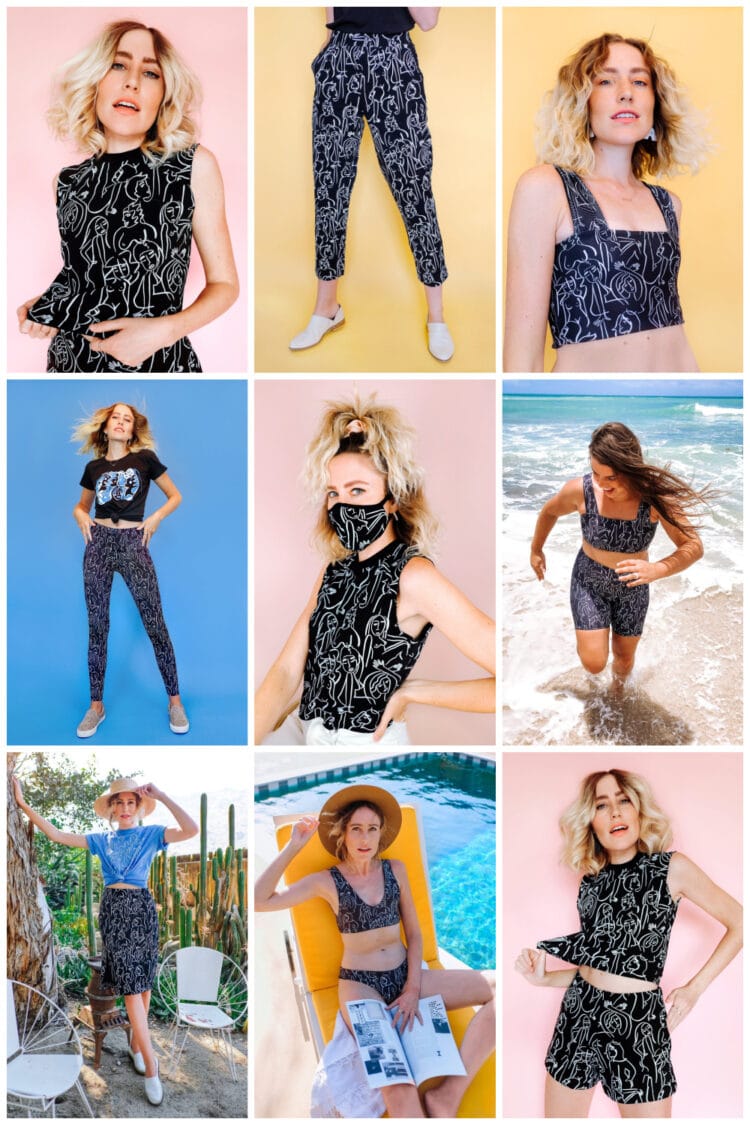 Let's be honest, anything that annoyed me about my Dazey LA purchase is my problem, not Dazey LA. They were very good with communication, the items match the descriptions online, and when you shop from a small ethical fashion brand in the middle of a pandemic, it's understandable for an order to take an extremely long time to arrive.
While Dazey LA prides itself on offering plus sizes, I would only stick to their t-shirts for extended sizes. I am usually a size 14 and the XL pieces IMO fit more like a 12, and a bit juniors/straight. If I was a straighter or younger body, I may shop Dazey LA again for apparel. I did notice that the New Releases are available up to 2XL (full size range on the website but 2XL has a waist of 35′-36″).
However, liking what the company is about, I would totally order a t-shirt from Dazey LA in the future. You've likely seen a few in recent capsule wardrobes and "how to style" collages. While the raw edge of the cropped top I got felt unfinished, I like the rough edges of the Dazey LA t-shirts which give them more of a thrifted/well-loved vibe.
I also love the curated collection of items from women entrepreneurs in the Dazey Lady Shop. I appreciate the consistent aesthetic and mix of artisans and the focus on supporting fellow small businesses.

Have you shopped Dazey LA? I would love to read your thoughts in the comments below!