This article may contain affiliate links; if you click on a shopping link and make a purchase I may receive a commission. As an Amazon Associate, I earn from qualifying purchases.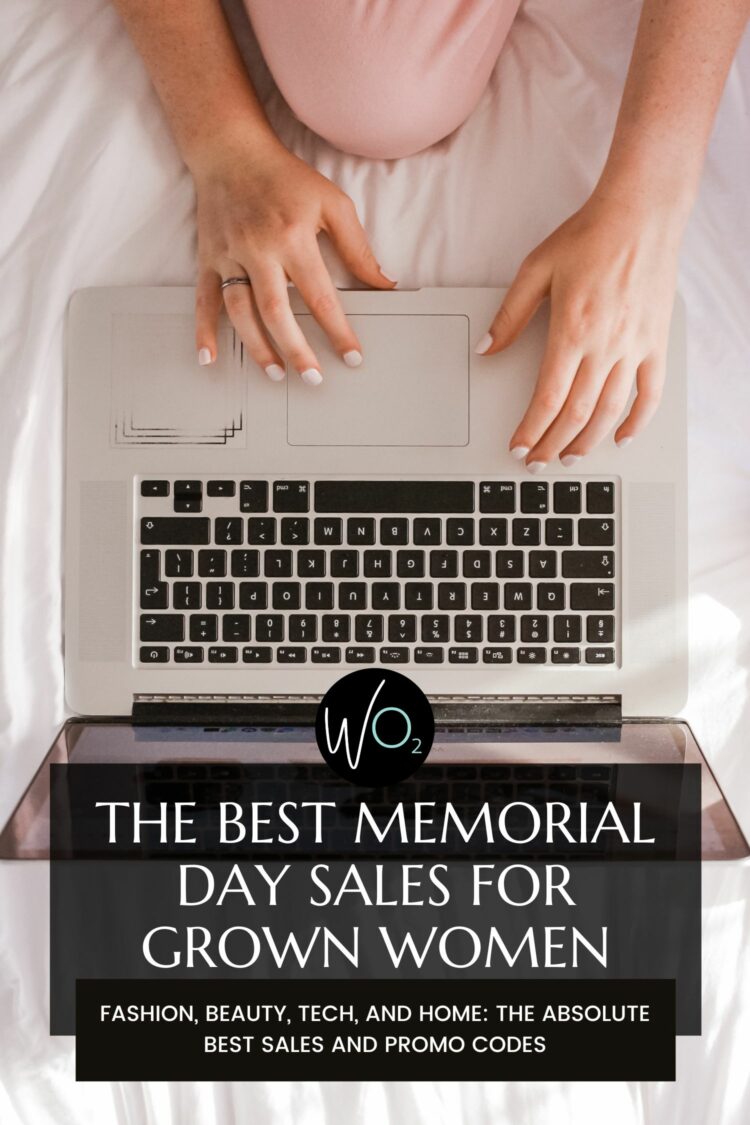 Memorial Day weekend is when the pools open, the grills are fired up, and the sales are super. Spend this weekend outdoors and with your loved ones, not the mall. The best Memorial Day sales are online, and I have collected what I believe to be the best deals. In fact, as I learn about new sales I will update this post so be sure to check back throughout the weekend. PLUS, I have included exclusive discount codes for brands that can often be used in conjunction with whatever Memorial Day weekend sale promotion that is taking place!
FYI, some of these sales may not begin until Friday, but I wanted to post this early so you can plan accordingly (and because I'm already getting emails as I write this on Wednesday afternoon of retailers starting their sales earlier than previously advertised). Happy shopping!
The Best Memorial Day Sales for 2023
I picked what I believe are the best deals for the best brands for us grown women. Retailers I shop and trust, and brands you all tell me often are your go-to favorites. I've also added some suggestions of what to buy and what I personally own and love from the different stores.
Fashion and Accessories
ABLE:
ABLE is a sustainable and ethical fashion brand that offers sizes XXS (23″ waist) to 3X (48.5″ waist). With wardrobe classics and the occasional trendy piece done right, ABLE is a great destination for clothing you'll love wearing. Through May 29th, ABLE is offering $35 off $150+, $20 off $100+, $15 off $75+ with code SUMMERSTYLE. I like the look of the Annie Pack, and this sundress in black or Barbie pink looks pretty perfect (and bra friendly!).
Ann Taylor:
I have loved Ann over the years, and hated Ann at times. Right now we're in a good place and I have found a lot of items that look great and fit well too. I like that they have petites over a size 10, and while most of their fashion skews too Corporate America for my lifestyle, I still find super chic and versatile pieces for my kind of job, weekend, and social occasions. Ann Taylor is offering 40% off full-price merchandise with promo code SUMMER.
I recently got this blazer and these pants and they make such a chic dressy pantsuit perfect for being a wedding guest or a night out when you don't want to wear a dress. If in doubt size down with the pants and petite folks they will fit nicely in the rise but still will need to be hemmed.
Banana Republic Factory:
Not all factory-made apparel is worth your money, but Banana Republic Factory's style and quality rivals the parent company for a much nicer price. I actually find Banana Republic Factory to often fit my soft curves better than Banana Republic. This weekend Banana Republic Factory has 50-70% off absolutely everything with an additional 25% off your purchase. I recently got this scarf which looks and feels like silk and is so big it can be a belt or even a faux top under a blazer.
Boden:
A great destination for colorful and fun yet functional fashion available up to size 20, Boden has 30% off sitewide through the 29th. This is awesome as Boden doesn't have sales with as much frequency as other retailers and the price is a bit higher (though so is the quality in general). The 30% off also includes sale. I'm partial to this slip dress that is on trend and covers a bra, this classic linen sundress (also bra friendly), this washable silk blend shell, and their linen shirts which come in some fabulous prints.
CADDIS:
I mention this eyewear brand often because as someone who now needs reading glasses (and is married to one who also needs them) I realize not all readers are created equal. Sure, it's nice to have the cheapy pairs all around the house but when you're at work, when you're out and about, I like having readers as chic as my sunglasses and pre-LASIK glasses. And CADDIS are well made and have amazing customizations like progressive lenses, blue light blocking, and tints.
Through June 6th CADDIS has their bestselling styles as low as $50. I have the Mahubay, my husband has the 12 Bar, and my pair still looks like new even though they have banged around many a handbag and laptop backpack!
ELOQUII:
If you're looking for a wedding guest dress, a badass pantsuit in a badass color, a glamorous swim coverup, or a cute top to jazz up jeans, ELOQUII is your place and this weekend they have up to 50% off everything with promo code LONGWKND. This dress is so chic for work and social occasions, this cotton blend dress is the kind I wear all summer with heels or flip flops depending on the occasion, and these are fantastic wide-leg pants perfect for work or a night out.
Everlane:
Everlane has up to 30% off over 400 summer styles. This includes the ribbed tank dress I have featured several times, the Day Glove flat I have also featured, and this Smock Dress which looks bra friendly and perfect for most any summer situation.
J. Crew:
J. Crew has been seriously hit or miss for me the past year, but they continue to be a summer fashion favorite. J. Crew has 40% select purchases and an extra 50% off sale with promo code WEEKEND. The boyfriend shirt-inspired beach coverup I featured earlier this week is on sale 50% off. And I think this one-shoulder swimsuit with strategic ruching is hella chic and it gets stellar reviews from a range of body sizes and types.
Lane Bryant:
If you're around my age you may have given up on Lane Bryant after years of it being the only place to shop and the selection being terrible. But Lane Bryant has been rocking it lately and this weekend they have 50% off almost everything. You know I love a good striped top and this striped top is seriously good. How freaking cute is this bra-friendly chambray jumpsuit? And it comes in petite and long! My sister has this satin cami and matching pants and the set is so chic and luxe; she paired it with a linen shirt for a seriously Coastal Chic vibe. And I really dig these wide leg trouser jeans.
Madewell:
Sometimes I have success with Madewell, and sometimes fails. This season, lots of hits, and this weekend Madewell has 30% off sitewide with promo code WARMUP. If you've read recent posts you know I am a fan of the Harlow pant, but this style is also available in other fabrics and even shorts! I recently ordered this linen top (available in Misses and Plus) thinking it would pair nicely with linen pants I own from other brands. And I so love the poppy color of these wedge mules!
Portland Leather:
I'm a Portland Leather bags fan. Sourcing leather from the beef industry to reduce waste, owning where their bags are made, and offering stylish bags at incredibly reasonable prices, Portland Leather is a unique and great company. And this weekend, Portland Leather is offering 30% off their premium products with promo code HONOR30! I have this bucket bag in small and it's a fantastic sightseeing bag.
Printfresh:
I am a big fan of Printfresh's organic cotton pajamas and robes (read my Printfresh review), and I love their size inclusivity. I know many of you have said Printfresh is outside your budget. Well, through Memorial Day, Printfresh is offering up to 50% off select styles PLUS promo code SUMMER will give you an additional 20% off sale merch. And anything not on sale, use code WARDROBE_OXYGEN for 15% off (my personal code works year-round). I've found if in doubt size up with the pajamas and size down with the robes.
Talbots:
Talbots continues to be a favorite for high-quality wardrobe staples and elegant versions on current trends. I also appreciate they are one of the few retailers that carry plus size petites. This weekend Talbots has 40% off one item and 30% off the rest of your order with promo code SUMMER. I'm crushing on this patio skirt that will be breezy and cool while looking polished even with a simple t-shirt or tank. I love tops like these in the summer; no cling and they look polished with a pair of shorts or breezy linen pants of any length and style. And how freaking gorgeous is this dress? And it has pockets!
Tanya Taylor:
This chic fashion line that offers misses and plus sizes has 25% off this weekend with promo code MEMORIAL25. Have you admired some of the brand's looks? This sale is the time to get them at the best price! Personally, I've been admiring the Elza Dress, the Maya Dress (I love that chartreuse color but they're all chic), and no surprise, I dig the Maeve Dress.
Target: Target has 30% off apparel and accessories for the family. This sale is for four days only and I know from past experience that items sell out quickly. I am a fan of this ribbed dress (which is in my latest capsule wardrobe), and this slip dress gets rave reviews from the Wardrobe Oxygen Community for a range of bodies.
Universal Standard:
For those unfamiliar, Universal Standard is one of the only size-inclusive brands out there, and on top of that, Universal Standard has good quality and stylish options. You can read all my Universal Standard reviews at this link. Universal Standard is having one of those weekend deals where each day offers something different. Breaking it down:
Beauty and Wellness
Beautiologie:
A site that curates beauty products good for you and the planet, Beautyologie has 20% off sitewide with promo code MDW20 plus free shipping on orders $100+. Beautyologie carries sustainable and Fair Trade brands like LUXE Botanics, AllWell Beauty, and Henua for skin, makeup, hair, and more.
Dermstore:
Dermstore has been a favorite for years as a place to get high-end, lower-priced yet coveted, international, and professional level skincare, cosmetics, and haircare at good prices. Well, their prices are even better this weekend because Dermstore has 20% off favorite brands PLUS free shipping (they rarely do free shipping). Favorites means brands like SkinMedica, Dr. Dennis Gross, Josie Maran, HUM Nutrition, Oribe, La Roche-Posay, FOREO, Olaplex, and Chantecaille. Use promo code SUN at checkout for the discount.
Paula's Choice:
Not only is it Memorial Day Weekend, but it is also Paula's Choice's anniversary! Save 20% off sitewide plus you can get up to $167 worth of gifts from Paula's Choice! All details are on the website. If you're new to this highly-rated beauty brand, I recommend the 2% BHA Liquid Exfoliant and the SPF 30 Super Light Wrinkle Defense.
Sephora:
Sephora has its Long Weekend Sale with up to 50% off. The site has all the details, and from what I've heard, items will be added all weekend from stellar brands like Drunk Elephant, Peter Thomas Roth, Charlotte Tilbury, and Sephora's in-house brand. At the time of writing this, I don't know if MERIT is part of this sale, but I am trying out some brand products and am a fan. I shared on Instagram Stories and several replied they too are impressed by this beauty brand!
Ulta:
Ulta has their Gorgeous Hair Event going on with different haircare brands on sale 50% off with each day a different deal. You can see all the deals at this link. It's good brands like Pureology and Virtue on the 27th, dpHUE and Joico on the 29th, and Alterna and Nioxin on the 30th.
If you know of some fabulous sales taking place this weekend, do share in the comments!