This article may contain affiliate links; if you click on a shopping link and make a purchase I may receive a commission. As an Amazon Associate, I earn from qualifying purchases. 
The lovely Two Preps in a Pod has given me the Stylish Blogger Award. Thank you so much!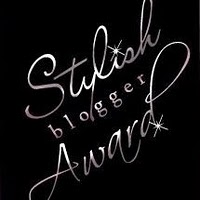 I have to say I don't usually do memes or awards, but it's a slow Sunday, I am on hold with Comcast because my home phone isn't working, and I'd love to share the love with some of you fabulously stylish women out there in the blogosphere!
So with this award, I am to share five things about myself.
1. Like GatorGirl, I too am a fast reader. I can finish a book in a day if I take the Metro to work and take a proper lunch hour. I go through at least one book a week, while also reading the Washington Post Express each morning as well as my magazine subscriptions and Google Reader full of blogs.
2. My most unstylish thing about me is that I chew my nails and cuticles. I swear, once I get the weight off with Weight Watchers, I am going to treat myself to a couple sessions with a hypnotist, accupuncturist, SOMEONE who can help me rid myself of this icky habit. In college I used to get acrylic tips so I couldn't gnaw, but now I jsut try to hydrate as much as possible so I don't have the tempting hangnails.
3. Like GatorGirl's husband, I was in the Greek system in college. I was in Alpha Chi Omega, and was even the Social Chairperson for a year! It's funny because my freshman year I had half my head shaved, wore a lot of black and even had pink hair for a bit. Then I moved off campus with a friend who was in a sorority and she convinced me to Rush. I didn't join her sorority, but one where the girls seemed to be real people, not Barbie dolls, were still fun and cool, and loved me and my half-shaved head.
4. I have been blonde. Twice.
5. I don't have a middle name. My parents couldn't think of something that sounded good with my first and last name. So when I got married I had my name legally changed so that my maiden name because my middle name.
And now I get to tag five very sassy styleistas!
Fabulous Chelsea at Bright Side Dweller
The lovely Budgetnista
The ever-cute Work With What You've Got
Chic Kimberly at Fab Finds Under $50
Beautiful BoutiqueGirl at Things a Boutique Owner Sees