This article may contain affiliate links; if you click on a shopping link and make a purchase I may receive a commission. As an Amazon Associate, I earn from qualifying purchases.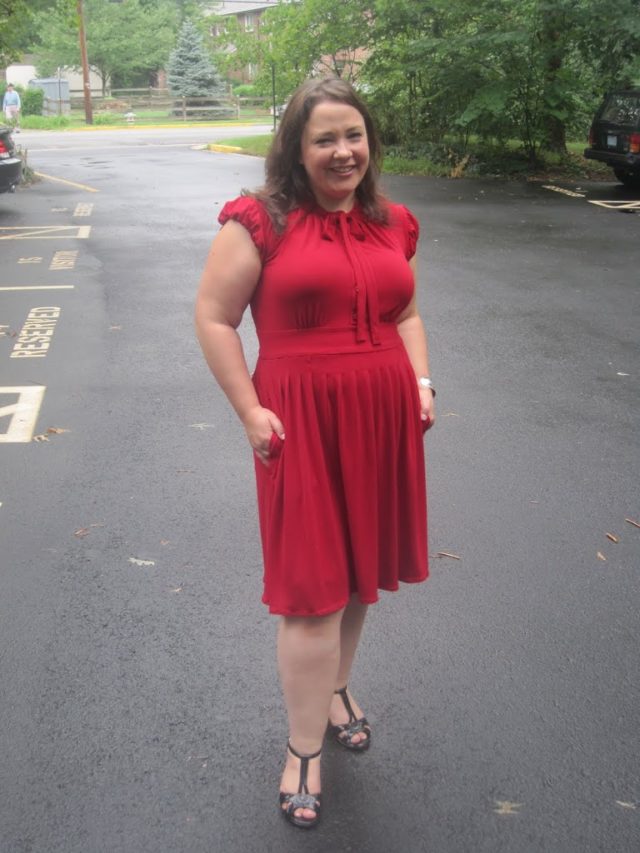 Dress: Maggy London
Shoes: Sofft
I washed and conditioned my hair and then went downstairs to check email… an hour later my hair was dry. When my hair dries on its own sans product, it likes to part in the middle and feather out in a really un-cute way. I was short on time so I just took a round brush and dryer to it to straighten/smooth. No added product.
I don't really know why I wore this dress. Do you ever have something in your wardrobe that you have worn so much you now hate it? I don't hate this dress, but I hate more the times I have had to wear it. This dress is one of my only pre-Emerson things in my wardrobe that immediately fit postpartum. That doesn't mean it's flattering or fabulous. When I had work meetings where a suit was a good choice, I would wear this dress because I couldn't fit into my suits (or for that matter, any suits in the stores). I have worn this dress to DEATH. However this morning I woke up and thought… that dress would be an easy choice, and I just got back my Sofft shoes from the cobbler… dressed and done. Nice and easy, especially after having a late night yesterday.
I think after today, I may put the dress to the back of the wardrobe. Give it a bit of time to mellow, leave the rotation, leave my mind. Then I may return to it and love it again.
As a reminder, be sure to enter my contest to win a $500 gift card from Walmart!