This article may contain affiliate links; if you click on a shopping link and make a purchase I may receive a commission. As an Amazon Associate, I earn from qualifying purchases.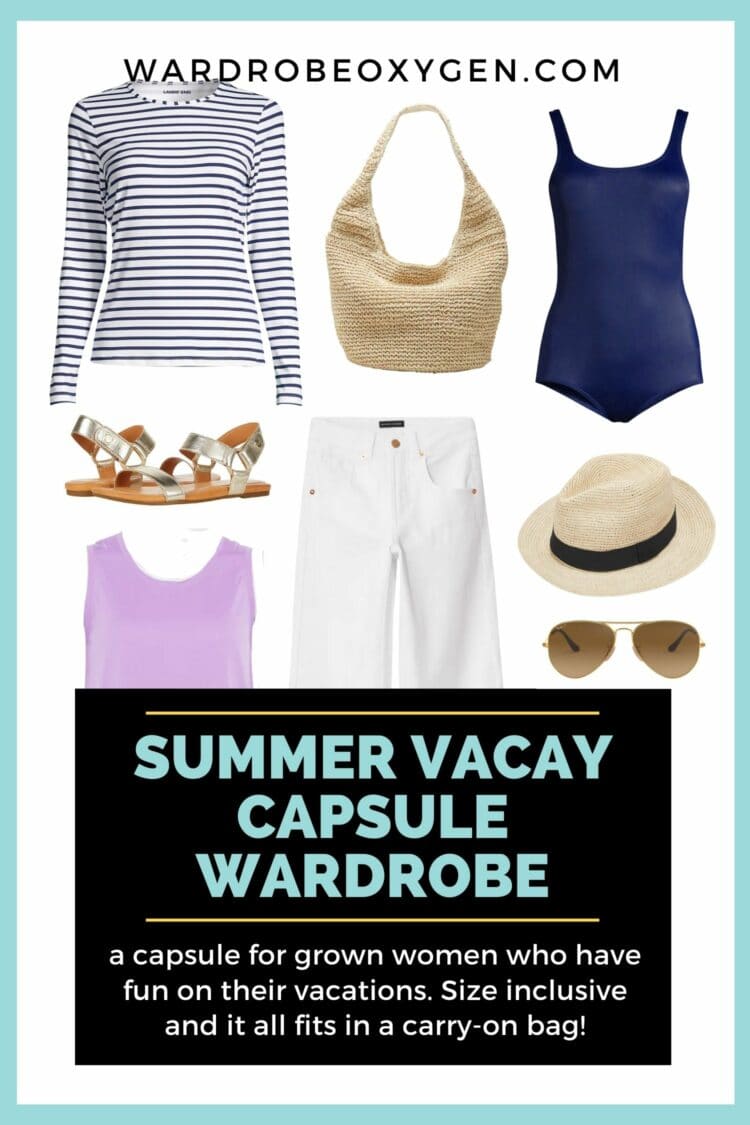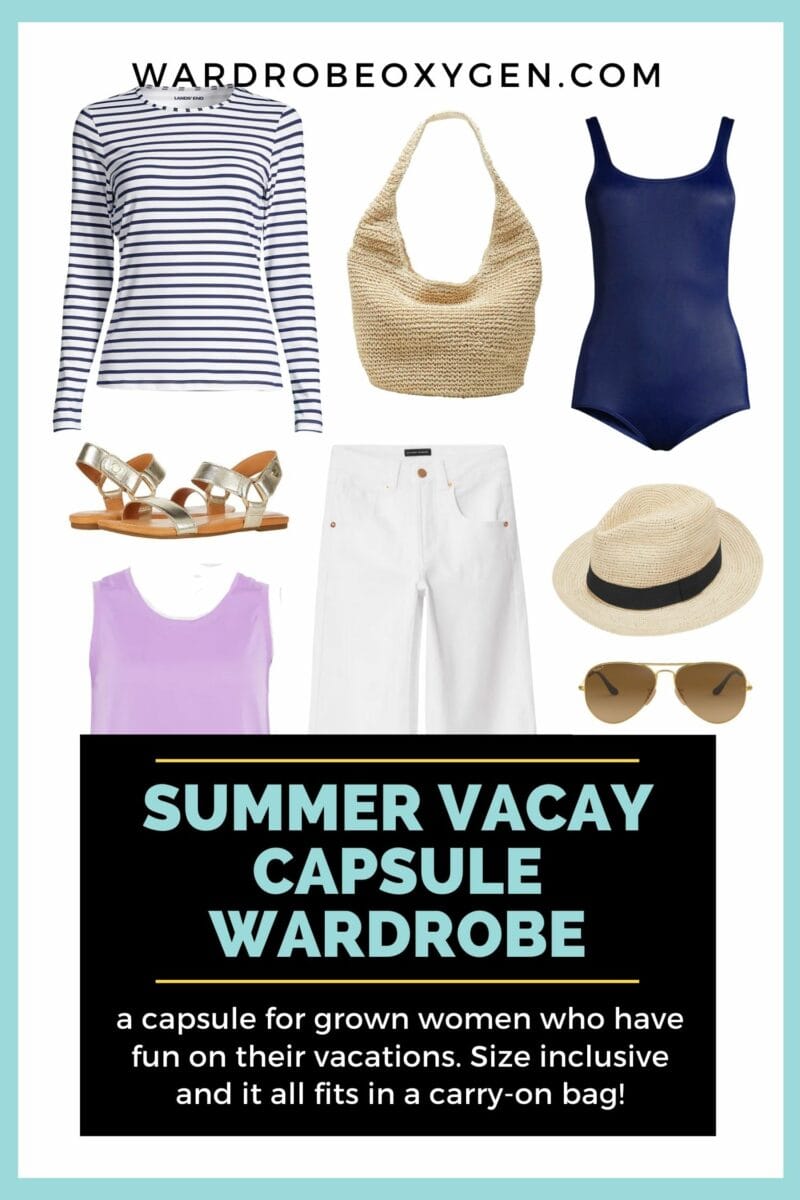 it has been a while since I have built a capsule wardrobe. The world has been topsy-turvy and we haven't known what will happen tomorrow, next week, next month. But with things evening out a bit, many of us are venturing out this summer on vacations. Beach and lake getaways, road trips, family vacations… what the heck do you pack to keep it simple, light, but be ready for whatever your holiday brings? I hope this summer getaway capsule wardrobe will help guide you!
Summer Getaway Capsule Wardrobe for Grown Women
This is a capsule wardrobe for grown women. Everything packed can be worn with a traditional bra and pair of undies. The shoes are cute… but functional. Items can be washed in the machine (or in the sink at the rental house or hotel room). Sun protection is factored in, and everything is available, at a minimum, up to size 20. I will share the size range and alternatives in a better size range when applicable. Also, I promise no fast fashion, but also no $250 t-shirts and $500 straw hats! And with that, let's check out my summer getaway capsule wardrobe and why I included what I did:
What's In my Summer Getaway Capsule Wardrobe?
With capsule wardrobes, you want to stick to a color story so items mix and match with ease. Usually, my capsule wardrobes are based upon black, but not everyone likes black and in the summer, black can be hot to wear. So this capsule is soft neutrals with pops of color. White, beige, navy, blush all mix and match nicely but also look beautiful with lilac, magenta, and other brights you may love.
This capsule wardrobe is based upon my own travels. Earlier this month I went to Lewes, Delaware for a week. Prior to that I did a few days' staycation in DC. Each summer I head to Rehoboth Beach, Delaware for a long weekend. Our family has done cross-country and East Coast road trips for multiple weeks, having to dress for dinner in Manhattan and canoeing in Vermont out of one bag. Each person's priorities are different; I love fashion and my capsule wardrobe may be more "fancy" or elaborate than one for your needs.
My capsule wardrobes are always guides, not gospel. My goal isn't for you to click all the links and buy this exact collection of items. Instead, I want you to think about what you already own that may fit the role, and then only purchase what will take those items you already own and be cohesive and fill in the gaps.
A Summer Getaway Capsule Wardrobe for Grown Women
A grown woman can be 25 or 85. I used to say women over 40, but life experiences can have us mature more quickly; also many women choose to never grow up. I respect both of these and offer style advice for those who have deemed themselves grown-ass women. You know who you are!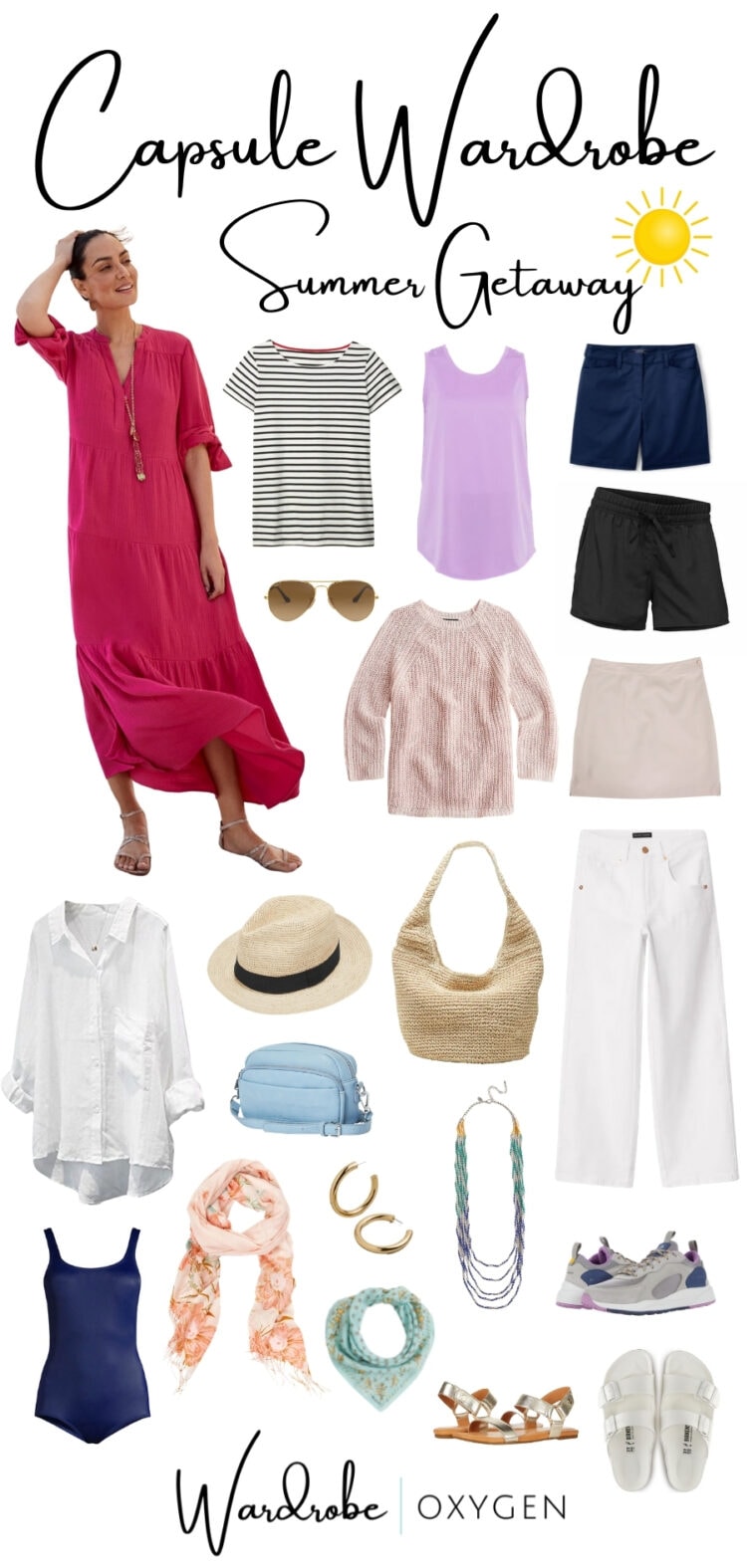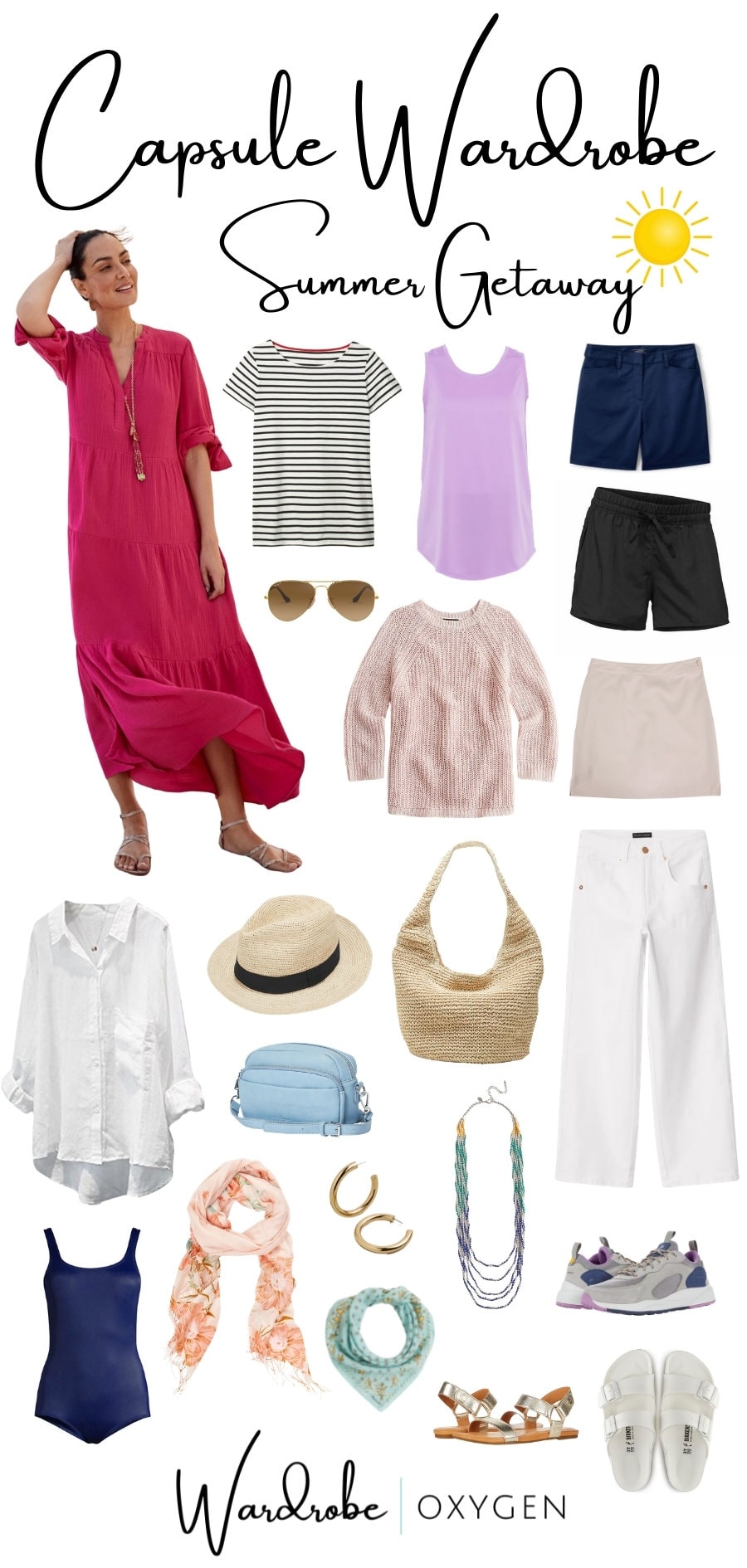 Shop The Capsule Wardrobe:

The Why Behind These Capsule Wardrobe Items
As I mentioned before, I based this capsule wardrobe off my own summer getaways, and most of the items in this capsule wardrobe I either own, or own similar and have found it so useful for trips:
A Summer Getaway Capsule Wardrobe If You Have More Room in Your Suitcase…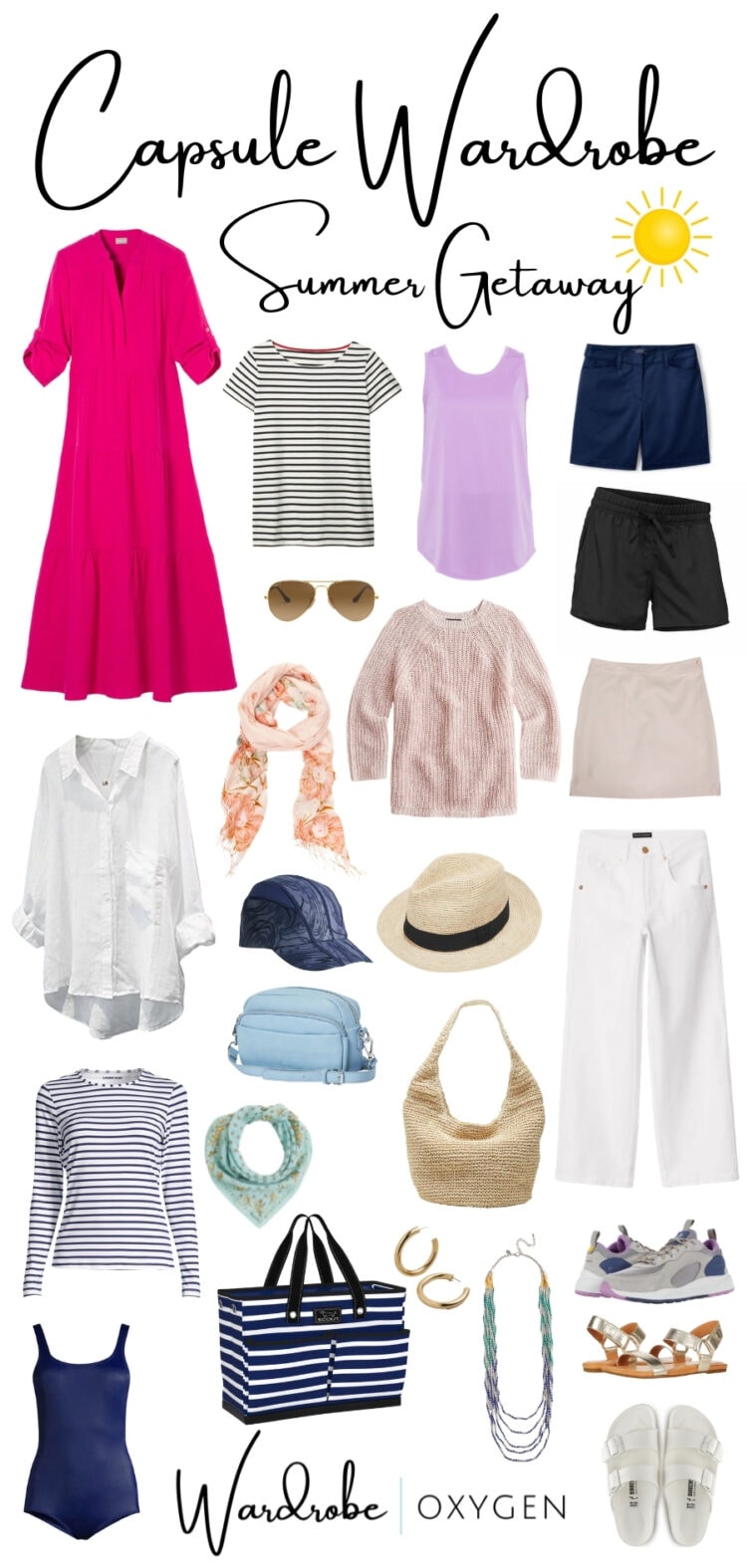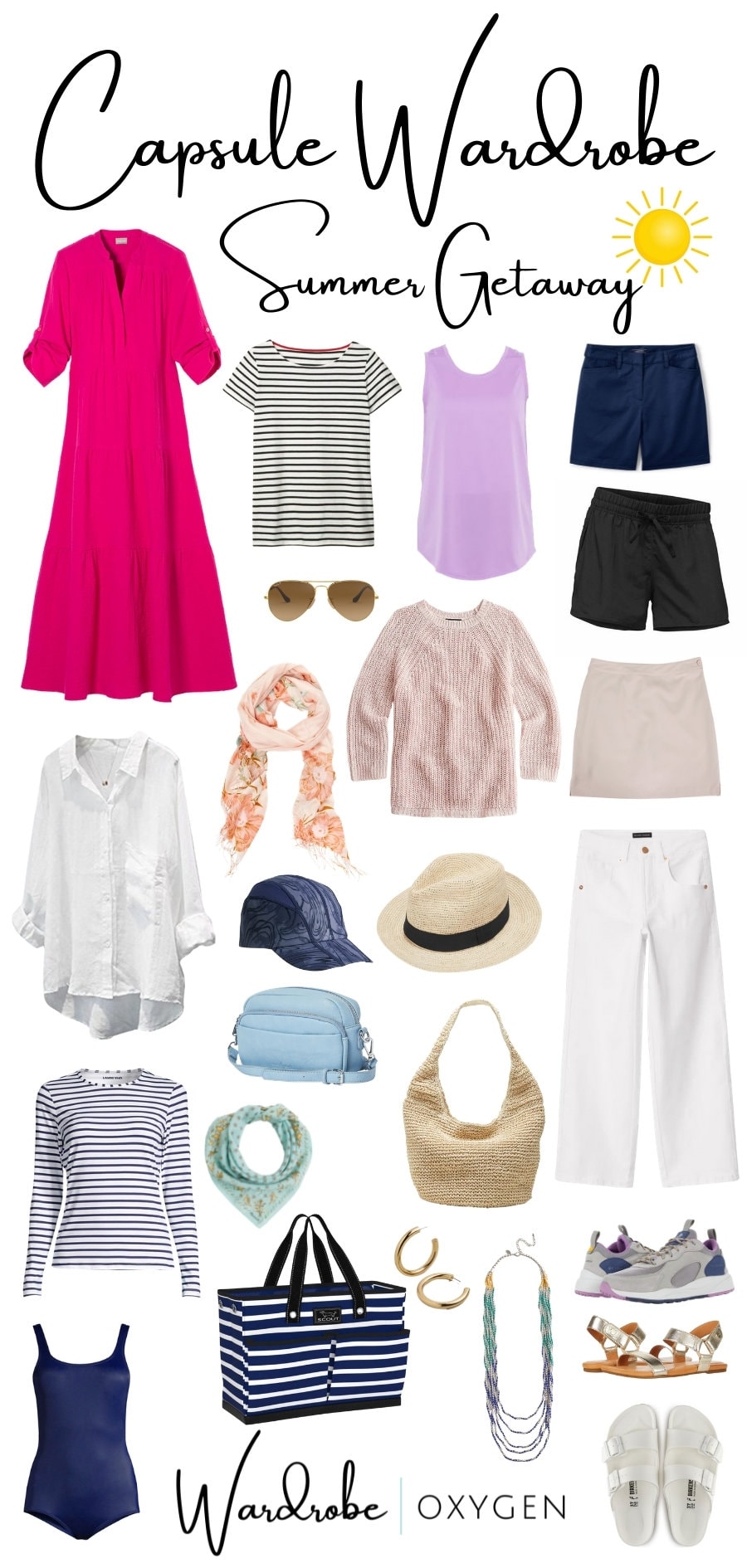 Shop these Capsule Wardrobe Additions:

Now, are you going on a summer getaway for three days or three weeks? Are you with a group that loves bar-hopping or dining out, or will you be doing more outdoor activities? Adding just a few items may be able to extend your summer getaway capsule wardrobe by days or situations. Below are some items I regularly throw in my luggage for a summer getaway (the tote, cap, and rashguard make cameos in the possible outfits from this summer getaway capsule wardrobe).
Sample Outfits from My Summer Getaway Capsule Wardrobe
I have created 25 different looks from this capsule wardrobe. To see the individual looks, tap any of the photos below to scroll through the gallery. Just X out to return back to this screen.
Can This All Fit in a Carryon Bag?
I am a size 14 woman with size 8 feet. I think that is necessary to share with any capsule wardrobe that claims to fit in a certain size bag. Your size determines the size of the items going in the bag, and that is rarely factored for capsule wardrobes. I didn't use to factor it myself, but will go forward so you can determine if a capsule will fit as well as how much additional space you may have.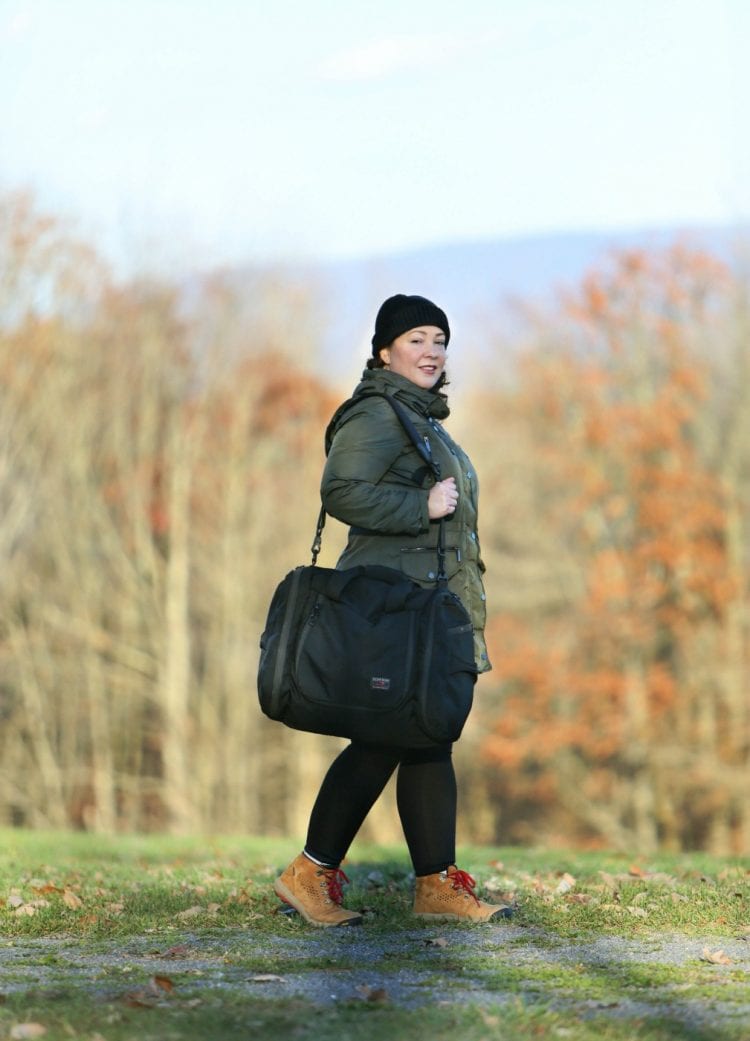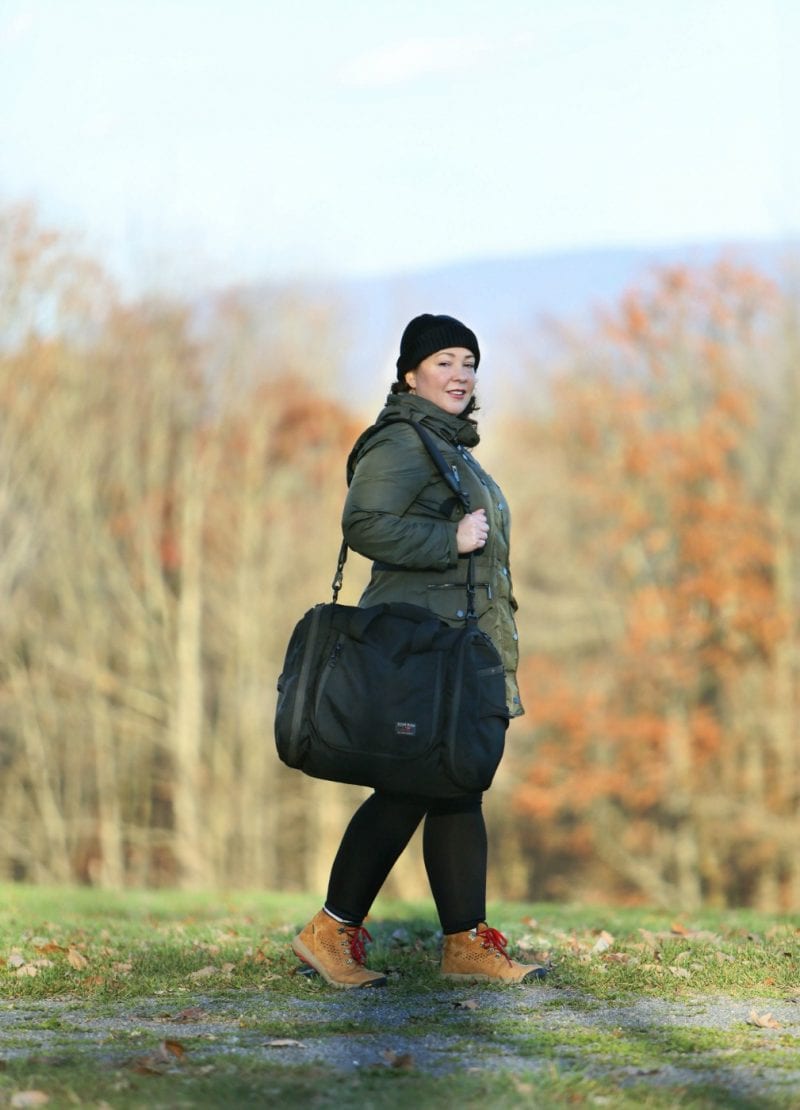 I was able to fit these exact items or size/weight/style equivalents of all of this (except for the waterproof tote) in my Tom Bihn Aeronaut 45 (Read my Tom Bihn Aeronaut review. In it you see photos of me holding the bag so you can get a good feel for its size). There was still room left over to tuck my underpinnings, an extra swimsuit, a lightweight knit zip-up hoodie, a second bandana, two sleeveless knit tops, a bracelet, and two more pairs of earrings. I likely could have fit more, but I wanted it to be able to still slip out the backpack straps but keep them in during transport.
The Tom Bihn Aeronaut 45 is small enough to be a carry-on bag on a domestic flight (though it is at the max for size; full specs on the product page). It has handles, plus a crossbody/shoulder strap AND padded shoulder straps. It is designed where you can work out of your suitcase sitting on a luggage rack without anything spilling out. It's soft, which is great for car travel, but also structured enough that you can stack items on it easily. I have on multiple occasions worn a full Aeronaut as a backpack and walked a dozen city blocks or almost a mile to my hotel. My husband and I use ours for all of our summer getaways.