This article may contain affiliate links; if you click on a shopping link and make a purchase I may receive a commission. As an Amazon Associate, I earn from qualifying purchases. 
A bit ago, a reader asked me about a pair of shoes I wore in an Instagram photo (I share far more outfits over there than here so come on over and follow!) and I realized I haven't shared bits of my closet lately, or recent purchases.
This summer has been atypical thanks to this arm situation. A huge portion of my wardrobe is unwearable thanks to the bulk of the cast or my reduced dexterity, and that has affected my choice of footwear (some shoes just DON'T go with everything!). This has caused me to really examine what I buy and more importantly, WHY. I recently shared this post from Momastary on my Facebook page (another place you should follow me because the content there is different from here on the blog) and it really resonated with me, especially this quote:
"I will not be a slave to the Tyranny of Trend any longer. I am almost 40 years old and no catalog is the Boss of Me anymore. I am free. I am not bound to spend my precious days on Earth trying to keep up with the Joneses- because the Joneses are really just a bunch of folks in conference rooms changing "trends" rapidly to create fake monthly emergencies for us."
As you know from some of my recent more personal posts, I've made a concerted effort to see the positive in my arm re-breaking and using this time to craft a more positive and healthy life. While that has included walking, Whole30, and some other new habits, it has also affected my shopping. Am I shopping to try to fill a void? Am I buying to keep up with the Joneses (or bloggers) or to make more compelling blog posts or because there's something else in my life I need to focus on but am afraid or don't want to do so? Anyhoo, lots of existential mumbo jumbo when this is supposed to be about SHUZ! But point is, this summer my shoe purchases were made with more thought and care.
I broke my summer/early fall shoe collection into two categories: pretty, and practical: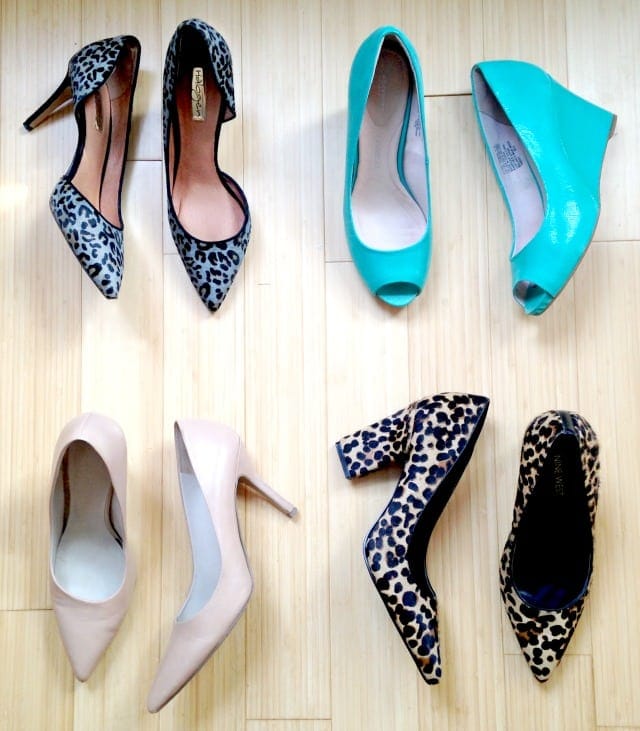 My pretty shoes. These are shoes for work, for nights out, and when I want to feel fancy with my simple knit dresses or jeans. Clockwise from top left we have the Halogen 'Marlie,' Rockport Seven to 7 Peep Toe Wedge (c/o), Nine West 'Ugogirl,' and Nine West 'Flax.'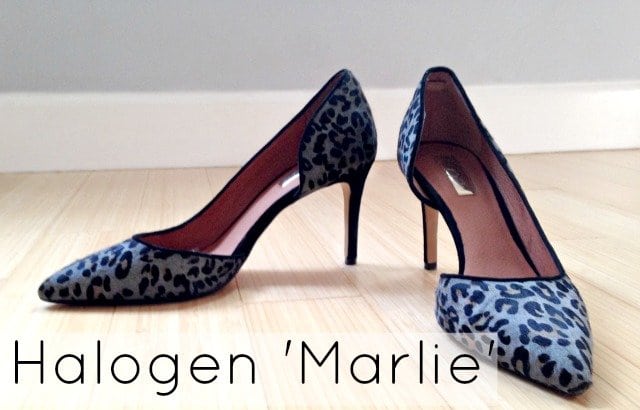 I said in my Nordstrom Anniversary Sale post that I wouldn't buy these shoes because I already have a ton of leopard shoes, but this summer I saw that my leopard semi-flats and leopard pumps got more wear that any other work shoe. All my other leopard calfhair shoes were warm tones and I often wished I had a slightly different version so while they were still on sale I grabbed these. They're not my first pair of Halogen shoes (or first pair of leopard Halogen shoes) and like my others, I find them comfortable and well-made especially for the reasonable pricepoint. These shoes have been worn with black, blue, denim, white, skirts and pants and jeans.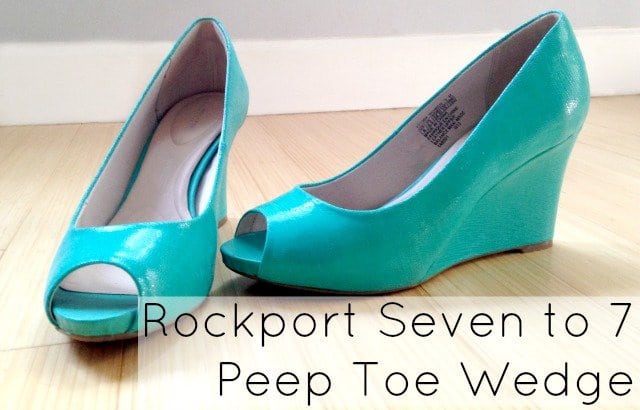 It's so nice when a brand sends me something and it ends up being in regular rotation. These pretty snakeskin wedges from Rockport are just that. I've written before about Rockport's comfort, and I love how they are able to have sneaker-comfy shoes with great style. I love this color with denim, and they look great peeking out from work trousers. While some may rock wedges with skirts, I think they look a bit wonky on me and keep them for pants. But these are my go-to for a day after a pair of painful heels or when I'm wearing a boring outfit and want a punch without a lot of effort. And by the way they look great with a red nail (my summer tootsie color has been OPI's Big Apple Red).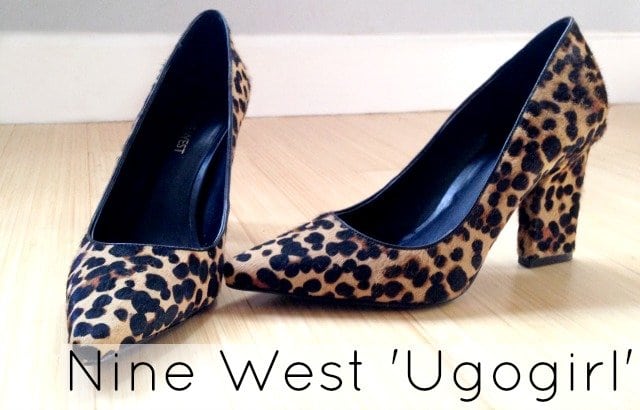 My Ivanka Trump Indicon leopard calfhair pumps are comfy but they're looking a tad worn after two+ years of city life. My cobbler does his best to cover heel nicks but I was looking for a replacement. While I have had a watch on eBay for a year and regularly check places like 6pm for the exact shoe, I was okay with finding a completely different shoe. The 'Ugogirl' immediately appealed to me because while it had the pointed toe that I adore, it had a modern thicker heel. They fit like other Nine West shoes, which is good for my chubby in front/skinny in back feet and the wider heel makes them wearable for a longer period of time.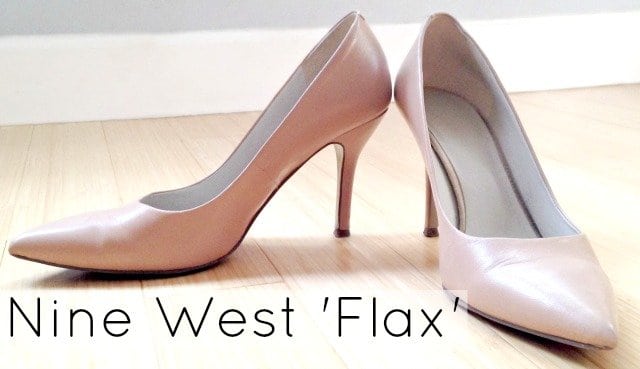 Oh Nine West 'Flax,' how I adore you. I have this very shoe in red and black pony hair (an impulse buy I still adore but hardly wear), peacock print (not worn often but SOOO worth it, my absolute favorite statement shoe), silver (haven't worn recently but get a lot of wear in fall and spring), black, and nude. After several summers, I finally found a nude that matches my skintone and of COURSE it's in this style! 'Flax' can often be found for super cheap on sites like 6pm and Amazon, occasionally on sale at Macy's and Lord and Taylor but they're getting harder to find. I went to a Nine West outlet while at Rehoboth on the hunt for more 'Flax' (hopefully a backup pair in nude or black) to no avail. But a non-shiny, single sole pointed nude pump is more of a workhorse in my wardrobe than the same shoe in black. It's a great way to summarize black and darker outfits, and elongates the leg.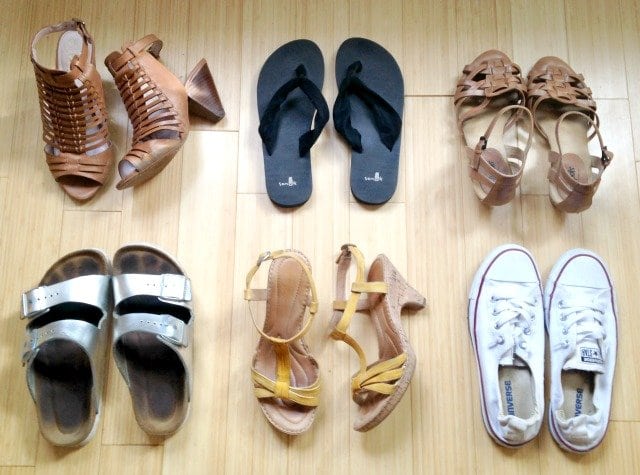 And now my practical shoes. These are the true workhorses, and honestly, they look it so no close-up shots of these babies. Clockwise from upper left we have the Vince Camuto 'Effel,' Sanuk Yoga Mat Flip Flops (c/o), Softspots 'Ventura' (now discontinued so linked to only retailer I could find that still has them), Converse 'Shoreline,' Born 'Myndy,' Birkenstock 'Arizona.'
I bought the Vince Camutos back in February in black and this color. Tan was backordered, black arrived, I wore once and found them stiff and they cut my ankles. Returned. The tan arrived and I was ready to return them right away but decided to try on. Completely different experience! The leather is soft, the fit different, and the color far more flattering. I wear these shoes weekly, with dresses (seen here) and jeans (seen here) and pants (seen here) and skirts (seen here). The heel is a wearable height and I don't hesitate to choose these for long workdays or general admission concerts.
I wear flops far less than I used to, and I think it's because with this arm I haven't spent much time at a swimming pool. These hang out at the front door to wear to the mailbox, to take Cindy for a quick walk or Emerson for a quick trip to the playground. They also slip into my bag for pedicures. I don't condone flip flops as actual shoes, but these are uber comfy and the fabric strap more refined than plastic making them a great choice for the pool, beach, and bumming around.
The Softspots Ventura sandal is my JAM. Almost the same color as my legs, a mini wedge which is more comfortable than completely flat. This is my second pair (found them on eBay unworn in box) because the first pair was destroyed after a few summers of music festivals, concerts, and weekend events. Worn them here, here, and here.
Converse Shorelines are amazing. Far more comfortable than the All Stars, but with the same style. I've worn them here, here, and here and wrote about them here and here. Love.
The 'Myndy' by Born, I bought these on clearance and immediately regretted it. What the hell Alison, I don't wear yellow! There's not a single yellow thing in my wardrobe! They ended up sitting unworn in a box for several months. Then I pulled them out and realized what I was missing. These babies are COMFORTABLE and CUTE and yellow, when this shade and with a cork wedge heel ends up being a neutral! I've worn them on the blog here, here, and here. I wear them with jeans, with dresses, and even with shorts. They're so comfy, I wear them days when I know I'll be doing a lot of walking but flats won't look right. Even though I bought these a few years ago, they're still available each summer in different colors (love the pink) and often found on discount sites.
And my silver Birks. Sorry not sorry, I wear the HECK out of these babies. I can walk miles in them, I can stand on my feet for hours on concrete in a crowded concert pit, I wear them with casual dresses and cutoffs, maxis and boyfriend jeans. I love that they go with my beloved silver cuff, and I don't care that they're clunky and overly trendy and played out. I love my Arizonas, and likely will be wearing long after the trend dies.
There you go, the most worn shoes in my wardrobe this summer! What are you favorite shoes in your wardrobe, and what are your must-have footwear workhorses?