This article may contain affiliate links; if you click on a shopping link and make a purchase I may receive a commission. As an Amazon Associate, I earn from qualifying purchases.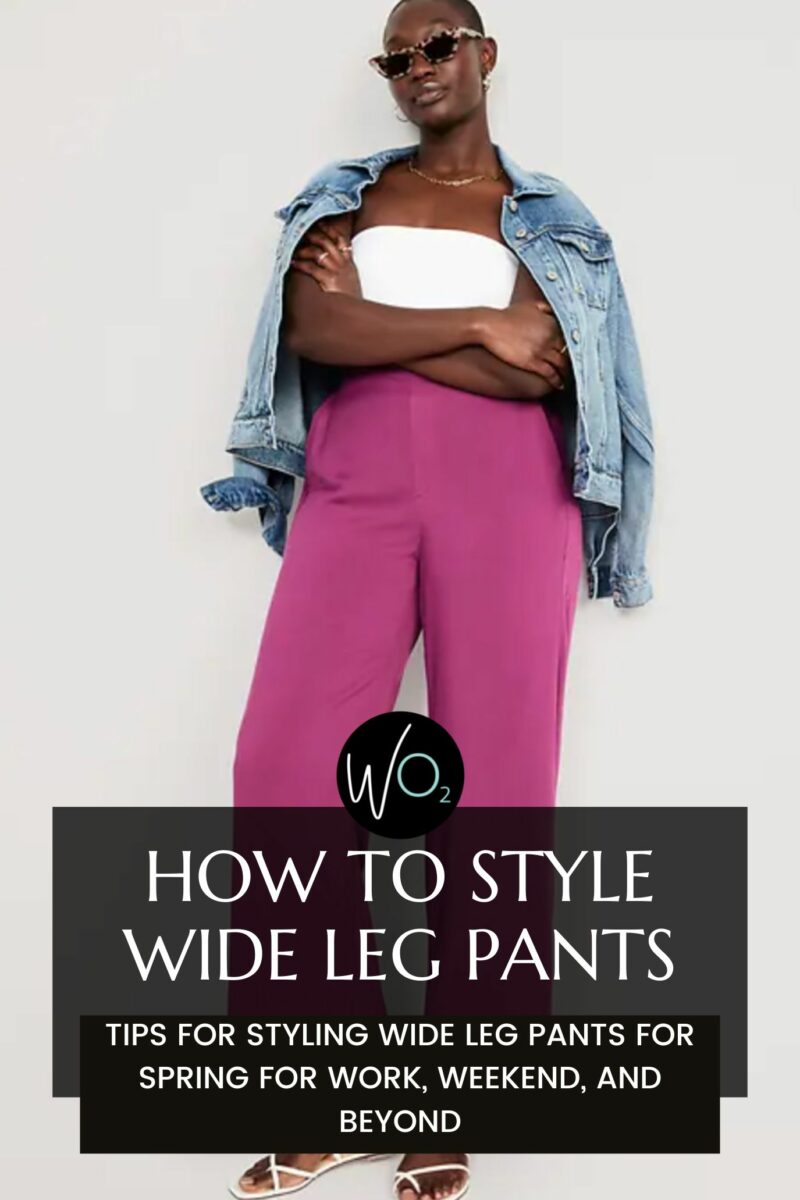 If you're like me, you're looking at your closet and wondering what you're going to wear as the seasons change. You may be wondering what current fashion trends you may consider adding to your closet. For me, I think a lot about pants as I think it will be the easiest and most impactful way to update my existing closet. I find the wide-leg fashion trend to look modern, fresh, and also be comfortable. Below I share some tips on how to style wide leg pants as a grown woman.
All women have the right to wear whatever they wish. I do not subscribe to the belief that women of a certain age shouldn't wear certain styles. In fact, these days I think such a mentality is incredibly dated. Fashion is fluid, and true style comes from dressing for yourself not for the approval of others. As grown-ass women, we have earned the right to wear what brings us comfort and joy.
Comfort goes beyond whether an item binds or restricts. It's clothing that allows you to be your most confident, true self. For some, that may be a wide-leg ponte trouser with a pull-on waistband. For others, it may be high-waisted leather jeans that fit like a second skin. Comfort is personal, unique, and deserved.
Joy is also personal. Joy can come from color, texture, trend, sentimentality, and more. But the idea of comfort and joy should be at the forefront when considering to add anything to your existing wardrobe. You likely already own "gets the job done" apparel. Let's add comfort and joy to your existing closet with a pair of pants that will work with your existing knitwear, shirts and blouses, jackets and toppers.
The Trends, They Are a-Changin'
Just like the skinny jean trend, the primary pants trend the past decade+ has been a slim to skinny fit ankle pant. Often compared to pants worn by Audrey Hepburn (and often named after her), these pants have been seen as classic, working equally well with the on-trend shoe styles of low-profile sneakers like Chucks, ballet flats, almond-toe pumps, and sleek loafers. Such pants work with volume on top: denim jackets, cardigans, untucked tunics and hip-length knits, untucked and half-tucked button-front shirts.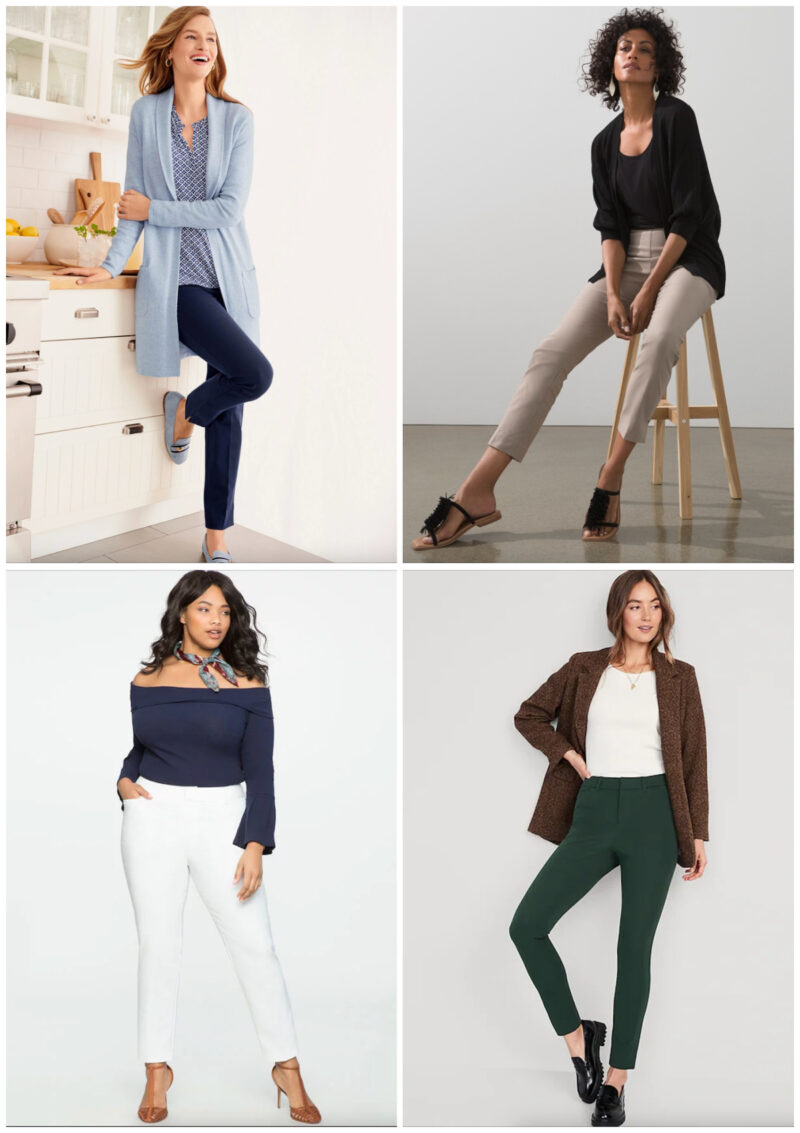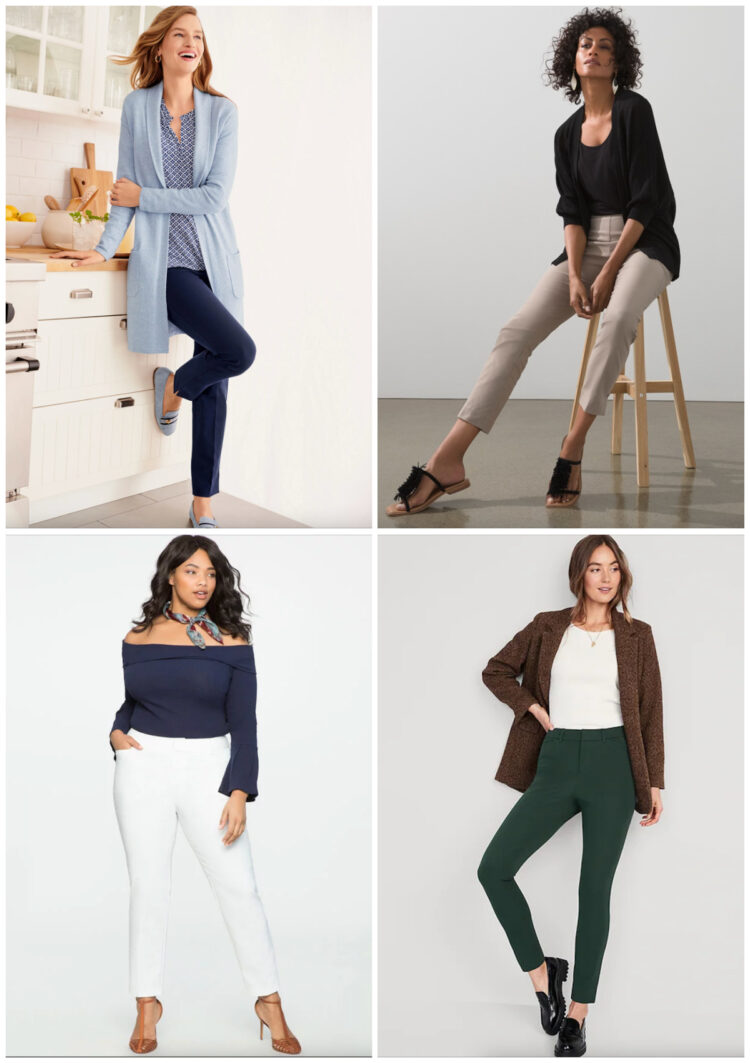 Some styles of this pant that have had enduring popularity in the past decade are the Old Navy Pixie Ankle Pant, the ELOQUII Kady Pant, the Talbots Chatham Ankle Pant, and the Chico's Brigitte Pant. And these pants are still stylish, but the pants trends has become more expansive… literally.
As I've previously mentioned on Wardrobe Oxygen, fashion right now is about Taking Up the Space You Deserve. This can be with wearing bold color, trying trends that break style rules for slenderizing or hiding the body, and choosing silhouettes that are looser, bolder, or styles with more fabric and flow or architectural details.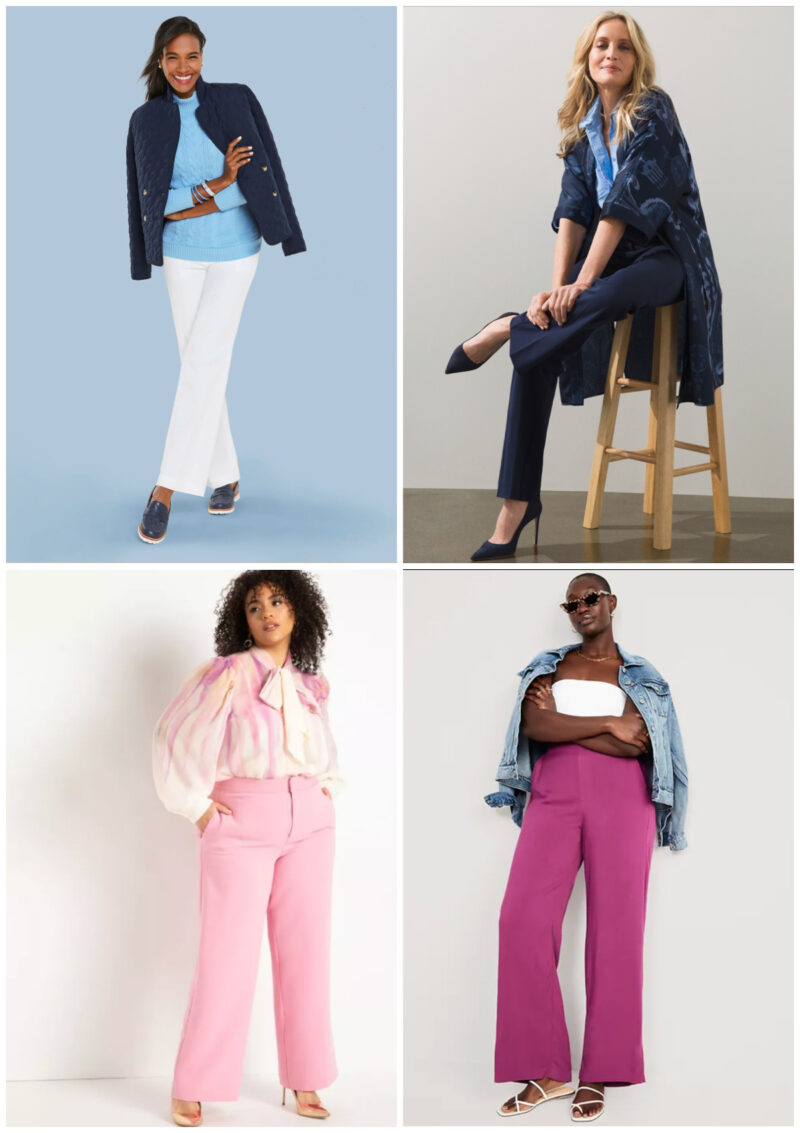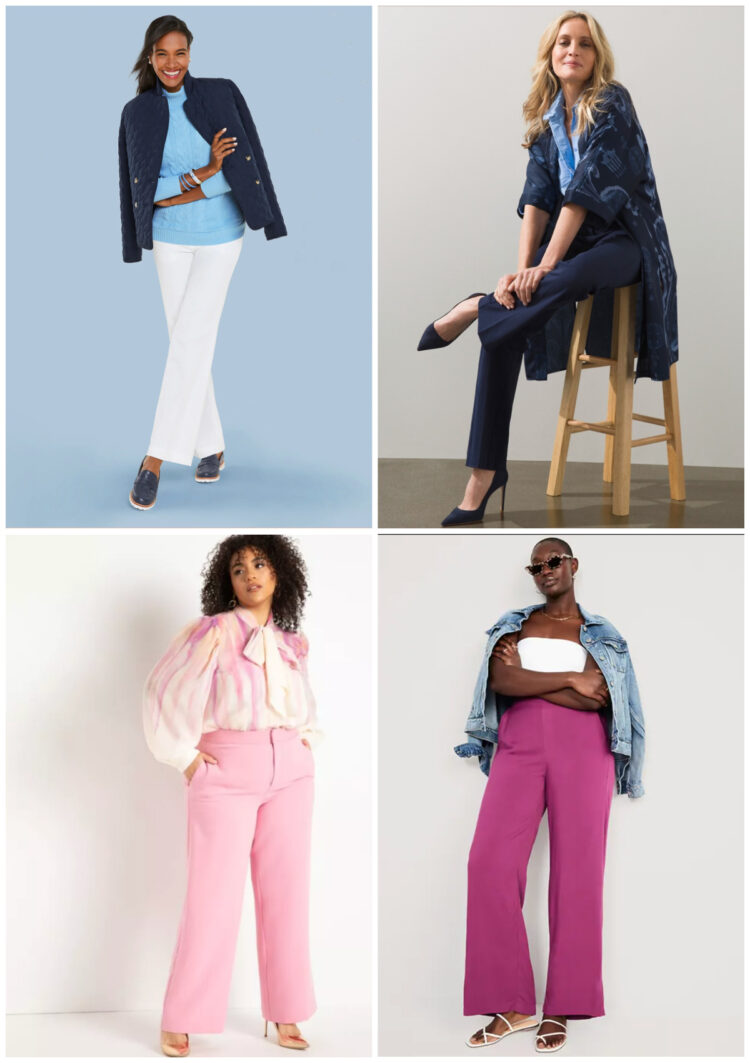 I'm telling you, despite what Stacy and Clinton may have stated in 2003, a skinny pant will not make you look even five pounds smaller than looser trousers. And the comfort and joy that may come from trying such a pant may increase your personal style quotient exponentially.
Go ahead and keep wearing your skinny ankle pants. I will not condone disposing of anything in your closet that fits and functions in your life and with the rest of your wardrobe. But if you're looking to update your closet, these pants trends may be the perfect thing:
How to Style Wide Leg Pant as a Grown Woman
The current trend of wide-leg pants is whatever you want them to be. Soft silk, rayon, and crepe; sturdy yet stretchy ponte, relaxed chino and linen, professional suiting fabrics, and dressy fabrics like satin and brocade. Most styles have at least some elastic at the waist, whether they are a pull-on style or have a traditional fly and hidden elastic in back. As for rise, that too is whatever you want and you will find everything from Y2K-inspired hip huggers to ribcage-grazing high rises. I personally find a mid- to high-rise the easiest to wear and the most commonly found at retailers.
Styling Wide Leg Pants with a Graphic T-Shirt
For so long, wide leg pants gave a feeling of formality. Suiting trousers, palazzo pants, wide legs were dressy and swishy. And they still are, but they can also be dressed down with casual pieces like tank tops, denim jackets, sneakers, sandals, and graphic t-shirts.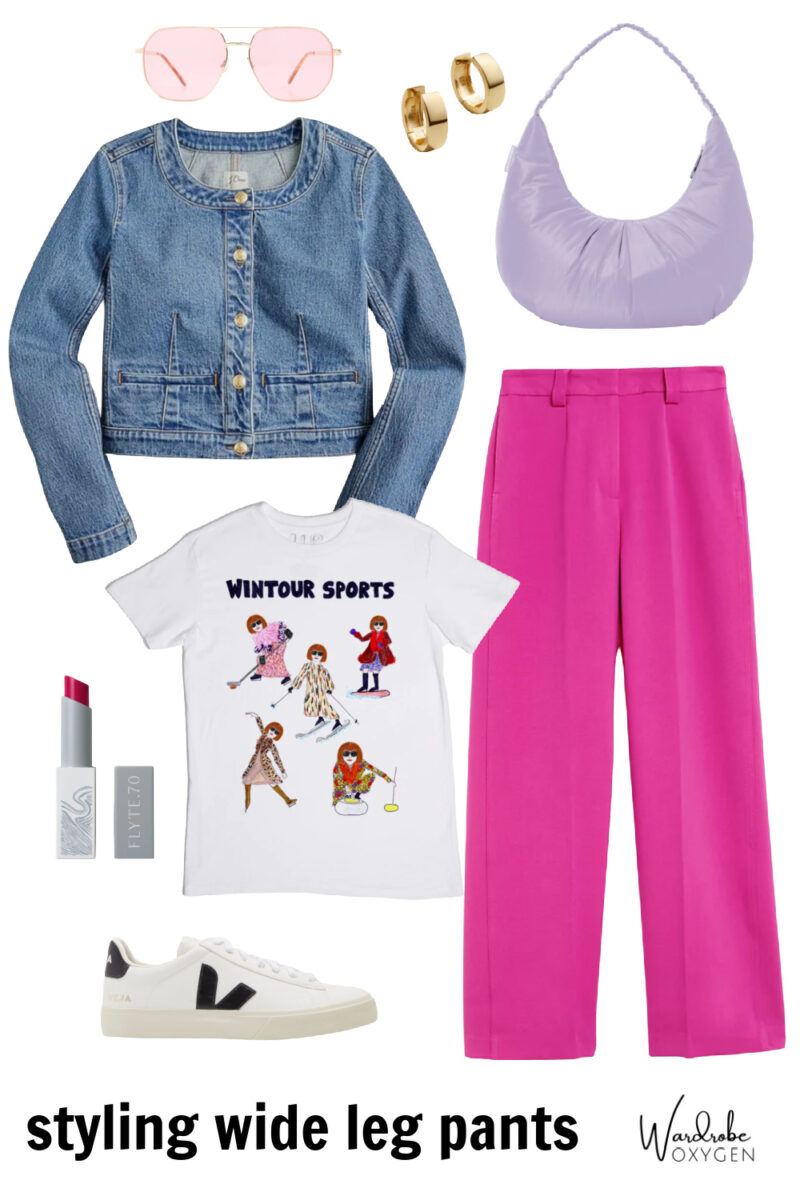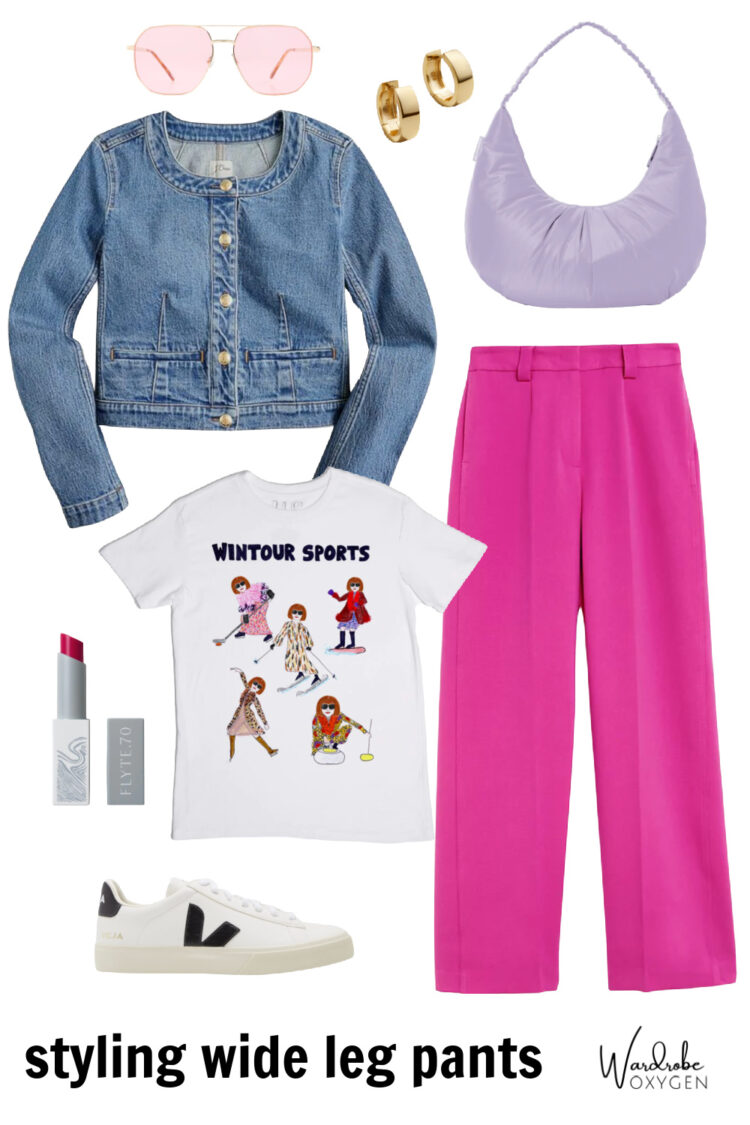 Styling wide leg pants with a graphic t-shirt:
pants (sizes 2-20 w/ tall/short) | t-shirt (XS-XXL) | bag | jacket | lipcolor | sunglasses | sneakers | earrings

If you love rocking a graphic t-shirt with your skinny ankle pants and sneakers, this is an easy transition to a wider leg. You can tuck in the t-shirt or knot it (my preferred knot is this one which I show how to do in an Instagram video). A pair of sneakers looks great with wide-leg pants.
While I have sunset brights in this outfit, you can easily go more neutral. As for these pants, I ordered them and liked the quality but found they ran big; if in doubt size down. But these pants can be worn year-round and dressed up or down with ease. The lipcolor is a favorite to tuck in a bag for a quick swipe of color that doesn't have to be super precise (AKA enjoy that latte).
Styling Wide Leg Pants with Sandals
As the weather warms, sandals can keep you cool and comfortable. They also look great styled with wide leg pants! My preference are Birkentocks which are supportive and in style this year, but you can do a flat sandal, slight wedge, or most any style to loo vacation chic.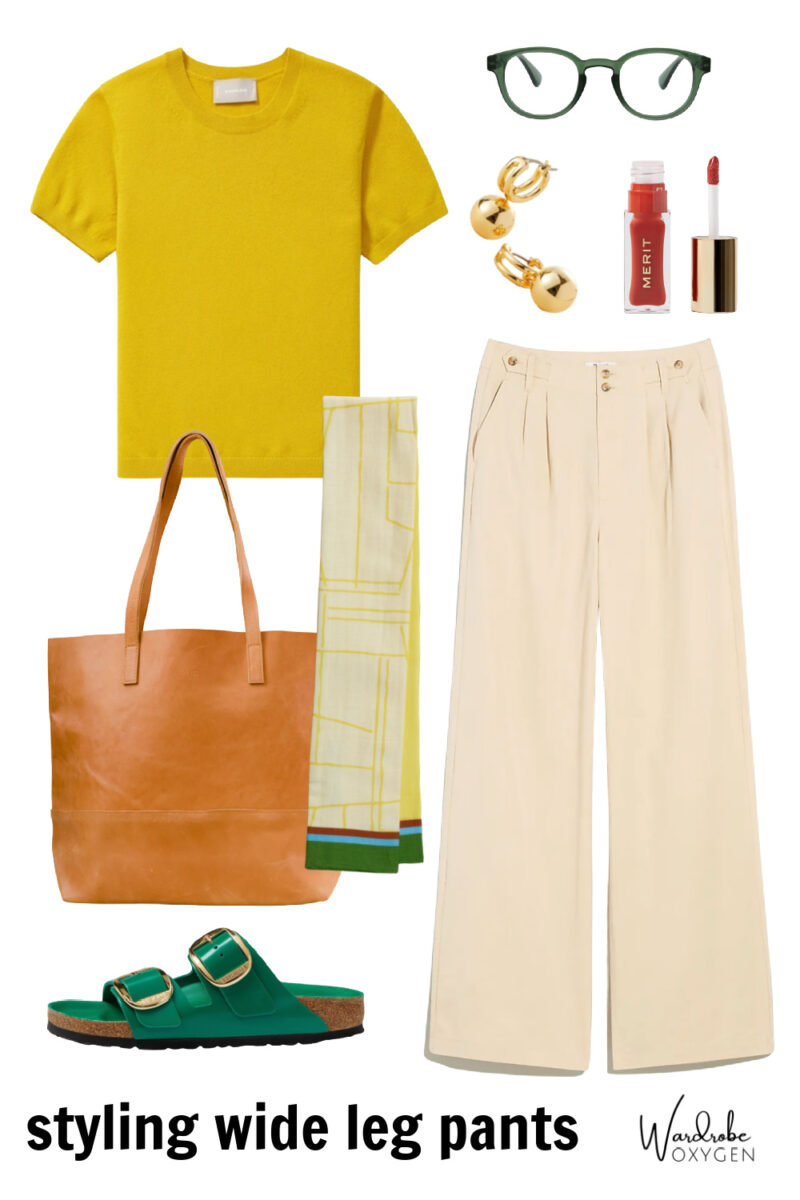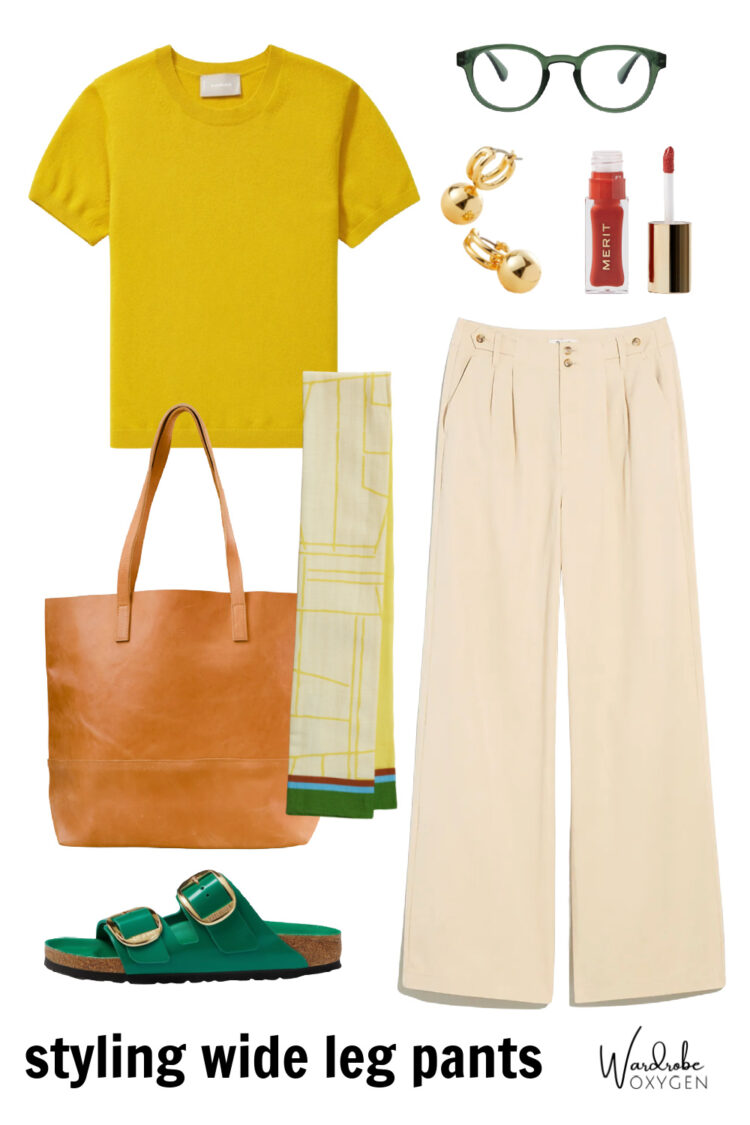 Styling wide leg pants with sandals:
cashmere tee (sizes XS-XL) | pants (sizes 00-28W w/ petite/tall) | sandals | tote | lipcolor | reading glasses | scarf (wear as a belt) | earrings

I chose these pants after a rave review from a member of the Wardrobe Oxygen Community on Facebook. They come in multiple colors and can dress up for work or dress down for the weekend with ease. Wear with boots, sneakers, or your favorite sandals (I own this exact pair in red). I wore these same pants all spring, summer, and will continue into fall. They wash well and drape beautifully.
Styling Wide Leg Pants with an Untucked Top
Style lightweight wide-leg pants either by balancing the volume with a slimmer or tucked in top, or embrace the volume with a matching voluminous top or relaxed blazer. To keep volume with volume from looking like pajamas, focus on fit. Yes, even oversized can and should be tailored. A grown-ass woman has her sleeves the right length, the fit loose but not sloppy.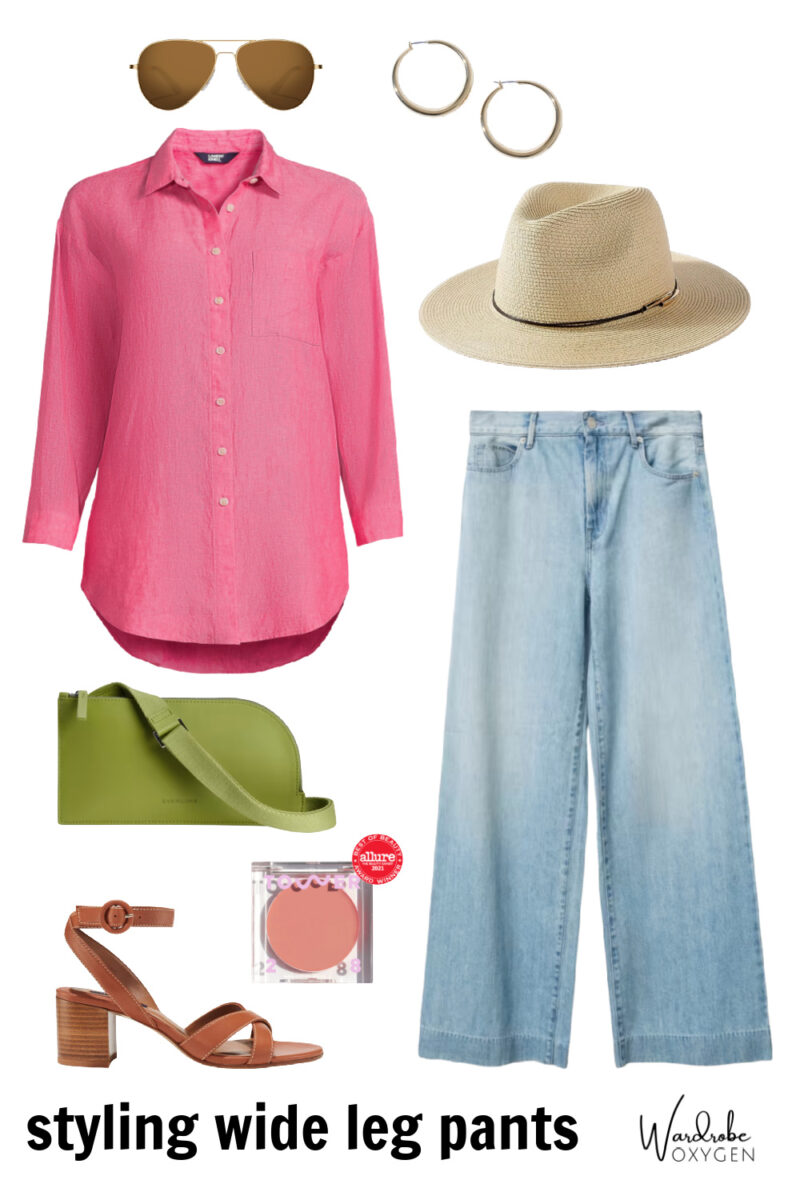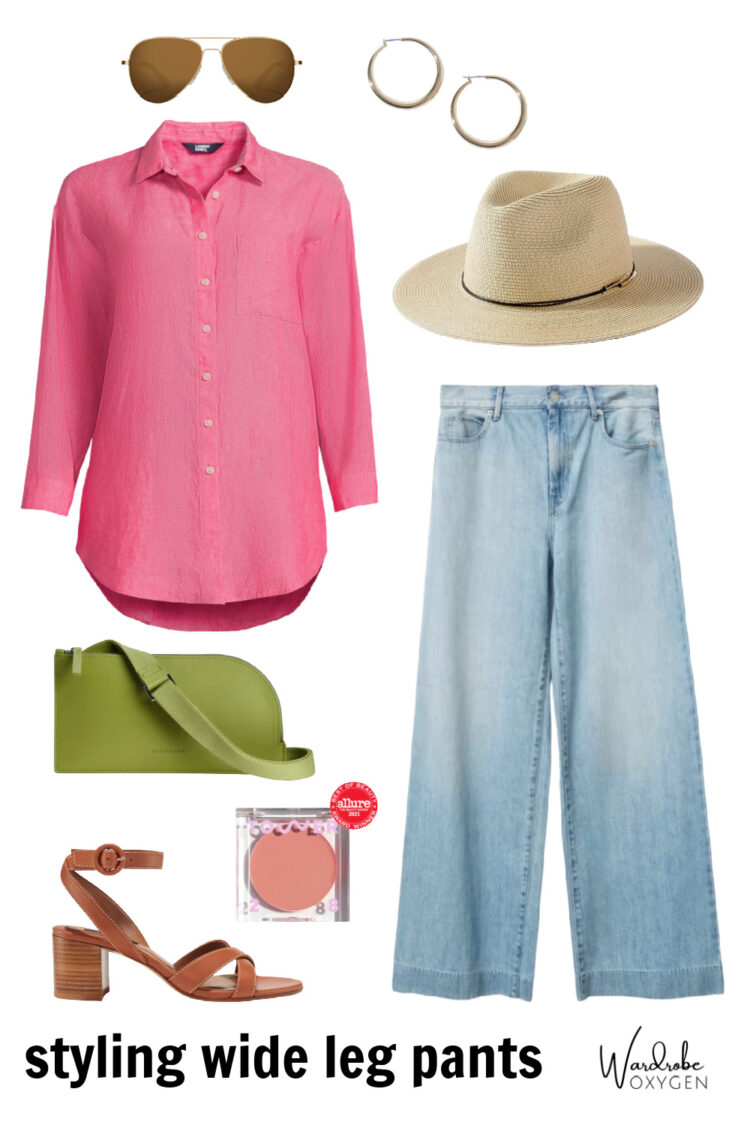 Styling wide leg pants with an untucked top:
shirt (sizes XS-XXL w/ petite/tall; link for plus) | lightweight jeans (XS-4X w/ tall) | hat | sunglasses | hoops | bag | facecolor | sandals

To keep from being a box, consider unbuttoning the last buttons of the shirt and rolling up the sleeves. Create the sense of a waist by knotting the shirt, or wear the shirt partially or completely open over a white tank. I own these sunglasses and these hoops and can attest for the quality.
Wide-leg pants and wide-leg jeans before now had primarily been cropped to the ankle bone. While you can still wear such styles, this year pants have gone full-length. Your wide-leg pants now should hit 1/2″ to 1/4″ from the floor covering most of your shoe.
Styling Wide Leg Pants for the Office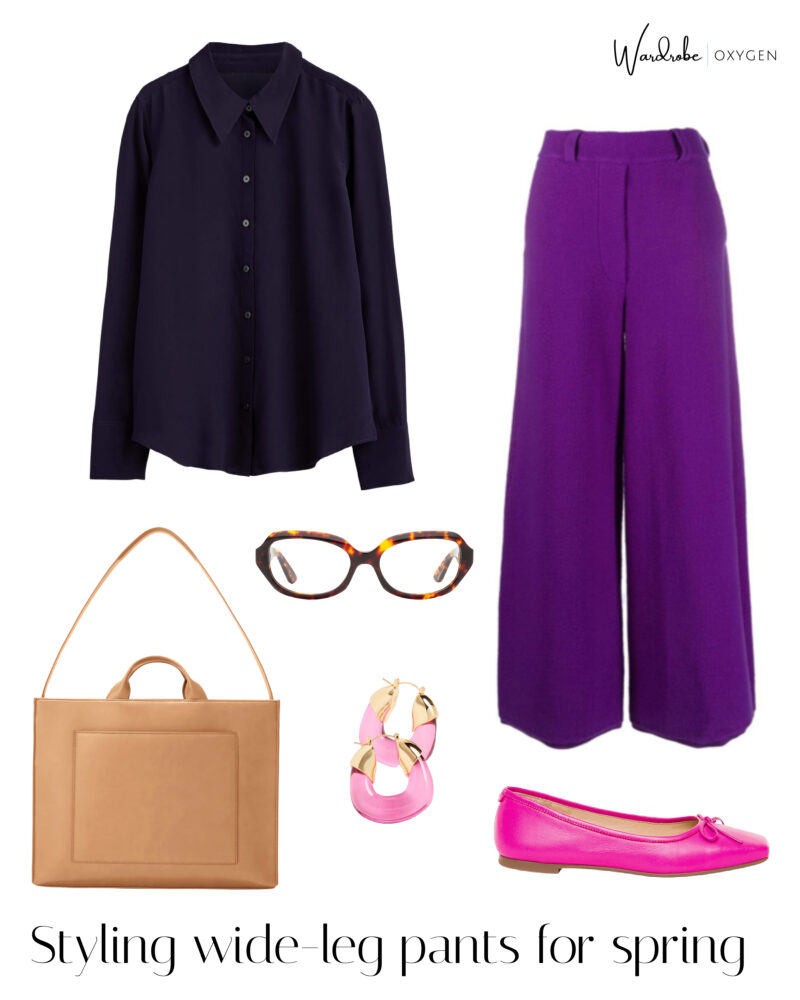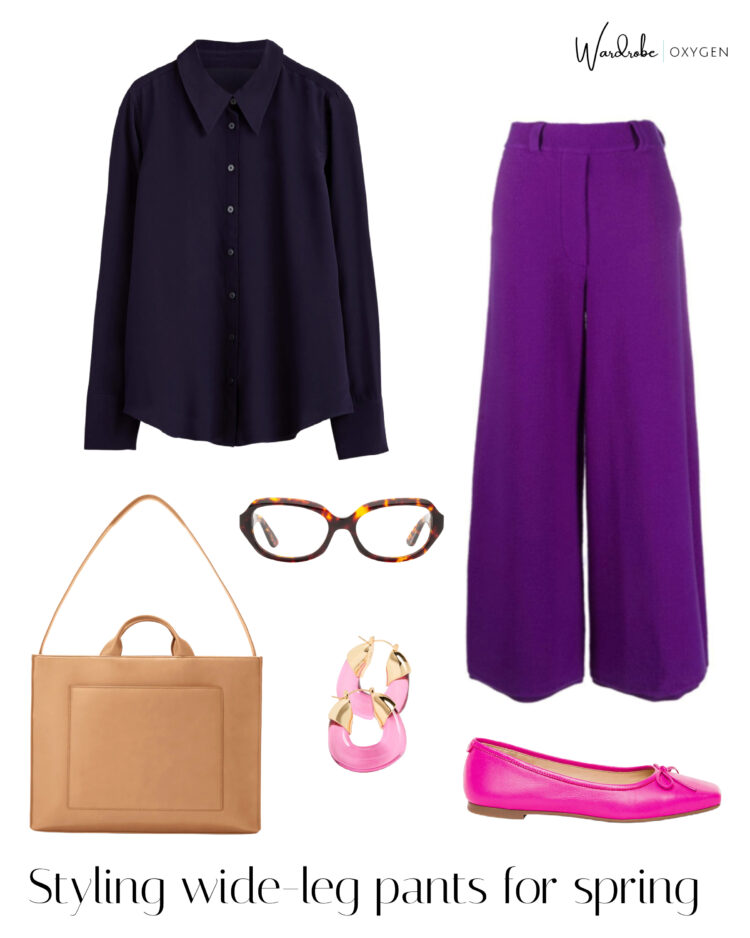 Styling wide leg pants for the office:
blouse (sizes 2-10/22 & petite) | pants (sizes 2-18) | reading glasses | laptop tote | earrings | flats

I recently bought these pants and am between two sizes; I found both fit but the smaller size had a nicer drape. I love how they are machine washable and a great length for my 5'3″ self. I've styled them with a range of looks but love the lightweight crepe with a silky blouse and a structured flat with a modern square toe. Leave the blouse out, tuck it in, roll up the sleeves (or use sleeve garters), the choice is yours! I own several bags from this bag brand and can attest for the quality.
Styling Wide Leg Pants for the Weekend
After a couple of years of joggers and sweats, elevate your weekend look with pull-on wide leg pants that are just as comfy and easy-care but incorporate a current silhouette.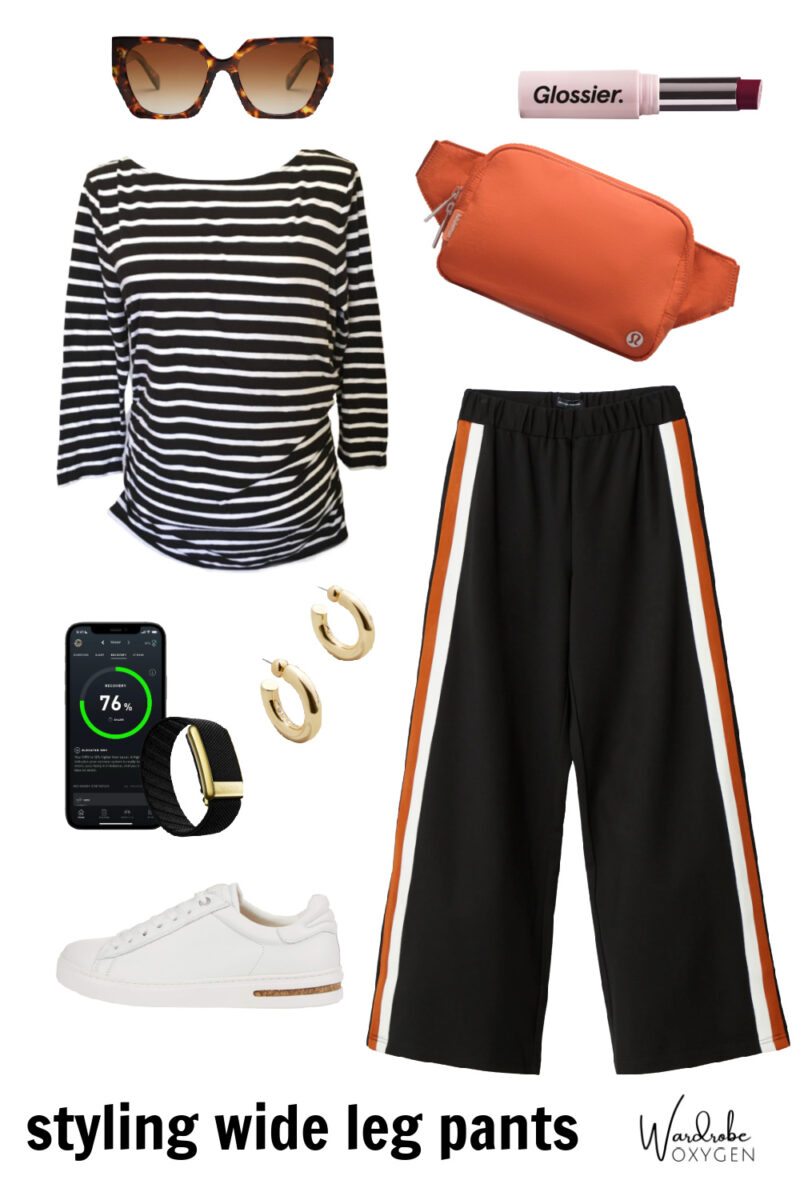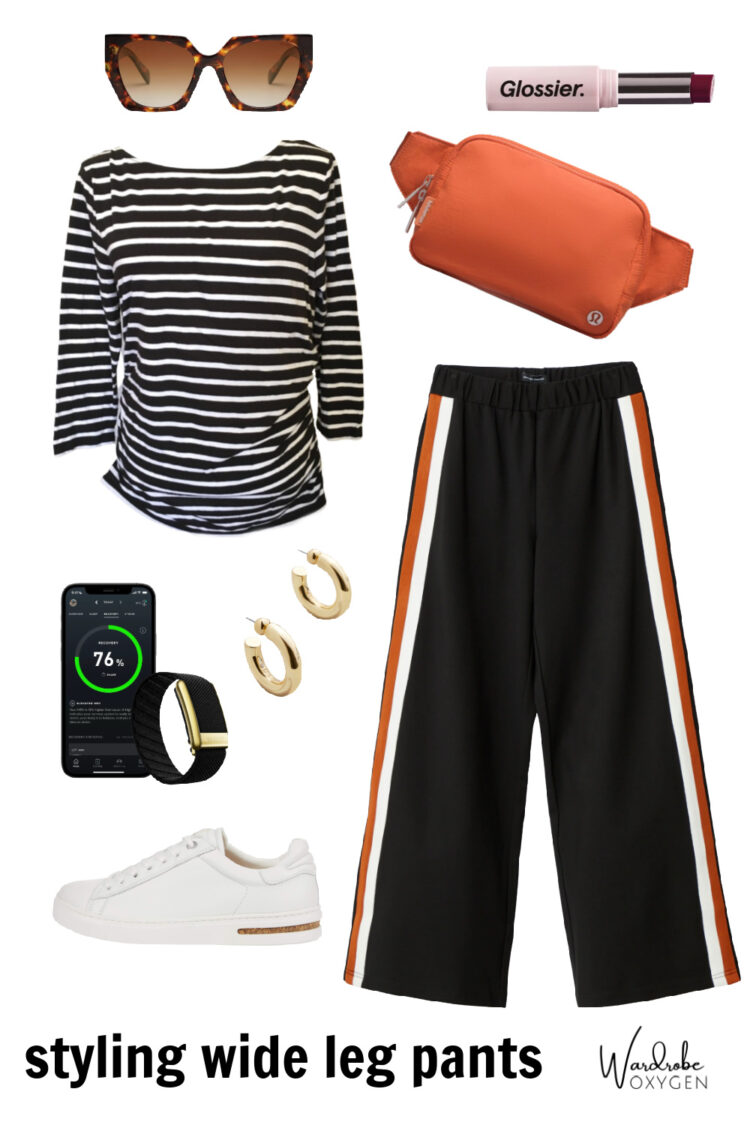 Styling wide leg pants for the weekend:
shirt (sizes 00-40) | pants (sizes 00-40) | sunglasses | lipcolor | belt bag (wear as a crossbody) | fitness tracker | earrings | sneakers

This is literally an outfit I own and wear. I own the top, the pants, the shoes, the lipcolor, and the fitness tracker (which I personally use more to track quality of sleep, health, and stress). I have a smaller version of this belt bag and it has done me well as a crossbody all summer long. And I did a very detailed review of these sneakers and why I think they're great for travel, walking, and everyday.
I hope these examples of how to style wide leg pants (as well as wide leg jeans) get your sartorial juices flowing and you're inspired to try this silhouette. The wide-leg pant trend isn't going anywhere, and once you try it and get familiar with this new silhouette, you may find you really enjoy it! Let me know how it works for you!
Please note I wrote this post at the beginning of 2023 but updated it for fall as the wide leg pant trend is still popular and I wanted to offer some seasonally appropriate outfit ideas as well as items that are in stock to shop.