This article may contain affiliate links; if you click on a shopping link and make a purchase I may receive a commission. As an Amazon Associate, I earn from qualifying purchases. 
Every so often I like to give you a peek into my closet to see what I am working with, how I organize it. A lot has changed since the last time I did a detailed collection post – biggest thing is I have lost weight. Returning to a comfortable size, I am able to find more clothing that fits and flatters, and have begun to have fun with fashion again. While wearing bright colors fits my personality, it does mean a bit larger of a collection to have reasonable pairings and not look as though I am wearing the same ensemble every day.
My current closet: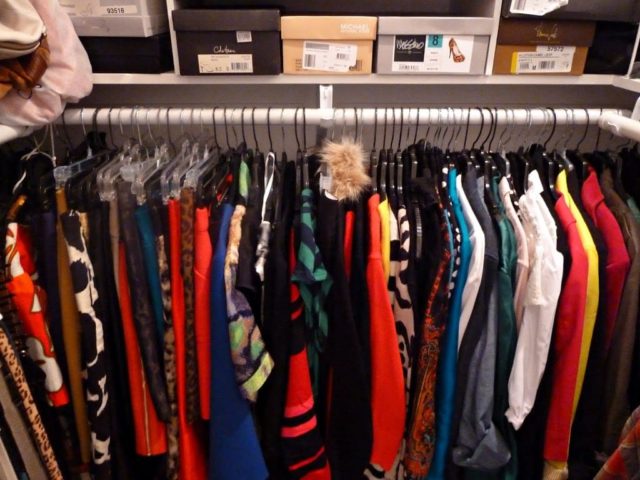 The left side has skirts and dresses (the far corner has out of season dresses and some pieces that don't yet fit but shouldn't be stored in the attic):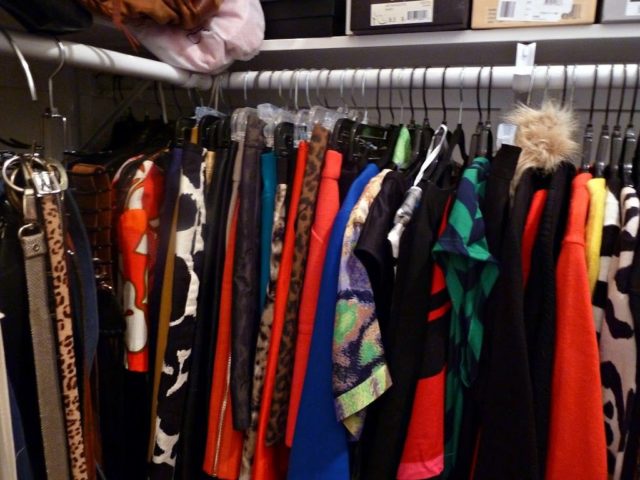 The right side holds sweaters, shirts, and jackets: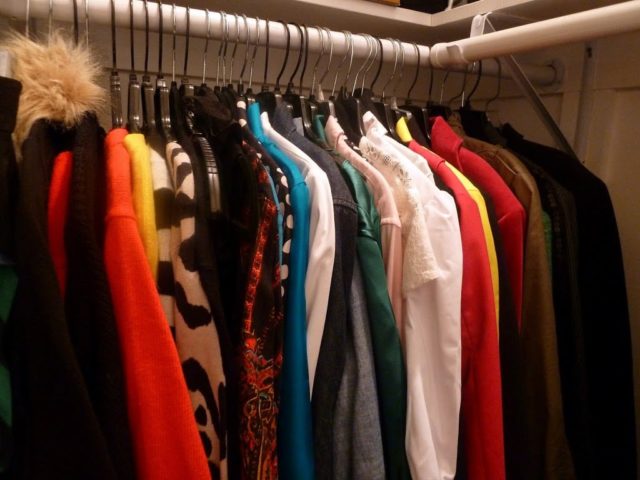 As you can see in previous posts and the edges of these photos, I store purses and shoes on the shelves above my 2/3 of the closet, I have a canvas organizer to store my smaller bags and scarves, and then two racks to hold my belts.
As for my non-hanging clothing, I store them in three drawers in my bureau: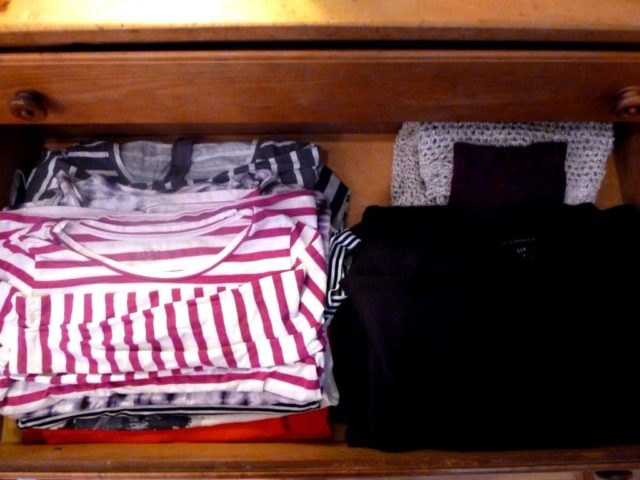 The first has my knits. I fold the tees in half, then the sleeves across the front. This makes the best use of the size of the drawer and it's easy to flip through to find the tee I want. These are all "nicer" tees – ones I would wear to work or the weekend. I'd love to store all my sweaters in here, but there's no room, so cardigans and novelty sweaters are in the closet.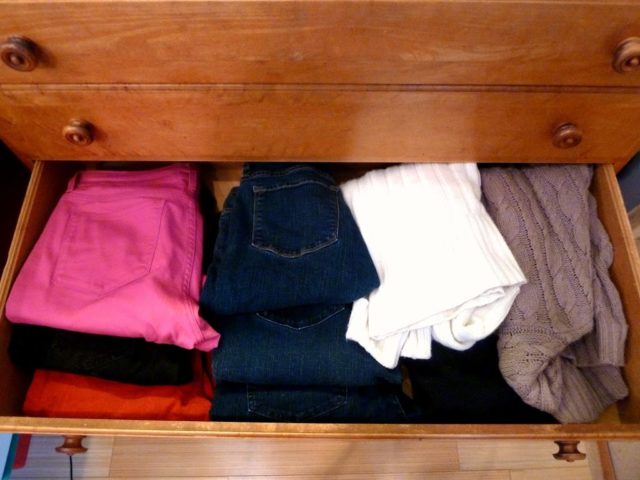 The second holds my jeans and my bulky sweaters.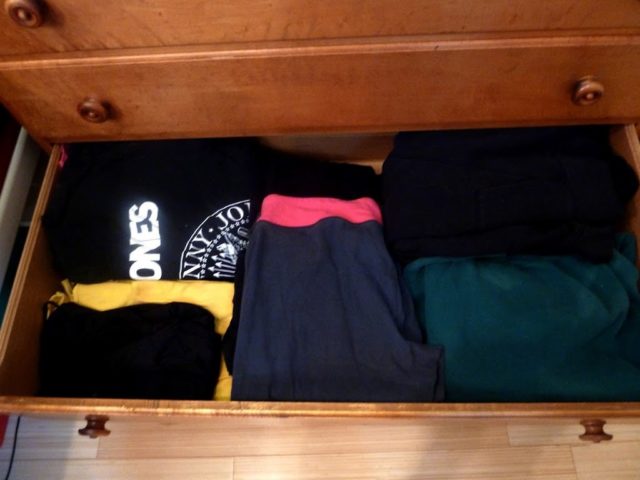 The bottom drawer is for my bum-around and workout clothes – yoga pants, hoodies, tee shirts, and then my super basic tanks (which do get weekend and work play but usually as a bottom layer).
A breakdown of my wardrobe: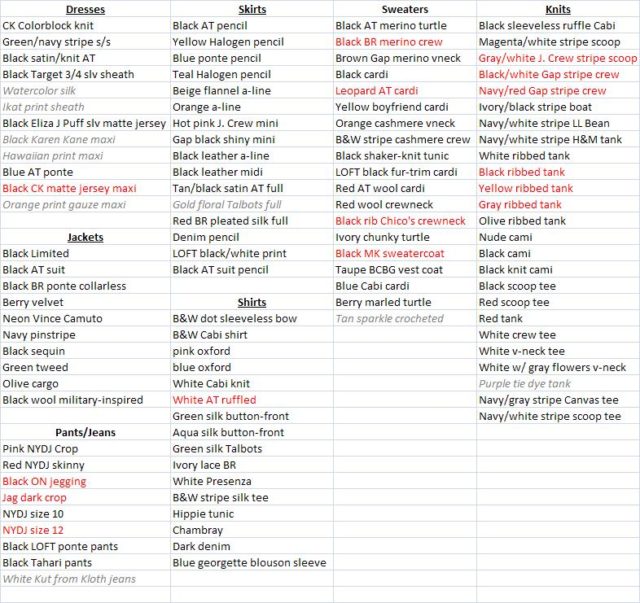 Click to see larger.  Red means it needs to be replaced (too big, not good condition, etc.), gray means it is out of season (in the closet either because I think I may be able to make it work for cold weather or because it's too delicate to go in the attic).AT-Ann Taylor, CK-Calvin Klein, S/S-Short sleeved, Slv-sleeve, ON-Old Navy, NYDJ-Not Your Daughter's Jeans, B&W-Black and white
Things I am looking for to complete the collection for spring:
White jeans – the Kut from Kloth ones are too big
Tan shoes – I don't want "nude" but not brown; something more like beige or tan, possibly with a wood heel
Another pair of pants – Thinking maybe navy, or possibly white if a heavyweight fabric
New knits – many of my knits are getting too worn or too big to be work-appropriate
Solid-colored dress – I'd love something with a feminine silhouette in a cheery color like magenta, purple, or even orange. Something I could wear to work but also dress up for a wedding or date night
Jeans – I am always on the search for jeans that fit and flatter! I only have one pair right now in indigo that fits properly and even they are getting to look a bit worn.
I don't think I have had a closet this big since back when I worked retail, however everything in this closet are things I do actually wear regularly (except a couple jackets and dresses). It may not be the right collection for all, but it is one of the hardest working collection of clothes I have had in a long time!
Follow Me | Twitter | Facebook