This article may contain affiliate links; if you click on a shopping link and make a purchase I may receive a commission. As an Amazon Associate, I earn from qualifying purchases.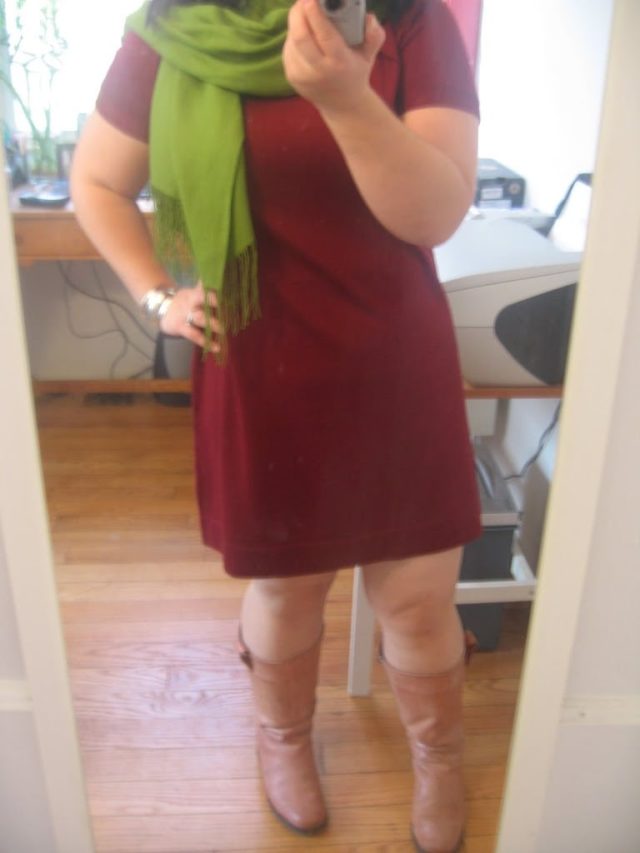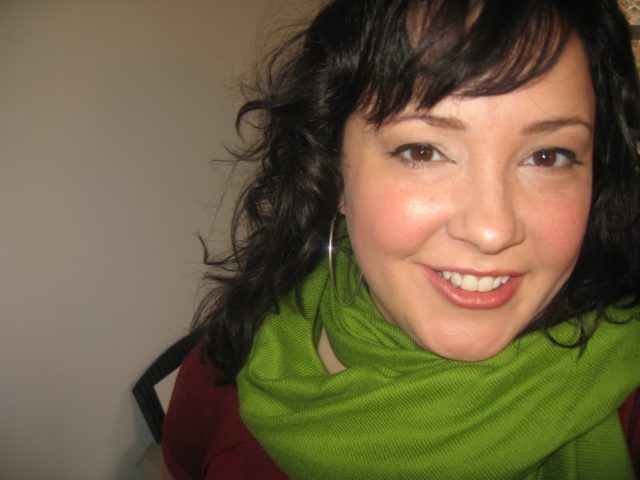 Thursday we went to my mom's for the holiday. The weather was amazing – in the 70s and beautiful. Crazy to have all the windows open on Thanksgiving!
I wore my burgundy merino shift dress from Banana Republic ('07), silver hoops and cuff, tan Bern boots from Duo ('07).
Hair was second day since it was colored and cut the night before; hit a few pieces with the curling iron and some Jonathan Silky Dirt twirled around pieces for smoothness and separation.
Makeup is L'Oreal True Match foundation in C3 for concealer, philosophy The Supernatural in Beige, Nars blush in Orgasm, Revlon ColorStay shadow quad in Neutral Khakis – ivory in inner corners, khaki on lid. Lashes curled, Maybelline UltraLiner in black on top lash line and two coats of DiorShow. On lips is Revlon Shiny Sheers in Sheer Cocoa Glaze (quite a fan of this stuff – Revlon was B1G1 50% off at CVS and I grabbed it with some Chlor-Trimeton for my hives).
So Wednesday night I got my hair touched up and the woman who washed my hair said she and her daughter both have hives (she noticed them on my neck) and said that Chlor-Trimeton has a different ingredient that works better for hives than Benadryl and the rest. Ran to CVS right after my appointment. Hasn't helped much yet (the hives have returned all over my forearms, my neck, face, behind my knees, top of feet and hands and more) but will give it a week.
Thanksgiving was very fun, but ended up awful. We got home around 8:30 PM and ten minutes after we sat down, there was a knock on the door. Mr. Allie's father's neighbor was there, said Mr. Allie-in-Law had an accident. He lives only a block away, so my husband grabbed his coat and dashed over. A few minutes later, he called me to tell me an ambulance was there and they were taking him to the hospital. I drove over to meet them.
My father-in-law somehow fell when exiting his car (he went to Thanksgiving at his sister's house) and slammed the back of his head right on the asphalt. Due to the type of fall (he didn't catch himself, hit the back of the head) he had some brain hemorrhaging. We spent the evening in the emergency room, went home for a few hours of restless sleep and returned back in the morning.
Needless to say, Friday's outfit wasn't too awesome, nor photographed. Orange shawl-collar merino sweater from Banana Republic ('07), Old Navy "Flirt" dark bootcut jeans ('07) and Impo black city boots. Hair was second day, brushed out and left as-is and makeup was Philosophy The Supernatural in Beige, Cargo Matte BeachBlush in Tenerife, DiorShow mascara and the same lipstick as Thursday.
Friday late afternoon, my father-in-law was moved to a regular room and we went home to take showers, feed the dog and get some rest. We then came back with some books, the paper (he LOVES the weekend crossword puzzle) and other things to make him comfortable for his stay. His CT-scan showed no additional swelling, but they wanted to keep him under observation. Not sure the reason for the black-out, no sign of stroke, heart attack or anything else we were fearing.
Saturday was BUSY (hence no photos)! We started with yoga, then dashed home to quickly change. I changed into the same dress and boots from Thanksgiving, but I put a black thermal long-sleeved tee from Old Navy ('07) and black heavy tights from Target ('06) underneath, and my black coral necklace from Mexico (gift – '07). Hair was washed and conditioned, a bit of Jonathan Silky Dirt while damp and dried during yoga. I twirled locks with Jonathan Silky Dirt when dry and straightened the bangs with a curling iron. Makeup Was exactly the same as Thanksgiving.
Went over to the hospital to visit my father-in-law. They decided to keep him an additional day.
We headed past Baltimore for my husband's grandparent's 65th anniversary party. Tons of family was there, it was unfortunate that his father was unable to attend (his parents were the celebrating couple).
After the party, we headed home, had half an hour to relax, and then went to a performance by Bhagavan Das. Wore the same outfit. Afterwards, the yoga studio that hosted the event had a party and we attended until about midnight.
Headed home and I passed out – my husband said I was completely dead to the world. Unfortunately he didn't sleep as soundly and my dog was having stomach issues so he spent the whole evening with the dog, letting him out and listening to him gurgle and pace the hardwood floors of the bedroom.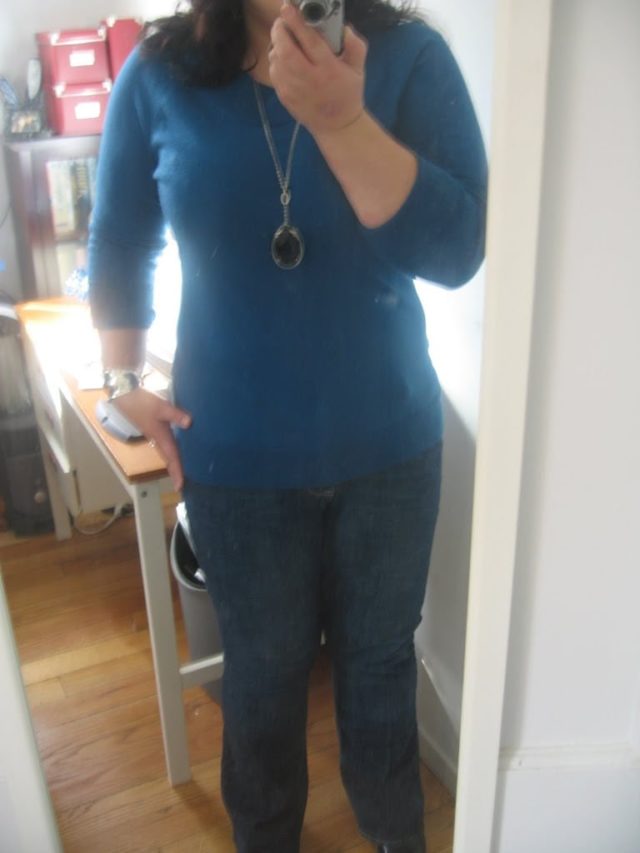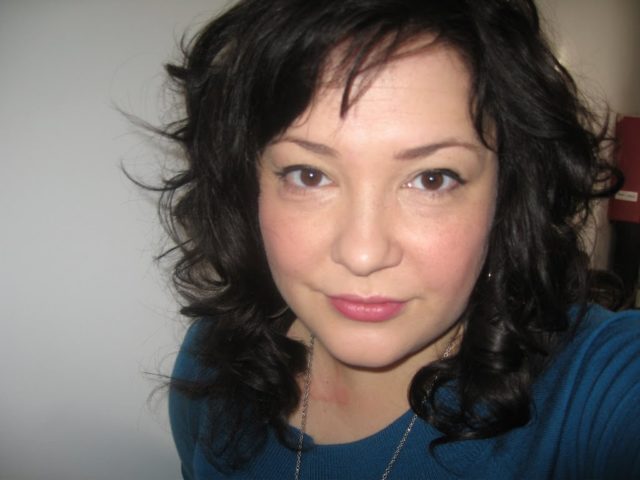 Today is Sunday and my father-in-law was released from the hospital.
Teal bateau-neck merino sweater from Banana Republic, Old Navy darl "The Flirt" bootcut jeans, silver necklace from B.P., silver hoops and cuff, black city boots from Impo.
Hair was second day, a few pieces foxed with the curling iron, locked twirled with Jonathan Silky Dirt.
Makeup was done quickly – Philisophy The Supernatural in Beige, Nars blush in Orgasm,Pop Beauty's shadow set for brown eyes – the sparkly light tan color on lids, lashes curled and two coats of Dior Show, thin line of Maybelline UltraLiner in black and on lips is Revlon ColorStay Sheer in Sheer Plum (another new purchase and another like).
Got the pops out of the hospital, went to get him some groceries and lunch, did a few errands and now and happily at home with a glass of wine and some Mexican take-out to cover for my breakfast, lunch and dinner. Have lived off coffee all weekend and am happy to have tomorrow off as well to recuperate and prepare for my new job on Tuesday!
My father-in-law will be fine, has a good 30+ staples in his head and needs to move slow, but should be just fine. We're thinking of getting him a shirt that says, "Chicks Dig Scars" and I keep begging him to take this opportunity with a head half-shaved to go all out with a mohawk, but he just politely laughs and says he'll sport a hat until the hair grows back. 🙂