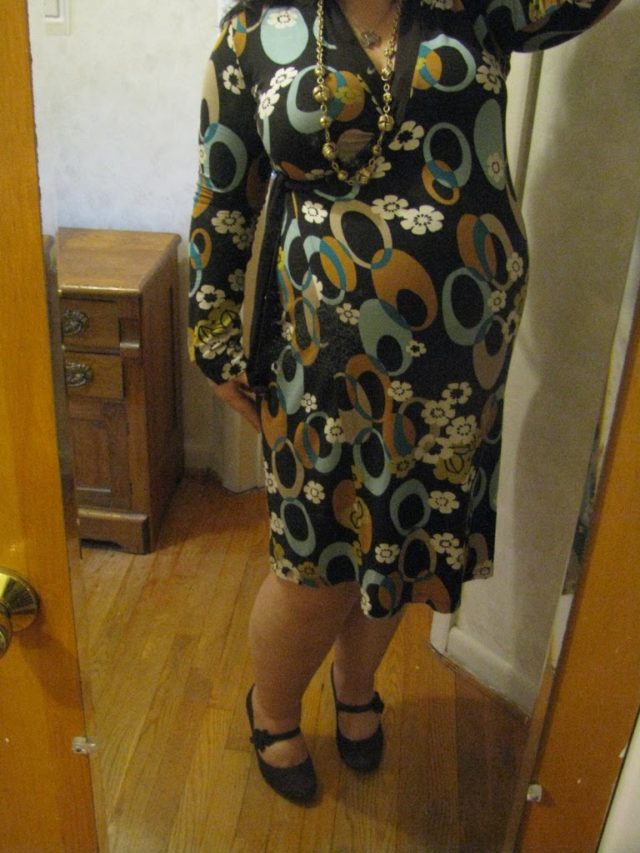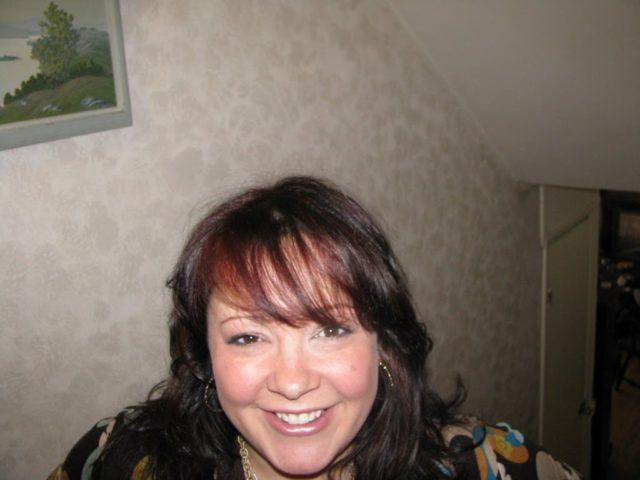 I know the headshot is a bit funny, it was taken by my sister and we were being goofy and I was holding two bottles of wine and we didn't want me to look like a bad mom-to-be or a lush. 🙂 I did have a sip of Zinfandel (yummmmmm!) but stuck to water the rest of the day to help with the swelling and the baby and all that good shtuff…
Attire:
Olian Maternity – Brown print jersey wrap dress
Sofft – Brown suede Mary Janes
Ann Taylor – Gold hoops, necklace and "twig" bangles
Hair: Day Two, smoothed with curling iron
Beauty: Laura Mercier – Flawless Face Kit in Sand, Nars – Blush in Orgasm, Clinique – Eye Shadow duo in Like Mink, Bare Escentuals – Buxom Lip Gloss in Dolly, Cover Girl – LashBlast mascara in Rich Black, Avon – Luxury Eye Liner in Black
Thanksgiving was nice. We were going to sleep in but were unexpectedly woken by the contractors. They decided to work a half day on Thanksgiving because they want the house complete before the baby arrives. Awww! So we got dressed, headed to Starbucks for a quick breakfast pick-up, then got my sister from the Metro and headed to my mom's house.
My mom had a full house: me, my sister, my husband, my mom's boyfriend, my friend Shelly and her fiance Mike, my cousin Leslie and her boyfriend David, and our friends Heather, Joe, and Jake. All kinds of fabu food – I usually make at least the classic Green Bean Casserole, but this year neither I nor my house was up for it. We brought a local bakery's blueberry pie, but everyone else brought so many delicious dishes. People always ask what my husband and I do for Thanksgiving considering we are vegetarians. When you think about it, the only things that are meat-related are the turkey, any stuffing that may have been in the turkey, and the gravy. My sister made vegetarian stuffing for us, and there was Green Bean Casserole, sweet potatoes with marshmallows, mashed potatoes, butternut squash, cranberry relish, rolls, pickles, olives, pearl onions and cranberry bread. For dinner we had some pumpkin-based dessert that was yum, pies of apple, pecan and blueberry; ice cream and fruit. Plenty for us vegetarians!!!
Thanksgiving is one of my favorite holidays – gathering of friends and family, celebrating that which is good in life, and sharing good food with good souls. It was really lovely.