So how was Week 1 for everyone? Did you do your Morning Pages? Did you miss any days? How about your Artist's Date? Did you learn anything about yourself or your creative process from the exercises?
This week was Emerson's birthday Wednesday, and her party today. I didn't do Morning Pages Wednesday, I had the day off and slept in until Emerson came in and jumped on me to wake up and we snuggled a bit and talked about being five. That was way better than writing in my opinion. Yesterday I set my alarm for 5:30 to get up and write then do yoga and I woke up at midnight and turned off the alarm and let my body wake up with the brightening sky and it felt like the right choice. Work was also a bit wonky, with time and projects; it was hard to shut off work mode when I left the office and something came up the day I planned to do a lunchtime date with myself. My Artist's Date wasn't really one at all, it was an hour-long bath reading a book. But I guess that's better than nothing?
All the talk about the Censor made me realize that while my Censor has issue with my creativity, it also has one with my fitness and parenting. As the week progressed each day's Morning Pages experience got more and more awful, hearing my Censor and trying to switch the negative into positives and having trouble with it, and each one bringing up another. Friday morning after writing I just wanted to hide under the covers again, I was feeling so very down about… well everything. It was also a hard day at work. Also this year seems to be the first birthday that Emerson is old enough to care about, think about, and remember. I stressed so much about presents, about her party. I mean really, she's still five, it's not like she's expecting something Pinterest-worthy. She just wants cake and friends and presents. But I kept feeling as though I was letting her down, everyone would think I was a lazy parent.
Many many years ago I spent Jury Duty reading Martha Beck's Finding Your Own North Star I don't recall much of the self-help book, but one thing stuck out to me was defining Everybody. Who IS this Everybody? It had an exercise where I had to write down who Everybody was. Writing it down made me realize Everybody was just one person on Facebook, one snarky blog reader who won't shut up or go away, one friend I had in college and haven't seen in a decade, that snobby jerk in the Finance department at work. This Everybody is BFFs with my Censor. But as Week 1 Artist's Way tasks has us turn every negative from the Censor into a positive, actually naming Everybody breaks its power.
But this week looked from above to be a failure. No Artist's Date, I didn't do any writing, I didn't do anything creative, I just got by. But the week ended not with me wanting to down a bottle of wine and got to bed early, but feeling as though I survived, and that's positive. I dealt with a lot of inner demons – Everyone and my Censor and I faced them and stood my ground. I'm building a foundation, I am opening myself and strengthening myself. And on to Week 2!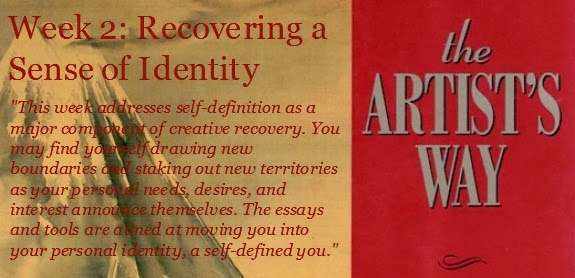 Week 2: Recovering a Sense of Identity
Some of the quotes from this chapter that really stood out to me:
"The capacity for delight is the gift of paying attention."
This really hit home for me. For the past year I feel as though I am coasting through life. Hours after an event I realize how great or important it was, I think then what I should have said to show loved ones that I cared and was listening. I spoke much about hoping 2014 would be a better year than 2013, but really looking back, this past year was pretty amazing, I just didn't pay enough attention.
"Remember that it is far harder and more painful to be a blocked artist than it is to do the work."
Yes, yes, yes. I eat and veg on the couch and surf the internet instead of sleeping and get bitter and jealous and angry instead of doing, creating, being. The more slug I am, the less I do, the farther in a hole I become. It's too hard to do that, I'm not qualified to do this, I don't have the time/money/lifestyle/age to achieve that. But being blocked is more painful than failure. I have spent my entire life letting life happen to me. And while life has been quite good to me, I know if I put in some effort it could be even better, more ME. This week I was driving home from work and gave my mom a call (Bluetooth, nice and hands free!), and I said to her that the only think I have every truly pursued is Karl, and he's the best thing to happen to my life. I wrote about this before, defending my choice, but I am seeing that letting life happen, being demure and reserved isn't helping me, or my artistic self.
This week, the tasks are perfect for me. This past week has been so tough for me, I think maybe my internet went out on purpose because I needed a break. But now it's time to be aware, to pay attention, be positive.
How was your week? How do you feel about Week 2's tasks?
Follow Me | Twitter | Facebook | Instagram