This article may contain affiliate links; if you click on a shopping link and make a purchase I may receive a commission. As an Amazon Associate, I earn from qualifying purchases. 
I must say, starting The Artist's Way has messed with my head a bit. I was really doubting myself, feeling as though I was holding myself back, not accomplishing what I was capable of. And this week, my Morning Pages got me back on track. Comparing myself to fellow bloggers I feel as though I am not accomplishing all I could, but my Morning Pages reminded me that I may not have the same lifestyle, the same age, the same needs, the same goals as others. I am putting this pressure on myself not for my personal growth, but to be in some sort of invisible competition with others. And so I gave myself permission to lighten the hell up.
Friday I was a different person. Even Karl said that I got my "BAMF-ness back." It literally felt as though a cloud was lifted. That morning I did my Morning Pages and write the ten ways I am mean to myself, I wrote how I put too much pressure on myself to prove to others that I am smart, creative, successful. And it's true, I'm a 39 year old adult with a family, a career, this blog. I'm happy with who I am, why am I torturing myself on what I feel I SHOULD be versus what I am right now? It's as though the past few weeks of The Artist's Way has brought up all my teenaged insecurities. But as the exercise for writing the ten ways I am mean to myself states, making the negative explicit helps us to exorcise it.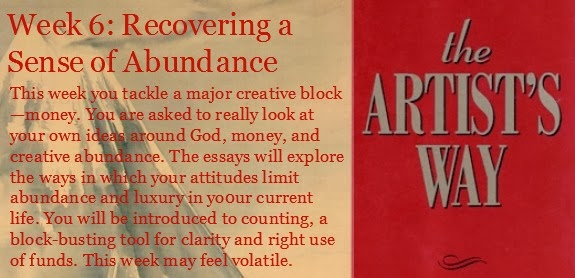 Week 6: Recovering a Sense of Abundance
One positive thing about modern blogging is that you see how life will give you the money to be creative. I've seen that when I am stuck creatively, I receive fewer opportunities with the blog or have the wrong types sent my way. I was amazed this past Friday how I woke with a new outlook, felt free, and my inbox all day contained cool opportunities, emails from readers that were inspiring and positive, replies to old emails that kept me in the right frame of mind. As soon as I read the beginning of this week's chapter I knew that Cameron was right.
We act like it's God's fault we didn't go to Europe, take that painting class, go on that photo shoot.
I've never felt this way. I have always known that life/God/whatever provides the opportunities, but we are the ones who decide whether to take them. I have always felt that if I am in a bad situation, I am there by my own accord, and I am the one to get myself out. I read this section of this week's chapter and thought immediately of this blog. This blog became a form of income right when we as a family needed it to achieve our life goals. It offers just enough to cover our bills so Karl can stay home with Emerson, so I don't have to search for a different job that may pay more but may expect more time and emotional stress, so we can have a life where we can accomplish some dreams and goals.
What we really want to do is what we are really meant to do.
The older I get and the longer I blog the more I realize I don't want to be a full time blogger. I don't want to be on TV, I don't want to be hosting events every month, I don't like the pressure of figuring out how to style gifted items or photographing every life event in a creative manner. I like being able to do this creative outlet on my terms, being able to say no, being able to unplug every so often. What I really want to do is spend more time with my family, write more but write what I enjoy not what I am contracted to write, travel, make my house a warm and welcoming space for us and our loved ones. When I think about what I want… fashion is low on the list. Being famous is even lower.
Authentic Luxury
When I did The Artist's Way in 2006 I felt as though my creativity was stifled. I bought a box of 64 crayons, and organized them by color. I got a pack of markers, and organized them as well into a rainbow. I purchased one of those velvet posters that you can color in, and spent hours by myself filling it in. I ended up taking that poster and covering my journal with it. Just a few bucks at Target reclaimed my artistic inner child, and it was amazing, it was luxurious.
My life right now is busy, but I do have the luxury of time. I'm sitting on my couch right now banging away on my laptop while Karl and Emerson cuddle on the other couch watching The Olympics. I have nothing I NEED to do today. I can write, I can play on Polyvore, I can doodle in my journal or whip out my sewing machine. Together, Karl and I have worked hard to get to this point, to have time to do our passions without being selfish or sacrificing our quality of life or the life of our child.
Money Madness
Wow, this totally fits with my Little Bits of Luxury series, and I started it not even remembering this portion of The Artist's Way. It's something Karl and I have been trying to master since we decided to have him quit his day job and stay with Emerson. Watching how we spend just a couple dollars here or there which add up and prevent us from doing something more substantial and pleasurable. Scheduling get togethers at our home to force us to clear out and clean up our space; each time we end up finding things to donate, to sell, to reorganize and redecorate.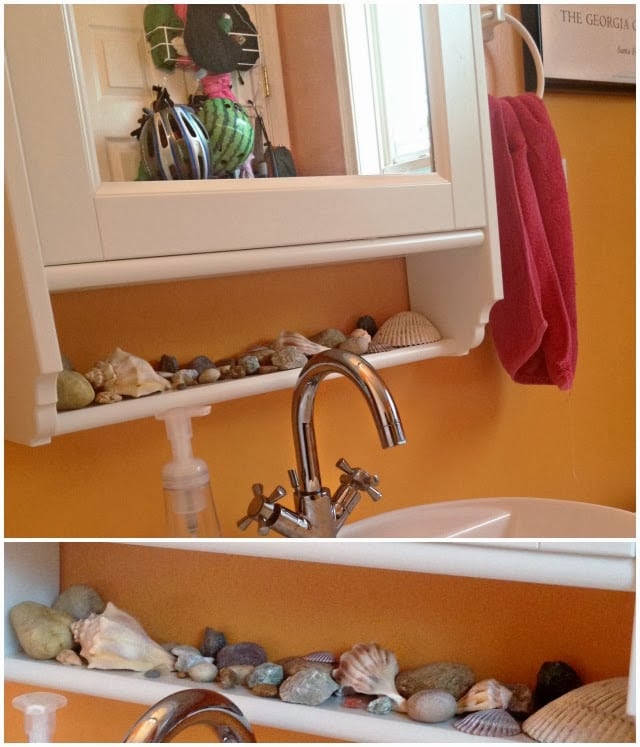 Having Emerson is a daily reminder to find the beauty in nature, the picture above is of a shelf in our downstairs bathroom. When I chose this medicine cabinet I imagined little candles or a collection of glass paperweights that I didn't yet own. But we had a baby and both ideas seemed too expensive or inappropriate. It stayed empty for a long while, and then we found an amazing shell on a trip and placed it there. Over the years, it has filled with more shells and rocks from walks in town or trips to other states. Emerson adds to it too, often coming home from the playground with a teeny little stone that she found special enough for the collection. I love how this tradition has forced all of us to be aware of natural abundance.
The more I do this process, the more I am remembering who I am and respecting it. I don't need or want to be anyone but me, and The Artist's Way is confirming this.
We're halfway through this project, how are you feeling? It has been a crazy couple of weeks, what have you learned about yourself or changed in your life to encourage your creativity?
Follow Me | Twitter | Facebook | Instagram