This article may contain affiliate links; if you click on a shopping link and make a purchase I may receive a commission. As an Amazon Associate, I earn from qualifying purchases. 
In the spirit of trying more things, I recently bought a "statement necklace," the Poppy necklace from Banana Republic. The trouble is, I can't seem to make it go with anything! In general, I seem to have this issue with close to the neck statement necklaces. I have clothes in all colors and styles, but I have no idea what to do with these. Can you help? And provide some guidance in general about how to wear statement jewelry?
That's a really pretty necklace, and one that will look nice year round. At 18" length, on most people it will lie right at the collar of a crewneck top, be high enough to show if you open a couple buttons of a shirt, and looks nice with scoop, v, and other decorative necklines. Here's a couple ways to style this necklace, and I think these suggestions would work with most any statement necklace of this length.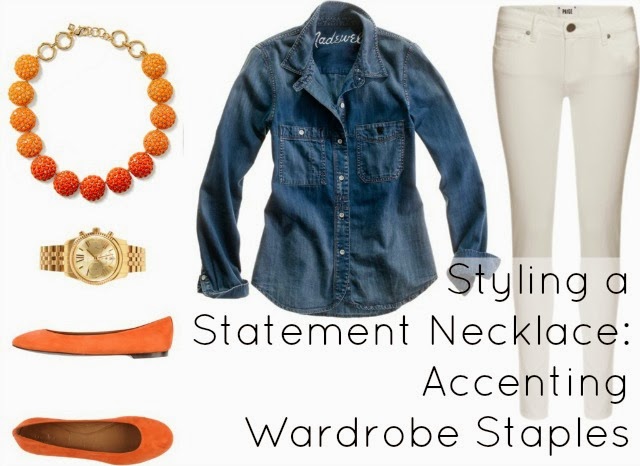 With this first look, I show how a statement necklace can be dressed down for the weekend. Such a necklace can really pull an outfit together. With wardrobe staples like a denim shirt and skinny jeans (doesn't have to be white, the denim on denim look would also be a great choice), the necklace adds a touch of color and sparkle. Wear a couple buttons unbuttoned and the necklace peeking out from underneath. I chose suede flats in the same color as the necklace, but you could do a neutral color or even leopard and get the same effect. A bracelet or watch that picks up the metal of the necklace makes the statement necklace look more purposeful and adds a bit more shine and polish to the ensemble.
Another Idea: Many like to wear their statement necklaces over a button-front shirt. Button all the buttons, and clasp the necklace over, having the necklace peek out under the collar. If the necklace is too short, a simple hair elastic looped over the ring part of the closure will give you length and hide under the collar.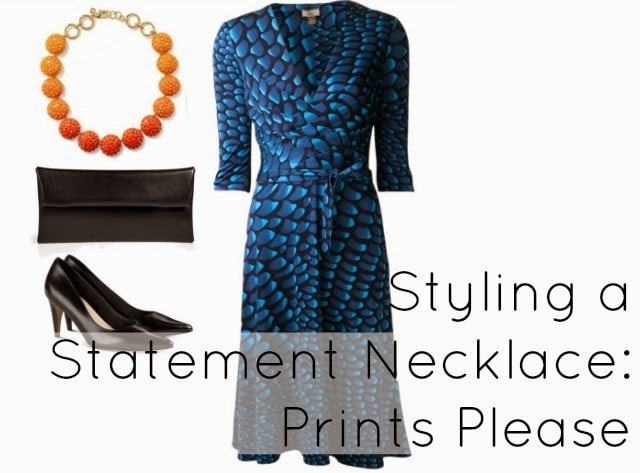 This ensemble shows that a statement necklace can work quite nicely with a print. Envisioning a day wedding, I paired the necklace with a wrap dress. This would work with most any print that either incorporates a small bit of the statement necklace color, or something that is a contrast like this blue dress. I was originally envisioning an animal print dress, but think a color like blue, green, purple, or turquoise gives a beautiful contrast. With a busy dress and strong accessory, I kept the rest of the details simple – unadorned black leather pumps and bag.
Another Idea: If the dress is a wrap style, consider trying the necklace under the wrap, as you would with an unbuttoned shirt. Statement necklaces are great with maxi dresses, the look above would work with a dress of any length.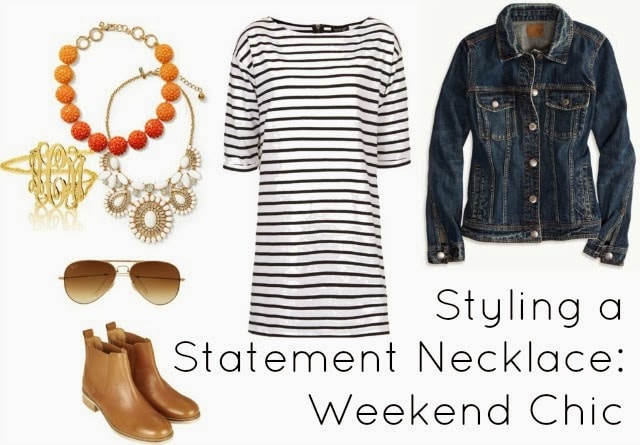 With this look, I show how you can incorporate a current trend with statement necklaces, which is layering them with other necklaces. The Banana Republic necklace is 18" so I found two necklaces that can be longer (or the monogram one can be shorter if that is better for you). It's the "more is more" look and it can be a lot of a statement, so I kept the rest of the look very simple and classic. Multiple necklaces is also a great look with a button-front shirt, if you feel comfortable opening it enough to show all the chains. With so many necklaces, you can keep the rest of your accessories simple; a couple delicate gold rings or a pair of gold aviators would be enough to finish the look.
Another Idea: This look also works for summer, just switch out the dress for a sleeveless version and the boots for metallic sandals!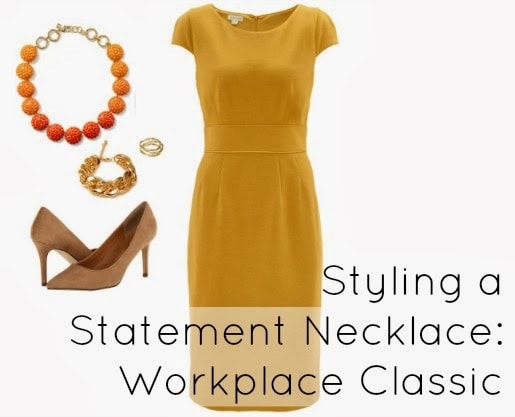 This ensemble shows how a statement necklace can work for the office. With the neckline of the dress being similar height to the length of the necklace, it becomes less of a statement and more of an accent. The Banana Republic necklace has a few rings on the back to adjust the length, play with them to have it rest just above or just below the dress neckline. With such a necklace, you could have it be your sole accessory; I added a chain bracelet and gold ring for a bit more sparkle and fun.
Another Idea: A statement necklace can be worn over a button-front shirt, and it can also be worn over a turtleneck. For the office, you can add interest to a simple cashmere or merino turtleneck and trousers or skirt in this manner.
Follow Me | Twitter | Facebook | Instagram