This article may contain affiliate links; if you click on a shopping link and make a purchase I may receive a commission. As an Amazon Associate, I earn from qualifying purchases.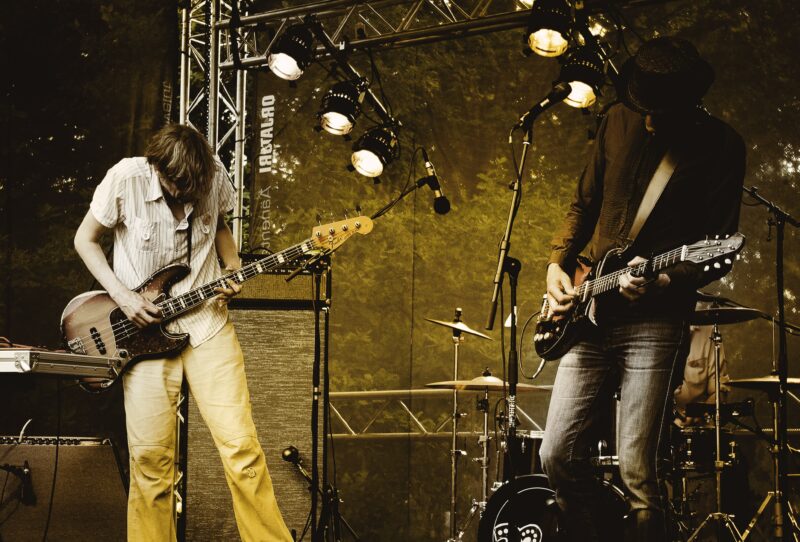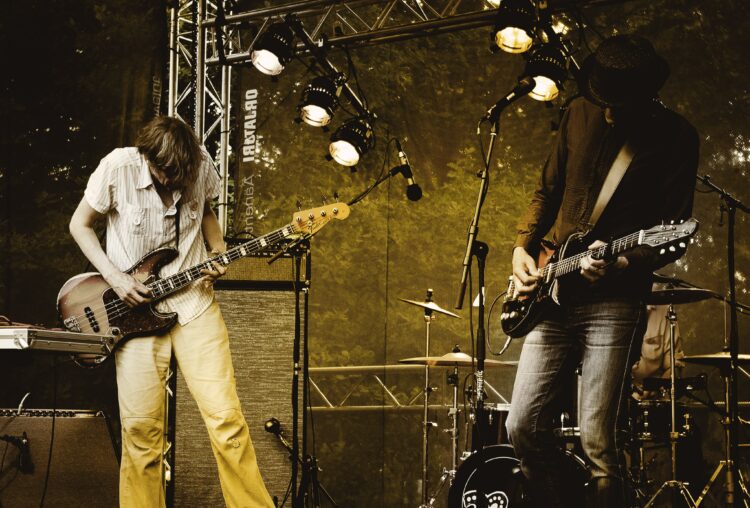 I went to see Furthur in concert at Merriweather Post Pavilion in Maryland. For those who haven't heard of this band, Furthur was founded in 2009 by former Grateful Dead members Bob Weir and Phil Lesh. It's a jam band that performs music mainly from the Grateful Dead, as well as their own original music and the occasional cover of a familiar artist. The concert scene is pretty awesome – they have a Shakedown Street of vendors offering everything from grilled cheese sandwiches to Grateful Dead tapestries, everyone tailgates in the parking lot and walks around getting to know one another, and the concert audience is full of dancing and friend-making.
We had lawn seats, which meant sitting on grass (well actually, more like dancing on grass). There was a very good chance of thunderstorms and they day was over 100 degrees, so it was important to dress and pack for the weather to ensure a fun time.
What I Wore to a Jam Band Concert:
My Lands' End linen sundress (seen here), though this weekend I got crafty and dyed it blue
My two gray bead and cord J. Crew necklaces
My long silver chain with my "Emerson" pendant as well as a cartouche of my name I have had since high school
Silver hoops
My silver cuff
Tan suede J. Crew bag (it's beat up, it's big, it's sort of my concert bag – seen here)
When going to such a concert, wear something that you can, in the words of Ron Popeil, set it and forget it. Something that doesn't require you to constantly adjust your straps, to pull clinging fabric from your rear, to wear constricting underpinnings. Something that lets you lie or sit on the ground, spin in a circle, jump with glee. I learned a lot about such attire from my years at Bonnaroo and have actually created uniforms for such events. Crisp cotton dress with moisture-wicking bike shorts underneath (for modesty when on the ground and also to prevent chafing). Shoes that won't slip off when wet. A cotton bandanna or scarf to mop the brow or wear over the hair to protect the scalp from the sun. A bag that can become a crossbody. I started the evening with my hair in a loose braid, but humidity got the best of me and I quickly changed to a messy updo. As it got more humid, I ended up using a barrette to hold back my bangs so I didn't have to futz with them.
What I Packed for a Jam Band Concert:
Who wants to go to a concert with a week's worth of luggage? Also, who wants to go to a show and be miserable? Live music is a passion of my husband and me so we have learned over time how to pack without it being a burden. Everything (even the chairs!) fit into my tote:
A heavy cotton printed blanket about the size of a towel (my mom got it for me from when she went on an African safari) to use as a groundcloth
A packable poncho (similar)
Business cards for both me and my husband
Retractable pen and a sharpie (Sharpies are great in case of autographs)
My Lands' End cotton paisley scarf (to use as a headwrap or face mopper – seen here)
Extra barrettes and an extra elastic
One pack fruity gum, one pack minty
Cash, credit card, ID, insurance card
We were going to take a packable blanket (similar) since the ground could have possibly been wet, but we forgot it and I'm glad because it would have had my bag busting at the seams.
Tailgating at a Jam Band Concert:
Many go all out with tailgating – EZ-ups, camp chairs, games and decorations. We do a pretty simplistic tailgate – we ate before we arrived, so we just opened the tailgate of my Kia and had a cooler of beer (and a bottle of champagne which was fun). You can't drink out of bottles in the Merriweather parking lot, so my sister brought reusable plastic cups. When finished we headed to the lawn.
Experiencing a Jam Band Concert:
We had a lot of friends and neighbors going so we were able to find them via texts and set up camp a little left of the center of the field, halfway up. While we could see the stage from where we were, it was like watching ants perform, so I really relied on the Jumbotron. And really, while Furthur is a group of ultra-talented individuals, going to their show is more about the entire experience, not just watching them play instruments.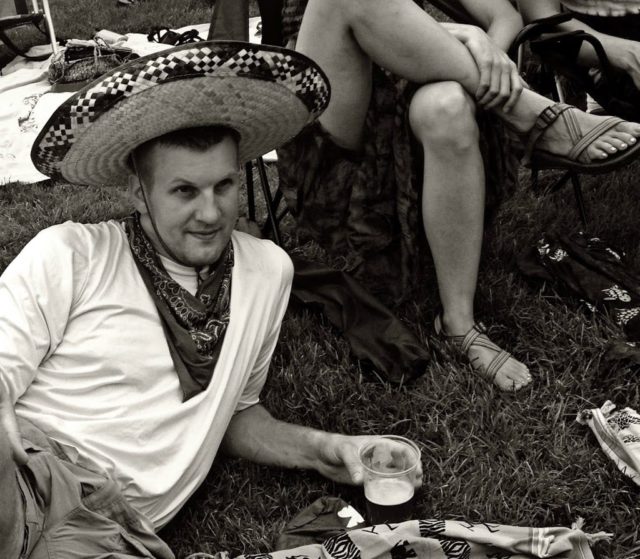 Speaking of the experience… this is not the type of concert to worry about how you look. I wore B.B. Cream, waterproof mascara, and tinted lip balm. After less than an hour I pretty much had a bare face from sweating so much. My hair was sopping wet from sweat and humidity, and it was important to have shoes that would give you grip on a slippery glass slope or in case of rain.
No white, since it could get dirty with grass stains and transparent with rain and sweat. Nothing delicate or hard to launder, and nothing that would prohibit you from shaking your booty all night long. I saw a few women in the audience who were more concerned with staying polished and dry instead of having fun and I felt bad for them. The most beautiful women at concerts are those who were dancing as if no one was watching. And really, no one was watching, they were all there to enjoy the music and the energy. If in doubt, wear what makes you feel comfortable and free.
To say I had a great time would be putting it mildly. It never ended up raining and the temperature dropped to the 80s (though still quite humid). I spend the entire night dancing my butt off – that type of dancing that you do in your bedroom with the curtains shut. This was an environment where such dancing is welcomed and encouraged. Strangers would pass by and dance with you for a moment, guys would give you a twirl as you passed their spot on the lawn. By the end of the show I looked as though I had taken a shower in my sundress!
Meeting the Jam Band After the Show:
A friend of mine is friends with one of the members of Furthur so I was able to go backstage after the concert. I had the opportunity to go backstage at Merriweather for the Lilith Fair, but it was still terribly exciting sounding. In fact, we just hung out in a large screened-in porch drinking bottled water at picnic tables. A few members of the band joined us and we greeted them, those who were friends chatted them up more, and we left after a short bit to catch up with the rest of our crew.
Shakedown Street was still up after the show and it was where many congregated for a post-show snack or to buy various merchandise. By time we were out there, it was breaking down so there wasn't much to see. However, by leaving late it was a breeze to get out of the lot and on the highway back home!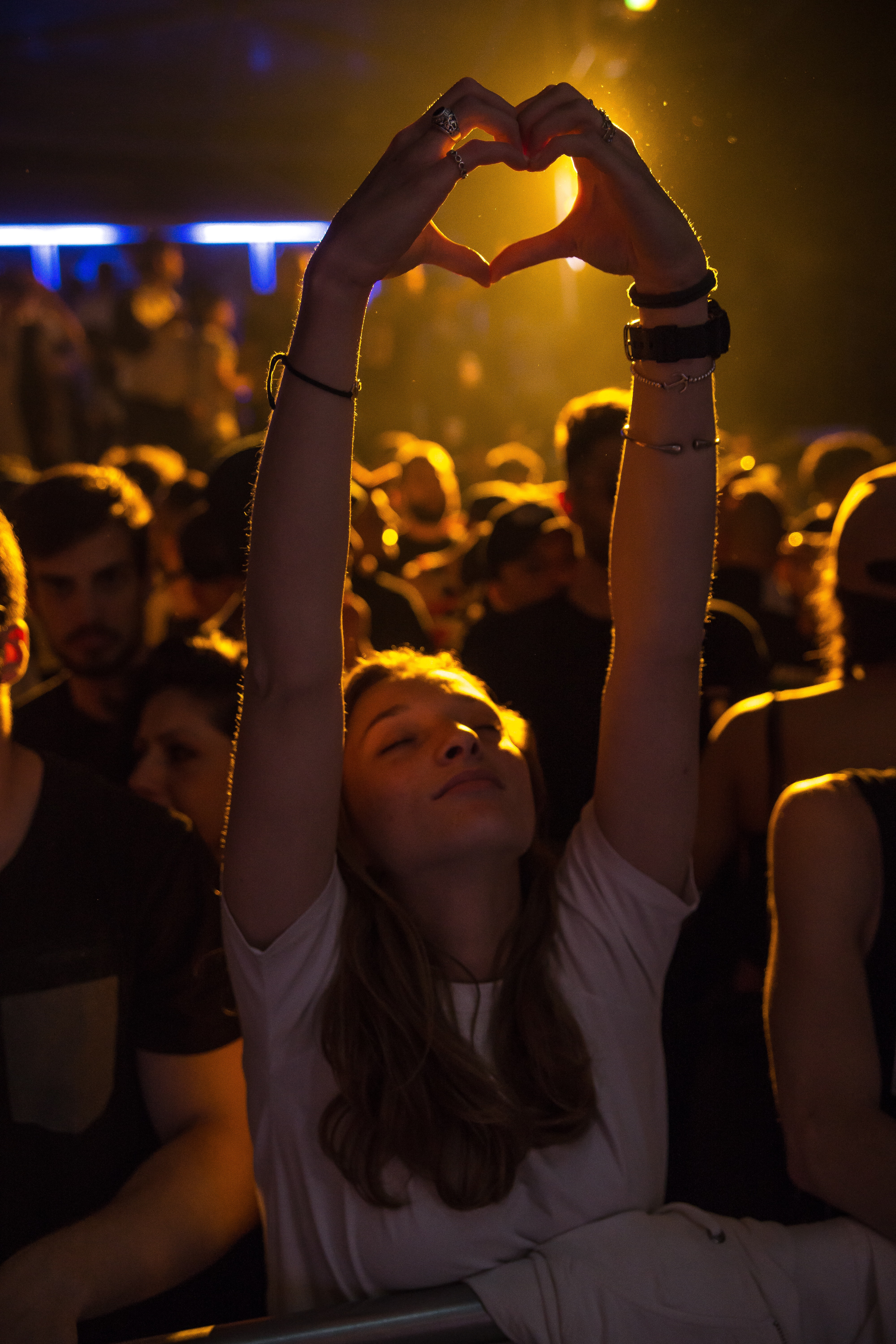 Jam Band Concert Misconceptions:
Everyone is on Drugs
Nope, this is not true at all. While there are people who do at such shows (and honestly at concerts for every genre of music), it's not one big drug fest. Do not hold back from attending such a show because you don't do drugs – I promise you that you will not be the only one and you will not feel as though you stick out in the crowd. In fact, I saw very few people who were "messed up," be it on drugs or alcohol.
Everyone is Drunk
Also not true. I was designated driver, so after a beer at tailgate, I stopped drinking. I was definitely not the only one. Many take their families to jam band concerts because of the friendly crowd – I saw many a stable, sober parent with his teenagers, moms with babies, and gaggles of sober friends relaxing on the lawn drinking lemonade and having a great time.
You Need to Know the Band's Music Really Well
While jam bands can have some fiercely loyal fans who follow them from venue to venue, it's also a welcoming environment to those new to the artist, band, or scene. While I know a few Grateful Dead songs, I am surely not a Deadhead and this was my very first Furthur concert. When I told people it was my first Furthur show I was greeted with smiles, hugs, and those happy to share in my exciting new experience.
You Need to Be a Hippie (or at least dress like one)
I saw frat boys, gals in Lily Pulitzer, dads in polo shirts. No one cares what you do for a living or what brand you are wearing. The only thing that is not acceptable is a negative attitude or judgment on those around you. I wore clothes already in my closet – a simple sundress and sandals. In fact, you will feel more awkward if you dress in some sort of costume.
Save