This article may contain affiliate links; if you click on a shopping link and make a purchase I may receive a commission. As an Amazon Associate, I earn from qualifying purchases.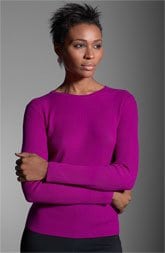 Merino wool is a very fine, high quality wool. It's thin yet warm, it holds color beautifully, it stretches, it dresses up or down. And best of all? It holds up nicely to multiple washings on the gentle cycle with Woolite, and can dry overnight if hung in a doorway or shower stall.
Merino sweaters can be found everywhere. It comes ribbed, it comes smooth, in cardigans, shells, wraps, and sweaters with every neckline imaginable. I wear merino sweaters I bought in college and find them still stylish, still current, still looking new.
If you are large busted like I am, you dread the winter. The extra bulk of sweaters, fleeces and parkas quickly make us look like the Michelin Man. In comes merino wool, a fabric that can layer nicely without making one look like a line backer.
I recently found a chocolate brown merino v-neck in the Gap clearance rack. It was originally about $50, but on sale for $30. It has bracelet sleeves (sleeves that are short enough to show off your wrist and bracelet, but below the elbow), a v-neck that is not too deep, and a solid smooth color that is very popular this season. This sweater is lightweight enough to wear under a jacket or blazer, can be worn with jeans, suiting trousers or a wool skirt. The color is so classic, I can see myself wearing this sweater eight years from now.
L.L. Bean is a wonderful place to find sweaters. They have generous cuts, classic colors and necklines, excellent quality and a great price. I recently purchased a merino wool crewneck sweater from here for $39.00.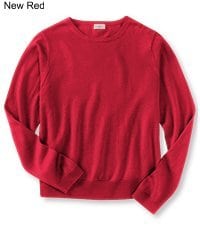 Washing instructions say to hand wash and dry flat, but a spin in the washer with Woolite and a hanging on a large hanger (think the molded ones that come with coats or suits – this will prevent little funny bumps in the shoulders post-drying) will do just fine.
Merino is more forgiving of little hands that pull on the fabric, sleeves that get caught on the edges of drawers, and jelly that is spilled on the front than silk/cashmere, cashmere and fine gauge cotton counterparts. A Shout Wipe usually keeps most stains at bay until a toss in the washer is possible. The weave is tight enough that most snags are prevented.
The tight weave gives a dressier finish as well. I have worn a merino twinset to a wedding with a brocade skirt, and then worn the same twinset to the mall with jeans the following weekend. I wore a merino shell with beaded pants to a company holiday party, and am wearing a merino right now to work with boots and cords.
A v-neck style with full length sleeves is the most classic, and the most uiversally flattering. I always have one black, one neutral (brown, gray, taupe) and one fun (candy pink, emerald green, pumpkin orange) on hand each fall and winter. I then add to my merino collection usually with a versatile twinset (wearing a merino twinset to yet another wedding in two weeks with a shantung circle skirt and strappy heels and a brooch). The shell goes under suits, the cardigan can be thrown over oxfords and sheath dresses. Turtlenecks are classic and cozy in the colder months, but not the best option for those with short necks, large busts or large shoulders. A drapey cowl neck is a better option.
If you are looking for versatility, value, durability and style, I would add at least one merino sweater to your shopping list this year!