This weekend I attended a wedding. Weddings are difficult days to dress for. What time is the wedding? Where is it located? What religion is the couple? What is your role (or the role of your date) in this wedding? What colors are unacceptable?
What Time is The Wedding?
Etiquette states that you do not dress in formal attire until after 5pm. This means if the wedding begins before this time, one does not wear strapless, sequins, floor length or stylized updos.
The wedding I went to this weekend had a ceremony that started at 3pm with the reception at 5pm. To dress appropriate for both portions, I wore a cocktail dress with a wrap to cover up and show respect at the church. Come reception time, the wrap was left on my chair.
Safe bets for this mix are nice suits (with a skirt, or pants with dressy heels), or a sheath dress in a dark color like black, plum, burgundy.
For day weddings, attire is more varied. The basic sheath or suit is appropriate, but floral dresses, chiffon or lacy tops with skirts or dressy pants, separates (silk twinset and skirt) are appropriate.
Where is the Wedding Located?
You will dress differently if the wedding is on a beach or in a mansion. The invitation often alludes to the type of reception. For a beach wedding, wear layers as that it may be chilly. Slip dresses, dressy full trousers with a chiffon layered shell, pieces that catch the breeze, are dressy yet comfortable. Wear shoes that are easy to slip off.
For a garden wedding, again layers are in order. Forego the spike heels for a flatter shoe that won't sink into the soft grass. Floral dresses, simple sheaths and softer fabrics help set the tone. Similar attire for a home wedding.

For a wedding at a hotel or an historical site, the dress is usually more formal. This is when the sequins can come out after 5pm.

What Religion Is The Couple?
This matters even more if the ceremony is held in a house of worship. It is a good idea to bring a wrap or cardigan to cover your shoulders out of respect. If more traditional or conservative, try to have a skirt cover your knees. Some religions frown upon women wearing pants – if you are unsure be safe and wear a skirt. Out of respect, forego plunging necklines, form fitting pieces and anything too "loud" (hot pink satin anyone?).

I'm A Reader/Guest Book Attendant/Wife of the Best Man
You will be more on display, whether you like it or not. The photographer will capture your image at least three times that day, and depending on your relation to the couple, may be in some of the group posed photographs that may end up on holiday cards and fireplace mantles across the globe.
Try to compliment the color of the wedding. If the wedding is pale celadon and ivory, do not wear bright purple. Compliment it with a muted shade like gray, tan, soft blue, soft pink, or even black (most often than not the men will be in black tuxes so you will blend). Attempting to blend or coordinate shows respect to the event and the bride's hard planning.

As a date of an important part of the wedding, similar rules apply. Try to blend, not distract. Black and subtle colors are best. Let your date take the limelight.
What Colors Are Acceptable?
It used to be that one could not wear red for it is disrespectful. One could not wear black because it is the color of mourning. One could not wear white or ivory for fear of upstaging the bride.
Red is acceptable, though it's not always in best taste to wear fire engine or scarlet to a wedding. Though impossible to upstage a bride, you may be drawing too much attention to yourself, when he day is about the couple and the wedding party and family. Preferred shades are garnet, bordeaux, dark ruby.
As for black, it is acceptable at any occasion. These days even brides have been known to wear the color. Black is a safe bet for a wedding, and you should always have a simple black sheath in your wardrobe for events just like this. Accessories take a black sheath from work to a day wedding to an evening wedding to a funeral with ease.

The only color that hasn't seemed to change with the times is white. A dress can have a white background with a colorful pattern or floral, pants can be ivory or winter white with a color shell, but a solid white or ivory dress or suit is disrespectful. That is, unless the wedding has a color these and you are asked to wear all white or all ivory.
What Can Be Worn to Any Wedding?
Some dresses can go from morning wedding on the beach to black tie affair at a swanky hotel. Party of 10 or party of 1,000. Conservative family or flower children.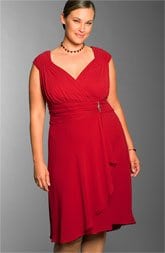 Colorful dresses made of silk, flattering yet not gaping neckline, feminine yet conservative hem. This color can go from day to night with the right accessories, and can be paired with a cardigan or wrap for a more conservative look.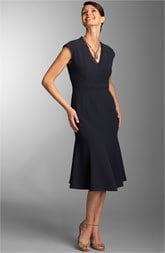 The classic black sheath. Conservative neckline, body skimming yet not body hugging silhouette. Simple, elegant. Again, can be dressed up and down with the correct accessories.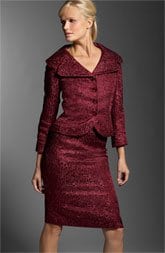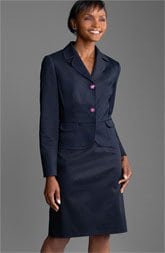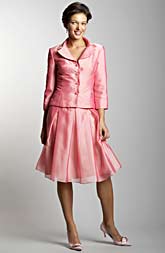 The dressy suit. Dependent on the color or level of glitz, it may not be as appropriate for day, but if you find a brocade in a beige, taupe, silver/gray or a soft color, it will often work for both day and night dependent on the shoes (strappier for night, and of a dressy fabric) and hair (updo for night to add glamour).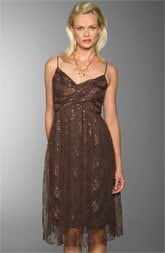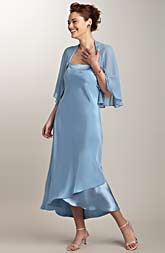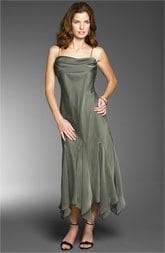 The chiffon layered slip dress. Enough layers to look classy, not trashy. A matching cardigan or wrap for chill and for the church. A calf length that will look beachy with mules or snazzy with strappy satin heels.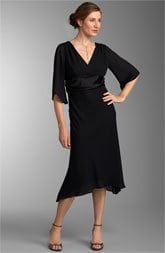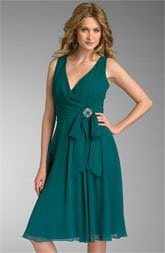 The surplice neck dress. Surplice means wrap. These are the style of dresses that lend to having a v-neck because they wrap at the bust. Be it an actual wrap dress like the jade green confection, or a surplice style like the black georgette version, this neckline add drama without sluttiness. A little skin at the neck looks dressy and festive. Add fun sleeves, and you will be a knockout.
If you purchase wisely, you can have a dress that will work for a multitude of events in a multitude of seasons and levels of dressiness. Dress to flatter your body, not to fit a mold. Dress to feel attractive, not like a piece of furniture. Dress to impress, but not overwhelm. Shop with enough time to not get desperate and just buy any old thing that will cover some skin. Think of this event and potential future events where the dress can be worn. Consider a good dress as an investment.