This article may contain affiliate links; if you click on a shopping link and make a purchase I may receive a commission. As an Amazon Associate, I earn from qualifying purchases.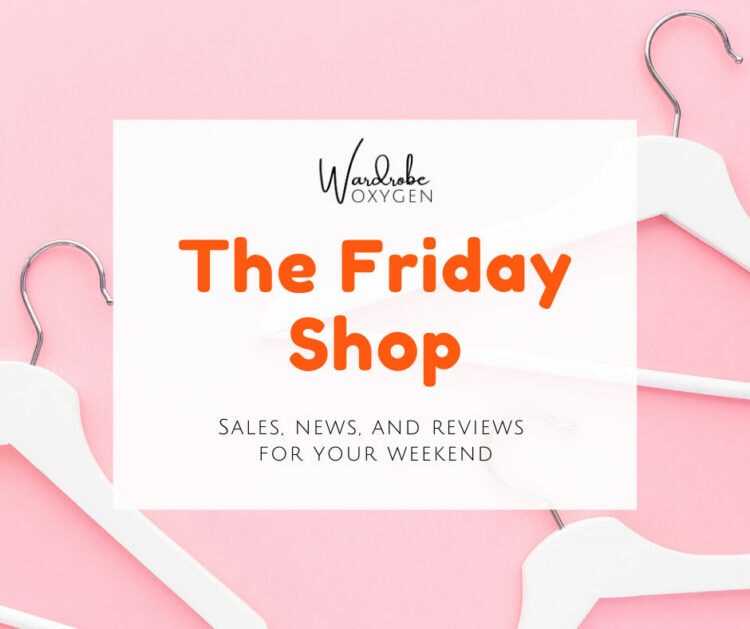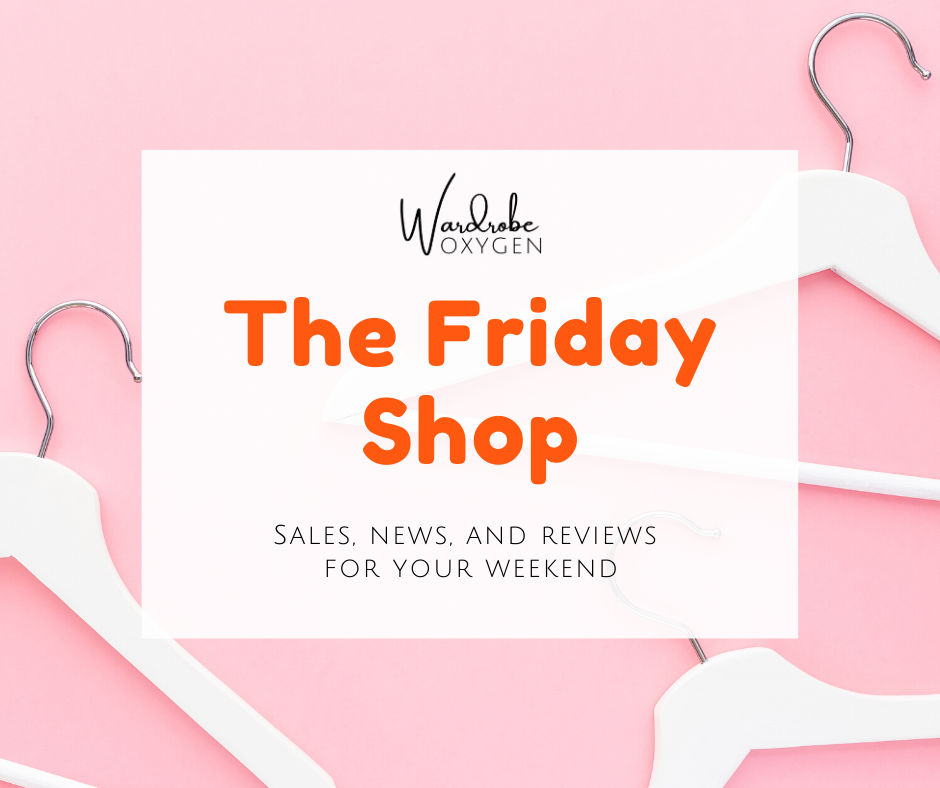 In case you haven't heard, LOFT has decided to stop offering plus sizes and will return to only offering up to XXL (Retail Dive). If you just took a pause to let out a deep sign of disappointment/frustration/exasperation with an eye roll, you're not alone.
Yet another retailer didn't do the work and blamed sales for their failure.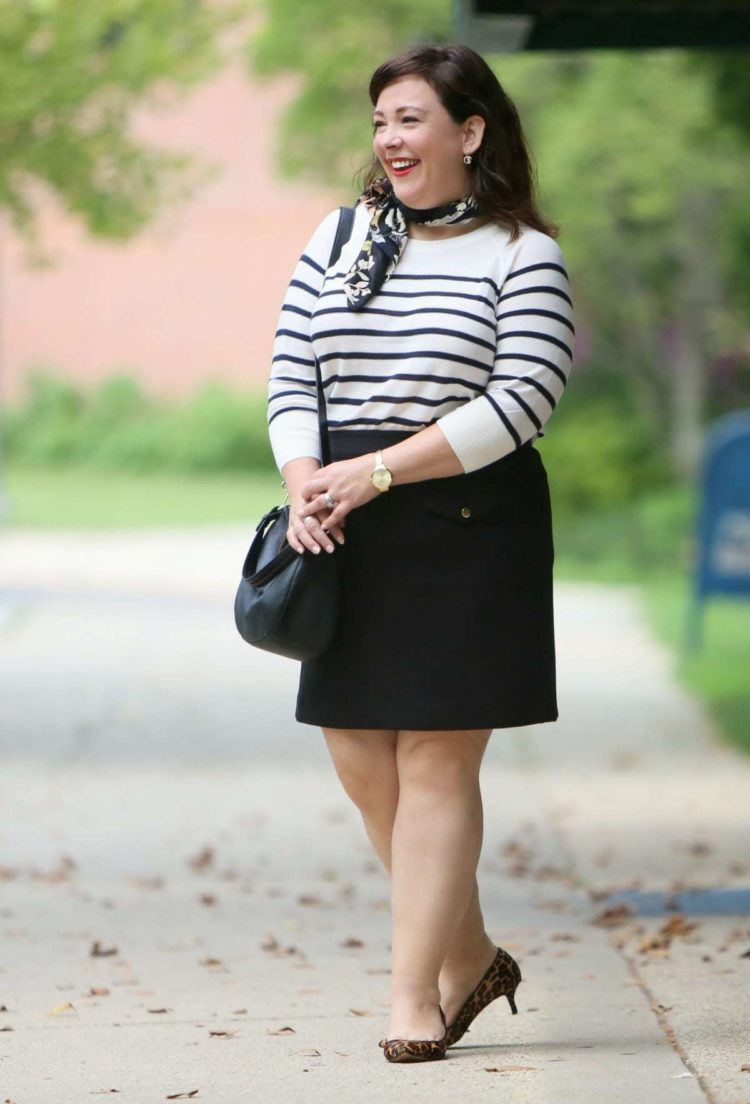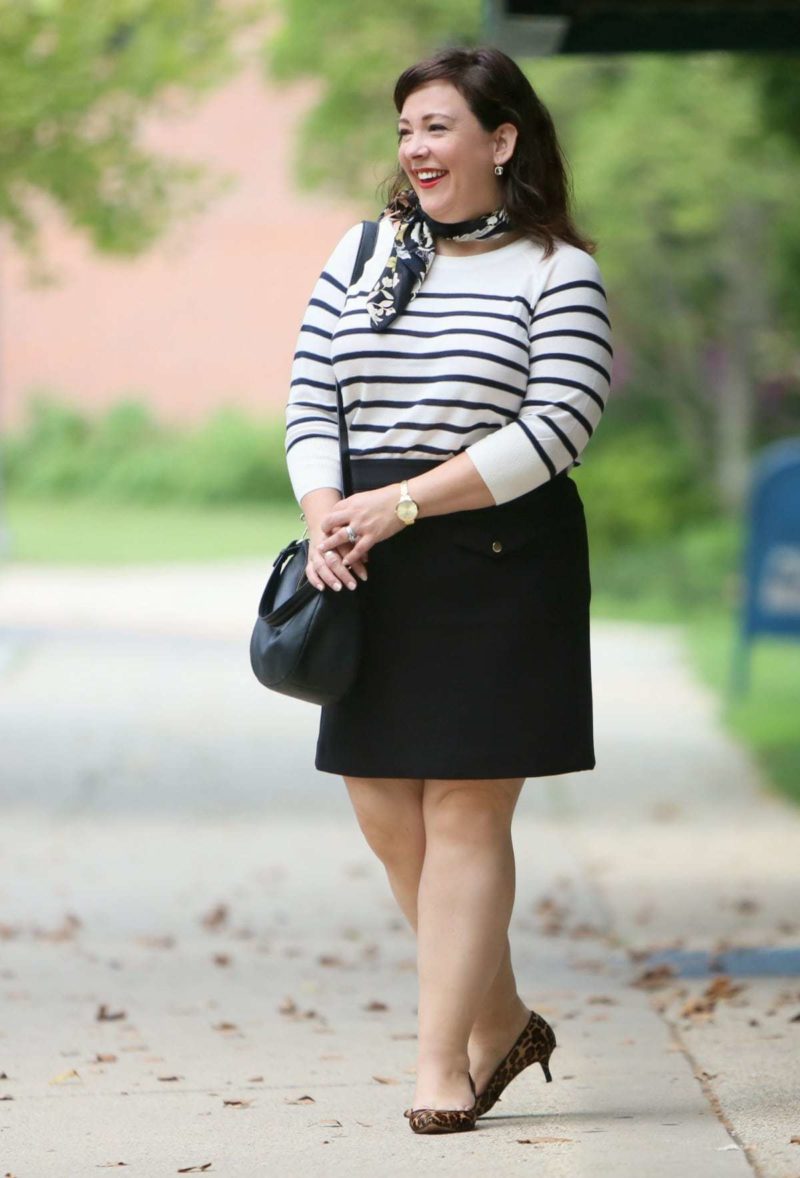 I know many of you have loved LOFT for plus-size fashion, but I always felt it was done so poorly. Up to size 14, you can have a tailored dress with a self-belt and a collar. Plus size? Here's a swing dress with a round neck.
And so many times, like so many retailers who are lazy with their plus sizing, I found LOFT plus to have long arms, darts in the wrong place (or not existing), too narrow of sleeves, and other issues when a brand just grades up from a smaller fit model or dress form.
The past decade has been a constant rotating door of brands that have decided to appear all-inclusive by either extending their line a size or two or launching a plus collection and then giving up.
The Limited gave up with ELOQUII after less than two years. Retailers like Old Navy and Anthropologie made a big splash with plus size, and then quietly removed those sizes from their stores so they're only available online. Retailers like Everlane will use a plus size model, but only have a few select pieces even available in sizes she could wear.
For brands that do offer a plus size range, it's often reduced SKUs (styles available), and also the color range is reduced. Misses will come in eight colors, plus will be in black, navy, and gray. So many made plus sizes more expensive (yet a size 14 is never more expensive than a 00). And then to have crap fit on top of it? How in the world did they expect to succeed?
As a blogger who strives to offer extended sizing in everything she wears and shares plus size fashion on the regular, I can tell you that plus size women shop. They can drop some serious coin on clothing… if it is done well. And with so many brands coming on the scene doing plus well, it just magnifies the mediocrity of other retailers who do a half-ass job and expect plus size women to be grateful.
LOFT launched plus sizes at the beginning of 2018; that February they had a party to celebrate at their Tyson's Corner shop and I attended. I did a fitting room try-on session and immediately noticed issue with fit. I shared my thoughts with those who worked for LOFT corporate that were at the party. They said it was a soft launch and fit would be improved.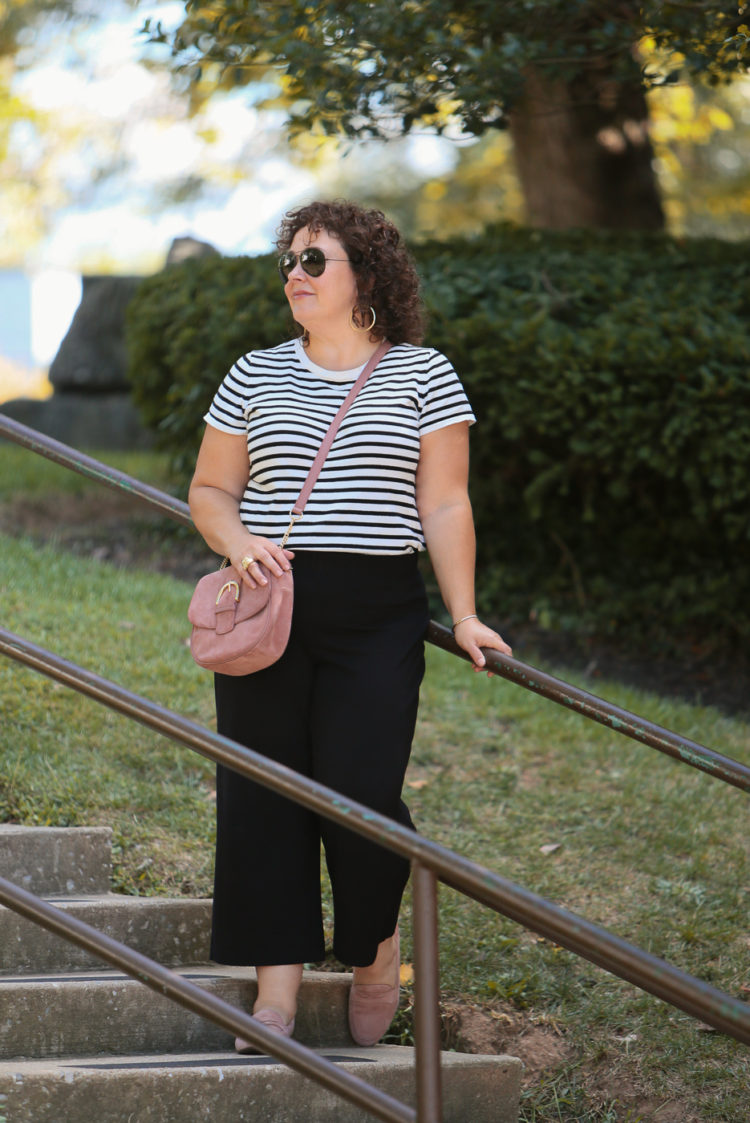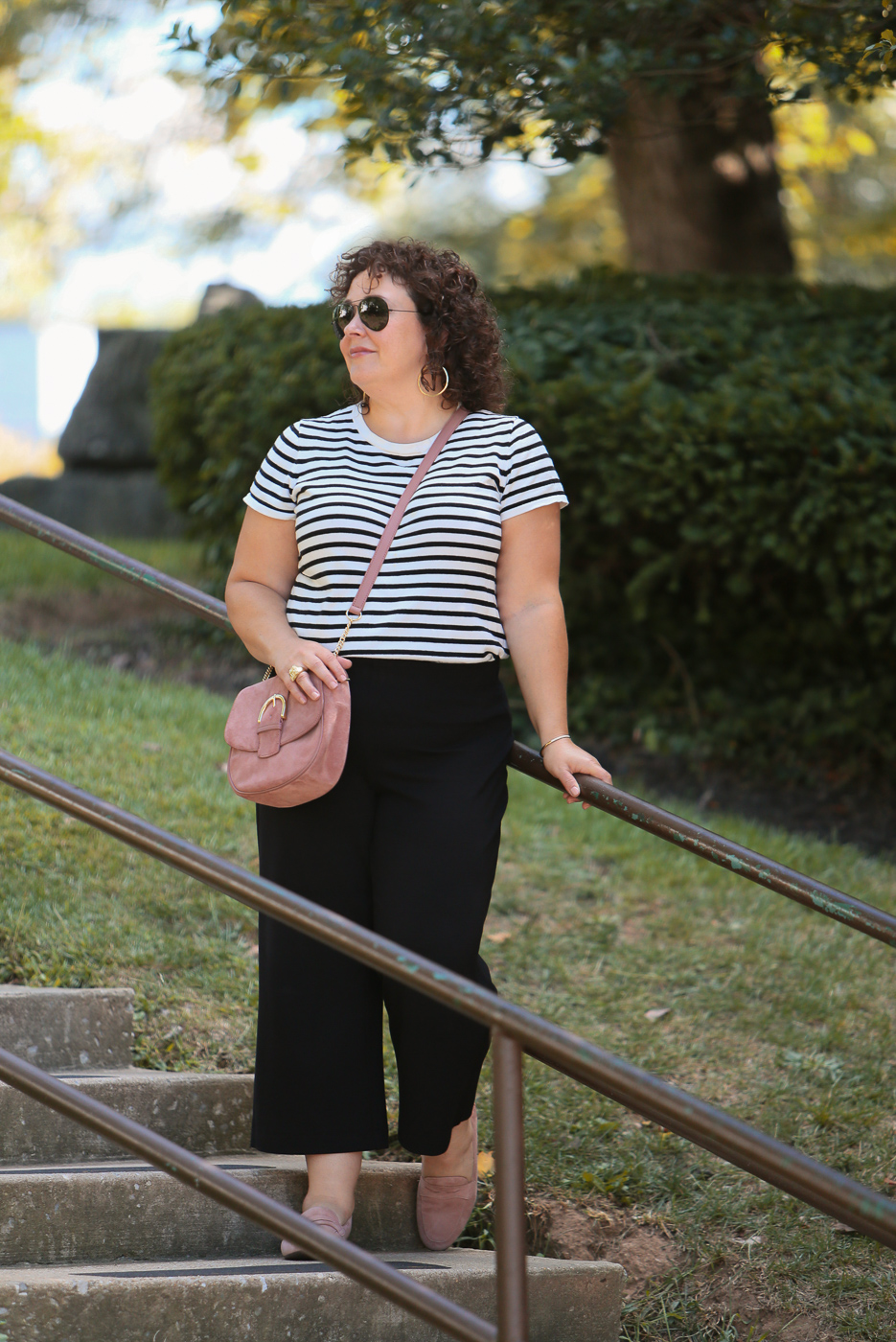 If anything, I found over the years the fit at LOFT to become even more inconsistent. I also found that they brought plus to stores… and then just like Old Navy, slowly began removing it to make more room for straight sizes. They didn't even let it sit there long enough for word to get out that there was a store in the mall with plus sizes. I mean, why go to the mall when there are no stores that fit you? People need to know it exists to shop!
Anyway, LOFT plus is being phased out and it just makes me take another exasperated/weary/annoyed sigh. Readers, please use the comment section to share alternatives to LOFT plus that actually do deserve our hard-earned money and I will do the research on my end to offer such fashion in future advice posts!
Sale Alert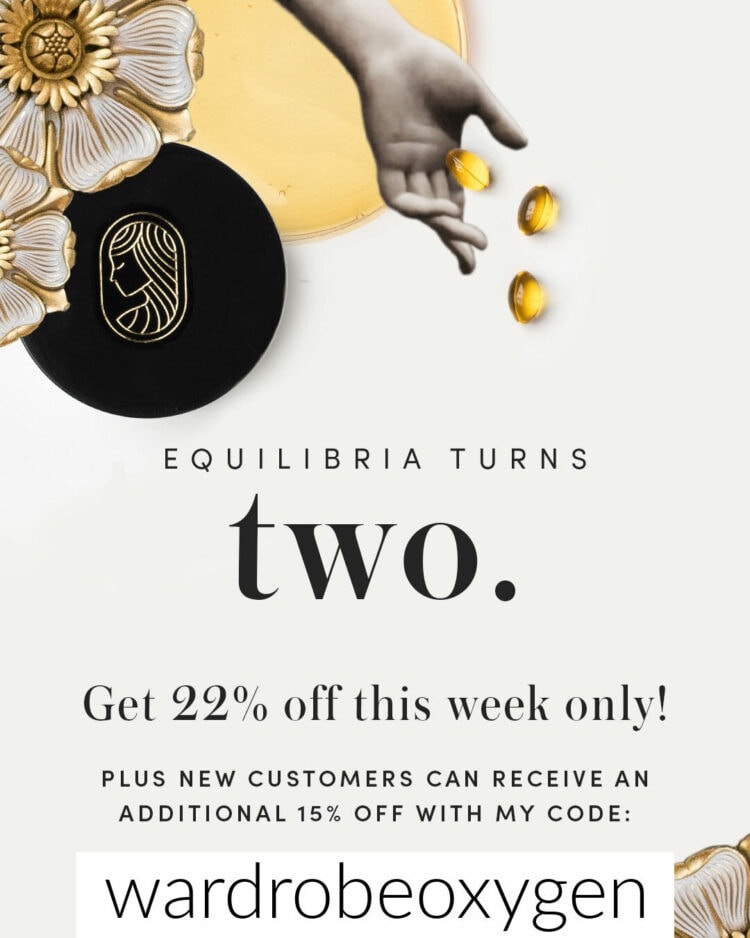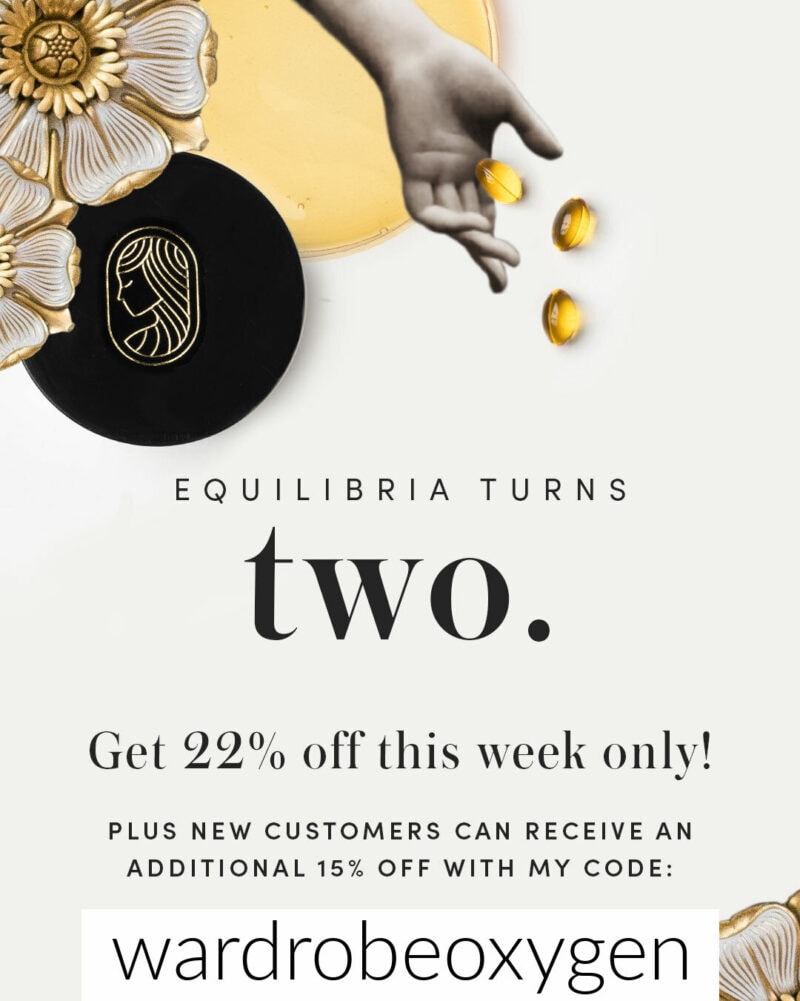 Equilibria is celebrating their 2nd anniversary by offering 22% off absolutely everything through 3/23. This is not just for new customers, it's for everyone, even existing members and those who subscribed in the past but stopped. And on top of that, if you have been wanting to try CBD, if you use WARDROBEOXYGEN at checkout, new customers will get an additional 15% off the sale price! If you are curious about Equilibria, check out my unsponsored Equilibria CBD review.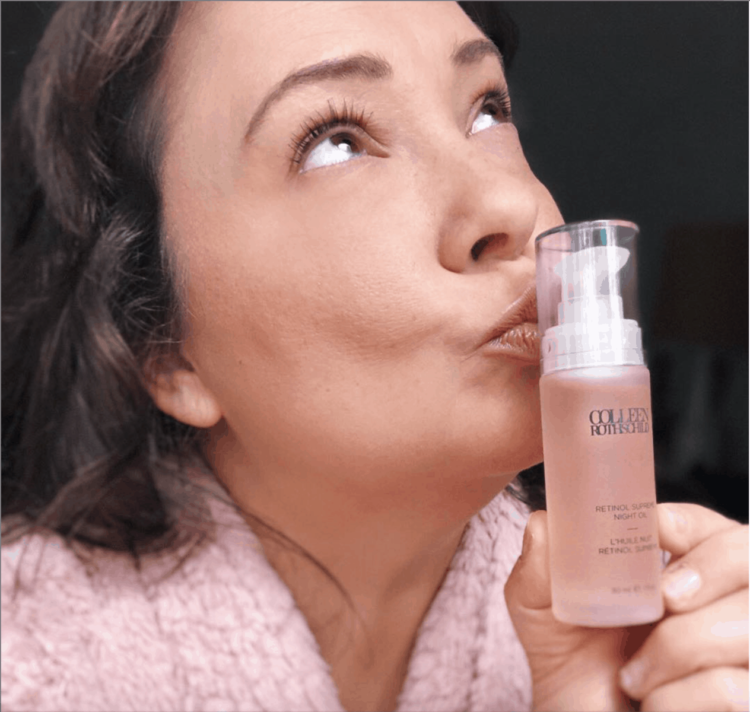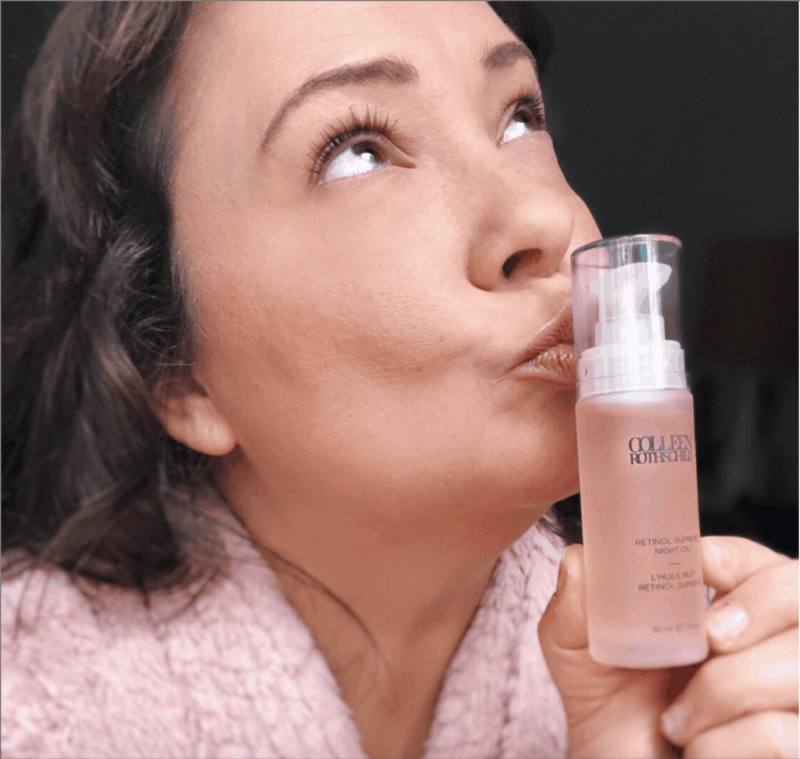 Colleen Rothschild has another fantastic sale this weekend! The Colleen Rothschild BOGO 50% OFF SALE is through 3/21. Buy one, get one 50% OFF sitewide with promo code LUCKY50.
I know I just shared Colleen Rothschild last week, but I am truly a fan, and this sale includes everything, not just select products. I just placed an order to restock what I ran out of; I've learned to not let that happen again. These are the items my husband and I love the most from Colleen Rothschild: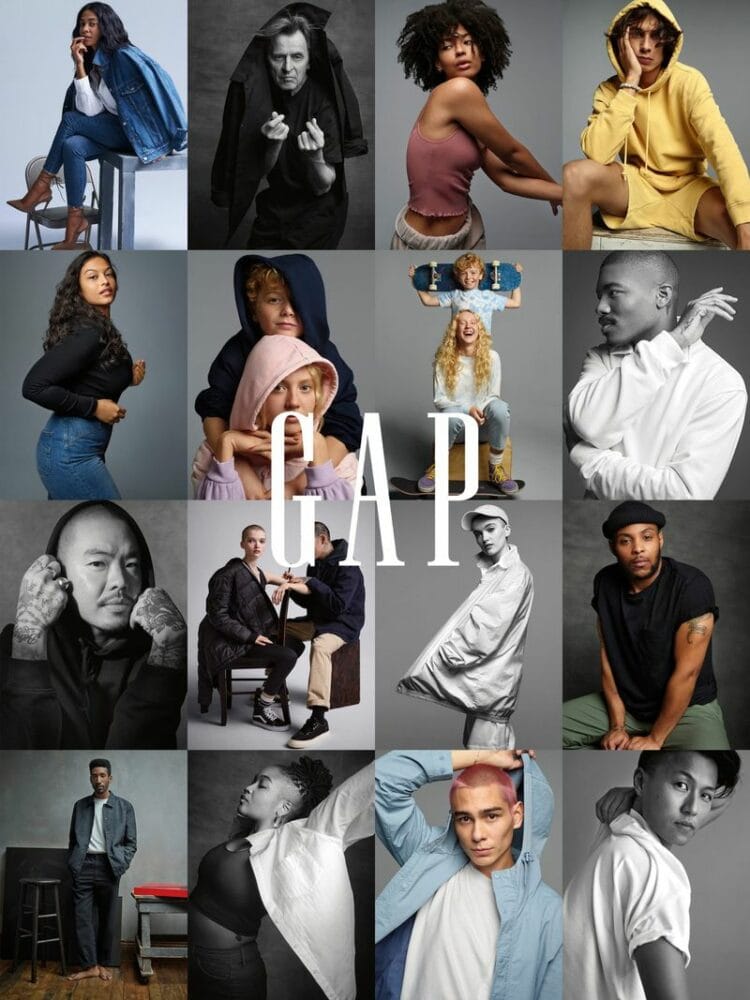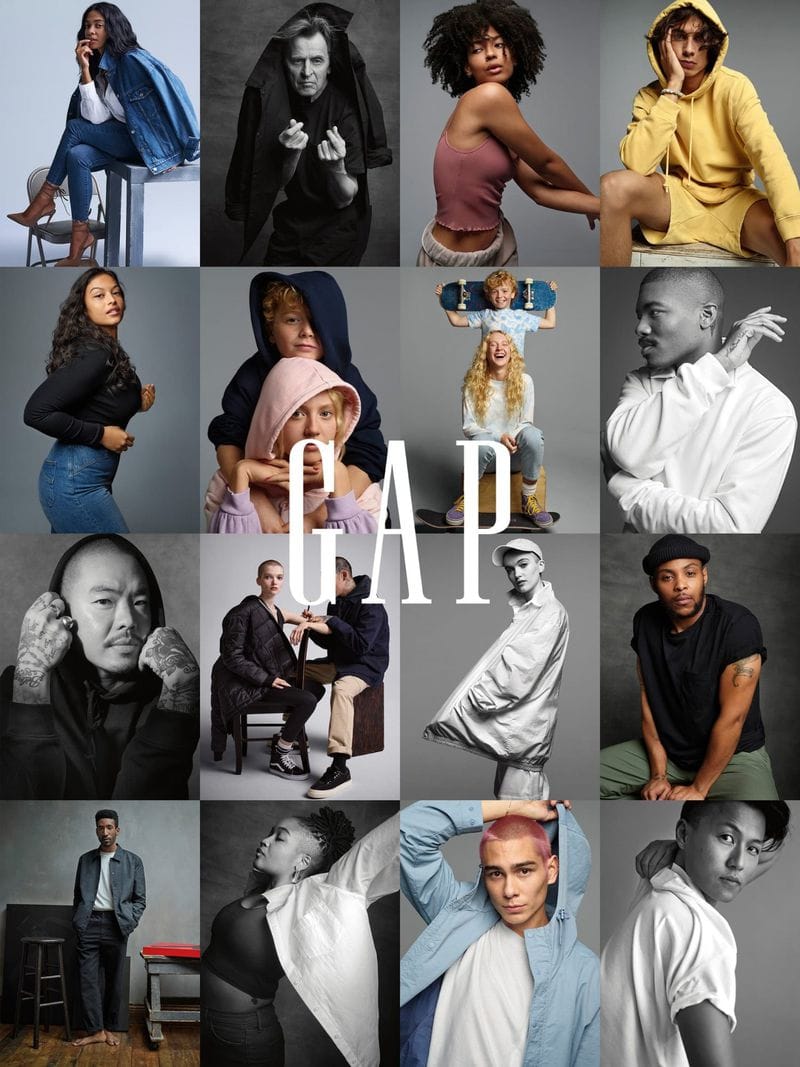 Gap is having their Friends & Family sale with 40% off everything with promo code FRIEND. The sale is through the 23rd but I have learned the hard way to not wait because things will sell out and not come back in stock.
I used this sale to do a bit Gap denim haul. They had a lot of sizes 30-35 in faded non-skinny styles and my fingers are crossed that something works out. The styles I ordered:
What I Bought and What I Thought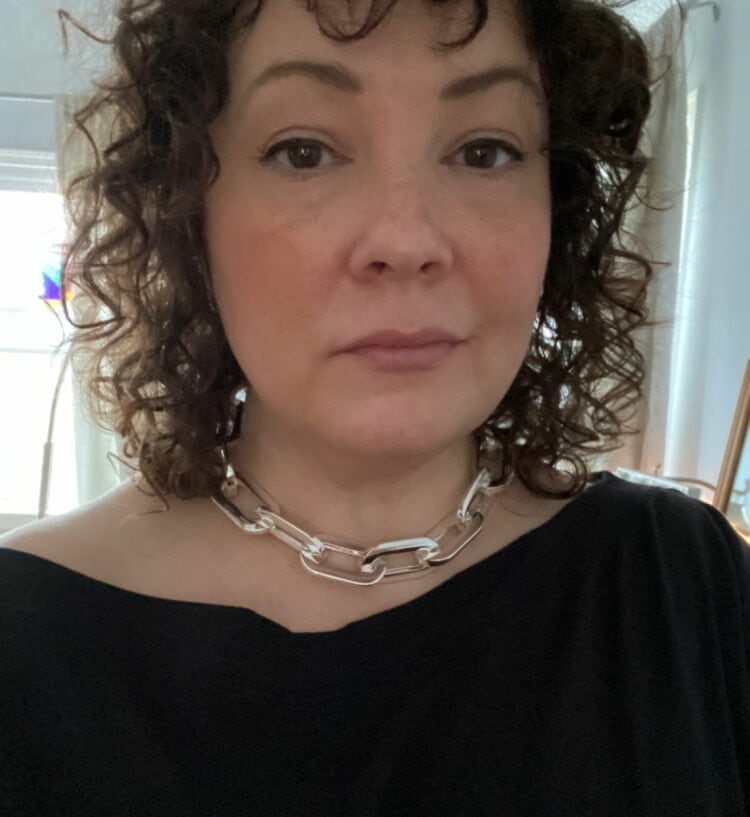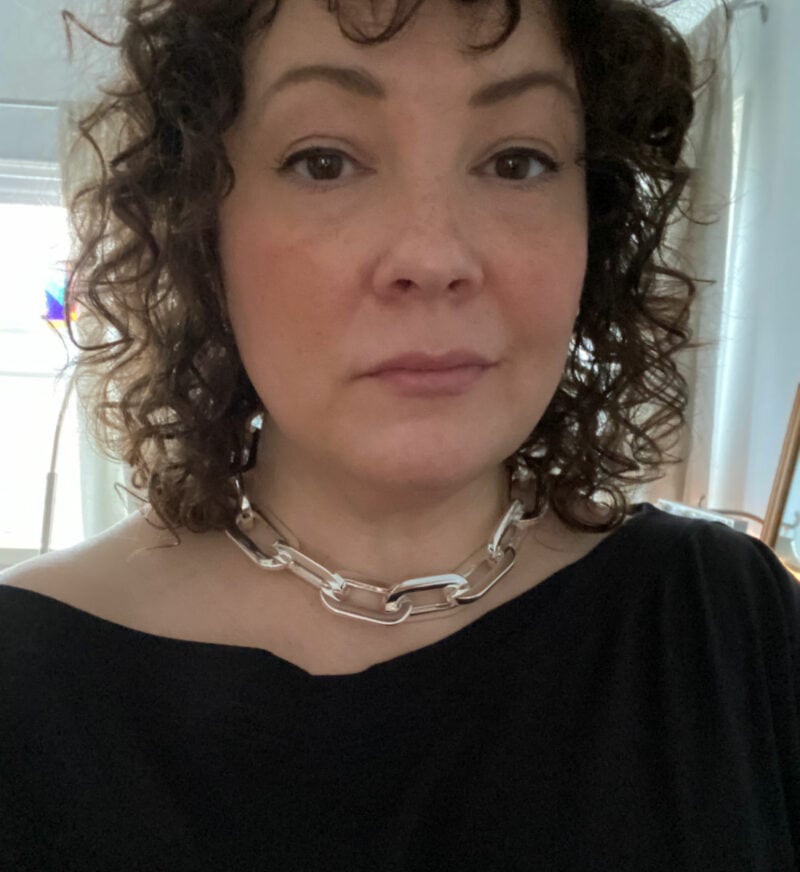 I shared this Jenny Bird necklace in this blog post. I have been obsessed with it for a while now, and decided hey, I survived a crappy year, I took care of my taxes, I'm going to give myself a bonus and buy this with the bonus. I have been a fan of Jenny Bird jewelry for years, and this looked so badass.
The only thing I don't like about Jenny Bird jewelry is it's not size-inclusive. The rings only come in size 7, a lot of the necklaces are chokers, there aren't adjustment chains or options to lengthen pieces. And while this is a seriously badass necklace… I wish it had one more link.
I even brought this up in my Instagram stories. The way the necklace closes is one of these links has a clasp built in. So technically if they sold the clasp links individually, one could customize the length without losing the style. Dang, I love this, but I think at this length it won't get enough wear to justify the price. Sigh.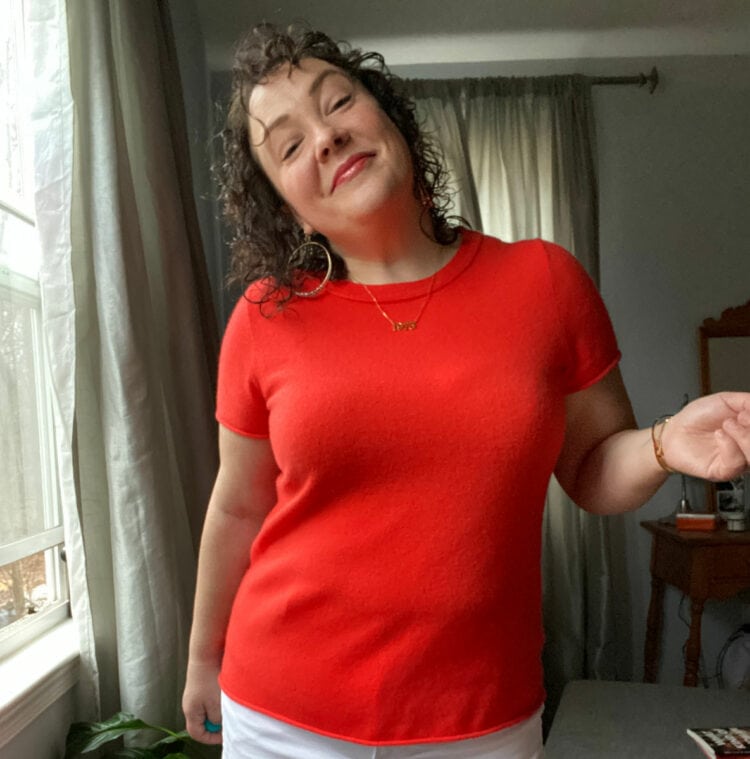 Those of you who caught my Instagram Stories this past weekend about Equilibria saw me wearing an orange/red short-sleeved sweater. It's this from J. Crew, color grenadine, size XL and I love it so much I am seriously thinking of getting another one in another color. I love it so much I took a photo with wet hair so I'd have one for this post!
It's long enough to tuck in, but not so long that a little half-tuck in front looks messy, or untucked looks like a tunic. The sleeves aren't tight, my bust fits without puckering, and it's nice with jeans or dressed up. Like my other cashmere sweaters, I plan to wash on gentle in a lingerie bag and dry flat so it keeps its shape.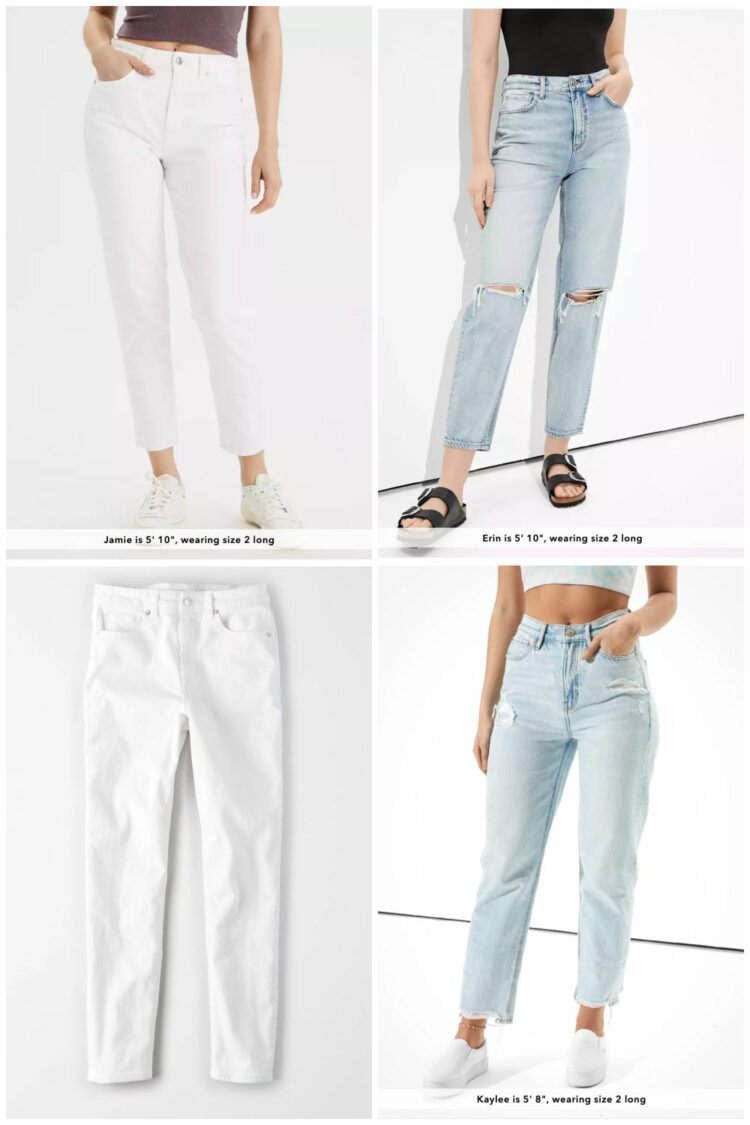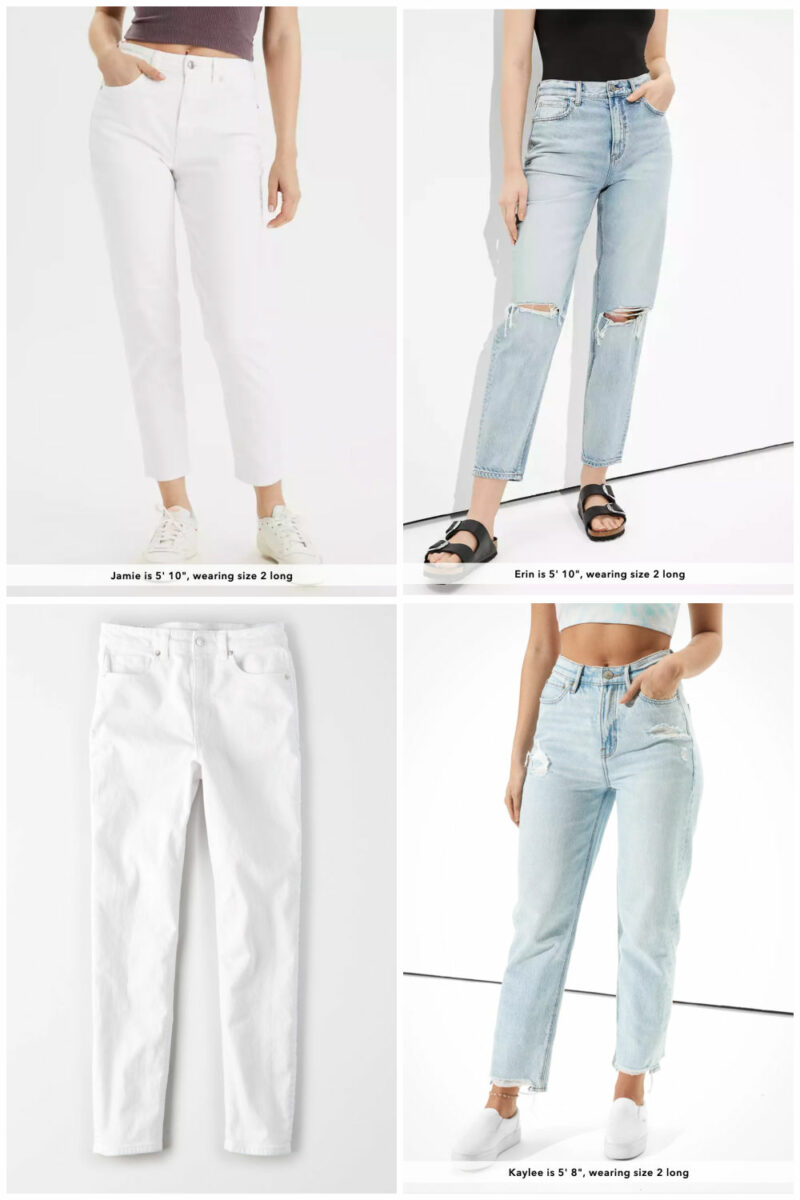 Continuing with the wet hair photos… I said last week I did an AE denim order. I ordered three pairs of jeans in size 14 short (the size I've worn before in this brand):
The Relaxed Mom Jean is too relaxed and looked dumpy and gave me phantom penis like Madewell jeans. It also ran big and long, so a 14 short was so long that the knee holes were at my shins and closed like a frown because the thigh was sitting on top of the bottom half.
The Highest Waist 90s Boyfriend Jean was also bad. I needed to go down a size, but the rise was too high, and the fading was too trendy for me and I didn't look modern, I looked like Lita Ford.
The Stretch Mom Jean in white, which wasn't half bad. I didn't fall passionately in love with them, but decided to keep them so I could do the research below.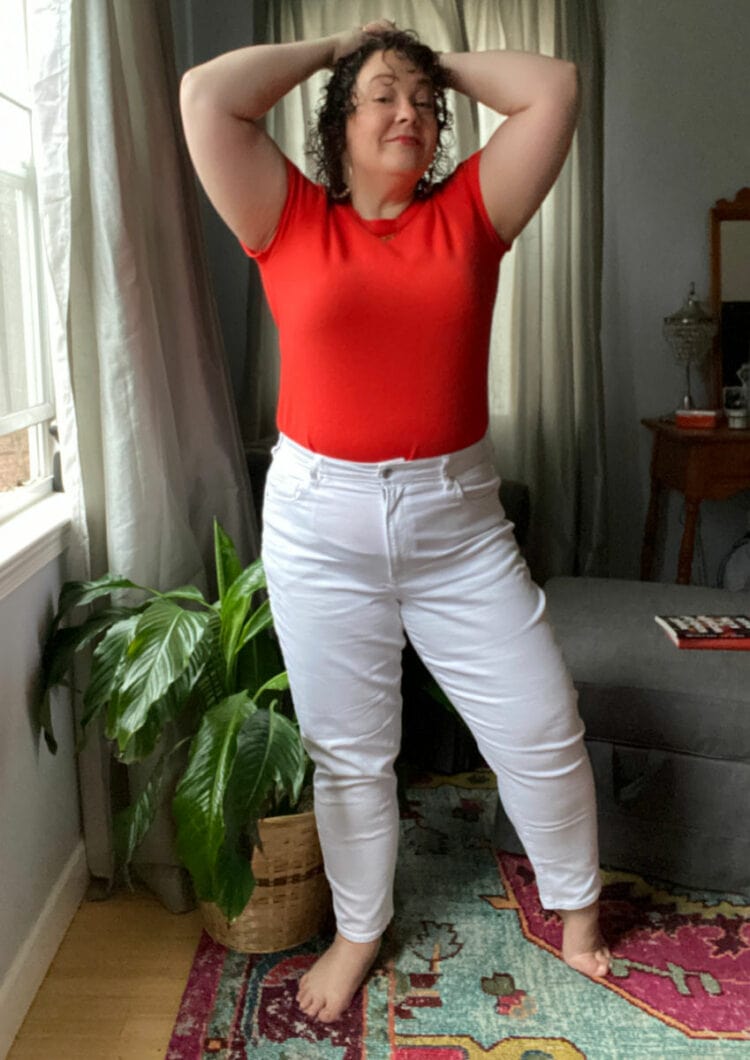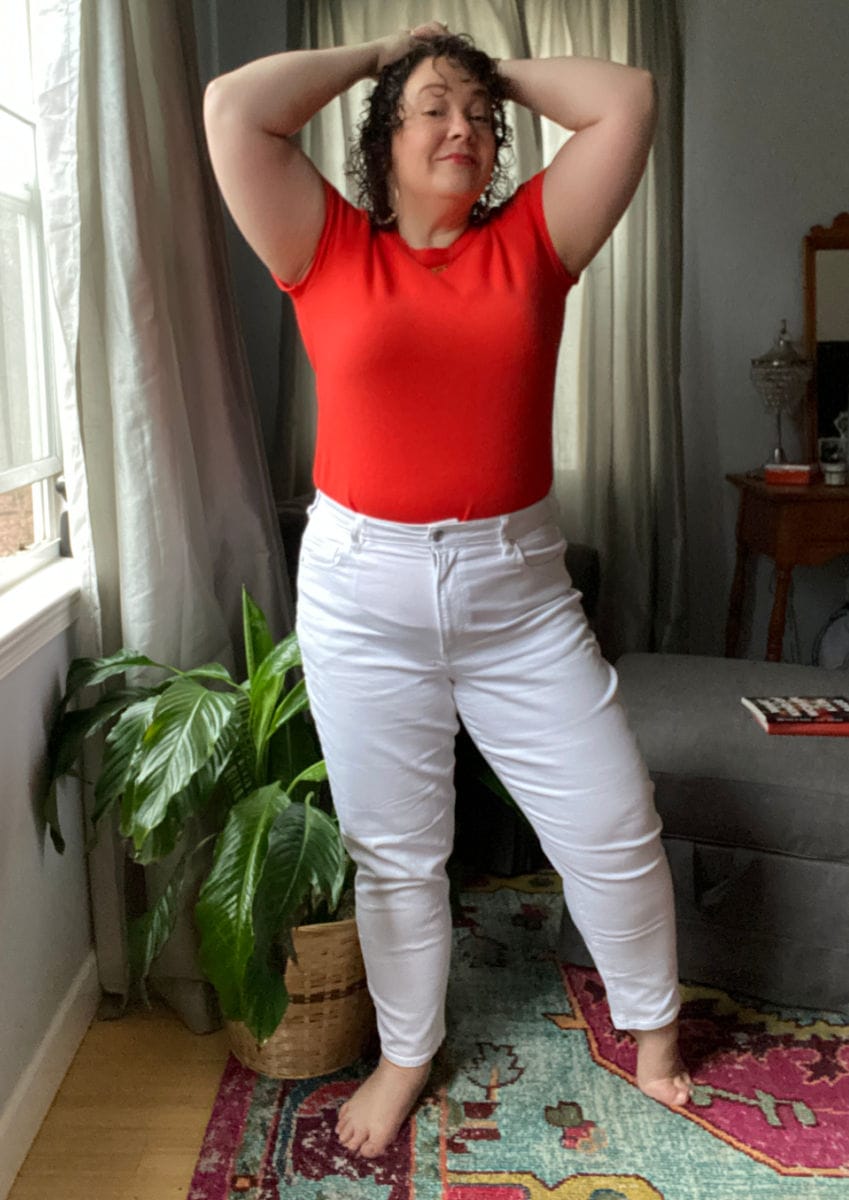 I decided to give these jeans a bit of a workout before photographing them for the blog. I sat in them for six hours for work. Then I went for a short walk outside. Then I sat for dinner, and curled up on the couch after to watch TV, and then sat on the floor and did some mild stretching, and then the next day put them on to take these photos.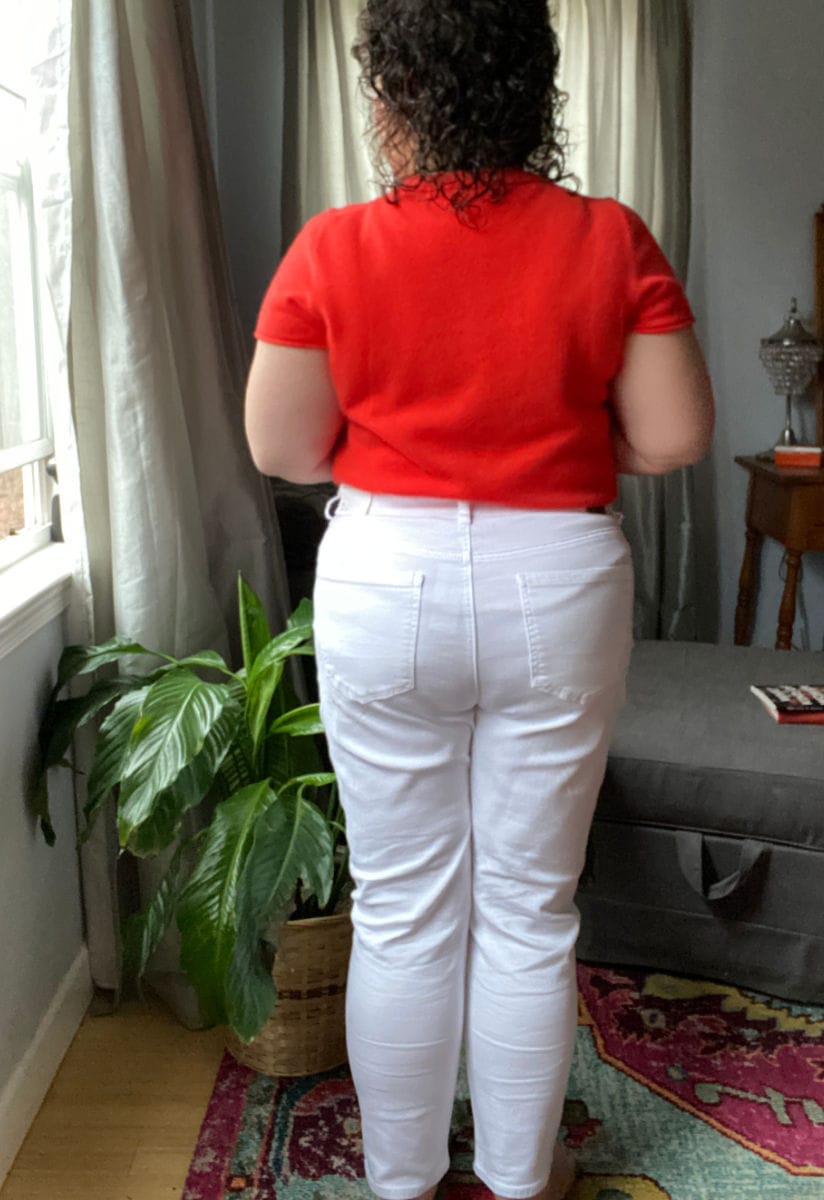 I find white jeans especially bag out with wear, making them go from polished to diaper butt. I think these held up well. That being said, I don't love this style of jean on me in white; I prefer a classic straight leg. But I am impressed with how these held up enough. If white is also not your scene and like me, you find uber-distressed jeans just too distressed, check out "Washed Blue" and 'Darkness Falls" in the same cut. "Olive" is also great if you'd like a non-blue option.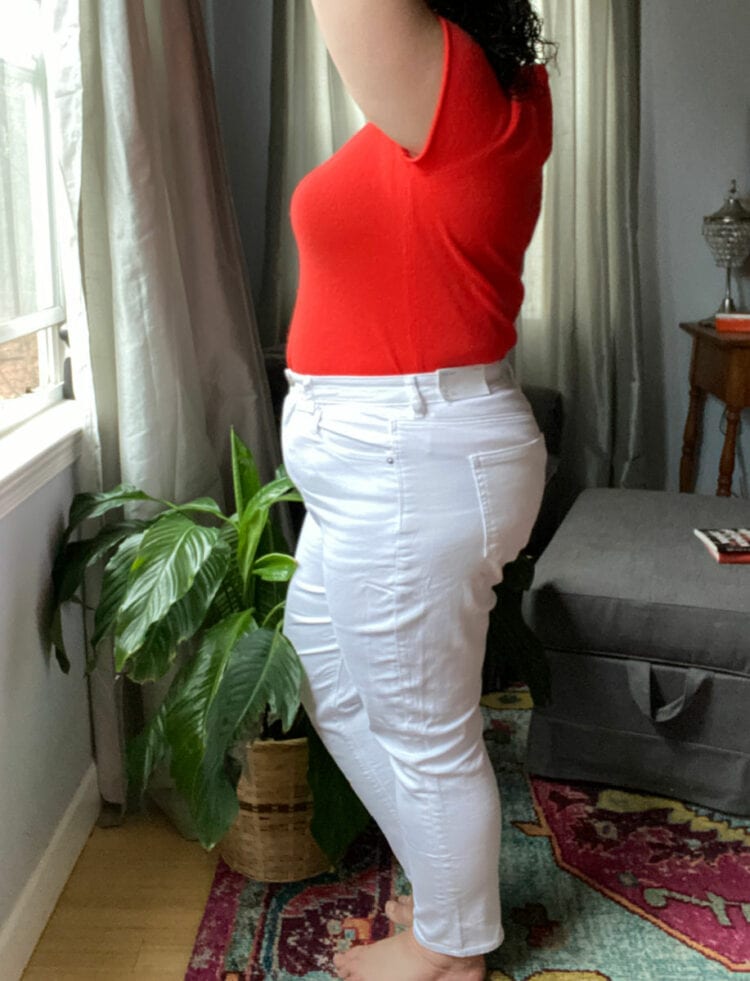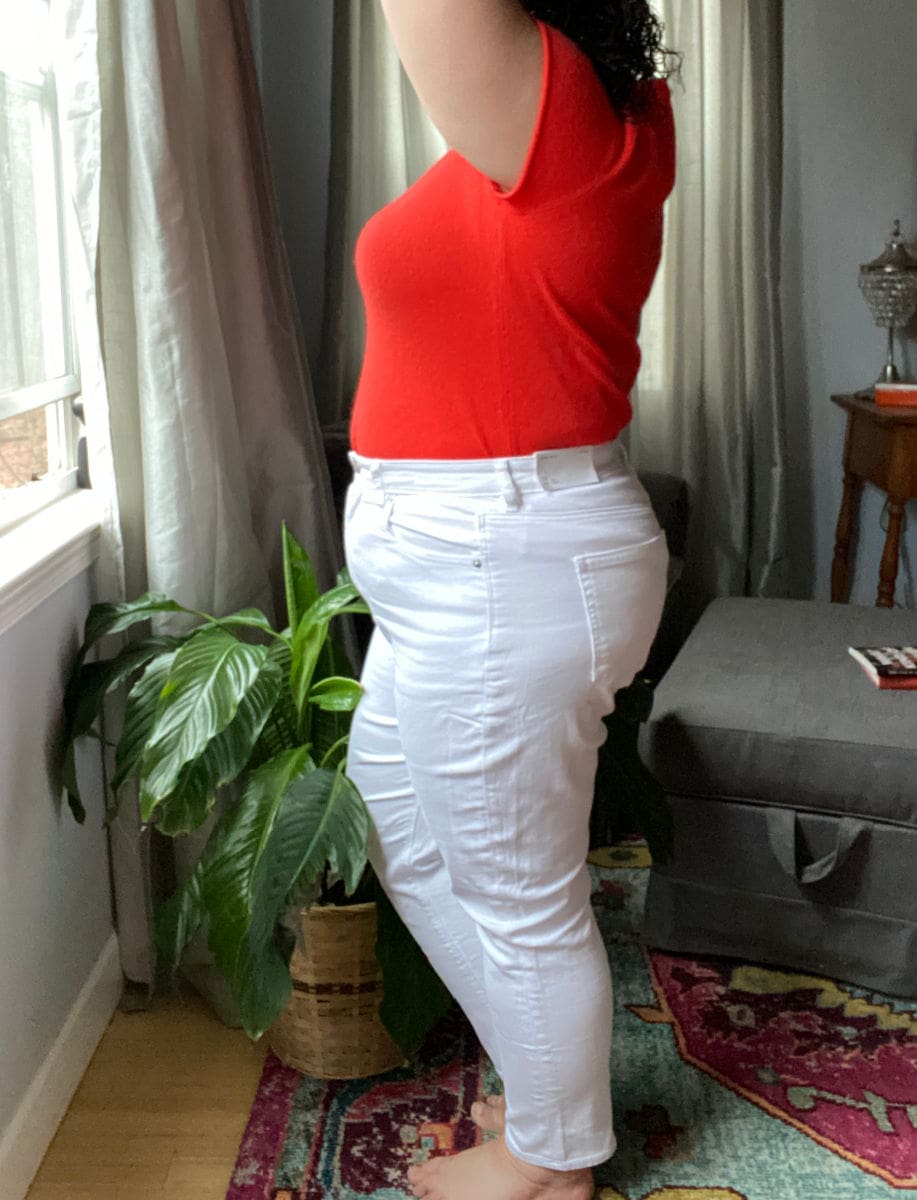 My kid also ordered from AE and she got The Stretch Mom Jeans and also loves them. She got the color "Vitamin Sea" which IMO is a bit too faded/bleached/funky for my grown-ass self. But I am impressed for jeans that cost less than $40 they look not too bad on a 12-year-old and her 46-year-old mom who have two drastically different body shapes and sizes.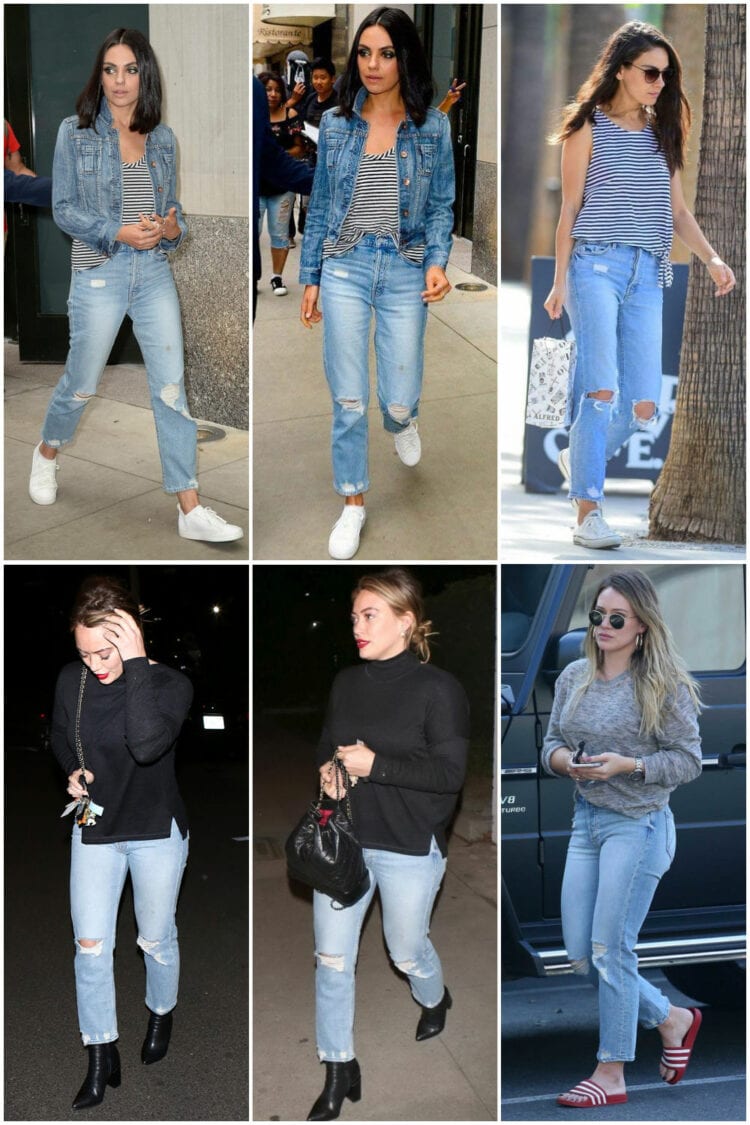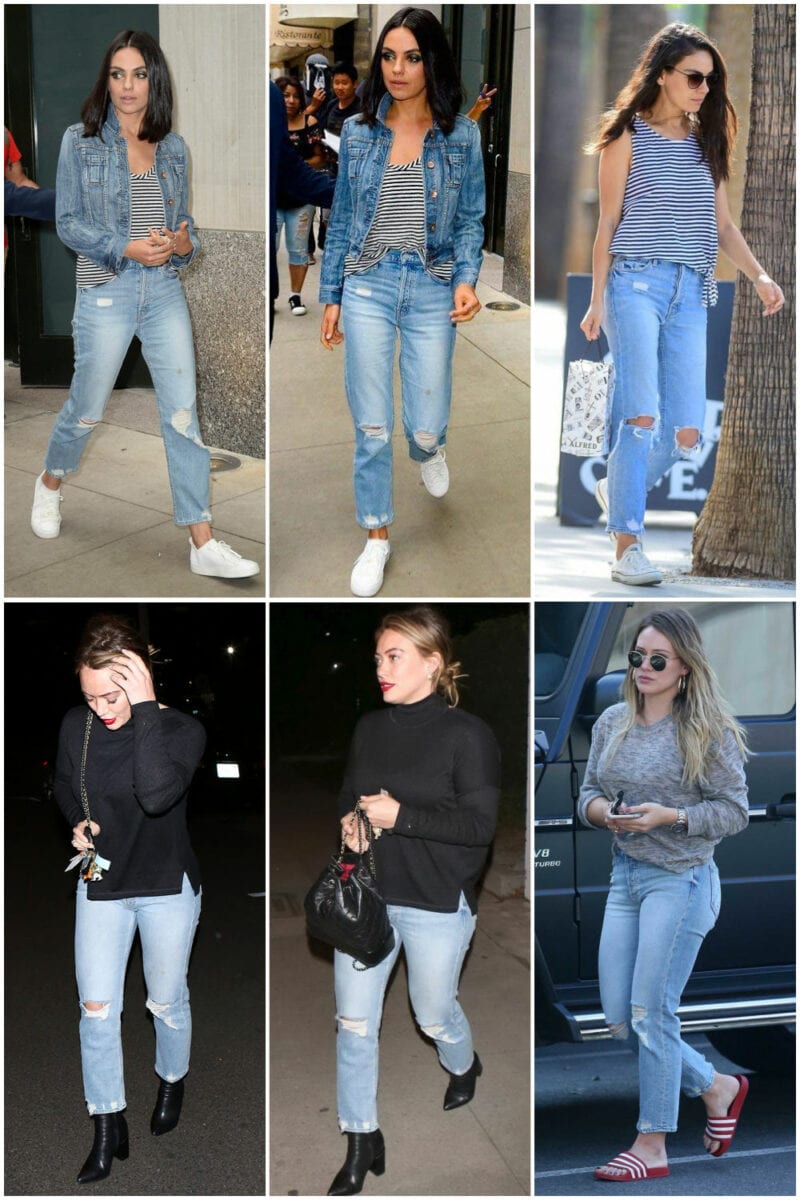 Having a hint of success last week with MOTHER jeans, I ordered these in a size 34. And gosh, they were almost perfect. They were actually a bit lower rise than I desired (the tummy and butt took up some of that fabric), but they were the perfect wash, cool distressing, great length.
But because they are button fly and my stomach isn't firm, that button fly, while comfortable, looked like it was stressed. I did a few squats in the jeans and the busting buttons look didn't change. If I didn't have a lower tummy, I doubt it would have shown this way; pulling up the fly it flattens but when bent it looks… not cute. And these jeans are way too costly for not cute.
If they were zip fly, I would have possibly kept them. I feel this experience gave me a better gauge of how these kind of jeans can work on my body. I want that vintage straight leg look with a higher rise and a bit of distressing. And if the jean has a hint of stretch, all the better.
FYI if you're smaller than a 33, Nordstrom has these jeans on sale for less than $200. And another FYI, 34 is the largest size available in these jeans.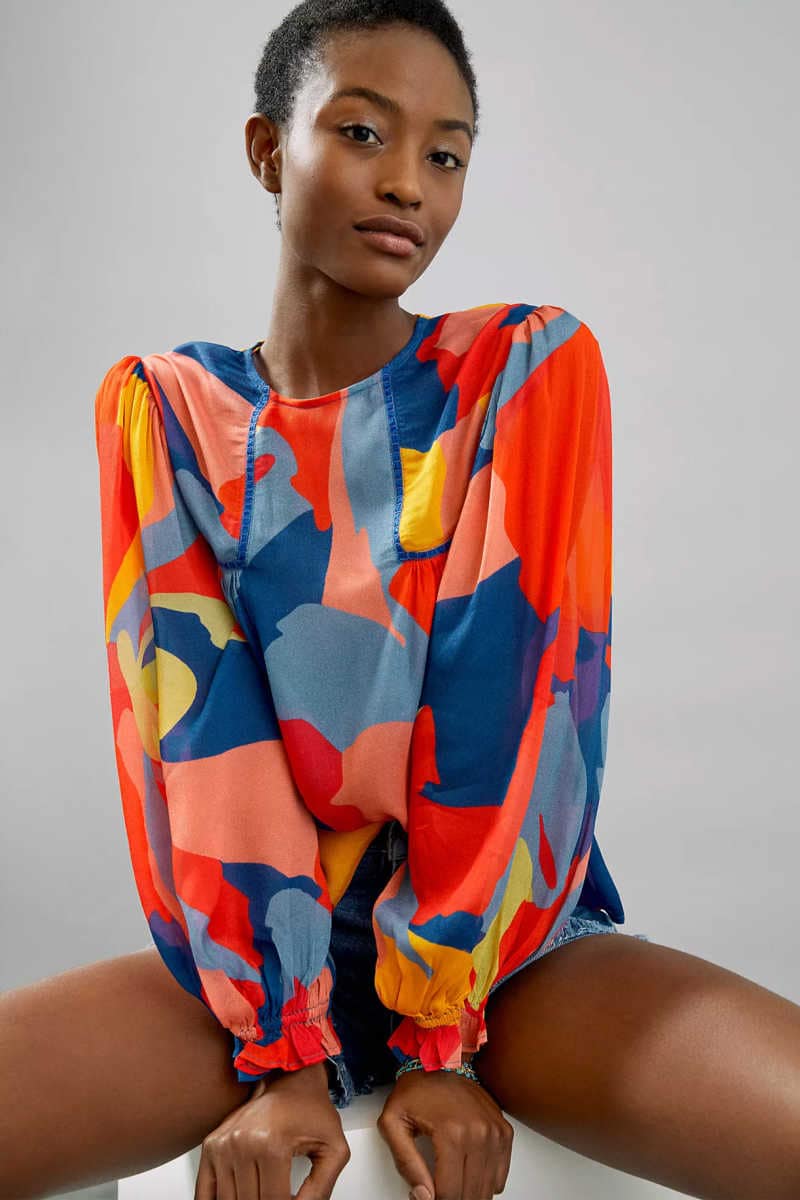 So in a past Friday Shop post, I mentioned I ordered this top from Anthropologie. And it just finally arrived this week. And it's going back. It's this crinkly poly crepe feeling and it's completely see-through and the little bit of blue velvet at the yoke hits at the absolute worst place on my bust making my boobs look both huge and saggy and has the top tent out from it in a really ridiculous manner.
That plus Anthro doing some shady copying artisans crap like they're Shein or Boohoo AND as I mentioned above, taking plus sizes out of their stores, I am taking a break from Anthro.
I went to unsubscribe from Anthropologie emails so I wouldn't be tempted and can I just rant about some brands that make it so hard to unsubscribe? Maybe it's me, but I have like 6 different email addresses that filter into one inbox. I click unsubscribe and I have to enter what email I want unsubscribed? And then I have to go through all these default clicks to find the fine print that says unsubscribe from all and THEN another page where I have to click which email lists I want to unsubscribe from?
Come on, I know it can be easier. Either you're lazy and didn't do the work to make it easy for your audience or you're hoping your audience is lazy and will give up before finally hitting the third page of confirm. If unsubscribing from my emails is this much of a pain, please let me know and I will do everything I can to not be Anthro.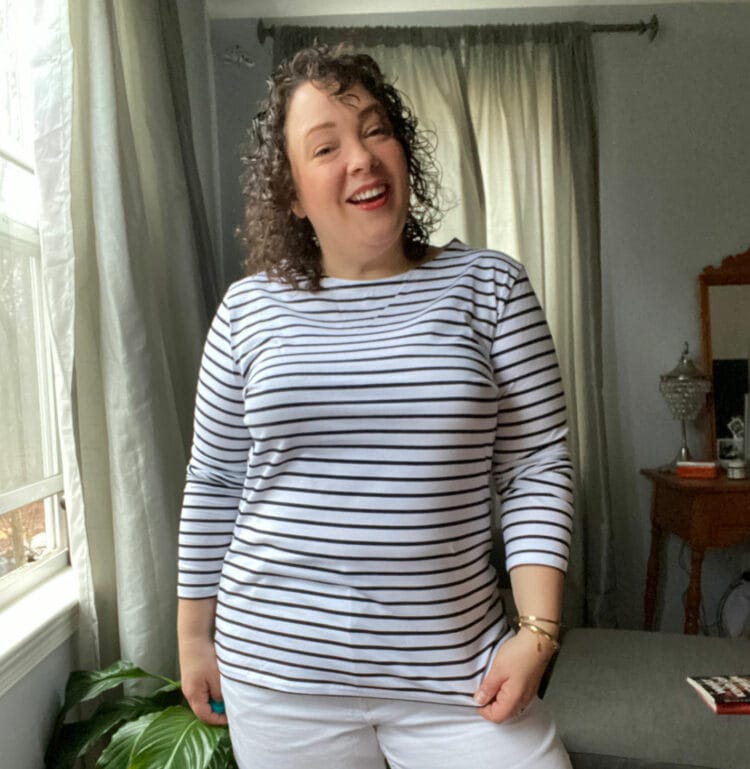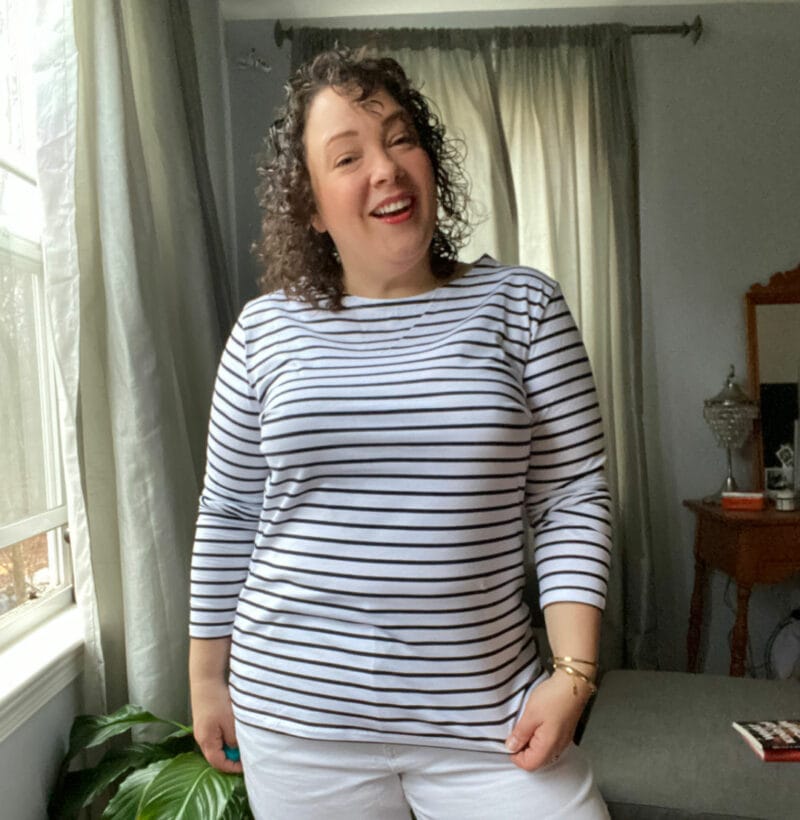 After so many readers saying I needed to try this striped shirt, I ordered one in XL and one in Large. I tried on the XL first and never opened the Large, knowing it would be too fitted on me. This is a nice shirt, especially for just $19.99. It is opaque, crisp, no weird details, a nice fabric. Unfortunately, the largest size is XL which is what I am wearing above.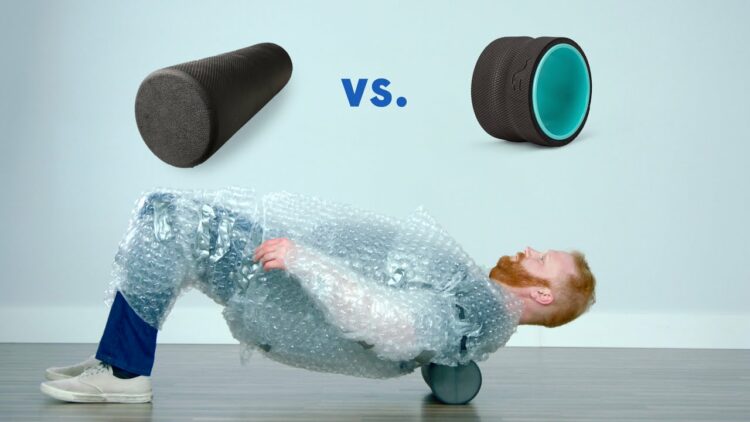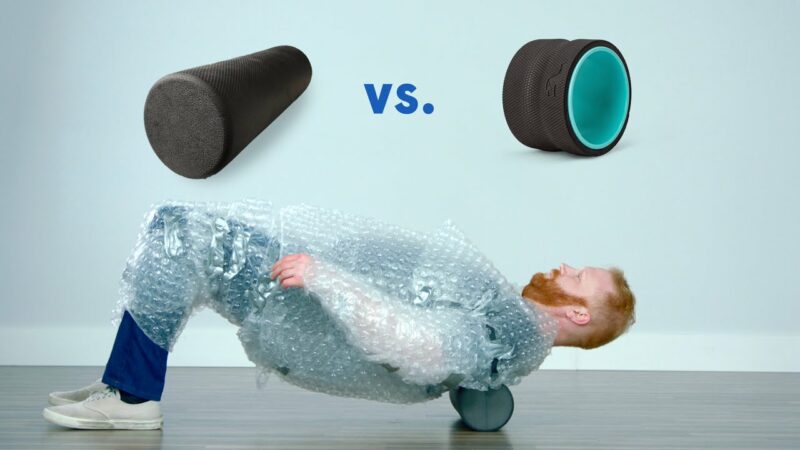 And we succumbed to social media hype and bought a Chirp wheel. You've likely seen the ads of the man in bubble wrap holding a ring, or the guy sliding on his back on the same ring/wheel, with audible cracks and pops as he rolls back and forth.
It took about three weeks to arrive directly from Chirp; a friend got it through Amazon and it arrived same week. We got the 10″ middle size. I don't really like it. I do feel a few pops in my middle back, but it hurts on my lower back and is hard to get my upper back, where I hold the most tension. My husband thinks it's fantastic, but everything seems to work great for him. My kid loves it and her back makes all sort of Rice Krispie sounds. My friend who got it also thinks it's amazing.
I wonder if a smaller wheel would be better? I also can't help but wonder if it's my padding as these three ravers are all slim/firm. I'm going to do more research and see if maybe there are different techniques for soft bodies?
Whew, if you got to the end of this super long Friday Shop, I am impressed! And I hope you have a great weekend!