This article may contain affiliate links; if you click on a shopping link and make a purchase I may receive a commission. As an Amazon Associate, I earn from qualifying purchases.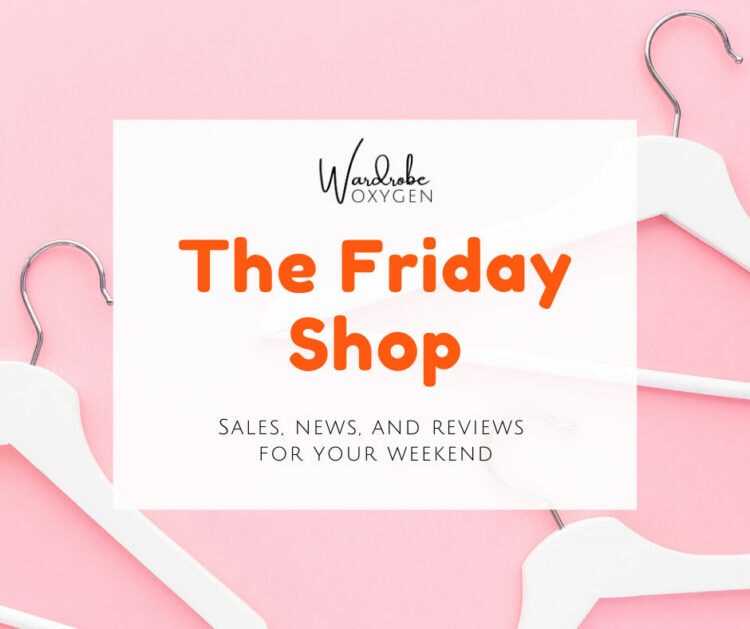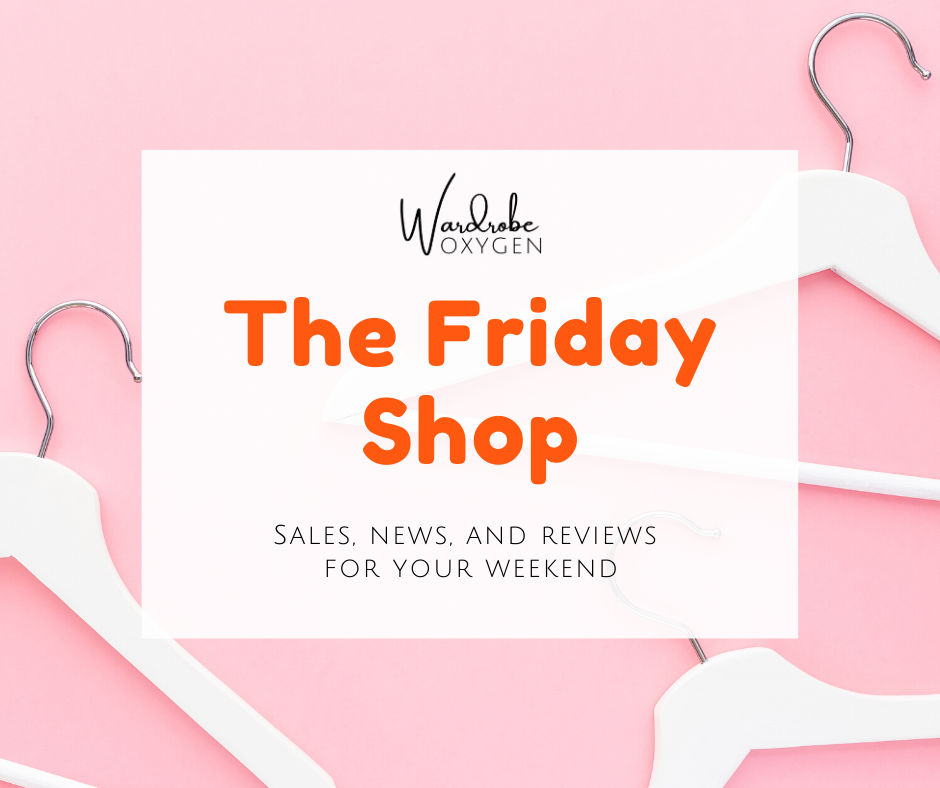 I was going to add this to tomorrow's Weekend Reads but since it's based on shopping I decided to share it here. A story about Ross Dress for Less and what it meant to the author, as well as the history of the retailer. (Jezebel)
Growing up, we were bargain shoppers. For most of my childhood, toys, clothes, and homegoods were acquired at yard sales and the occasional thrift store. When our family had a bit more money, we upgraded to TJ Maxx and Marshall's. There was a TJ Maxx in Bowie, Maryland that was our JAM. We knew what day deliveries arrived and would shop that, to get the best selection.
Guess jeans, Champion sweatshirts, Estee Lauder fragrances, Calvin Klein coats, even a trench from Barney's were all found there and kept me looking "cool" even if I didn't have cool kid funds.
Since I live on the East Coast, Ross arrived later than Marshall's and TJ Maxx… and at least in this area, was never as good. While you could find nicer department store brands at Marshall's, the brands at my local Ross were more similar to what was found at Kohl's or even K Mart. That didn't stop me from hitting up Ross all the time when furnishing college- and post college-apartments. I bought so many colored bottles and planters I swore I'd love and use for decades… I think most of them ended up at my mom's house as my tastes and places of residence changed.
Maybe my tastes kept changing, but I have found in the past few years that none of these stores have the selection they used to. I know in the Wardrobe Oxygen Community on Facebook we've discussed how Nordstrom Rack, isn't the treasure trove it used to be, but I think with online shopping, these stores have taken a hit with selection. From Zulily to Poshmark, there are so many online ways to save.
When I started this blog, I regularly shared my scores from these retailers. Now, I just find workout leggings for less than $20 that may or may not be awesome and plenty of heavily discounted Le Creuset in every size and color I don't need.
Do you still find the scores at Marshall's, TJ Maxx, Ross, etc. that you did in the past? Do you find you shop such retailers as much now that you have the internet to search for sales?
Sale Alert
Boden
Boden has 20% off full-priced items through Sunday. No need for the promo code, as soon as you visit the site they will add it to your cart. Selection is low in sizing, so don't get your hopes up. I ordered this top in the color Chambray, this dress in Ivory Exotic Escape, and this shirt in the red, white, and navy stripe (every July I wish I had something that was patriotic without screaming 'Murica and this is subtle enough to wear year-round). I almost bought this dress even after discussing the color brown in the WO2 Community thanks to this article from Vox. I guess I should be grateful so many pieces were out of stock in my size… at least my wallet is grateful!
Boden is available up to size 20/22 and has petites up to size 10. I am a 14 in Boden, though I would benefit from having their petite range go up to my size. I find the pants and jeans to be too narrow for my solid legs and curvy rear, but have had great success with their structured and knit tops and dresses.
Shop My Picks from Boden:

Equilibria
The Equilibria sale continues through May 9th. I was a bit confusing with my wording before; the Signature Boxes at this link are 30% off. If you are a first-time customer use WARDROBEOXYGEN at checkout and get an additional 15% off your order. If you are shopping for Mother's Day place your order TODAY to ensure it arrives in time!
Nordstrom
When perusing Nordstrom for my shoe posts this week, I saw their link to markdowns up to 40% off. I clicked thinking it would be winter clothes but no… it's some good stuff! Lots of Beauty, it's like they're competing with the Sephora Sale. Even my beloved NARS tinted moisturizer and concealer are part of the sale. So is the Vitamin C serum from Kiehl's that got rid of my sun spot!
But the sale also has fashion: jeans from Good American, Madewell, and Kut from the Kloth, clothes from brands like Madewell and Eileen Fisher, and lots of shoes from popular brands.
They also have homegoods, technology, fitness, and accessories. If you're into that trendy Always Pan, it's on sale. Want those popular Bala weighted bracelets for workouts? Nordstrom has them on sale. It's totally worth a look, just use the filter system on the right to narrow it to what you need and the price you are willing to pay.
Shop my Picks from the Nordstrom Sale:

Nécessaire
The Nécessaire sale continues through this Sunday where you can get 10% off your entire order (even on the discounted sets) with promo code WARDROBE_OXYGEN. I really appreciate the quality ingredients Nécessaire uses – they are facial skincare level, but I also appreciate the brand's commitment to sustainability and transparency, which they delve into at this link.
What I Bought and What I Thought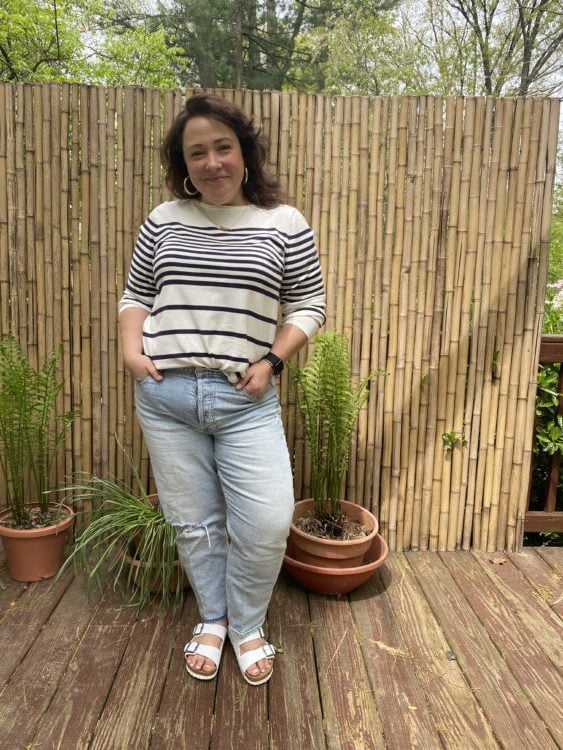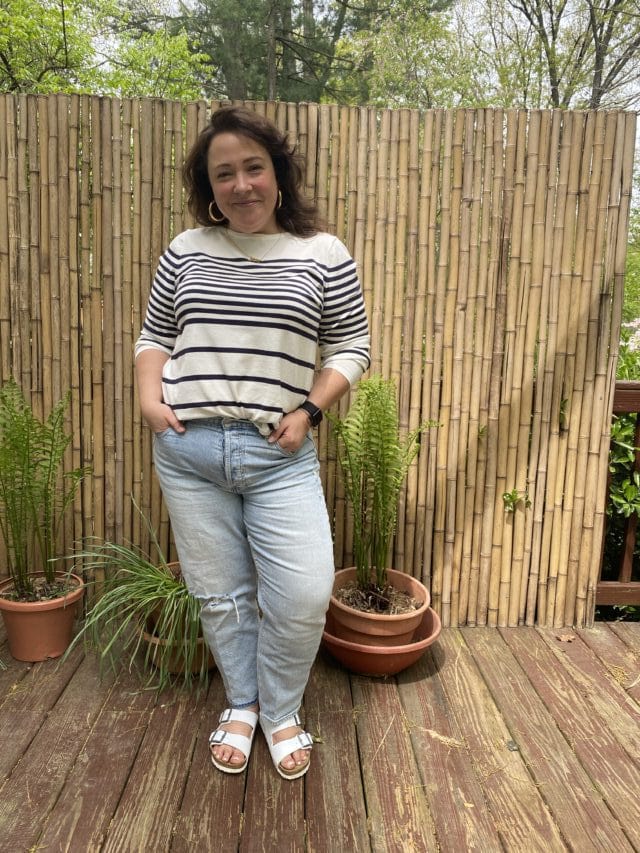 I still have boxes of denim in my bedroom to shoot and review. I just haven't been in the mood to do so. Vaccine shots, period, and nice weather where my husband is working at the garden and in the yard just make it the last thing I want to do. But I am still loving and wearing these jeans from Gap I featured in this blog post.
They are the High Rise Cheeky Straight from Gap, I am wearing a size 32. They are available up to size 35 and come in petite, tall, and short. They have been washed several times and even gone in the dryer and I still love them. For "traditional" denim (there is 1% Spandex but they feel more like standard, not stretch jeans and are heavier in weight) they're quite comfortable. There was a break-in period like most traditional denim, but after that first wear they've been amazing and have molded to my body.
The specific color and distressing I have is sold out in a lot of sizes, but below I've shared all the jeans from Gap in this silhouette as they have them in a variety of washes and several are on sale:
Shop Gap High Rise Cheeky Straight Jeans:

Soma has this new RESTORE collection of sleepwear, loungewear, and accessories that is infused with aloe and they were nice enough to send me some to review.
Infused with aloe… that sounds nice and Soma says it is to help RESTORE your body… but what the heck does that mean? The Soma site and the marketing that came with my gift don't offer details.
I did some research and the website Startup Fashion shares this about aloe-infused fabric:
"To create a textile that is soothing to the skin, fabric can now be infused with aloe vera 'capsules.' These capsules are microscopic, airtight, and waterproof. They open to release the gel only when the fabric is touched or rubbed. Essentially, every time an infused garment is worn, the aloe is applied to the skin. In addition to the skin benefits, aloe also adds a few interesting features to the fabric itself. It is naturally anti-bacterial; and so not only does it keep clothing cleaner, it also combats body odor."
Okay, that sounds super cool, especially for sleep and loungewear. Who doesn't want happier skin and clothes that stay clean and smell-free longer? The thing is, some folks have an allergic reaction to aloe vera (Healthline) so this may not be the best for them. I don't have a reaction to aloe, so I wore all this stuff happily.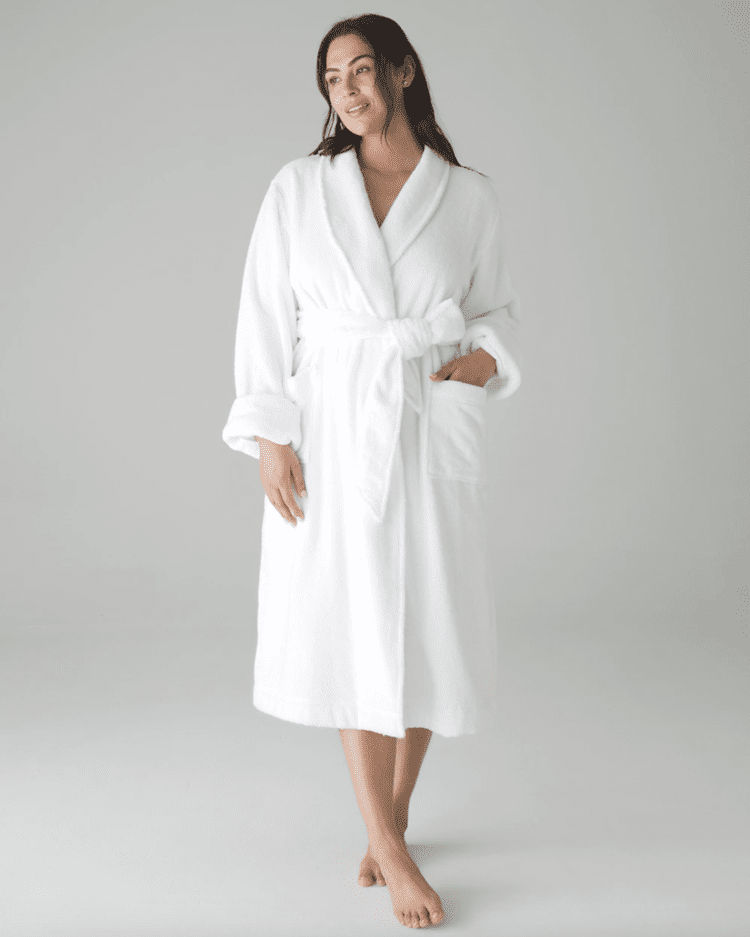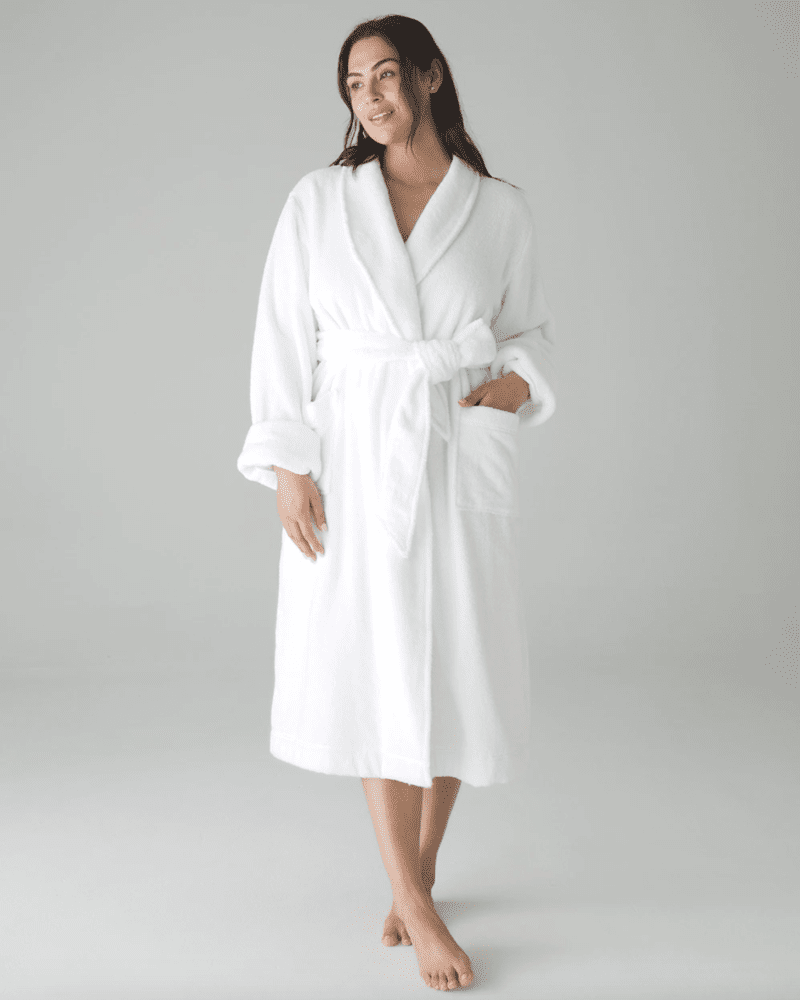 The Soma RESTORE Cotton R&R Robe looks like a really luxe white Turkish cotton robe. It's very plush and thick and soft but when you put it on you realize how it is far softer and silkier feeling than a standard robe.
However, this robe, even infused with aloe, is still just as absorbent. I have the L/XL (it also comes in S/M and XXL; I'd say mine would fit up to a 16) and it's plenty roomy for me to have everything covered, even if I am sitting. There is a grosgrain ribbon inside for an internal tie to keep things closed, and the self-belt cinches tight even if you don't knot. It's a very well designed robe.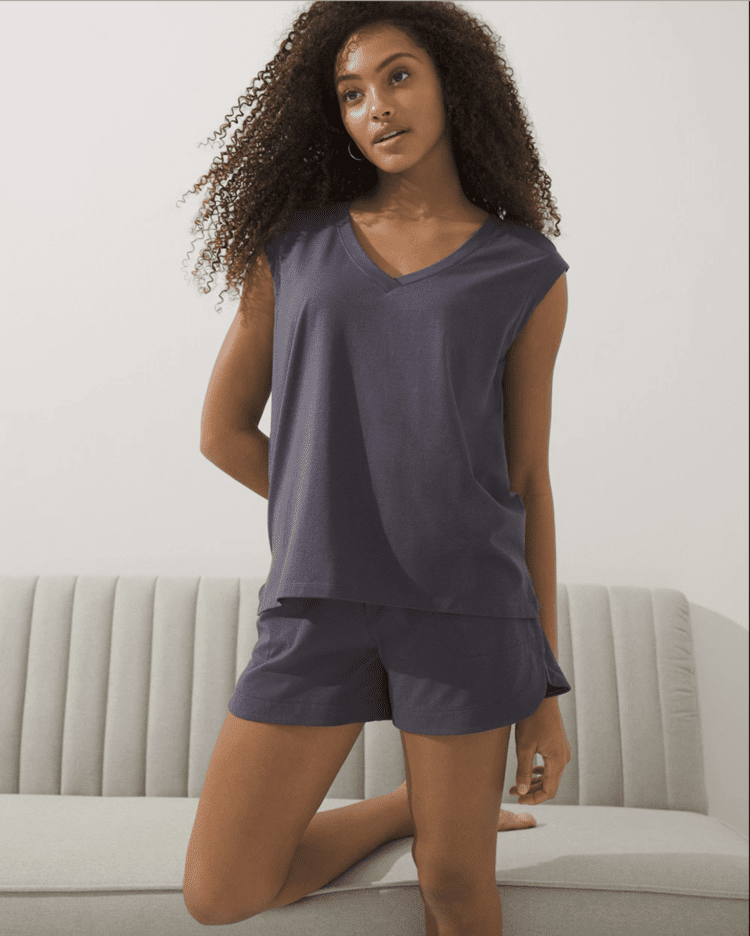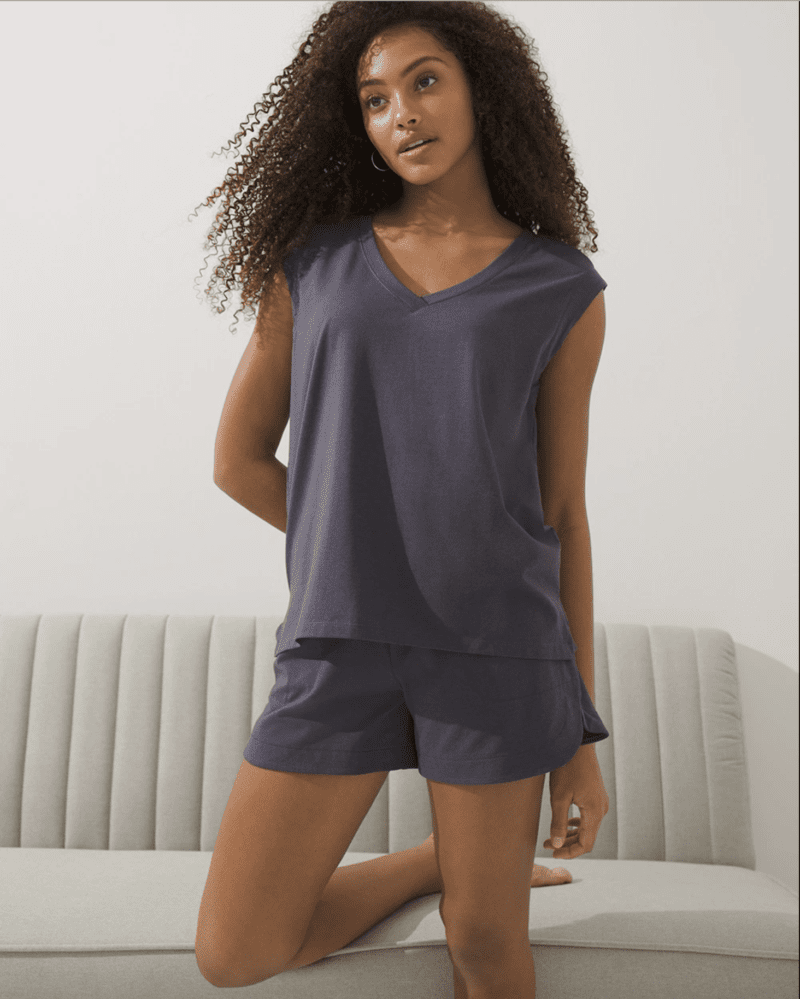 I also received the Soma RESTORE Aloe Knit Sleeveless Top and Knit Shorts in Gray Ink, size Large (they're available in XS-XXL). First glance, these look like slightly faded activewear, but again it's all about the feeling against the skin and dang, I love these.
The fabric is like typical cotton jersey, but there is this non-creepy silky feeling. Maybe I am not the only one who finds silky fabric to sometimes feel creepy, especially when it's hot and humid, but it's this icky feeling like something is wet or greasy even if it's not. I often get that feeling from cupro and sandwashed silk, and especially with synthetics trying to be sandwashed silk. Anyway, no creepy feeling with this set.
The shorts are 4″ length which is cute, but isn't long enough for me to keep my thighs from sticking together on a sweltering summer night. But I do like them for lounging, and the pair together is very cute.
I wish I had sheets in this fabric. Soma has pillowcases in this fabric, and I wonder how that would do for my curly hair compared to a silk pillowcase (or the Ettitude bamboo one I use because silk pillowcases are my jam in the winter but you guessed it, feel creepy once it gets warmer).
Shop Soma RESTORE: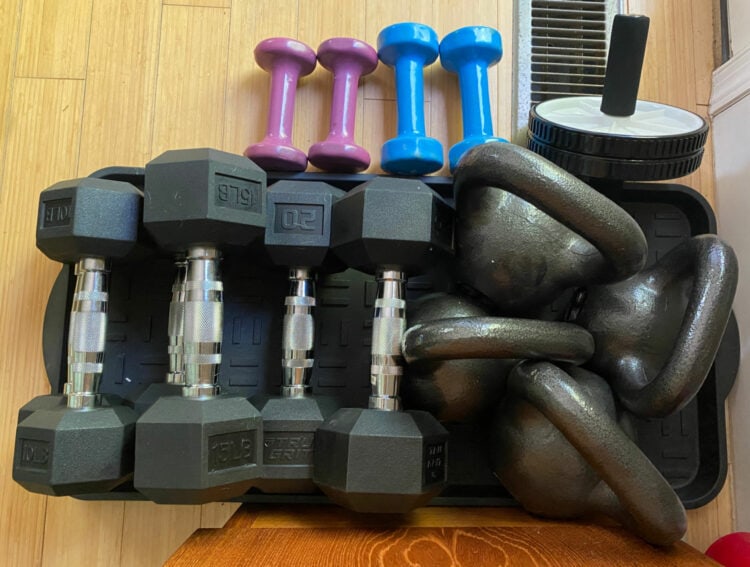 If you're looking for hand weights and are struggling (because if you're not aware, weights have become this year's toilet paper in regard to scarcity) check out Best Buy. We found the TRU-GRIT brand of weights there in stock in every size and even on sale! They ship free via UPS and arrive in less than a week.
Shop Weights at Best Buy:

I've found I've shopped Best Buy more in this past year than I think my entire life. Sure, they have TVs and dishwashers, and game consoles, but Best Buy also carries makeup mirrors, toothbrushes, light therapy lamps, hair dryers, composters, bidets (I have this one and can't recommend it enough), and much more. Seriously, use Best Buy as Google and you'll be surprised how much they have there (and how less likely you'll need to shop Amazon).
Here is a record of the political donations made by Best Buy. (Open Secrets) Best Buy also suspended donations to lawmakers who challenged election results. (The Hill)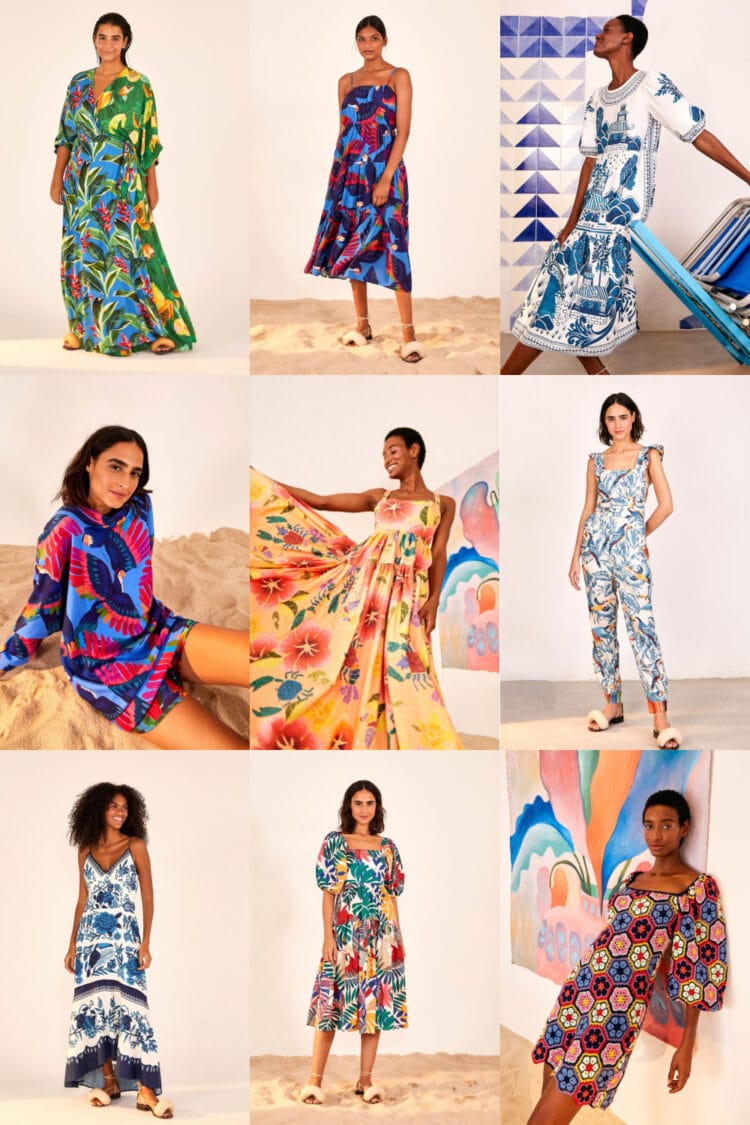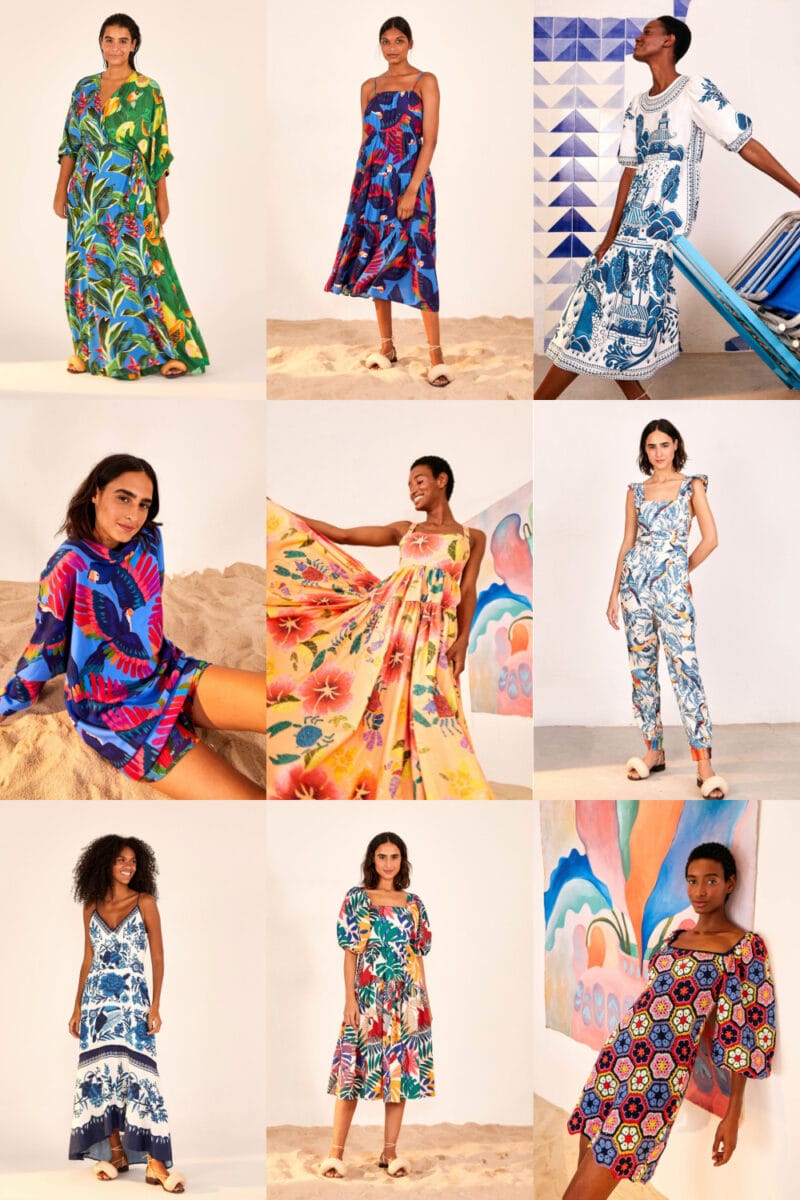 I have been in love with FARM Rio for a while. A sustainable Brazilian fashion brand, FARM Rio plants a tree in the Amazon for every purchase made (and this is on their site or other retailers that sell the brand). By May 2020, FARM Rio was able to donate 50,000 trees to be planted. FARM Rio has supply chain transparency, is certified eco-responsible, and has reduced water usage and emissions by 50% while incorporating more responsible fibers for their collection. All this and FARM Rio has the most colorful and joyful fashion!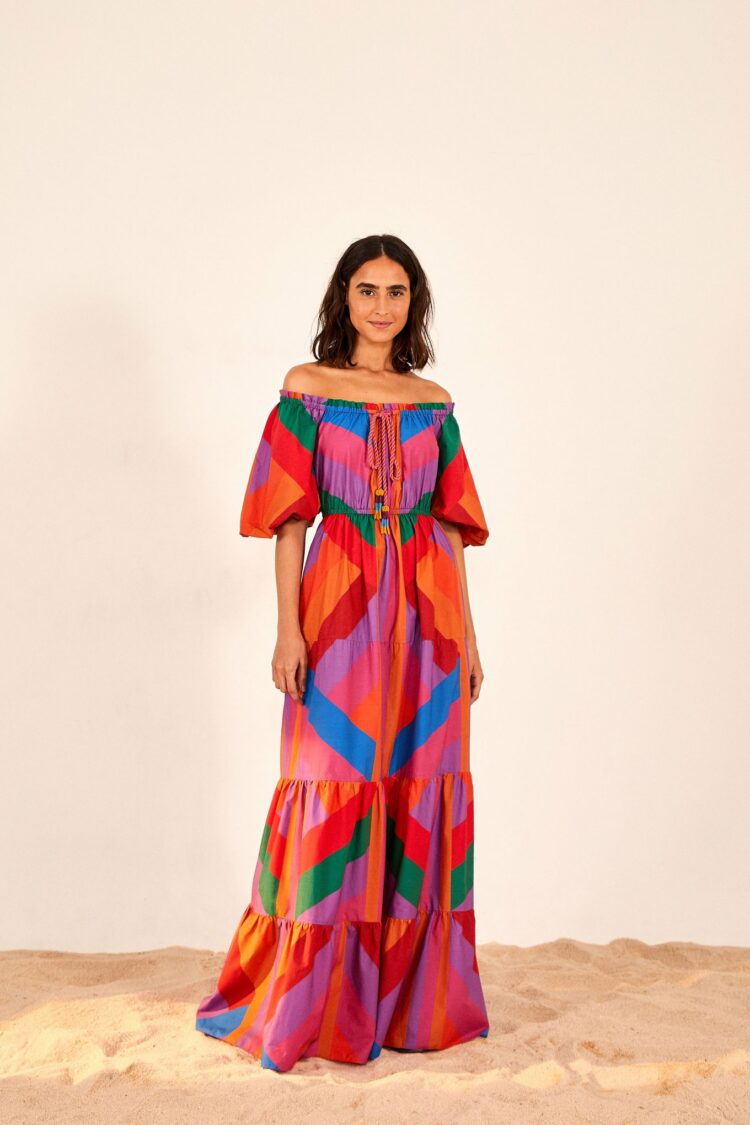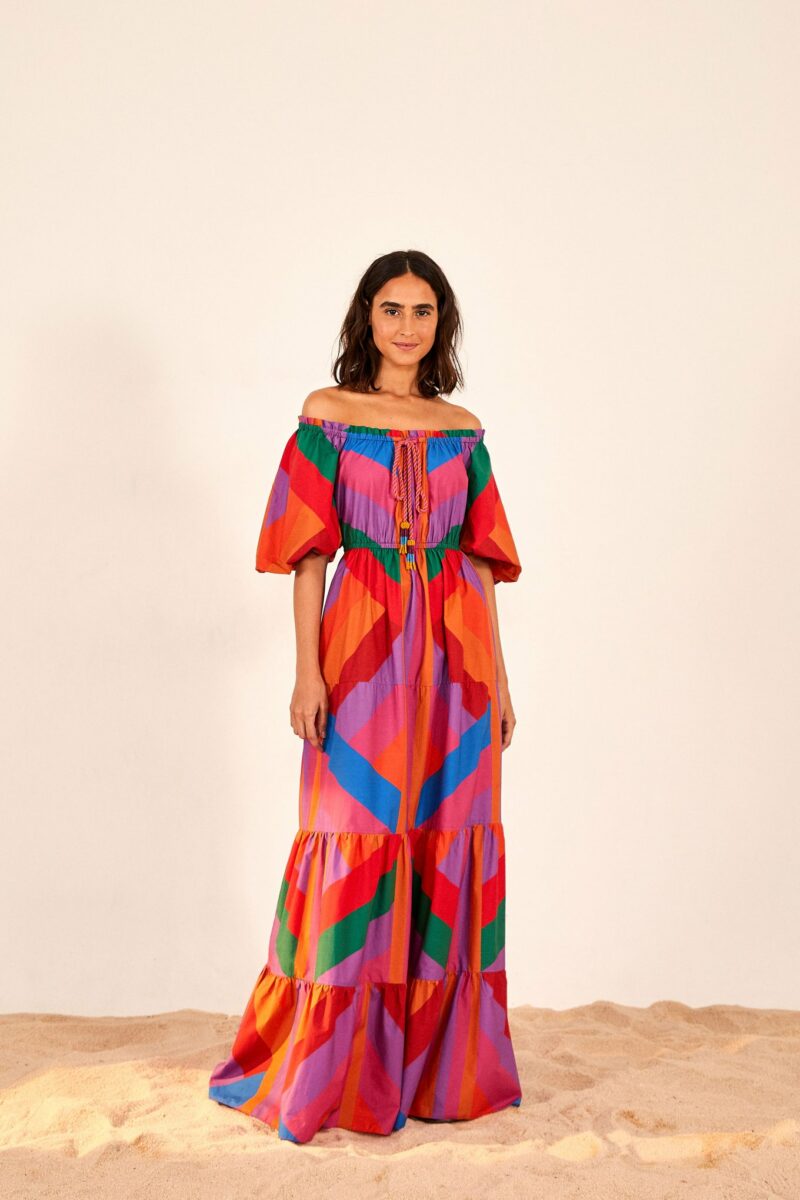 Only thing is FARM Rio only goes up to size XL, which is a US size 16. And it's not cheap. And the larger sizes sell out FAST. I have been crushing on their dresses and when I went to their site to look for items for a blog post I saw this dress. And I ordered it in Large because friends have told me that FARM Rio runs large and based on the single Rent the Runway order I had with FARM Rio, I agreed finding it roomy even in the bust and shoulders.
This dress was awful. It was too big, too long, and the fabric so stiff I looked like a circus tent. That being said, the fabric was nice quality, the colors saturated, the stripes lined up at seams, the little details made it an incredibly special piece. Like the kind of thing you'll wear for years because it's not trendy and it's so whimsical and fun. But it wasn't for me, and I immediately packed it up and sent it back.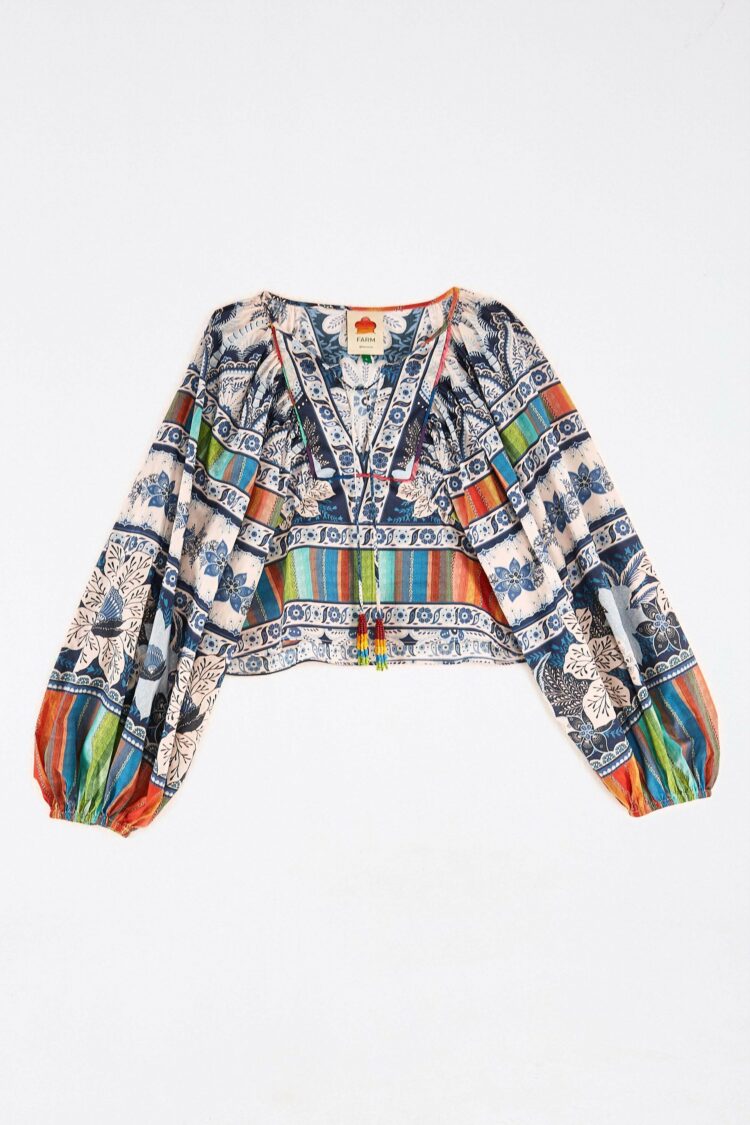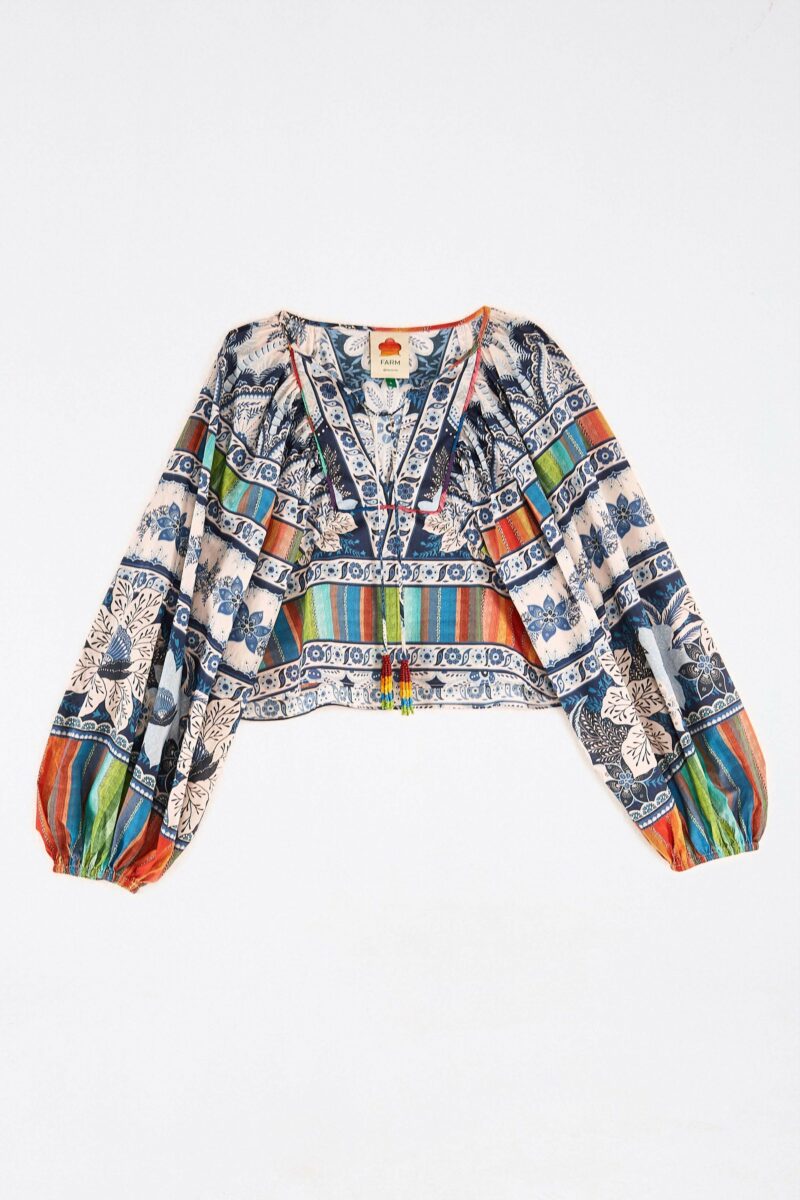 But then I saw this top and I was like… this is more my scene and likely would be worn more. I could wear it half-tucked into my Gap jeans seen above, or fully tuck it into my high-waisted flared jeans from Talbots seen in this post. And I could wear it untucked with denim shorts or white shorts or navy shorts. And I could wear it in the fall. I saw it was available at Nordstrom and I had a store credit so I ordered it in Large.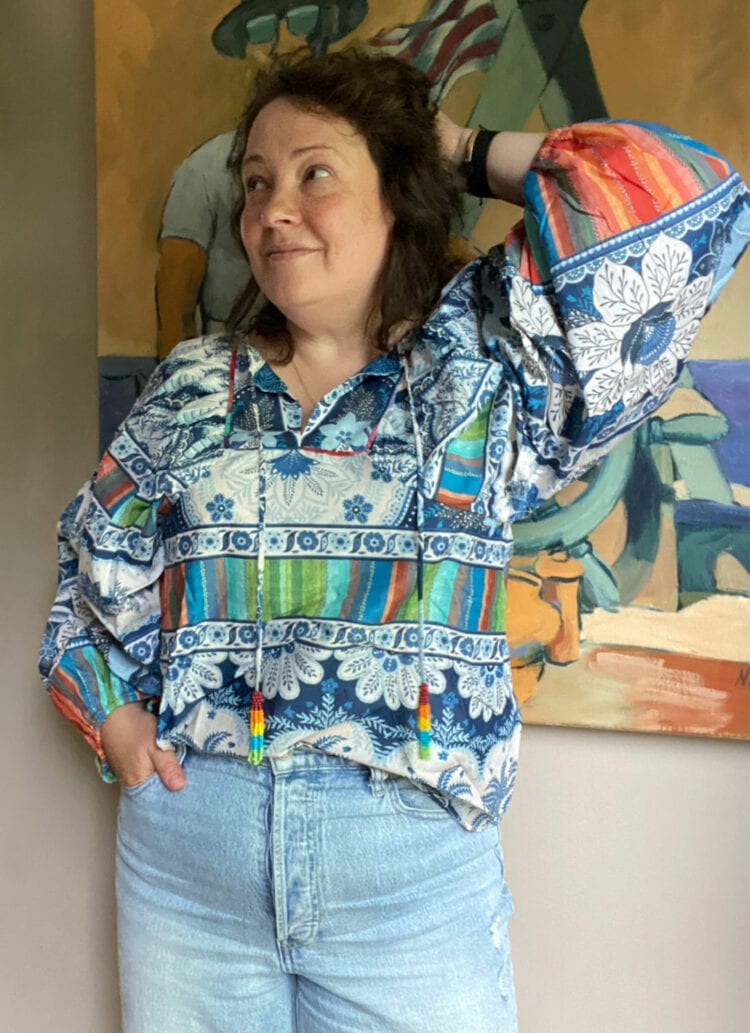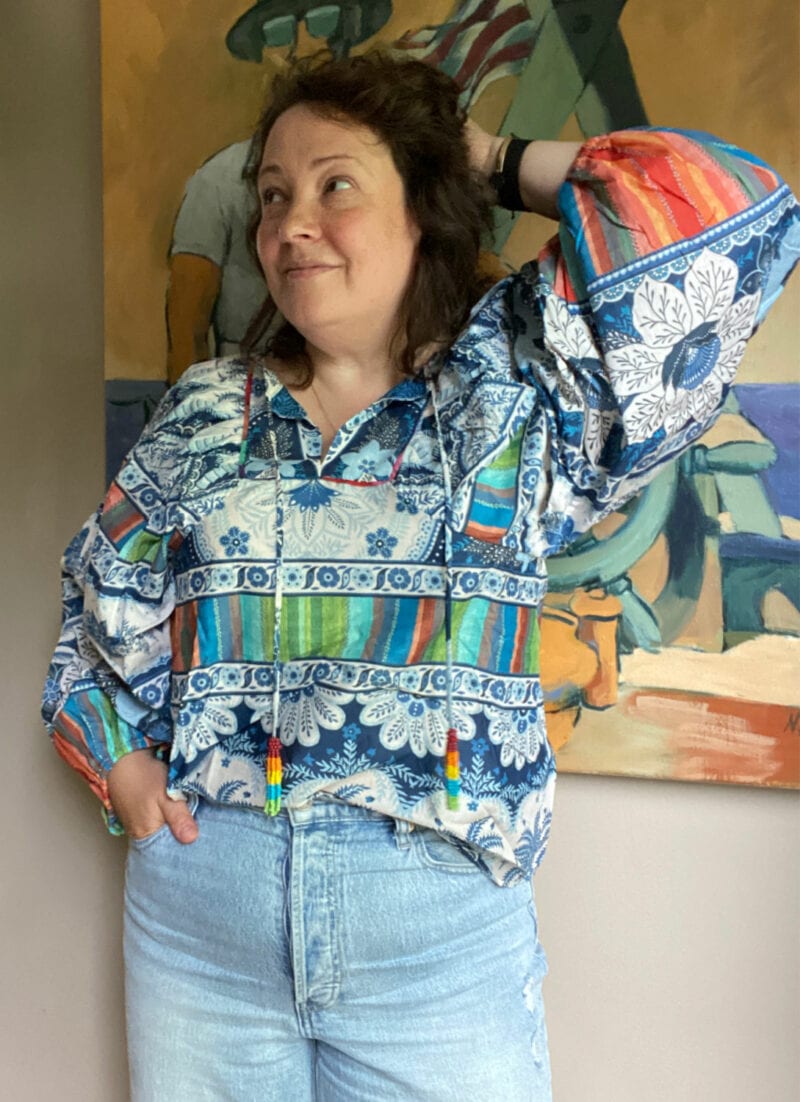 I love it. It's lighter-weight cotton but still opaque; it's the kind of breezy top with sleeves that you can comfortably wear on a summer evening. I have plenty of room in this top, but it's not oversized.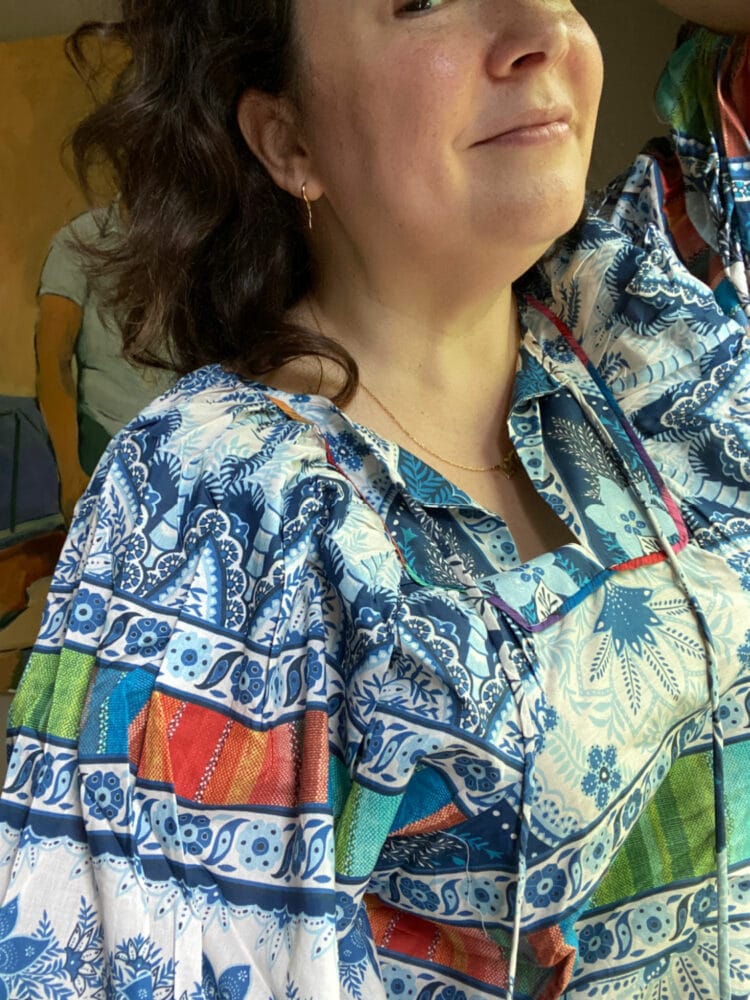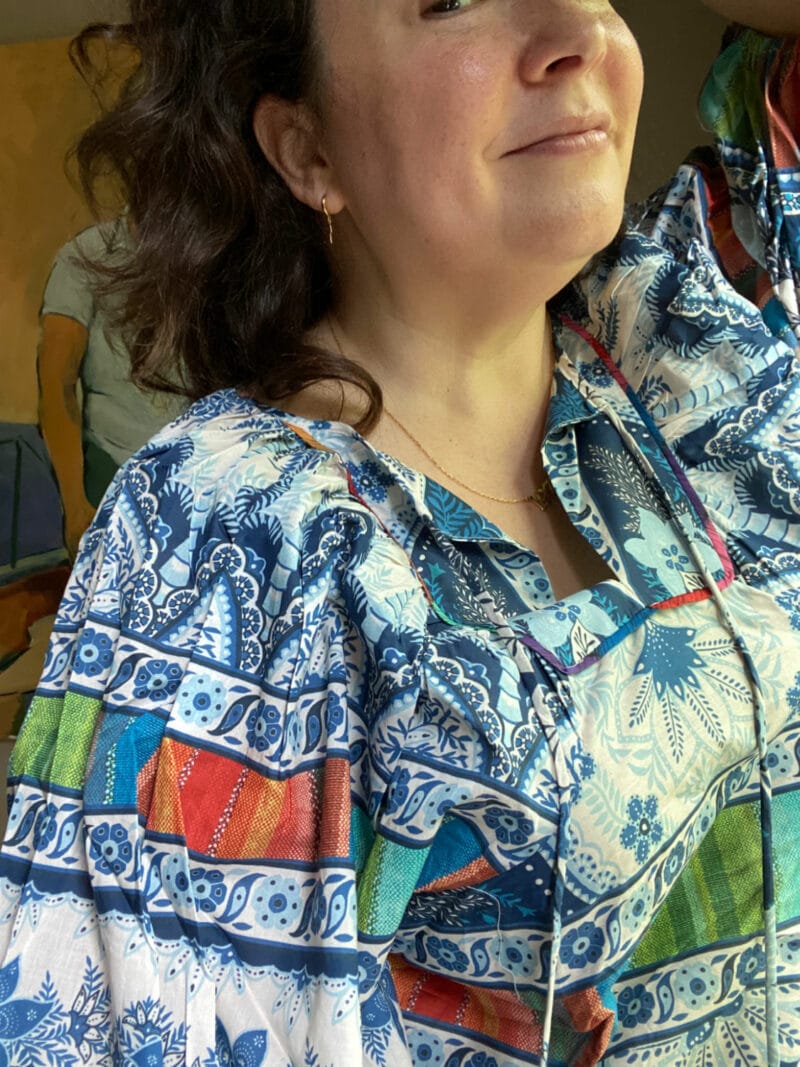 I love the pops of color and the beaded tassels; like the dress, it has such special details that make it… well worth the expensive price tag. Because FARM Rio isn't cheap. But honestly, their prices are comparable to other sustainable fashion brands and I find the details and construction stellar.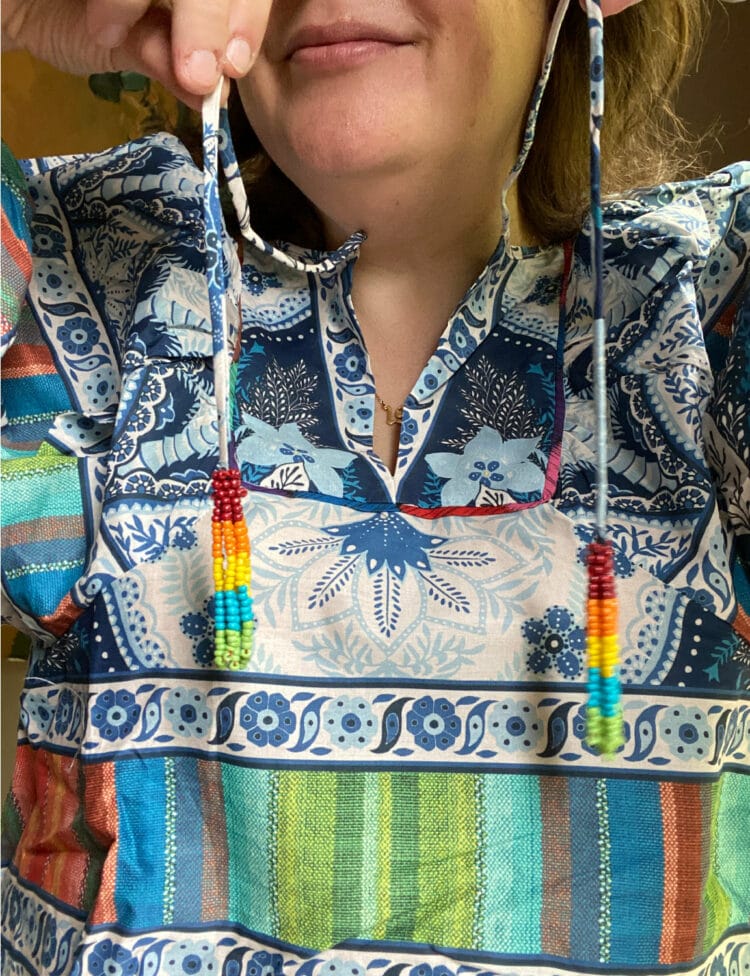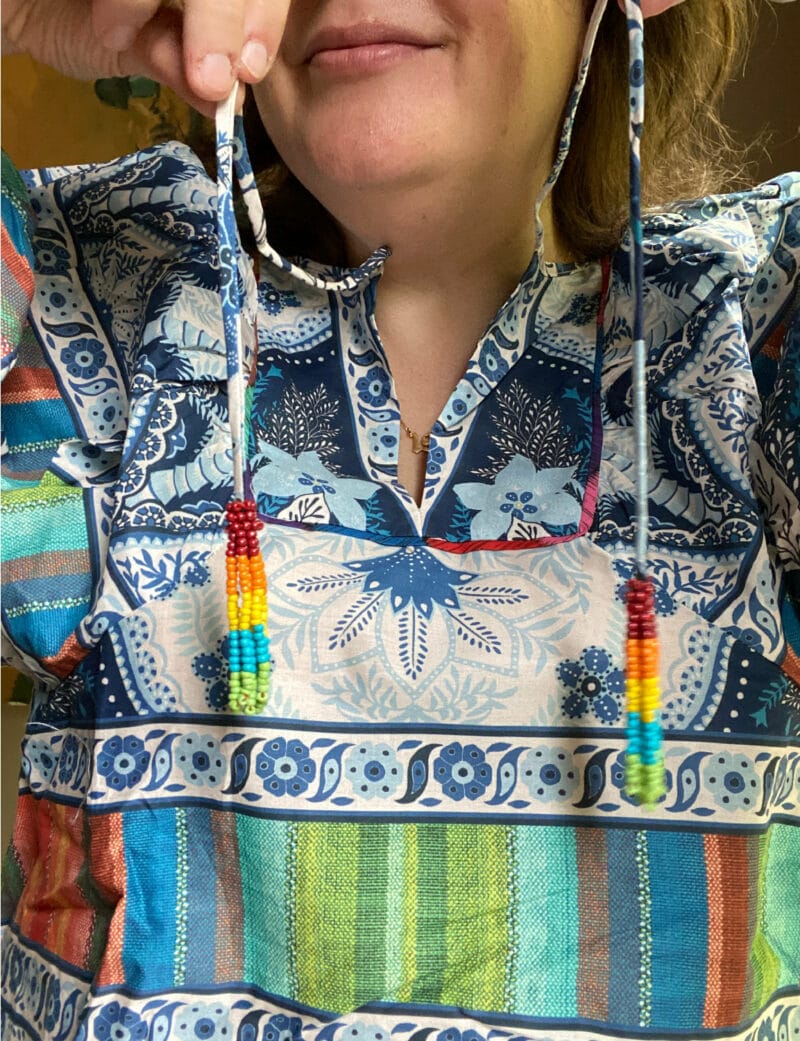 I'll likely style this and have it in an outfit post soon, but I liked it so much I had to share it now!
Shop FARM Rio:

As always, the comment section is open to share sales, scores, and warnings to others of what isn't worth their valuable money. Have a great weekend!