This article may contain affiliate links; if you click on a shopping link and make a purchase I may receive a commission. As an Amazon Associate, I earn from qualifying purchases.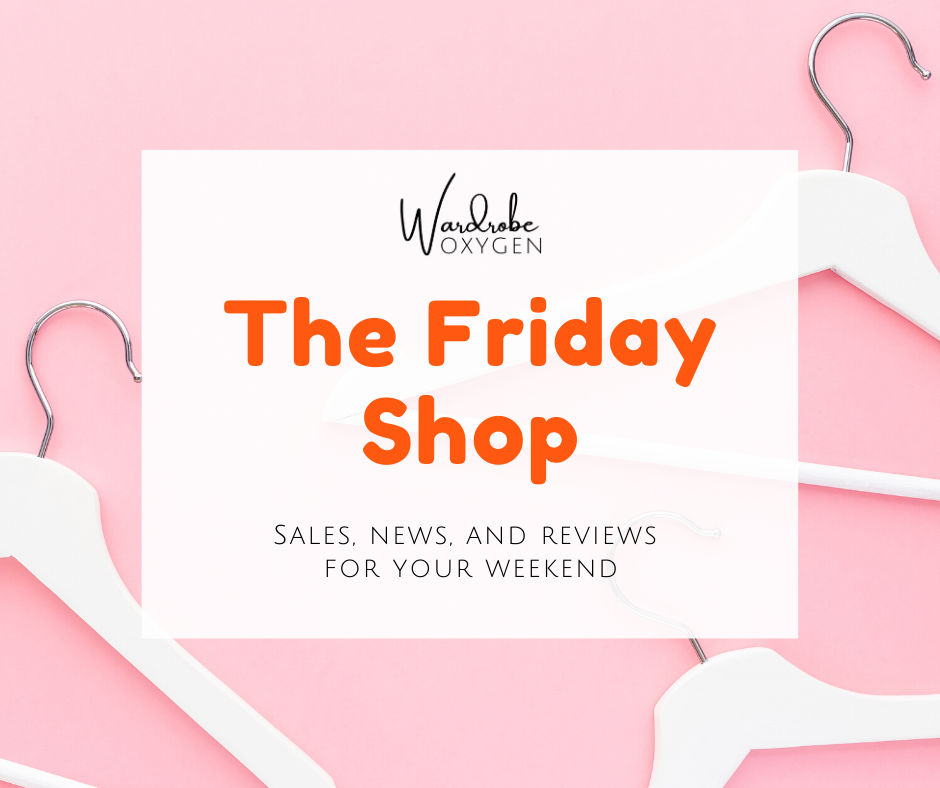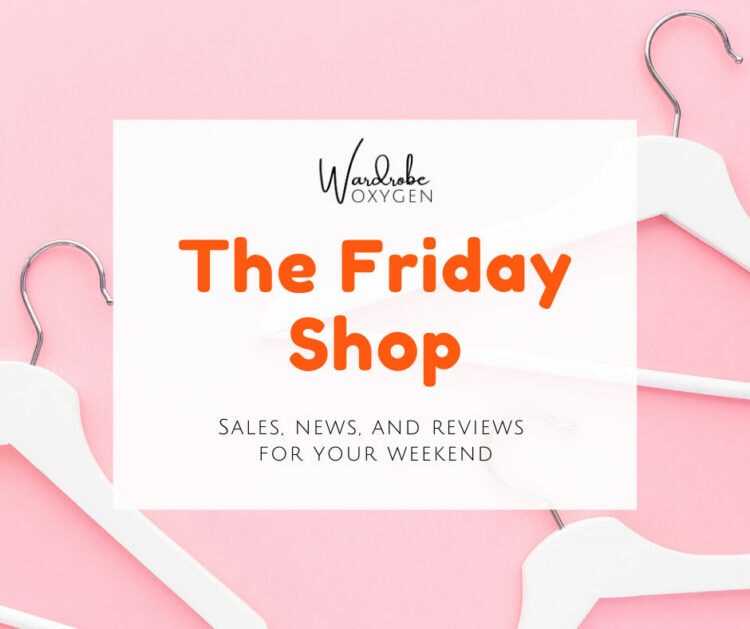 So I bought a bunch of jeans from Universal Standard, Gap, Old Navy, and Banana Republic for a review… and I just returned them this week. My return window was ending and I had yet to photograph them. I'm sorry, I just never got the chance to set up the studio backdrop and lights.
It's hard, the setup isn't a lot, but a shoot like that takes hours to photograph and then as many hours to go through and edit the photos and the past two months have been both busy and I have not wanted to take photos.
I think a lot of you can relate to the feeling of just being DONE. It has been so much this past year, and right now I just feel extremely tired and overwhelmed and the last thing I want to do is get gussied up and shove this body into hard denim and stand in front of bright lights with a big smile on my face as I show yet another huge box of jeans don't fit my perfectly normal body.
Having Wardrobe Oxygen has helped with my confidence and body image so much. I am not ashamed of this body, it's a good body, a hard working body, and a very normal body. But I am also a normal human inside this normal body and I don't always have confident days or weeks for that matter, and just like any normal woman, a try-on session of jeans isn't the best for the confidence or the soul. And my soul needed a break.
So the jeans were returned before the review. But let's be honest, it's May and jeans are likely not our top priority right now. I'll continue to do haul reviews in the future, but will also continue to only have them happen when I am in the right headspace. Then, I can be sure to provide a more unbiased, helpful review!
Sale Alert
Baublebar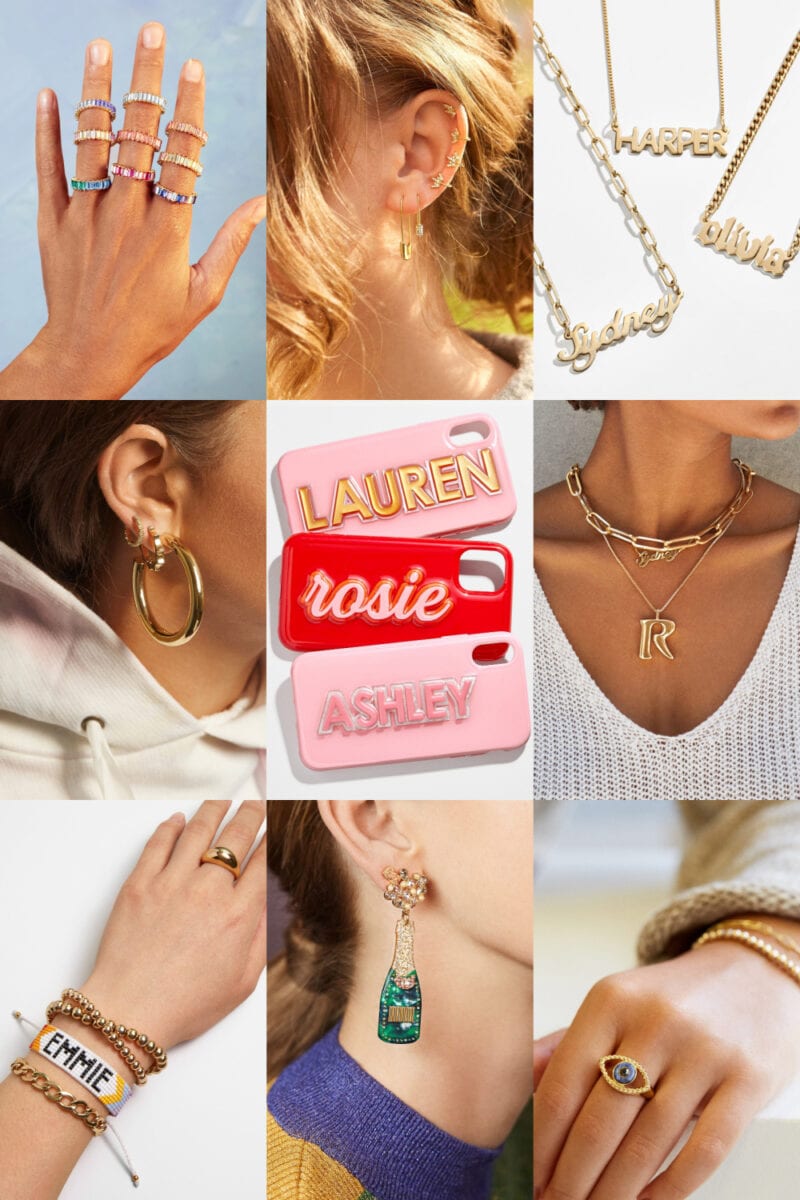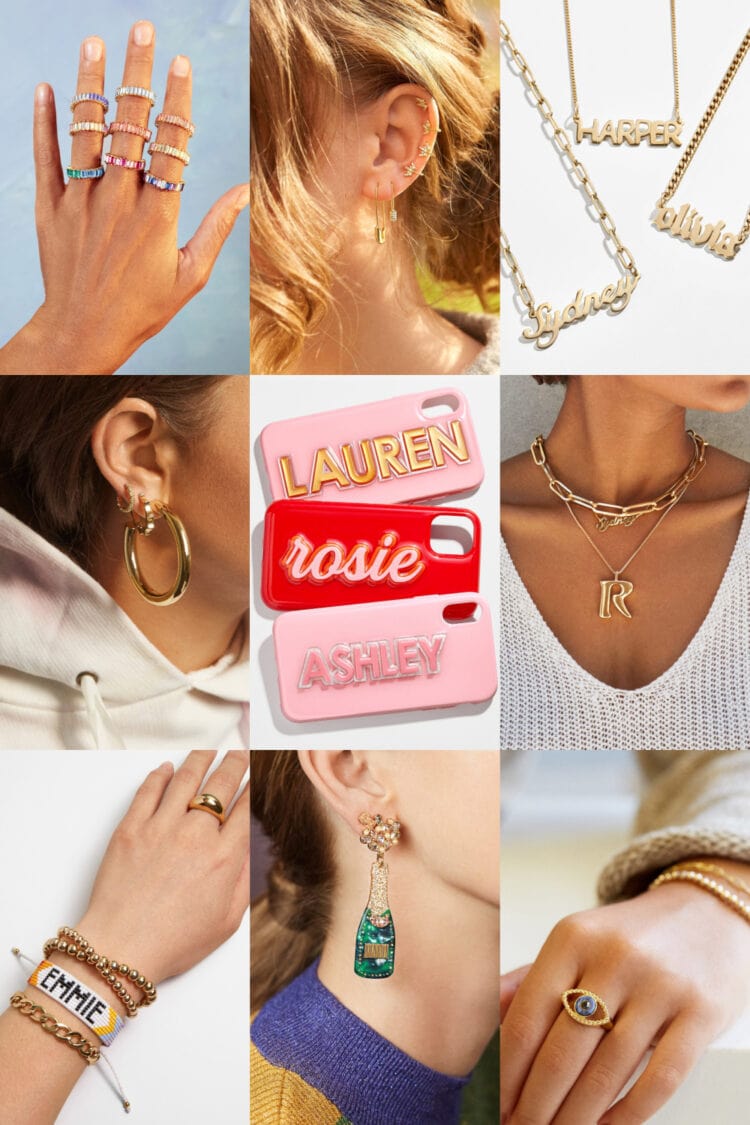 Y'all know I love Baublebar; it's my go-to for well made and on-trend costume jewelry. It's also a great gift destination. Well through May 9, save 20% off sitewide at Baublebar plus their popular Alidia Rings are only $12 with code BB20.

Baublebar offers free shipping and returns on purchases of $50+ and while they are known for their costume jewelry, they also have a line of delicate fine jewelry, they carry phone cases, face masks, personalized gifts, and much more. They even have a Disney collection.
Talbots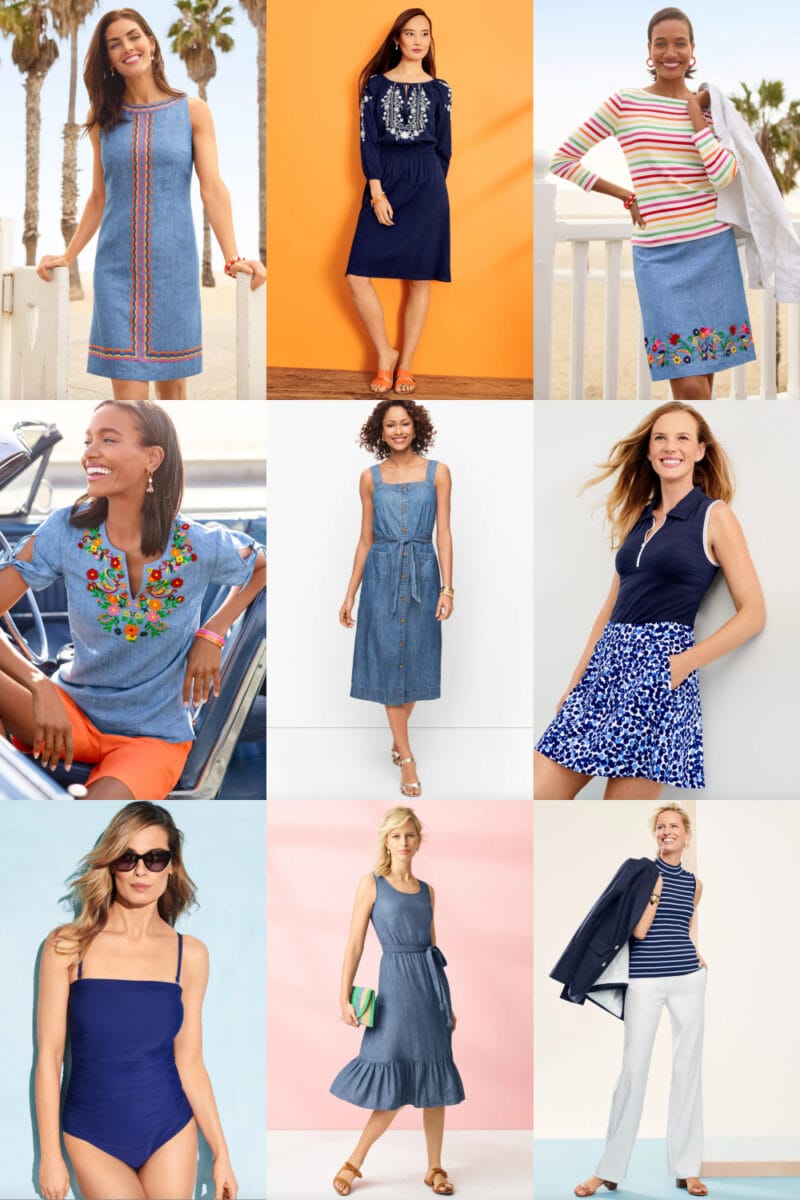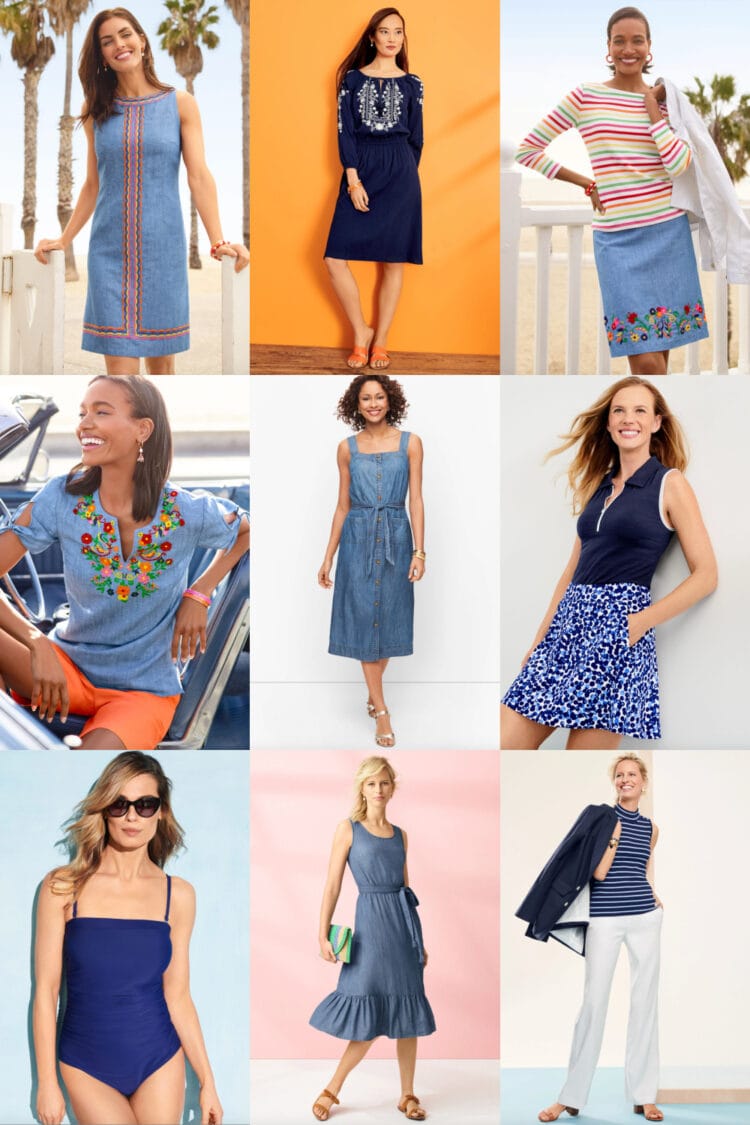 Talbots has 30% off your order through May 9. Also free shipping on orders $150+ I am such a fan of Talbots, I love their size range, their classic but chic style, and their quality.

No need for a promo code, the discount will show up in your cart. I am also seeing that this 30% off is working on Miraclesuit swimwear and Cabana Life beachwear, which is especially nice! I hadn't checked out Talbots' New Arrivals in a bit and there is so much good stuff, it's totally worth checking out!
Lands' End
Lands' End is having their Friends & Family with up to 50% and free shipping off using promo code FRIENDS. The sale ends May 10th. Lands' End… I love you and have loved you for years but dang you need to fix your janky website and creepy computer-generated models in clothing that are so Uncanny Valley we can't figure out how the clothes even fit. But you still make good clothes so let's dive in on what is worth checking out.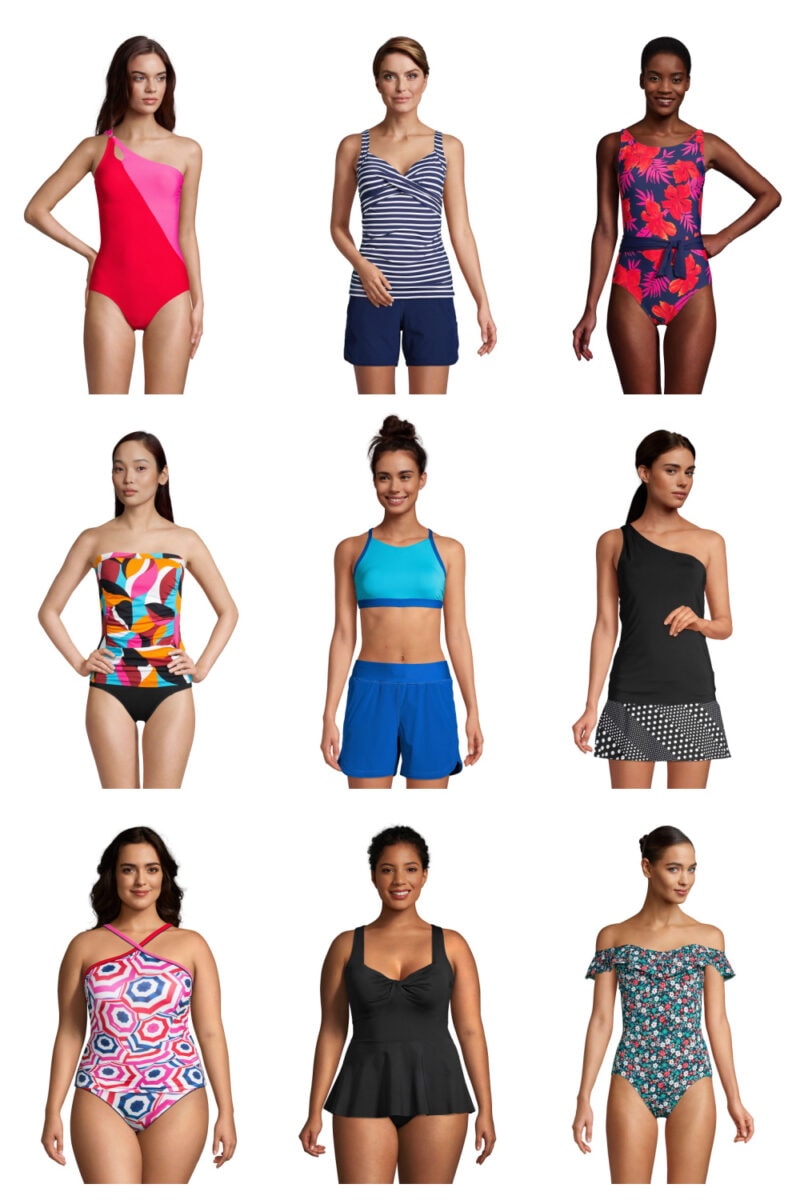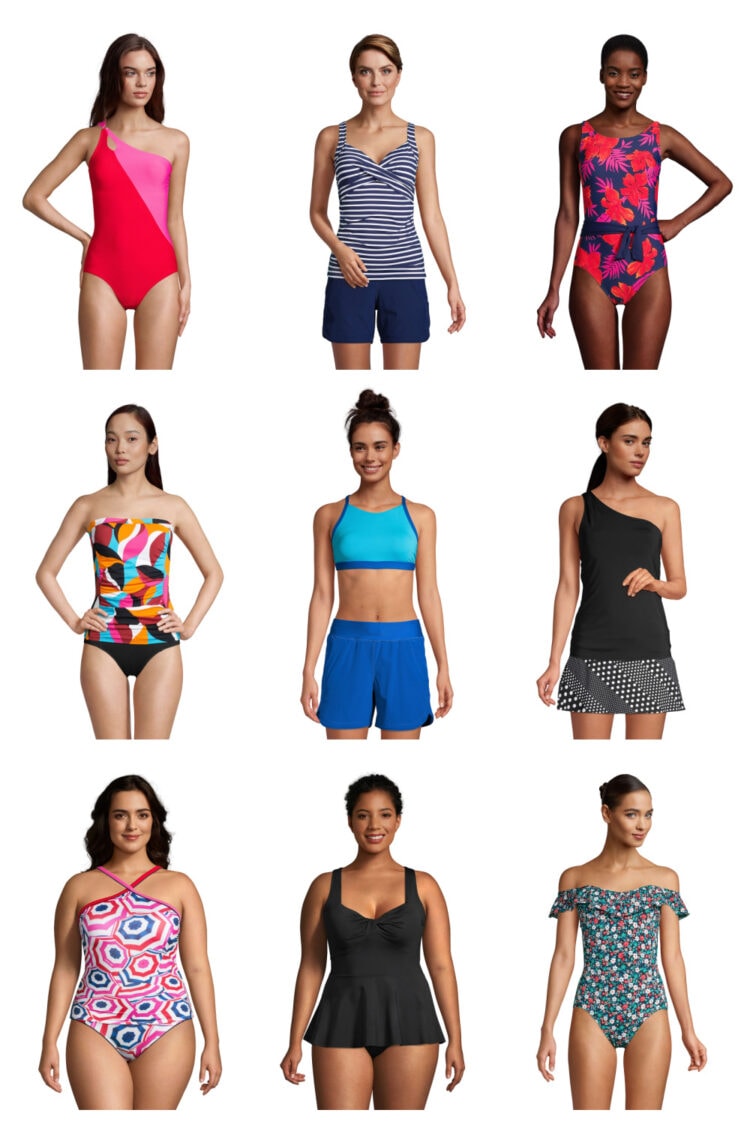 First things first, Lands' End is my favorite place to go first for swimwear. They offer long torso and petite and large bust and mastectomy and tummy control and plus sizes and bra sizing and chlorine-resistant fabric.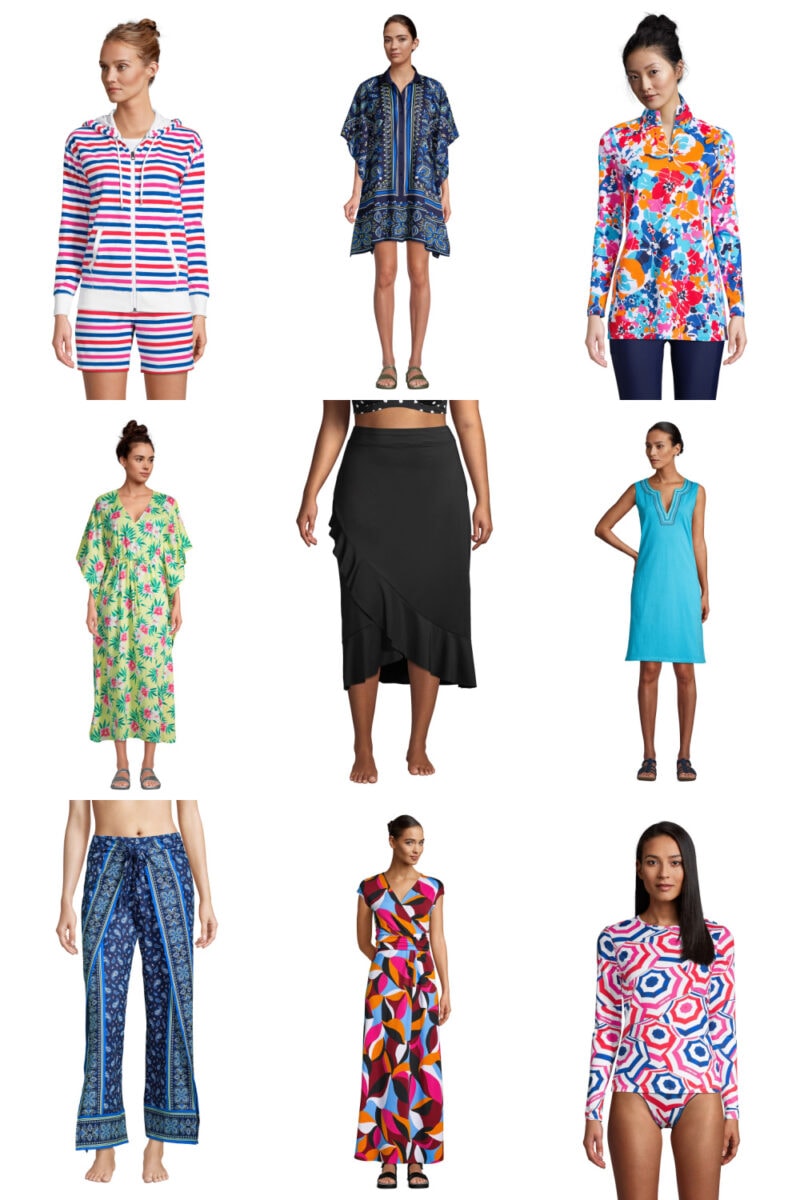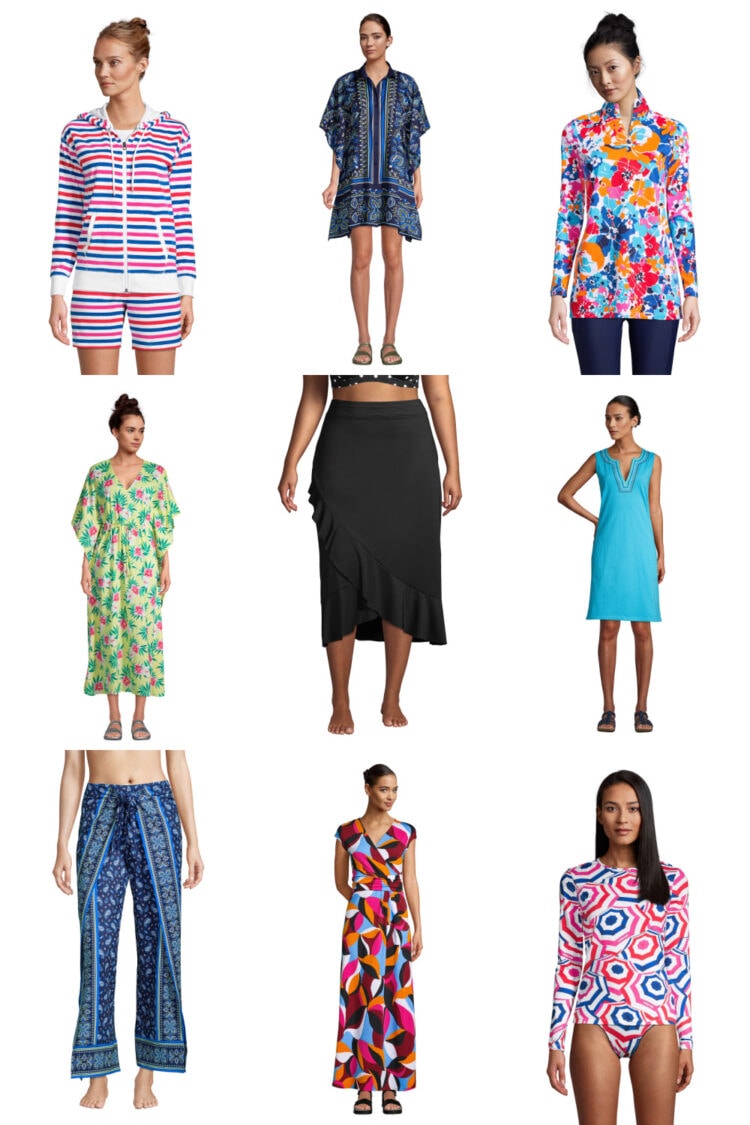 They also offer mix and match pieces and more variety for bottoms than most any other retailer so you can create a truly custom suit. Also they use typical looking swimwear fabric, so you can easily buy a top or bottom or even rashguard at Lands' End and another piece at a different retailer and create a stylish cohesive swim look.

Lands' End is also awesome for summer staples. Sundresses that can handle the washing machine and a bit of sand and salt. Shorts and t-shirts and beach coverups that are classic looking chic now as well as two summers from now. I'm considering getting these shorts to wear under breezy camisoles and linen shirts.

And my absolute favorite beach towels (I have one over a decade old I still use regularly) are from Lands' End (I recommend splurging for the monogramming because why not? If you don't want a name or initials how about a summery word or your favorite place to vacation?).

And the Lands' End totes are awesome. Great colors, great sizes, great prices, and I also love adding monogramming to them. I have the XL zip top with a long strap for grocery shopping, the beach, the pool… it will fit a few towels and a beach read with pockets for your sunscreen, water, and other essentials inside. The medium long strap with a zip top is more the size of a shoulder bag and I use my red one often in conjunction with a purse to carry a lunch, change of shoes, returns to the mall, etc.
REALM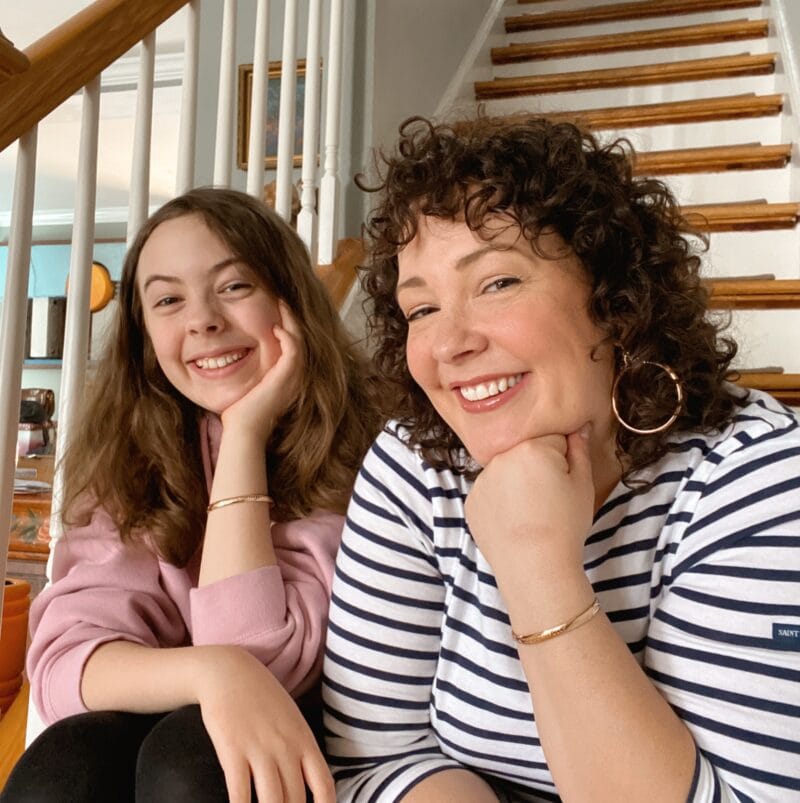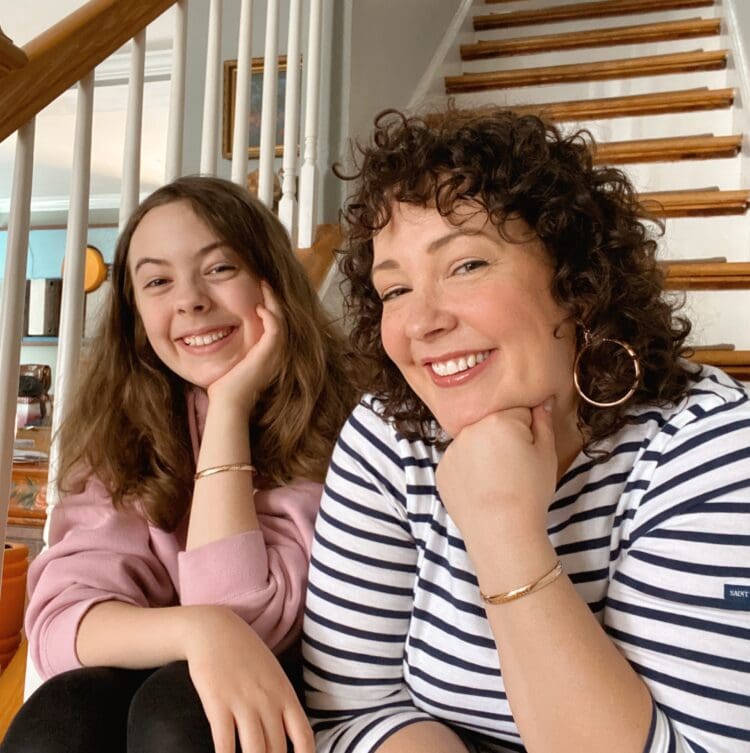 I've shared REALM jewelry many times. I find the quality phenomenal; it's just an affordable step below traditional fine jewelry and way higher quality and better materials than costume jewelry. Through the 10th, REALM is offering 20% off sitewide with promo code MOM20.
I wear my 'Reign Thoughtfully' cuff from REALM almost every day. I love the elegant simplicity and the powerful message. I appreciate they come in two sizes; the medium is very comfortable on my larger wrists while my daughter wears the size small. And my Empress Insignia Luxe ring is the coolest ring in my collection and I love that it comes up to size 11.
Equilibria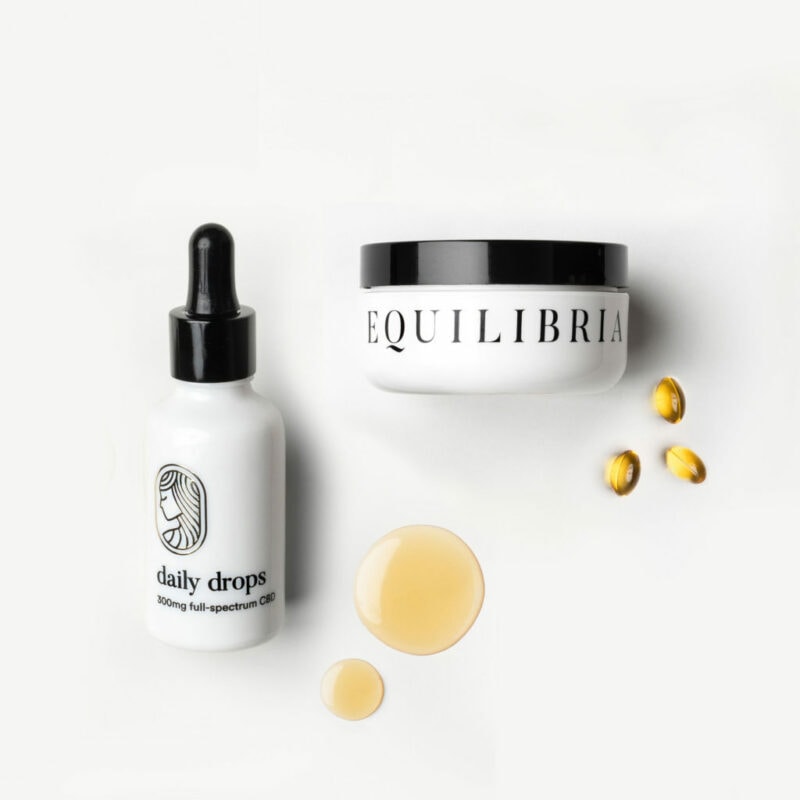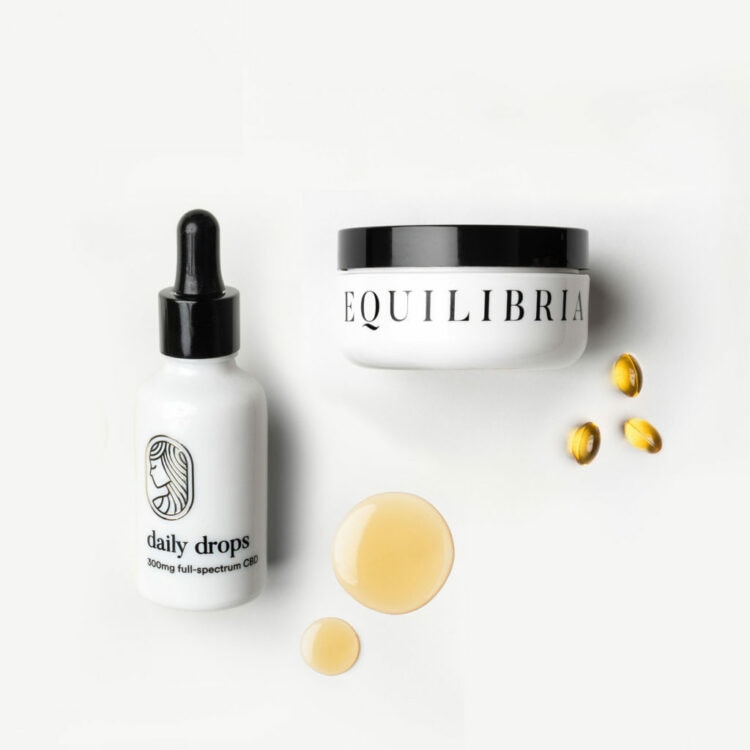 The Equilibria CBD sale continues through Sunday. Save 30% off any signature box as a one-time purchase OR as a subscription. Plus – new customers use WARDROBEOXYGEN at checkout to get an additional 15% off your entire order! If you don't know what Equilibria is or have questions about CBD, read my detailed and unsponsored Equilibria CBD review from a few months ago.
What I Bought and What I Thought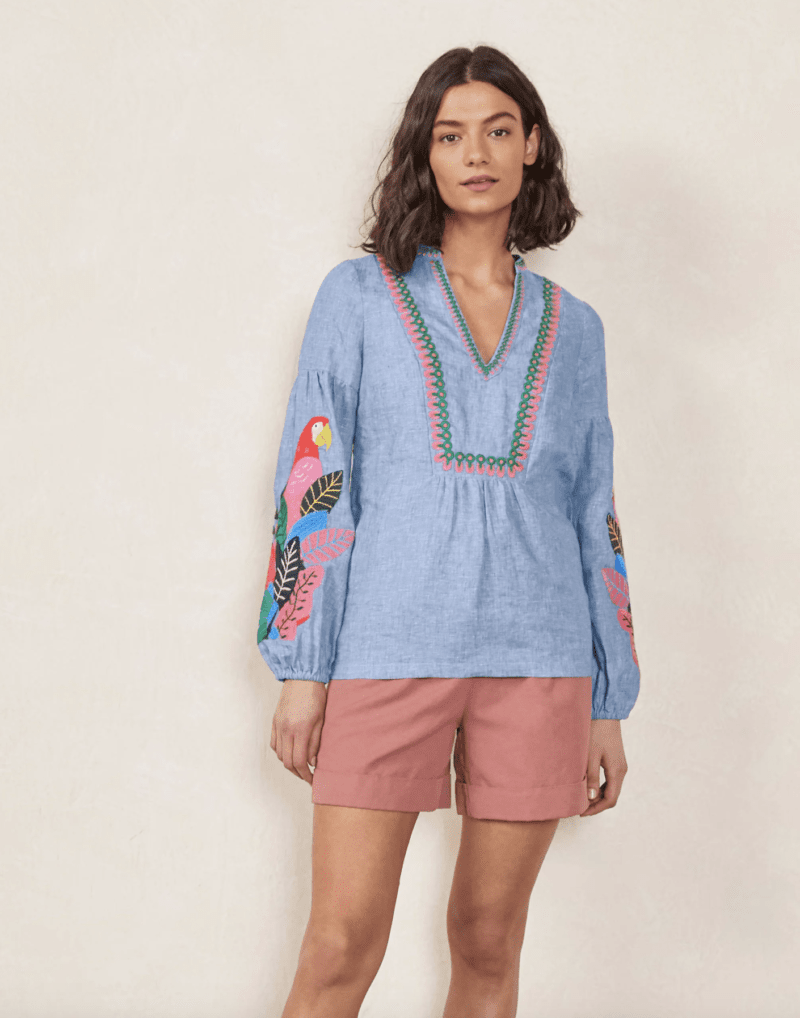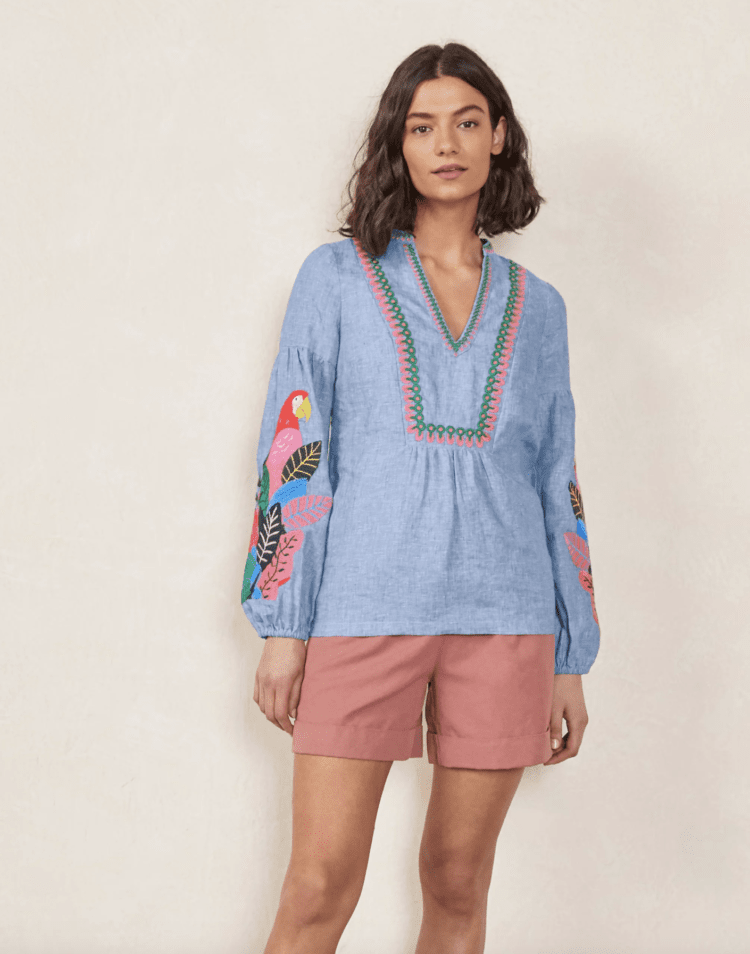 I shared in a previous Friday Shop that I made an order at Boden since they had 20% off. Most of my purchase was backordered but I did receive this top in the mail this week. Sadly I tried it on and immediately packed it up to send back.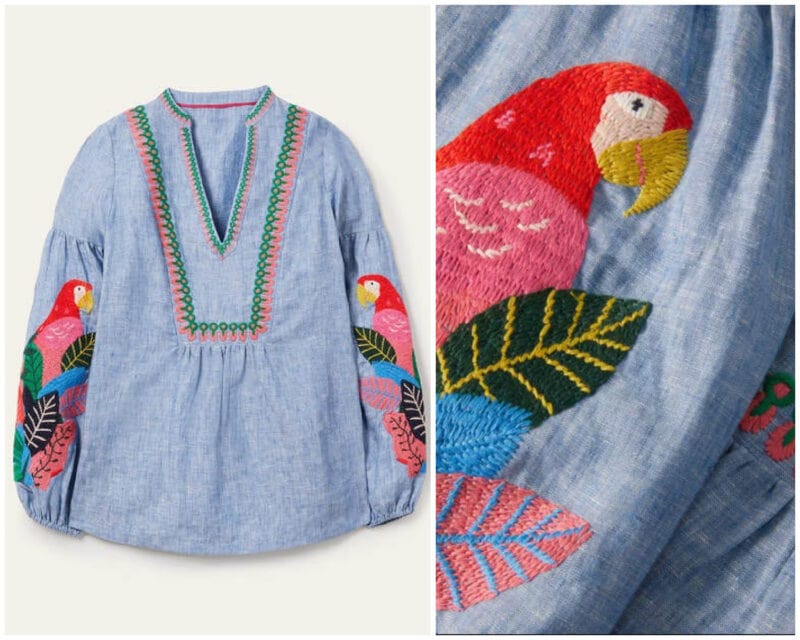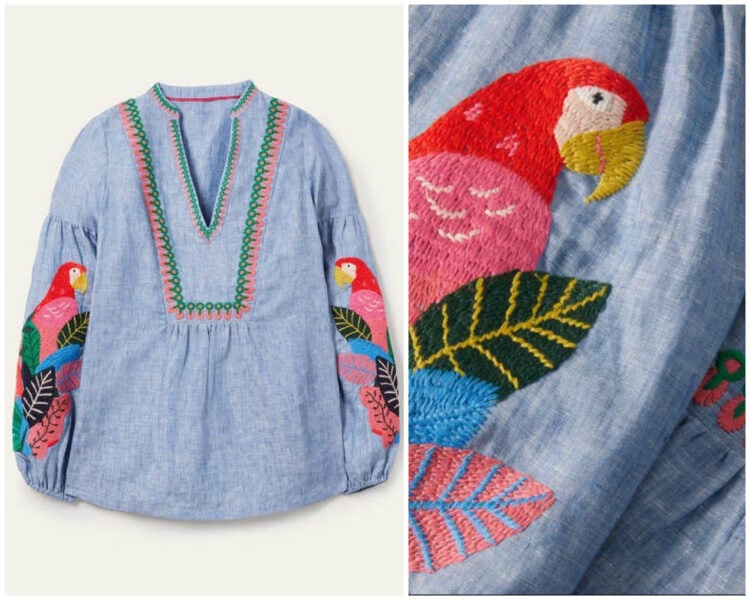 This is a GORGEOUS top. The embroidery is beautiful. But the embroidery makes the top very heavy. This isn't linen, it's heavier chambray and with the embroidery, this felt like the weight of something I'd wear in fall and early winter yet looks very summery and tropical. And then because it doesn't come in petite, the neckline is so low you can see my bra. This would be a great top for a taller person who lives in a cooler climate.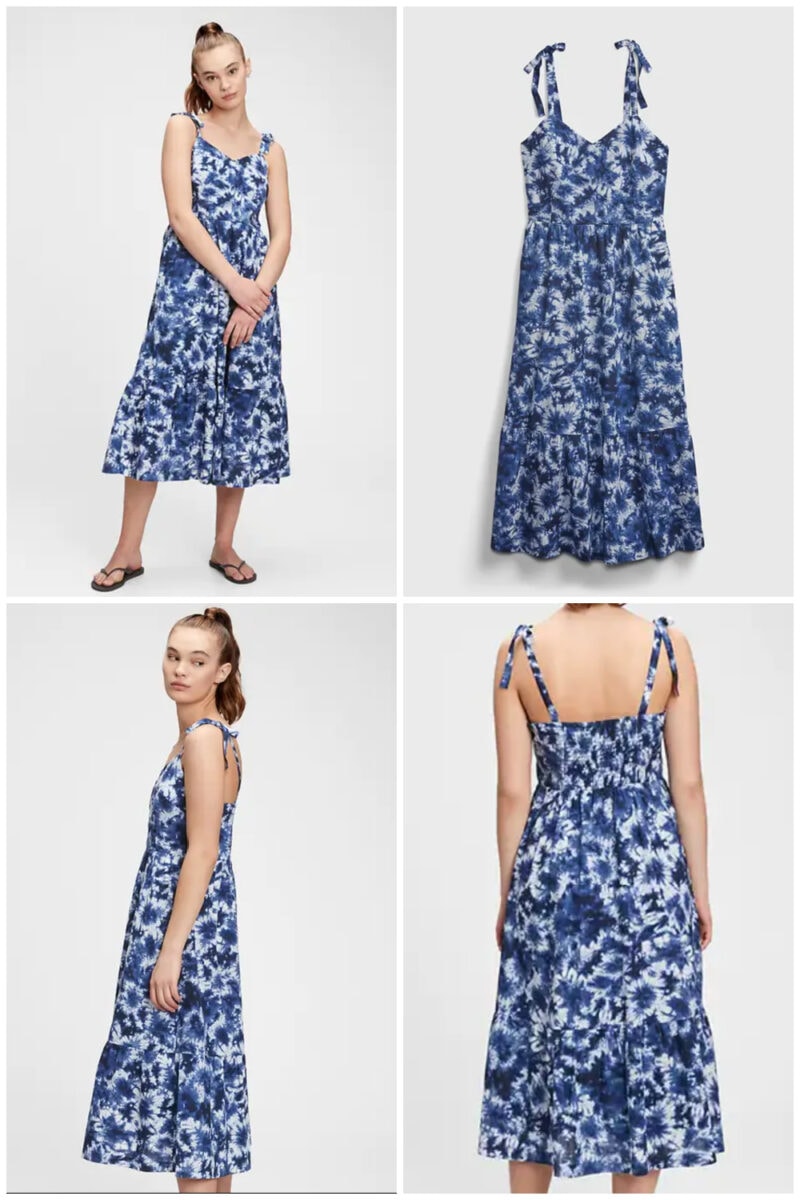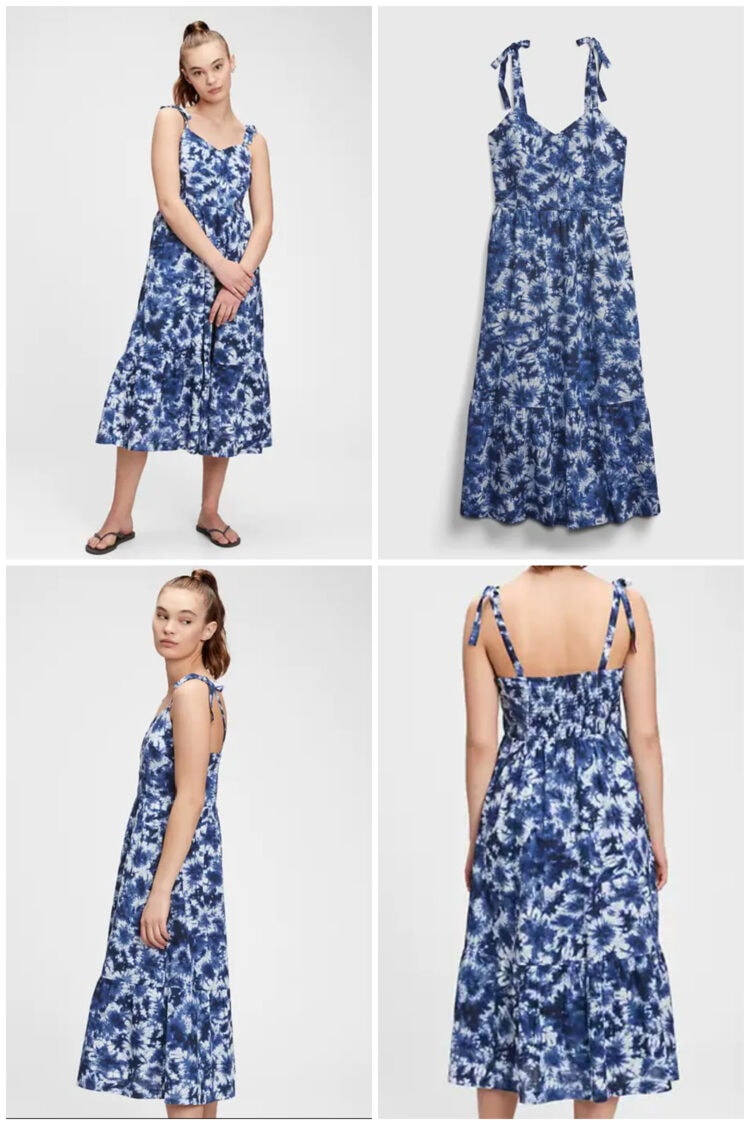 When boxing up the jeans to Gap, I realized I also ordered this dress. This is the kind of dress I wear to death in the summer – machine washable, breezy, versatile. Most days, I'll wear it with a pair of Thigh Society shorts underneath and my Birkenstocks, but it can also dress up and I thought this print would be fun for cookouts and even the 4th of July.
I got a 14 petite and appreciate the shoulder ties so I can shorten the straps even more. Since the fabric doesn't stretch and the bodice is multi-layer, I can wear this without a bra around the house (smaller or firmer breasts could likely carry it off leaving the home). Unfortunately, the angle of the straps doesn't match up with any of my bras so I'll need to wear a strapless bra when heading out and about for the shape and separation I desire. If you wear a smaller cup bra with thinner straps, likely it may match up for you.
The dress comes in regular up to size 20, tall up to 16, and petite up to 14. It is on sale at the time of writing this for $41. The skirt is lined; I kind of wish it wasn't so it was more breezy and am trying to decide if I should remove the lining or leave it. It has pockets, pulls on without any zippers, and is machine washable. I hope to get photos of me in it soon!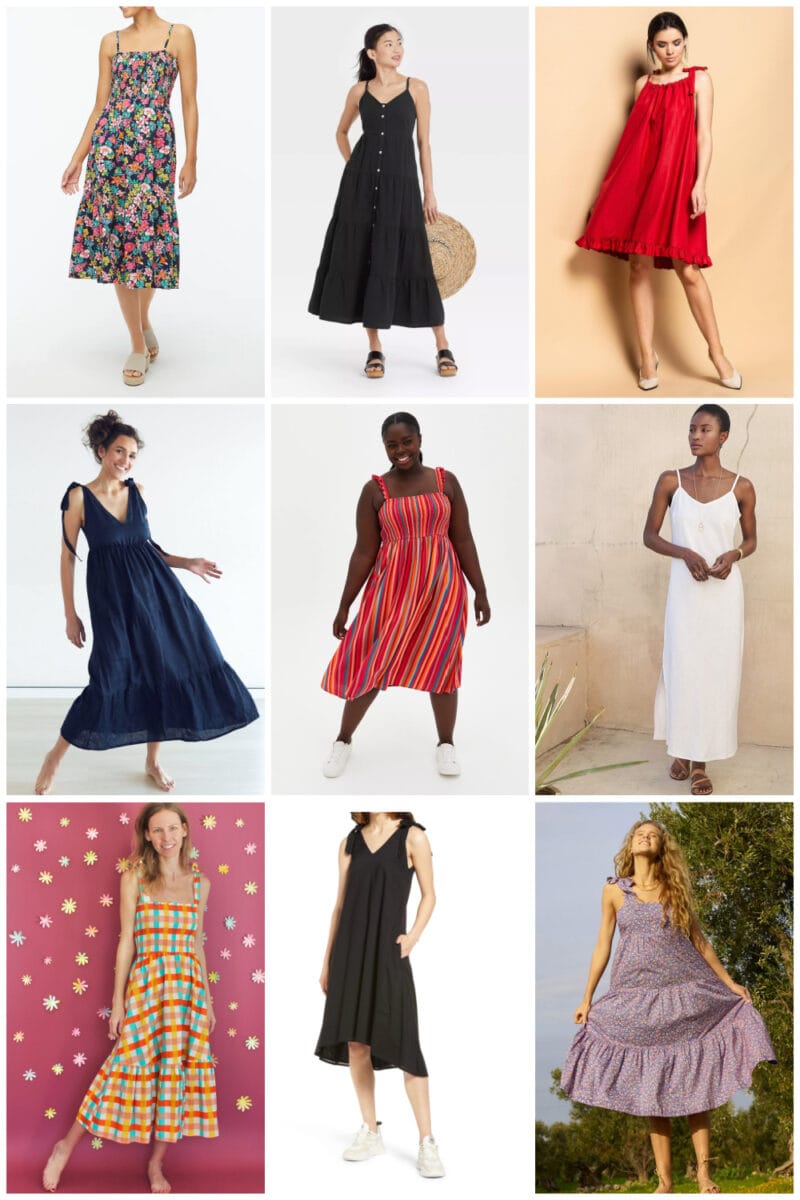 If your size is not available or you don't like the print but like the concept of the dress, I've gathered similar sundresses for you:
Shop Shoulder Tie and Adjustable Strap Sundresses: