This article may contain affiliate links; if you click on a shopping link and make a purchase I may receive a commission. As an Amazon Associate, I earn from qualifying purchases.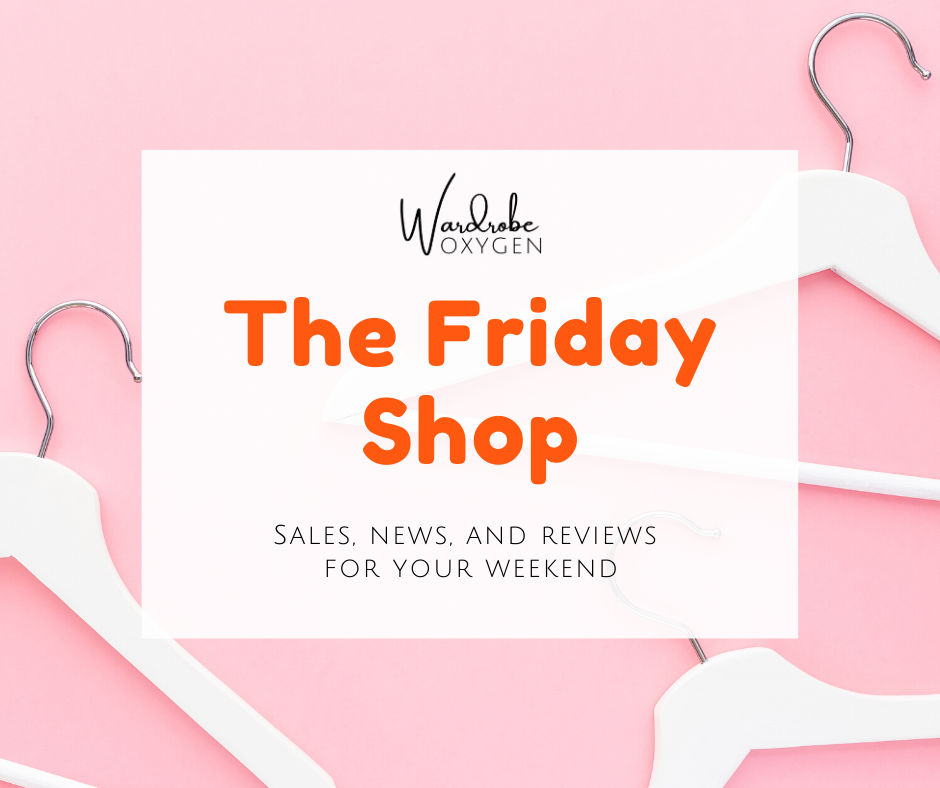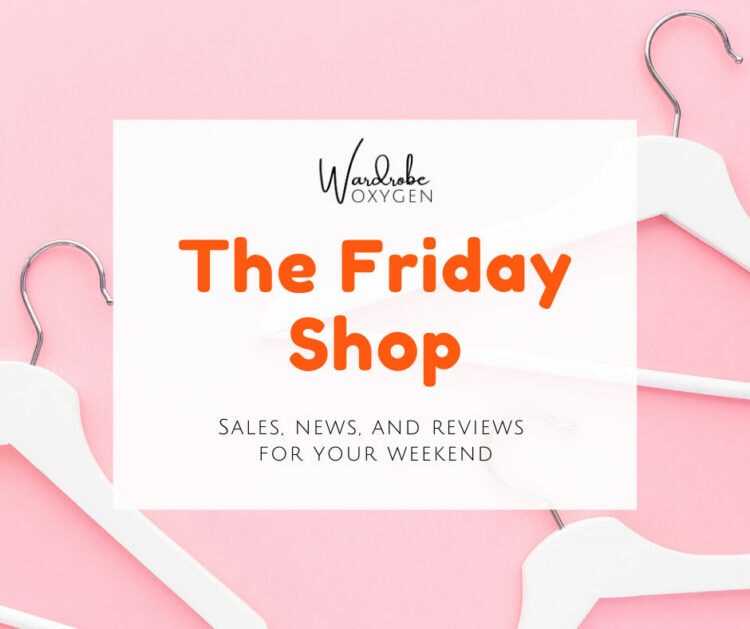 After last weekend, let's take a break from sales and focus on things I have recently purchased or received gifted to me and my honest thoughts on them!
What I Bought and What I Thought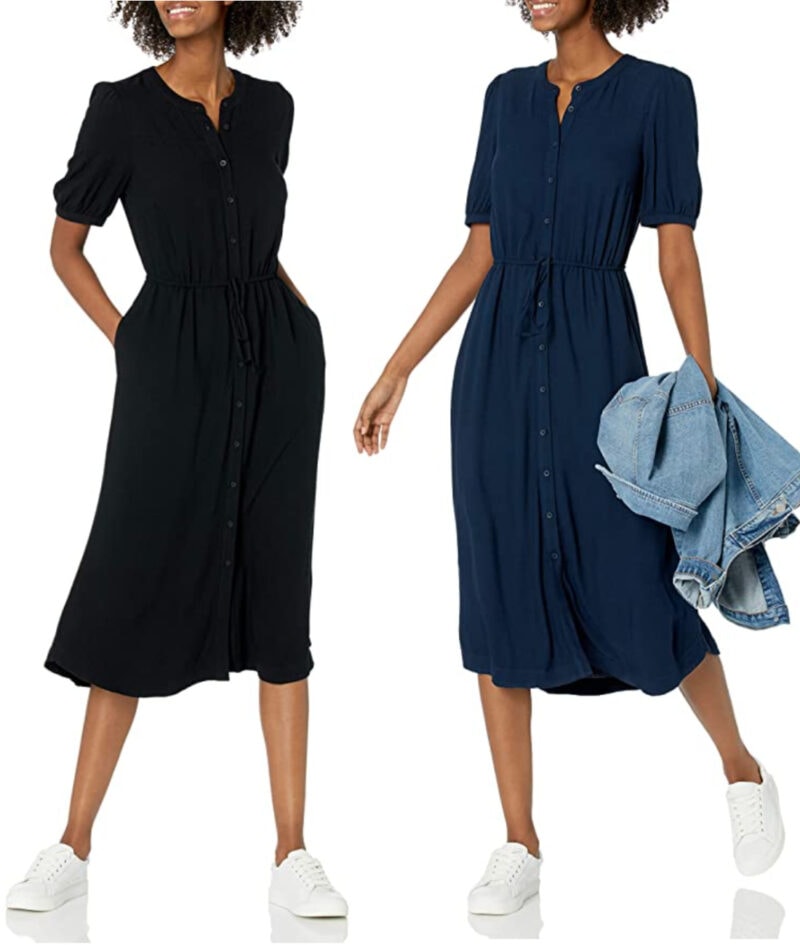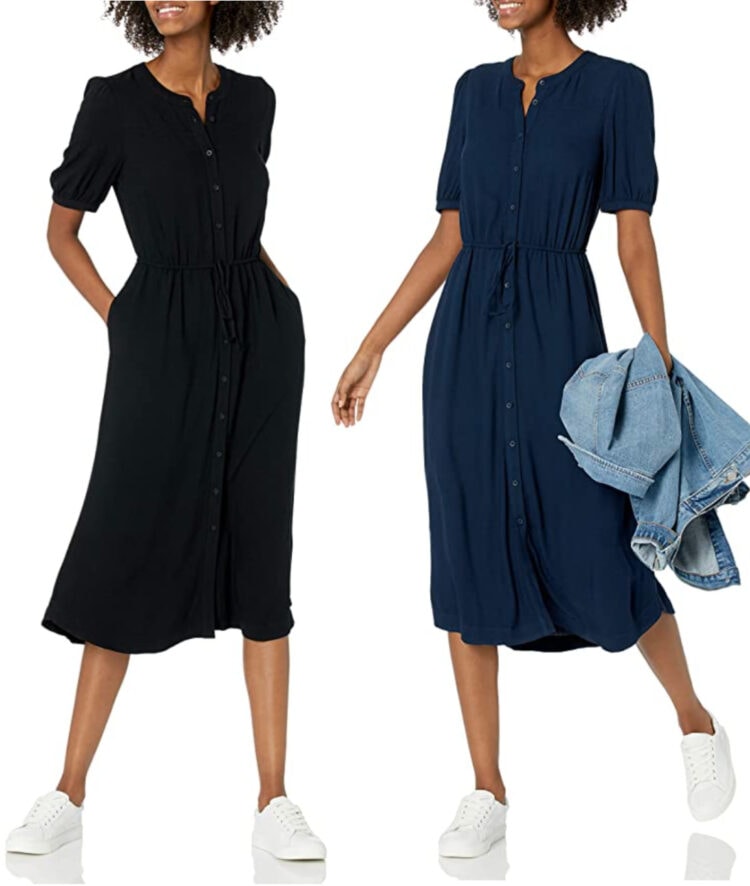 Amazon sends me free clothing in hopes that I as an influencer will promote them. I'll be honest, most of the items I get are not worthy of sharing. But this week I received this dress in size Large and while it's no fashion statement or high-quality piece I can see the purpose of such a dress… mainly because it can arrive in one day.
I remember many times preparing for a funeral or memorial service and having absolutely nothing appropriate to wear. I used to be a wedding coordinator's assistant and photographer's assistant; it was the kind of job where I needed a nondescript black outfit with pockets that would let me crawl around plugging in cords and fluffing trains. There are times when you need a simple black or navy dress that gets the job done and you can get it quick. For less than $30, this is a good dress for such a situation.
I find the fabric, craftmanship, and style very similar to something you'd get at Old Navy, but unlike Old Navy this comes with proper sleeves with a cuff at the bottom. It also has pockets, which is often left off of cheap fashion pieces. Made from viscose, this is a breathable dress that won't stick to you in the summer heat and humidity.
I should have gotten XL; while the large fits, it's snug on the upper arms and a bit snug on the bust. It has a drawstring waist so if you do size up, you can cinch it and blouse it and make it work. It only comes up to XXL. The dress comes in cheery colors as well as black and navy, but I felt those colors and prints showcased the cheapness of this dress. I think it's best for those "I need a simple dress and I need it immediately" moments.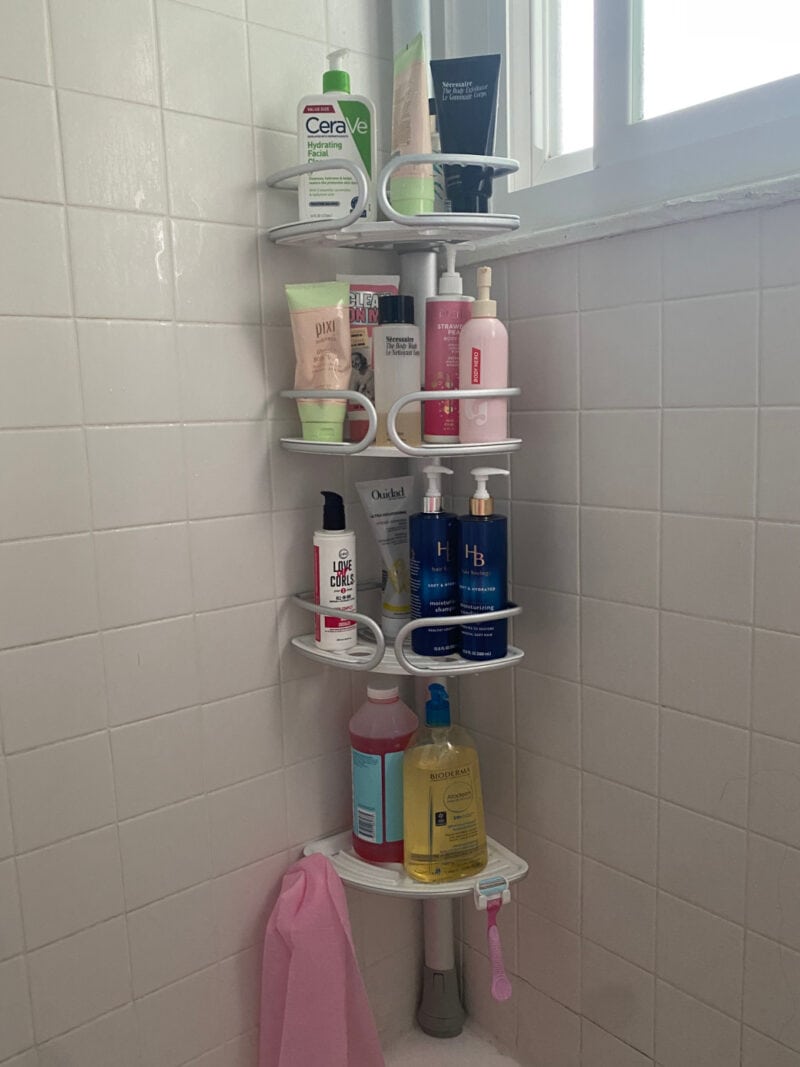 I mentioned before that I was buying this corner shower organizer and I did. And I love it. And I am obsessed. I live in a house built in the 1940's, I have a high-gloss popcorn ceiling and a cast iron tub that has been reglazed many times (seriously, any contractors want to partner to redo my bathroom in exchange of me praising your work and showcasing my non-awful bathroom for all the world to see?). Add some steam from a hot shower and suction cups, shower curtain bars, and most everything else will slip and slide. But this has stayed put.
Not only it has stayed put, I was trying to move it and struggled to do so. I need to get a screwdriver or something to wedge the lock open, and yanking on it didn't move it a millimeter. And look at all those very heavy full bottles on it! No tipping, no wobbly shelves, plenty of drainage, I am a fan. This shower caddy from OXO is available at Amazon, Home Depot (which at the time of printing had the lowest price), and Bed Bath & Beyond.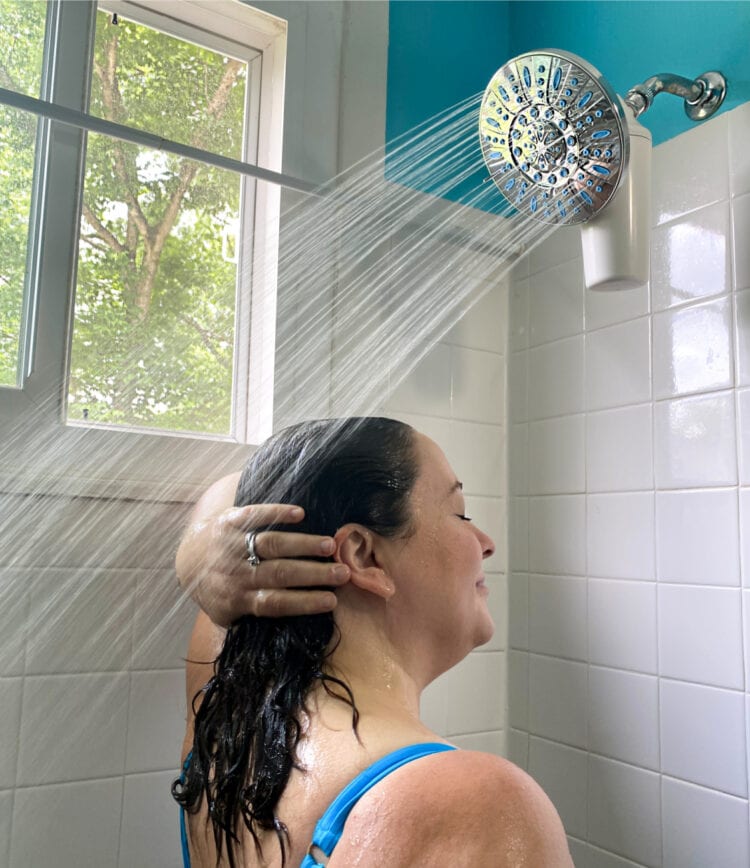 So the reason we want to move the shower organizer… we got a shower filter. Years ago I had a shower filter; 2008 to be specific. I don't recall why I got rid of it, but since then I have gotten a couple other filters that have affected water pressure, needed to be replaced like every two weeks, or didn't seem to accomplish a darn thing. So I gave up, even though my hair stylist keeps pressuring me to get one saying it will add shine, lengthen my haircolor, improve my curls, and so much more.
So when Aquasana came into my inbox offering to send me one of their shower filters I accepted. I had done my research and Aquasana is premier for water filtration (we actually have an Aquasana water filter on our kitchen sink). Aquasana's NSF Certified filtration media (coconut shell carbon and patented copper-zinc) removes chlorine and other harsh chemicals while improving water's pH balance. Maryland, where I live, has an average water hardness of 118 PPM. This is considered hard by USGS measures.
We got the one without the shower head because we like our shower head. It was easy to install; remove your existing shower head, screw it onto the filter, and then screw the filter to the pipe. When you need to replace the filter (every six months) you can unscrew and replace without having to mess with the shower head or pipe.
I've always noticed that when I travel to places with soft water, my hair is awesome. It's soft and bouncy and shiny and curly. So I am hoping this water filter helps my hair as well as skin. I can still recall how good it worked back in the day… can't believe it took a sponsored Instagram post to finally install a quality shower filter! Stay tuned, I'll share a detailed unsponsored review after the family and I have used it for a bit.
Aquasana is offering Wardrobe Oxygen readers 50% off select filters with promo code OXY50.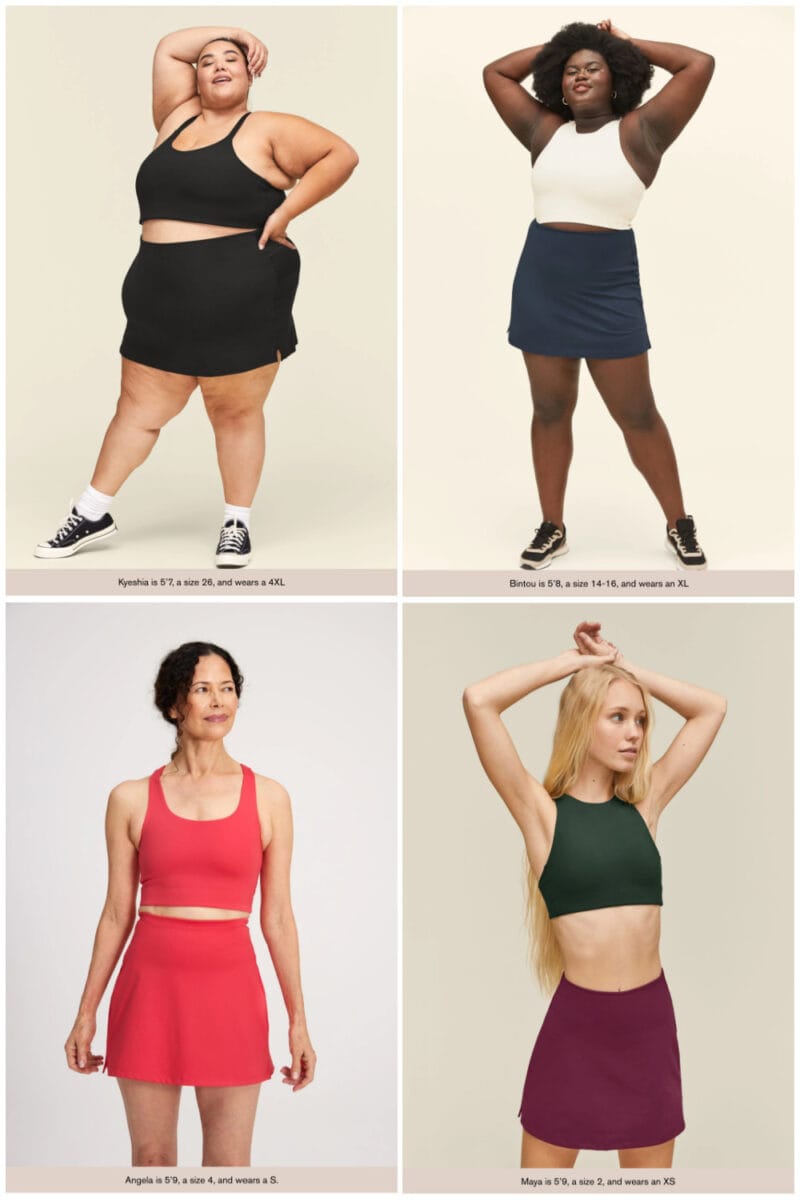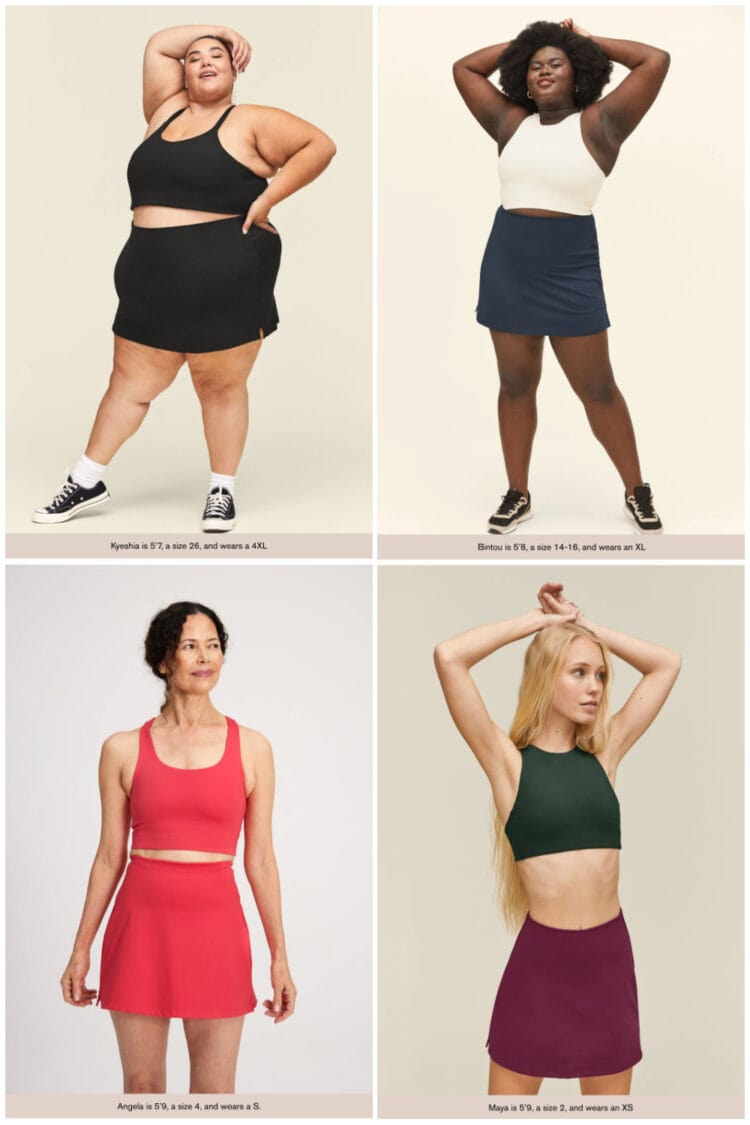 I have had mixed experiences with Girlfriend Collective, but I like their size range and their sustainability and their model variety so when I was looking for a skort, I first went to them. I ordered their skort in XL, which is my usual size with the brand (I am usually a Large in other activewear brands).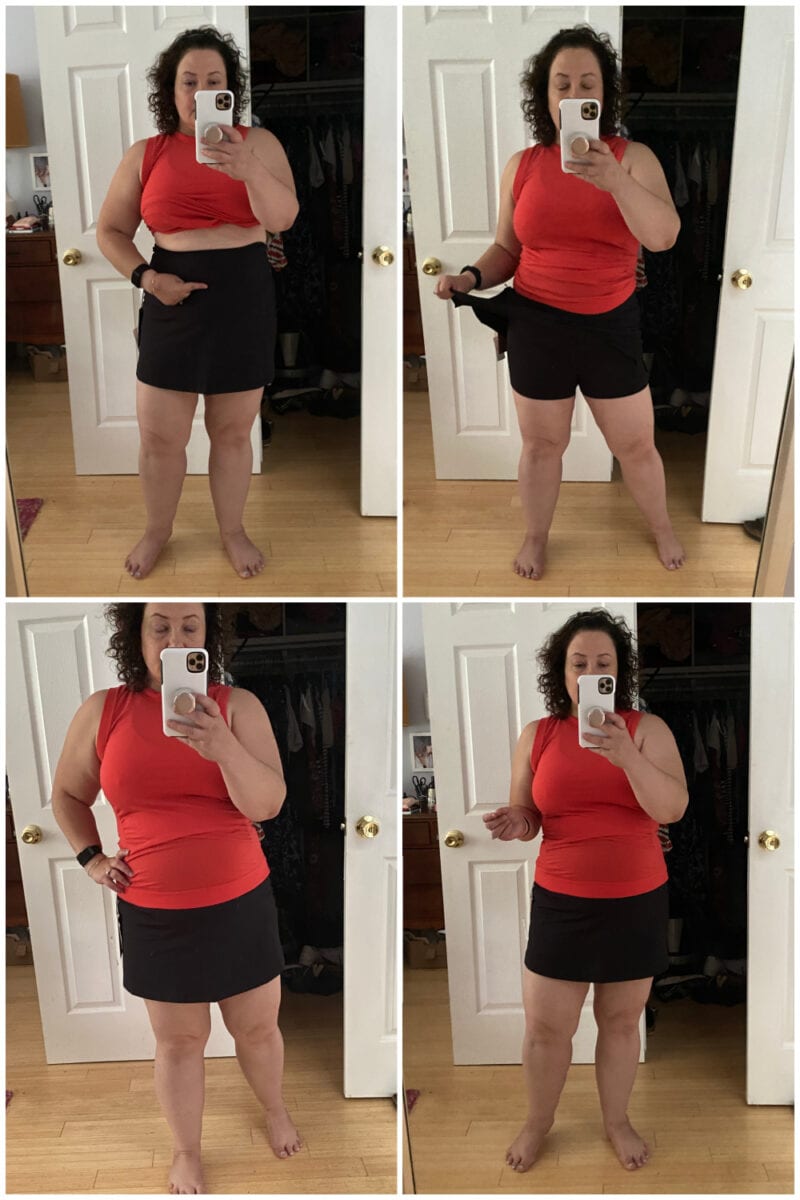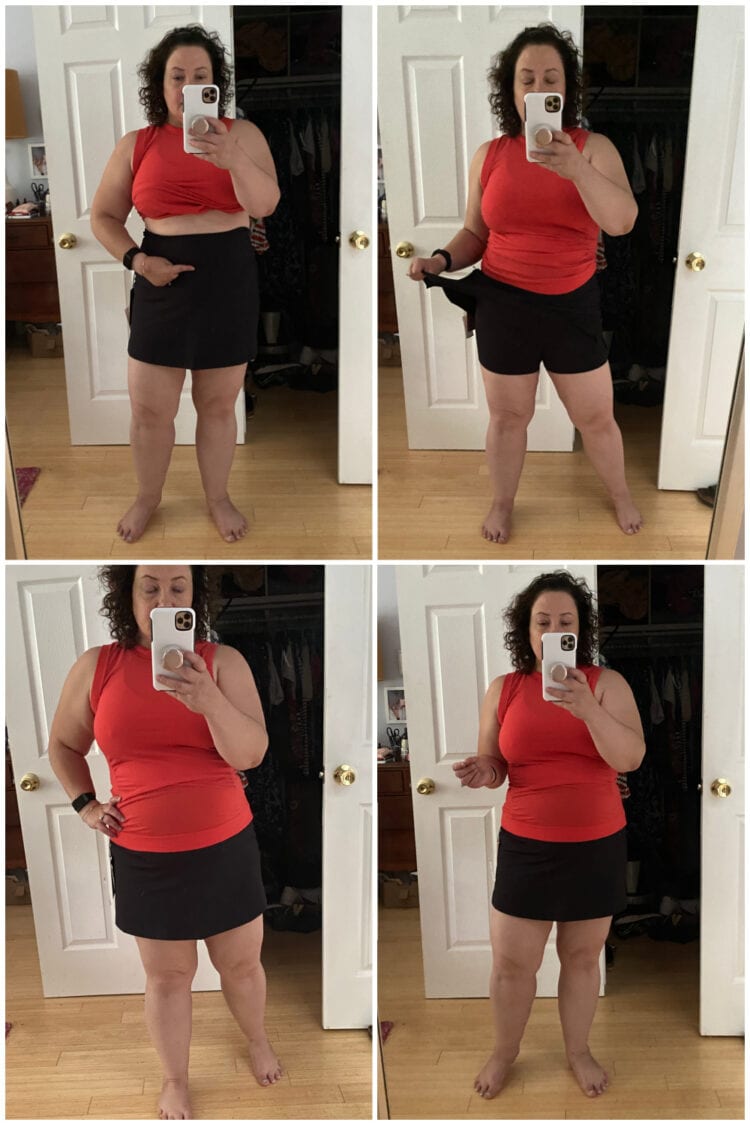 I am 5'3″. I usually want a petite. Yet I find this non-petite skort too short for comfort. It's not an age thing or an "oh I need to hide my thighs!", it's a chafing thing. The point of a skort is the shorts underneath for coverage, but also to keep those thighs from rubbing together. And if you saw my Instagram Stories you know I did a few marching steps and a squat and those undershorts were rolled up to my crotch. I'm also pointing to where my belly button is, showing this is a high-waisted garment.
Shop Skorts for Summer:

I like the idea of a skort this summer, but I want one that is longer than a swim skirt. I am more active after this past year, and I also desire more comfort. I am not over my skort quest; I have been eyeing Chico's which always does me well as well as Talbots. Athleta has a lot of skorts; I need to check again because in the past the ones I liked were always out of stock in my size (or back ordered until September). If you have a great skort that is simple, clean, not too long, and not in some weird fabric that feels like a tent, let me know in the comments!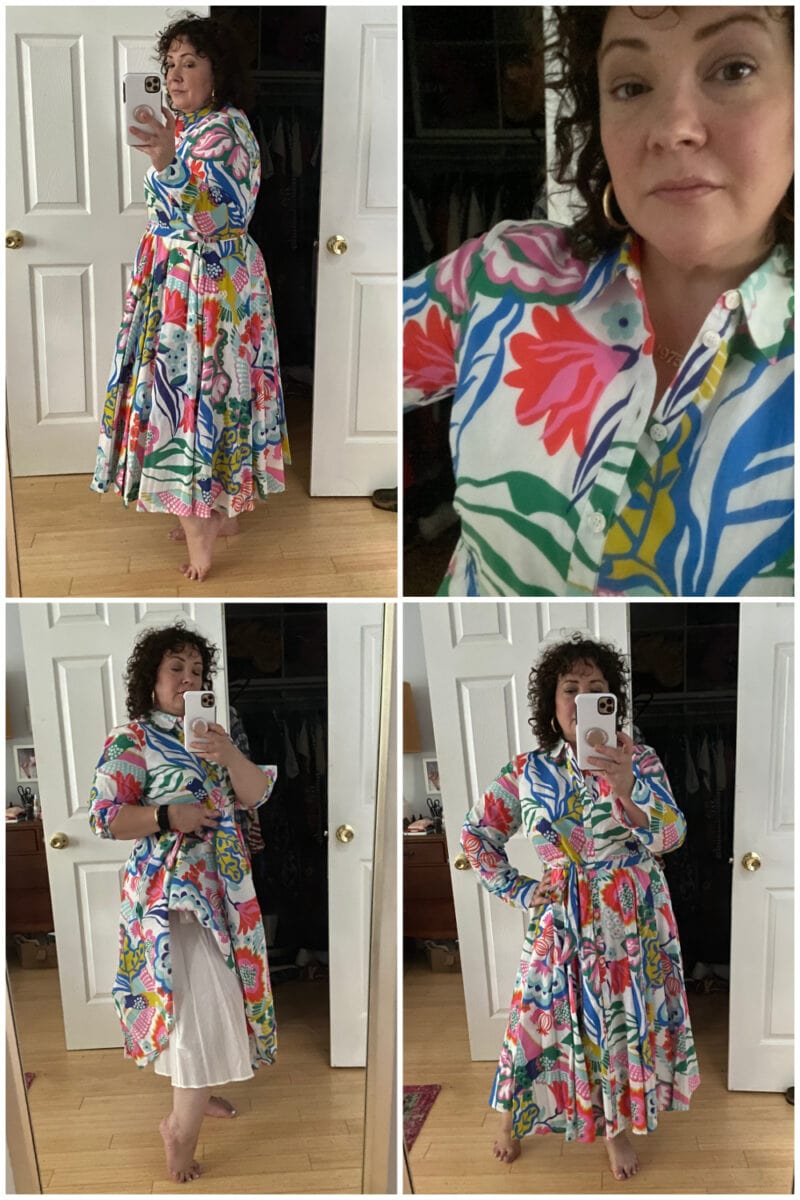 Late April, I placed an order at Boden when they had a really big sale. I shared the first item that came in the order in this Friday Shop post. Everything else was back ordered… including this dress. I returned everything I ordered… except this dress which arrived at the end of last week. I shared it on Instagram Stories last weekend when I wore it with my brown ALLY NYC flats and my brown Maxwell Scott saddle bag to a relative's house for a get together. At that point it was sold out in a lot of sizes. Now? It's completely sold out.
This is one of the difficult things about being a blogger. I don't shop for photos, but when I buy something and it's out of stock, sharing photos is just going to piss people off. Whether it's a capsule wardrobe where a garment was in stock five days ago when I finished the post but it's sold out now that the post is published or an outfit post, y'all don't like when I share "similar" and it's near impossible in this time of fast fashion and retailers trying to keep up with fast fashion and oh that cargo ship in the Suez Canal and the pandemic still raging in many parts of this world… things don't stay in stock long.
UPDATE: THIS DRESS IS BACK IN STOCK IN ALL SIZES AND COLORS!
So this dress likely will never be in an outfit post. I likely won't share beyond Instagram Stories that I took it to the tailor to shorten it. But I love this dress. It is lightweight cotton, it isn't fitted but it's not a smock, the colors are amazing, it has pockets, and when I walk down the stairs it floats out around me and I feel like dancing. I got a 14 regular (Boden has petites to size 10, longs in 4-16/18, and regular to 20/22) and besides it being almost a maxi on me, it fits well in the shoulders, torso, and arms. It makes me want to shop Boden more often.
Other Boden Dresses that Have Caught My Eye: