This article may contain affiliate links; if you click on a shopping link and make a purchase I may receive a commission. As an Amazon Associate, I earn from qualifying purchases. 

Retail News
Across the country, vintage shops are in a fight to save thrifting. (Fashionista)
A look back at the long history of Lord & Taylor. (Retail Dive)
From Black Friday to parking lot pop-ups: 5 ways holiday shopping will change. (Washington Post)
Payless relaunches online, with plans for hundreds of stores. (Retail Dive)
Don't Sweat(pants) It. The House Dress Is Here To Rescue 2020. (NPR)
Fashion to Figure Taps Tess Holliday for their latest Collab. (The Curvy Fashionista)
China offers a glimpse into the post-coronavirus retail industry. (CNBC)
Government shutdowns of "nonessential" retailers were a huge gift for Amazon, Walmart, and Target. (Vox)
From the Mailbag
"I've gained 17 pounds this year and none of my bras fit. I don't feel comfortable entering a store to get fitted. I found two websites and a YouTube video that show how to measure myself and each time I get a different measurement. One said I was an H cup and I know I am not an H cup!! Do you know a reliable way for me to find out my current bra size?"
Yes! I dealt with this myself, and also found that every site has a different method which offers a completely different bra size. By far, the best bra size calculator I've found is this one from the subreddit A Bra That Fits. Not only do you enter your measurements, but the page shows you how to actually measure your body for an accurate bra size. It's the only bra calculator I've seen that tells you to measure without any clothes or underpinnings on, which IMO makes the most sense. If you're looking for more virtual assistance with bra fitting and shopping, I recommend visiting A Bra That Fits on Reddit (you do not need to sign up to read the content, only to comment).
Sale Alert
Zappos is having an awesome sale through Sunday! Zappos VIP customers will earn 10x points on any purchase. It sounds fancy to be a Zappos VIP customer, but it's a free program you can sign up for at this link. If you are a Zappos VIP and link your Amazon Prime account to Zappos, you will instead earn 11x points. What does all this mean? It means you earn 10 VIP points for every dollar spent and once you reach 100 points you can redeem for $1 off an order. I've been a Zappos VIP member for a while and it's nice to just shop as usual and at checkout find out you have a couple of dollars in credit to take off your order. And this weekend because of this 10x/11x boost, that means if you spend $100 you'll get a $10 credit for your next purchase (if you're connected to Amazon that would be an $11 credit).
On top of all this, Zappos is having a sitewide sale; all items on sale can be found at this link. If you're shopping for yourself, women's sale is at this link and it includes clothes and accessories as well as shoes. Preparing for back to school? The sale for kids merch is at this link.
I was pleasantly surprised to find J. Crew both available at Zappos and part of this sale! NYDJ is also part of this sale with a great variety of current silhouettes in misses, petite, and plus sizes. If you're looking to replace your bras or switch out to wireless, Zappos has a great selection with popular department store brands; this link narrows it down to all the bras part of the sale that are $50 or less which includes Elomi, Brooks, Spanx, Wacoal, and more.
If you're looking for shoes, I'm loving these glossy Chelsea-style rainboots from Hunter, comfy waterproof slides in fun colors from Oka-B for $13.99, and these badass Doc Marten pull-on boots that will only get more badass with wear and time.
Thinx is a brand that creates reusable period underwear. Offering a variety of styles and sizes, they are having their major end of summer sale where they have 30% off through the 25th. This is a great sale and a great time to stock up. I have underwear from Thinx and have found it effective and reliable and cute too. My favorite style is High Waist but all of them are great.
Chico's has 25% off full-priced items with promo code 31421. I've tried out some of their New Arrivals and love the fit, quality, and the style. Some of my quick picks are this dress and this dress which both look all glam but are super comfy and machine washable, this easy everyday jumpsuit in such a gorgeous color, and these shorts which are cool, comfy, offer coverage and go with everything.
Macy's has 30% off your entire purchase and then an additional 15% off beauty! This is a sale worth checking out because Macy's sells some amazing brands in fragrance, skincare (NuFACE, Sunday Riley, Benefit, Foreo, StriVectin, Estee Lauder & more), hair care and tools (Ouidad, DryBar, ColorWOW, Verb, Pureology & more), and makeup (MAC, Lancome, Stila, NARS, Dior, etc.).
Sephora has a sale through Sunday with $15 off an order of $75 and $20 off an order of $100. Use code WELCOMEBACK at checkout to get the deal. Know that you can only use this code once, so don't try to score with multiple orders each with the code… Sephora will shut that down. But enjoy this deal while it's still available. If you're looking to try out some high quality Black-owned beauty brands, Sephora offers a few.
What I Bought and What I Thought
After writing the recent posts about performing a closet audit during COVID, how to store clothing, and where to donate clothing during a pandemic, I've been thinking long and hard about my wardrobe. Even during this time, I find myself buying for what I think I am or what I want to be versus my reality. I want to be the woman in gauzy house dresses and caftans with big hoop earrings and big curly hair, like a 21st century Mrs. Roper. But who am I really? I have become someone who really appreciates some badass activewear. Sure I wear my dresses and wear the heck out of my white linen pants with Breton striped tees… but more often than not I put on a refined hybrid of activewear and athleisure.
I mentioned in last week's Friday Shop that I got this hoodie from Old Navy in cream and love it. I've washed it twice and I still love it. No shrinkage, still same quality. So I ordered the matching joggers. I have these camo joggers in Large from Old Navy and they're a whole lot of meh and run snug so I went with XL with the matching cream joggers. Yeah, they're too big. Too long, too baggy in the crotch, but I got them during one of those Old Navy sales where they ended up being like $11 so I decided to wash them on hot and put them in the dryer… and of course this is the one time when something from Old Navy does NOT shrink! So they're great quality and they're higher quality and a nicer fabric than the camo joggers from Old Navy, and unlike the camo joggers, they do not run small!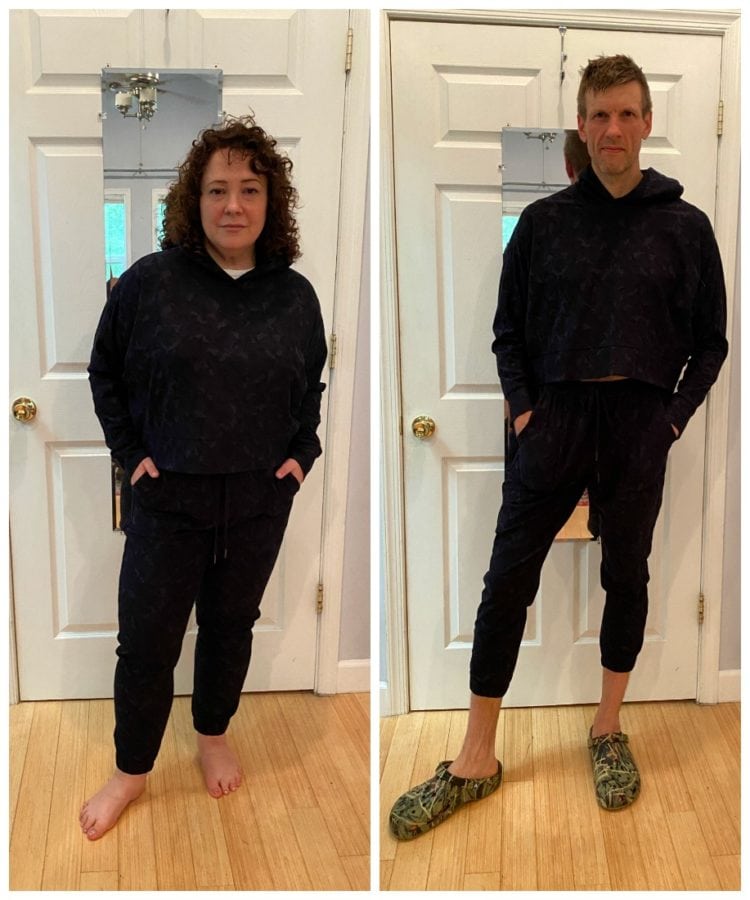 I wear my black knit joggers a lot, but wanted something a bit more… interesting. So I ordered these in navy from Athleta in size 14 regular. And since there was a matching hoodie, I just had to get it as well in size large. I know I haven't understood the reason why someone would spend more than maybe $40 on a sweatshirt. I mean come on, sweatshirts are sweatshirts, right? How is a $35 pair of joggers different from a $100 pair? Well these explain the difference. The fabric is stretchy yet firm, silky yet doesn't cling, heavy but not bulky, and feels like I'm wearing a dang expensive pair of sweats. The sweatshirt has super cool seaming to give a great silhouette, the joggers feel custom made, the pattern is super subtle. I wouldn't have bought it if I didn't have a bunch of Super Cash and discounts I used to essentially get those Old Navy joggers above and a bunch of back-to-school athleisure for my kid for pennies on the dollar and I am so glad that I did. You may have caught my husband trying on the set to do a "who wore it better" and he's mad they don't have it in his size because it feels so good on.
What I'm Digging
Clearly, from the last category, I am digging on elevated athleisure. No cashmere joggers for me, I want my elevation to be beautiful and comfortable, but also machine washable.