This article may contain affiliate links; if you click on a shopping link and make a purchase I may receive a commission. As an Amazon Associate, I earn from qualifying purchases.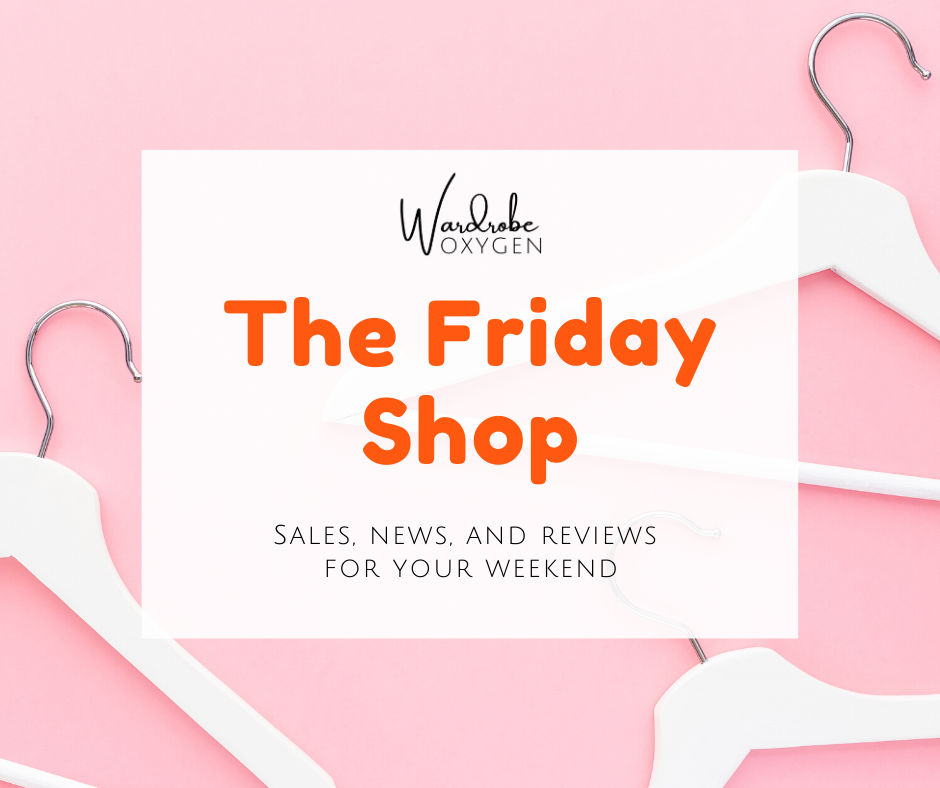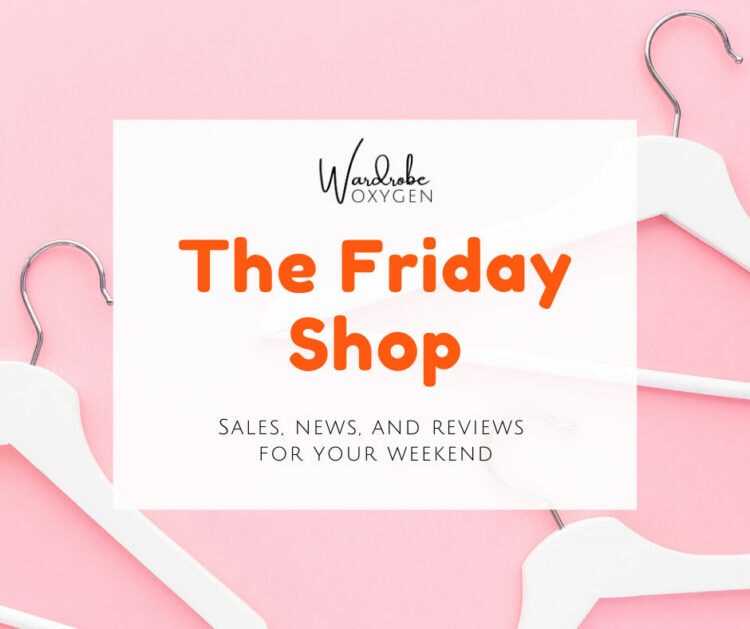 Sale Alert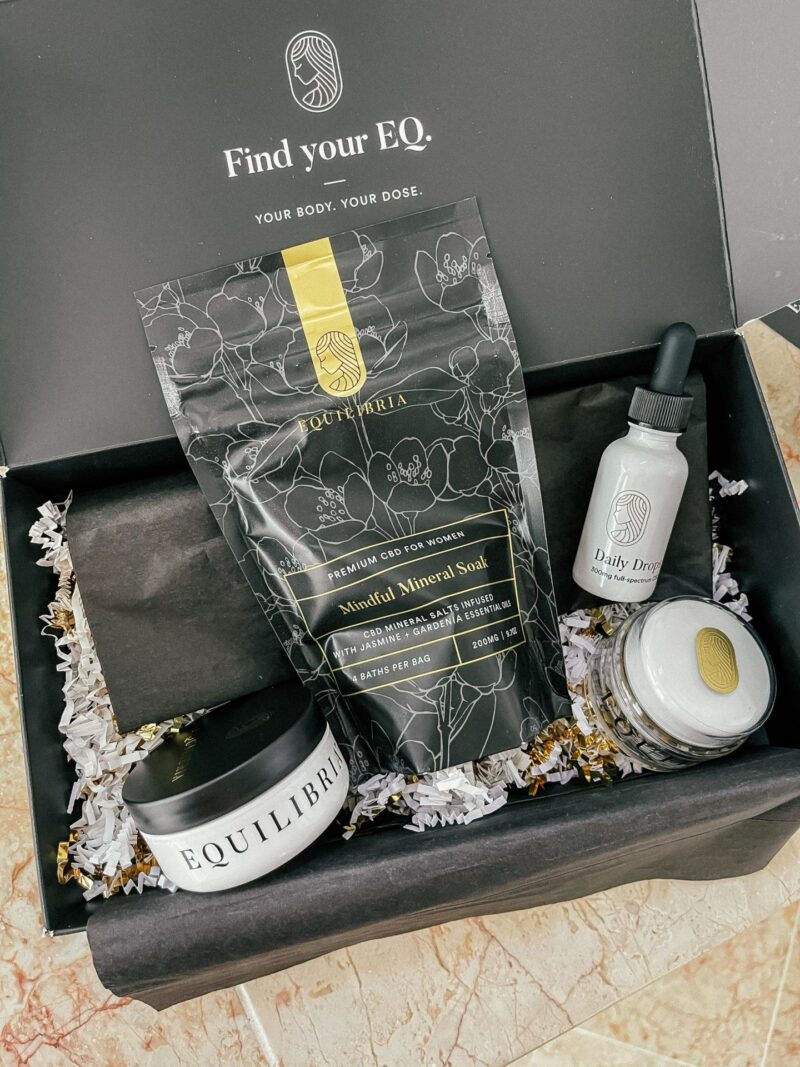 The Equilibria subscription sale has been extended through the end of the month! With this sale, new customers who subscribe to a box or product from Equilibria will get 50% off their first month with promo code WARDROBEOXYGEN or clicking and using this link.
This is an awesome deal; subscriptions mean you receive orders autoshipped to you, free shipping, on a scheduled time. It's super easy to pause, change, and yes cancel your subscription. When you subscribe, you get access to a free Dosage Specialist who will have a phone call with you to discuss your needs, current health and issues, and customize a plan perfect for you.
I've been using Equilibria CBD for almost a year and CBD since 2018. Equilibria is a woman-owned organic CBD company that owns its own farm. The company is full of highly trained and educated specialists focusing on finding ways to have CBD help women and our unique bodies and needs. If you want to learn more, read my original review of Equilibria, or check out this IGTV I did with Equilibria regarding CBD and perimenopause.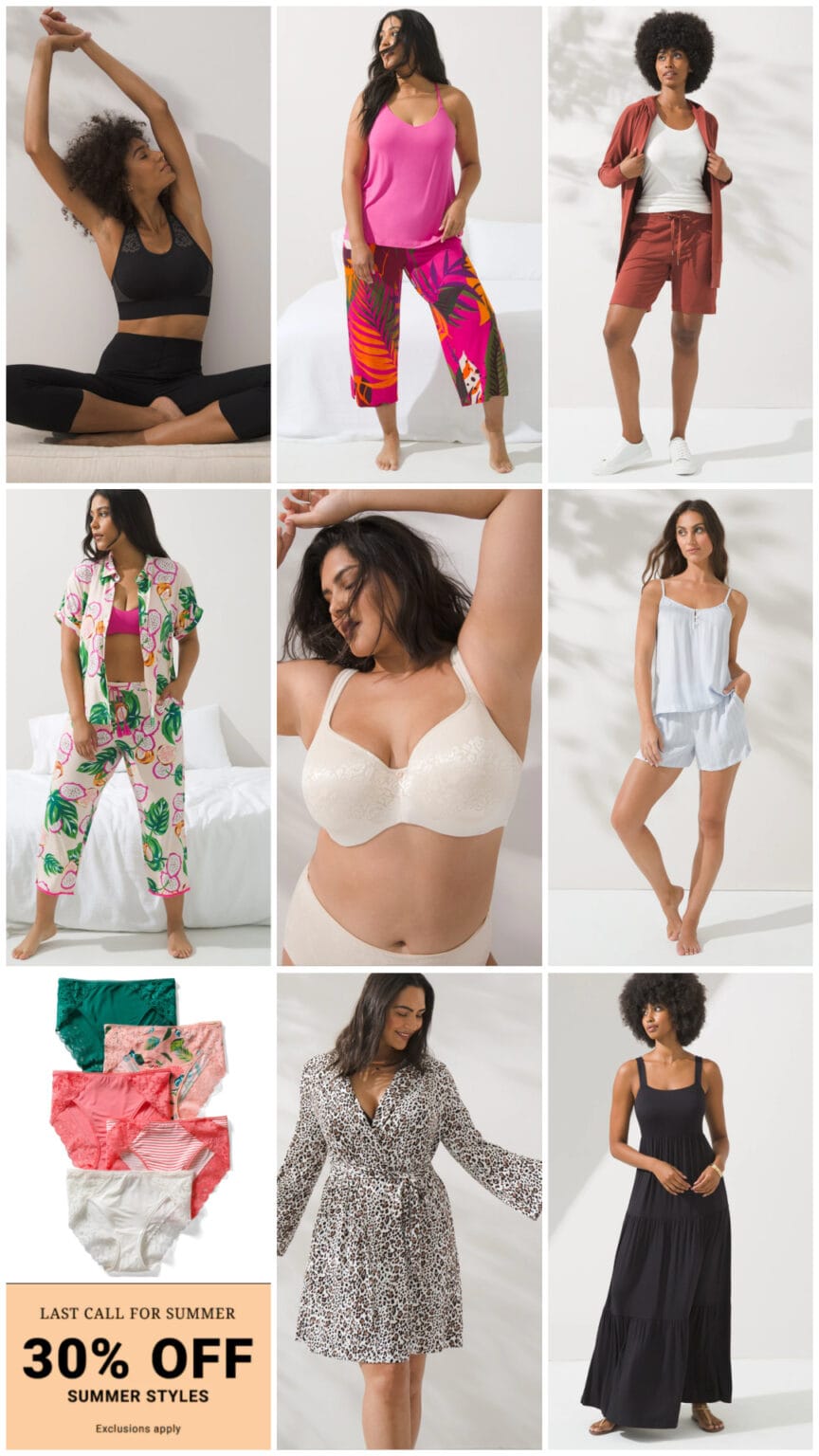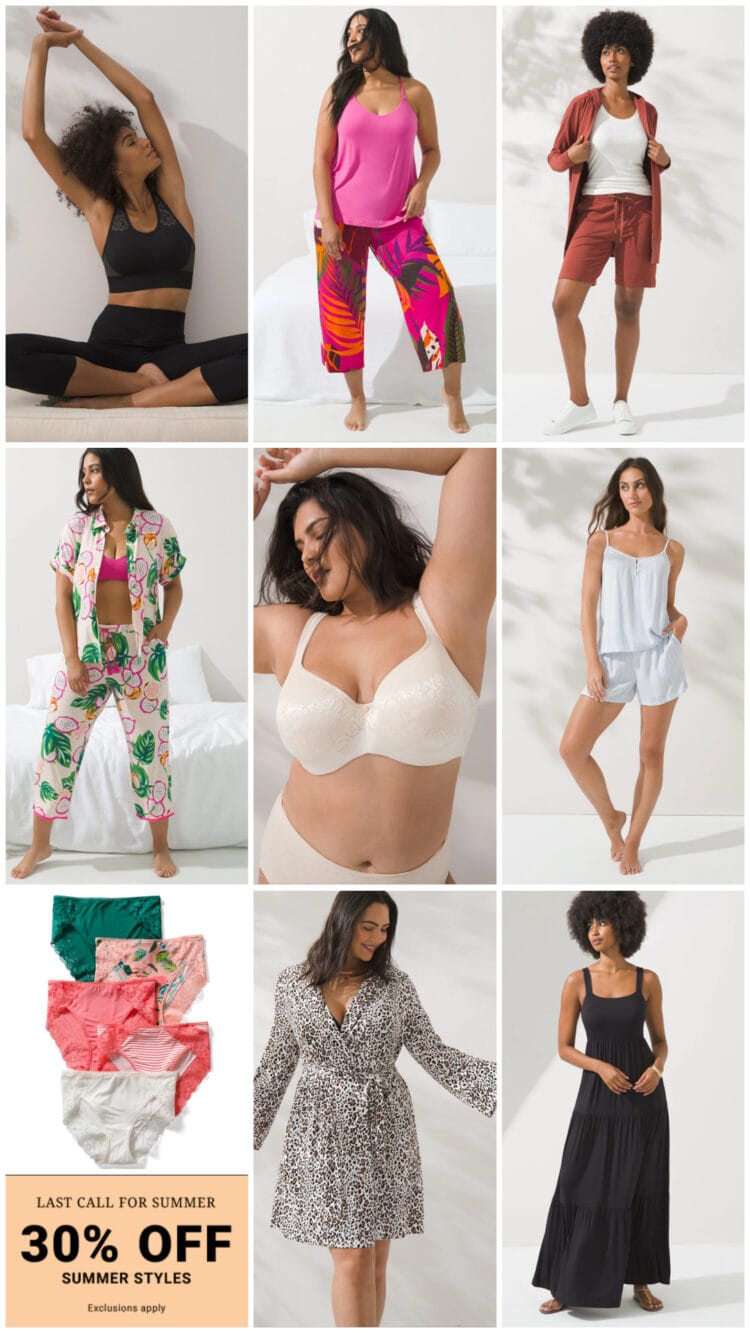 Soma has continued their sale of 30% off summer styles at this link. This sale isn't new, so selection may be limited, but the items in the sale and the amazing prices are worth checking out. If you are a fan of Cool Nights pajamas like I am, this is a sale you don't want to miss. But Soma also included in the sale great bras, undies, loungewear, activewear, and much more in styles and fabrics you'll want to wear now.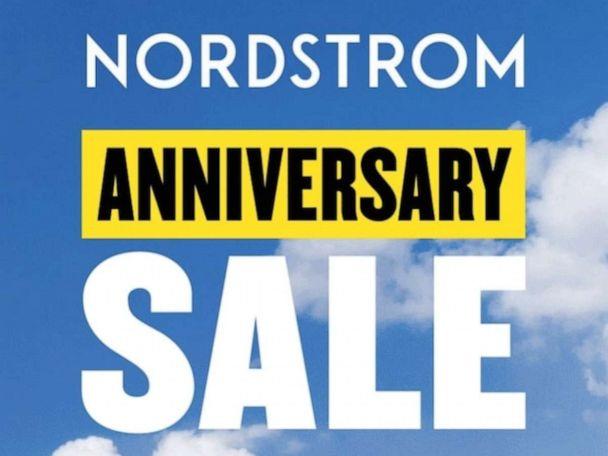 The Nordstrom Anniversary Sale is now open to the public; you can see my picks at this post. A few are still in stock. Pretty much everything on my wish list was sold out by the time I was able to shop but I ended up snagging this jumpsuit (you know me and jumpsuits!). I got my husband a pair of these shorts, and my kid one of these hoodies, and this sweater vest. I also bought a pack of these washcloths because cheap washcloths such and black washcloths hide makeup stains. The order is to arrive today or tomorrow so I should have reviews next week!
What I Bought and What I Thought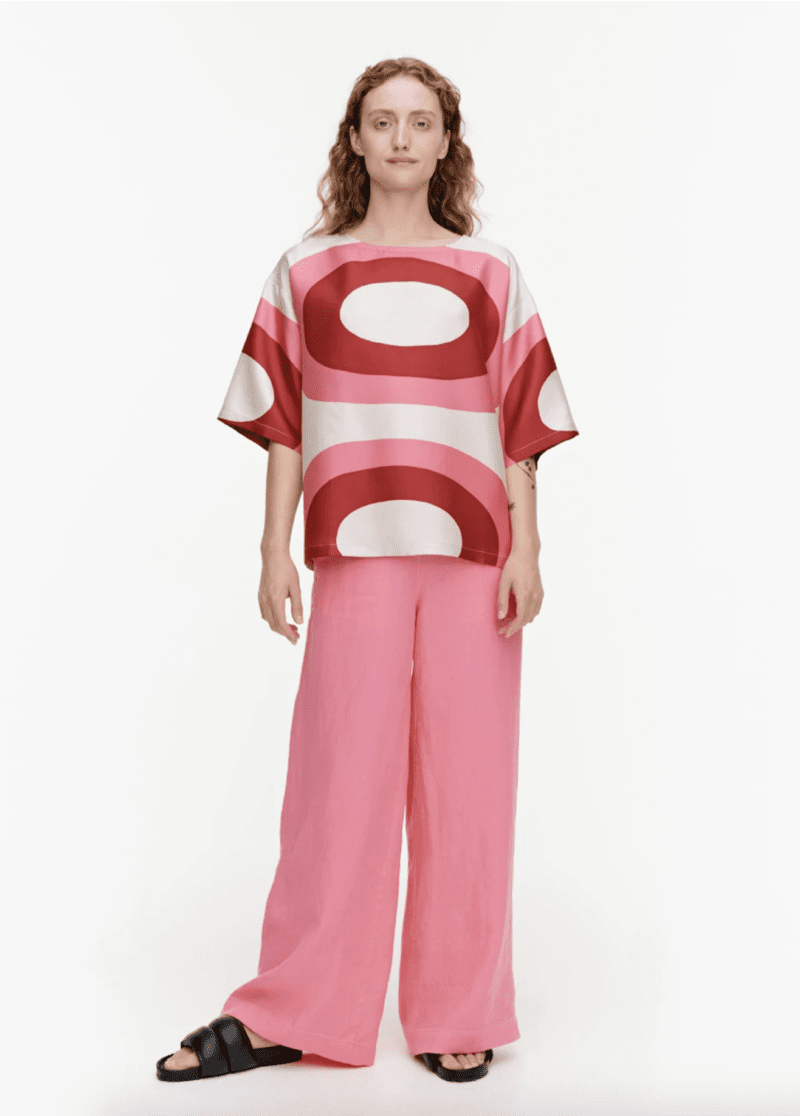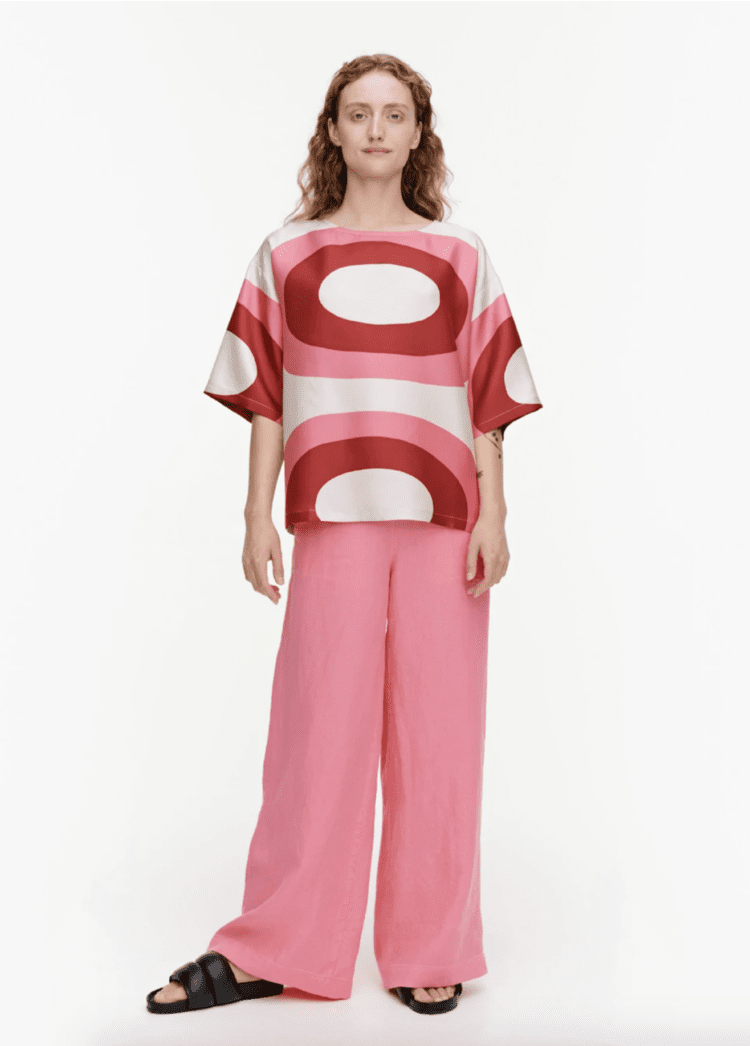 So I was going through Nordstrom's selection writing a blog post and I came across this blouse from Marimekko that was on sale. I fell in love, and loved the sale price, but it was not available in my size. So I went Googling armed with the style name and found Pirkko, which is a shop in Seattle with an online presence.
While it wasn't quite as cheap as it was at Nordstrom, at the time I bought, it was available in the full size range. Unsure how I fit in Marimekko, I got an XL, figuring it would be easier to tailor down than try to make a blouse stretched over my boobs work. I'll let you know what I think when it arrives! If you like the print but not the blouse, there is also a dress though currently only available in Small and Large.
I'm thinking with white jeans, with wide-leg pants in any of the colors in the blouse as well as navy, dark olive green, camel, denim. I'm seeing it loose, tucked in, and belted. I'm seeing big gold hoops and crazy curls and a bold lip and maybe my wide-leg high-waisted jeans and a gold belt? I may hate the blouse, and that's always a risk when shopping from new retailers, but Pirkko allows returns within seven days with a prepaid ($10) label and I am going to try it out and see.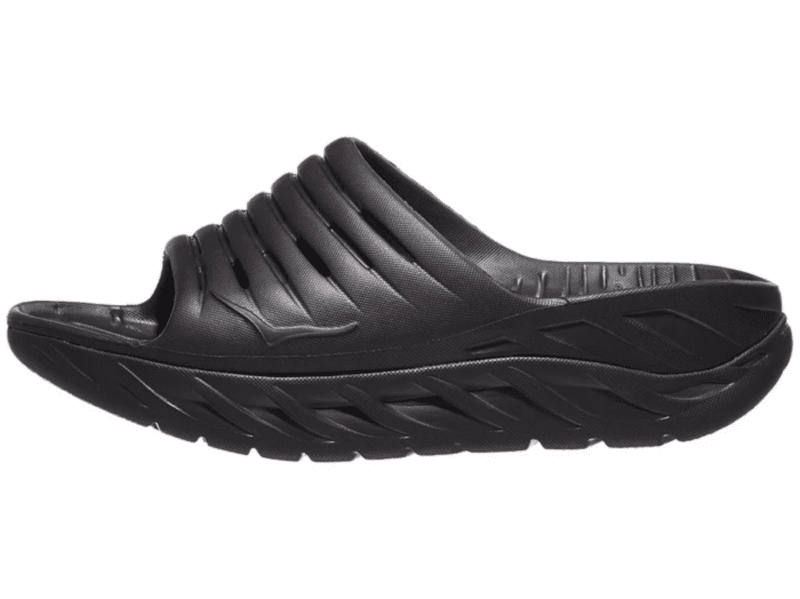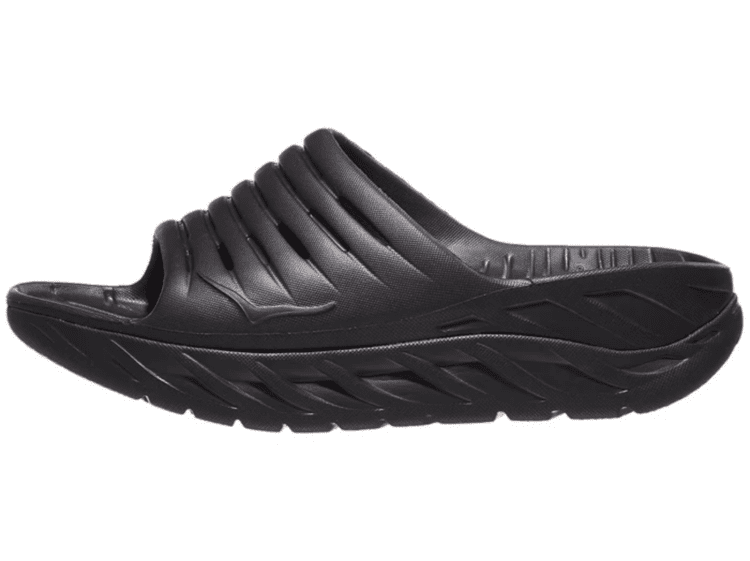 Since buying my HOKA sneakers, I am super into the brand. When I saw these recovery slides, I thought they may be a nice switch from my EVA Birkenstocks for house shoes. I got mine at Zappos in the color black, but if you want a different color I found Runners Plus and REI to have the best color selection, even more than the HOKA site.
These are like walking on firm clouds with arch support. Cushy, but not squishy, supportive without feeling like you're standing on a golf ball. Because they are synthetic, your feet can sweat in them. Keep that in mind in this hot weather. But these are truly a recovery for my feet. After riding 50 miles on the bike, I put these on and they felt ahhhh-mayzing. I wear them after being on my feet all day, and I love wearing them when standing for a while, like preparing dinner.
I have wide feet and these slides were snug at first, but they stretched to fit my feet without stretching out or having my feet hang over the soles. I don't think you'll be seeing me rocking these with outfits on the blog, but they are such a treat for grumpy feet and a supportive and cushioned alternative to house shoes!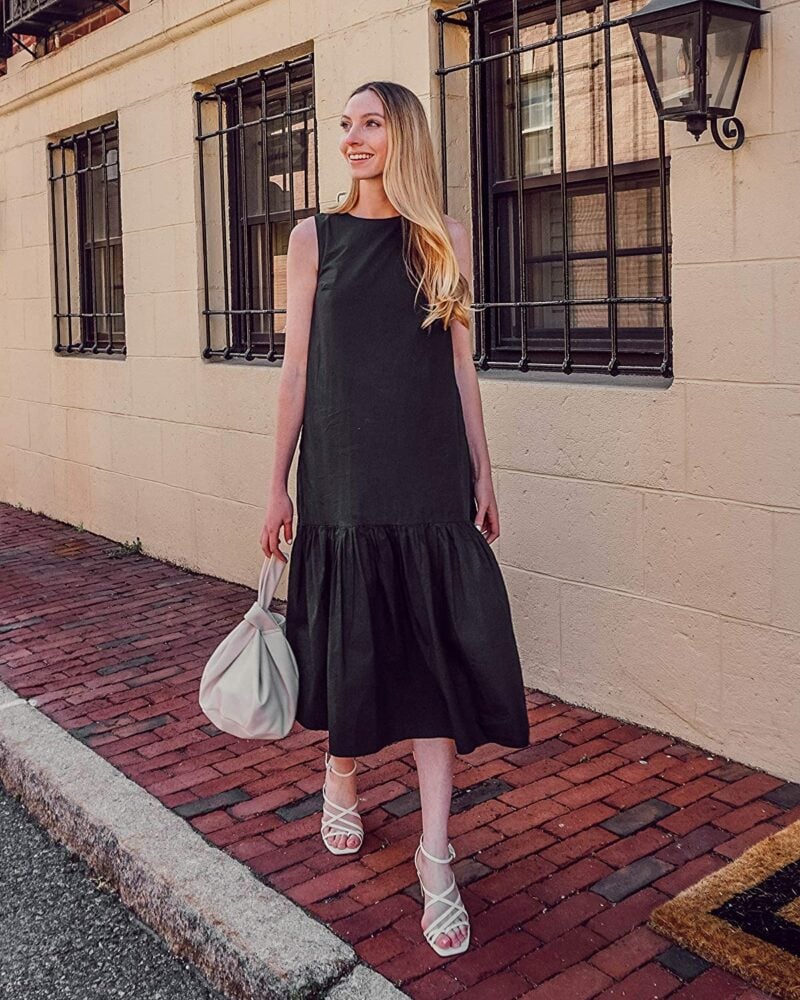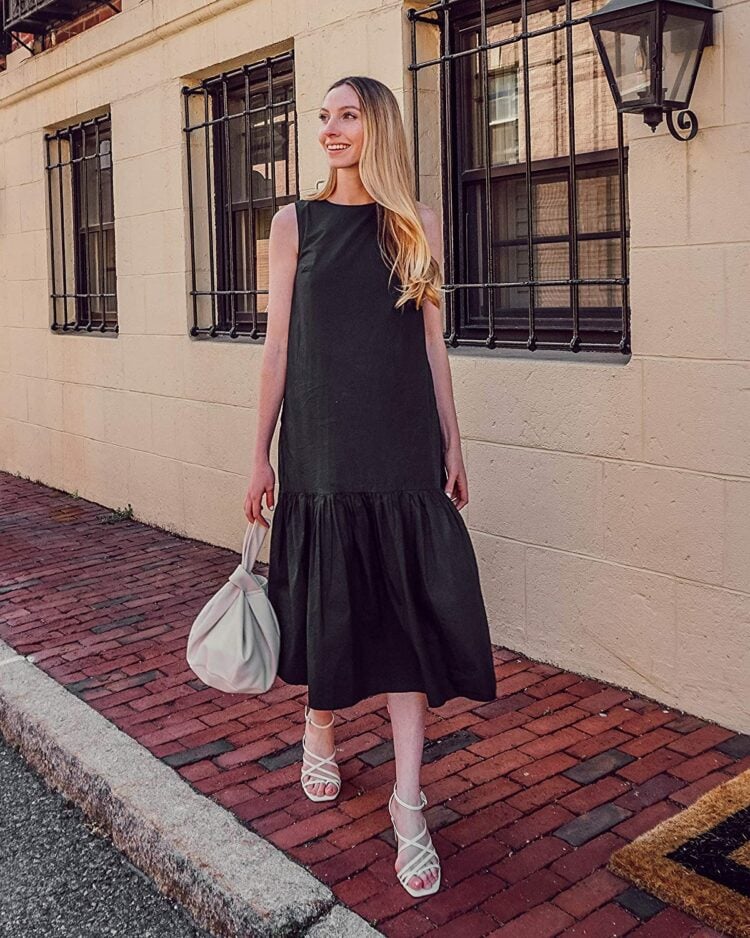 I love my Christopher John Rogers for Target dress but it's no longer available for purchase. A reader told me that this dress was a good dupe so I ordered one to see if it really was similar. It doesn't have the same colors (only available in black and earth) but otherwise a similar concept. I got one in black, size Large.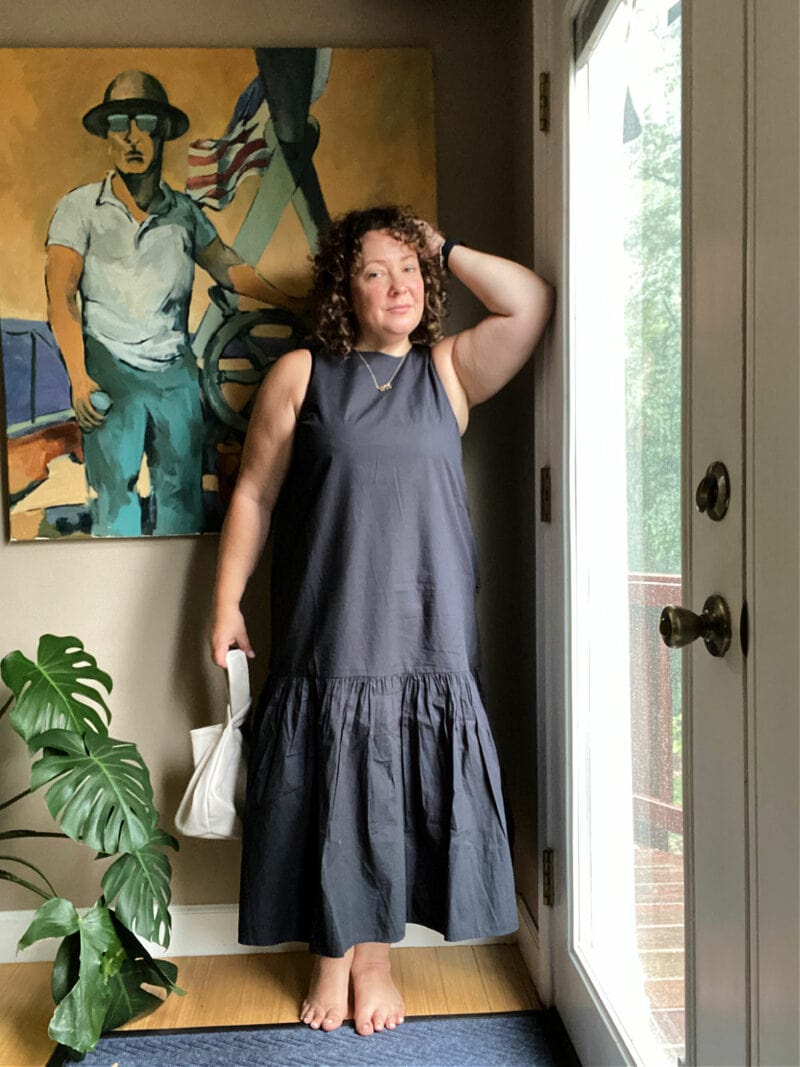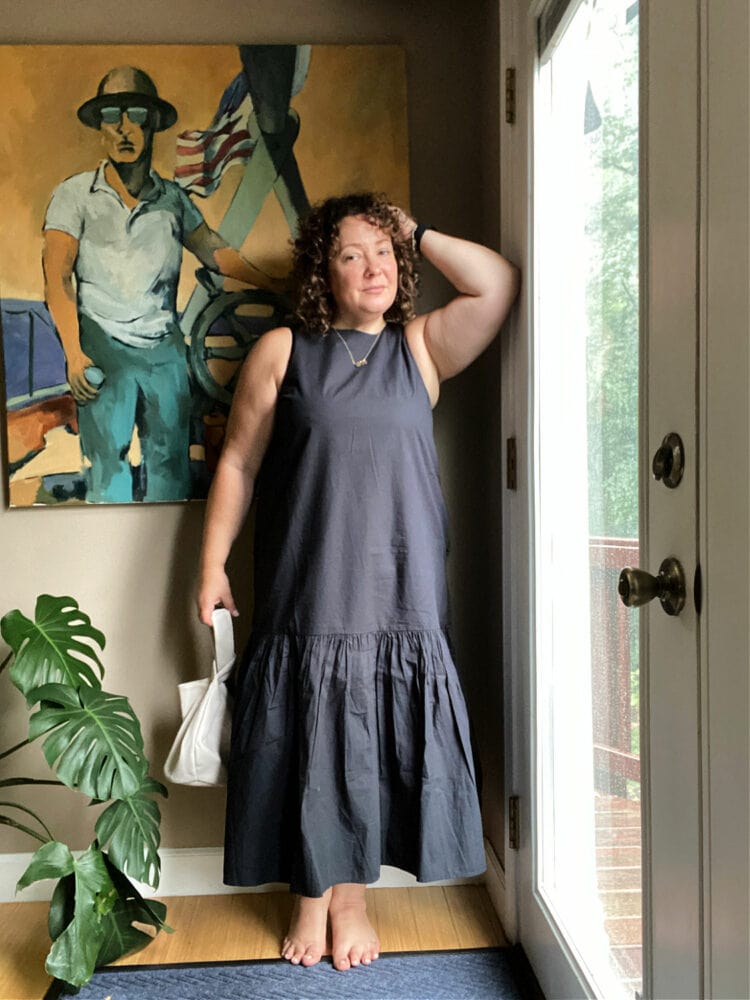 The neckline is a bit more snug in this dress, but I can still get it over my head without unbuttoning it. It feels a hair more snug in the chest/shoulders but this dress has a thin lining that is from shoulder to just the bottom of my bum, which affects the size. Considering I got it in black, I am thinking of snipping it out so the dress has more give and is also cooler in the summer. In general, this dress is nice and super similar to my orange Target dress.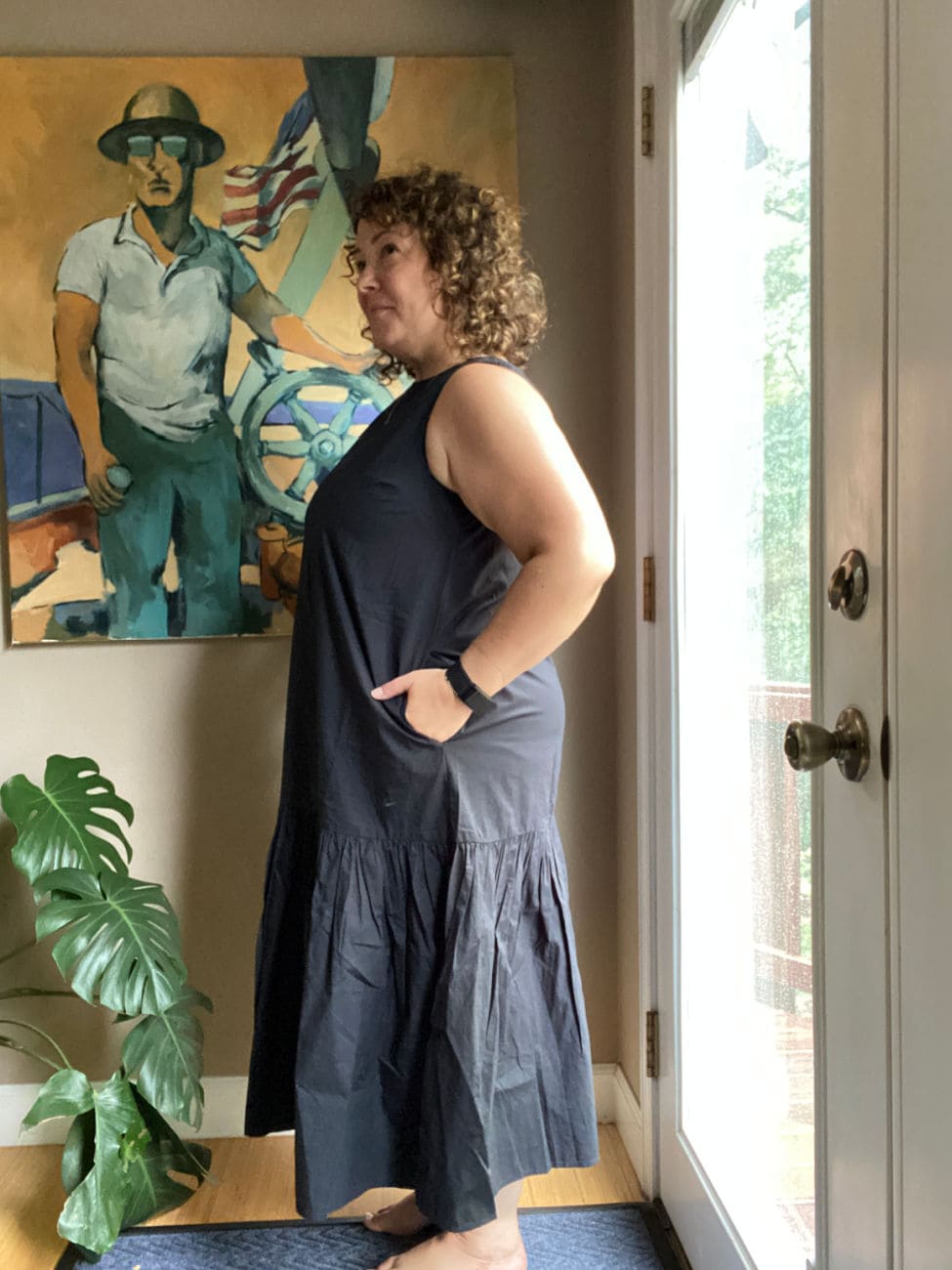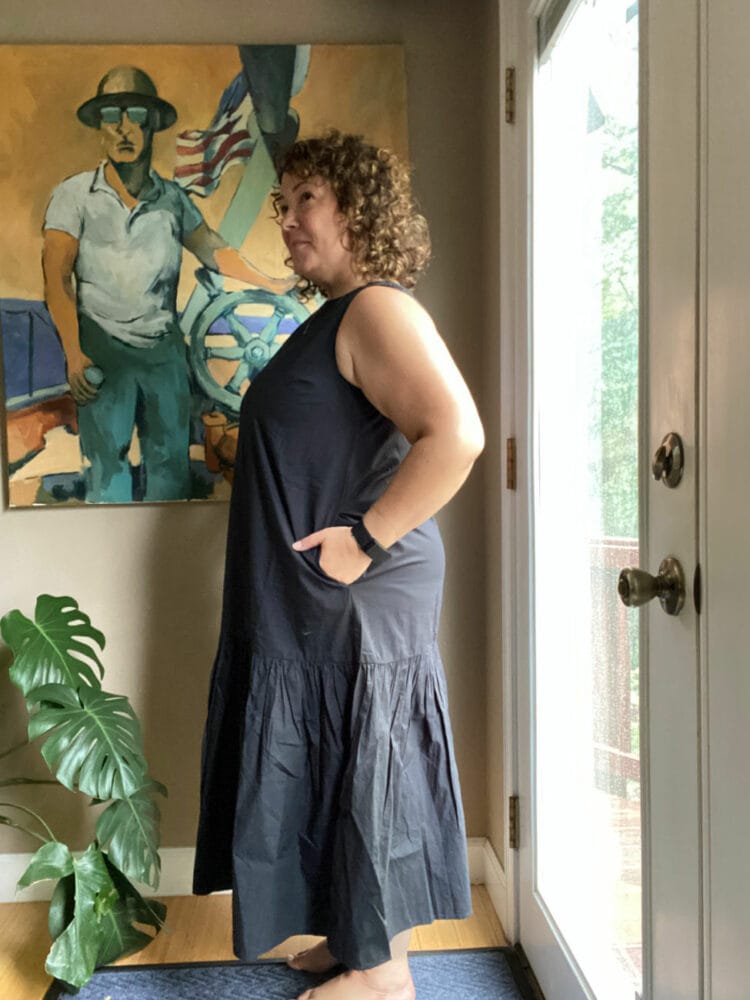 The dress is available in XXS-3X; I am usually a 14 and think the Large is the right size for me. However, this dress runs more narrow than the Target dress. It doesn't have much stretch and not a lot of extra fabric so if you have a larger chest and/or larger rear/hips you may want to size up. These photos are taken straight out of the bag; I'll do a proper outfit post once I've washed it and given it a test drive.