This article may contain affiliate links; if you click on a shopping link and make a purchase I may receive a commission. As an Amazon Associate, I earn from qualifying purchases.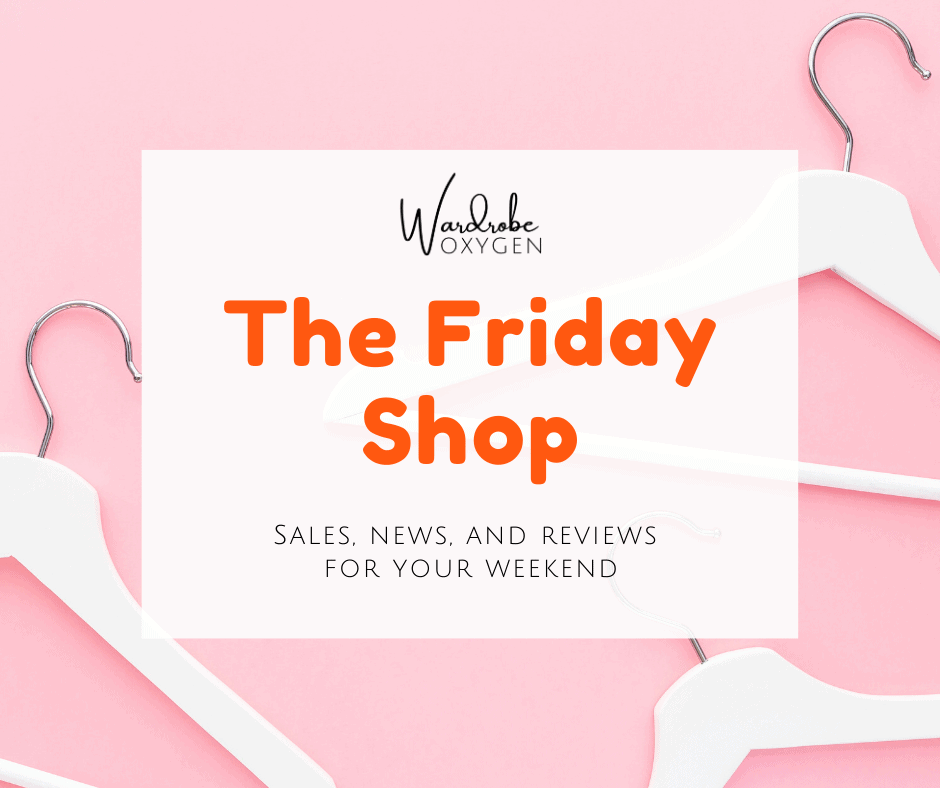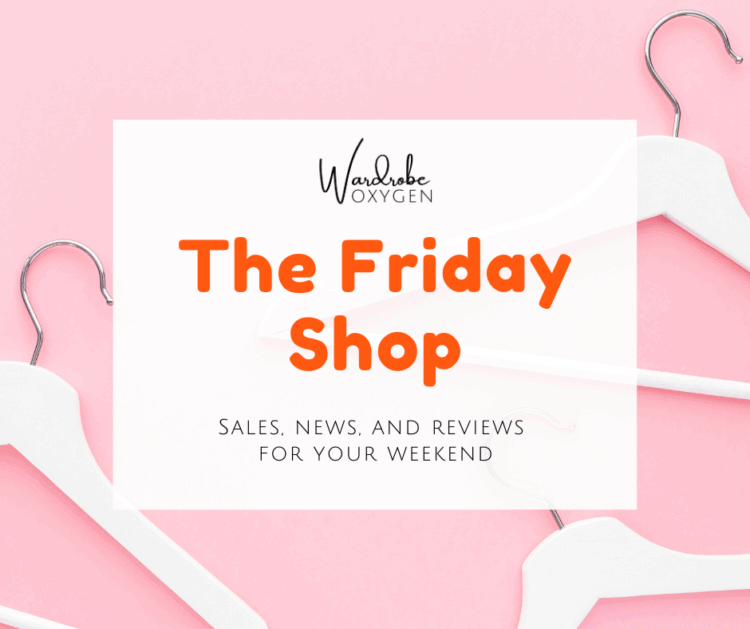 It's Labor Day weekend and if you didn't realize that you're not alone.  It's hard to celebrate the end of a summer we hardly realized happened!  But some retailers are celebrating with great promotions this weekend… scroll down to the best sales I've found taking place!  Because there are so many sales I've removed a few of the regular Friday Shop categories, but they will be back next week!
Retail News
Fashion's leading designers on the past half-year, the relentless pace of consumerism, and their relationships with creativity. (The Cut)
We bought a desk chair instead of a backpack, only one pair of shoes but several t-shirts and some new face masks, and I passed down my travel laptop since it's not traveling anywhere any time soon. No one knows what "back-to-school shopping" means this year. (Vox)
ELOQUII to close all brick and mortar shops, plus an interview with the company's CEO. (The Curvy Fashionista)
A peek into brand trademark filings and how other brands try to stop them.  This go-round, it's Vans and Nike. (The Fashion Law)
GenZ is the generation most willing to invest in sustainable and ethical fashion so rental might seem an easy sell. But young people believe laundry, delivery, and returns make it less ethical than other options like resale. (Vogue Business)
Retailers respond to consumer interest in Black-owned businesses. (Reuters)
How Lands' End refocused its product assortment to stave off inventory problems. (Glossy)
From the Mailbag
I'm looking for a unicorn- high waisted underwear that isn't shapewear. I've tried several brands and styles and the panties are either too baggy/saggy and roll down or so they're so tight that its uncomfortable to breathe let alone sit at a desk for a few hours. Light compression would be ok, but I just want to feel comfortable when I sit down to work without pulling my underwear up over my belly pouch every 10 minutes. Any suggestions?
I hear you! So many popular styles of underwear look great until I sit down and then they roll under my stomach. If they don't do that, they're big and baggy, sometimes coming up over my pant waistband and having the worst VPL (visible panty line). It has taken me a long time to find underwear that stays over the belly, is comfortable all day, and isn't a saggy baggy lump of sadness. For me as a 5'3″ woman, the Modern Brief from Soma is perfection. It comes just at the bottom of my belly button, is smooth and fits great without being tight, and most styles are virtually invisible under all clothing. For those who have a longer torso or are taller, you may prefer Soma's Retro Brief. Most are without any compression, the "vanishing tummy" style has a bit of compression but isn't like wearing a traditional control garment.
Shop my Picks from Soma (which are on sale 25% off):
Sale Alert
There are a lot this weekend, so I have them separated by category and then in alphabetical order so you can scroll to your desired retailer.  Please note some sales may not be exactly what is posted, I often find the "intel" I get as a blogger isn't always accurate.  If you see a mistake when shopping let me know so I can update accordingly.
Department Stores
Bloomingdale's is offering an extra 50% off clearance and save up to 60% on regular-price items.  That previous link is for allll the sale stuff, here is the link just for women's sale.  And here is the link to the plus-size offerings in the sale.
Macy's has up to 60% off the items available at this link with promo code WKND.
Nordstrom may have ended their Anniversary Sale, but they started a new sale with up to 60% off thousands of new markdowns available at this link. IMO one of the best departments for this sale is the accessories where they have leather bags less than $50, designer sunglasses and watches 60% off, and much more.
Activewear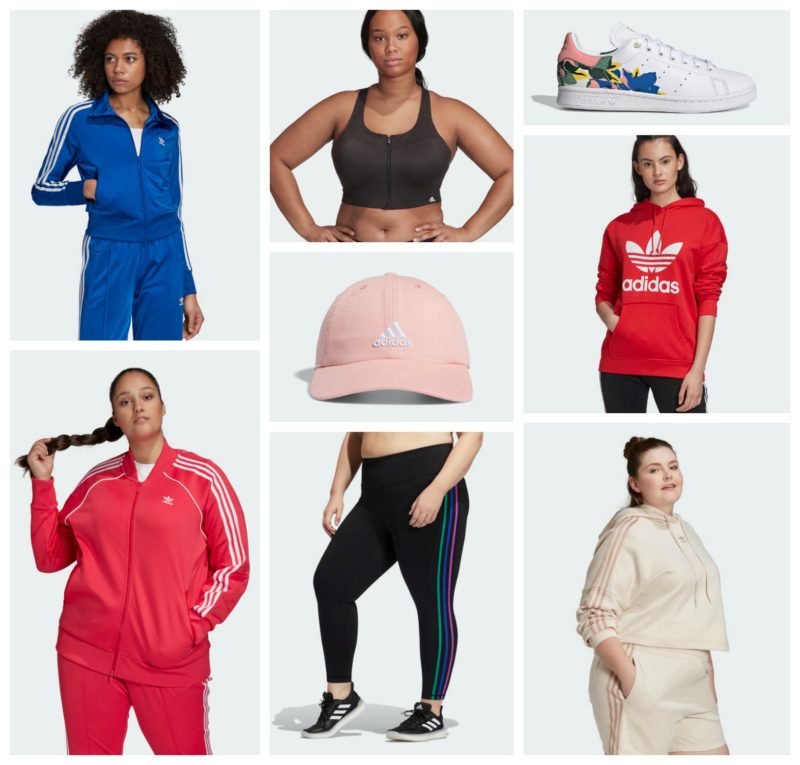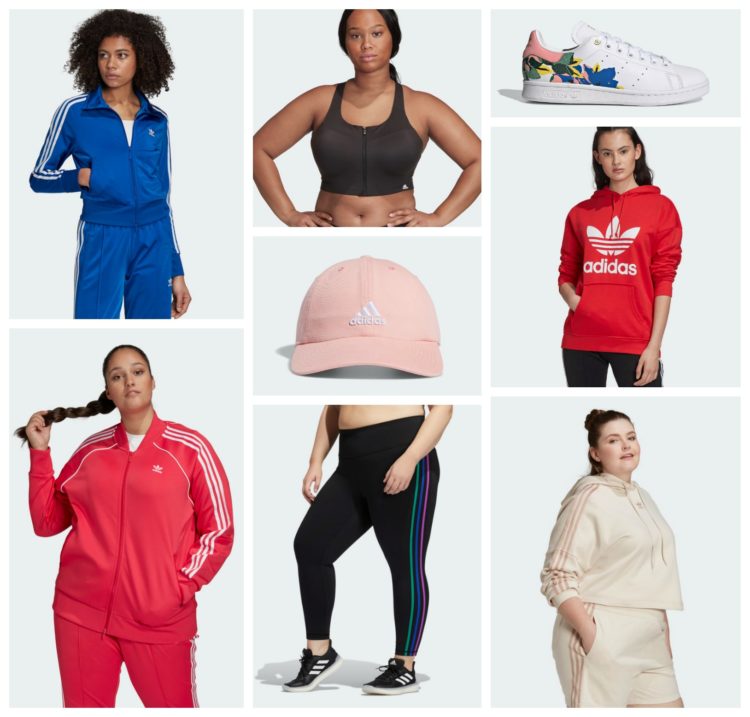 My picks from Adidas: blue track jacket and matching pants | hot pink track jacket and matching pants | sports bra available in cup and band sizes | cap in two colors | stripe leggings | Stan Smith sneakers | classic trefoil hoodie in multiple colors | cropped hoodie and matching shorts
Adidas has 25% off the entire site with promo code SALE25. You may buy Adidas at other retailers, but it's worth perusing their site because the selection in regard to product as well as size range is far better than anywhere else. There are comfy staples like joggers, track pants, and matching track jackets (this combo may or may not be in my virtual cart). We're talking back to school essentials. We're talking plus-size activewear available up to 4XL.  Speaking of which, hello plus-size track jacket and matching track pants which I never see available together on other sites, especially in colors other than black! They even have face masks in sizes for a great 3/$20 price. And if you're looking for a trendy sneaker that isn't too trendy or try-hard no matter your age, you can't go wrong with Stan Smiths and the site has the most amazing selection of cool, classic, and creative versions!
Dick's Sporting Goods has several promotions going on this weekend, including up to 50% off women's footwear, activewear, and gear available at this link.
Marika has their size-inclusive (up to 3XL) collection of activewear leggings on sale, 3 pairs for $39 plus free shipping.  No promo code is needed, exclusions apply.
Beauty
Colleen Rothschild has 20% off this weekend with promo code LBDAY20. I've recently written about my favorite Colleen Rothschild products, and I love that this sale covers everything.  Yes, this cleansing balm is phenomenal, this cream is a great barrier cream for those wearing masks, I keep this scrub in the shower for weekly facial exfoliation, this body butter will turn your skin into supple silk, and this little gadget will help you get every drop out of your tubes of moisturizer, serums, hand cream, and toothpaste.
Dermstore has 20% off Jane Iredale, the cruelty-free clean beauty brand, with promo code JANE20.
IT Cosmetics has a deal this weekend where if you spend $50 you'll save $10 or if you spend $100, you'll save $25.  Use promo code REFRESH.
Ouidad has 25% off liters with promo code BIGDEAL.
Pat McGrath has 25% off the entire website.
SkinStore has 25% off sitewide with code LABOR.  Also if you spend at least $130 you get a free PCA moisturizer valued at $50.  If you haven't shopped SkinStore before, it's a highly reputable online site offering reputable brands of skincare and devices.  This sale includes brands like NuFACE, Sunday Riley, Elta MD, LaRoche-Posay, Olaplex, The Ordinary, and much more. They also offer free shipping on any orders over $49.
Tarte has buy two products and get one free with promo code FREE.
Fashion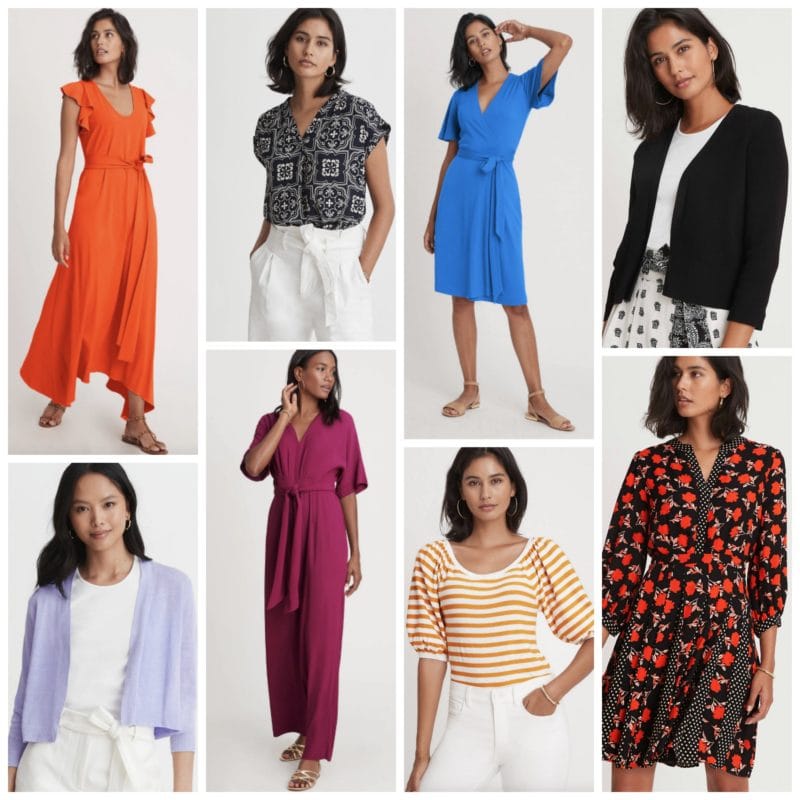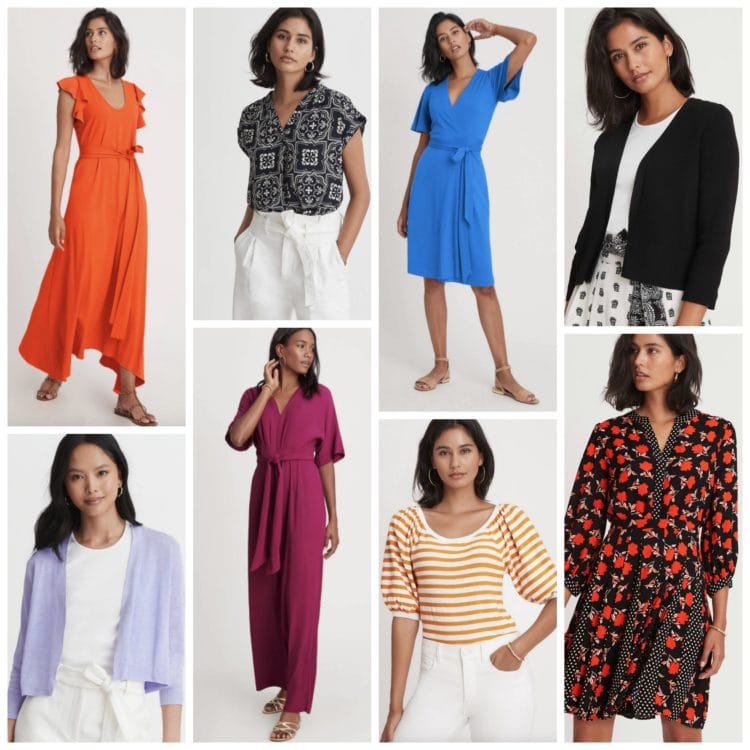 My picks from Ann Taylor: flowing maxi dress (two colors) | linen cardigan (six colors) | tile-print blouse | jumpsuit (two colors) | wrap dress (three colors) | striped top | open cardigan (two colors) | floral and dot dress 
Ann Taylor has 50% off your entire purchase (some exclusions apply see website for details).
Anthropologie has an extra 40% off sale merchandise. No need for a promo code, prices will be reflected in your cart.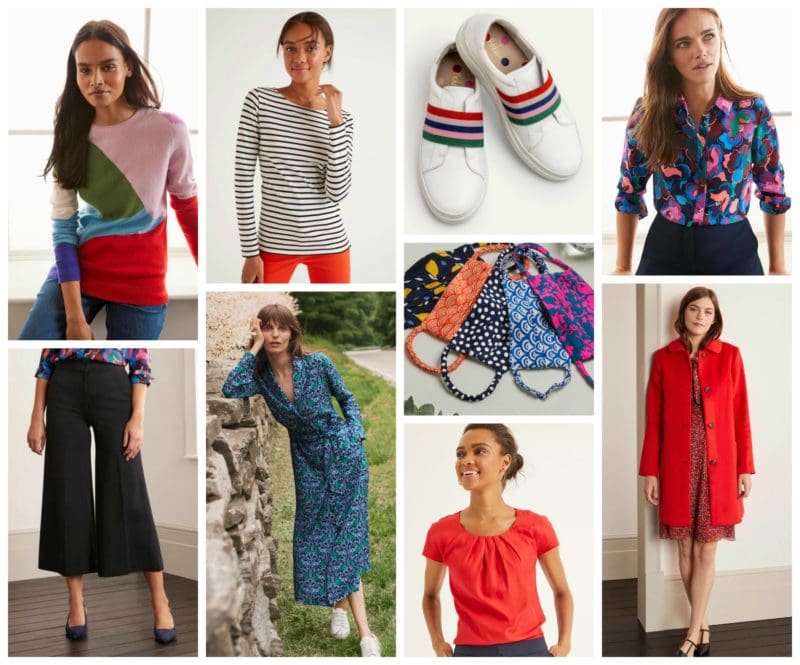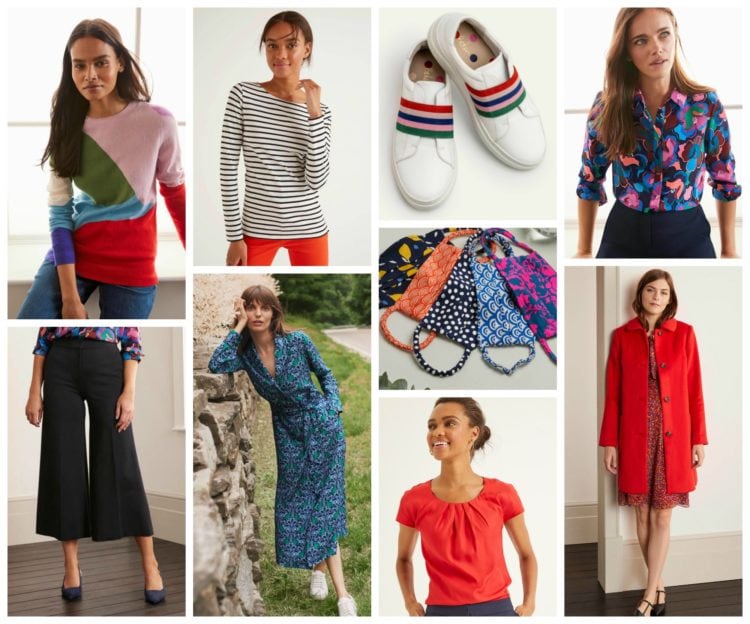 My picks from Boden: cashmere sweater (multiple colors and prints) | ponte culottes (two colors) | Breton top (multiple stripes and patterns) | shirtdress (four prints) | sneakers | face masks | Ravello blouse (I own and love) | silk shirt (multiple colors and prints) | coat (four colors and petites)
Boden has 20% off with promo code K7L9.  With so many retailers offering sales all spring and summer, Boden has restrained offering very few.  And on top of that, they have released many amazing new arrivals so now this is THE TIME to shop Boden!
Chico's has buy one bottom and get the second one 50% off (price reflected in cart) and they're also offering an additional 70% off three or more sale items at this link (anything that ends in .99).  The sale department has some gems like these chic yet comfy pants, this maxi dress from Eliza J, this jumpsuit from Taylor, and this soft jacket great for the office or working from home.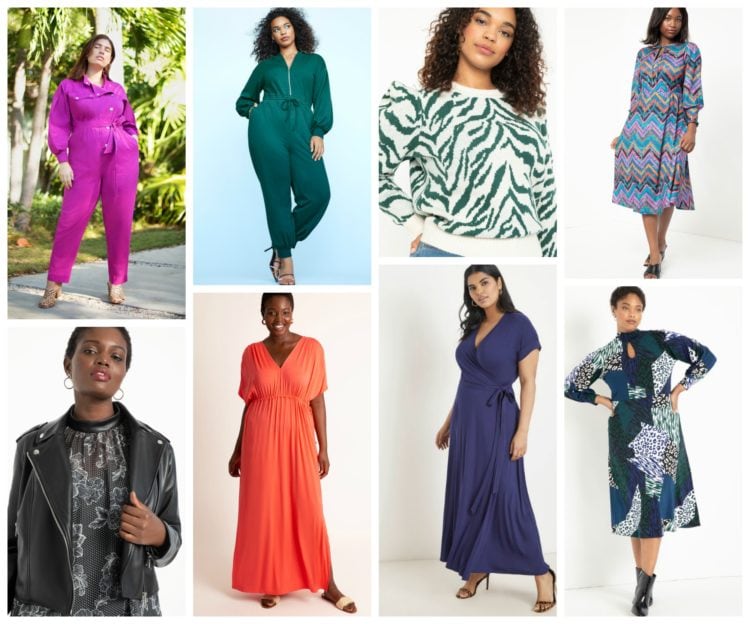 Shop my picks from ELOQUII: boilersuit | moto jacket | sweatsuit (two colors) | maxi dress | sweater | wrap dress (four colors) | chevron-print dress | jungle-print dress
ELOQUII has up to 60% off absolutely everything, including sale.  Their latest arrivals are phenomenal and are worth checking out. I'm a fan of this cardigan for WFH life, their faux leather leggings get great reviews and come in two colors, and their moto jacket is owned by several friends and it's a great fit and holds up beautifully.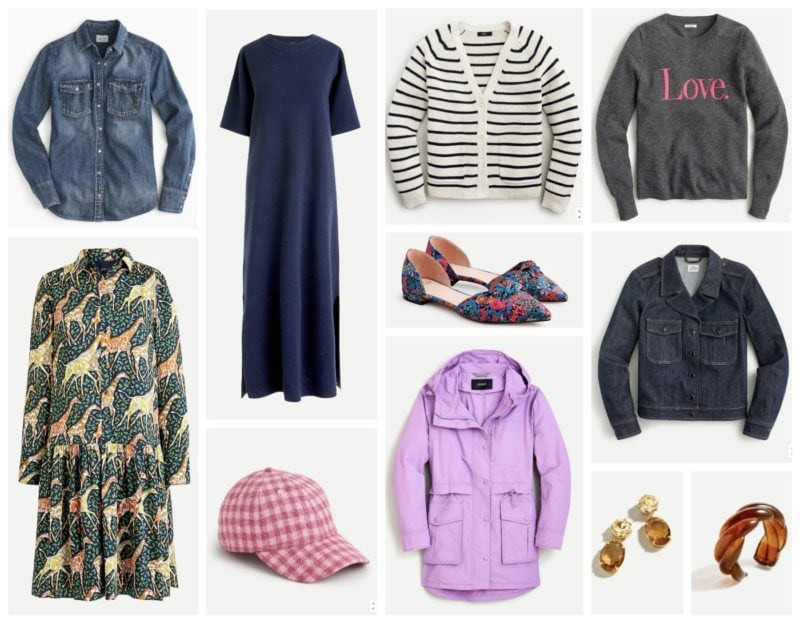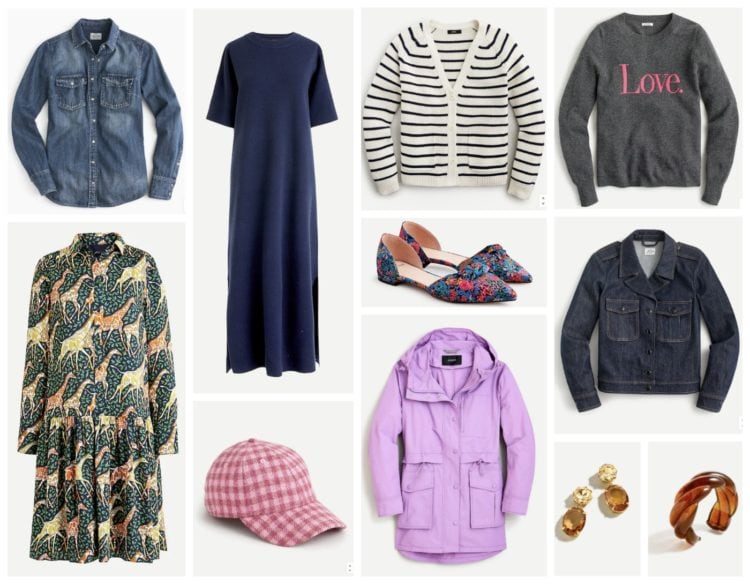 My picks from J. Crew: a denim shirt that gets better with time | shirtdress meets caftan for perfection | a long cozy sweater dress (also comes in purple) | cover those roots with a plaid cap | the perfect WFH cardigan (two colors) | a fall upgrade to your flipflops | a true raincoat in the best selection of colors and prints | all you need is love and this cashmere sweater | the chicest version of a denim jacket I've seen | a hint of sparkle totally appropriate for day (and Zoom and they come in 5 colors) | this amber resin cuff is a piece you'll wear for years and the price is so nice
J. Crew has 40% off your whole order and an additional 60% off sale with promo code BYESUMMER.  Other than the picks I've shared, you should check out their cashmere crews which are less than $100 before the sale, and their merino sweaters which are less than $80 before sale. The color selection is astounding and they're available up to 3XL.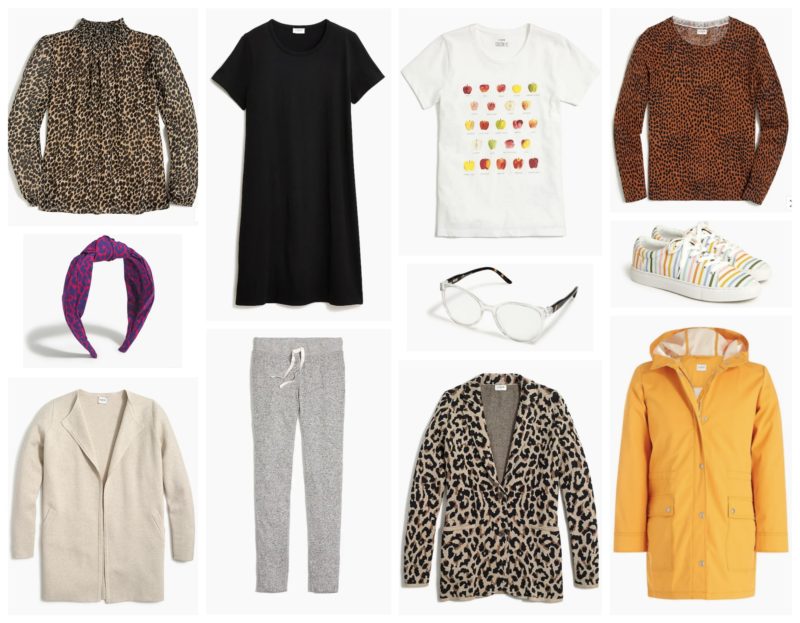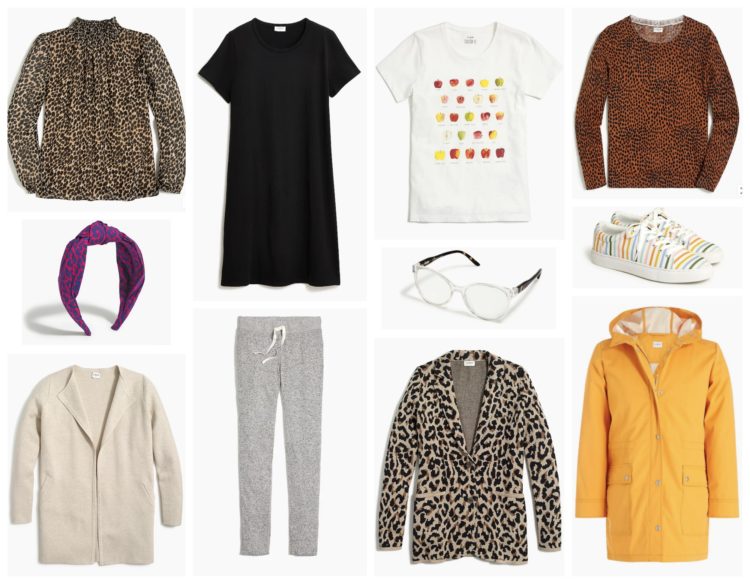 My picks from J. Crew Factory: chic zoom blouse | pretty headband in three colors | one of the most popular WFH cardigans (multiple colors and petite sizes available) | classic t-shirt dress in 2 colors | joggers in multiple colors (petites available) | adorable apple graphic tee | chic blue light glasses | leopard sweater blazer | printed cotton sweater | rainbow sneakers | classic raincoat in three colors
J. Crew Factory has 50-80% absolutely everything on the site, no exclusions and free shipping on orders $50 or more.  If you haven't shopped J. Crew Factory you may be shocked by the low prices.  Check the reviews, you'll find most of the pieces rival J. Crew in regard to quality, and they have the same great size range!
Kendra Scott has 20% off the entire site.  My intel also says you get a free piece of jewelry with orders, but I am not sure what exactly the jewelry is and what kind of sale needs to take place.  If you try this sale do let me know, it sounds awesome!
Lands' End has 40% off regularly-priced items with promo code NICE and TBH, Lands' End is hardcore on my radar this year realizing I need practical clothes instead of just cute clothes.  Their Thermaskin collection is a must for me; the cami and tank slip under most anything for extra warmth and I love the pants under maxi dresses and jeans for additional insulation. Their outerwear is the best; I have a Squall that is almost two decades old and in fantastic shape and I can't believe during this sale it's less than $50!
Lane Bryant has buy one get one 75% off apparel, accessories, and sleep.
LOFT is offering 50% off your entire purchase with promo code YIPPEE.
Madewell has up to 50% off select items.  They are all available at this link; use promo code HIFALL at checkout for the deal.  Quick look nothing really caught my eye, but there is a lot of denim part of the sale so if you're a Madewell denim fan or have wanted to try their jeans, this is a fantastic time to snag some. There are also a lot of other basics like t-shirts, cardigans, slip-on loafer mules, and bags.
Modcloth this weekend has 30% off regular priced items and 40% off sale merchandise with code YAYDAY.
NYDJ has 30% off one full-price item but then you can get 40% off if you buy two or more items with promo code LABORDAY.  Better selection and size range than any department store sale, plus the NYDJ site offers free ground shipping and returns!  Shop the selection at this link.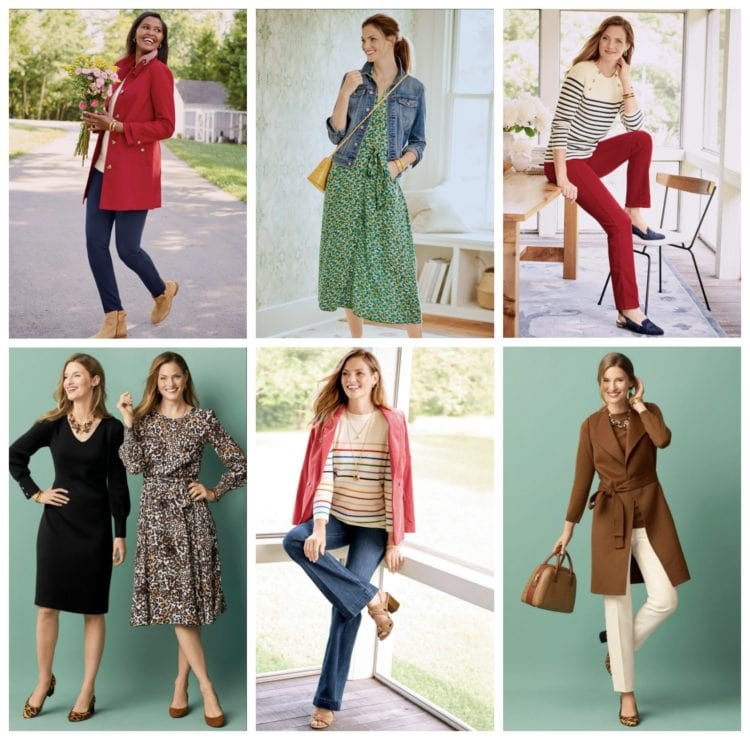 My picks from Talbots: contrast-trim Mac | merino sweater dress and leopard midi dress | green floral dress and denim jacket | rainbow Breton with flare jeans | Breton sweater and stretch cords | double-faced vest with matching Audrey sweater and ankle pants
Talbots has 25% off your purchase this weekend, no promo code is necessary. I shared my favorites from Talbots recently and most of those items are still in stock so the post is worth a view for ideas.  Be sure to also check out the comments for more feedback on the new arrivals!
Tanya Taylor has 30% off full-priced spring and summer merch with code SOLONGSUMMER. Tanya Taylor has an extended size range and offers free shipping and returns.
Torrid has 40% off regularly-priced merchandise, no promo code is necessary.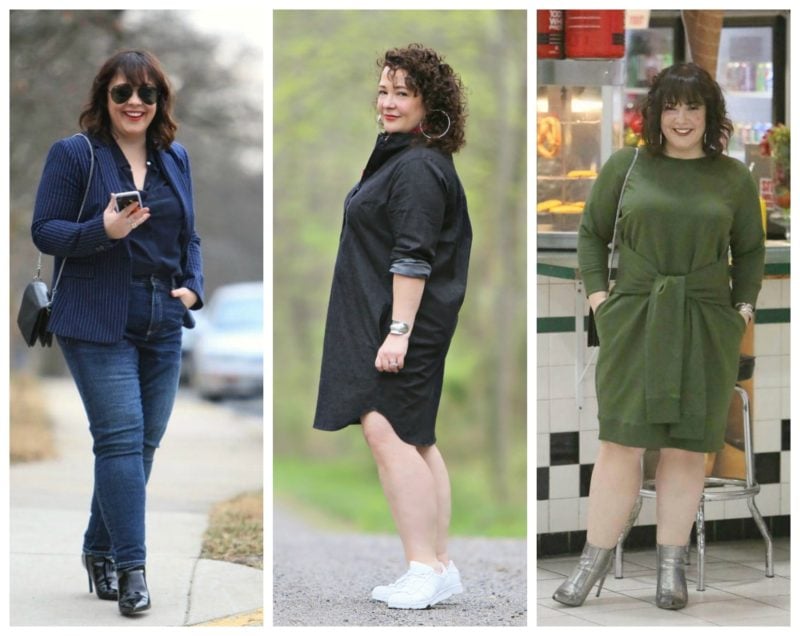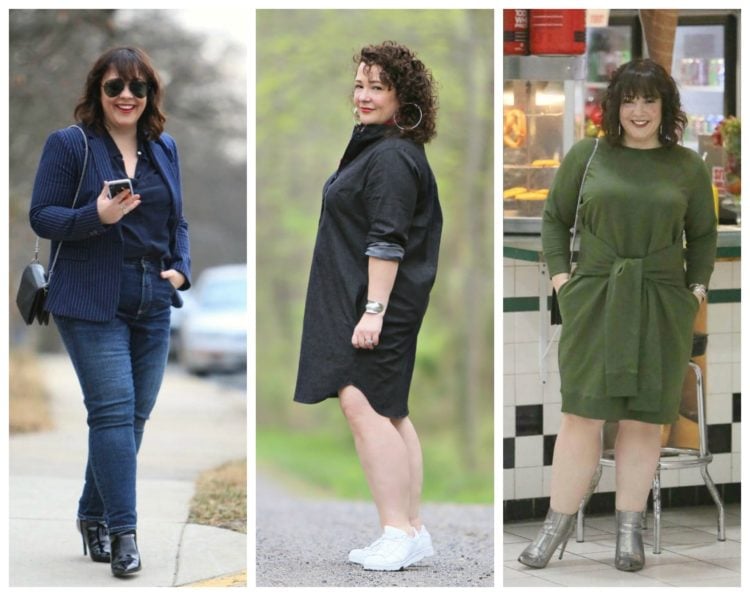 Universal Standard on sale that I own: Seine jeans in blue (the white is on sale but same fit) | Hannah shirtdress (also cute as a tunic over leggings) | Misa dress (now-discontinued color)
Universal Standard has a few of their popular items on sale, different items each day:
Home and Gifts
Home Depot has a variety of promotions this weekend, many with free shipping or contactless pickup at your local store.  While there's plenty to get your Heidi Homeowner fix, it's also worth checking out that they have up to 40% off small appliances and 40% off select bath and bed linens.
Jonathan Adler has 20% off absolutely everything on his site with promo code SUNSET20. Adler's pieces are gorgeous, but not cheap so this is a great sale to get that item you've had your eye on or to buy now for the gift your loved one will NOT stop talking about.
Joss and Main is offering an additional 15% off your purchase with promo code TAKE15.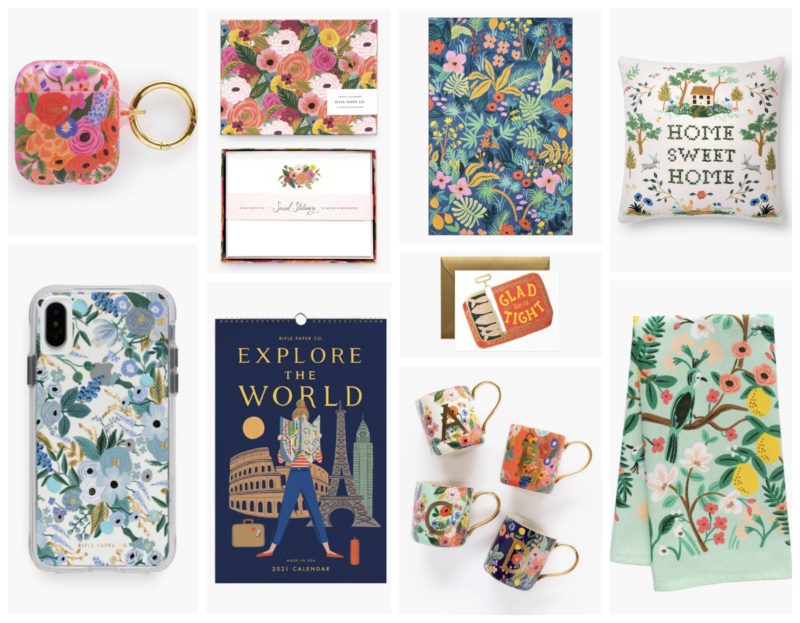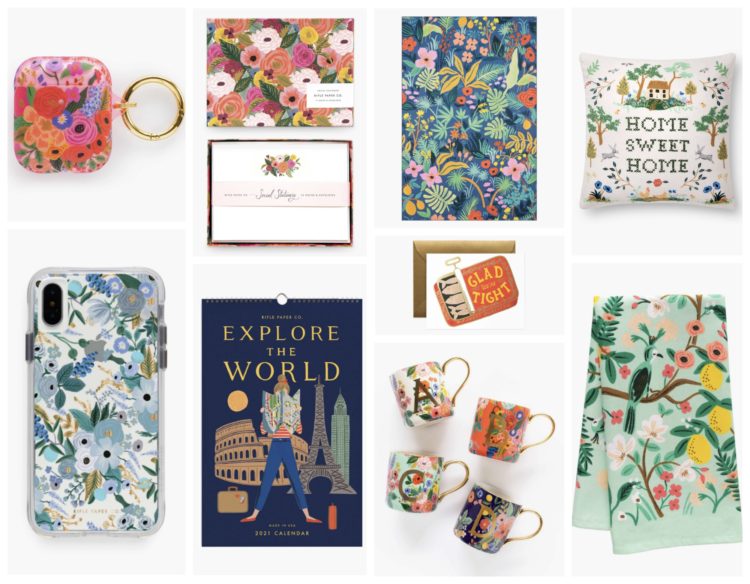 My picks from Rifle Paper Co: AirPods case | iPhone case | stationery set | 2021 wall calendar | indoor/outdoor rug in multiple sizes | greeting cards | monogrammed mugs | embroidered pillow | tea towel
Rifle Paper Co. is offering 20% off sitewide with code LABORDAY and free shipping on orders over $50.  I ADORE Rifle's prints, they're so beautiful and anything I've gotten from the brand is high quality.  I own this address book and have for years, filled one of their journals, and had one of their phone cases for an old iPhone.  I'm seriously scoping out their indoor/outdoor rugs for our deck.
Wayfair is offering 70% off on outdoor furniture, office furniture, lighting, rugs, and more all available at this link.
Intimates
Bare Necessities is offering 25% off most of their selection plus free shipping.  The items part of the sale are available at this link. It's not just bras; it includes undies, sleepwear, shapewear, swimsuits, hosiery, leggings, and much more. The sale has some amazing things like my favorite Freya "Sonic" sports bra, and I just got this underwire bathing suit top which is cute and supportive and several of the colors are part of the sale.  For reference, this is the bottom I got to match which has the same colors on sale but there are a variety of bottoms available to match the top.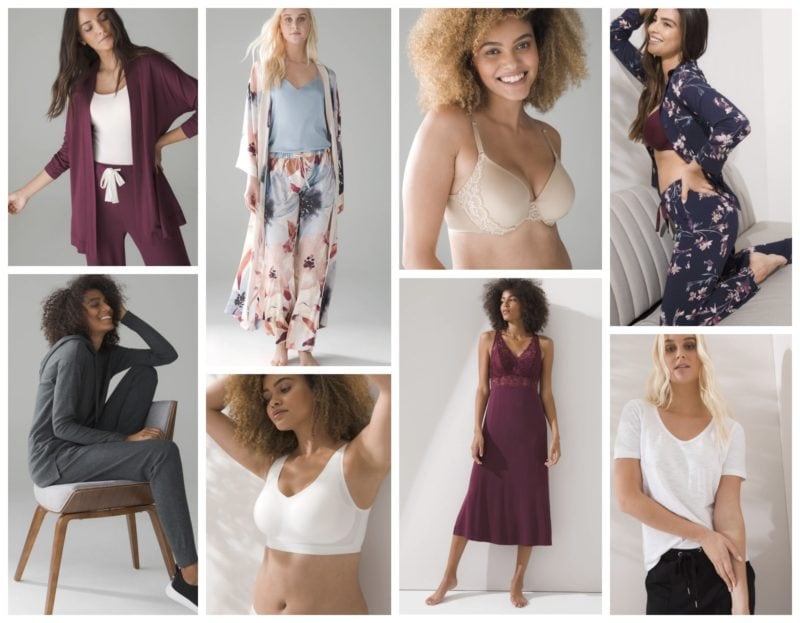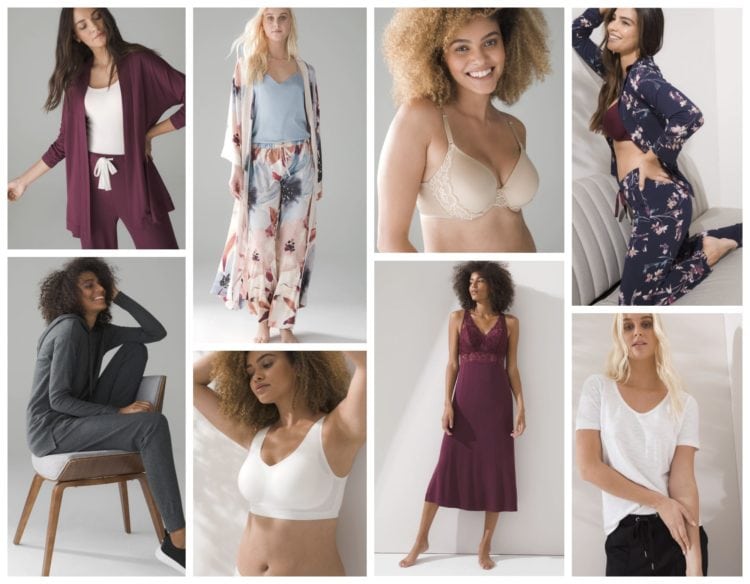 My picks from Soma: The Sunday Wrap and Sunday Wide-Leg Pants | Sweater Hoodie and Matching Joggers | Silk Kimono Robe with Satin Sleep Cami and Pajama Pants  | Enbliss Wireless Bralette | Vanishing Back Bra | Cool Nights Lace-Trim Gown | Cool Nights Pajama Top and Ankle Pants | Slub Tee (I have and it's my favorite white tee even with dozens of washes)
Soma has 25% off your entire purchase and this covers the entire website (some exclusions apply, check the site for details as I didn't get that exact intel before the sale went live).
True & Co rarely has sales, but they're having one this weekend with all items at this link on sale (prices as marked).