This article may contain affiliate links; if you click on a shopping link and make a purchase I may receive a commission. As an Amazon Associate, I earn from qualifying purchases.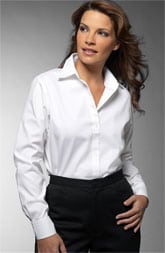 The Gap commissioned a couple up and coming fashion designers to create a Design Edition line based upon the white shirt. Doo.Ri, Thakoon and Rodarte created white shirts and shirtdresses that flew off the racks the first day they were displayed in New York shops. People are claiming that this Spring is The Season of the White Shirt. Fashion experts (and from the previous post you know my feelings about them) state that all women need a great white shirt in her wardrobe.

This is all a bunch of hogwash.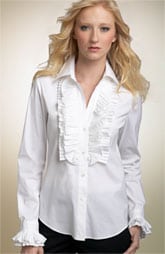 A white shirt is a great piece if you were born to wear white shirts. Thing is, white is not a flattering color on most people. Button-downs do not flatter voluptuous frames, and often make a slender figure look even more boyish. The collar dwarfs a petite neck, and good fit at the collar and sleeves is always a problem without tailoring. A good white shirt needs to be pressed to be crisp, and many women do not have the lifestyle that can handle crisp white cotton. If you are not the size of a mannequin, you very well may be one of the many women in the world who does not look good in a white shirt.
Even I have been caught up in the white shirt hubbub. If you look in my attic you will find one of those Ziploc XL bags full of white shirts. Soft oxfords from L.L. Bean, wrinkle-free versions from Eddie Bauer, hints of stretch in the versions from Express and Banana Republic. My closet currently holds a tailored version from Ann Taylor. When I do my seasonal Keep/Toss/Donate/Save for Later dance with my wardrobe, the white shirts never hit the Toss or Donate piles. I feel that some day I may be the size and shape to sport those tops and look classically crisp and elegant.
I have a white stretchy shirt with faux diamond buttons down the front and at the elaborate French cuffs; it is by Pepe Jeans and was purchased at Urban Outfitters in 1994. It still has the tags on it for the chance that I may possibly be a Size 4 and can don its beauty. There is a wrap-style cotton/silk blend that would work if I got a breast reduction to a size B and a silk one that stains if I even breathe in its general direction.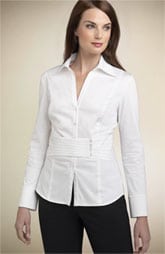 The only reason I have only one of these dozen or so white shirts in my regular rotation: because it's the only one that looks good on me. I went a size to accommodate my bust, and I chose a Petite cut so it doesn't bunch at my waist or have the collar graze my ears. The buttons are set so that two buttons undone looks flattering, not slutty or overly conservative (considered saying "buttoned-up" but knew that would be far too corny). The shirt has a good percentage of spandex, so it doesn't look a rumpled mess by the end of the day. It is a well-thought out shirt that survived the Fitting Room Workout.
If you feel that a white shirt fits your style, lifestyle and frame, do consider the Fitting Room Workout prior to taking it to the cash register (for online and catalog shopping, you can do this in the privacy of your own home):
Button it over your already-owned skin-colored smooth bra. Get close to the mirror, stand back, and if there is a bench, even stand on it. Examine your silhouette… can you see through the shirt? Can you see the bow on the front of the bra, the mole on your shoulder or even your belly button? If you said yes to any of these, take off the shirt and leave the store.
Now, walk out to a mirror outside the fitting room. You are looking for different lighting. Consider a mirror inside the store itself. Again, check for transparency.
As you walk back to your fitting room, look down at your bust. How much is peeping out of the unbuttoned neckline? Are buttons spreading, showing the center of your bra? Is this something that can be remedied with a cleverly hidden safety pin or is it something major? If you think it can be remedied with a safety pin, then do just that. Find a pin either from a salesperson or one holding a tag to another garment. On the inside of the placket, connect the two pieces of the shirt between the buttons, ensuring you do not grab the top layer of fabric (the goal is to have the shirt connected but no metal visible). Now walk again and see if it fixes the problem. If it doesn't, take it off and leave without it.
Sit down in the fitting room and see how the shirt fits. Does it strain against your arms or back? Does it ride up so you look like a hunchback? Is your bra showing?
Stand up, move your arms around. Pretend to reach something off a high shelf, then bend down to grab an imaginary object off the floor. Put your hands on your hips, and then put them on your head. What happens to the shirt. Are you still decent? Does the shirt still look crisp?
If you plan on tucking it in, try it tucked in. If you plan on wearing it untucked, make sure it is a flattering length (should not go past mid-hip, should not cover your entire crotch).
How does the collar fit when you button it? Baggy or suffocating? How about the sleeves… do they fall at the right length?
When you stand, how does the shirt fit at the small of your back? Is it bunching, or does it follow the curve of your spine?
And finally, will you wear it? Yes, white shirts are in every catalog, magazine and runway but that doesn't mean you must put one in your closet. Can you see it with three different things that you already own? If not, that's totally okay. It's fine to not grasp on to every trend (or purchase every "Must Have") that comes your way. A true fashionista never buys that which doesn't make her feel utterly fabulous .
Some White Shirt Ideas:
With dark jeans and a really fun pair of shoes (red pointy pumps, leopard print flats, gold strappy heeled sandals… you name it). A white shirt with denim is a blank canvas that you can decorate with really wonderful accessories
With a denim or khaki skirt and flats. This is the perfect outfit for business casual work days, lunch with a friend, shopping at the mall, a casual dinner out. In Spring roll up the sleeves, in Fall consider a sweater tied around the shoulders.
Under your favorite sweater. V-neck, crewneck, rollneck, boatneck… all these style can look great with a white shirt. Make sure there is room under the sweater so you don't look like a sausage. Do not leave the hem untucked and showing… this was a trend a couple of years ago and looks sloppy today. Pair this with anything from jeans to trousers to a pencil skirt.
Tied at the waist over a sundress. This is a great way to add a layer to a dress that may be too revealing for church or work. Do not button the shirt, just tie the ends between your rib cage and waist. Roll the sleeves, pop the collar at the back for a relaxed look. This look isn't best for those with a tummy, but can be quite cute for some.
With a big stretchy belt. The past two seasons have shown a ton of belts. Belts can be a style hazard for some shapes, but fabulous for others. If you lack curves, a wide belt will make you appear to have an hourglass shape. A black elastic belt with a patent buckle over a tailored white shirt can look very stylish and also a bit retro. Pair it with dark jeans, a pencil skirt or capris.
Untucked. If the shirt has shape and scooped hems, it can be untucked. Once considered sloppy, a well-cut white shirt untucked can now seem sleek and elongating. Pair with flat-front trousers or jeans… this is a very flattering line for many figures. Jazz up the look with a bold necklace, a few bracelets or a bright colored shoe.
All shirts shown can be found at Nordstrom