This article may contain affiliate links; if you click on a shopping link and make a purchase I may receive a commission. As an Amazon Associate, I earn from qualifying purchases. 
When you work a full-time job that doesn't pay you crazy bucks, your life is different from many of the fashion advice pieces in magazines and on the internet. Dry cleaning can be mad expensive. The idea of hand washing garments will cause such intense laughter tears will come to your eyes and you'll clutch your stomach. Ain't nobody got time for that. It sounds well and good to spend a lot and buy the highest quality pieces you can find, but if you don't have the lifestyle to pay for, care for, and maintain those clothes it's not realistic or sustainable OR smart spending.
Sure, it's great to want quality over quantity. To baby your clothes so they last forever. But let's face it, not all lives can maintain a high-maintenance wardrobe. Below is a capsule wardrobe showing your clothing can be lower maintenance but still chock-full of style and professionalism. This is a capsule wardrobe for an office environment that allows a bit of denim when balanced with professional pieces or on Casual Friday, but it's easy to remove the denim (or if your office allows, add a bit more). Below the capsule wardrobe, I share tips on how to have a wardrobe that can survive a fast-paced lower-maintenance life with plenty of style and polish.
Capsule Wardrobe: Low-Maintenance Office Style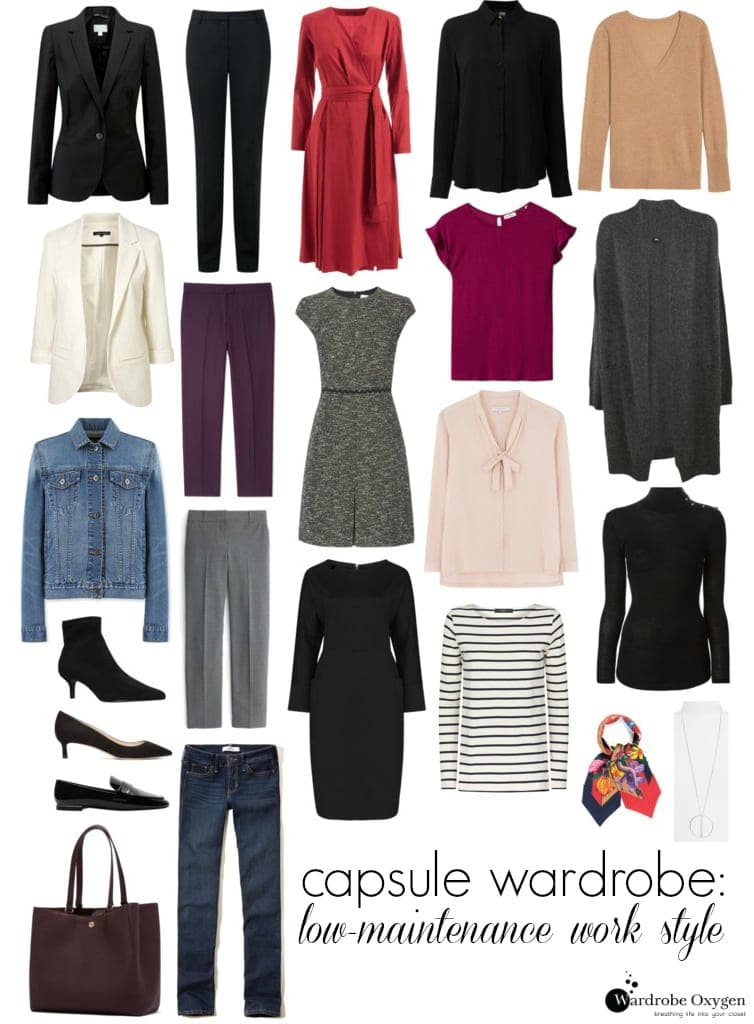 Shop similar items:
Black Ponte suit jacket (plus option) | Black Ponte suit pants (plus option) | Ivory ponte blazer (plus option) | Denim jacket (plus option) | Colored ankle pants (plus option) | Grey ankle pants (plus option) | Dark straight leg jeans (plus option) | Matte jersey wrap dress (plus option) | Ponte knit tweed dress (plus option) | Black ponte dress (comes in a nice range of sizes) | Black machine washable blouse (plus option) | Silky tee (plus option) | Feminine silky blouse (plus option) | Breton knit top (plus option) | Merino v-neck sweater (plus option) | Merino long cardigan (plus option) | Merino turtleneck (plus option) | Square silky scarf | Pendant necklace | Ankle boots | Kitten heel pumps | Loafers | Leather tote
This capsule is a guide, not gospel and I cannot guarantee the exact items are available for purchase. The links above are for similar concept items either in regard to color or silhouette. Below are sample outfits created by this capsule wardrobe.
Outfits Created from the Capsule Wardrobe:
Click on any thumbnail graphic in the gallery to see the full-size images and descriptions. Hover over the images to find arrows to advance and go back within the gallery. If there's an ad in the way, x it out to read captions. Click the X at the top right of an enlarged image to close the gallery and return to this blog post.
Tips to Maintain a Low-Maintenance Office Wardrobe
Merino Wool is Your Friend
I know some of you are allergic to wool, but if you're not I recommend you check out 100% merino wool sweaters. They're tightly woven, have a bit of stretch, a nice professional finish, not too thick to wear under items but thick enough to look nice layered over items. Merino wool takes dyes nicely so color is rich and saturated. Merino wool will resist stains (often that spill will bead up before it sets into the fibers), wicks away moisture (great for those like me who easily get warm), resists odors, and is far easier care than most other sweaters. I will wash my merino sweaters on the gentle cycle in lingerie bags. I fill the machine halfway with clothing but have enough water for a full load so the clothes have plenty of space to float and rinse and not get twisted. Then I hang dry my merino sweaters.
Tip: If you hang your sweater to dry on a traditional hanger, it will usually cause bumps in the shoulders and sometimes an uneven hem. Hang the sweater over two pant hangers, with one under the armpits and one a couple inches from the hem. This way it's practically drying flat yet it up on a shower curtain rod or other place out of the way.
Ponte Knit is Your Friend
Oh Ponte, I love you so much. I'm wearing you as I type this. When I started this blog, Ponte (also known as Ponte de Roma knit) was not as well known. The world has caught on to its majesty and now you can find ponte everywhere from Target to Saks. What's cool is the quality of ponte isn't drastically different at these locations, it's more down to manufacturing, cut, and style. I've worn cabi ponte with Vince Camuto ponte with LOFT ponte with J.Jill ponte and the fabrics work together nicely (though don't expect the blacks to match, consider mixing with different colors or throwing in a pattern). But ponte is a dense knit that has a smooth refined finish but when worn feels like yoga pants. Like Merino wool, ponte can survive the gentle cycle and a line drying without being destroyed. Ponte dresses are amazing; they can look really professional, are thick enough that they don't show every bump, are easy to care for, and launder nicely. A couple ponte sheath dresses with a variety of necklines (Calvin Klein makes some great ones at great prices) and one or two ponte jackets and you're ready for that next board meeting even if you slept through your alarm.
Tip: Even if that structured ponte blazer says it's machine washable I don't recommend it. Anything with structure like a blazer will be altered by a tumble in the washer. Spot clean, but take it to the dry cleaners when it needs a proper cleaning. If it's part of a suit, do not wash the pants or skirt in the machine while you dry clean the jacket; the two will eventually be different colors. This is when you should take your ponte to a professional.
Matte Jersey is Your Friend
There's a lot of fabrics out there that claim to be matte jersey but they're more clingy, shiny, and not as professional. Matte jersey is a stretchy synthetic knit that has a subtly nubby crepe-like finish and like the name, is matte, not shiny. This fabric is very popular for wrap and fit-and-flare style dresses, but many retailers will also sell separates in this fabric. I once owned a tank, tee shirt style dress, pull-on pants, long cardigan, and ¾ sleeve boatneck top all out of the same color of matte jersey and it was the most versatile capsule. It's a great fabric because it doesn't cling, dresses up and down with ease, is washing machine-friendly, and resists wrinkles. Like ponte, matte jersey can be found at all price levels of retailers and often an Old Navy matte jersey shell will coordinate nicely with a Boden matte jersey skirt.
Ankle Pants Are Your Friend
Ankle pants are amazing because they can work with a variety of heel heights. Pumps, flats, and everything in between will work with a pant that hits around your ankle bone. Tailor any longer pants to the length that works best with your favorite heel height, but if you like a varied shoe wardrobe, consider ankle pants for a quick pairing with any of your footwear wardrobe.
Synthetics Can Be Your Friend
While they're not as breathable and many can end up looking too cheap for the workplace, some synthetics can be your friend. I have a black blouse that at first glance looks like silk, second glance looks like crepe, but it's a 100% polyester shirt I got during an Ann Taylor sale (see me wear it in this blog post). It has great drape, looks great tucked in or left out, under a blazer or on its own. All that and unlike silk, can be thrown in the washing machine.
Tip: Steer clear of shine. If the fabric is shiny, pretending to be satin, or has any sort of sheen leave it at the store. Shine will make synthetics look even more cheap, and shine isn't a smart option for the office.
Think in Threes
When you add something to your professional wardrobe, I don't care how much of a bargain it is, you need to envision it working three different ways with what is already in your closet. Oh this blouse would look great with my black suit, with my blue cardigan and ivory trousers, and with my denim jacket and blue ankle pants for Casual Friday. Even dresses you need to think in this way – it will go with my black pumps and my purple pendant necklace, with my teal cardigan and black suede ankle booties with black tights, and with my black leather moto jacket and grey suede ankle booties on the weekend. If it doesn't have enough versatility for three different outfits, it will only add chaos to your closet.
Have a Base Neutral
For me, black is my favorite base neutral. A pair of black pumps, some black ankle booties, maybe a black loafer or flat and they go with my whole work wardrobe. Black ankle pants, a black pantsuit, a black sheath dress, another black blazer, a black shell, a black blouse. From this I can add color, texture, pattern. And heck, when I want to I can throw on that black blouse with those black ankle pants, add an interesting shoe or necklace or belt (or maybe two of the three) and look pulled together and professional without a lot of thought. When you have one base neutral, you end up spending less. It's like the thinking in threes concept; when you shop you're always thinking if it works with your base neutral. You can have more than one base neutral, and black does NOT need to be one of them. Navy, brown, gray, olive, ivory, camel… depending on your personal style and coloring any of these could be great options or a combination of them.
Buy for a Season, not a Day
You're sick of your wardrobe, you had a bad day, everything is dirty, you're feeling bloated and you go to the mall or the online store and just buy anything to get you through the next week. Been there, done that, always regretted it. Often the item doesn't really fit your personal style or your figure, it spends money, and it creates chaos in your wardrobe. More clothes doesn't equal better. When you have, you often reach for an item even when you don't like it, it's not appropriate, or not flattering. You try to justify it, and in the words of Tim Gunn, make it work. All this effort, all these mistakes, all these days where you don't love what you wore because you bought something to just get through. Honestly, just wear those same pants again, I swear no one who matters will notice.
Keep Prints to a Minimum
Prints can quickly look dated, to an educated eye can be quickly seen as a copy of a designer pattern, are more memorable, and often can look cheaper. Nine times out of ten, a solid-colored budget dress will look more expensive than the same exact dress in a print. While a few prints will add interest and personality to a wardrobe, too many and it may give off the wrong effect.
Invest in Lingerie Bags
Lingerie bags are mesh bags usually around 12″ square (some larger, some smaller) that zip closed. While used to keep underwear and other delicates from getting twisted around larger garments in the wash, they're great for other parts of your wardrobe. Anything that could get misshapen in the laundry can go in a bag. I now own a handful of these bags in a variety of sizes and use them to hold sweaters, blouses, knits, and more. I can easily have a wash with just five lingerie bags swimming around together.
Tip: If there's stains on the garments, spot clean those before putting in a lingerie bag. When in a bag, the item doesn't agitate as much and stains may instead get set in when washed in this manner.
Have a Bag in Your Closet
I keep a reusable tote at the bottom of my closet. When I take off something that is stained or damaged, I shove it in there. Then either once a month or when the bag is full, I grab it and throw it in my car to drop off at the cleaner's along with other errands. This sounds so obvious, but having the bag already there reduces steps and makes it easy to grab and go. Sure, dry cleaning costs money, but often the issue is time. If you can grab the bag without effort on the way to the office, it makes it easier to drop it off at lunch or on the way home.
If you have an additional tips, do share them in the comments below!