This article may contain affiliate links; if you click on a shopping link and make a purchase I may receive a commission. As an Amazon Associate, I earn from qualifying purchases.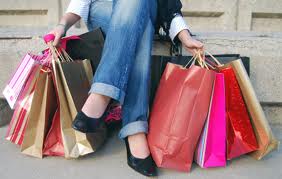 I don't know if it's the size of my breasts or the increase of vanity sizing, but I have been a size Large my entire adult life. I remember it clearly, September 1997, I walked into Express to turn in a job application. I was 135 pounds (though at the time thought I needed to lose 25), a size 7/8, and was wearing a size Large black tank, size Large brown peasant skirt, and a size Large brown studded hip-slung belt. All fit perfectly well (and yes, I got the job!).
I remember a few months later, I won a top sales award for the company and was invited to the regional meeting. I decided to buy a pair of pants in a larger size – 9/10 to get the slouchy menswear effect. With it, I wore a size Large blouse and a size Large jacket, and I have to say, I did look pretty fantastic.
For over a decade after this, I have been a size Large. Be it Banana Republic, J. Crew, Ann Taylor, Target, Boden, Lands End Canvas or a fancier designer or boutique brand, I knew I was pretty safe if I chose a size Large. Sometimes it didn't fit the breasts, but it usually fit everywhere else.
Then I got pregnant, and had a baby but kept much of the baby weight. I was no longer a Large, but too petite for XL to fit me properly. Dressing this new non-Large body was confusing and frustrating.
Over the past couple of years I have lost the baby weight and then a little bit more, and have returned to fitting quite nicely into size Large. Be it a hat, a structured shirt, a knit dress, a belt, Large seems my size.
Until recently.
First, I bought a pair of yoga pants from Old Navy in Large, of course. They fit, but were too long, sagged in the rear, and slid down with wear. I figured Old Navy changed their fit of their pants until my brilliant husband suggested, "Why don't you just get them in the smaller size?" Wait, a MEDIUM? I'm not a medium! But I tried a Medium and it fit perfectly.
Then this weekend, I went to Nordstrom Rack and found the most adorable red patent skinny belt with a bow detail (seen here). It was from the brand Another Line who also made my black leather obi belt, which I purchased in Large. I quickly wrapped the belt around my body over my dress to see if it fit, and in my head I was thinking more about whether I would need to size up to XL. Seemed to work, dropped it in my basket (by the way, Nordstrom Rack has the coolest baskets with a pull-out handle and wheels so you can roll it around like luggage through the store).
Tuesday I went to wear the belt… and it was loose on the very last hole. If I lose ten pounds, I will either have to give the belt away or go at it with an ice pick to make a new hole. I really should have purchased a Medium.
What's the point of this story? It's not to show off that I have lost weight or anything, but to remind you to not judge a garment (or a belt) by the size on the tag.
When I bought those 9/10 pants back in 1997, I actually removed the tag in fear that someone would see that *gasp* I was wearing double digits. Now, I am automatically purchasing a size without really taking into account this new shape.
These two experiences were so eye-opening to me. Now, I properly try on garments instead of assuming they will fit. Even with retailers I feel are made for my body (hello Ann Taylor), I try on instead of grabbing and heading to the register because not every size Large fits the same. Sometimes I need a Regular, sometimes I need a Petite… and sometimes I need a smaller size.
Who cares if the tag says XS or XL, 6 or 16. Does it fit? Does it flatter? Do you need it? Do you love it? If so, then and only then should you purchase it. If it makes you sleep better at night, you too can cut out the tag. But don't rule out a brand, a store, or a size because you assume it won't fit you. You never know until you try.