This article may contain affiliate links; if you click on a shopping link and make a purchase I may receive a commission. As an Amazon Associate, I earn from qualifying purchases. 
This weekend was great – we had little tasks already scheduled so we could enjoy it. Lately life has been so scheduled and structured it has been exhausting and impossible to catch up.
Saturday my husband got up to take the two newer dogs for a run (Ruckus doesn't have the strength to go more than ablock or two while these two need mile runs daily to burn off steam) and then he went to teach yoga. E and I lounged in bed and slept on and off. Such a luxury!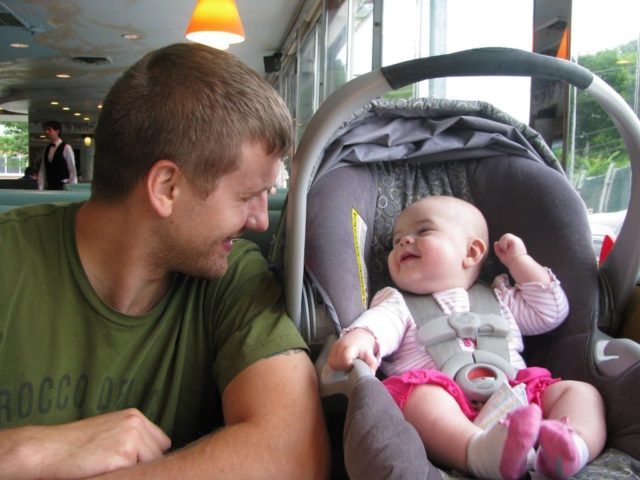 When my husband got home, we were all super hungry so we went to our favorite Greek diner for a VERY laqte breakfast (it was past noon). Here is my husband with Emerson in our booth.
The rest of Saturday… you know I can hardly remember what exactly we did! I think my husband gave the dogs a bath outside, if I am recalling the correct day. Did some thank you cards that were overdue, watched a movie, we went for a long walk through the neighborhood, my husband worked on some photos for a shoot he had earlier that week. A lovely day of not much.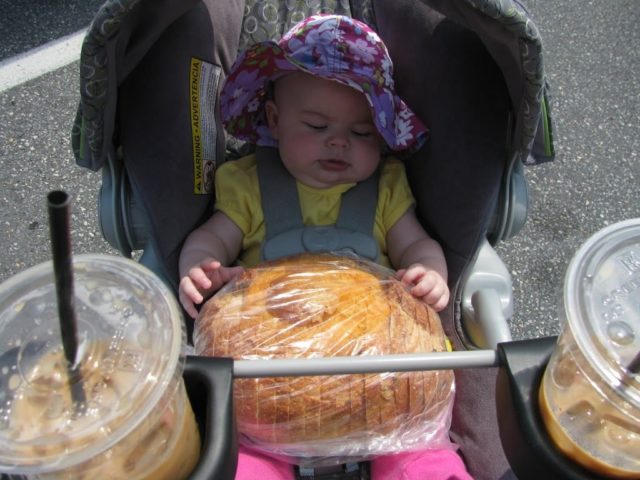 Sunday we got up and headed to the Farmer's Market. I wore a tangerine puff-sleeve tee from Old Navy, my light blue-gray low slung trousers from Gap, some coral glass chip necklaces I have had for years. Just wore flip flops and let the hair air dry.
My hair is very thin right now, it is falling out like crazy which is normal after pregnancy. But holding it back in an elastic or barette or straightening it too much really shows how thin it is and the patchy spots. Ugh.
Emerson had a great time bonding with all the other babies at the market, here she is checking out the jalapeno cheese bread we picked up.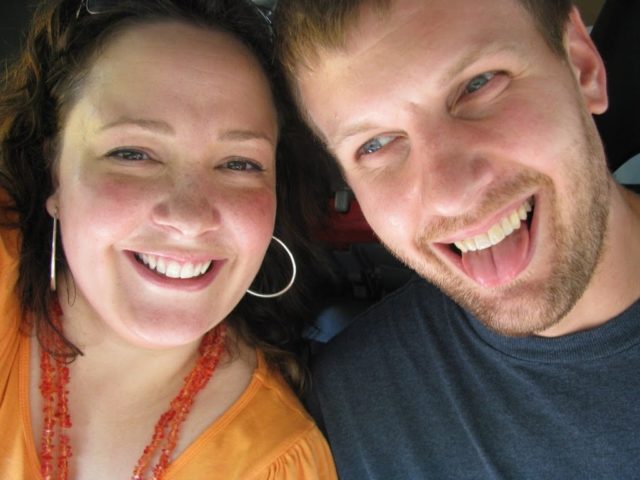 After the market, we ran a couple errands. This is a picture of me and my husband in the car between the grocery store and PetSmart.
Funny how you can be with someone for over a decade and learn new things about them. I asked him why he was looking away in this picture and he said he was trying to cross his eyes to be funny. Who knew he didn't know how to cross his eyes! So we had a mini lesson. 🙂
Once we were finished with errands we came home to enjoy the sunshine on the deck. We had a late lunch/early dinner of a salad with goodies from the market and market sweet potatoes cooked on the grill.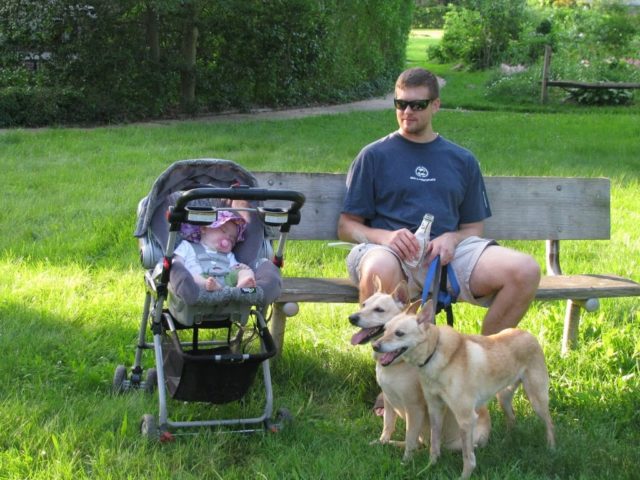 Later in the day we took Emerson, Cindy and Alfie for a walk.
Here's my family (minus poor Ruckie who was home watching the roost – he got his own private short walk later).