This article may contain affiliate links; if you click on a shopping link and make a purchase I may receive a commission. As an Amazon Associate, I earn from qualifying purchases. 
Living in the hot and humid DC area, I understand the difficulty of appearing polished and professional when the temperatures rise. Though it's tempting to throw your hair in a quick ponytail and wear the skimpiest and lightest weight clothing in our closet, it's important to dress appropriately for the workplace, no matter the weather. Many of you have emailed lately asking how to dress for the weather, some of you work in creative fields, some in business casual environments, and many of you are teachers. Below is a sample summer capsule wardrobe for the workplace that is high on color and personality.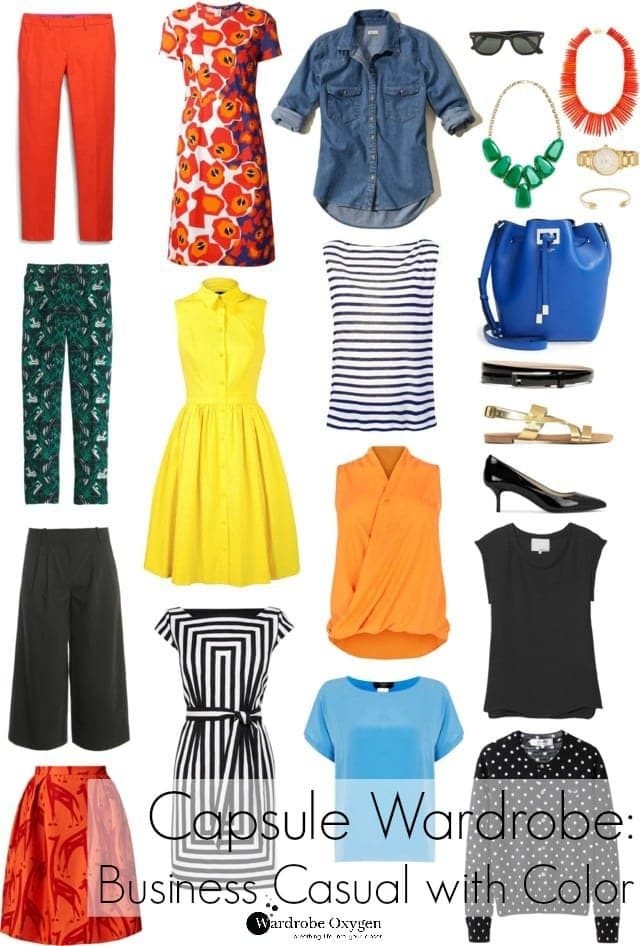 Shop the Capsule Wardrobe:


Fabric choice matters when it comes to creating a summer capsule wardrobe. Plenty of retailers will have synthetic and jersey knits filling the sales floor, but such fabrics are not comfortable on a hot or humid day. They're also more likely to cling, and quicker to look cheap or too casual for the workplace. Seek out cotton, linen blends, silk and silk blends, and tencel for fabrics that breathe and don't cling when the temps rise.
Shop Pants and Skirts:


Ankle and slightly cropped pants give a bit more airflow than traditional trousers and are available in cotton, twill, and other summery fabrics. While it's tempting to stick to neutrals, bright colors and prints are surprisingly versatile. A pair of orange or red pants will go great with basic black or white, be a great contrast to denim and neutrals like khaki and olive, and are gorgeous when paired with other colors like turquoise, coral, and violet. Treat a pattern as a neutral; the green printed pants featured would work well with the chambray shirt or black silk shell, but also would complement the melon-colored wrap top or the aqua silk tee. Stripes are brilliant for pattern-mixing and would also go with these pants; to tone it down consider adding a black or white blazer or cardigan. Culottes of all widths and lengths are back in style and really great for hot days; treat them like a midi skirt and pair with flats or pointed toe low heels for a feminine vibe. Fuller skirts of fabrics with body (cotton, sateen, twill, ponte) will stand away from the body giving you air flow and comfort on hot days; a hem ending at the top of the knee to mid-calf will provide modesty while still keeping you cool. Again, a print can often be more versatile than a neutral solid; this orange print skirt would look great with the striped top, a simple tank of any color and the dotted cardigan, the chambray shirt, the aqua silk tee, and even tucking in the melon-colored top for a monoblocking effect.
Shop Dresses:


Dresses are brilliant in the summer for both ease and comfort. Again, choose fabrics that have some body so they don't cling to the body and provide a breeze. Dresses that provide focus at the waist automatically look more polished than shift or tee-shirt style dresses; if you choose cotton or breathable fabrics it won't be much hotter. A dress with a subtle fit and flare shape looks equally great on the weekend with a pair of flat sandals as it does to a day wedding with heels; a fun print distracts from red faces and dripping necks. A shirtdress is a classic style that will be flattering for summers to come; a bright color keeps it from looking like a uniform. Switch up belts (or tie a scarf at the waist) to change the look. While matte jersey is a synthetic knit, it doesn't cling like traditional jersey and doesn't wrinkle making it a good choice for summer. A simple dress in a graphic print provides impact with simple one-piece dressing; switch out the self-belt for a different one in your closet to give a frock a new look.  Be sure dresses have necklines and backs appropriate for the workplace; if you need a special bra it's likely exposing too much.
Shop Tops:


With tops, look for ones that can have two lives. All of these tops can look great untucked or tucked in, adding variety. Tuck the denim shirt into the skirt, tie it at the waist of the culottes, or wear untucked over the ankle pants. Tops are where solids are often more versatile and can dress up more easily; the turquoise silk tee with the printed pants is perfect for a basic day at the office but if you add a black blazer the outfit is suddenly appropriate for a client meeting.
Shop Cardigans and Blazers:


No matter the temperature, it's good to have at least one layering piece in your wardrobe for too-strong air conditioning, transition weather, and when you need a bit more coverage. For this capsule wardrobe I added a black and white polka-dot cardigan, but this could be switched out for a simpler cardigan in a neutral or signature color, or a blazer. It's not a bad idea to keep such an item at your workplace to slip on when unexpected situations arise.
Shop Accessories:


Summer is a great time to get more creative with your accessories. One or two statement necklaces in the focal colors of your wardrobe can truly pull the entire capsule together. To minimize the number of accessories you need, consider sticking to one color metal to keep things cohesive and styling simpler. Instead of a bag to match your shoes, consider a bold signature color that will coordinate with everything in your closet. With shoes, you don't need a lot. For this capsule I chose a gold flat sandal and a black patent kitten heel; both work with all the skirts and dresses and give completely different effects. A skinny black patent belt can offer a layer of polish, whether it's through the beltloops of ankle pants with a tucked in blouse, or worn at the waistband of the skirt. Finally, consider a sunglasses upgrade this season; a pair of designer frames in a classic silhouette shows you're aware of trends yet appreciate quality. If treated well, such sunglasses will provide you with many years of sun protection with style.