This article may contain affiliate links; if you click on a shopping link and make a purchase I may receive a commission. As an Amazon Associate, I earn from qualifying purchases.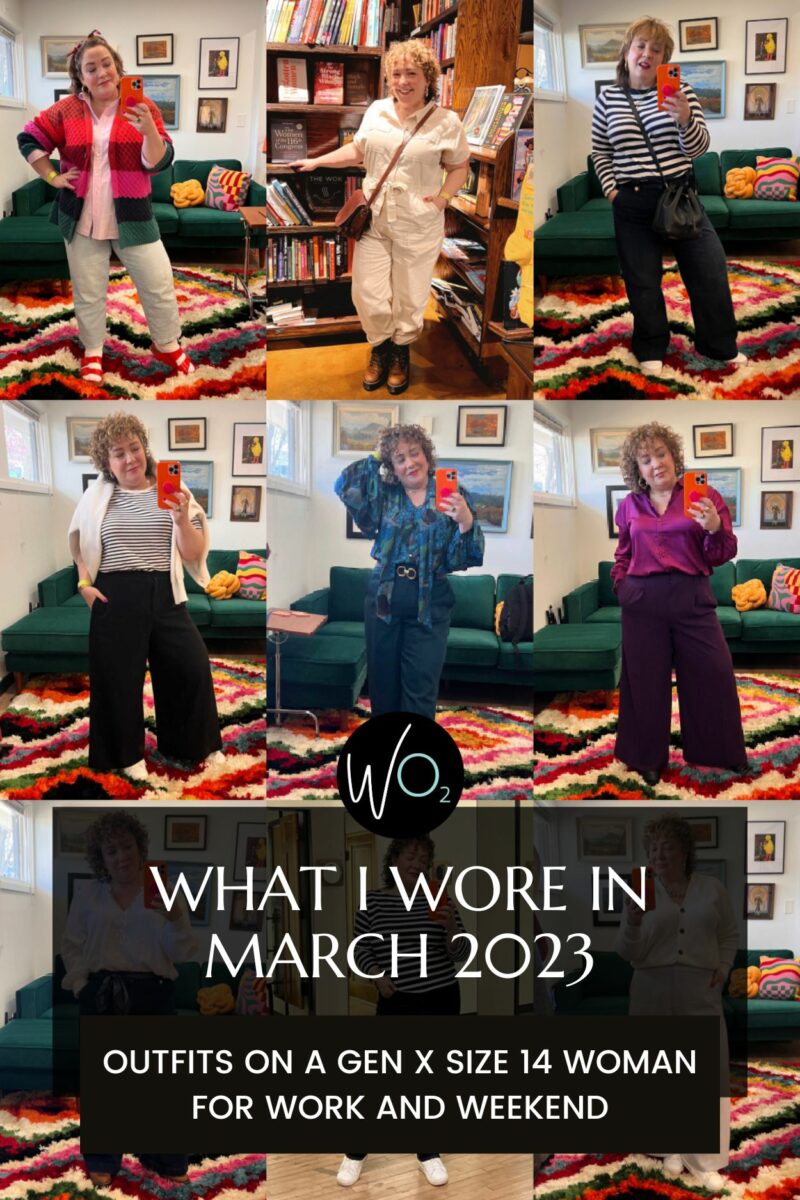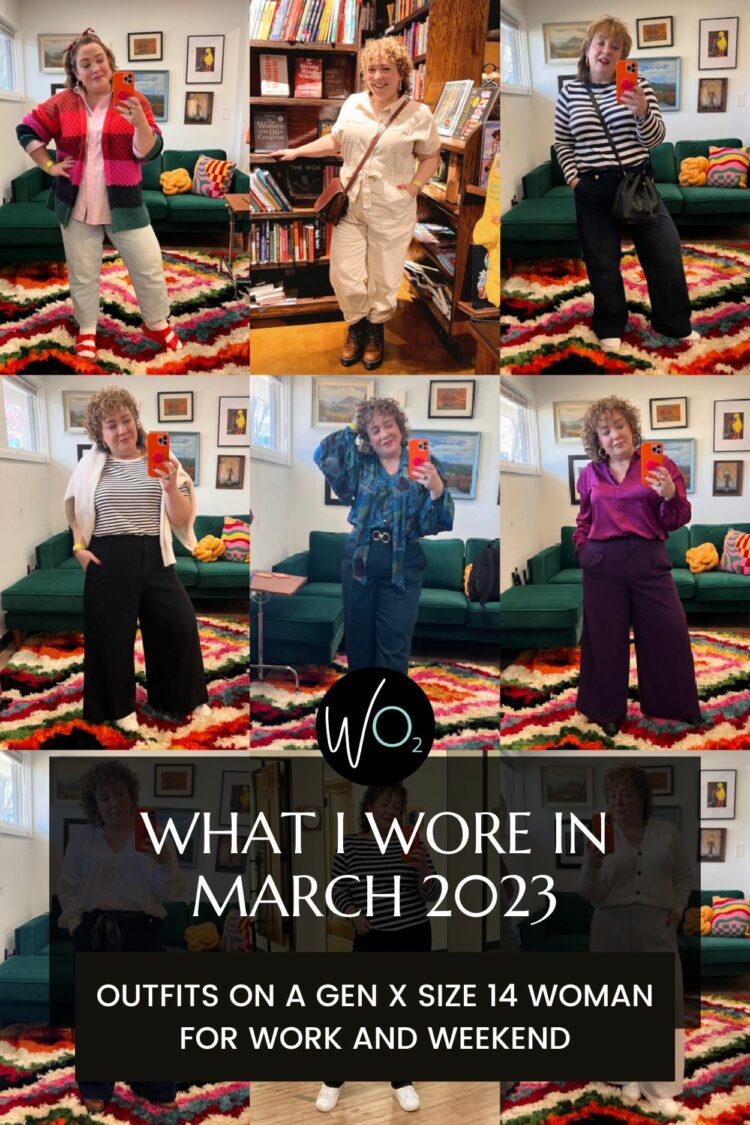 For regular updates of what I wore, I always share my outfits on Instagram Stories, with some outfits making it onto the feed of Instagram and on my Facebook page. I'll try to be more consistent with posts like this once a month so you can see what I am wearing beyond capsule wardrobes, sponsored posts, and content dedicated to one type of clothing!
What I Wore Recently: March 2023
There are some pieces that make regular appearances in my wardrobe: these wide-leg jeans from Talbots (size 14 petite), this cardigan from Universal Standard (size S), these sneakers from Birkenstock (comfortable, arch support), and several striped tops. Taking photos of my daily outfits really help me see these themes.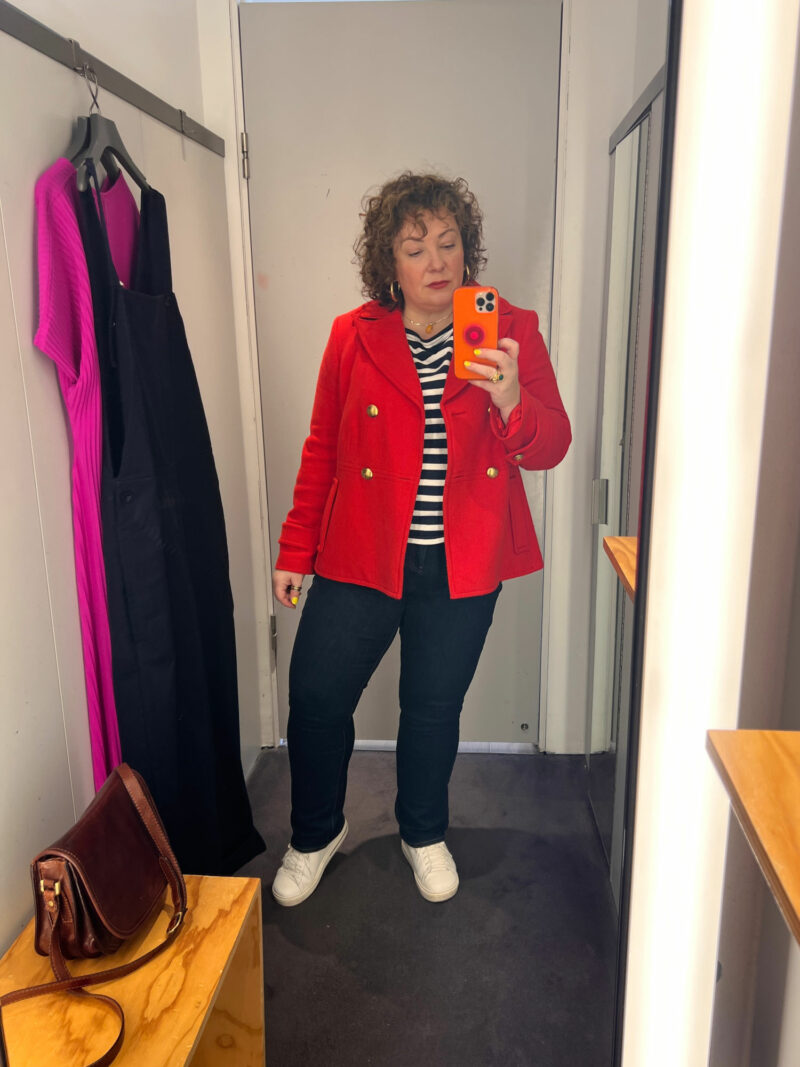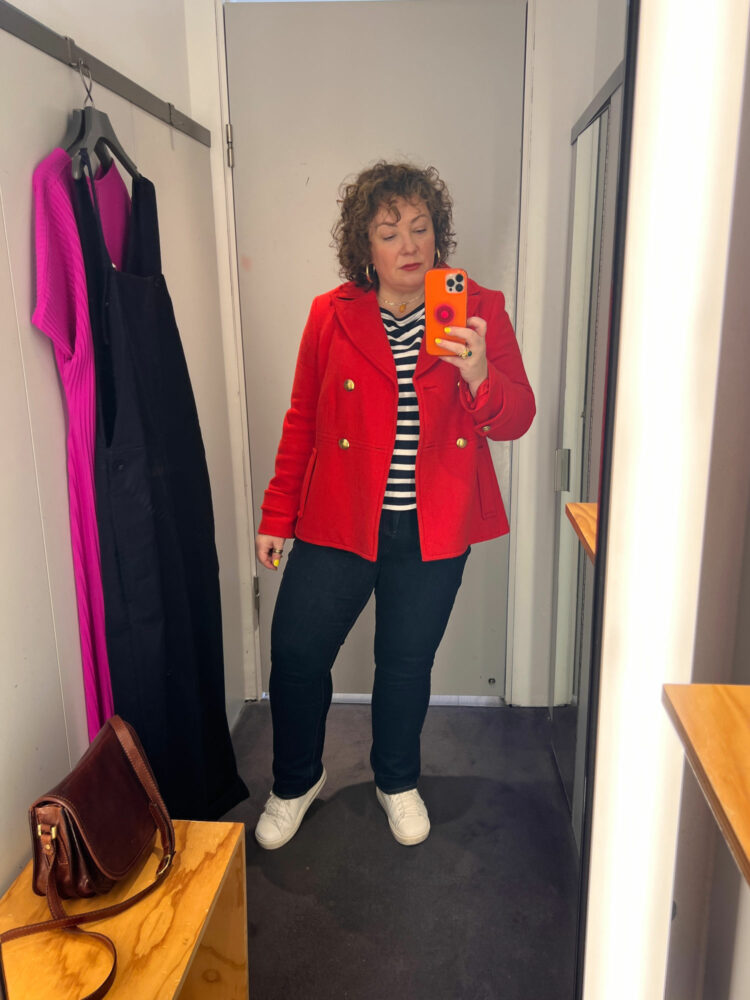 Talbots Coat
I went to Georgetown one warm day. Visited a few shops, didn't buy anything but still had a good time. Here I am in the COS fitting room where nothing in the store fits me (but if it did I'd be in debt). The coat is from Talbots from 2017; you can see it in this blog post. The bag is from Maxwell Scott and I got it in 2015.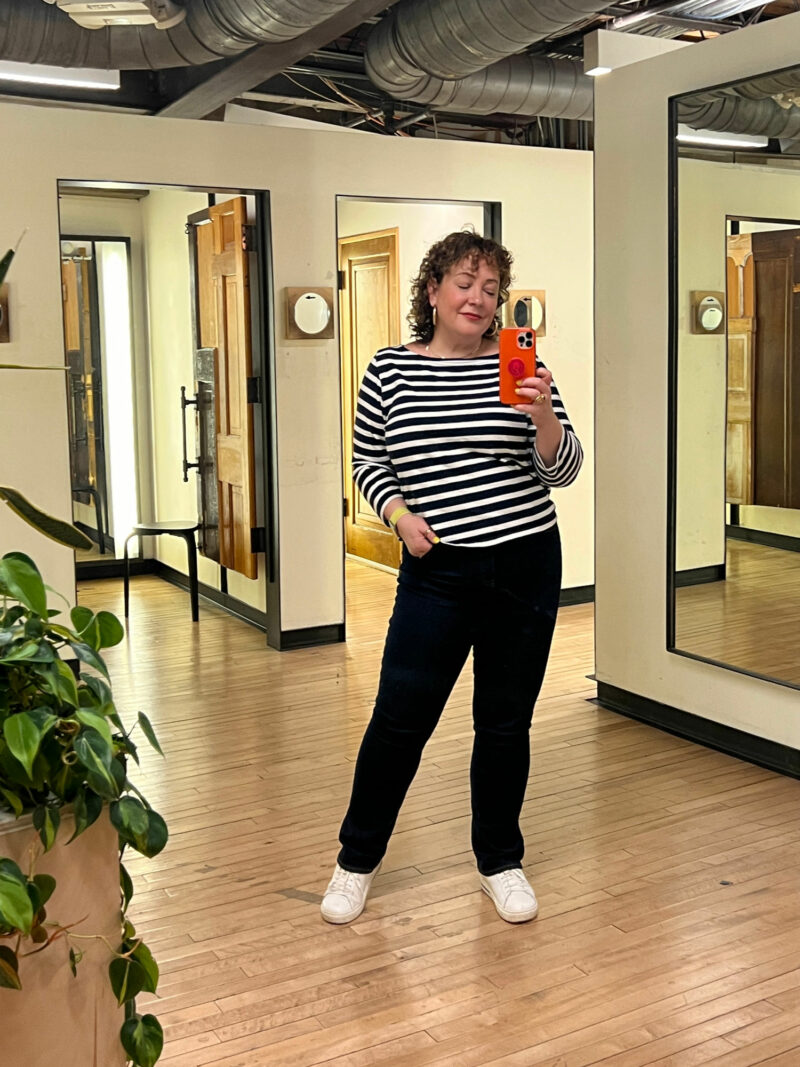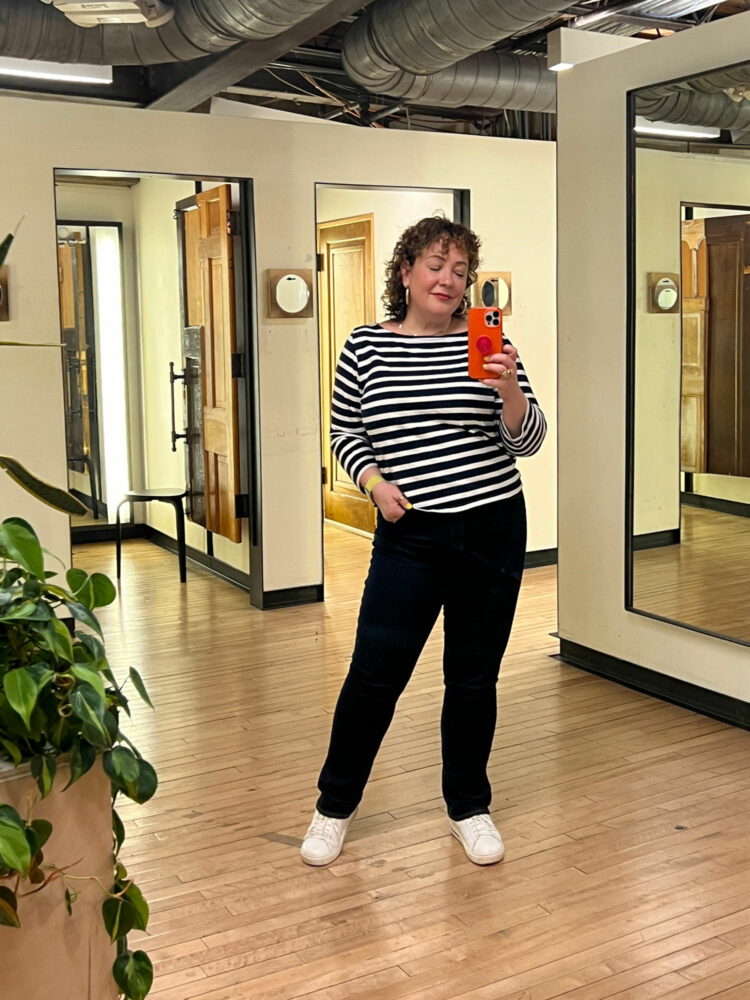 Striped Shirt and Jeans
I am wearing an old J. Crew shirt (Large; this is similar), these Chico's jeans (12 short), and the Birkenstock Bend sneakers which are fantastic for a day of walking. The earrings are these hoops from Baublebar.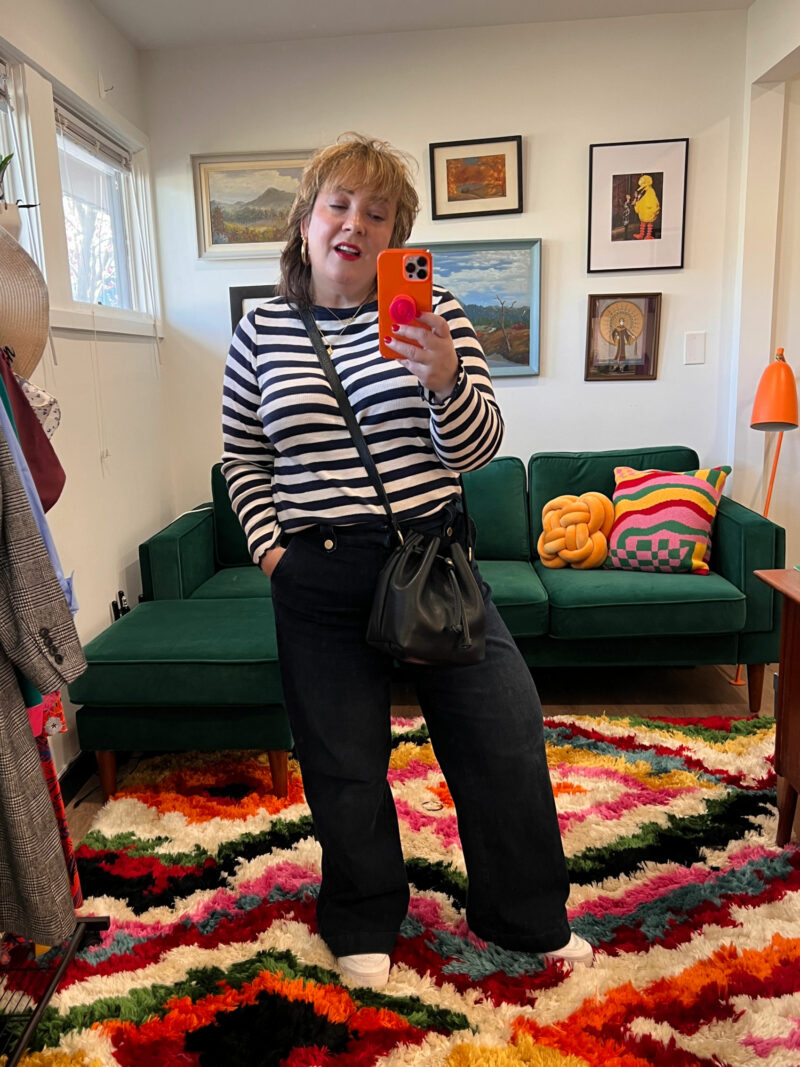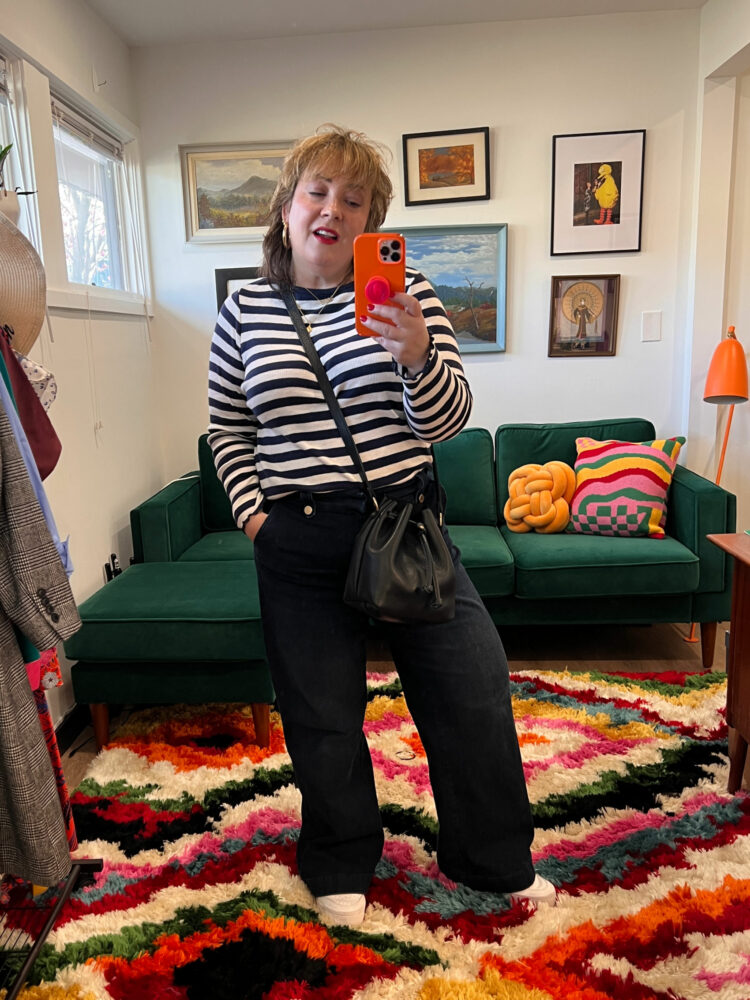 Striped Shirt and Talbots Wide-leg Jeans
Another day, another striped shirt! This one is a ribbed boatneck I got from Joules last year. With it are the Talbots wide-leg jeans (14 petite) I've worn quite often this year. Sneakers are the Adidas Forum Bold, which has a bit of a platform/stacked sole which I think looks modern. The bag is from Portland Leather; it's the smaller leather bucket bag. I really like this bag, it's nice leather and well made (bag is unlined).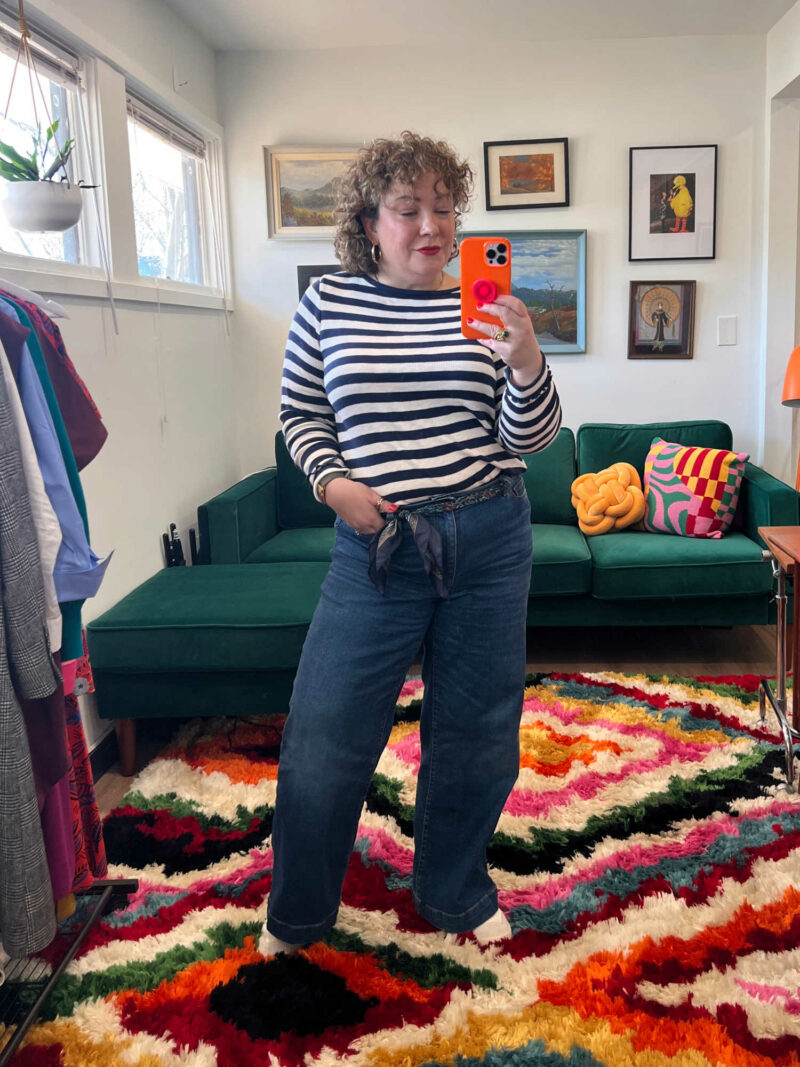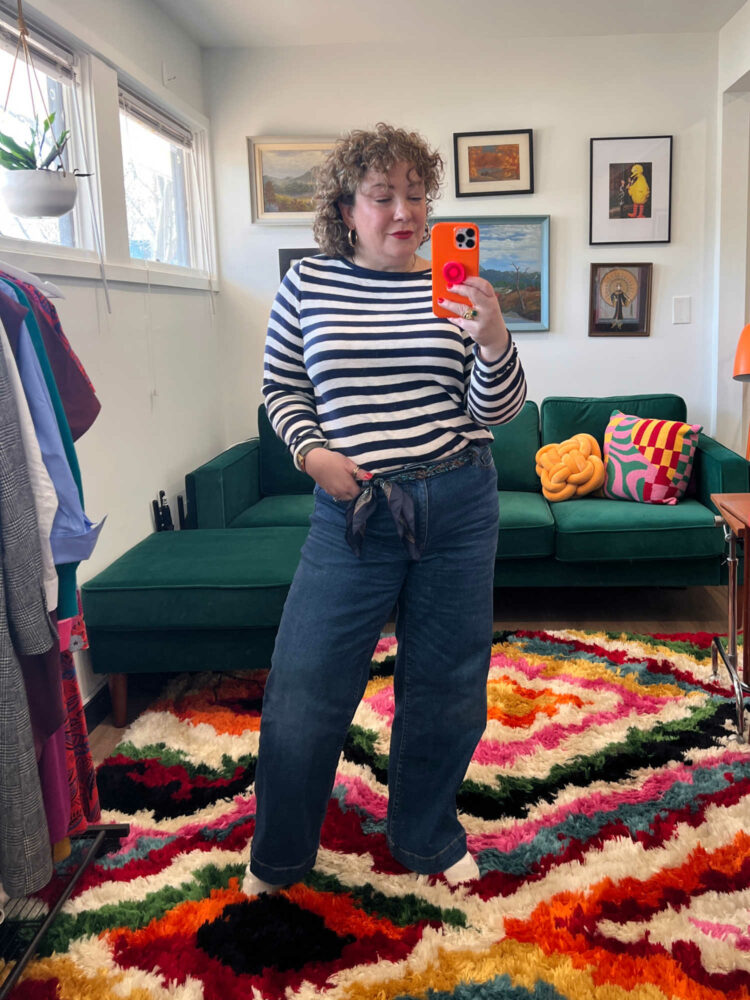 Striped Shirt and Lands' End Wide-leg Jeans
Same striped top from Joules, this time with wide-leg jeans from Lands' End and an old Talbots scarf at the waist. I believe the sneakers I am wearing are these from Gola.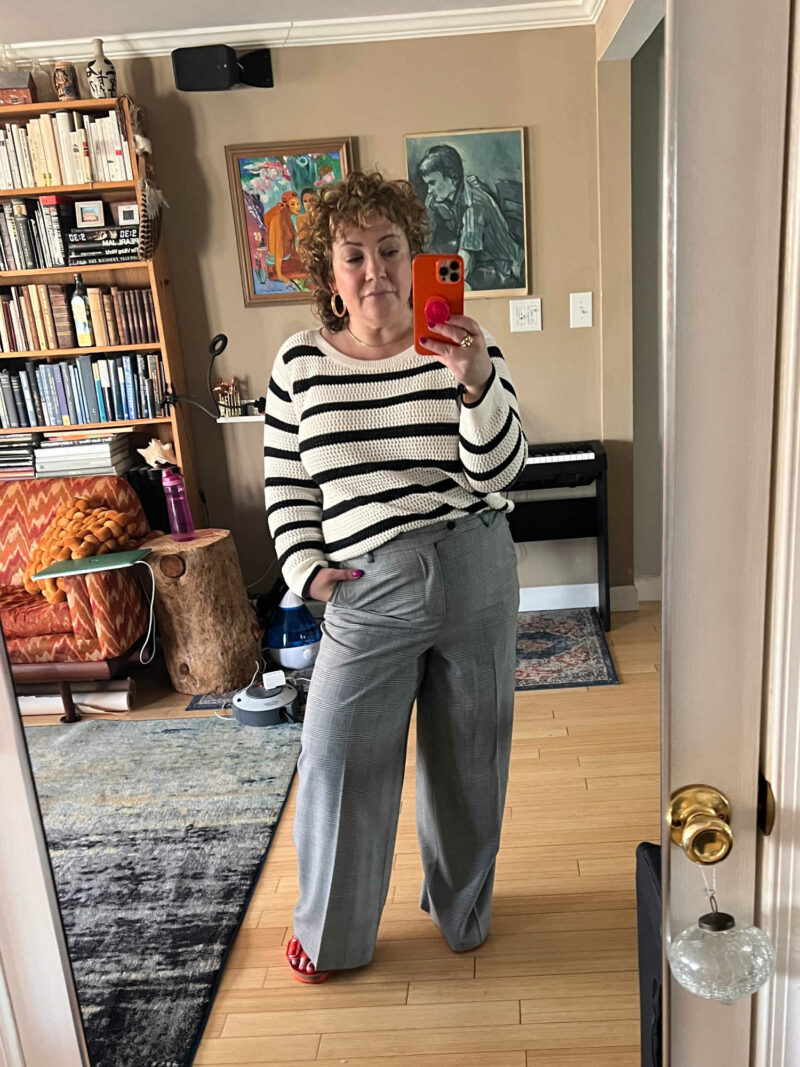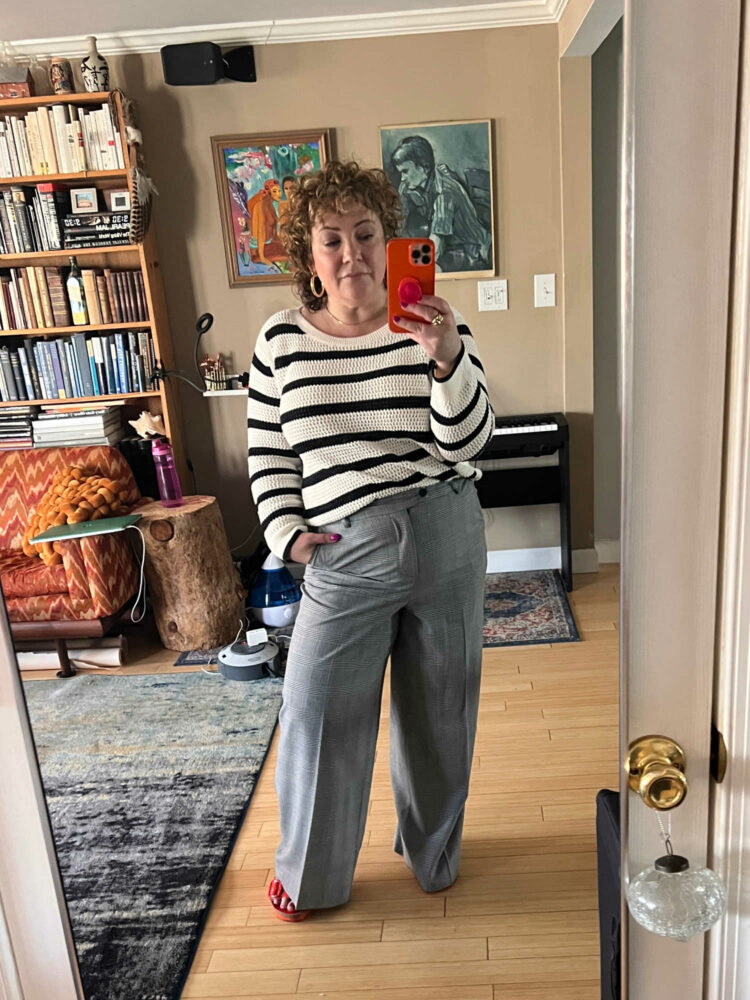 Talbots Sweater with Wide-leg Pants
This is the Talbots sweater I recommend in this blog post. I am wearing an XL Regular. The pants are several years old from Universal Standard; a subtle plaid. I'm wearing my red Birkenstock sandals since it was warm and I was indoors. I wore this to host dinner for some relatives.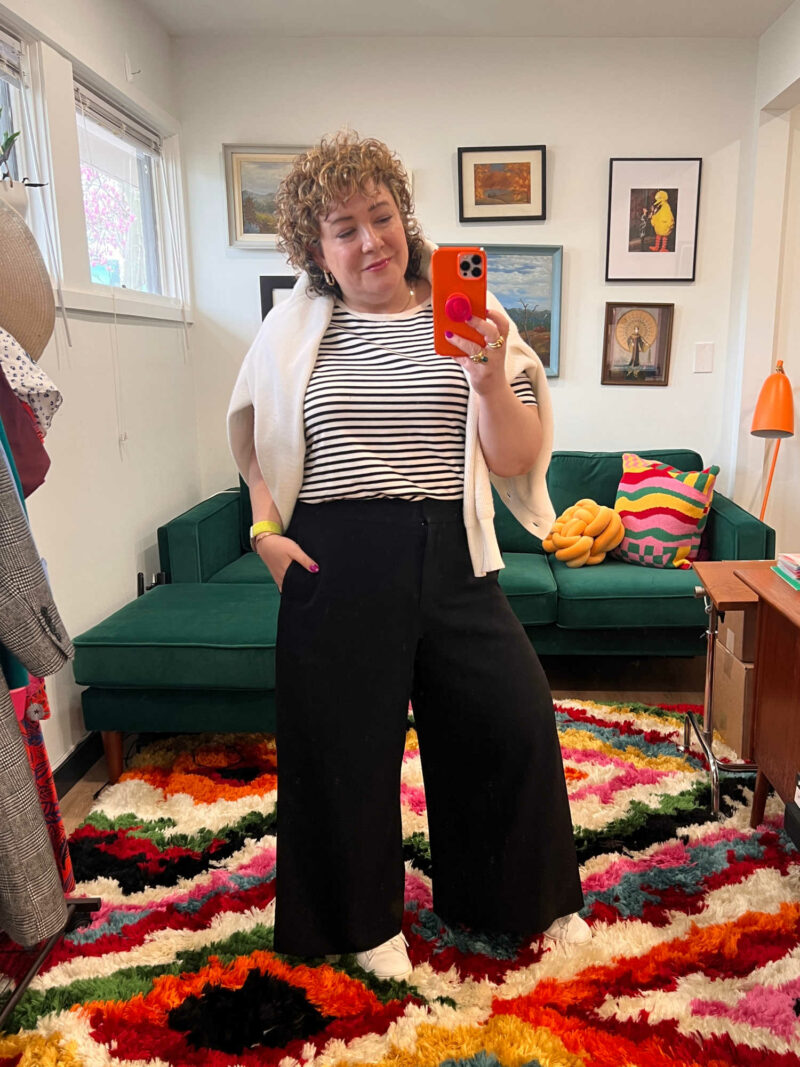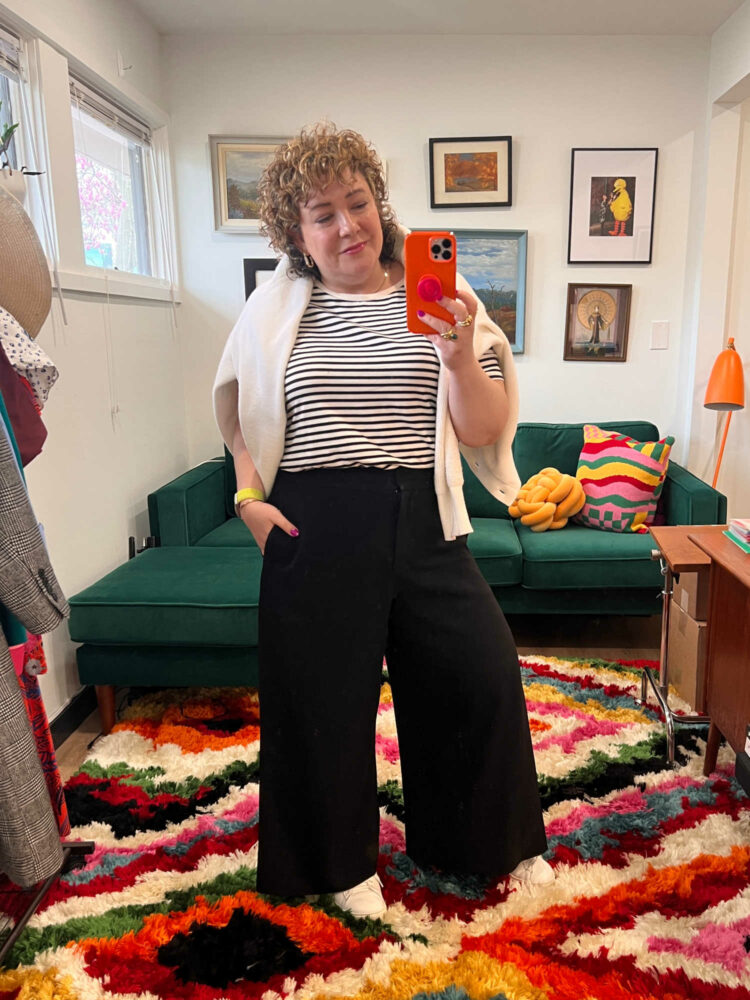 Universal Standard Shirt and Cardigan
This is the Universal Standard T Rex (S) in black/ivory stripe with the Universal Standard Better than Wool cardigan (S) around my shoulders. The pants are these from M.M.LaFleur (14) which I have shown many times before on the blog. The sneakers are the Birkenstock Bends.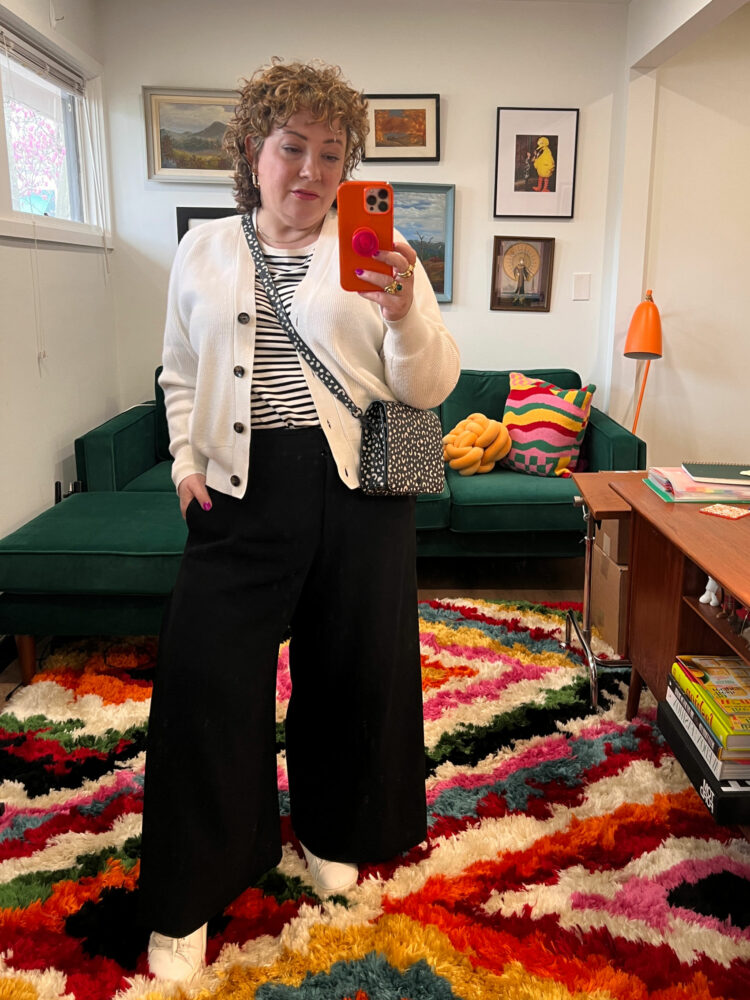 Same look with the cardigan on, and the crossbody bag is a limited edition from Dagne Dover I got a few years ago.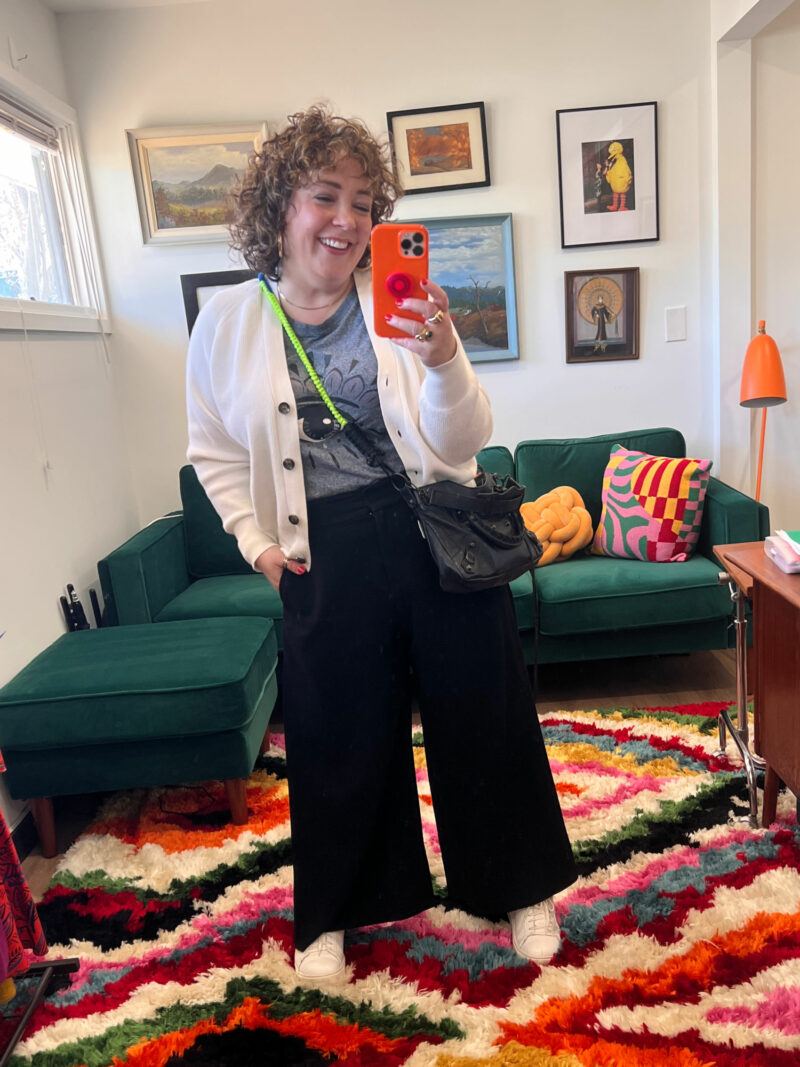 Kenzo T-shirt
Same pants, sneakers, and cardigan but this time with a Kenzo t-shirt I found on Poshmark (XL). The bag is the Balenciaga City Bag I wrote about last year. I always wished it had a crossbody strap. I saw an influencer (@libbylivingcolorfully) had a paracord crossbody strap for one of her bags; she either had it gifted or bought it from a brand that sells such straps for around $200. I decided I could make my own.
I ordered these black metal swivel hooks, this kit of different colors of paracord, and some black paracord I already owned and headed to YouTube. I taught myself two different weaves/knots one evening and made the main strap, and then on a different day, made the back thicker parts at each end. It's not as perfect or as creatively braided/knotted as the $200 one but I like it and since making it I carry the bag far more often!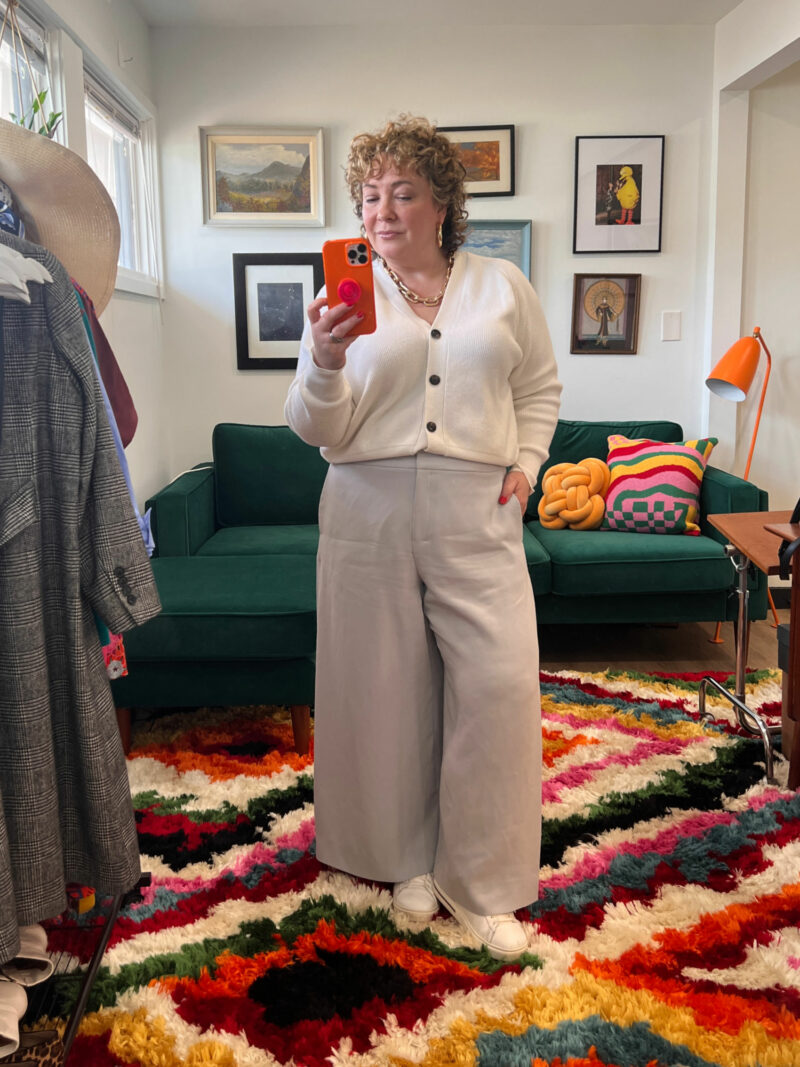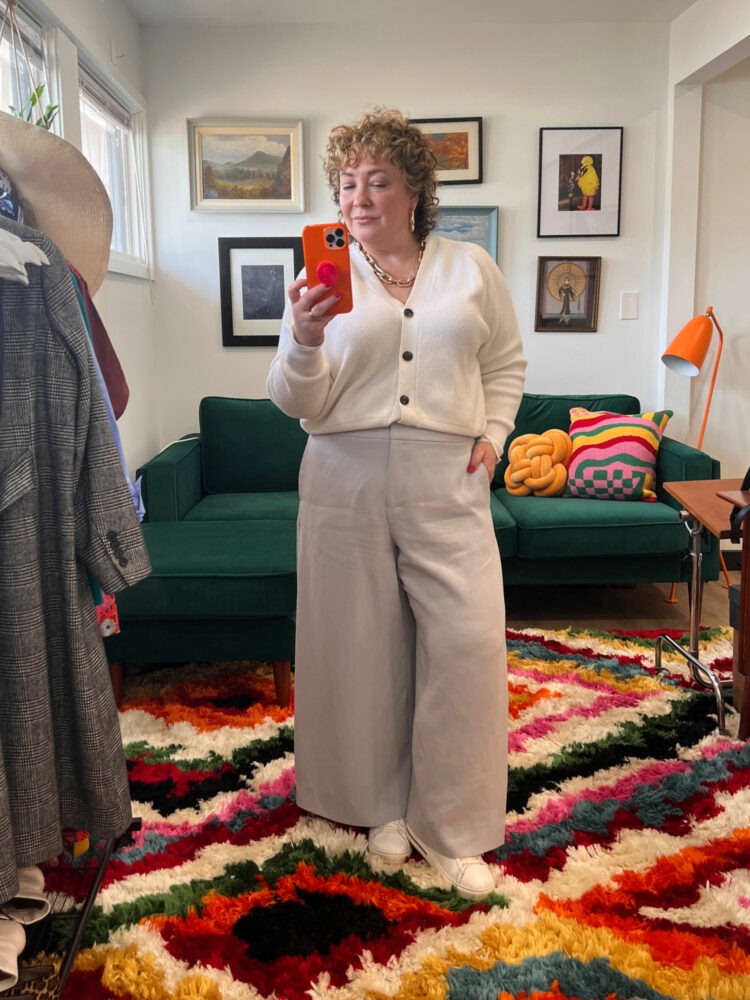 Cardigan and Wide-leg Pants
Same cardigan sweater, same Birkenstock sneakers, and even the same pants but this time in a pale gray. These pants are a 16 but I had them made smaller by my tailor. The necklace is from Chico's from last year, the earrings are the same Baublebar hoops.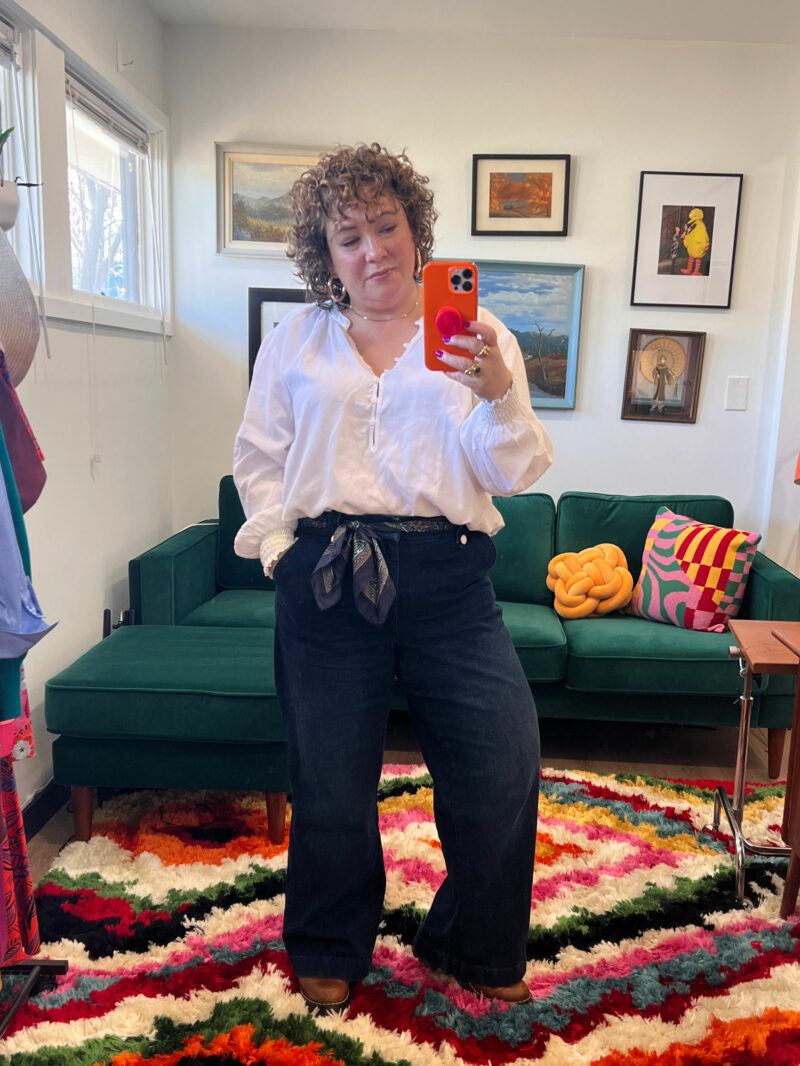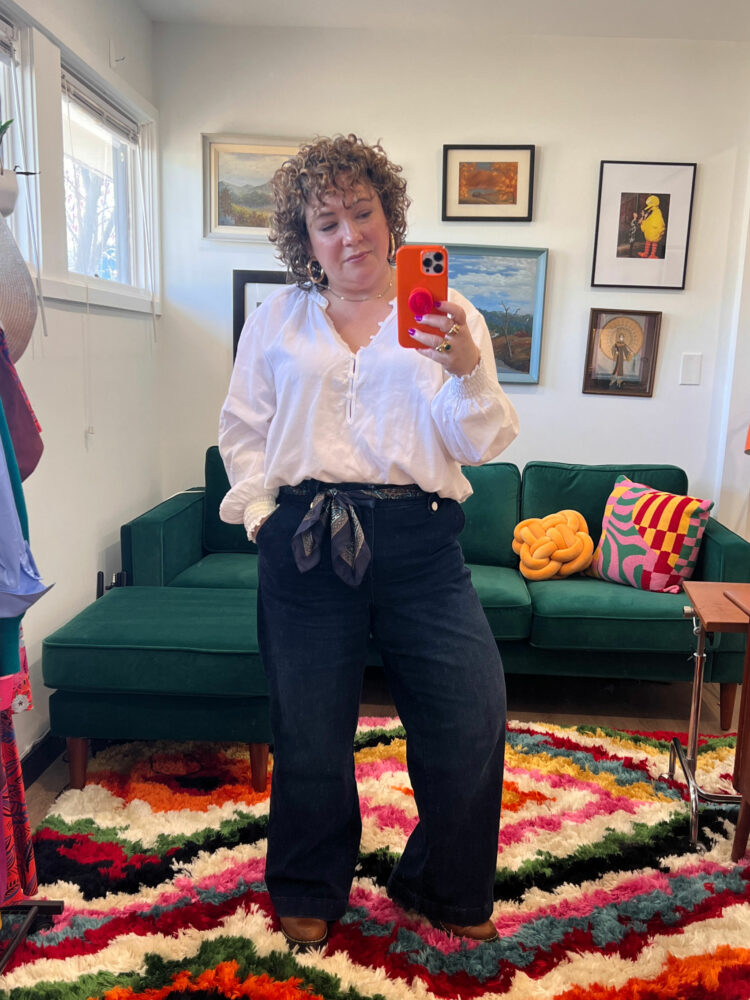 Talbots Scarf as a Belt
Same Talbots wide-leg jeans seen above, same old Talbots scarf as a belt, but the top is from Anthropologie (1X) and it came in my monthly Nuuly rental. I am in my 3rd month trying out Nuuly and I think I'm going to cancel. While Nuuly has far more cusp, midsize, and plus size offerings than Rent the Runway, the offerings that are in stock skew too young for me. This is the only thing in three months that I have actually worn outside the home. The shoes are Docs and old/no longer available.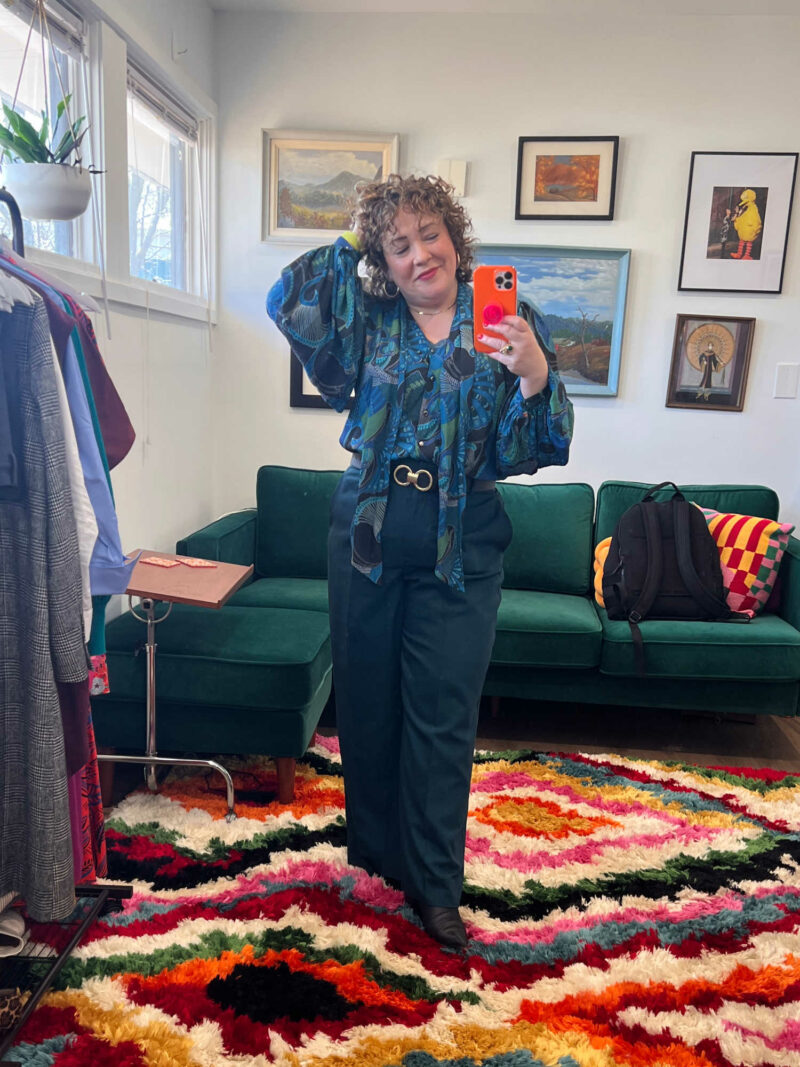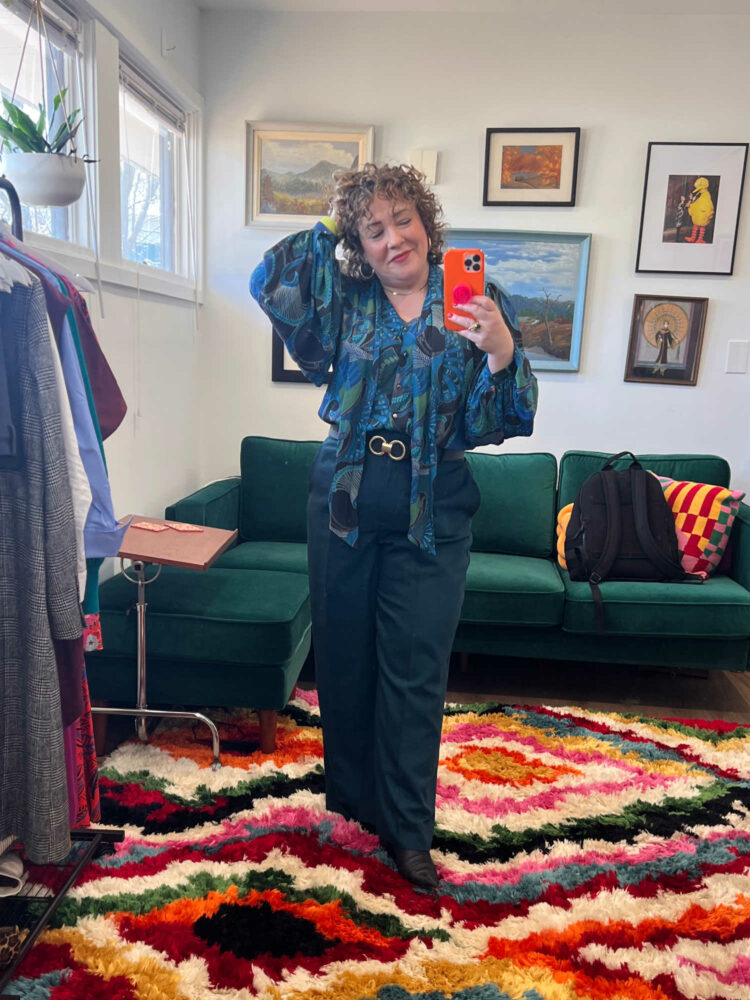 Chico Blouse and Ann Taylor Pants
This is what I wore to speak at my local Rotary Club. The blouse is from Chico's from a year or so ago (size 2). The pants are Ann Taylor (16 petite). The booties are Naturalizer, and the belt is very old from ASOS.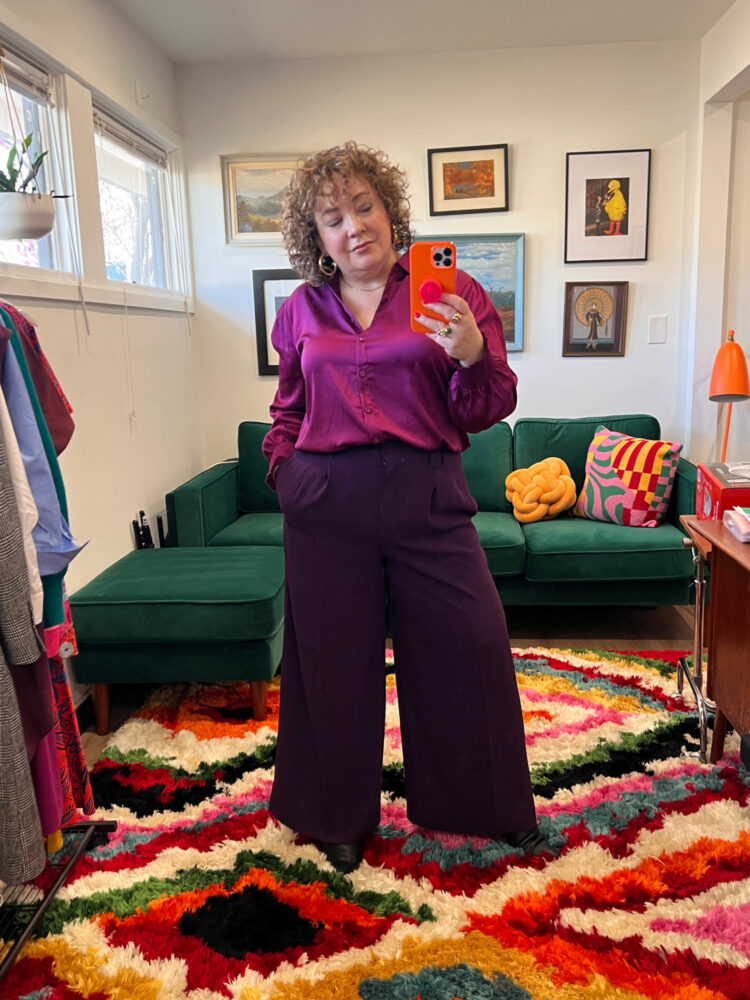 Meeting Outfit
I had a meeting with a brand and wore these pants from Brass (size 14) and a stretch satin blouse from Chico's I got this past winter (size 2.5). I actually wore this same satin blouse in last month's outfit recap. The booties are Naturalizer. Again the Baublebar hoops.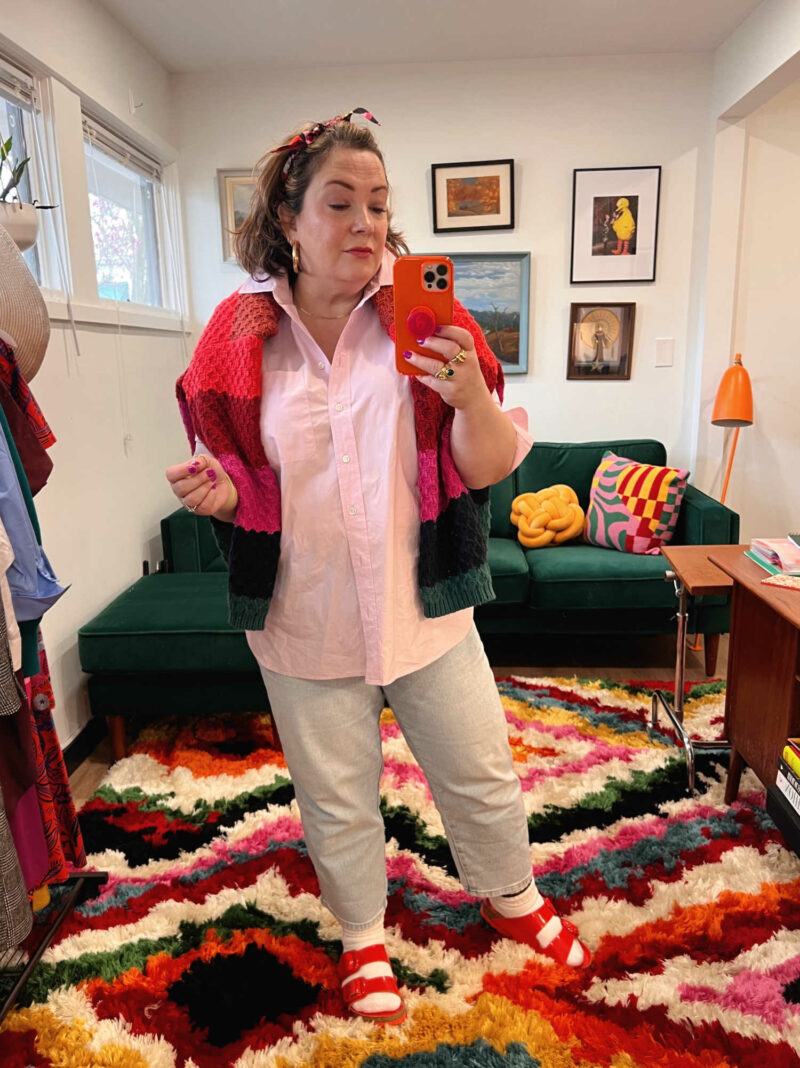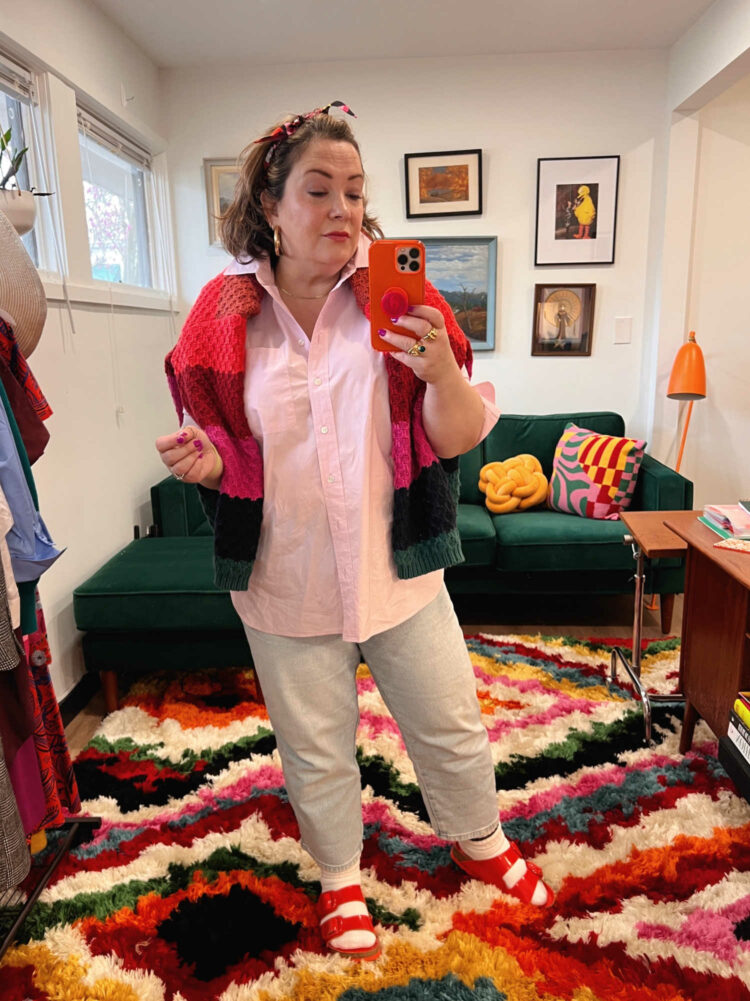 Colors on a Rainy Day
A colorful hodgepodge of pieces on a rainy day: these are the Talbots jeans I also recently recommended and really like. The shirt is the pink shirt I recommended last year from Banana Republic. Same red Birkenstocks I wore above, and the sweater on my shoulders is a cardigan from Marine Layer I got back in January. My hair is held back with a "Twilly" scarf my sister gave me for Christmas; I've found similar on Etsy.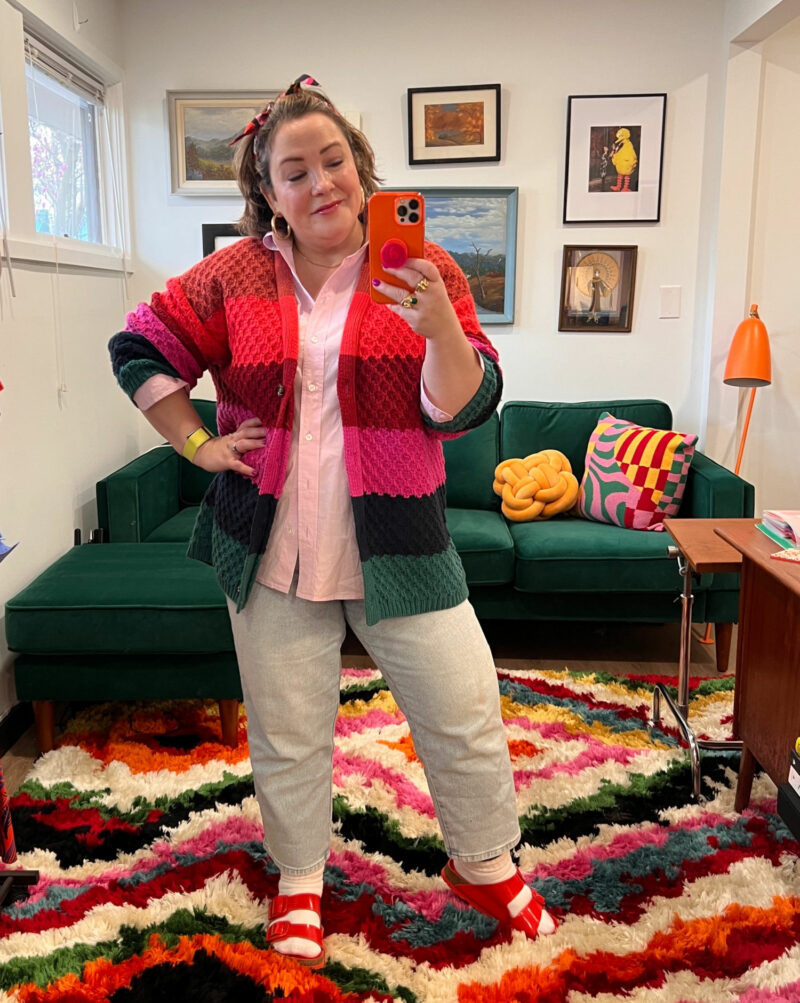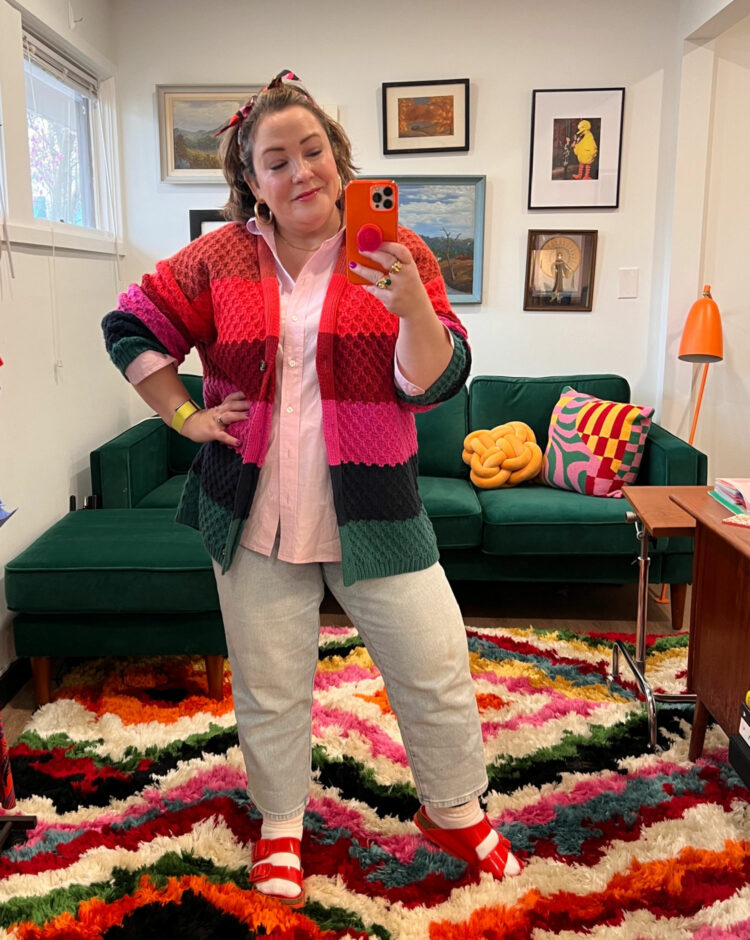 Here's the sweater on. The sweater is sold out most places, but you may be able to find it on some resale sites. On the Marine Layer site at the time of writing this they still had a couple left in S and XL. I am wearing an XL, which was the largest size it came in.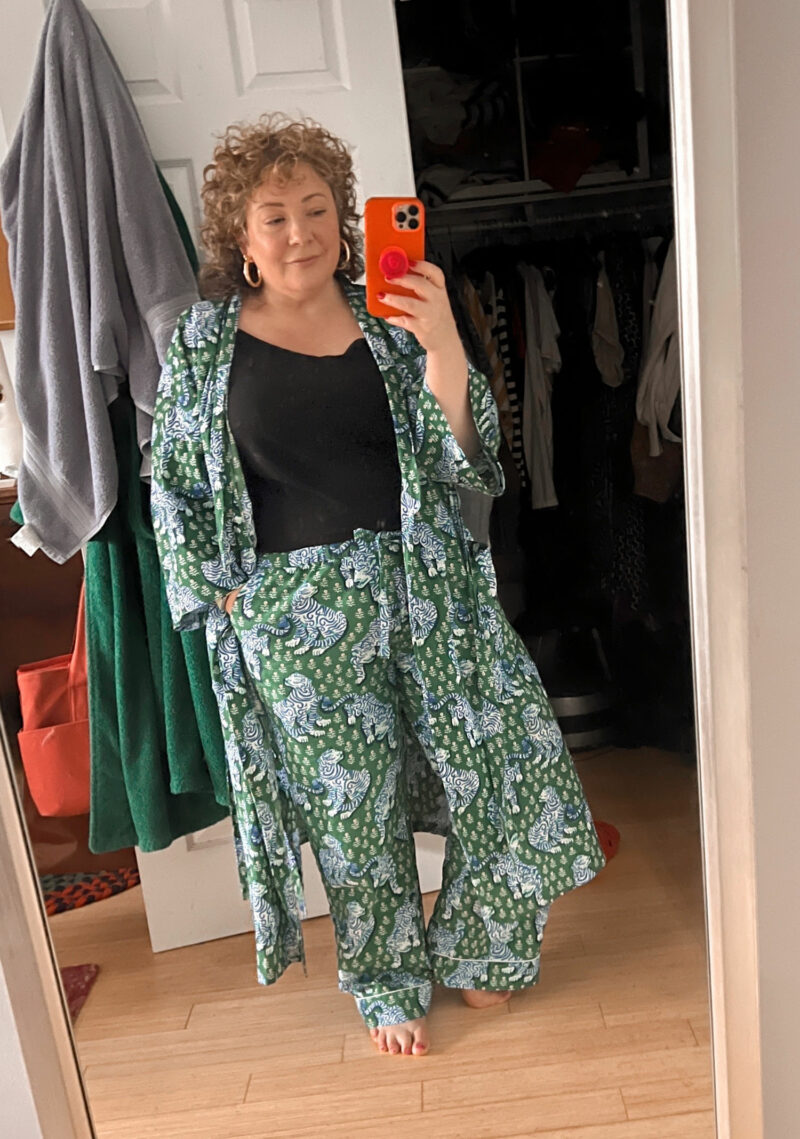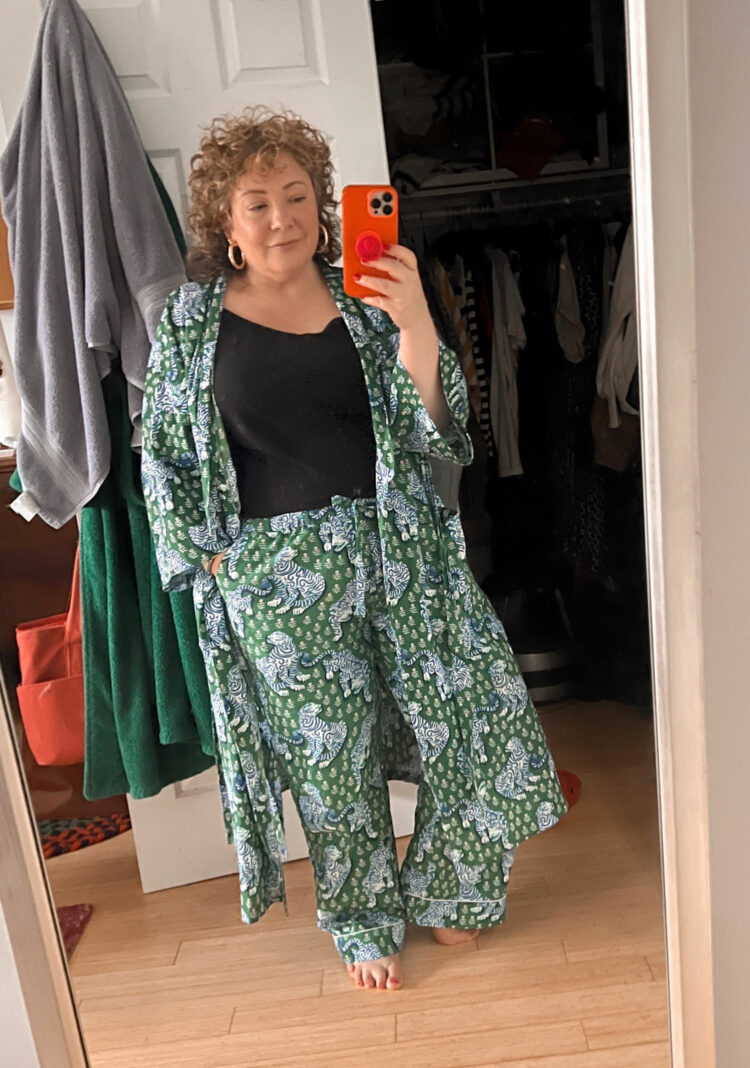 Printfresh Pajamas
This Saturday I stayed in my pajamas most of the day and finished a book. The pajama pants (XL) and robe (L/XL) are from Printfresh. Use code WARDROBE_OXYGEN for 15% off at Printfresh. The camisole is from Old Navy (XL). And why not accessorize? I added my trusty Baublebar hoops!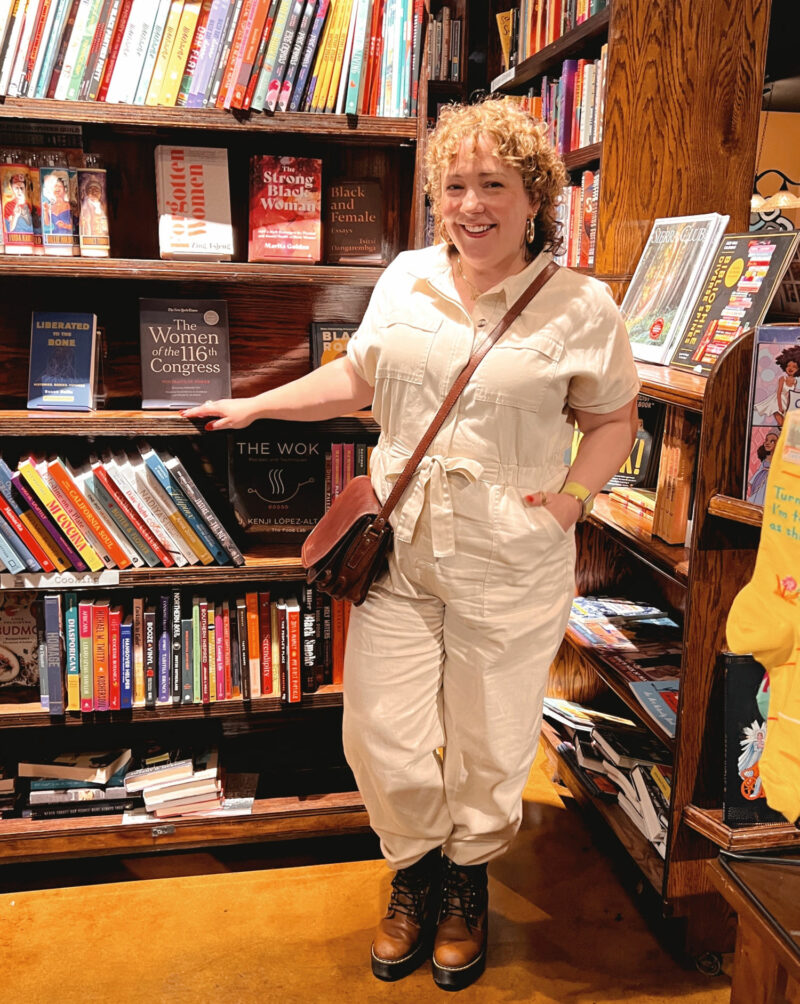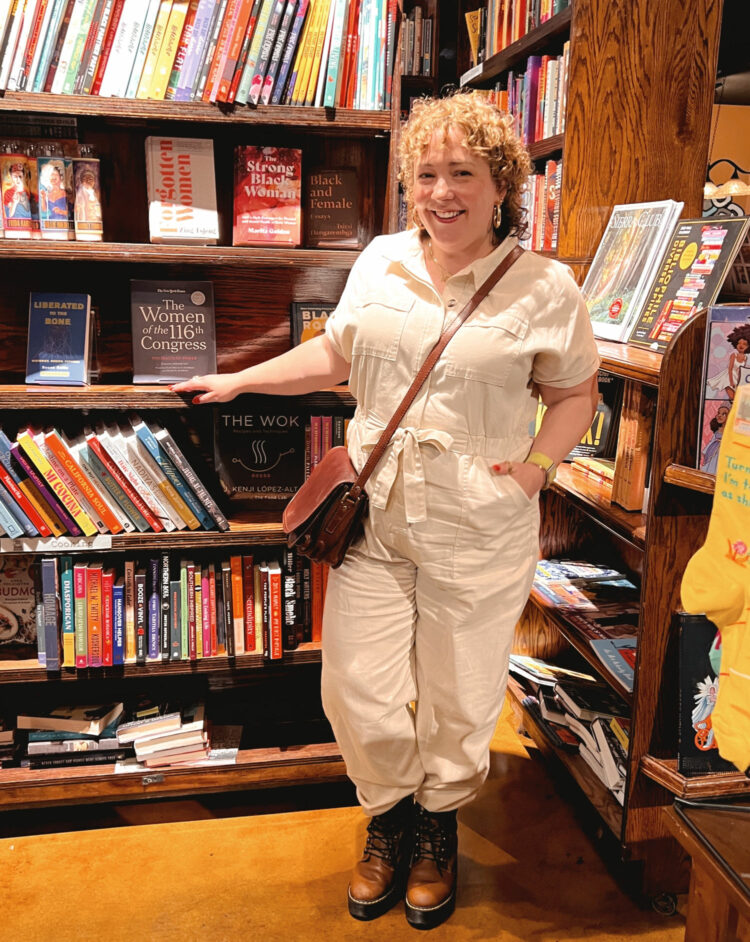 Target Jumpsuit
Saturday night was a mini-reunion of some folks from my high school. 11 of us from four different grades met at a local restaurant and my classmate captured this photo of my outfit. The jumpsuit is from Target, size 14. The bag is the same Maxwell Scott saddlebag seen above, and the boots (I tucked the hem of the jumpsuit into the boots to create a flight suit effect) are the old Doc Martens also worn above. Same Baublebar hoops!