This article may contain affiliate links; if you click on a shopping link and make a purchase I may receive a commission. As an Amazon Associate, I earn from qualifying purchases.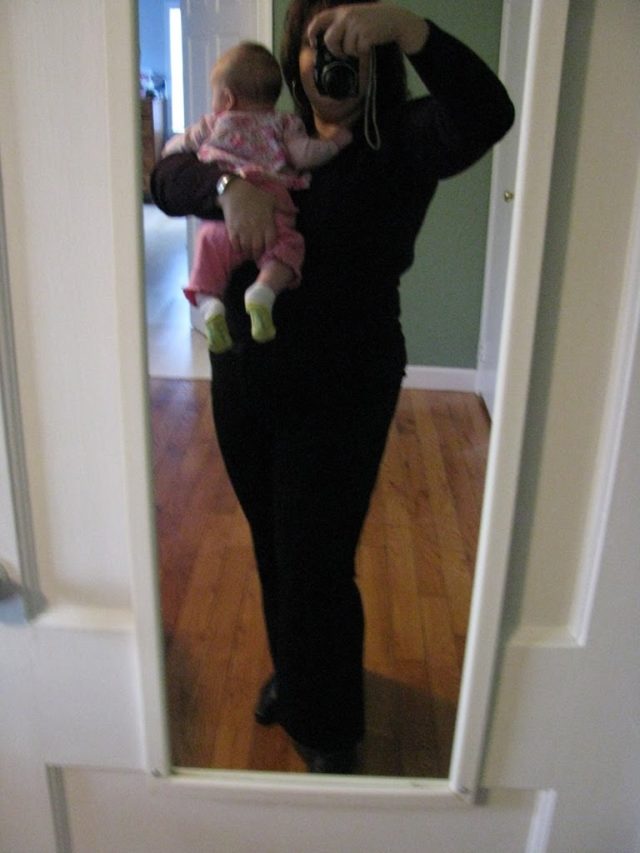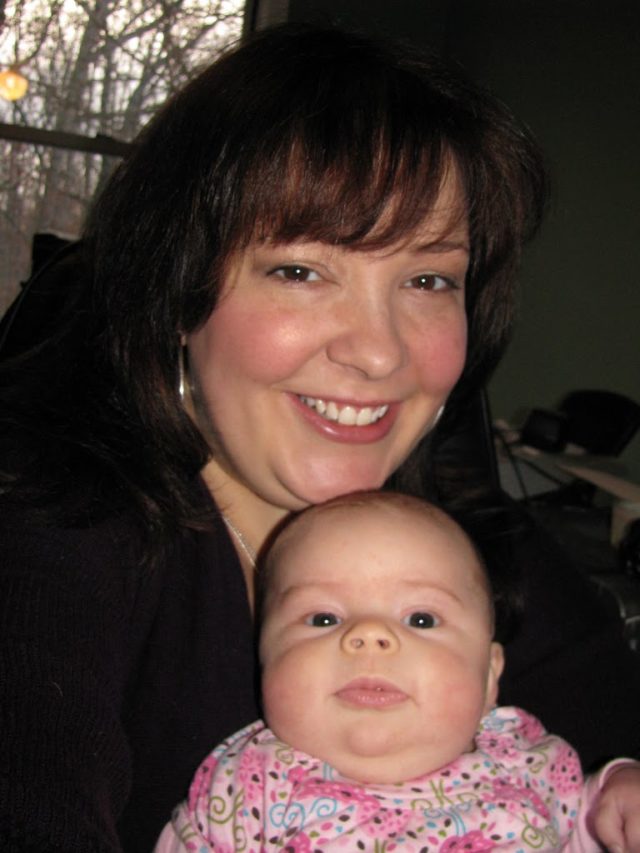 Attire:
Philosophy – Dark purple cashmere deep v-neck sweater
Banana Republic – Black knit cami
Old Navy – Black ponte bootleg trousers
David Tate – Black leather city boots
Silver hoops and cuff
Hair:
Washed and conditioned with Pureology Volumizing
Redken Satinwear 02
Dried with round brush
Beauty:
L'Oreal – True Match foundation in C3
Laura Mercier – Concealer and powder from Flawless Face Kit in Sand
Nars – Blush in Orgasm
3CC – Sweet Indulgences Shadow Trio
Clinique – Longwear Lipstick in Beauty
Cover Girl – LashBlast mascara in Rich Black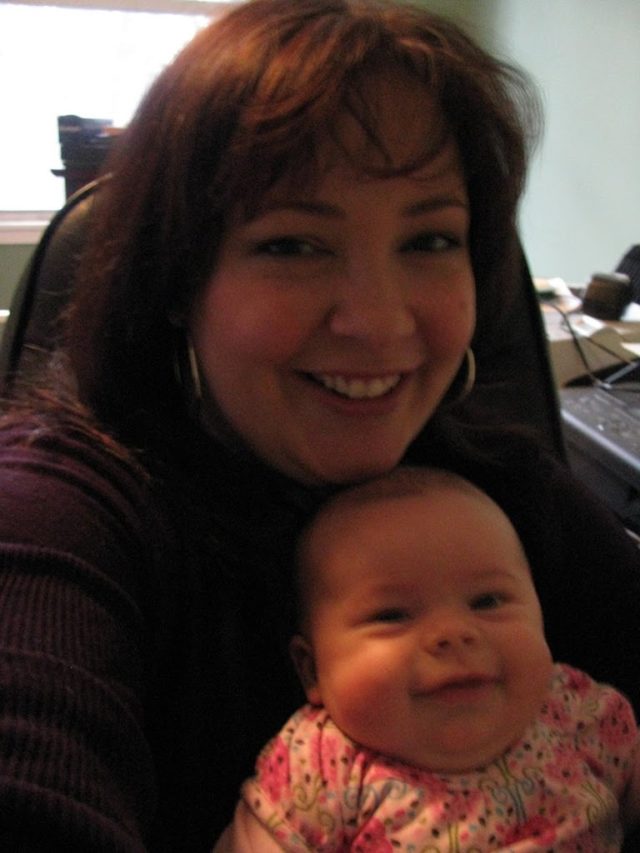 Another day where I am sharing the pictures with Miss Chubbalicious! Actually, Emerson is pretty proportional for a two-month old. Per her pediatrician appointment on Tuesday, her height and head size are in the 90th percentile, her weight is in the 93rd. So big, but proportionally big! I actually liked this smaller self-portrait picture better (it's a typical Emerson happy face), but I forgot the flash so you can't see my makeup.
So yesterday was pretty busy from even before sun up until late in the evening. We were going to have friends over for dinner and a Lost viewing party (yeah, it was a rerun, we didn't think to check that out beforehand). I got up a bit early to prep the food for dinner (grilled artichokes – I boiled them and threw them in a Ziploc bag in the fridge to marinate; a salad and then sourdough bread) and toss in a load of diapers int he laundry and sterilize bottles and storage containers for the day. I then headed to work, where I had two meetings in the office, and then one in Silver Spring. Headed back to the office, and then went home. Didn't get home until like 30 minutes before our firends were to arrive – enough time to brush my teeth, take off my shoes and feed Emerson. We all had a great time, the day ended around 10pm and we have plans to meet next Wednesday to see a new episode of Lost (we ended up watching America's Next Top Model and American Idol instead).
People ask how I can get everything done and still have time for sleep and to do makeup and hair. It is all about creating systems and keeping things simple.
I think living in a small home for the past decade has helped me with this. Everything HAS to be in its place because there is no where else for it to be located. If your makeup is in one place and you don't have your fun false lashes and body glitter in the same place as your taupe shadow for work, you don't have to root around as much. If you fold the laundry at the dryer, when you bring it upstairs, you can put it away while getting ready, or even put away part of it and have it sit on the bed until later without it looking a mess (or end up being on the floor or slept on by a dog). Any beauty products I don't use on a daily basis are not in my bathroom – they are in the linen closet. This means it's a super quick grab, use and go. Same with the shower – I don't have multiple body washes, loofahs, scrubs and shampoos. Just what I use so I can't be distracted. Once you have the system down pat, you find you have the time to adjust it – a different hairstyle, a new choice for breakfast, etc.
Of course my systems go haywire all the time now that I have a child (and the more mobile she is, the more I know it will go haywire), but I am constantly reducing steps from my life – less shoes to choose from, less variety of lingerie and socks so what I pull will usually work under what I am wearing, less items that require ironing or dry cleaning, a cosmetic bag full of what needs to transfer from laptop bag to purse to diaper bag (and keep it in there) so I don't forget my lip balm or cell phone… etc. My out of season clothes are clearly marked in my attic or organized in my office closet, I have one drawer for lingerie etc., one for bottoms, one for tops, one for sleep/lounge/workout pieces. My clothing in my closet is hung with all skirts together, all pants together, all blouses together. Anything that is dirty or damaged is removed from the collection. Now that I have a baby, I switched from my train case of makeup to a drawer in a dressing table with only the regular cosmetics. Anything that takes a long time, only works with certain skin tones or situations is still in the train case in the closet. This means I have only a couple of choices, everything is visible so I can get ready quickly.