This article may contain affiliate links; if you click on a shopping link and make a purchase I may receive a commission. As an Amazon Associate, I earn from qualifying purchases. 
I loved the colors so much, I just HAD to take a picture!!!
So after much consultation with the ever-talented Kathleen (my hair stylist), we decided on some purple, and some cherry red, and some blending of the two. The purple will fade faster than the red, the red will fade to more of a garnet/auburn shade so it won't look so crazy and I can always come back in several weeks and change the color of these streaks.
It is a bit intense, but it's very fun. It's also funny that no one even blinked at my hair today at work. The first person who commented was a friend I met for lunch. I said something to my supervisor who did say something looked slightly different. In the sunlight, it is INTENSE; in the office it is more like cherry highlights. Anyway, it's fun and I am glad I got the guts to do this!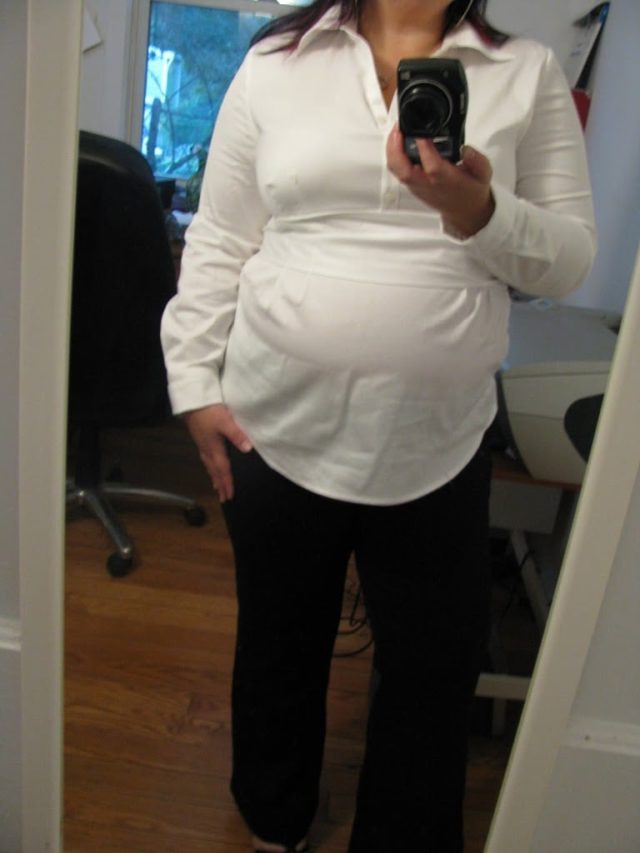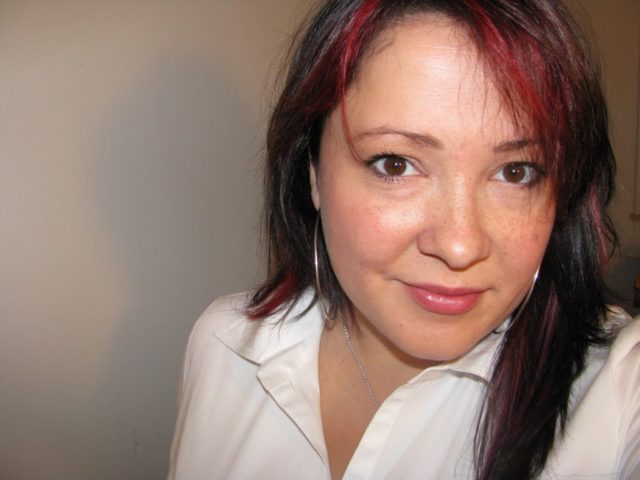 Attire:
Ann Taylor Loft Maternity: White cotton shirt
Old Navy Petites: Black Ponte pants (brand new, non-maternity, stretchy and comfy and fabulous and go get yourself a pair! Detailed review hope to have up very soon on Wardrobe Oxygen!)
Banana Republic: Black leather strappy slingbacks with kitten heel (also new, bought with that 30% discount and a $40 off coupon – sorry no more left on site!)
Silver hoops and cuff
Hair:
Day 2
Straightened with Croc Wet-to-Dry flat iron
Beauty:
Laura Mercier: Flawless Face kit in Sand
Nars: Blush in Orgasm
Pop Beauty: Shadow palette for Brown Eyes – The khaki and russet blended on lid
Body Shop: Brow and Lash Gel in Clear, Sheer Lipcolor In Sheer Strawberry
Chanel: Intense Volume and Curl Mascara in Black
Avon: Luxury Eye Liner in Black