This article may contain affiliate links; if you click on a shopping link and make a purchase I may receive a commission. As an Amazon Associate, I earn from qualifying purchases.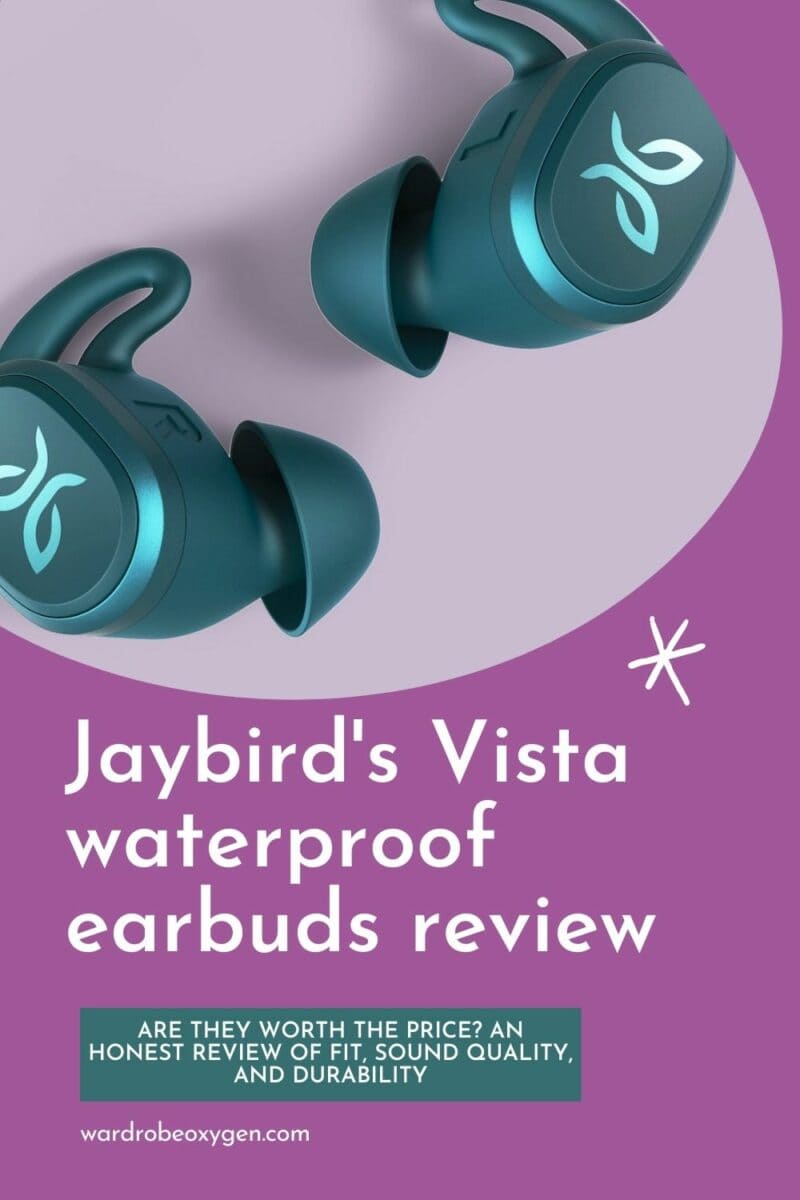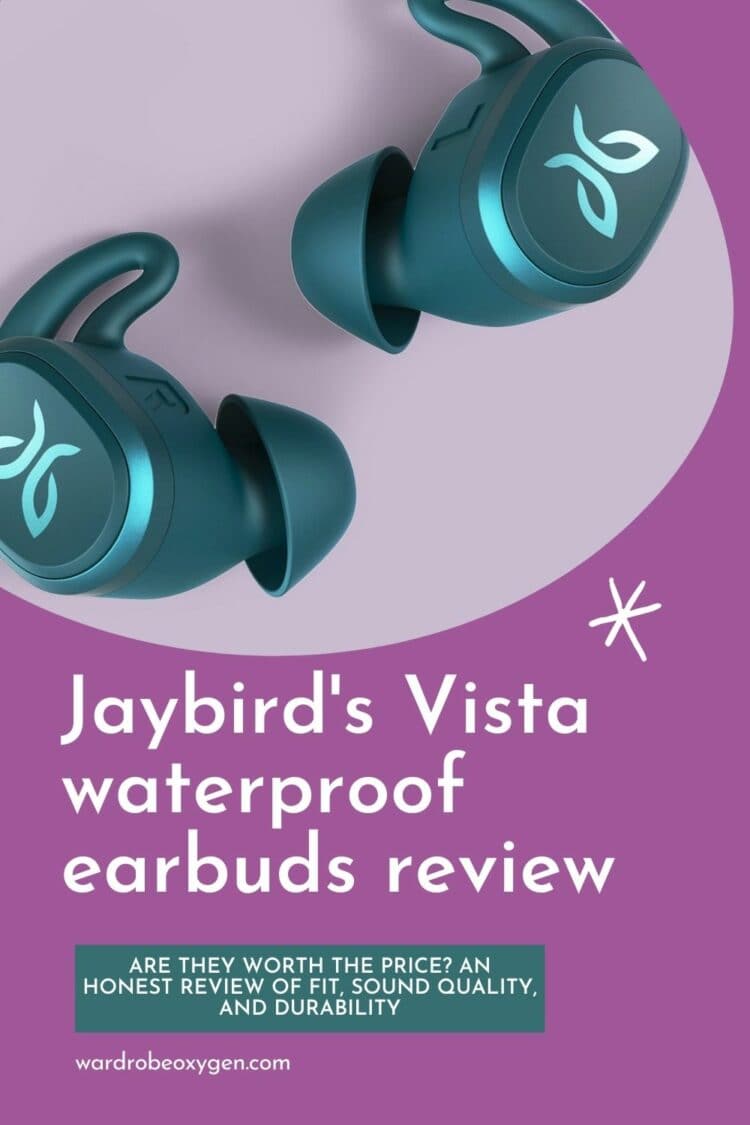 Dude. The Jaybird Vista earbuds are amazing.
You know I'm serious when I use the word, "dude" as a full sentence. But seriously, I love these earbuds. I'm wearing them right now as I write this.
But dude, the Jaybird Vista earbuds are hella frustrating too.
Are Jaybird Vistas worth it? Let me break it down why the Jaybird Vista earbuds are awesome and why they are not so awesome, and why I compare them to a Wheel of Fortune prize puzzle vacation.
Are Jaybird Vistas Worth It? What Are They Exactly?
Jaybird is a brand that creates headphones for athletes. They launched their first wireless earbuds in 2006 and have been creating cutting-edge earphones ever since. Based in Park City, Utah, Jaybird strives to create well-fitting earbuds that perform in regard to activity as well as the sound you hear from them.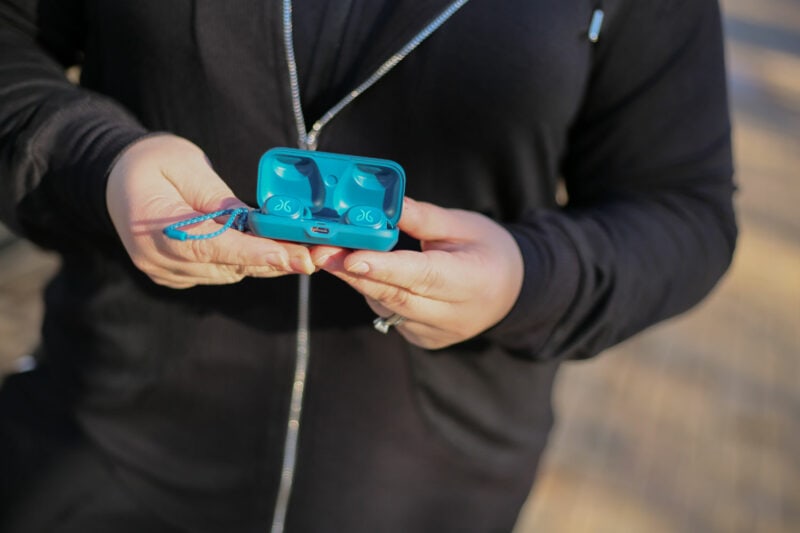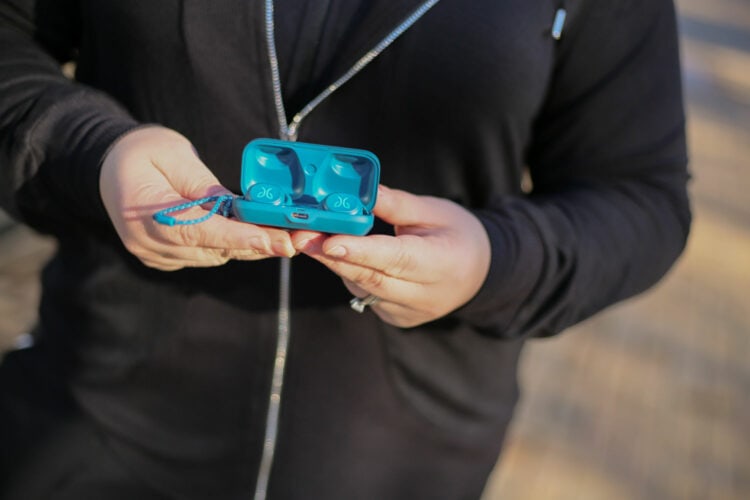 The Jaybird Vista is only one of several styles of earphones offered by this brand. The Vista is unique because it is dustproof, shockproof, waterproof, and sweatproof. The battery is so long-lasting, you can get 32 hours of uninterrupted independent bud use from them. They charge fast too: five minutes of charging provides an hour of playtime with these 16-bit stereo earbuds.
The Jaybird Vistas are $179.99 on the Jaybird website and they offer free shipping. These earbuds are also $179.99 at Best Buy. Most colors are $179.99 at Target, but colors occasionally go on sale for $150. On Amazon, you can find Jaybirds starting at $125. I purchased mine online at Best Buy and they arrived at my door the next morning.
Shop Jaybird Vista Earbuds Online:
The Jaybird Vistas have a one year limited warranty and a 30-day money back guarantee. I found it took over 30 days to decide whether they were a keeper because as I mentioned above, they are both awesome and frustrating. I personally found the awesome outweighed the frustrating and decided to keep them.
Why are Jaybird Vista Earbuds so Awesome?
Why are these earbuds so amazing? My top reasons:
They're noise-canceling
They're waterproof
They have great sound
The battery lasts a long time
They're cute
Reason #1: Jaybird Vista Earbuds are Waterproof
Yes the Jaybird Vista earbuds are waterproof! Like you can swim laps in them waterproof. You can wear them in the hot tub or the bath. You can take a long shower while wearing them. And if you're one who tests the limits of sweatproof headphones, these will pass the test. I have yet to find any other pair of earbuds that can do this AND sound great.
Reason #2: Jaybird Vista Earbuds Have Great Sound
The sound from my Jaybird Vista earbuds is far better than my Powerbeats Pro earbuds, and rival the over-the-ear headphones I used for travel. Clear, crisp, great bass, good balance, I'm highly impressed. Jaybird is known for audio quality as well as technology and it shows.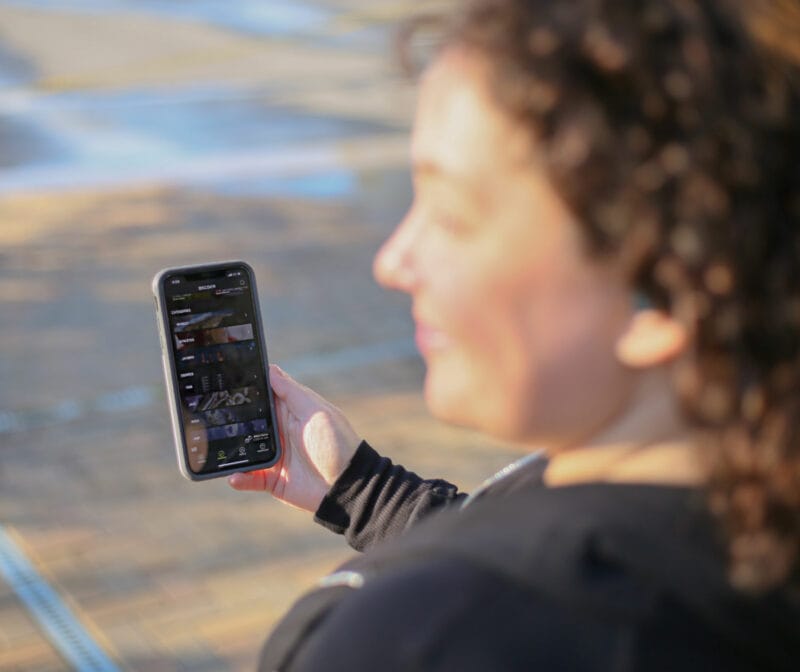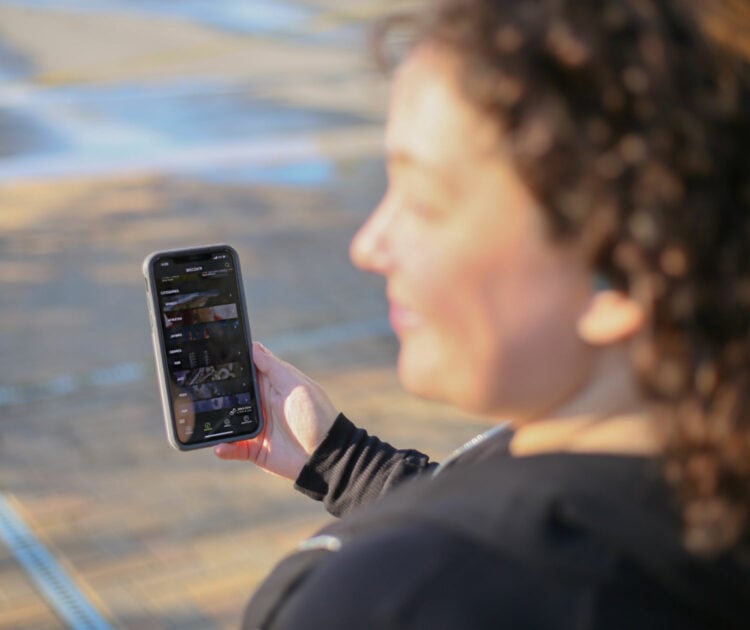 On top of that, the Jaybird app helps you customize your sound for your needs. Listening to hip-hop? Podcasts? You can create different profiles. They even had this cool program where you slide up until you hear sounds so it can factor in your specific hearing.
Reason #3: Jaybird Vista Earbuds are Noise-Canceling
The noise-canceling aspect wasn't something I thought would matter during the 'demic but it has been a Godsend. When the family is living life and I am on a deadline, I can put in my Jaybird Vistas, even without playing any music, and can better get into a writing zone. Construction outside, kids fighting in the living room, partner or roommate on a conference call, the chance to take a mid-afternoon nap… there are so many times when a pair of noise-canceling earbuds feel like a necessity.
Reason #4: The Jaybird Vista Case and Earbuds Hold a Serious Charge
The battery is great, better than my Powerbeats Pro. I don't wear these all day (see below why), but I can wear them for an hour, leave them out of their case all night long, wear them again for an hour or so, leave them out of the case all day long, and that evening put them in and they will state they are 90% charged.
The case holds a charge super long; put your dead Jaybird Vistas into it and within ten minutes you're at 50% charged. I can see how helpful this will be when I am traveling again; I can tuck the case in my pocket or bag, even pin it in place or hook to my keyring and have a place to store the earbuds and ensure they're truly getting recharged.
Reason #5: I Think the Jaybird Vistas are Cute
And from a completely superficial standpoint… I love it when earbuds are available in fun colors. These come in black, gray, but also a gorgeous shade of teal and a beautiful deep green. The case is a nice slim shape, has a magnet closure for security, a strap to make it easy to carry or weed out of a bag. The only negative is when charging the case, the charging light is SUPER BRIGHT. But the light goes out once you unplug.
My husband got the Jaybird Vista earbuds for my birthday this past January and they are one of the greatest gifts I've ever received. And while I love them… they also suck. Let me explain…
Why are Jaybird Vista Earbuds Not So Awesome?
Reason #1: I Struggle to Get a Good Fit with the Jaybird Vistas
The Jaybird Vista earbuds fit in my ears relatively comfortably, but not for a long period of time. Less than an hour is my max before my ears start hurting. And while they'll stay in place for a walk or washing dishes or even taking a shower, they easily pop out if I tried doing any major activity. I think they'd be fine for swimming laps, but if I were trying to do a flip turn, I'd likely have one fall to the bottom of the pool.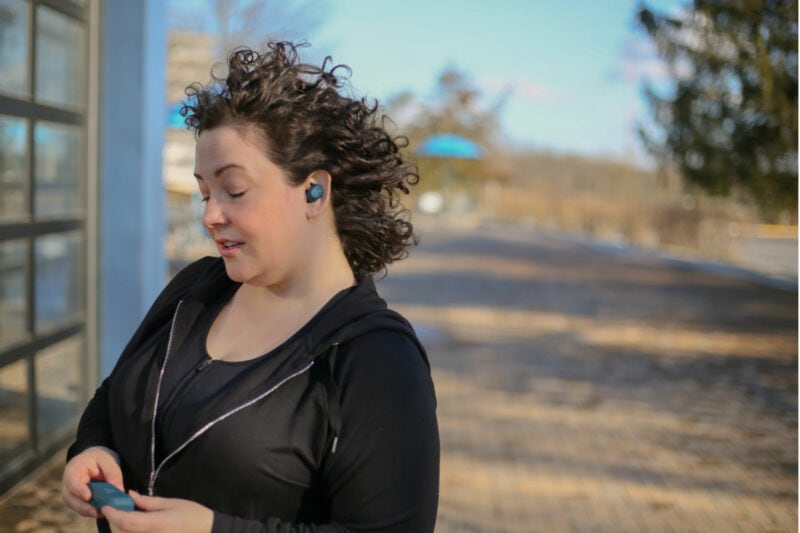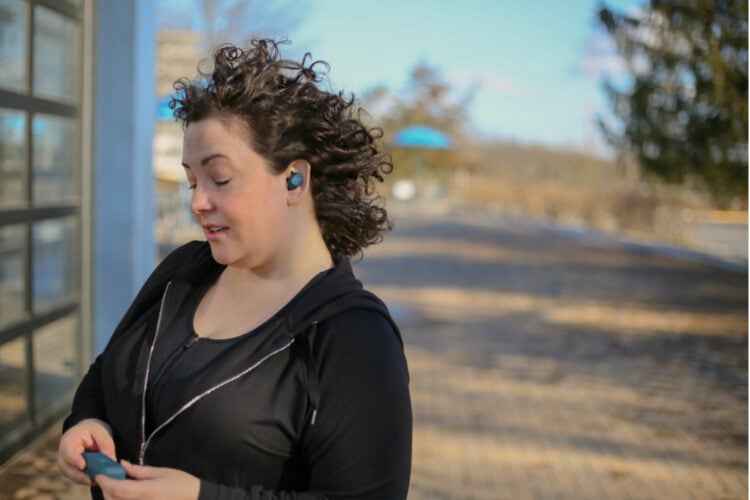 The earbuds come with size 2 ear gels on them and two more sets of ear gels – one bigger, one smaller. Thing is, the size 2 ear gels are the only ones with the little loop that fits into your ear cartilage to hold them in place. I think I'd do better with the smallest size, but without that do-hickey on it, they fell off if I shook my head.
Let's be honest, this is pretty standard for earbuds. Either they don't stay in, or they hurt… and a lot of them can claim both issues. They are comfortable enough to listen to a podcast while cleaning the bathroom, take a shower so long I run out of hot water, or furiously write this review while my daughter is doing virtual school without headphones and my husband is riding the Peloton, also without headphones.
Reason #2: The Jaybird Vistas Aren't Reliable
When you own a pair of waterproof earbuds, the whole family wants to borrow them. My daughter wanted to listen to her favorite tunes during a shower so I let her try my Jaybird Vistas. She came to me after the shower looking so forlorn and guilty. "I think I broke your earbuds, Ma." The right earbud stopped working mid-shower.
I dried them off and tried them with my phone… and they worked just fine. I said it must have been a glitch, she did nothing wrong. But then that night when wanting to listen to a Peloton guided meditation before bed, the left earbud wasn't working.
I did some Googling, and found others who had similar issues of having one or both Jaybird Vista earbuds stop working. I found a tutorial for a hard reset and tried it. It worked… but the next day the left earbud stopped working again. But the following morning, it was right as rain. Then two days later the audio was so faint on both earbuds I had it to max and could hardly hear. Next day… normal.
The Jaybird app isn't just for creating custom music profiles, it also has fitting guides, how-to guides, and support. I went to the Vista support tab and followed the instructions in it to hard reset, soft reset, and all its other methods of "fixing" the problem. This also helped temporarily but a few days later again one earbud stopped working.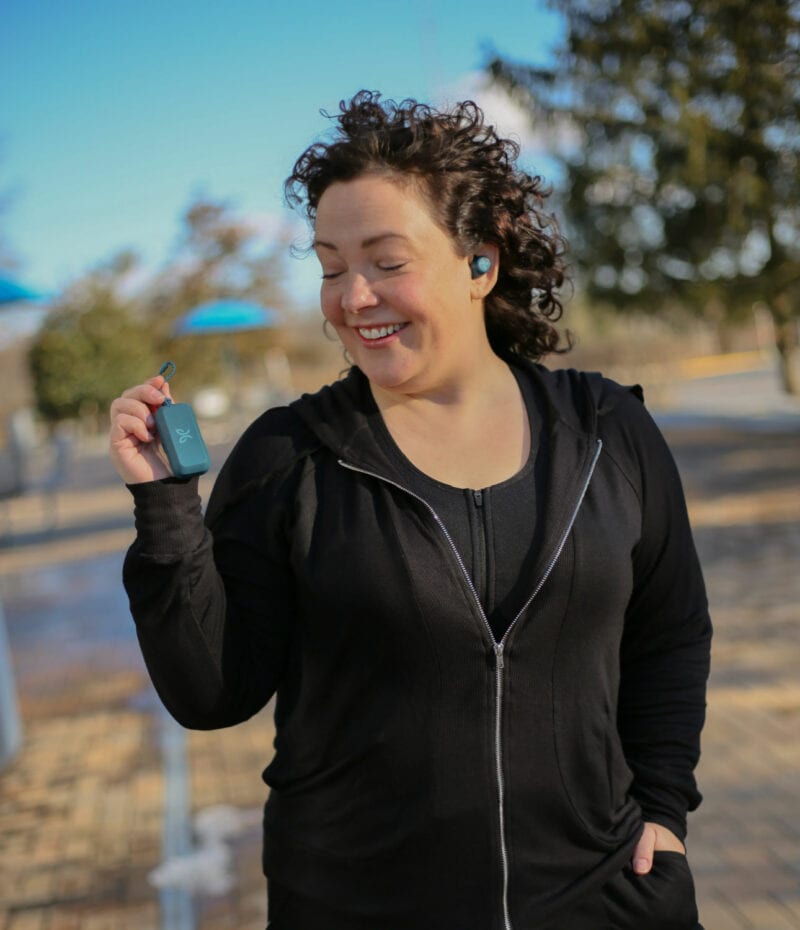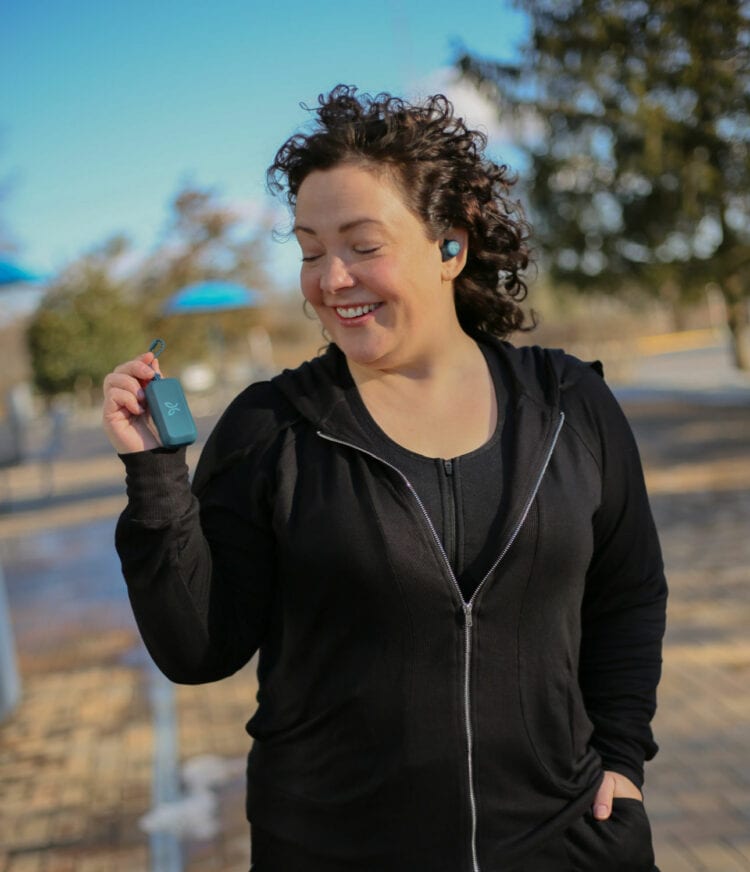 But what I realized was the hard reset stopped the audio level issues and the non-working earbud issue was always temporary. And sometimes, I could press the earbud to turn it off or on and that would resolve the situation. And the times that it didn't resolve it… it was still better than no noise-canceling waterproof earbuds. Just like a meh vacation is better than no vacation at all. Because when you're in the middle of a 'demic, you're willing to take meh just to have a getaway. So yeah, I think the Jaybird Vistas are worth it.
What About Cheaper Waterproof Headphones?
When I received my Jaybird Vista earbuds as a gift, I didn't even know waterproof headphones were a thing. But I did some research and yeah, there are a bunch on the market, many created specifically for swimming.
And if you are looking for waterproof headphones specifically for swimming, I found that the ones that are connected by a cord are the most popular so you don't have one fall to the bottom of the deep end when you do a flip turn.
Shop Waterproof Headphones and Speakers:
The thing is, all the rave reviews for other brands of waterproof headphones focus on security and fit, but admit the sound quality is kinda meh. And they're not usually noise-canceling. So they are great, you may find one better for you, but for my needs, I'm loving my Jaybird Vista headphones.
The Jaybird Vista Earbuds are Like a Wheel of Fortune Prize Puzzle Vacation
My husband and I love Wheel of Fortune and watch it almost every night. We both grew up on the show, and are pretty good at solving puzzles before the contestants.
But our favorite part is guessing the location of the vacation prize puzzle, and then rating the resort or hotel for the prize based on the photos and video clips used on the show.
Ooooh… that hotel chose to only use close-ups of lattes, palm trees, and the corner of the pool? That's going to be like that hotel they put us up in one night when our 1999 vacation flight home was canceled. That hotel had a nice lobby but roaches and bedbugs.
But that vacation from last Tuesday's Wheel of Fortune episode? That hotel looks decent. Kind of reminds me of the one we were in before our flight was canceled. The food was really mediocre and the room didn't appear to have been updated in 30 years but it was clean and the staff was helpful and it was a fun trip. If I won that prize puzzle, I'd take that trip.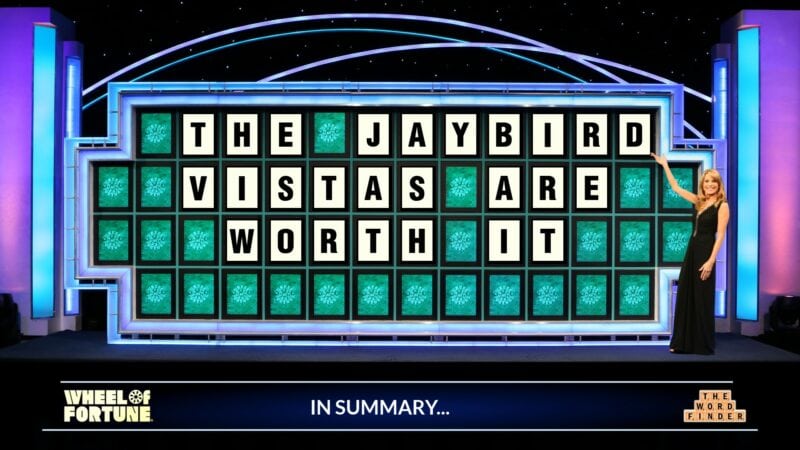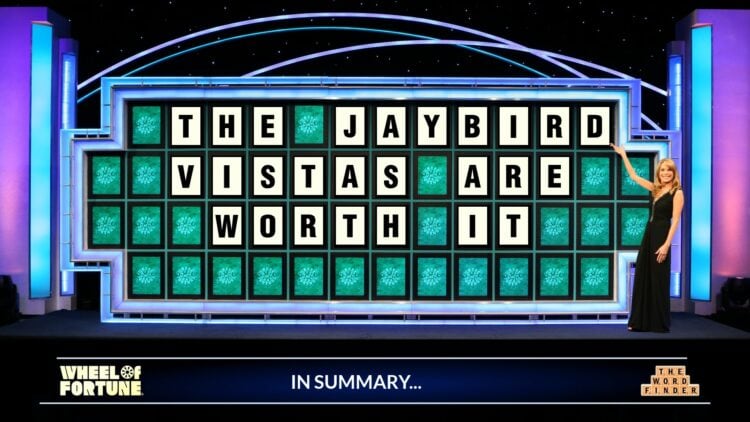 The Jaybird Vista earbuds are like that prize puzzle vacation that is good enough that you'd take. They're not an all-expenses-paid trip to the Four Seasons, but they're a Wheel of Fortune getaway to a Caribbean locale on a chilly winter weekend. So are Jaybird Vistas worth it? These earbuds aren't perfect but they're just what the doctor ordered when you need some quiet and the feeling of escape and luxury in the middle of a pandemic.
This is not a paid review; my earbuds were purchased with our own money. I have no relationship with Jaybird. I am not an expert or an athlete and when looking for Jaybird Vista reviews they were all by review sites, paid reviews, or by athletes. Wanting a review from an ordinary person like me inspired me to write this review. I hope you find it helpful!