This article may contain affiliate links; if you click on a shopping link and make a purchase I may receive a commission. As an Amazon Associate, I earn from qualifying purchases. 
This weekend was pretty hectic. Wonderful, but hectic.
Friday I worked form home the first part of the day. Then my husband and I headed to his aunt's house where she was hosting a lunch for his great aunts who were visiting from Minnesota. My husband had met them years ago at a family reunion but it was my first time meeting them. We had a really lovely time.
I do not have a picture of my outfit because I forgot; should have some later when other people's cameras develop the pics from the day. However I wore a dress from Ann Taylor Loft Maternity that was on clearance a few months ago – it's long sleeved matte jersey, black with a green and white pattern on it and a surplice neckline. With it I wore my black leather slingbacks from Banana Republic and had my hair curly. Very subtle makeup – fresh face, rosy cheeks to counteract the Crayola hair. 🙂
We then jetted from there to the Chesapeake Bay where my friend Candice was having her wedding rehearsal. I was to be officiant so I had to be on time! All went well, the site was gorgeous and the weather was perfect. We then headed to the rehearsal dinner and got home before 10pm.
The next day I got up early to take my mom to the airport for her trip to Massachusetts to celebrate her childhood friend's birthday. I then ran a few errands – the much needed brow wax, some returns, some groceries… the usual. Got home and had a little time to do laundry and cleaning and then got ready for the wedding.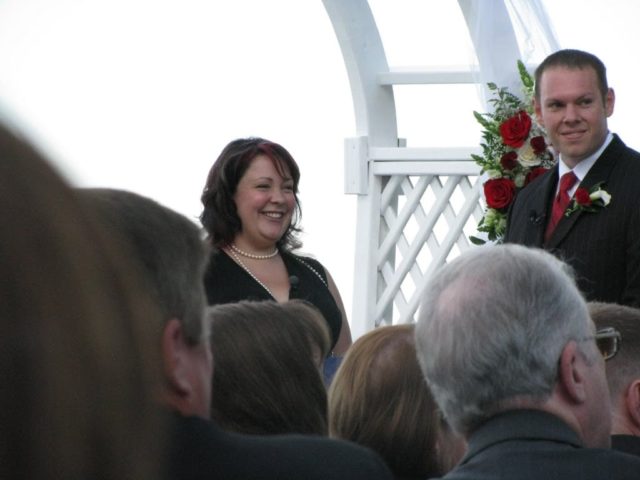 Again, no great pictures from the outfit as that we were running a bit late and my camera was already in the car. This is a picture my husband captured of me at the altar before the bridal party made their entrance. I wore my hair wavy, again fresh makeup but added a bit of liquid liner. Dress is Old Navy maternity – black matte jersey and actually the same exact cut and style as my go-to non-maternity Old Navy dress! I got it via eBay. With it I wore the Banana Republic slingbacks but in bronze, two pearl necklaces (choker and longer), diamond studs and a black crepe shawl with fringe and embroidery that I got at Express a decade ago. Black beaded vintage clutch.
The wedding was amazing – weather was perfect, the view was gorgeous (the Bay was right behind us during the ceremony), the bride was so beautiful, she did a great job planning the event with special touches and simple elegance. I know Candice from my old job so it was great to see a few of my old coworkers again and catch up.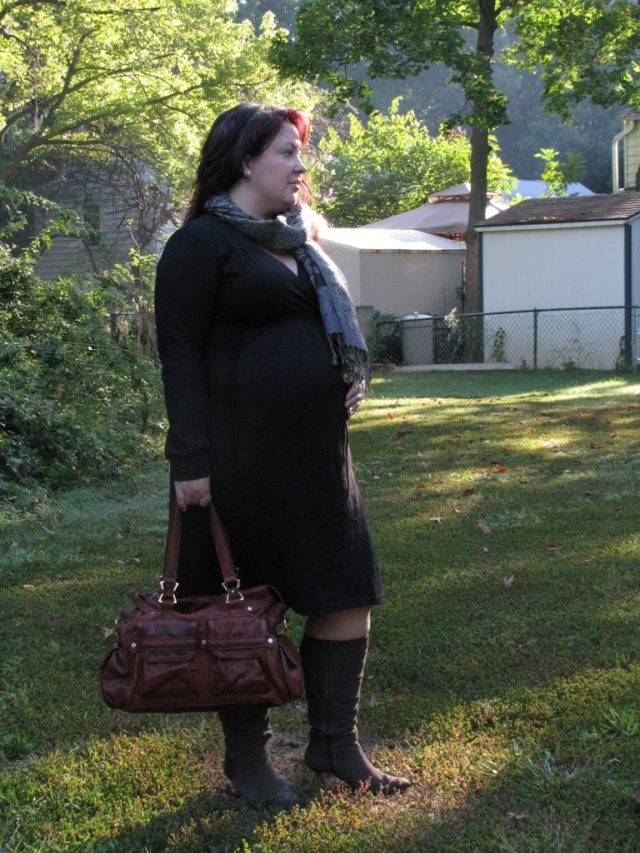 Sunday, my husband and I went to breakfast and then to the farmer's market and grocery.
I have found with my pregnancy that life is far easier with dresses so I have been throwing them on almost every day. It's great because I look very polished but feel comfy and take no time to get ready.
This dress is by Boob Design, which is a nursing and maternity company. I ADORE this dress, and also wore is Saturday morning when taking my mom to the airport.
It's a lightweight cotton jersey that has drawstrings at the empire waistline so it can really contour around my curves. Blouson sleeves are a fun touch and the dress is as comfortable as a nightgown, but with very feminine and stylish details. Paired it with my brown suede boots from Silhouettes, a gray print shawl from a boutique in Rehoboth Beach (worn as a scarf) and my new purse.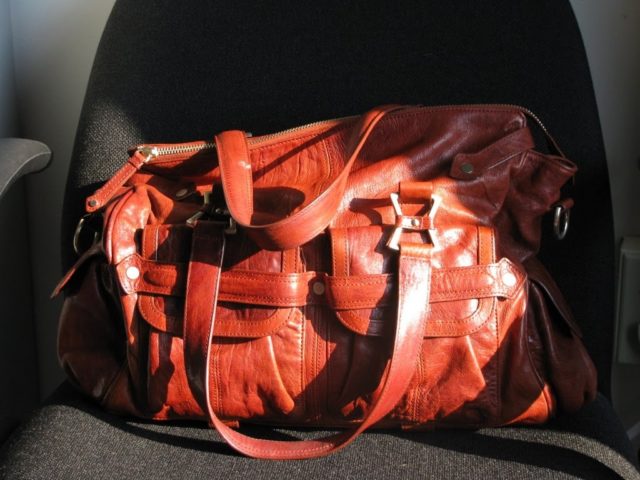 Speaking of new purse… here's my fall splurge! This is the "Megan" by Junior Drake. I got it on eBay for an incredible price and really adore it. The whiskey color is gorgeous and works with black as well as brown. Lots of little pockets so I have a place for my cell, my notepad, my SmartTrip card, my keys, my lipstick… it's slouchy without being a black hole like my old Banana Republic hobo.
Often I get my bags from Banana Republic because I find the quality and style to far exceed the price of their leathergoods. That, on top of finding a piece on eBay means I get a good deal. I had not experienced a Junio Drake bag before, but have seen this bag on a few celebs and in Nordstrom and loved the shape and style. I decided on a whim to check eBay to see if I could find one in my pricerange. This one was new but without tags and without the shoulder strap, which meant they couldn't get a regular high price for it. No worries, the seller was reputable and offered returns so I took the plunge. Very happy with the result!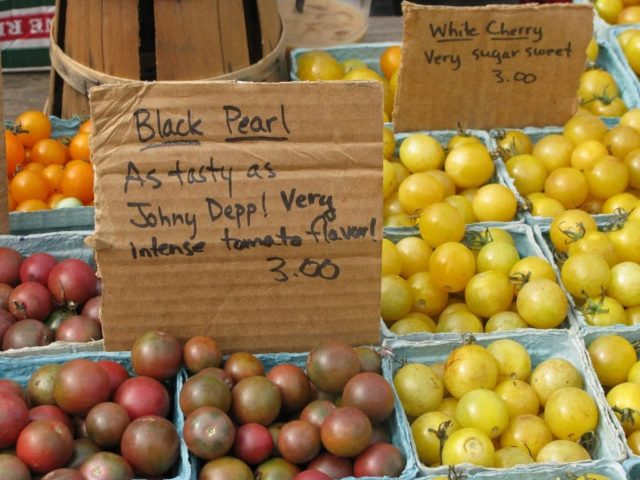 This picture has nothing to do with fashion, but I saw it at the farmer's market and had to share…
little tomatoes as tasty as Johnny Depp?
Oh my! 😉
Hope you all had a lovely weekend!