This article may contain affiliate links; if you click on a shopping link and make a purchase I may receive a commission. As an Amazon Associate, I earn from qualifying purchases.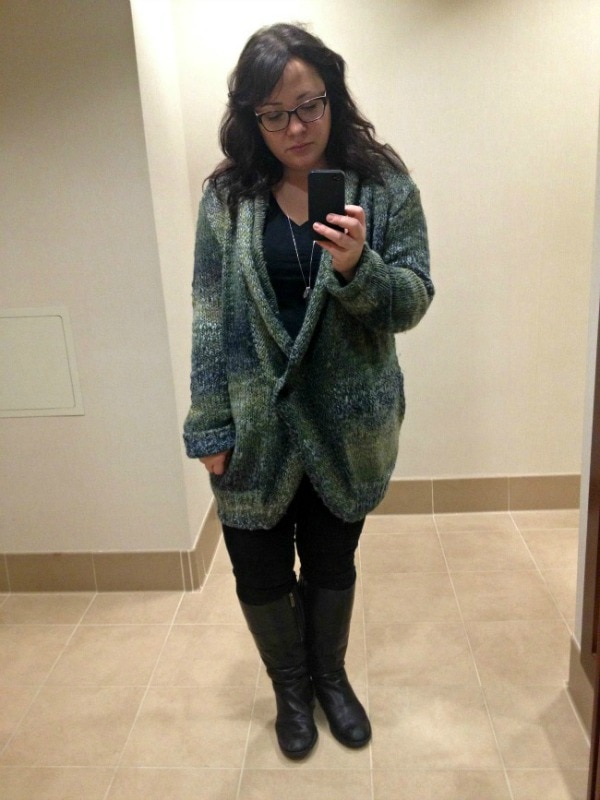 I read recently on a forum that people are finding fashion blogs to become more and more false, more like catalogs. Perfectly airbrushed girls skipping through leaves drinking lattes and wearing Karen Walker sunglasses. Where's the outfits people really wear to the grocery store, on Casual Friday, when sick?
Well here you go folks, this is what a fashion blogger wears when she has the flu yet still has to go to work. I am drugged up, hydrated, full of vitamin C and in the office even so I feel like death. And this is what I am wearing. Comfy tee shirt (yeah, I now have 6 of these tee shirts), jeggings that are so old and soft they feel like knit leggings, flat boots, and the coziest most comforting sweater in my wardrobe.  And yes, I wore this same sweater almost all day yesterday when at home, wrapped up in an afghan watching Ricki Lake and coughing my head off.
Tuesday I came to work and hardly brushed my hair or washed my face and felt and looked awful. Every time I bumped into a coworker they took a double-take, I looked so dreadful and not me. I knew I had to be at work today even though I feel worse today than Tuesday so I made some effort – I curled my hair in large sections and did my makeup. It's amazing how much better I feel knowing I don't look as horrible as I feel.
Many blogs show real life – what we wear to work, to the market, and when we are sick.  Not every blog is an airbrushed faux reality, you just need to dig a little deeper into the blogosphere and you can find us women in grandma sweaters and faded black jeans, sniffling through a day at the office.
Follow Me | Twitter | Facebook