This article may contain affiliate links; if you click on a shopping link and make a purchase I may receive a commission. As an Amazon Associate, I earn from qualifying purchases. 
I have been finding it a challenge to find a work tote/satchel that can handle all of my work items (iPad, shoes, book, and occasionally lunch) without having the handles break. I am preparing to take my latest two off to the great purse surgeon for some love and repair and am wondering if you can recommend a great tote/satchel for work that can carry all of the above and handle the weight of it all? I'd like to stick to a price tag of no greater than $200.
Some things I think are worth the price – well-crafted tall leather boots, a winter coat, and a work tote. It's very hard to find a decent tote that can handle wear and tear without looking like crap. Honestly, few bags can carry all that on a regular basis and survive nicely unless you purchase a heavy-duty tote. While I recommend a black tote for business, for your commute a bag like the L.L. Bean Boat and Tote or Lands' End Canvas Tote is a brilliant choice since it will hold up with a lot of weight, wear, and tear and won't be worn outside of the commute. The version with elongated straps will fit over your shoulder even if you have on a heavy winter coat, and they have options with open or zip tops and storage compartments. Choosing a darker color will be better for public transportation and city life as these totes can't be thrown in the washer and do best when spot cleaned.
I often carry multiple bags instead of stuffing my work totes to preserve their condition and shape, but it's still great to have a bag that doesn't look sloppy and can carry both your Kindle and your bottle of water without bursting at the seams. My two favorite work totes were both purchased on sale and would have been over $200 otherwise.
However, price doesn't equal a good work tote – you want to look for heavy straps that are sewn into the body of the bag (even better if they wrap around the body of the bag), metal feet to protect the bottom of the bag, and a bit of structure so it keeps it shape over years and random contents. The two bags I have are leather with leather straps, fully lined, and one has a center dividing compartment which keeps the shape and structure of the bag, even when seated on a table or the floor. While a crossbody can seem convenient, I find that if you plan on stuffing a bag, a crossbody can be hard to carry, dig into your shoulder, and put far too much wear on the straps.
The bags I suggest below have not been seen in person and I cannot vouch for their quality and appropriateness; their style and fabrication lead me to believe they would be good choices and are all around $200: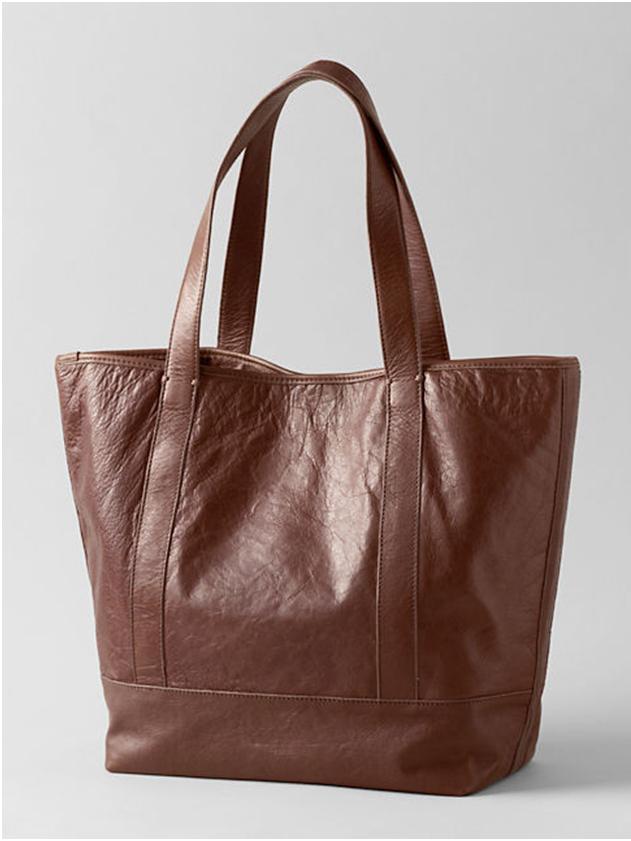 Love the canvas boat bags but yearn for something more polished? Lands' End has you covered with this brown leather tote with brass feet and organizing interior pockets. Reviews are positive and show owners use it for everything from hauling books back to the library to packing for a trip. Supple leather, classic design, smart styling and less than $200!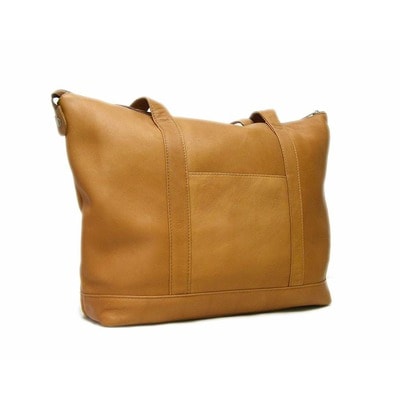 No frills, but who needs them when you're trying to cart your work essentials via mass transit? Plenty of pockets, full grain leather, and a variety of subtle shades make this a great commuting tote. The reviews are positive and seems many use this to lug around heavy 17" laptops with no issue. A classic style and less than $90 makes this bag a great option.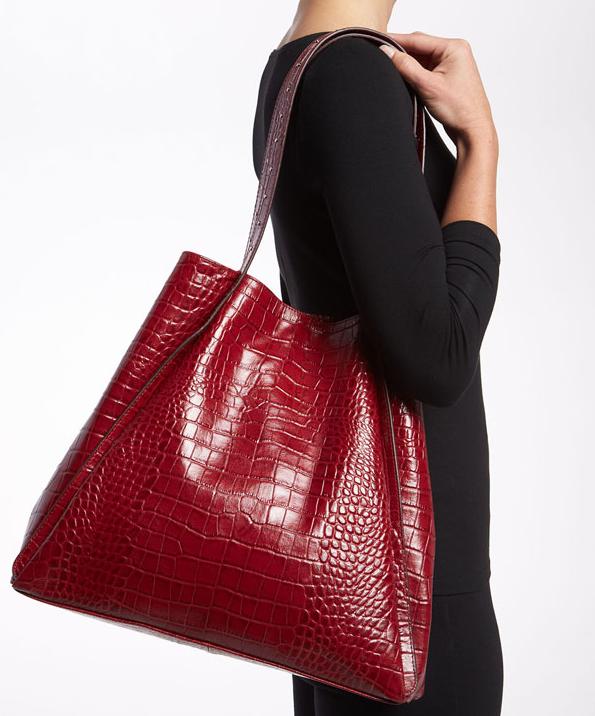 The best thing about this tote are the straps that continue through the body of the bag – this will keep your straps in one piece far longer. Generously sized, and fun yet work-friendly fabrics and colors. Currently on sale for less than $140 and free shipping.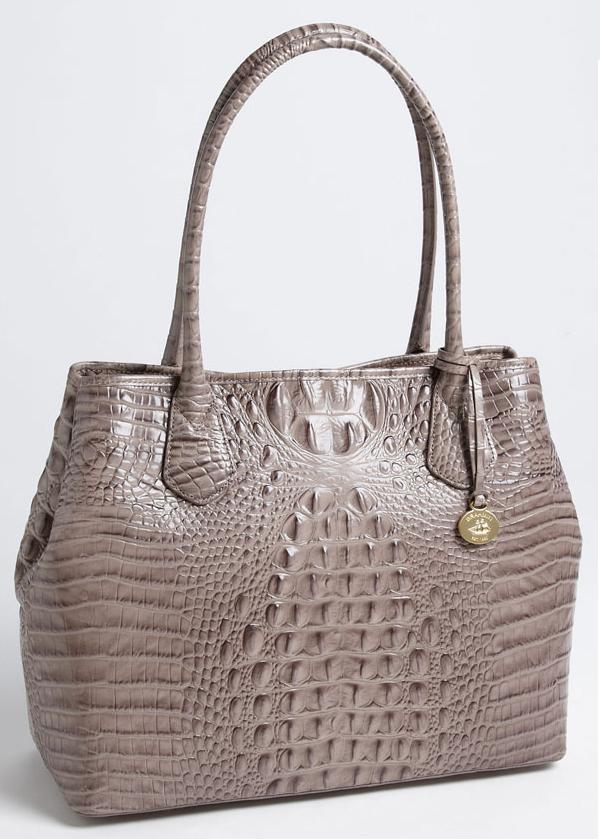 I have a Brahmin and can attest to the fact that they are sturdy, well-made bags. My tote has a thin crossbody strap but easily supports a bag full of heavy things like leftovers and bottled water. Though the straps aren't sewn deep into the body of the bag, they are wider at the bottom and secured all the way around for a strong foundation. Metal feet, interior organizing pockets, and a variety of conservative and fun colors make this a great work bag. While it is a bit over $200, it's a classic style that should give you years of wear and is polished enough to use for corporate meetings and conferences and work travel. In fact, if you're interested in splurging, the larger 'Melbourne Large Anytime' tote has a padded compartment inside just for your iPad.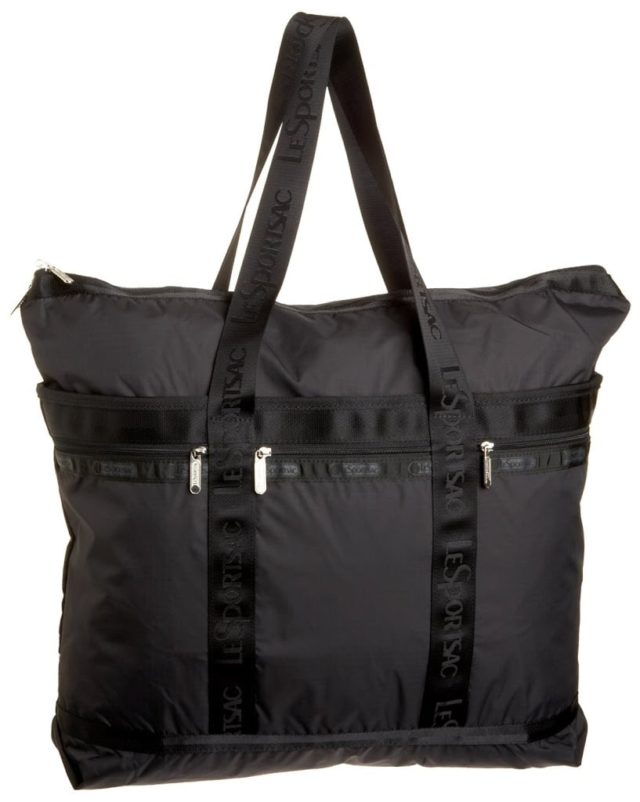 I feel inauthentic recommending a brand I wore strapped above my fanny in the '80s, but LeSportsac is known for high-quality, sturdy, and lightweight bags that last forever. The Travel Tote is famous for being the perfect tote you didn't know you needed. Lightweight, durable, expandable, and not covered with overly visible logos or prints, this is a LeSportsac that can fit with most any personal style and will comfortably carry everything from your gym clothes to your netbook with ease. Less than $100, and many say they are still happily using the same LeSportsace Travel Tote that they purchased over a decade prior.
Follow Me | Twitter | Facebook