This article may contain affiliate links; if you click on a shopping link and make a purchase I may receive a commission. As an Amazon Associate, I earn from qualifying purchases. 
Dear Allie, I recently thrifted an amazing vintage deep berry/burgundy fully lined wool pencil skirt. I want to wear it with colors or something unexpected. I've paired it with white, black and navy thus far. I'm not afraid of color but I find this pseudo neutral difficult. Any ideas?
Since the piece is thrifted I couldn't find it online, but found this skirt from Majestic Filatures to use as an example. Such a color is what you call a pseudo neutral, which means it can be surprisingly versatile and worn with other colors without looking like Rainbow Brite. Below I have put together some ensembles that would work with such a color and style of skirt.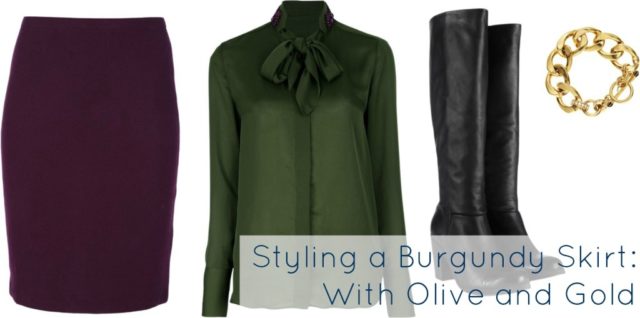 Purple and green are on opposite sides of the color wheel which makes them a great pairing. Olive is also an unexpected neutral so the two don't compete for the limelight. I love the contrast of a tougher fabric like wool with a silk or charmeuse; leather boots and a bold gold bracelet balance the look out.
Taking a color that is similar in shade to the skirt can be quite a beautiful and luxe look. Magenta, rose, plum, violet – a color that is a bit brighter, darker, warmer, or cooler will complement the skirt nicely. With this ensemble, I let the colors take center stage and kept the accessories relatively neutral. A leopard print calfhair skinny belt worn outside the untucked sweater will flatter the figure and add some interest.
If the burgundy is more of a berry, it would look quite lovely with blue-green shades like teal, jade, and peacock. This ensemble takes a few hot trends for this season – peplum, booties, and feathers, but makes it subtle enough to work in some office settings. A peplum is a great piece with a pencil skirt, and the black camisole and booties keep this from looking too much like a costume from an '80s movie.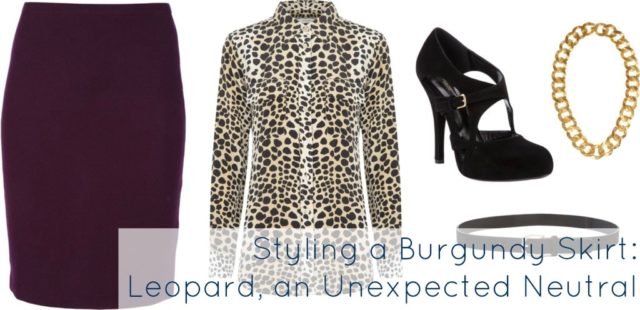 I believe if all else fails, try leopard. Leopard is an unexpected neutral that looks great with so many different colors. Leopard can look a bit cheesy with primary colors, but looks quite rich with deeper tones like burgundy and berry. Black shoes and belt pull the look together, a bold gold necklace at the throat makes the pairing look purposeful and modern.
For details on the pieces used in the collages, please click the link directly below each image.  Pieces used were chosen for example,  I cannot guarantee their availability or that the price fits your budget.

Follow Me | Twitter | Facebook