This article may contain affiliate links; if you click on a shopping link and make a purchase I may receive a commission. As an Amazon Associate, I earn from qualifying purchases. 
Thursday: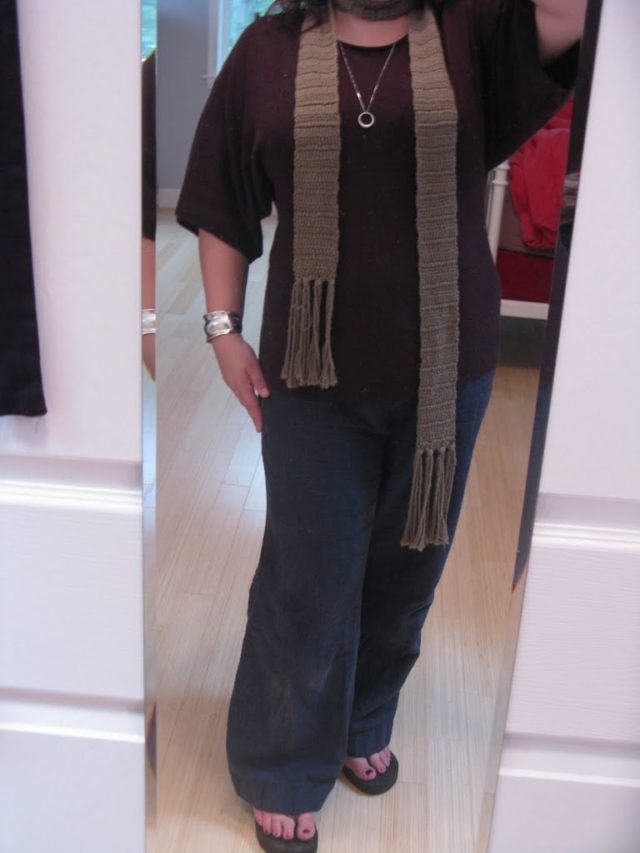 This is my Pajama Equivalent outfit. The pants are floppy linen blend and are now too big so they are comfy. The sweater is very soft, and the scarf is cozy. It is not the most flattering outfit, but it's a good outfit when I am running late, wish I could wear jeans or yoga pants to work and cannot, and also makes my air-dried curly hair look purposeful. Pants from Gap, sweater from Ann Taylor Loft, scarf was a gift. And yes, those are flip flops from J. Crew. My tan sandals from Lands End were already at work.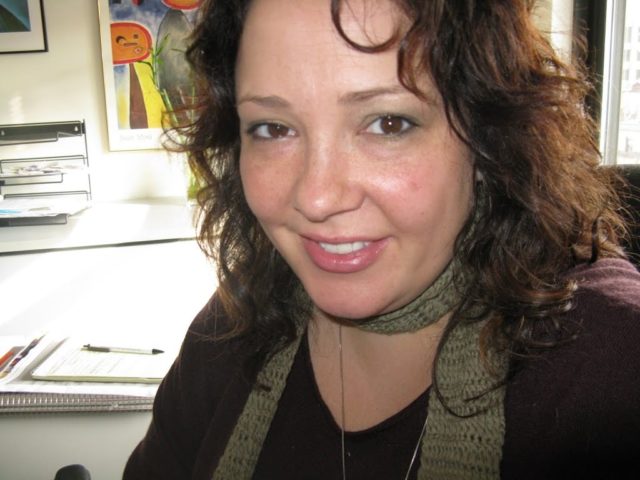 And this is me near the end of the day, so makeup has worn away and hair is looking as crazy as the weather outside. Traditional makeup, just used the olive shadow from the Revlon Colorstay shadow quad in Neutral Khakis.
Friday I wore my indigo wool cardigan, a white tank, my black pants from New York & Company and my black patent T-straps from Sofft. Those pants are a bit big now as well (constantly morphing postpartum body). I spent the larger part of the day hiking up my pants. Another reason why you see me in dresses all the time – they work with a constantly shifting midsection!
Saturday was my husband's cousin's son's 4th birthday so we headed to their house for the festivities. A Thomas the Tank Engine set of Duplo blocks were well received, and the Birthday Boy and I enjoyed playing with another of his new toys – a classic Slinky. Didn't go down the stairs as well as I remember as a kid but we had a good time putting forth the effort. I wore my black New York and Company pants again, but they were held up by my blue print tunic from Nordstrom (and a black cami from H&M underneath for modesty). Silver chain from Ralph Lauren, silver hoops and cuff. Hair was washed the night before and just tamed with a curling iron and some Jonathan Silky Dirt.
Sunday we relished in not having to leave the house. My sister came over in the morning and my husband made us a big breakfast. Mid-afternoon nap and lot of time playing with Emerson and enjoying a day of actual rest. Flannel pajama pants, a knit cami with a tissue-weight tee over it was my style for the day.