This article may contain affiliate links; if you click on a shopping link and make a purchase I may receive a commission. As an Amazon Associate, I earn from qualifying purchases. 
Slacker late, but here's a picture of me in that top from Jones New York: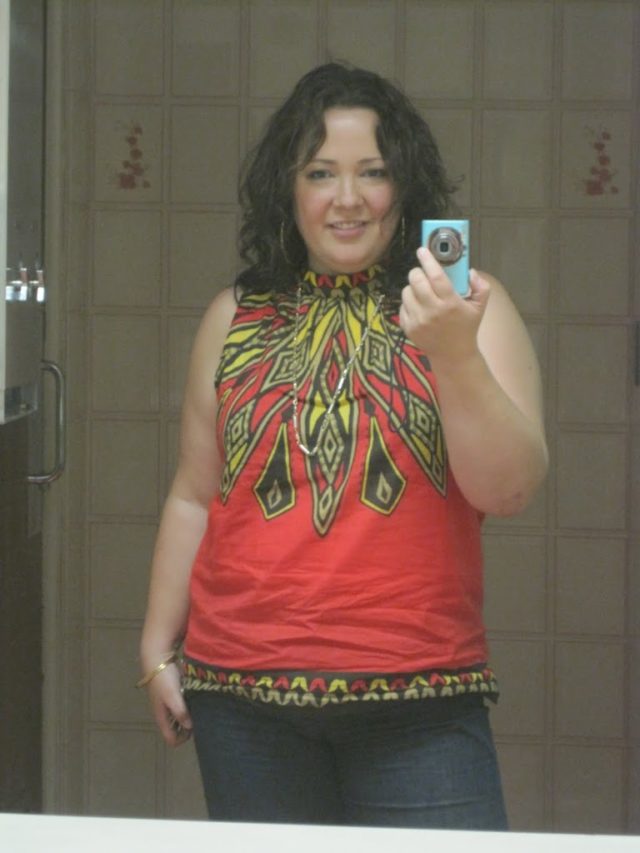 Another fab public bathroom shot! Anyway, the top wrinkles easily in the humidity, as you can see. However it is so darn lightweight and comfy, I am a huge fan. I ended up wearing this on Saturday as well with my Seven jeans (more casual), my black coral necklace and brown stacked flops from J. Crew.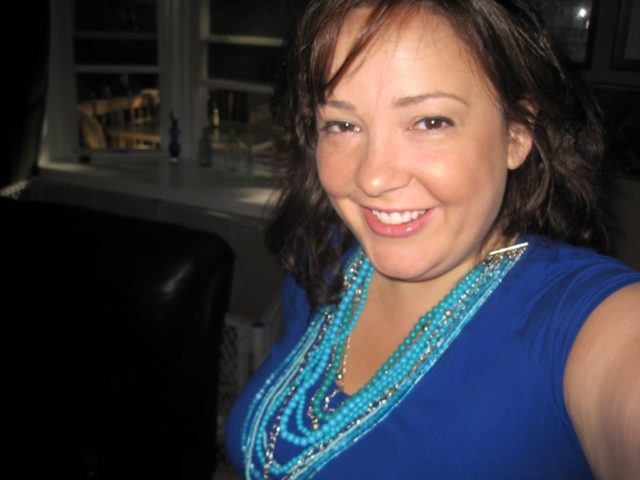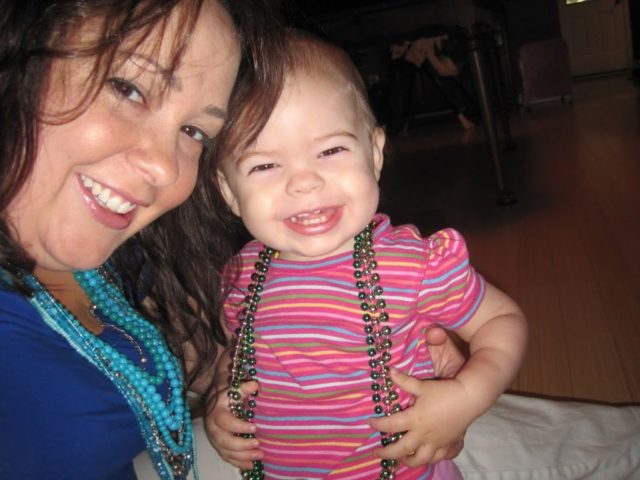 On Friday I wore a bright cobalt scoop tee from Ann Taylor with my white Gap low-rise flare trousers from last year (they fit again – the 14s are perfect after a bit of time stretching out, though still too short to be worn with anything but flat shoes). The necklace is one I bought at a boutique last summer at Rehoboth Beach. Emerson is such a fan of necklaces, she loves playing with Mardi Gras beads. At Weight Watchers on Thursday night, she gave one of her necklaces to a little 3-year old named Caleb who was also there.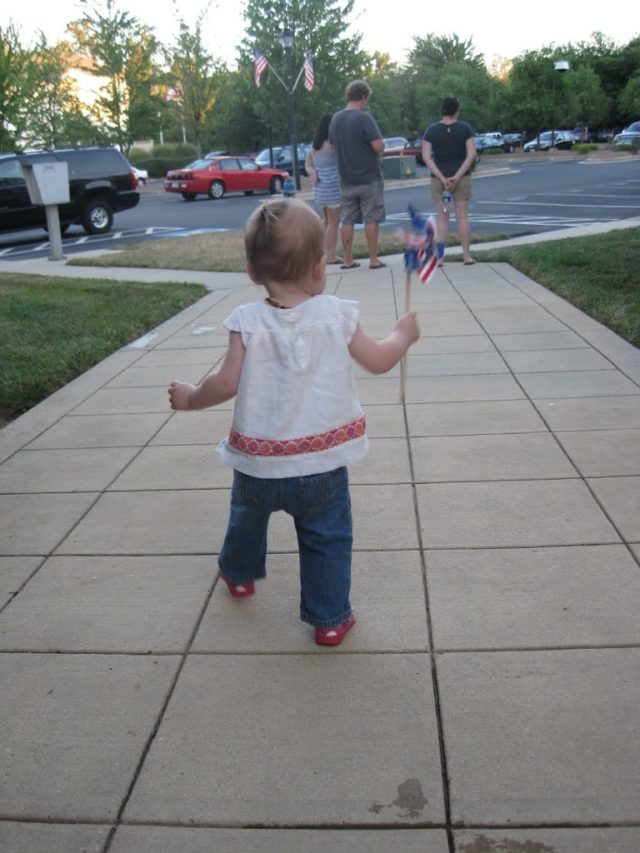 Saturday we went to visit our friends who live on the Chesapeake Bay. As mentioned, wore the JNY top and jeans. It was a cookout. Everyone went to fireworks around 9pm, but we headed home because Miss Emerson was sleepy. She usually goes to bed between 7-8, so it was already a late night for her. However she was having a fantastic time – lots of kids there, lots of fun. She walked up and down the sidewalks either with a pinwheel or a punch balloon just screaming "Yaaaayyyy! Yaaaaayyyy!" Too cute.
Sunday we headed to the town Farmer's Market for our weekly produce and to see friends. I love our town, it seems that everyone heads to the Market on Sundays and it's a great time to catch up with friends, know whats new in the neighborhood, and also score some fab food. We eat our breakfast there – they have iced coffee, various pastries, crepes, lemonade, ice cream, donuts and of course tons of fruit. I had blueberries and iced coffee, my husband shared his cheese danish and and I shared berries with Emerson. We came home, Emerson napped and then we headed out for 4th of July festivities.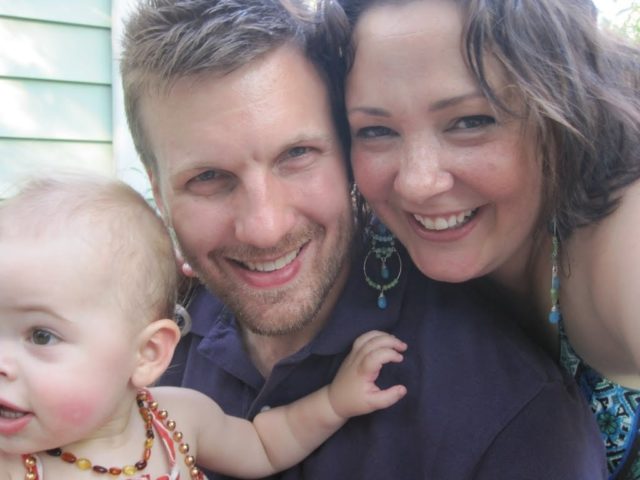 We went to two different cookouts in town. I wore a blue print maxi dress from Ross that I bought for Bonnaroo. It has shaped soft cups and adjustable straps so it's wearable sans bra. Paired it with some chandelier earrings I have had for ever – I can remember wearing them at my bachelorette party in 2004. That and flip flops made for good hot weather party hopping! This is us at the second cookout.
Emerson and I headed home at 6:30 – I was hoping she would survive longer due to a good nap but I think the previous day and the current day's heat wore her out. Luckily we live only a few blocks away. She was in bed knocked out before 7pm. My husband took us home, but I told him to go back to the party. He went down to the town fireworks with friends and they scored a really great place. Next year it is my turn to see fireworks. 🙂 I am not upset – I would miss fireworks any day to have a happy secure baby who has a good night of sleep! I actually had a nice Girls Night In – some microwave popcorn, a glass of wine and some ridiculously bad movies on the Lifetime Movie Network. I even had a bubble bath. How often does one get to do that when one has a toddler?
Yesterday was very laid back. We went for a walk as a family early before it got super hot. I wore a black tank and khaki shorts, nothing spectacular. Came home, E went down for a nap, we made ourselves a very lovely lunch and had it with very cold wine out on the deck. We then decided to have naps ourselves. I woke not feeling well at ALL. Stomach cramps, back ache, mouth tasting metallic, felt as though I was on the verge of a migraine. My husband had to teach yoga that night so my sister came over to help me since picking up Emerson totally killed my stomach. By time Emerson was down for bed, I was feeling loads better, and glad my sister got to have good play time with Emerson. I still feel out of sorts today, but at least I can stand up straight and the headache is gone.
However it was HARD to wake up this morning. I pretty much threw on random stuff I knew was clean and totally went against dress code and wore jeans. I considered calling out but want to keep my leave for later in the year.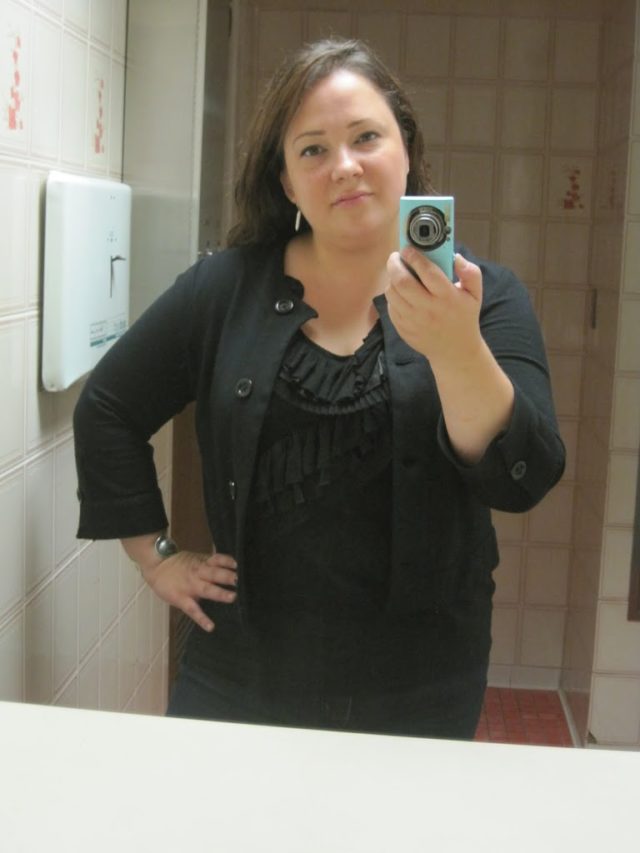 I am wearing a black tank from Ann Taylor that has silk, knit, and chiffon ruffles all over it. Over it is my black ponte collarless jacket from Banana Republic Outlet. NYDJ straight narrow dark jeans, my red patent T-straps from Sofft, silver cuff and little mother of pear dangle earrings. Hair is next day and NOT done. I had in a messy side bun but it got messed up in the heat. Makeup is just foundation in spots, a touch of Tarte bronzer, Bare Escentuals Buxom eye liner in Leatherette, DiorShow mascara and a clear shimmery lipgloss from Sephora.