This article may contain affiliate links; if you click on a shopping link and make a purchase I may receive a commission. As an Amazon Associate, I earn from qualifying purchases. 
Going through the pictures on my phone, I realize there's a lot of recent looks I've worn that haven't made the blog. Some of my outfits from the past few weeks: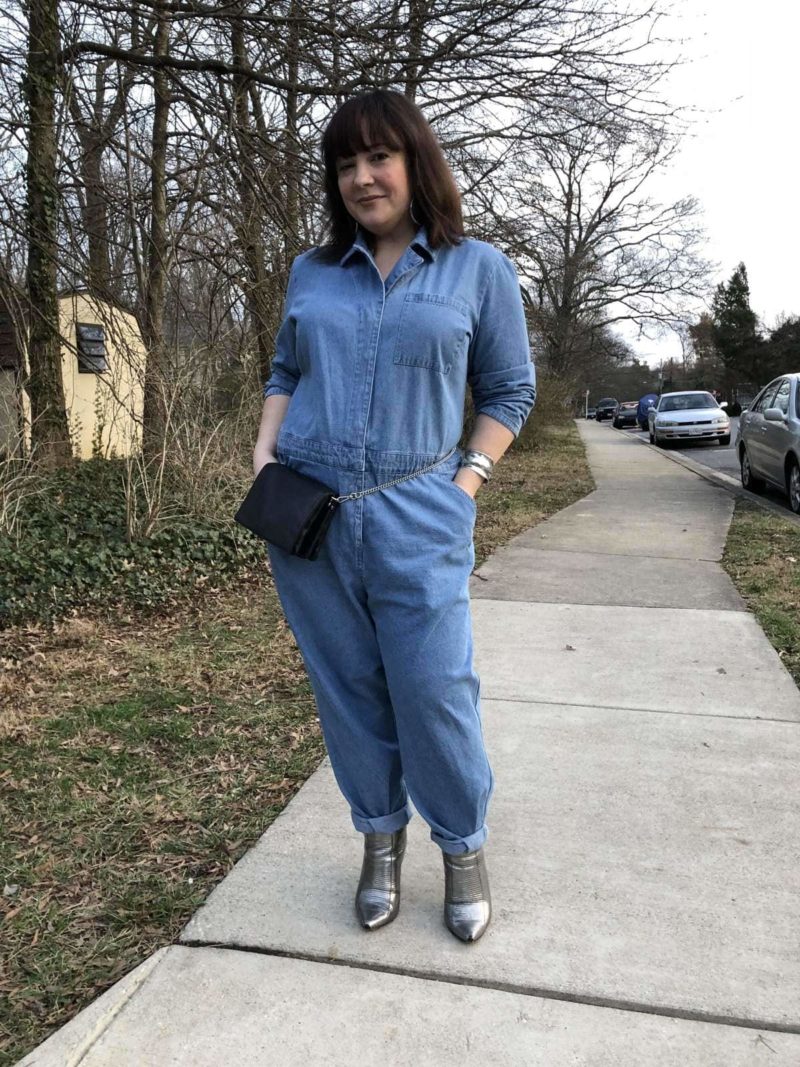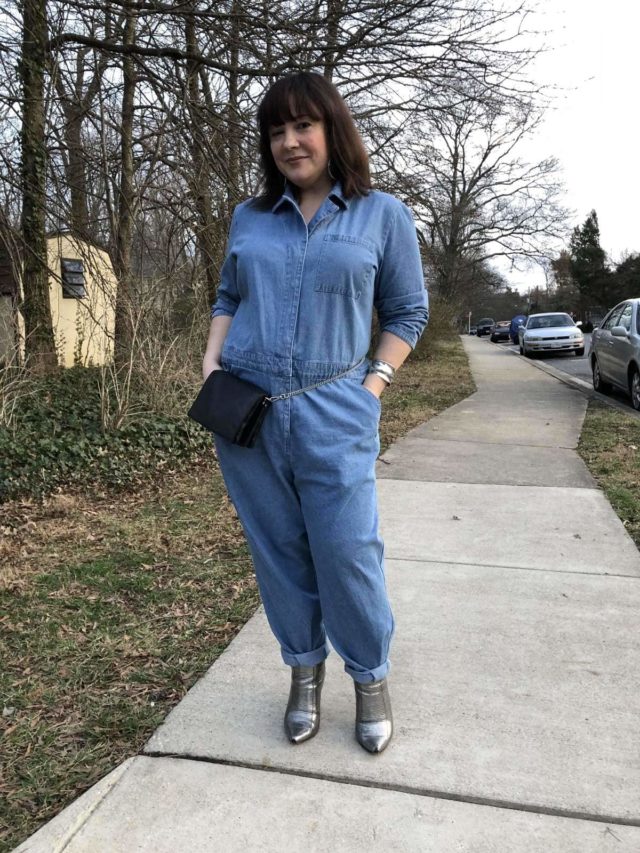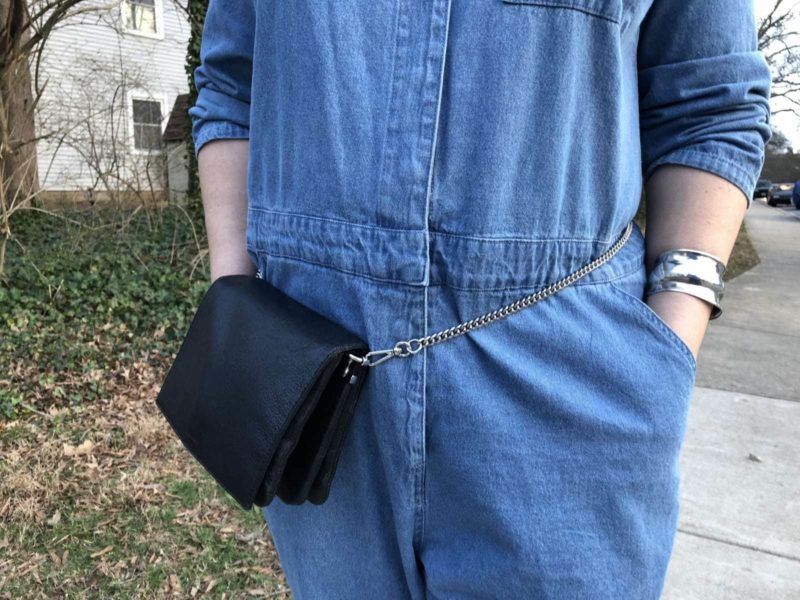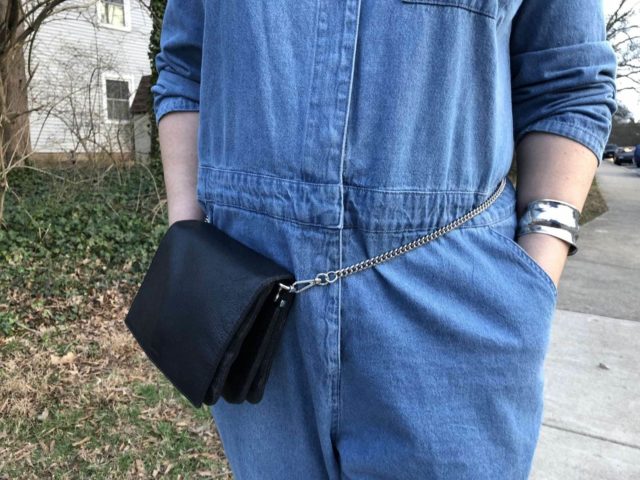 Boilersuit: ASOS Curve (14) | Wing Patches (on back): Etsy | Earrings: Jenny Bird | Bracelet: Had forever (budget-friendly option) | Shoes: BCBG (old; similar) | Bag: ALLSAINTS
I went to an event hosted by DM202 Live called "Building Community On + Offline." It was a panel of community- building creatives in DC and afterwards there was a networking session. I knew I'd likely be the oldest person there (I was wrong, one of the panelists had his mom in the audience) and I wanted to feel like myself but also show that one can be a badass over 40. I chose to wear the look from this outfit post, but with my newest Jenny Bird earrings. I took my ALLSAINTS bag and since it has a detachable chain strap, I was able to easily turn it into a belt bag (wrapped around my waist, threaded through the loop, under the flap, then hooked to the other loop). The look worked, I wasn't too try-hard, got a ton of comments on my outfit, and met some really amazing people in the District!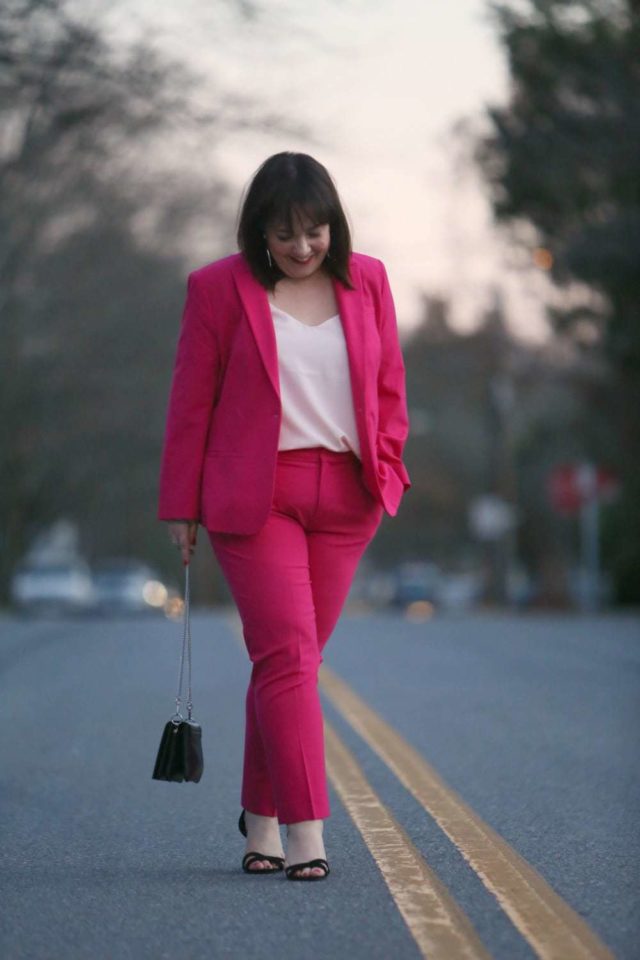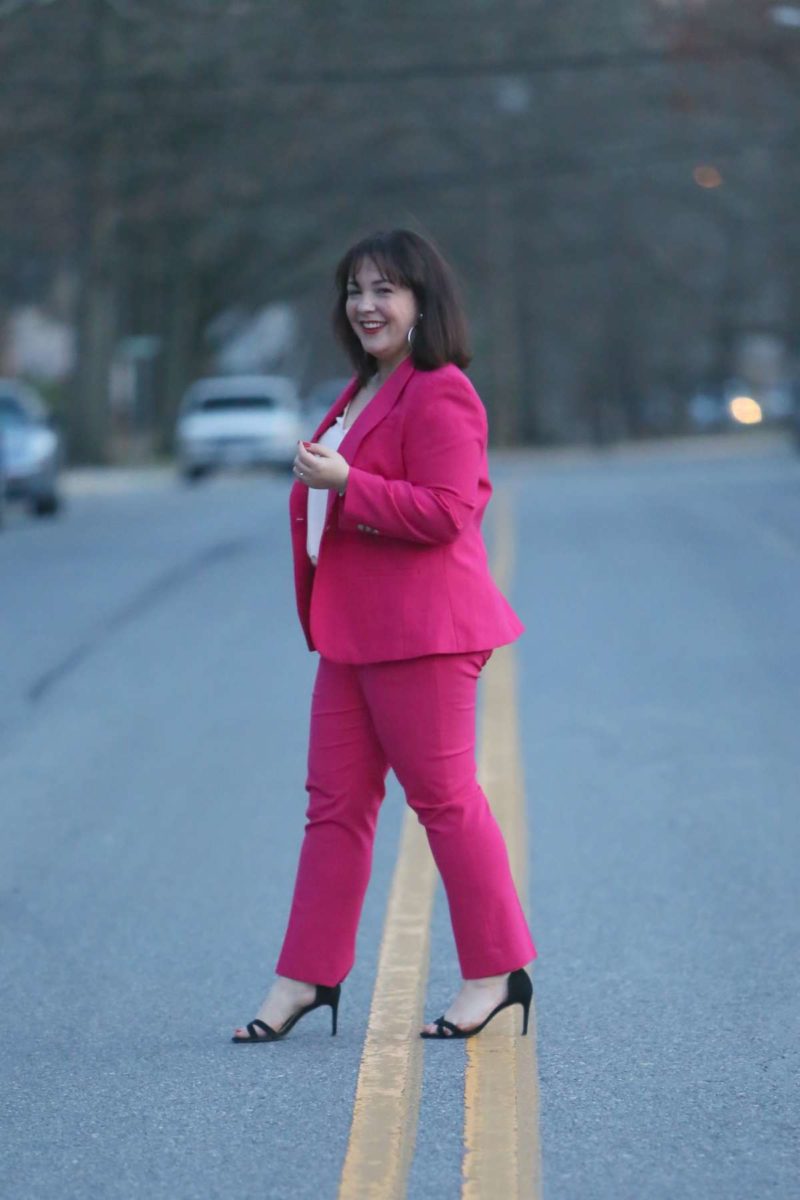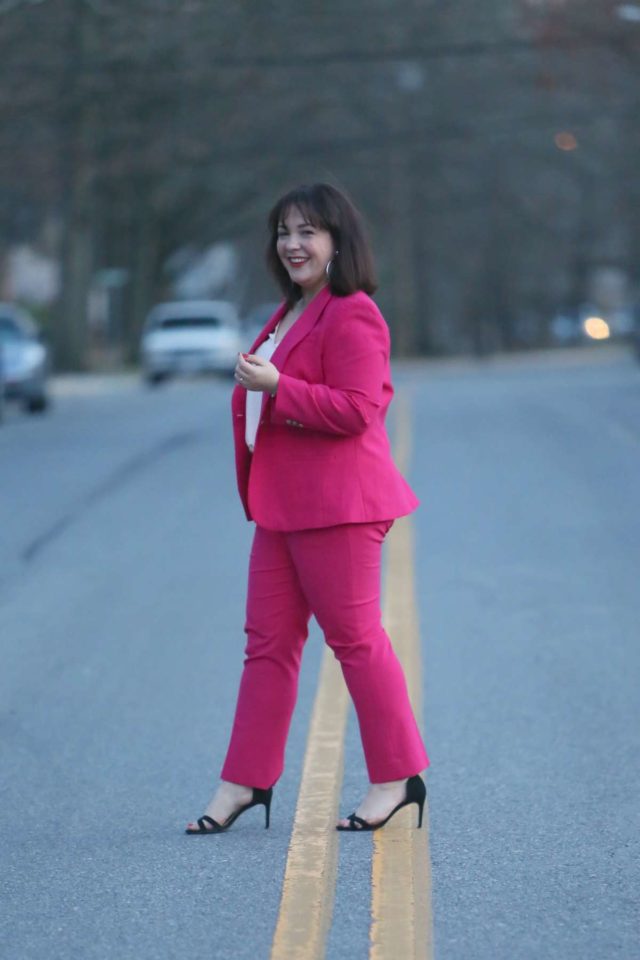 Jacket: Banana Republic (16; more Banana blazers) | Camisole: J. Crew (XL) | Pants: Banana Republic (14P; more Ryan cut pants from Banana) | Earrings: Jenny Bird | Shoes: ASOS (similar) | Bag: ALLSAINTS
The dress code for NewsBash was pink and cocktail attire. I planned to wear the ELOQUII dress in this post but after wearing it that evening I realized I was a bit too short in the torso for it. I was glad I had this suit in my closet, and fresh from the cleaners. I ordered the cami after trying black, white, and silver and finding it too much contrast and looking too corporate. The cami was perfect. Since it was a cocktail event, I chose to wear a bag that had a shoulder strap so my hands were free for drinks and hors d'oeuvres. The night was surprisingly warm, I didn't need an additional jacket and my feet didn't freeze (though they were sore at the end of the night!).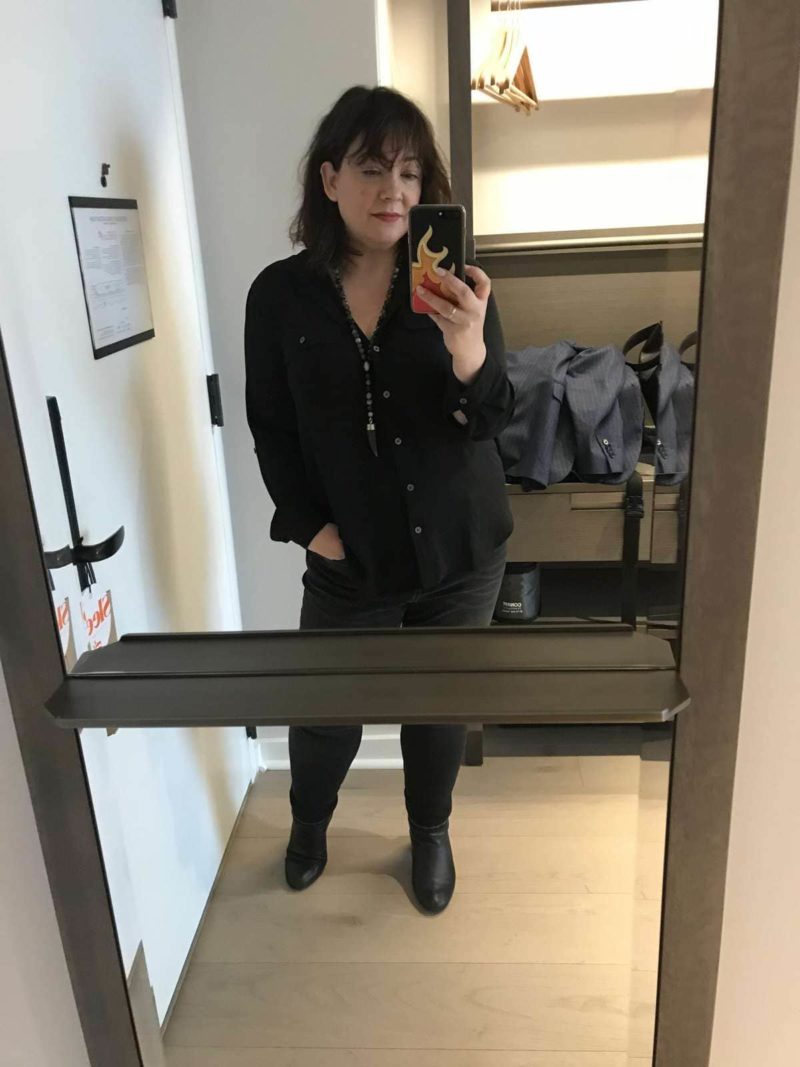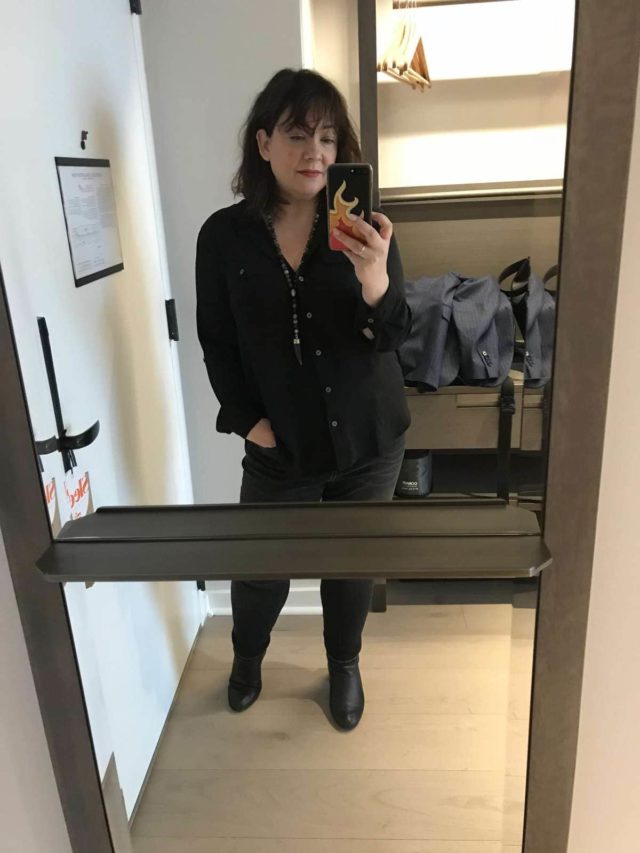 Crepe Camp Shirt: Ann Taylor (XL; this year's version) | Jeans: Universal Standard (12) | Necklace: Molly Jane Designs | Boots: L'Amour des Pieds (similar)
When we stayed at the Canopy by Hilton at the DC Wharf for my birthday, this is what I wore on the ride there and for the first day. The blouse is black, the jeans are a blackish grey. We had lunch at Hank's Oyster House and checked out the area since it was our first time to the Wharf. It was a cold day, so I paired it with my black Bernardo hooded parka and a lavender pashmina.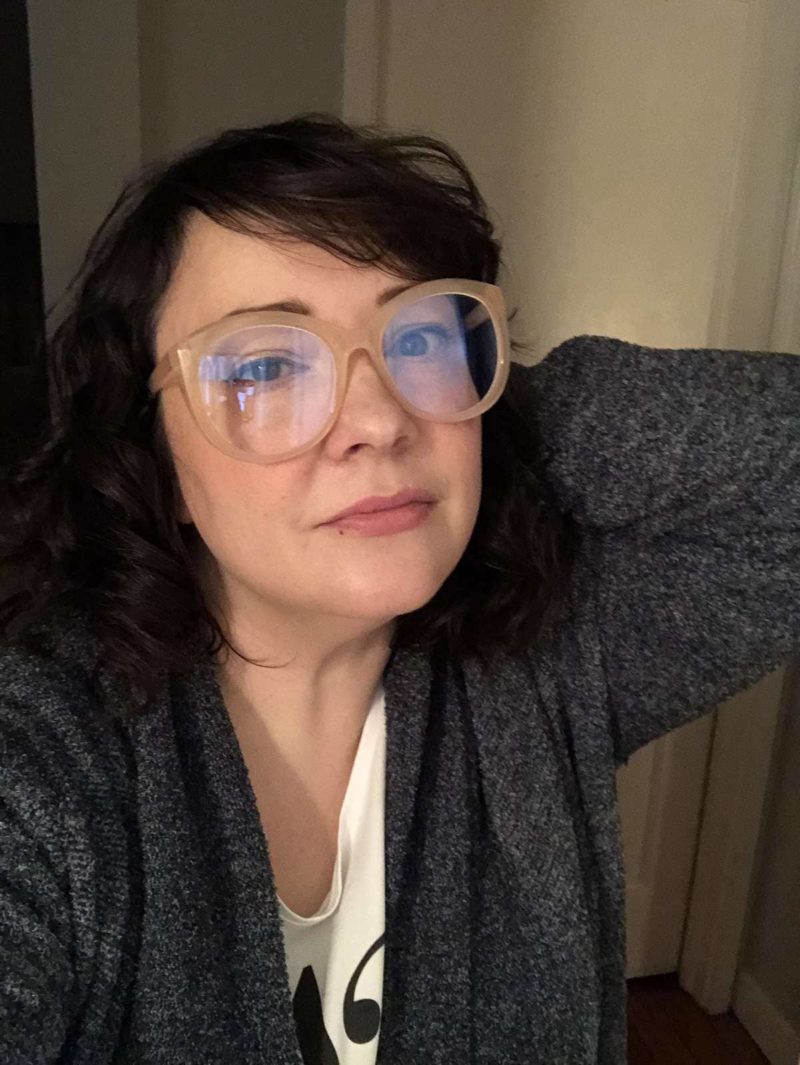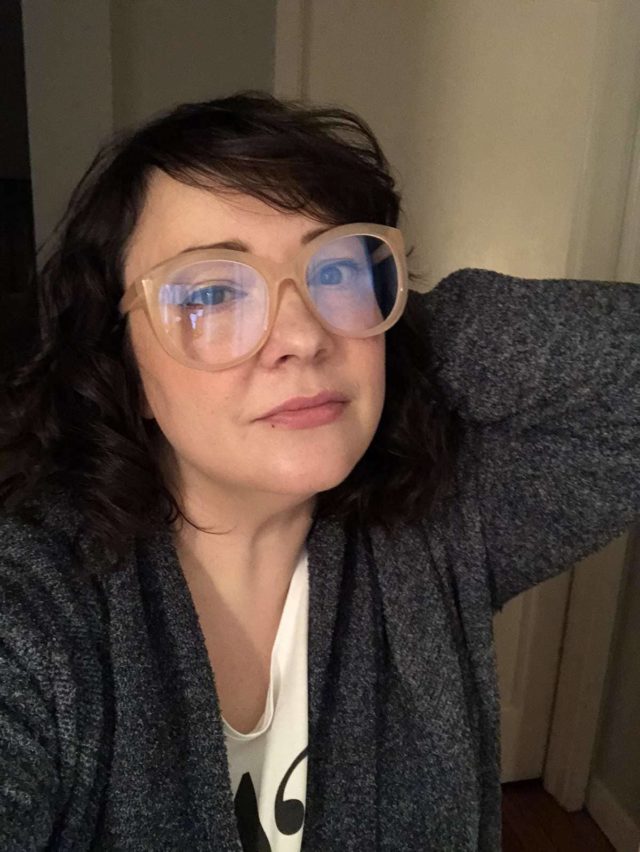 Glasses: the Bookclub | Cardigan: Barefoot Dreams (1X) | Tee: Chico's (3)
Since getting LASIK I don't need to wear glasses, but I picked these up to cancel out blue light as I am on my phone and laptop 24/7 and my eyes have been feeling tired and I've been getting headaches even with drops. So far they seem to be helping, though Emerson keeps stealing them from me and getting them all smudged!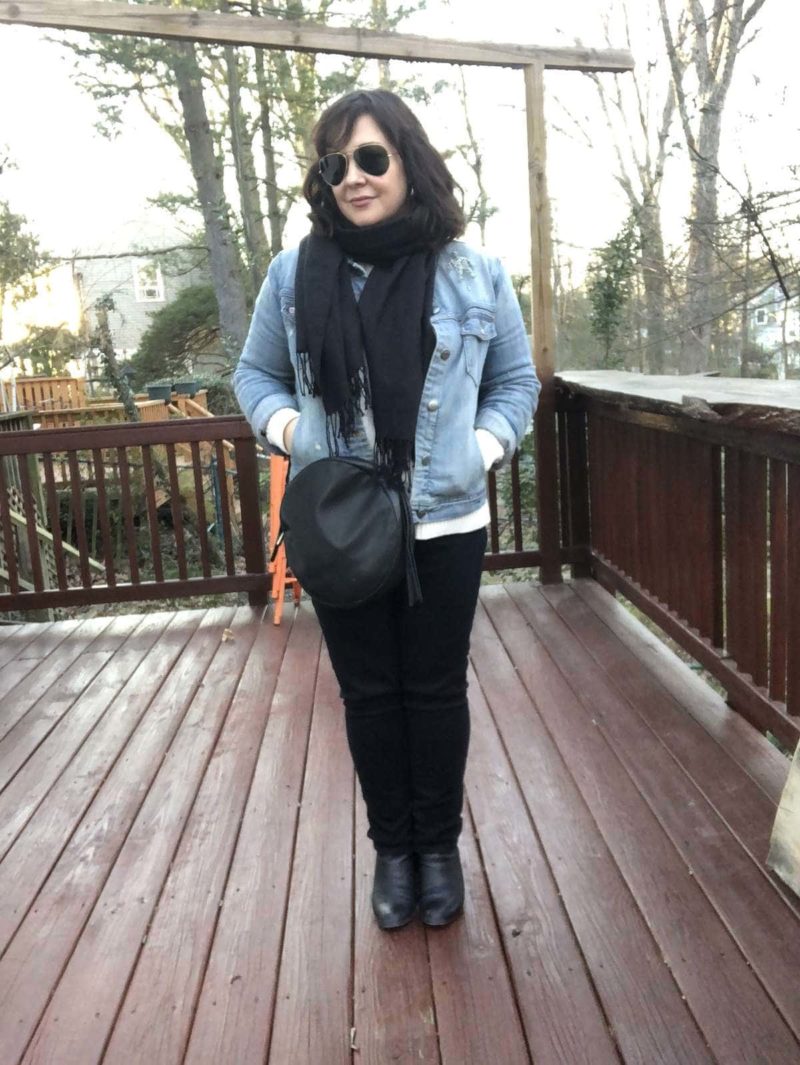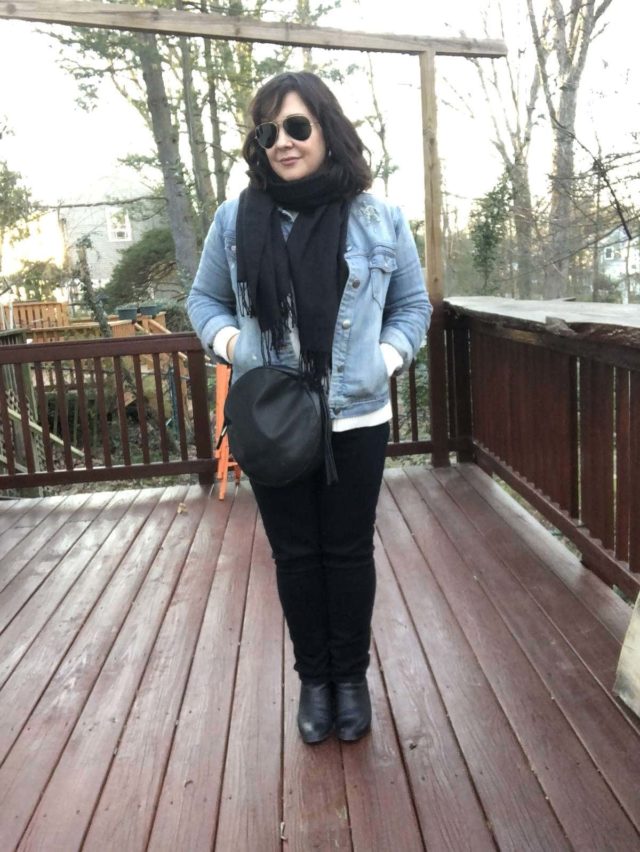 Denim Jacket: J. Crew (XL) | Pashmina: Amazon | Jeans: NYDJ (14P) | Sunglasses: Ray-Ban | Bag: HOBO | Boots: L'Amour des Pieds (similar) | Sweater: L.L. Bean (XL)
Welcome to my everyday look. Stretchy jeans (or overalls), warm layers, and a pair of beat-up boots. I have two of these sweaters from L.L. Bean and love them because they can take a beating and still look great. These jeans from NYDJ are at least three years old, possibly older. This is my newest handbag; I was looking for a crossbody that was subtle yet not boring, no logos, could hold a paperback novel, and wasn't designed by a Scientologist. I've been a HOBO fan for years and this bag is really soft buttery leather and a nice price.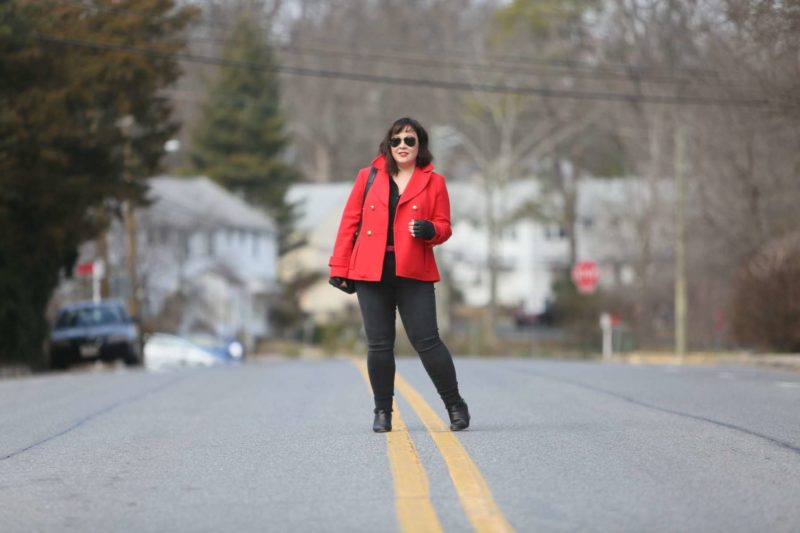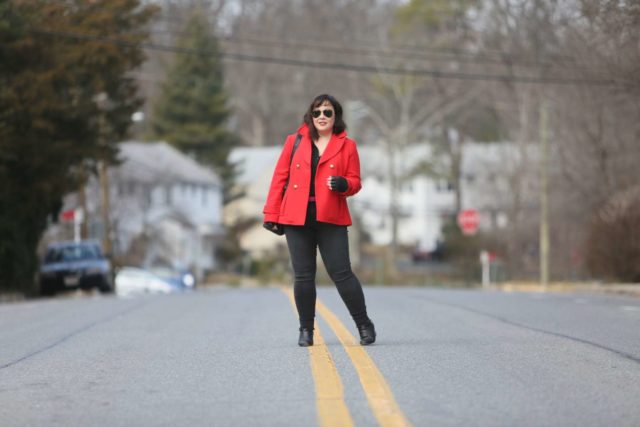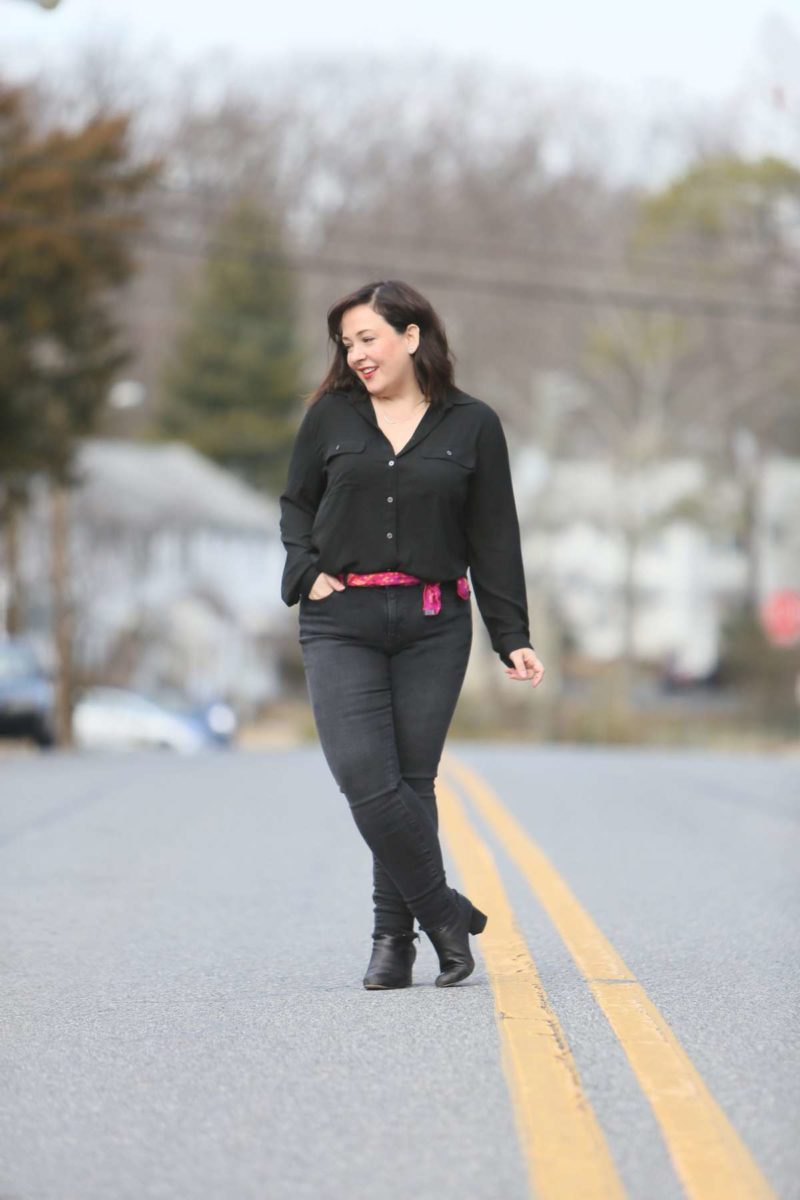 Shirt: Ann Taylor (XL; this year's version) | Jeans: Warp + Weft c/o Dia & Co (16) | Scarf: Hermes (the one I had dyed) | Boots: L'Amour des Pieds (similar) | Coat: c/o Talbots (16P and on sale!) | Gloves: Simply Vera Vera Wang (similar) | Sunglasses: Ray-Ban | Bag: ALLSAINTS
This is essentially the same look I wore to the DC Wharf. Same top, different jeans. It's my go-to when I need to look more pulled together. I wore this to meet an old colleague for lunch and then go to the doctor. The top is machine washable, the jeans are super soft and stretchy yet don't stretch out. The look is pretty ordinary, but the scarf as a belt gives it a bit of punch. This coat is the same one from this blog post; it's an absolute fave and I wear it all the time. I had some extra store credit for my Kohl's holiday post and picked up these gloves, they make me feel very badass!
While all my outfits may not make it on the blog, I do feature more of them on Instagram (there's a highlight titled OOTD in my bio where you can see all outfits). And every so often I'll try to do recap posts like these!