This article may contain affiliate links; if you click on a shopping link and make a purchase I may receive a commission. As an Amazon Associate, I earn from qualifying purchases.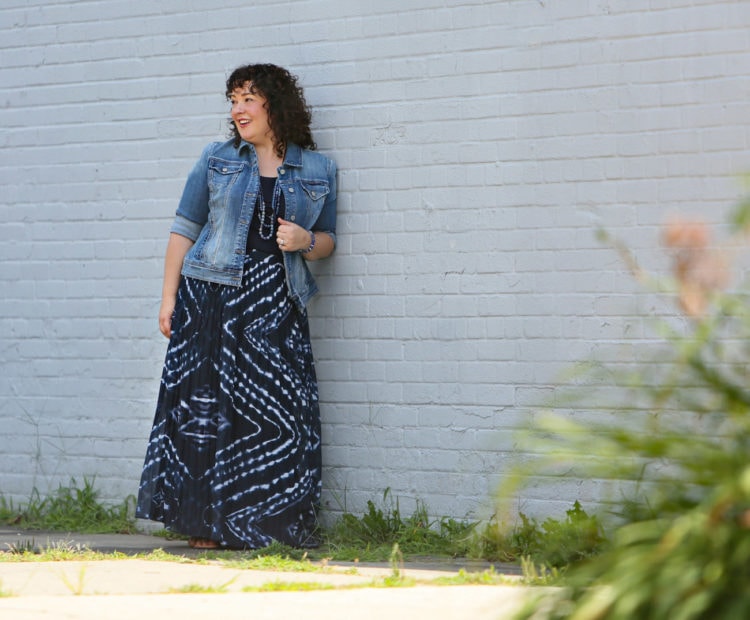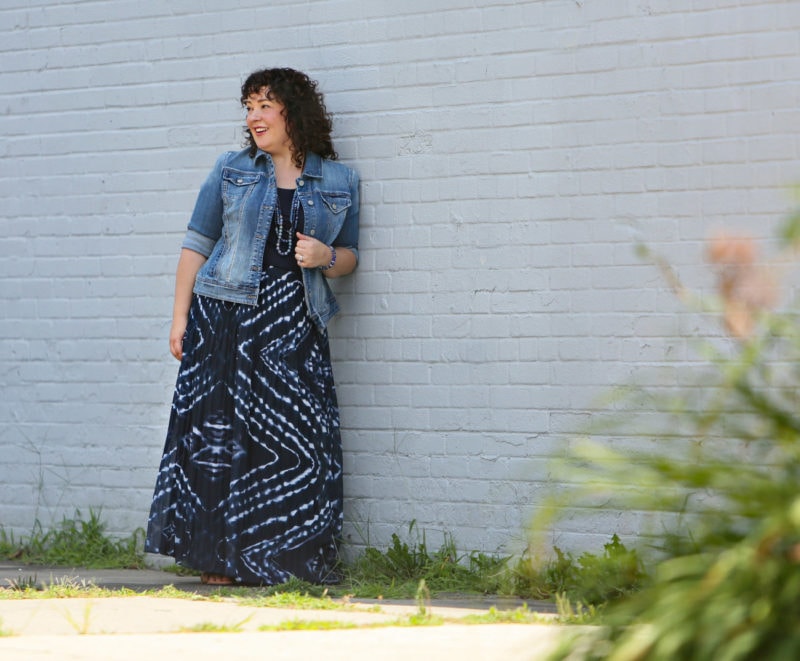 Can you believe fall is almost here? While I'm still wearing my shorts and sundresses, I know I need to start thinking about my fall wardrobe. And this fall, I want my wardrobe to be comfortable, machine washable, and enjoyable to wear. I've achieved all three with this outfit from Chico's that is classic with a boho edge and it shows how you can style the tie dye trend into fall.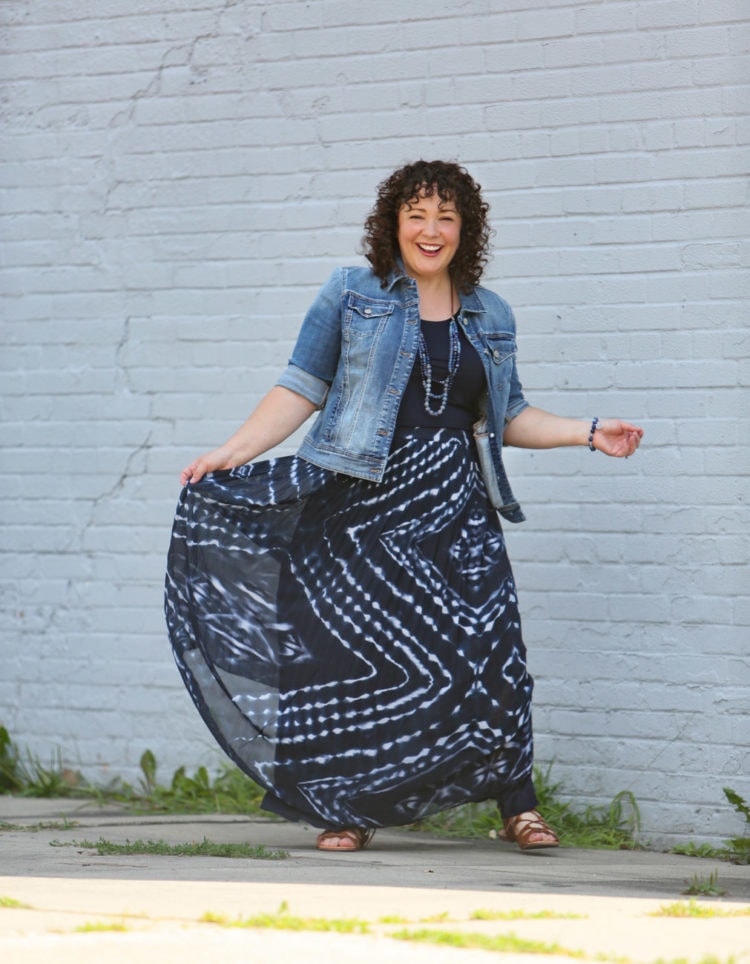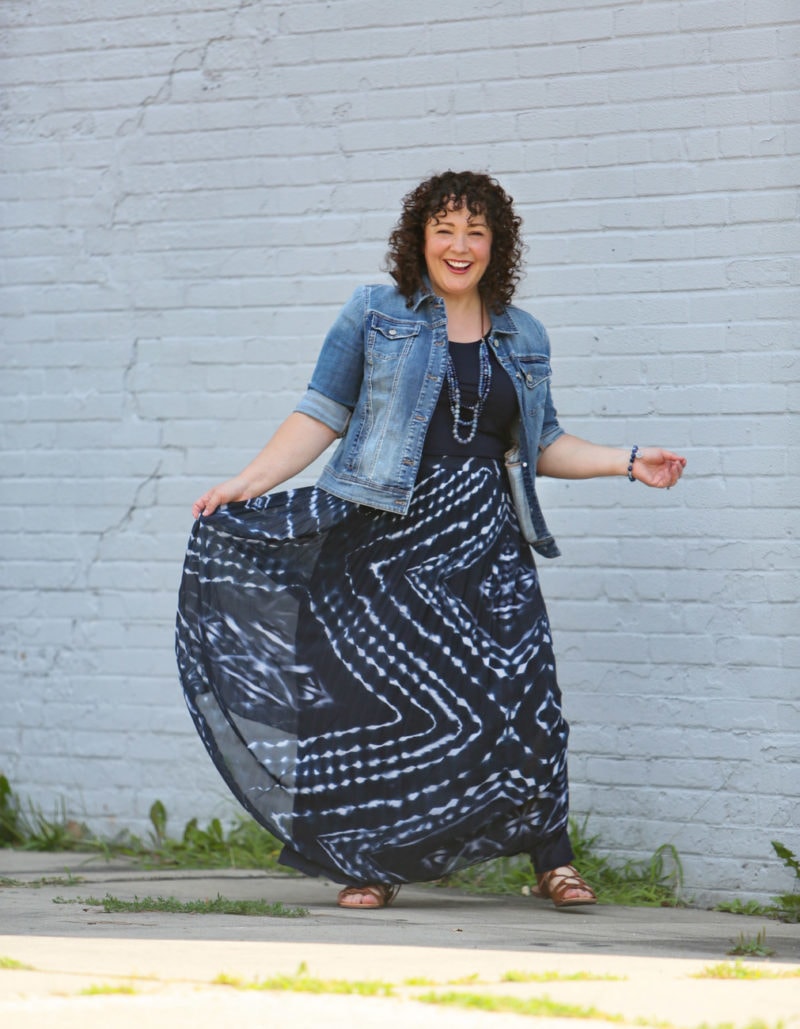 Jacket: Denim Jacket c/o Chico's (2 Petite) | Tank: Microfiber Tank c/o Chico's (2 Regular) | Skirt: Tie-Dye Pleated Maxi Skirt c/o Chico's (2) | Necklace: Convertible Blue Beaded Multistrand Necklace c/o Chico's | Bracelet: Blue Beaded Stretch Bracelet c/o Chico's | Shoes: Bella Vita (sold out; similar)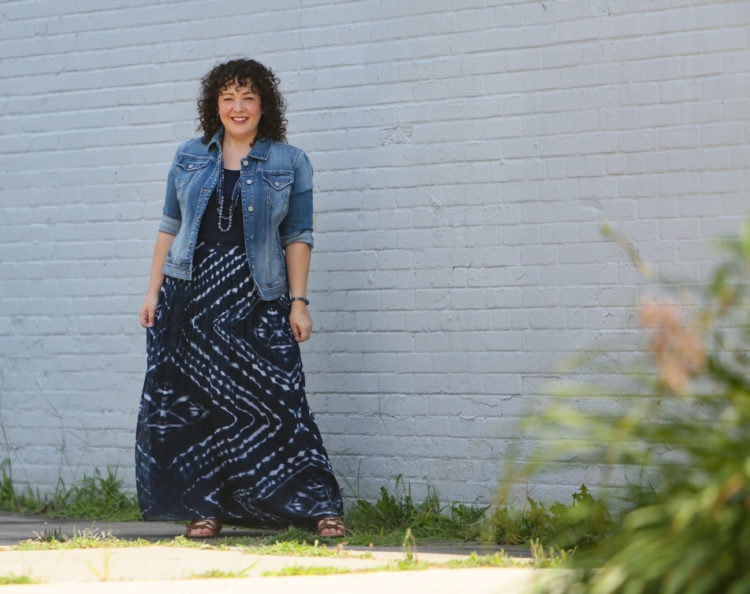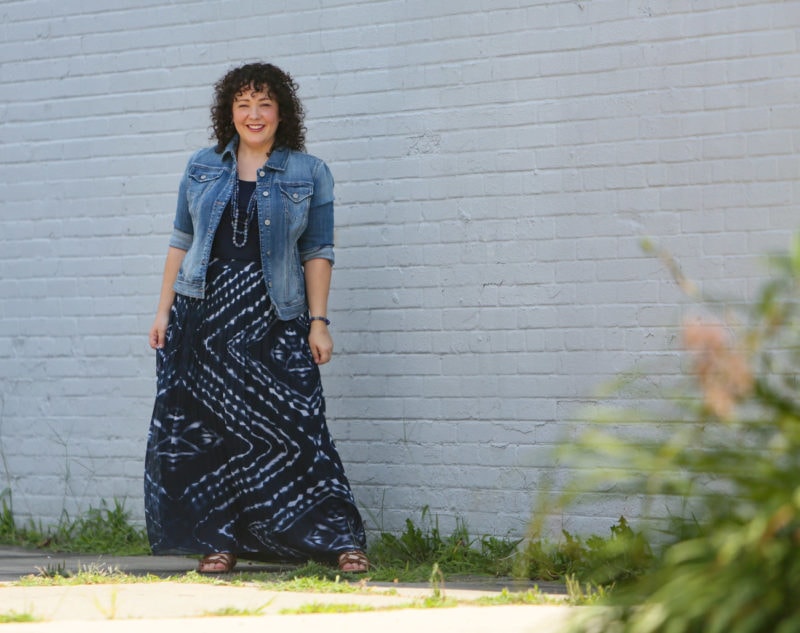 This denim jacket has everything I look for in such a garment. It looks like regular denim but has a wonderful amount of stretch. The pocket pouches are sewn inside so they end up being interior pockets which I love because they're more secure; for this shoot, my mask was in one pocket and my iPhone in the other. It's shaped nicely; not tight but not boxy. The color is that middle ground that can work with faded or rinse denim and is light enough to not look weird with navy. Knowing Chico's denim, I know this will wash and dry beautifully.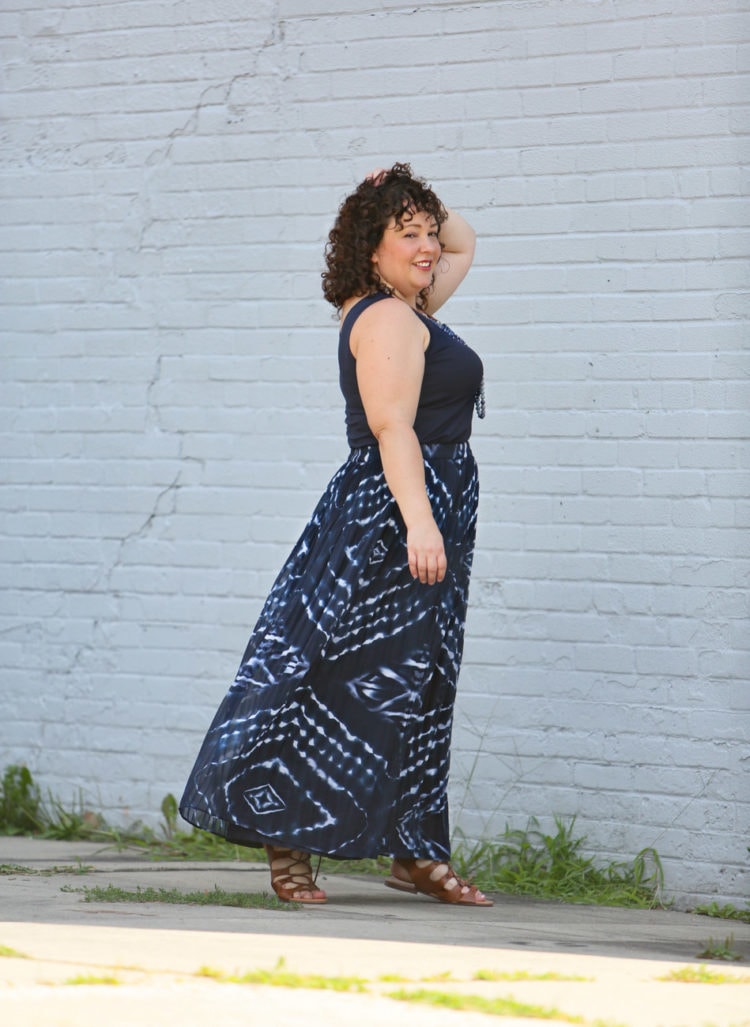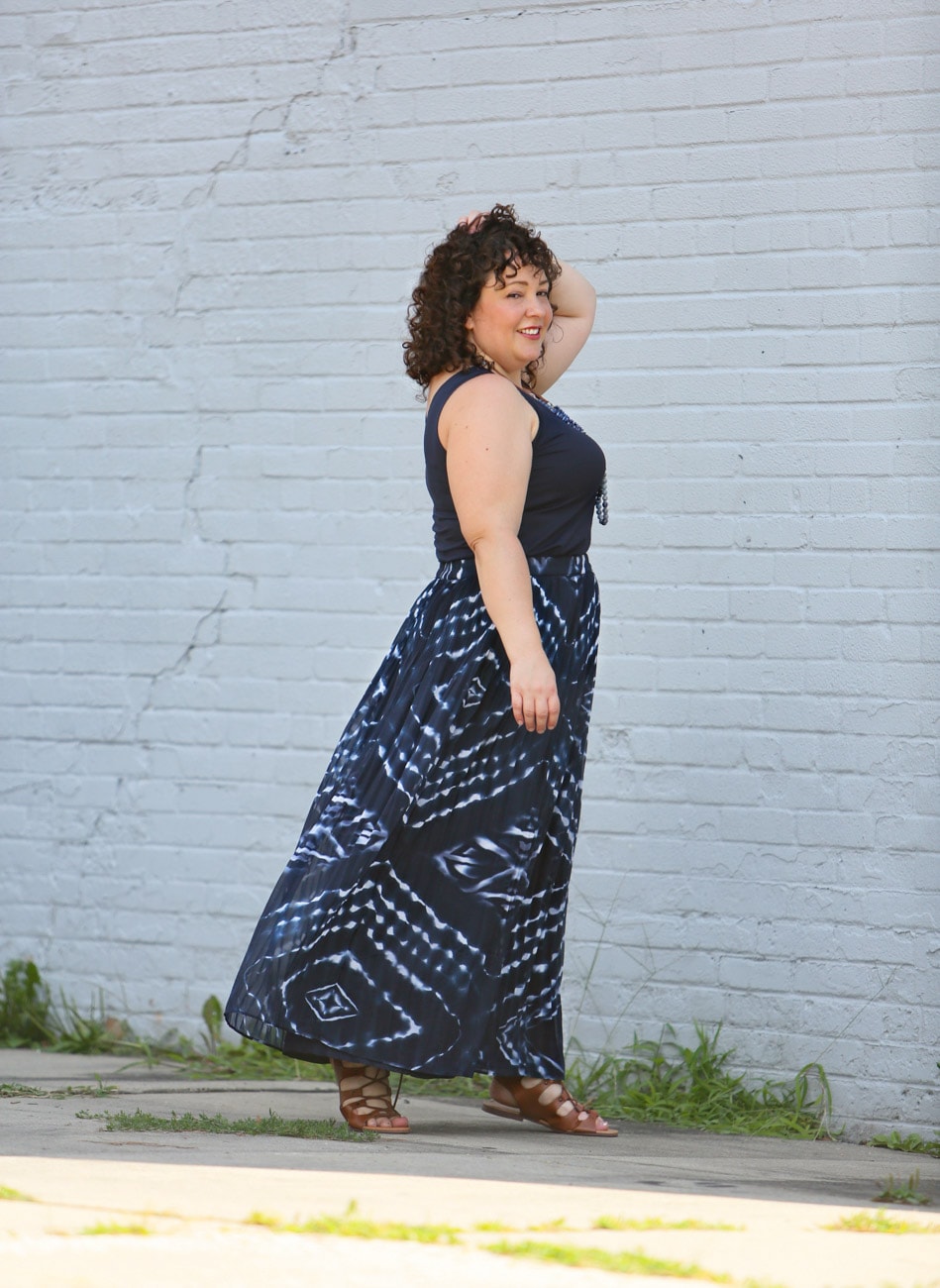 I love these microfiber tanks from Chico's, I have three of them. They have a refined finish that looks more elevated than a typical knit tank but just as comfy and easy to care for. They're also shaped that I feel comfortable wearing them alone or taking off my jacket or cardigan if I get warm. They come in 25 different colors in sizes 0-22, even without a petite offering I find these fit nicely under the arms, isn't too low cut, and completely cover any bra I choose to wear underneath.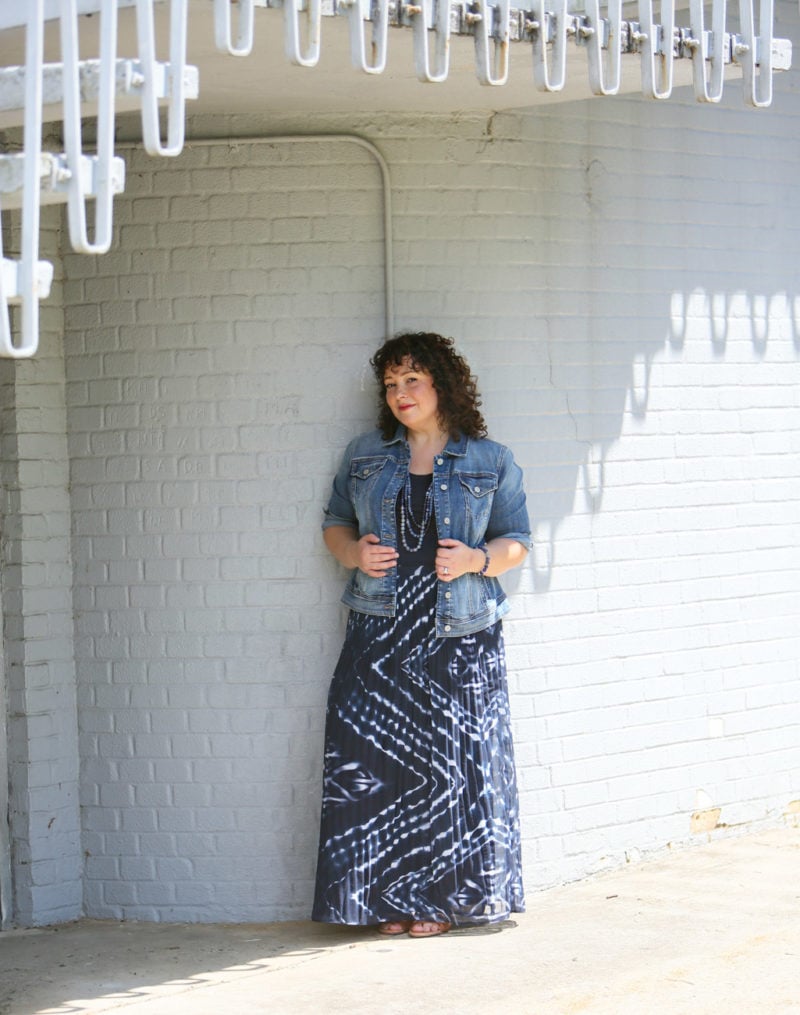 I loved the look of this tie-dye skirt. It's dressier than knit but just as easy. It would also look great with a navy turtleneck sweater and boots, a white linen or chambray shirt tied at the waist, and if I didn't have on the denim jacket I'd consider adding a wide belt over the waistband to add interest. I think the skirt runs large; this is a 2 and it's loose on me when I am usually a 2 in most everything Chico's. The length is 38″ which as you see skims the top of my feet but is totally wearable on my 5'3″ self even with my flattest sandals. I think this would look great at a variety of lengths because it's not too full. The waistband is elastic all the way around but wide and well designed so it looks clean even if not covered. Of course, I wish this had pockets, the only thing I find missing!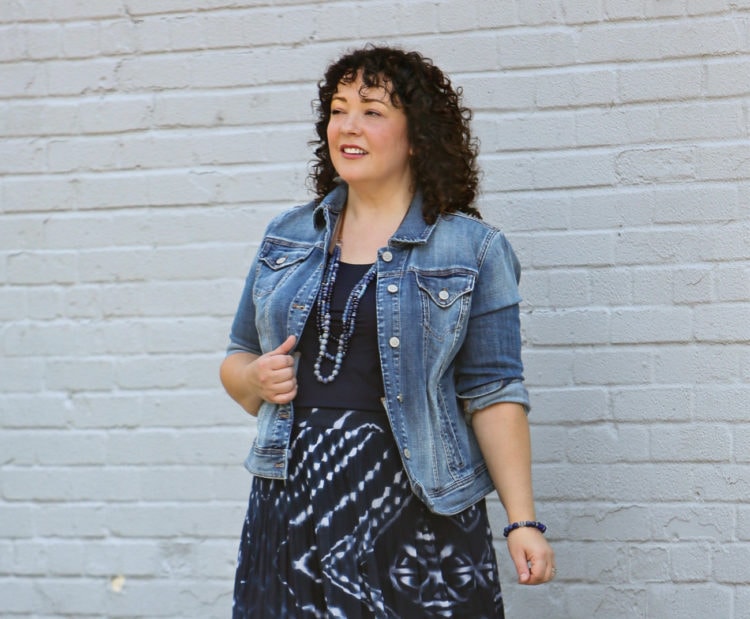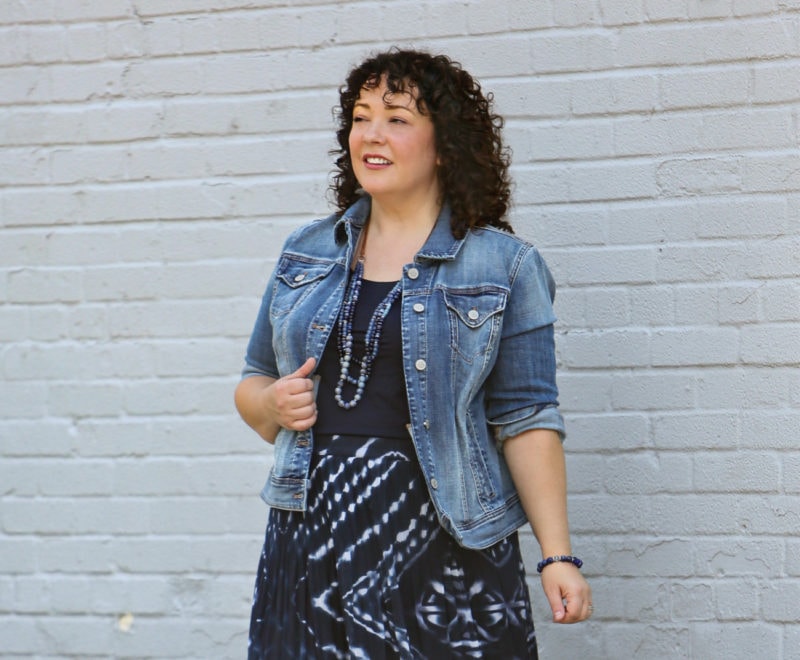 Chico's always has the most creative jewelry. Some of it is too over the top for me, but some pieces I've owned and loved for years. This necklace is adjustable; the front is beaded but the back are leather straps held together with a bead and you can pull the straps to shorten or pull the necklace to lengthen it. And I love Chico's for bracelets because so many strangle my larger wrists but Chico's bracelets always fit great. I can even get the bangles over my hands, which I often can only do with very thin bangles and a lot of effort! Am I the only one who deals with this?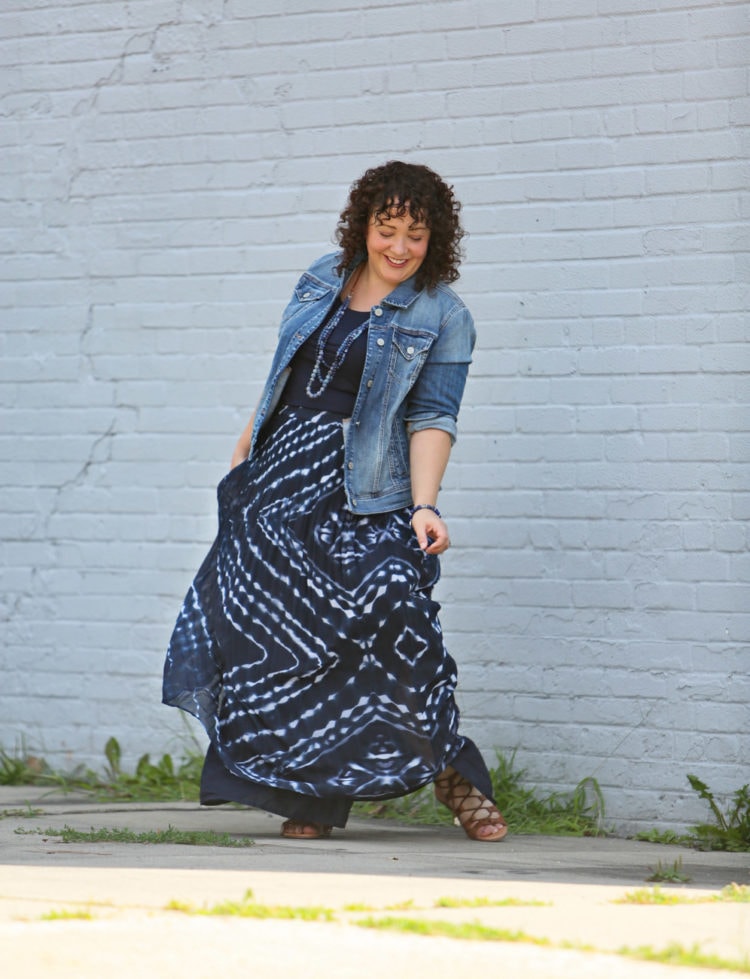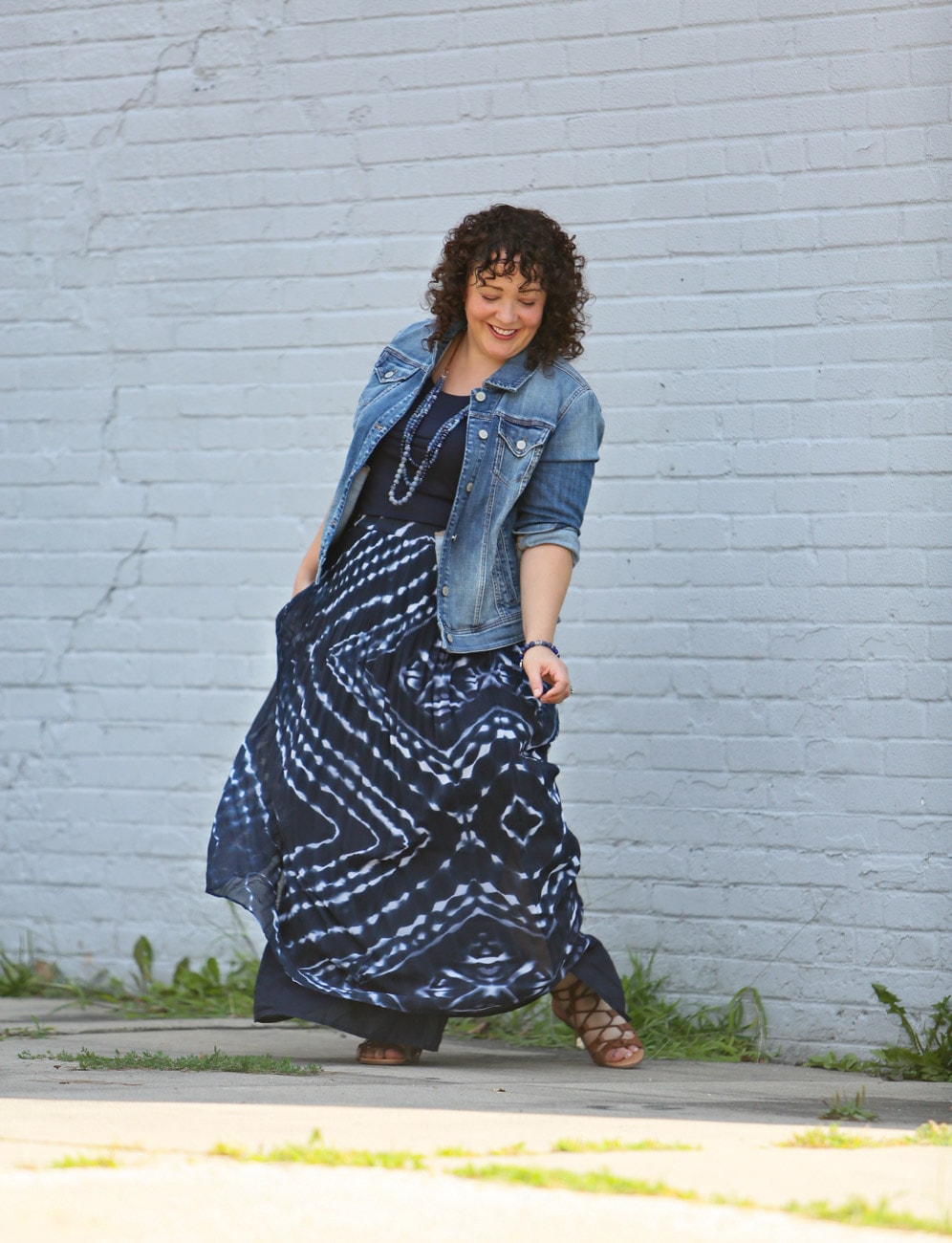 I mentioned these sandals in my post about what shoes I'm wearing during my time at home. I have had these sandals in gold for several years and love them so much. They are so unobtrusive and work with everything. After writing about them in gold I went on a hunt to see if I could find any pairs on eBay or anywhere else – gold backup pair if cheap enough, and maybe another color. I found both on Amazon. After performing my closet edit, I swore I wouldn't buy backup clothes and shoes anymore. During the edit I found a pair of nude pumps still in the box in the back of the closet; I did need to replace my nude pumps after a lot of wear and tear but right now that's the last kind of shoe I'd be wearing so it was not really a good buy. But these sandals have done me so well and it's so hard for me to find non-chunky sandals for my wide feet. I've worn the brown ones with pants like you see in this Instagram photo, and they are perfect with midi- to maxi-length skirts!
Shop the Post: