This article may contain affiliate links; if you click on a shopping link and make a purchase I may receive a commission. As an Amazon Associate, I earn from qualifying purchases. 
I first went to see a Broadway musical when I was in 4th grade. My dad's friend came to visit from NYC and took us to see La Cage aux Folles at the National Theatre in DC. I was hooked, and looked forward to any time in any city to see a musical. So when Theatrely reached out inviting me and a plus one to see Moulin Rouge the Musical at the Kennedy Center, I immediately said yes! They also invited me to a pre-show cocktail party and the dress code in typical Moulin Rouge fashion was, "Spectacular Spectacular."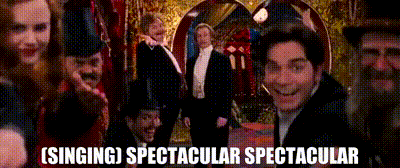 What I Wore to Moulin Rouge the Musical
What to wear to a showing of Moulin Rouge the Musical at the Kennedy Center, on a Friday night, with a special event beforehand that has such a dress code? Let's add to the complexity of the situation that is is August in DC, which means hot and very humid. I am a 48-year-old with soft curves who invited her 14-year-old daughter to be her date.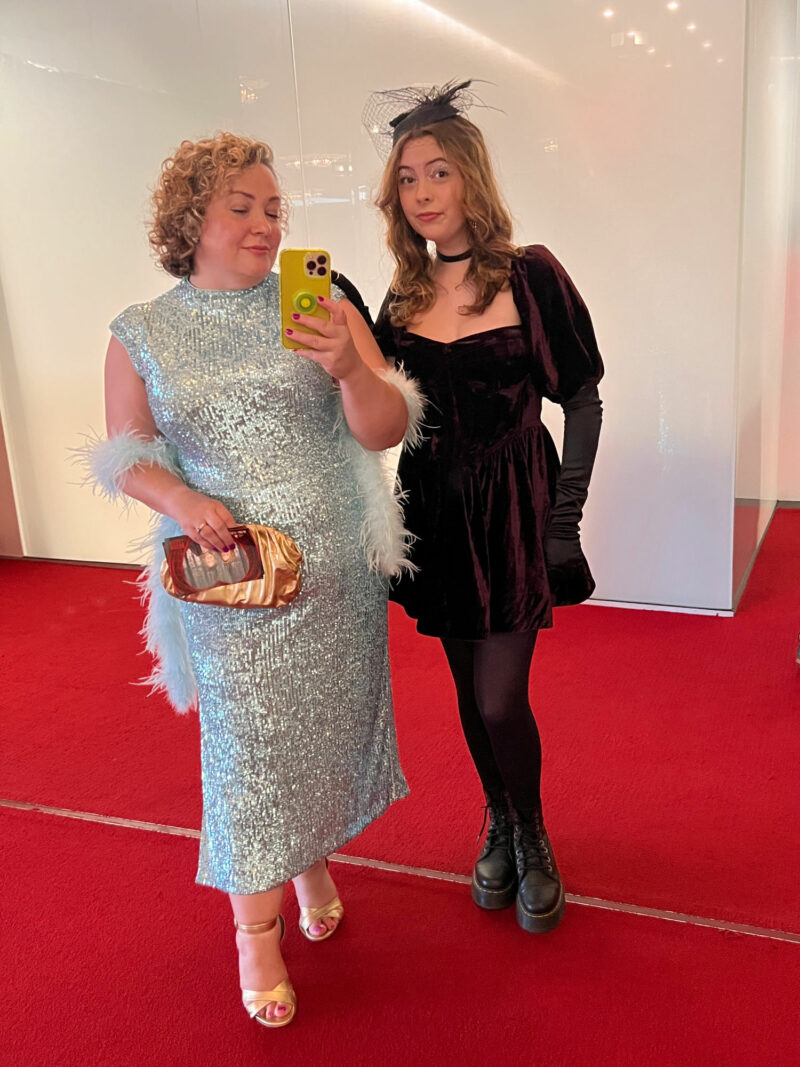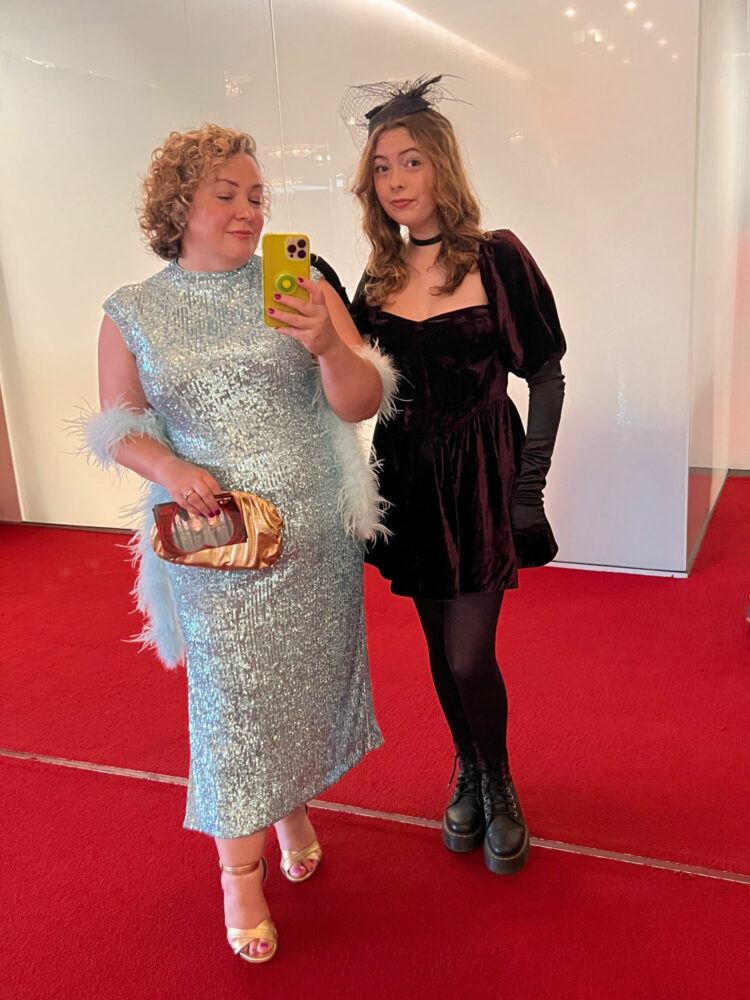 I know that this kind of event means there will be a professional photographer and possibly also a videographer capturing content to be shared on social media and brand websites. There will also be many fellow influencers at the event, capturing images and video to create content for their platforms. I wanted to wear something that made me feel confident, comfortable, but also chic enough to look the part as I know I was invited because I am a fashion/style influencer and blogger.
I went through my closet and found plenty of things that would fit for a "Spectacular Spectacular" dress code for a cocktail party and theater performance… but they were all for colder weather. I could wear my green velvet pantsuit, my lady tux, or my shantung floor-length shirtdress. Add a smoky eye and red lipstick and I would be on theme, only if it were December!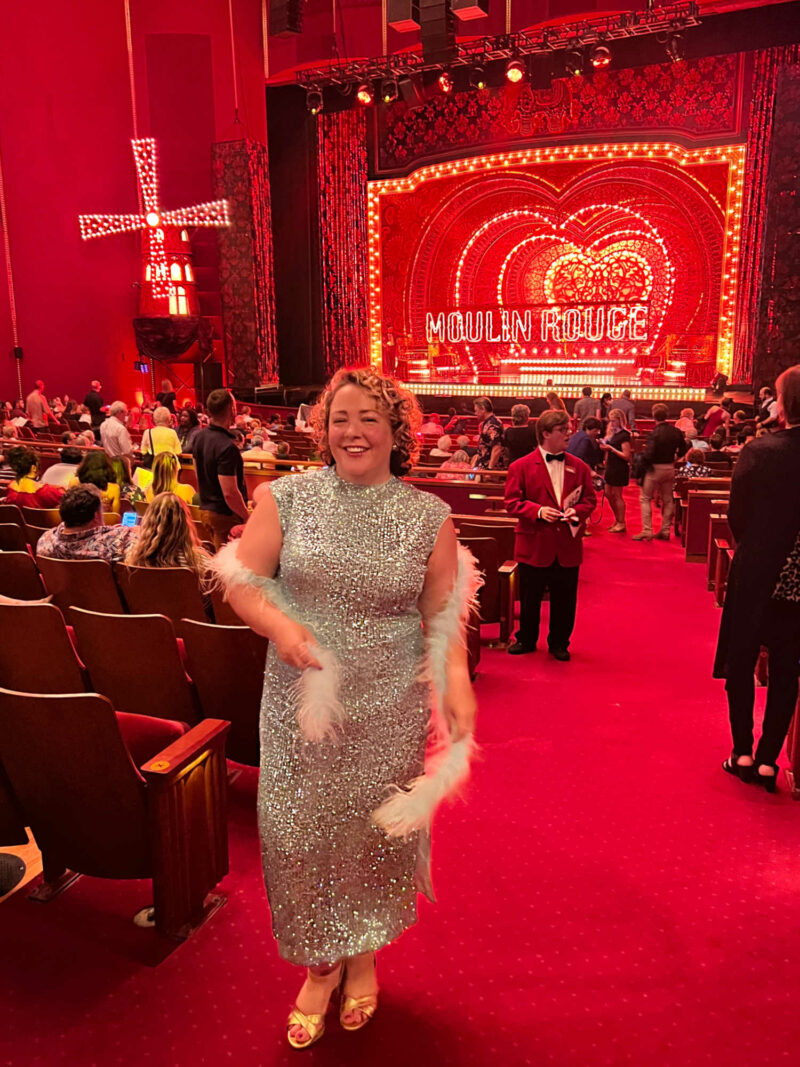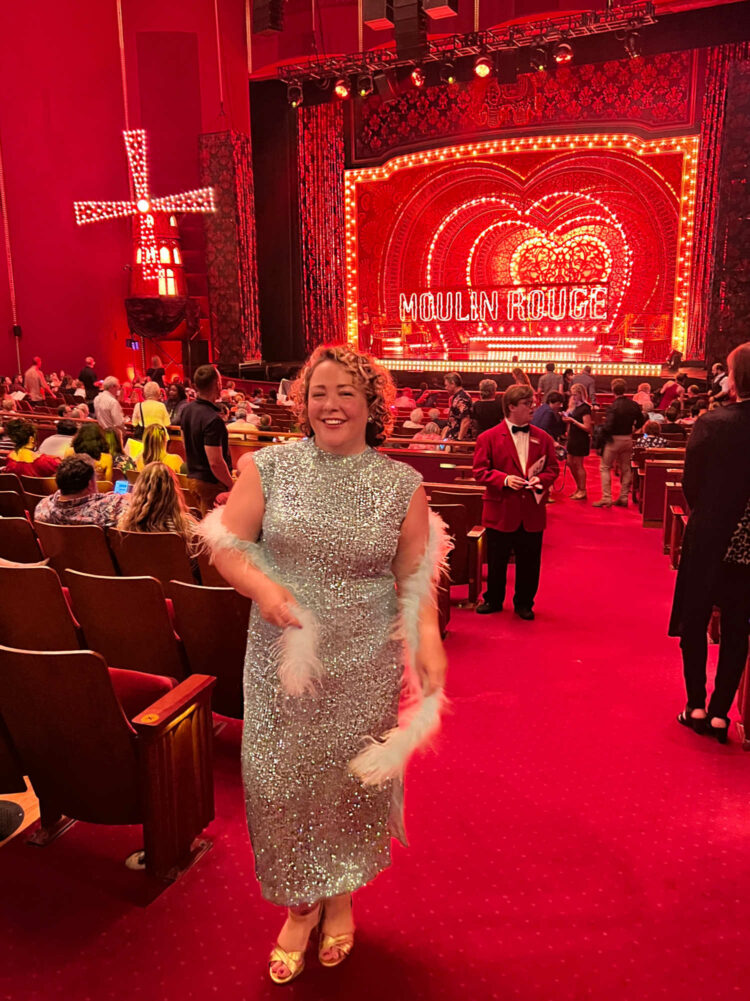 After exhausting any dresses or suits in my wardrobe, I got desperate and creative. I thought, I could do my Talbots polka dot ball skirt with a white shirt and a top hat. However, the only white shirt I still own in my closet is the one in this Reel video which has balloon sleeves and cutout details that didn't look Sharon Stone on the red carpet cool. I tried one of my husband's dress shirts, rolling the sleeves and tying it at the waist. It was messy, it was try-hard, and I would have been uncomfortable.
Ann Taylor reached out the next day and invited me to look at their New Arrivals and see if there were a few pieces I may want. And I saw many I really liked. Ann Taylor has been a go-to for me in recent months because they carry 16 petite. While I am a 14 at some retailers like Talbots, I find especially with blazers and dresses, a 16 petite fits me best.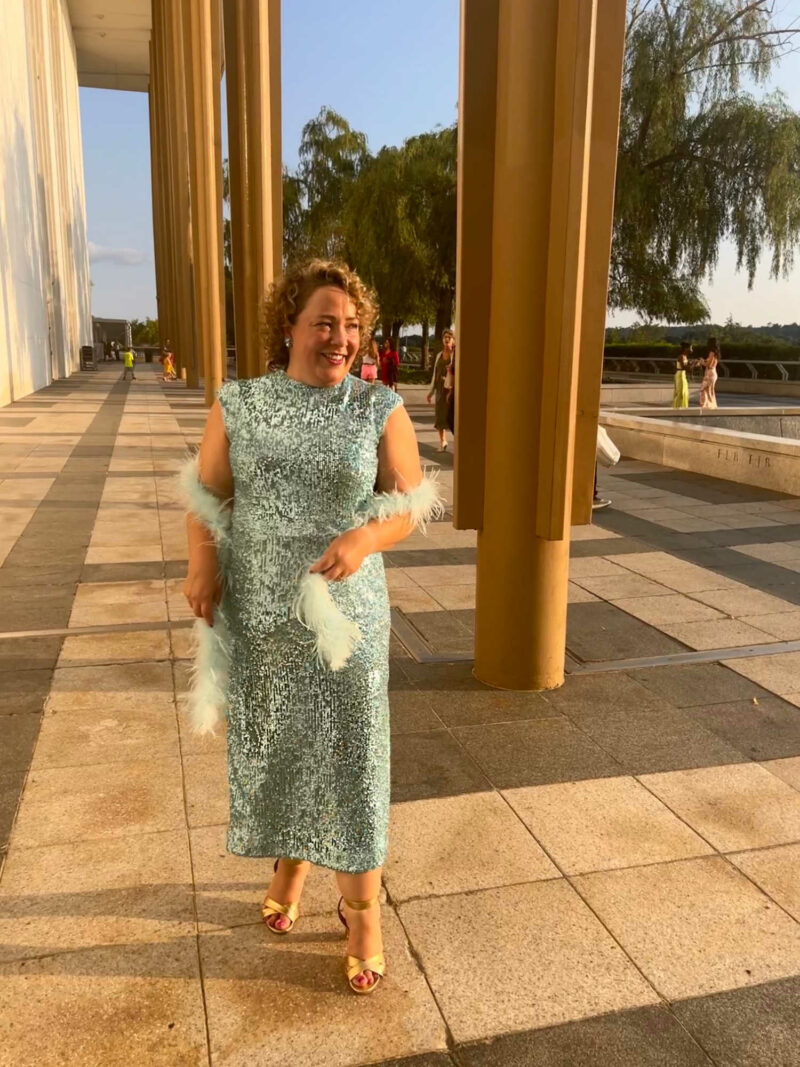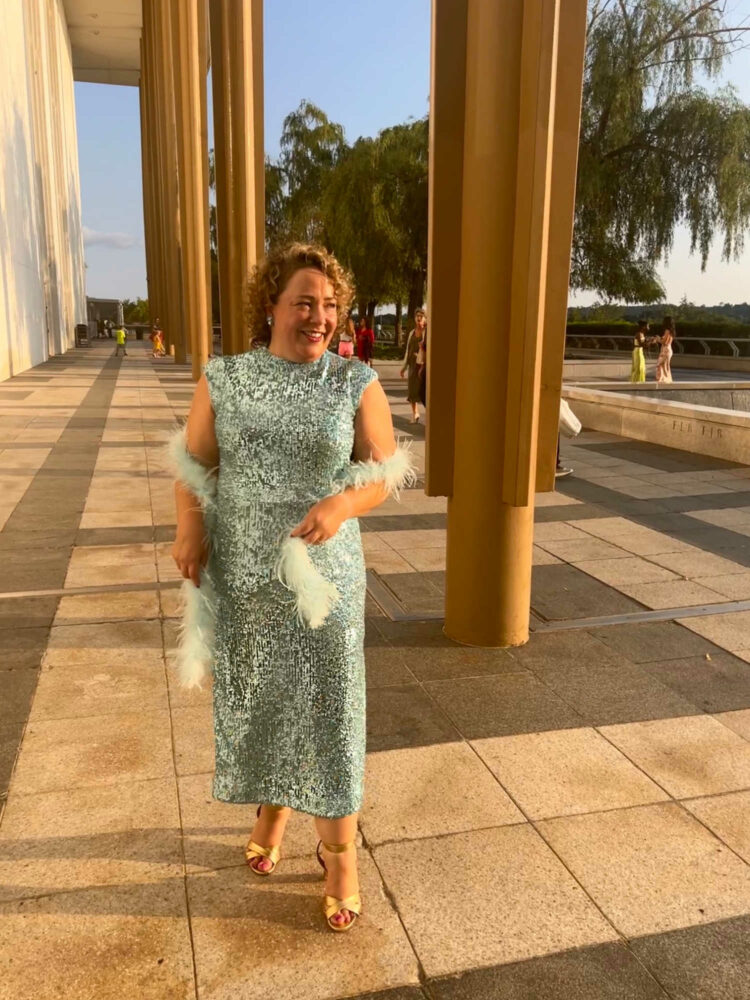 Size 16 petite is tough to find in occasionwear; when you do find it, it's often some beaded chiffon overlay tea-length thing for a mother of the bride in 2005. That, or it's in some brand's holiday collection, like we women don't have the need to dress up any time beyond Christmas and New Year's. I decided to check Ann Taylor's site; I typed "sequin" into the search field on the top of the page and this dress popped up AND at the time it was in stock in 16 petite!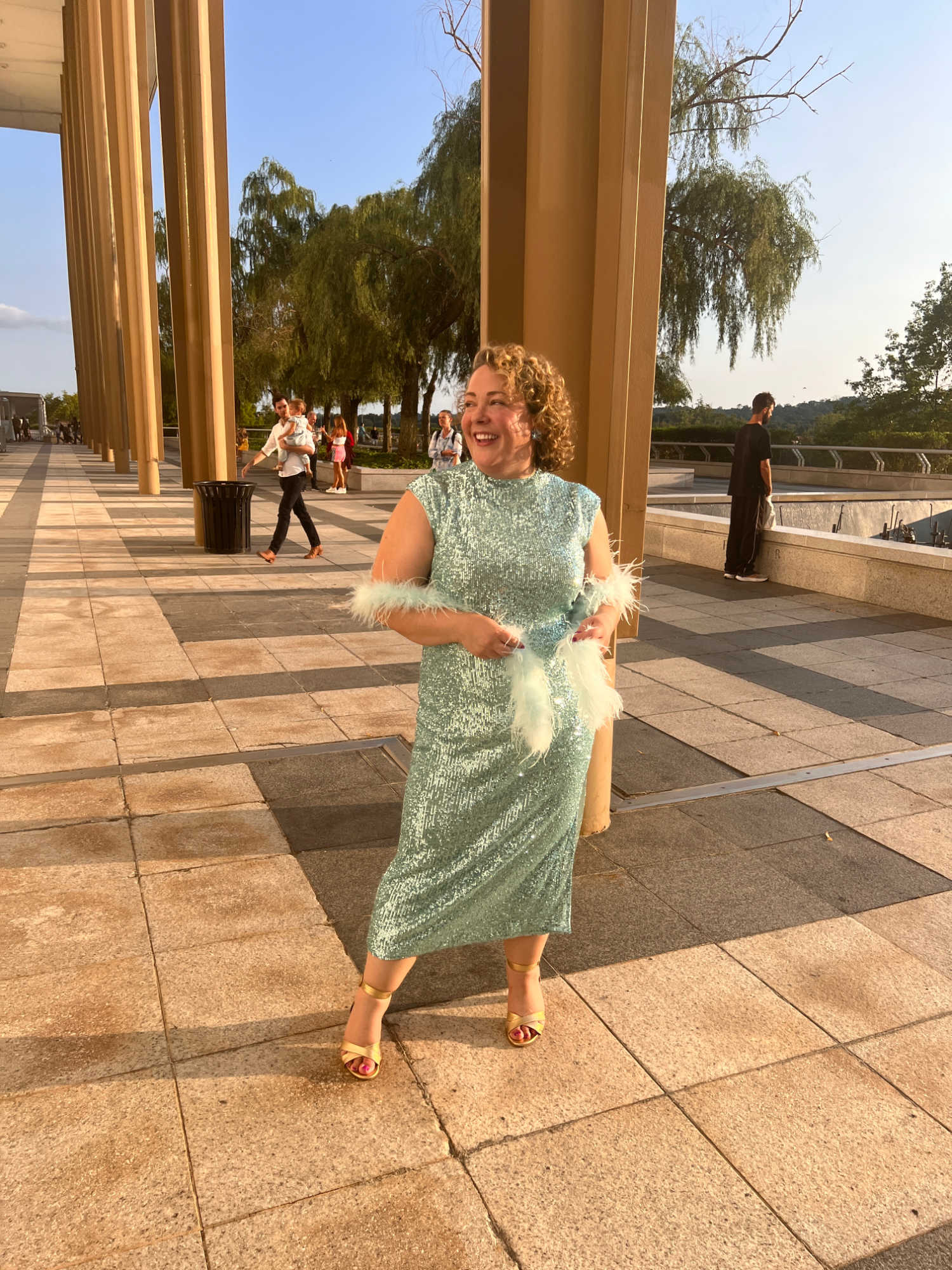 Along with some New Arrivals that I felt would be a good fit for me, I asked if I could have this dress and informed Ann Taylor my event was in just a few days. They raced the dress to me, it arrived the day prior and I was thrilled that not only it fit great, it also looked great!
When Ann Taylor said they would send me the dress, I went to Amazon trying to find some accessory that would take it from Cousin Jane's wedding to "Spectacular Spectacular" and found this feather boa that looked to be the same color and offered overnight shipping. I was so psyched when it arrived and matched perfectly! The boa had white cords at the end so this could be sewn onto garments; I trimmed them so they weren't as visible.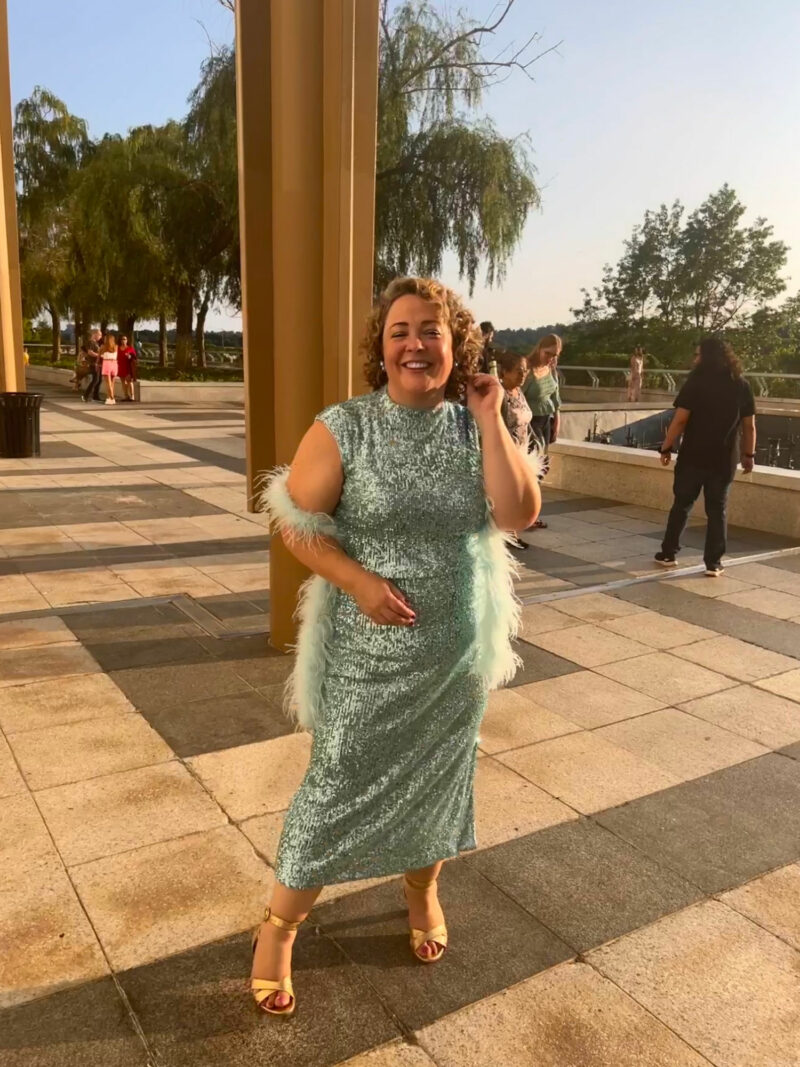 Since this look was a lot, I kept other things relatively low-key (at least for me). I chose my gold Margaux heeled sandals because they are some of the only comfortable heels in wide widths I've encountered. This specific style is no longer available but this option is quite similar and I think may actually prove more comfortable. The bag is from Etsy; the one I got is no longer available but this one looks similar. And for earrings, I am wearing some vintage clip-ons that are a cluster of aqua and light blue gems; I found them at a yard sale maybe 20 years ago (these are similar).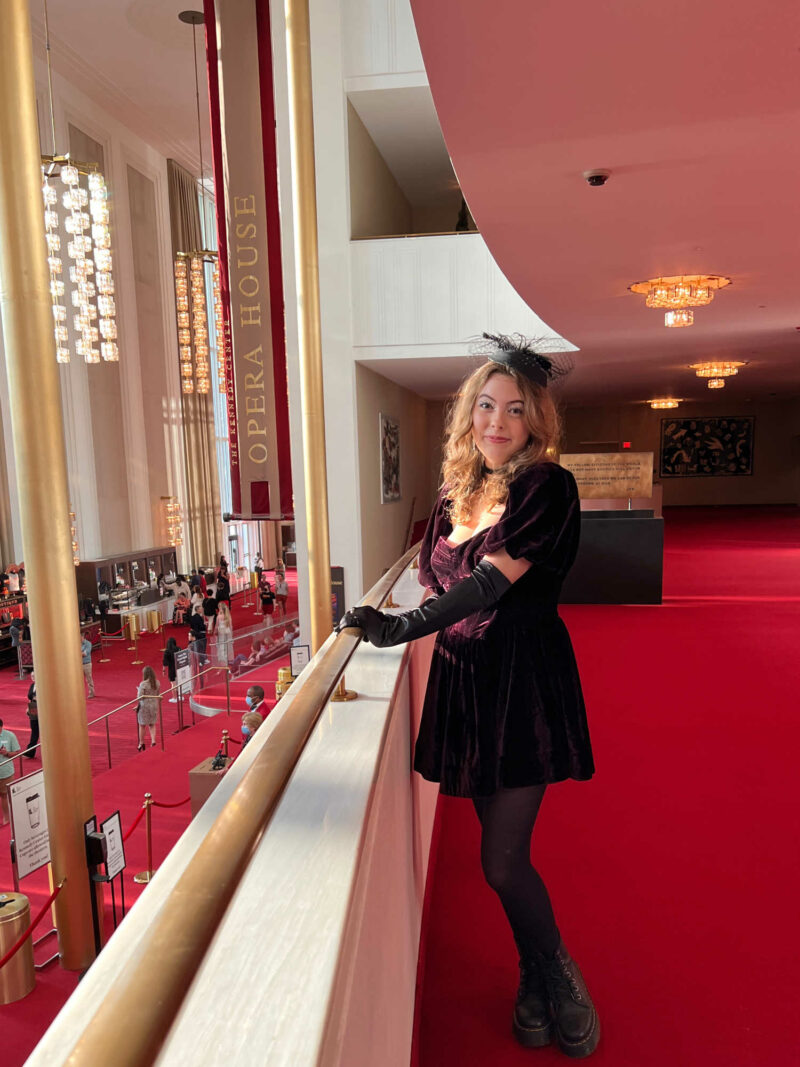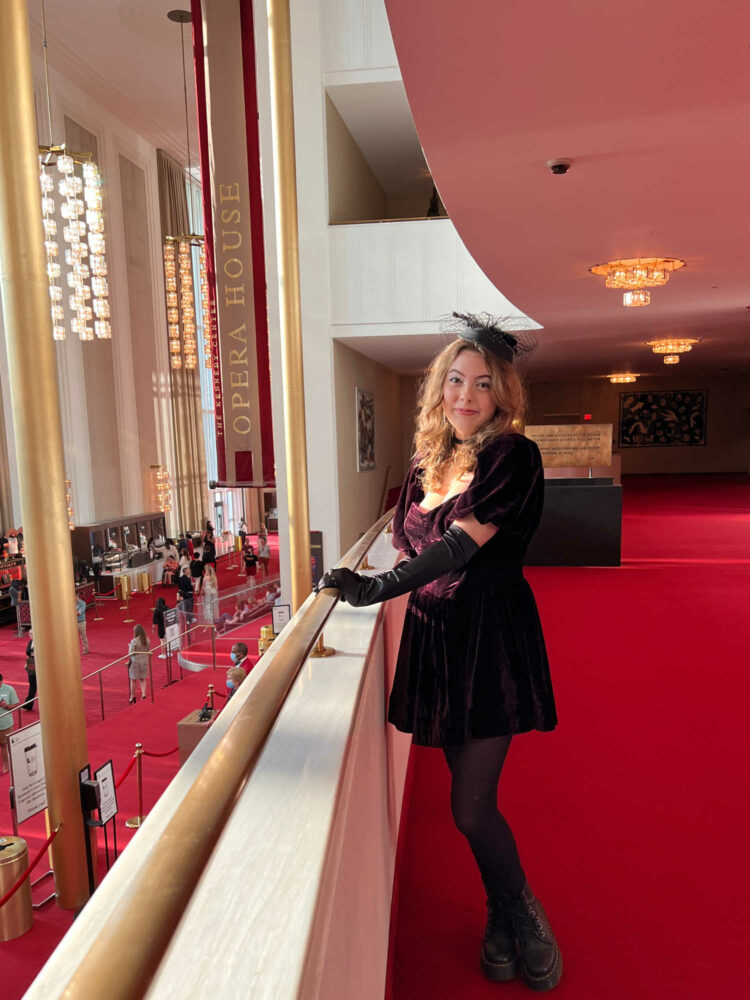 I brought my daughter as my date; she loves musicals and was so excited to see Moulin Rouge The Musical. I received a code for 50% off my first month of Rent the Runway; after a not so good experience with Nuuly I decided to try Rent the Runway again and let her pick a dress from my selections to wear to the event. She got a dark purple velvet dress with a corset-style bodice, full sleeves and skirt. It was from the brand Bardot, and it was perfect for this event.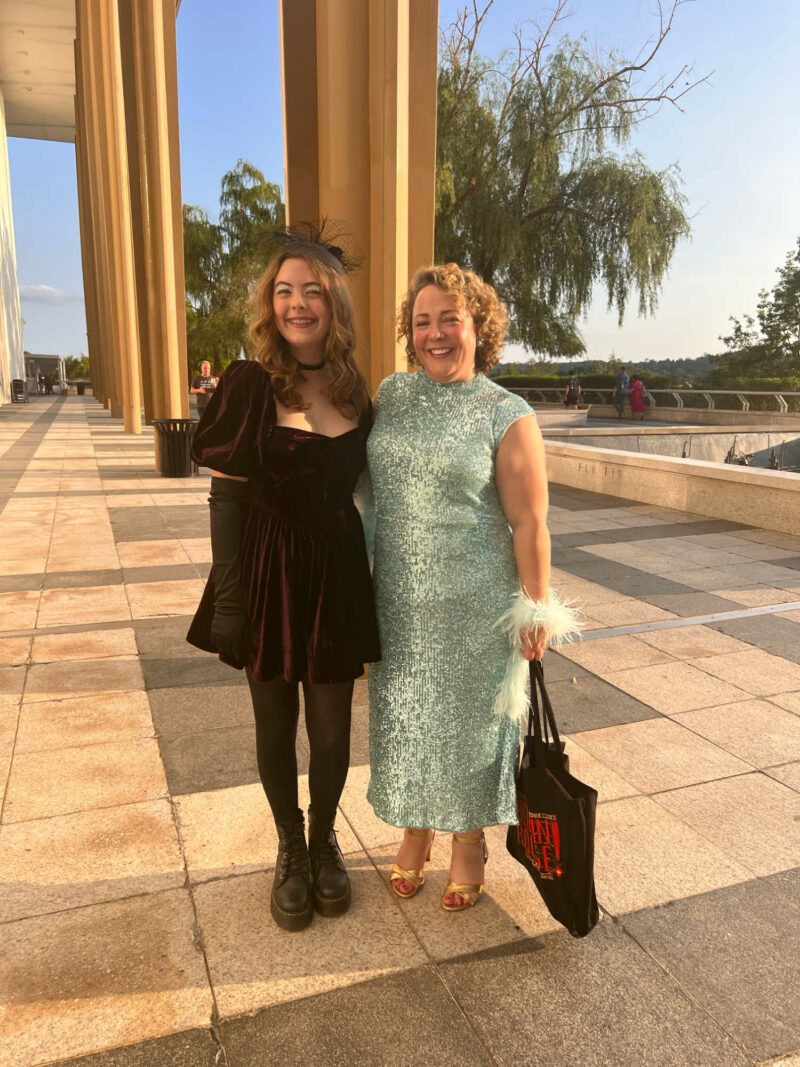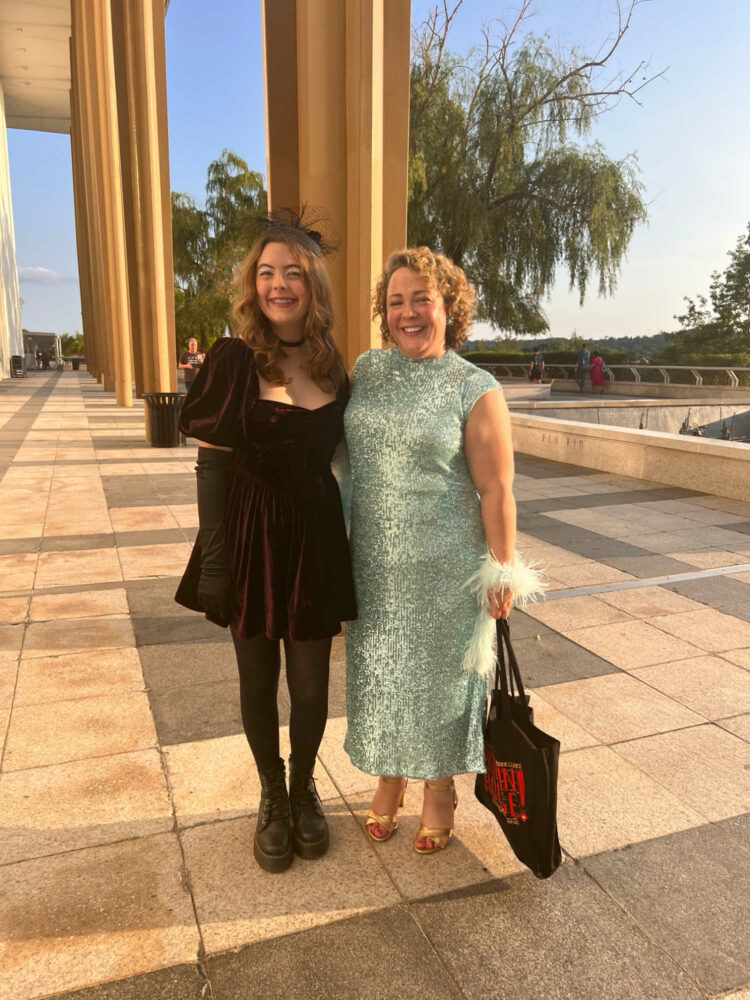 She styled her dress with tights and her Docs and a pair of gloves we had from a costume. Since I splurged for the boa, I let her splurge and she got this little hat/fascinator which came with a headband and a hair clip. Knowing her (and me), the fascinator will be worn again. The day of the event she decided to use leftover self-adhesive rhinestones from her end of school dance look and bedazzled her lids. It looked so cool, she was a sparkling diamond!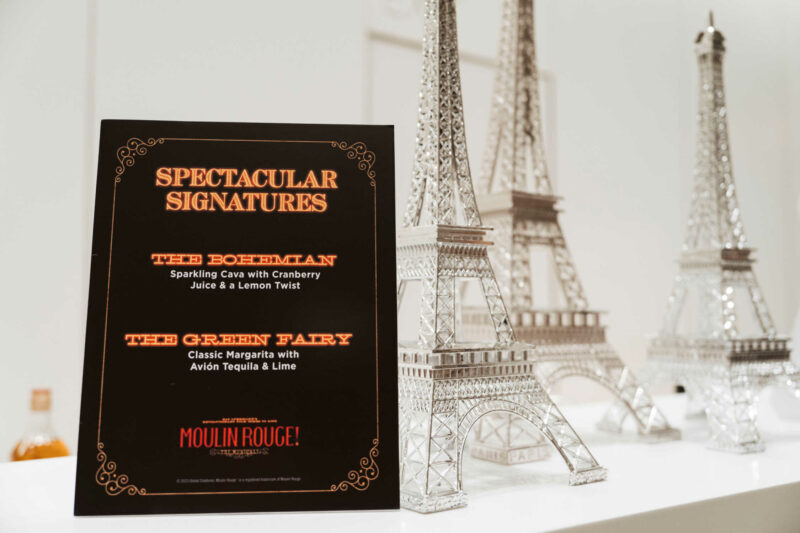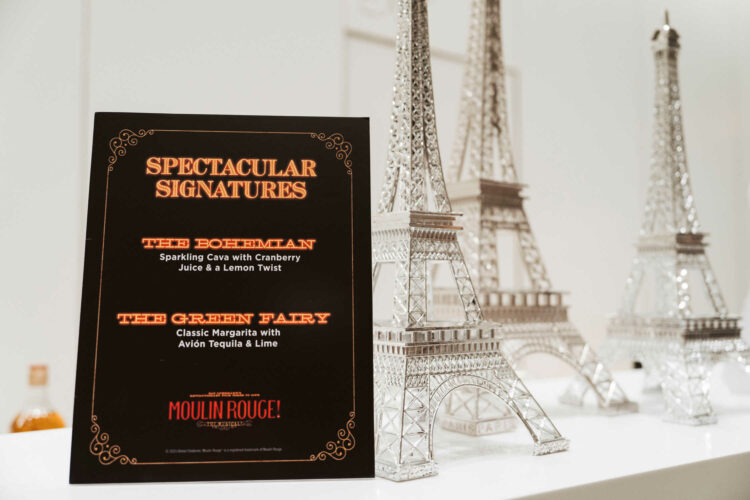 The cocktail party was on the second floor of the opera house in a lounge called Circles. There was a bar serving signature drinks and other cocktails and waiters were passing around sparkling water with lime and wine. Other waiters were passing around small bites and there was a table of desserts like mini key lime pies, macarons, and brownie bites.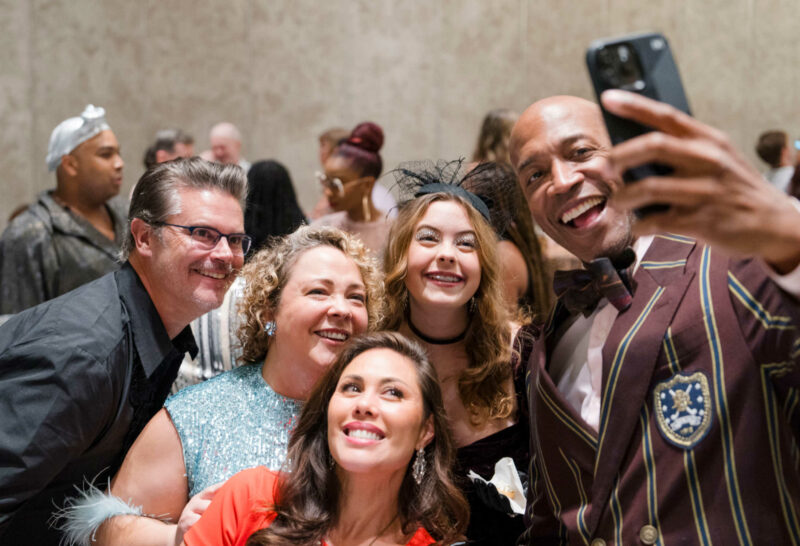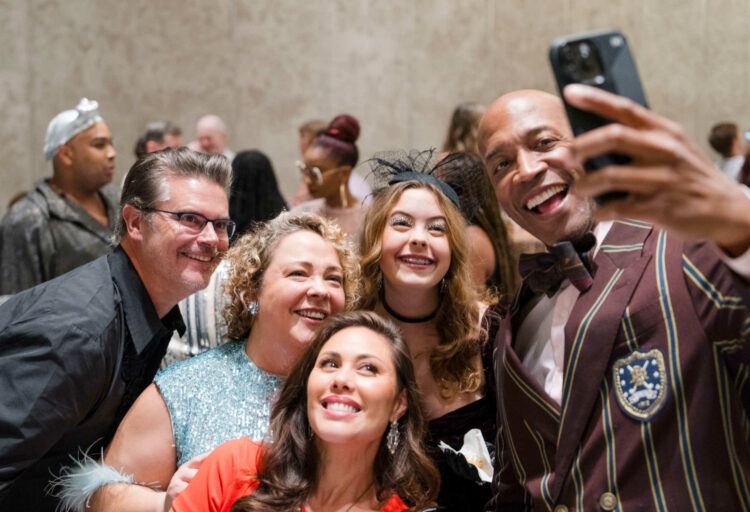 There was a station where you could get your photo taken with a Moulin Rouge theme around the border, and there were professional photographers and videographers capturing the scene. When we left, we received a Moulin Rouge themed tote bag that contained a coffee table book about the musical and a themed pin/brooch. My daughter and I were asked to walk runway style for the videographer and they captured some video of her amazing eye rhinestones.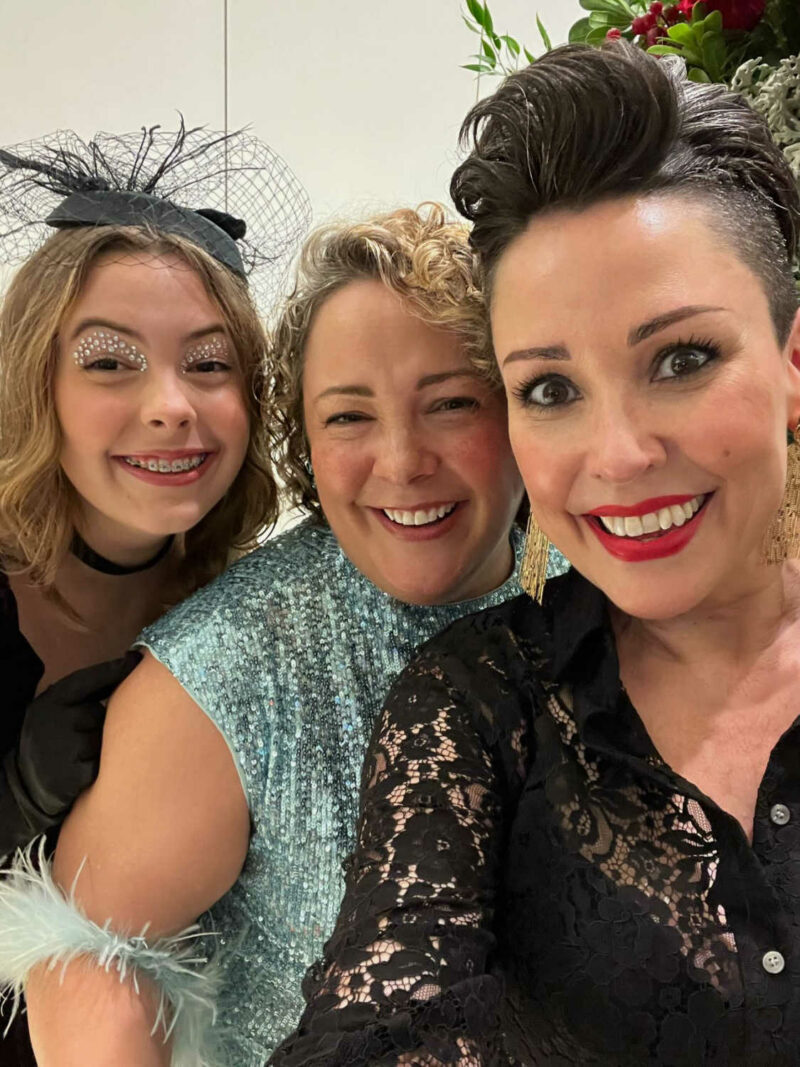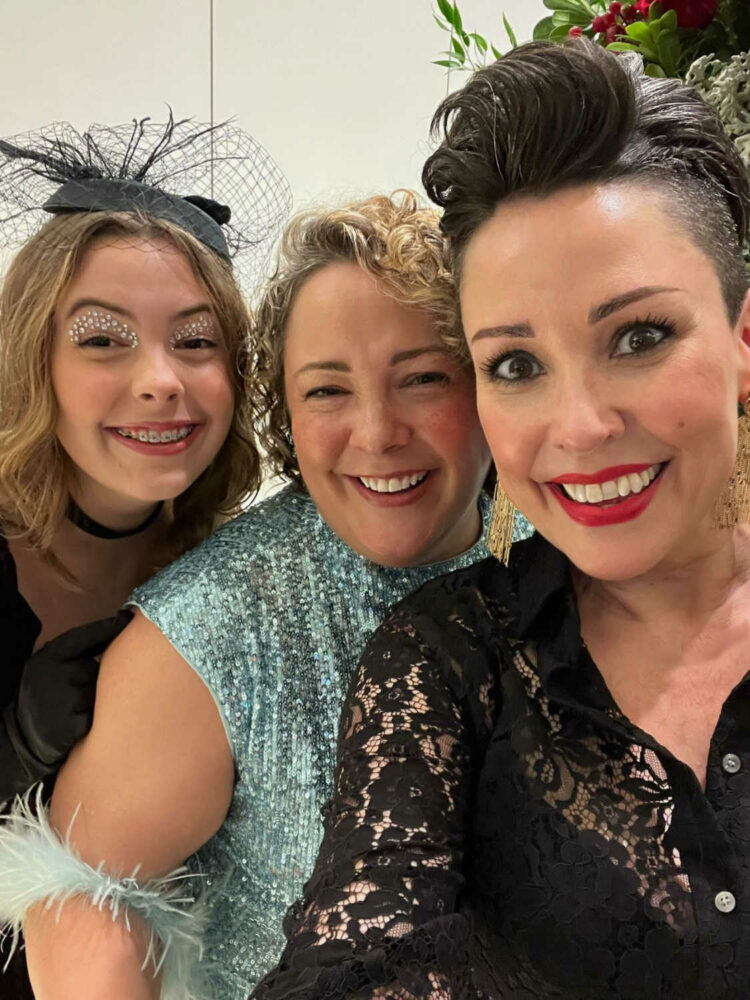 I'm glad I didn't wear black, as most folks were wearing black. And I am glad I wore sparkles and the boa. While I was dressed up far more than the majority of folks in the audience, I fit with most who attended the cocktail reception. I received so many compliments from strangers, folks who organized the event remembered me when we left the party and returned, and it was a boost of confidence at an event that could otherwise prove intimidating. While I may have been a blogger and influencer longer than the age of some of the attendees, I still find these social events overwhelming.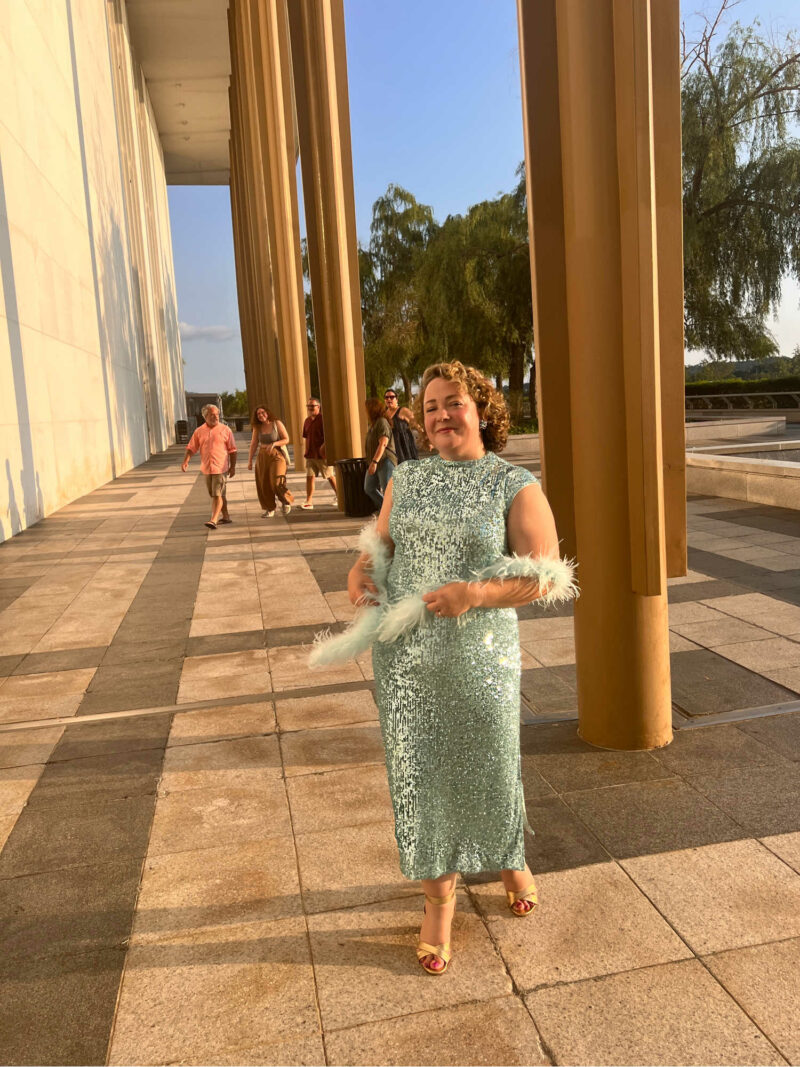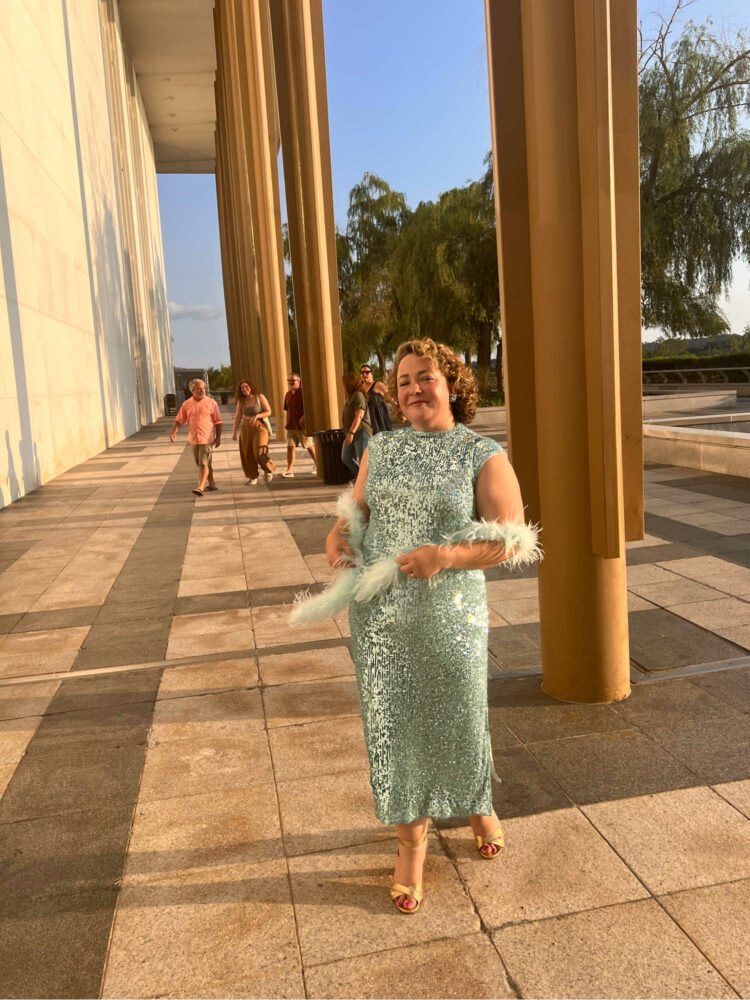 As we get older, we can feel as though we become invisible. We also may feel that the spotlight-stealing is for the young. But if you like to have fun with fashion, there is no expiration date. And these days, fashion is so fluid you have choices beyond frumpy mother of the bride, invisible, or wacky. It just may take getting outside your shopping comfort zone and a bit of trial and error. To paraphrase Moulin Rouge, wear what makes you happy, come what may.