I am getting lots of emails and comments from women excited about the spring trends. They are wondering how to fit all of them into their current wardrobe and want to know my opinion.
I agree, there are some really wonderful trends this year that can add a lot of style and personality to a simple wardrobe, that are flattering and wearable.
But do know, you do NOT have to follow any trends if you do not want to! A stylish woman is not a slave to trends; she only accepts those that she honestly enjoys.
That being said, if there is a trend that does fit your personality, your lifestyle and your wardrobe… too much of it can be a bad thing.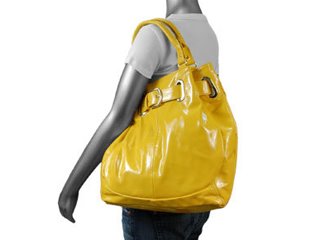 Yesterday on my way home I popped into Filene's Basement. My eyes hurt from the carnival of colors in the bag section; bags women were grabbing up as though they were free. There were patent clutches, patent slouch bags, patent frame bags in bright orange, lipstick red, canary yellow, apple green. These bags had the hip patent, the current shape that is in style, the popular bright colors and plenty of shiny hardware to boot. The yellow was the most popular, and I overheard one girl saying to her friend, "a yellow patent bag is the must-have for Spring."
Please ladies, this is how Ugg boots, leggings, distressed denim skirts and giant white plastic sunglasses become items of disgust. A magazine or a TV show tells everyone they are new and fresh and Paris or Lindsay or Sienna (or all three) is seen running around town in it. Suddenly every teen girl and her mom go out to buy that item, thinking that owning it will mean they will suddenly have a bit of the "It Factor" that these celebs have. Cheap versions are sold at big box retailers to supply the demand and now every female in a mall seems to be wearing these items as though they are a mandatory uniform.
I would be so saddened to see yellow be ruined in this manner. It is exciting to see a fresh new color for spring, but if you abuse it's powers, it will be the next Ugg boot. Yellow is for a solid-colored, well-made dress, a spring coat, a pair of peeptoe heels or round-toe girlie flats. It's for a skinny belt over a cardigan and pencil skirt, or even a tube top to wear to that summer concert. It is not a color that should be made into everything under the sun, and honestly becomes quite hideous in large quantities and out of ostentatious fabric. Unless you are a really artsy girl who lives in primary shades and cartoon-inspired accessories, you do NOT need a big yellow patent purse.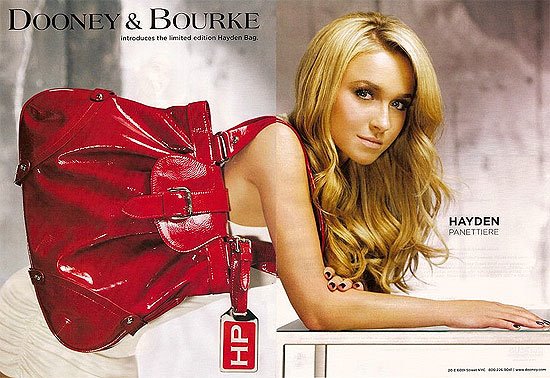 Speaking of patent leather and its cheaper cousins… again in moderation. A patent clutch is a great piece to use for nights out and with a dress for a day wedding; I find a pair of black patent heels a useful and stylish addition to a woman's wardrobe, and adore the look of a patent accent like a belt against more subdued fabrics. However unless you are a True Fashionista, you should not be sporting any larger pieces of patent leather. I don't care what Hayden Panettiere is shelling out for Dooney & Bourke or what they put on page 234 of Vogue, it's not stylish. It is a fashion victim look waiting to happen. A large piece in this sort of material can easily look cheap and easily look dated. Yes, we have been wearing patent leather for decades and almost every woman reading this probably remembers her black patent Mary Janes from grade school, but large doses of patent will not stay in style for many seasons. A pair of shoes or a small accessory will add style and shine to your wardrobe; a large piece will be the equivalent to… well to Ugg boots in less than a year.
A new season should not be a time for manic shopping. Slowly look through magazines and store windows, and as with any other time of the year – only purchase that which you love. The world will still rotate and you will still be quite stylish if you decide to not purchase any yellow, green, patent, enamel jewelry, floral pieces, metallic leathers or safari-inspired garments this season. Shop in moderation, and if you find a trend you love, don't abuse it to the point that the rest of the world will despise it. Your fellow women will thank you.