This article may contain affiliate links; if you click on a shopping link and make a purchase I may receive a commission. As an Amazon Associate, I earn from qualifying purchases.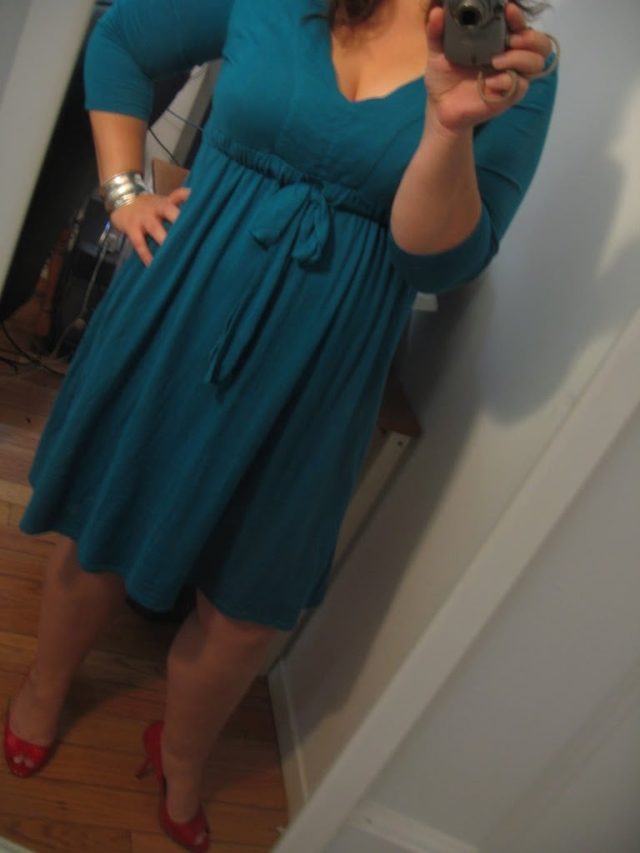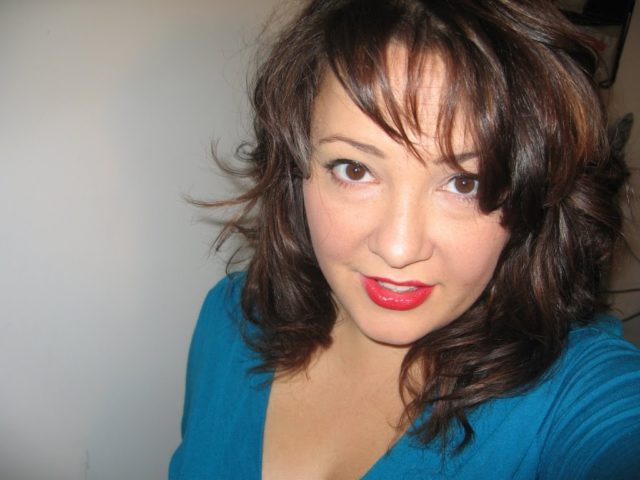 Teal knit dress from Prenza Schouler for Target, red patent croco peep toe heels from Enzo Angiolini, silver cuff bracelet.
Hair was washed and air dried the night before, this morning the bangs were straightened with a dryer and round brush, the rest of the head brushed out with a wood bristle padded brush, then large sections put around a curling iron, then a bit of Jonathan Dirt for separation.
Makeup is Bare Escentuals mineral foundation in Fairly Light across whole face, Smashbox Soft Lights in tint on cheekbones. Eyes is curled lashes with two coats of Max Factor Lash Perfection in black, Maybelline UltraLiner in black on top lash line. On Lips is Cover Girl's TruShine lip color in Valentine Shine.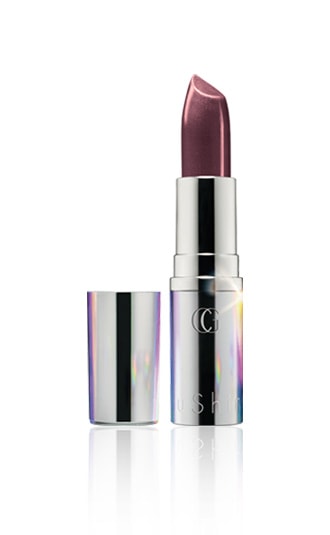 Review: Cover Girl's Tru Shine Lip Color
So I adore L'Oreal's True Match line – I find it to be the only liquid foundation thus far that blends so perfectly I never end up with a line. the concealer lasts, has a great consistency and also blends beautifully. I loved the idea of lip colors that blended to your skin tone as well… especially when it came to red.
I rarely wear lipsticks because I am a klutz. I chew my cuticles, I forget to reapply, I end up with a weird stain creeping out from my lip line, and often though I do the finger trick, end up with color on my teeth. Oh, and color all over my fingers from chewing. Red is the worst because it stains, and it never seems to be a flattering color. I sometimes can find a dark dark red that is advertised as a burgundy to look nice in the winter, but reds always end up looking hot pink on me, even if they are orange-based. So to have a red match my skin tone, I was in heaven.
As you can see, this red came off pretty true and pretty fire-engine. The consistency is nice; it's not drying and left a flattering shine that wasn't too glossy. It also was solid enough to apply evenly and crisply without need for liner. I am writing this almost four hours after application and I still have substantial color on my lips, probably 70% coverage. not too bad for a lipstick that doesn't attempt to be long-lasting.
Problem is what is leftover is a garish magenta. A color that is not flattering to my skin, even if it was a sweater that I was wearing. It's a corny, tacky shade that no person on this planet should wear. my lips still feel soft, the color didn't feather, but it didn't do what is claimed – to match my skin tone. I look like one of those little old ladies who wears the same greasy Helena Rubenstein lipstick they have had in their purse since the 70s. At 7:00 am I looked china doll or geisha, now I look like elderly woman not properly cared for at the nursing home. When reapplied to the now hot pink-stained lips, the color is not red like this morning, but cherry. Not happy at all.
Another thing is the packaging. Pretty iridescent silver case with a clear top of the lid to see the color. very nice, but no where on the entire packaging does it say Cover Girl! Proctor & Gamble is on the plastic packaging to be removed and on the sticker on the bottom, only a faint CG and "Tru Shine" on the bottom half of the container, completely hidden by the cellophane wrapping showing the color name, sku, "NEW!" etc. (that did not have to be removed to open the lipstick). The sticker on the bottom has the color number, but not name. I am surprised that Cover Girl would send out a new product where they do not advertise the name anywhere on the casing.
So, the consistency and formula is great, the packaging is pretty enough to pull out of your bag and apply int he restroom of a snooty place, but the idea of it matching 97% of skintones and really my skintone is not that unusual… it didn't accomplish that. I would consider it for a more obviously flattering color like plum or mauve just because of the formula, but don't expect lipcolor miracles with TruShine.