This article may contain affiliate links; if you click on a shopping link and make a purchase I may receive a commission. As an Amazon Associate, I earn from qualifying purchases.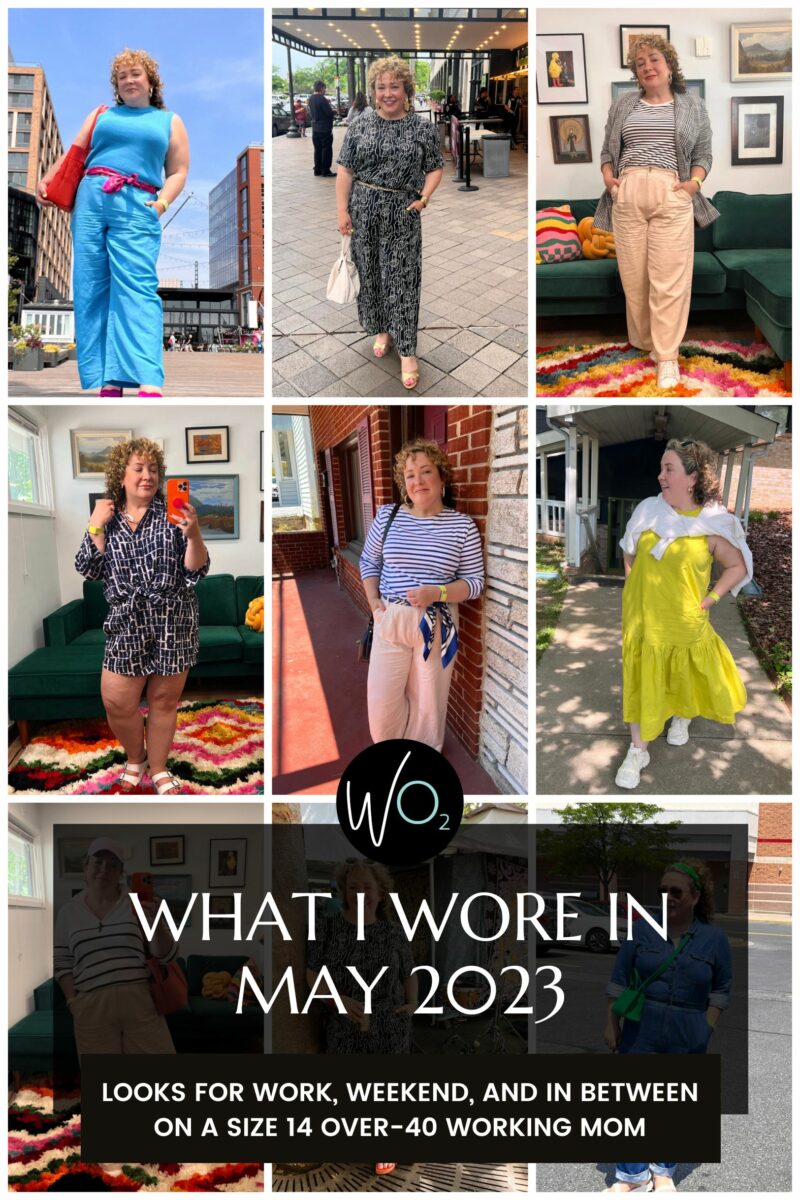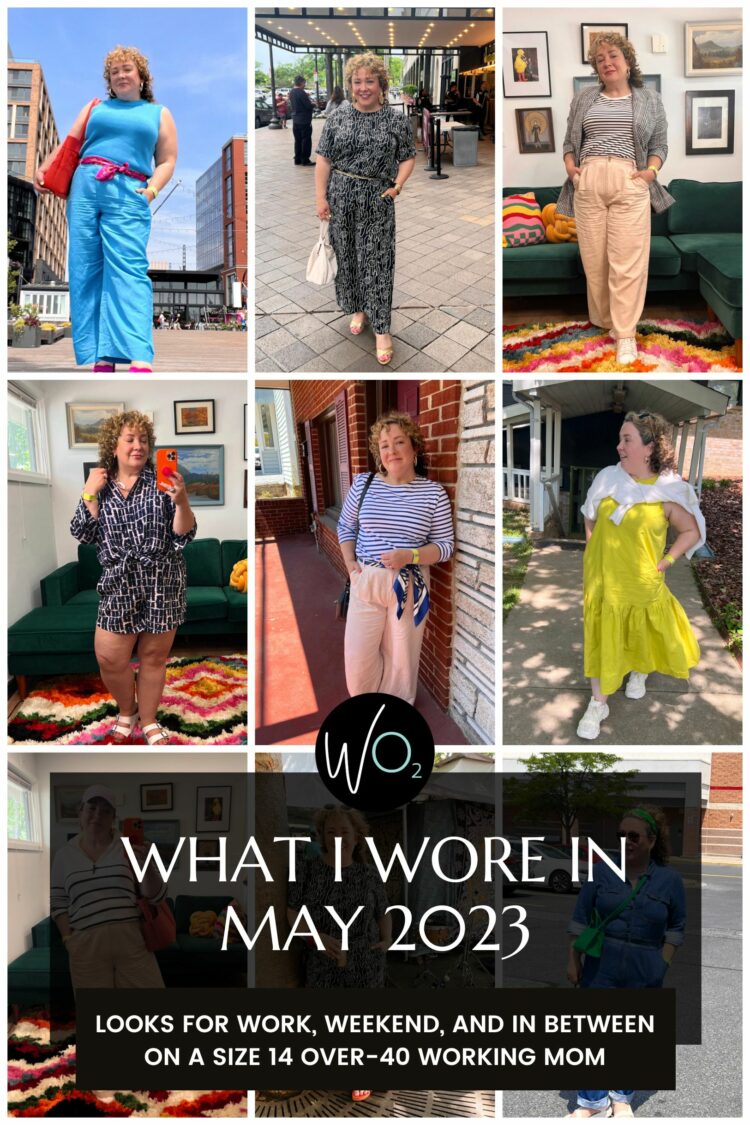 I can't believe May is already over. Chatting with my 8th grader, we both feel as though it was just Easter, and this week she has her middle school graduation! The month flew by, here are some of the outfits that I wore in May:
What I Wore in May: 2023 Edition
A few pieces are "heroes" for the month of May. Items that were worn more than once (and often worn beyond these times but not photographed). You will see some have also been featured in recent capsule wardrobes; I regularly make those capsules based on my own closet. As I did with April's outfit recap, I will organize by theme or hero piece to show how these garments and accessories can live multiple lives, creating big style with a small closet.
M.M.LaFleur Symphony Print Washable Silk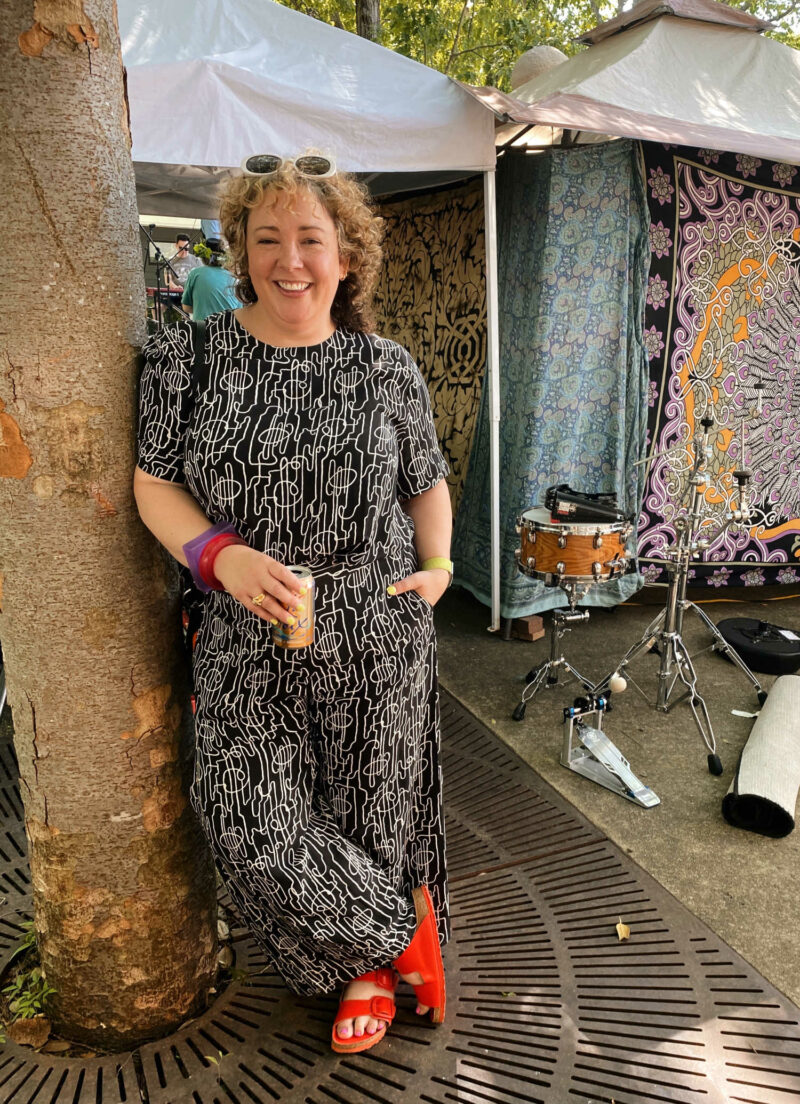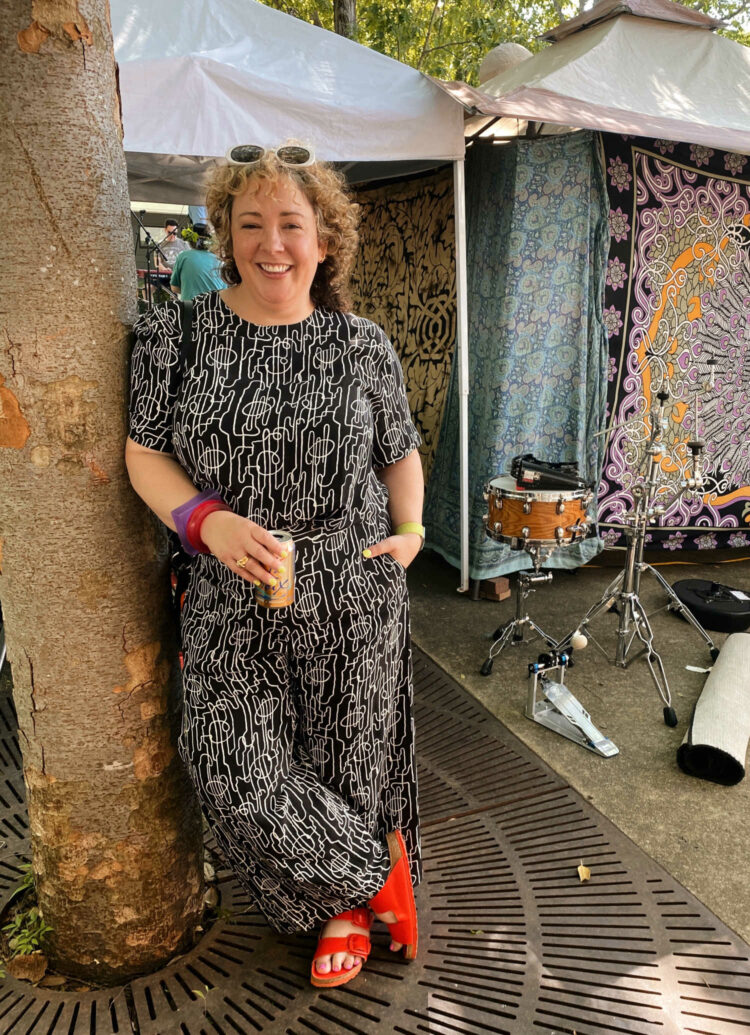 I love M.M.LaFleur's washable silk. You can put it in the washer on the gentle cycle, line dry, steam it and it's as good as new. I've spot cleaned with hand soap, with Dawn liquid, and it comes out completely. I have been able to get oil spots out without issue, and it feels nice on a hot day. M.M.LaFleur was kind enough to send me their Annika tee and Zhou culottes in their black and white Symphony Print washable silk. The t-shirt is XL, the pants 14.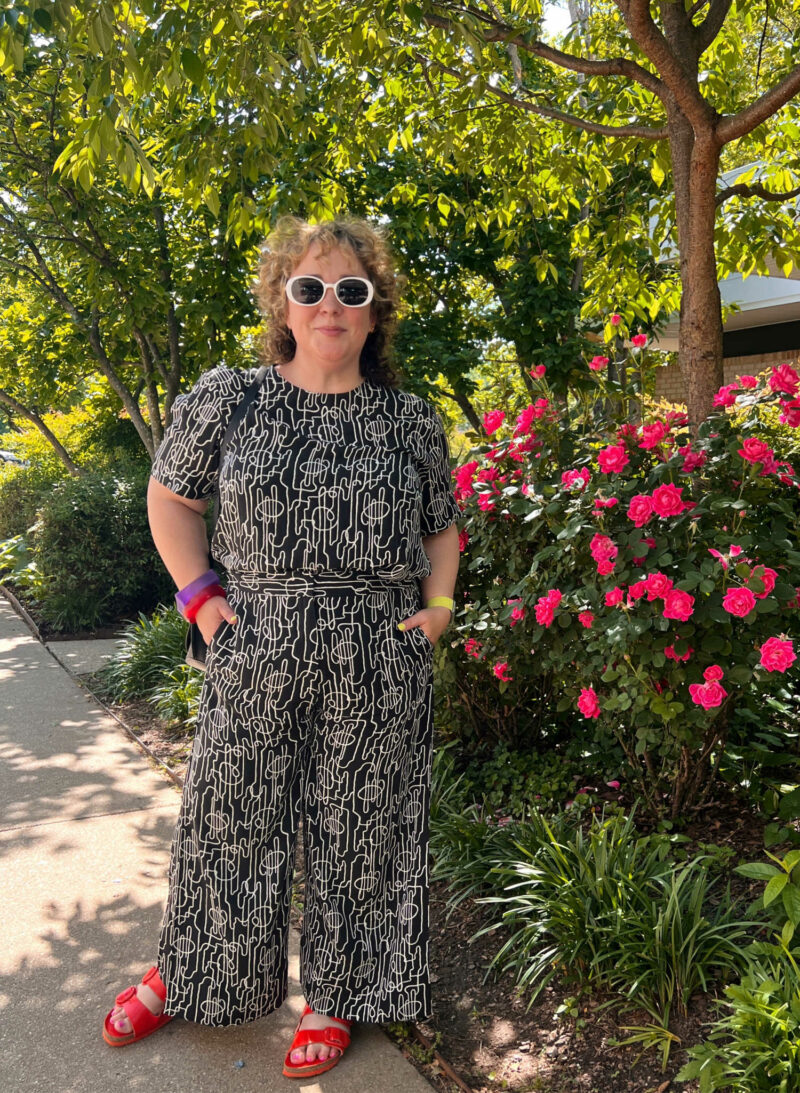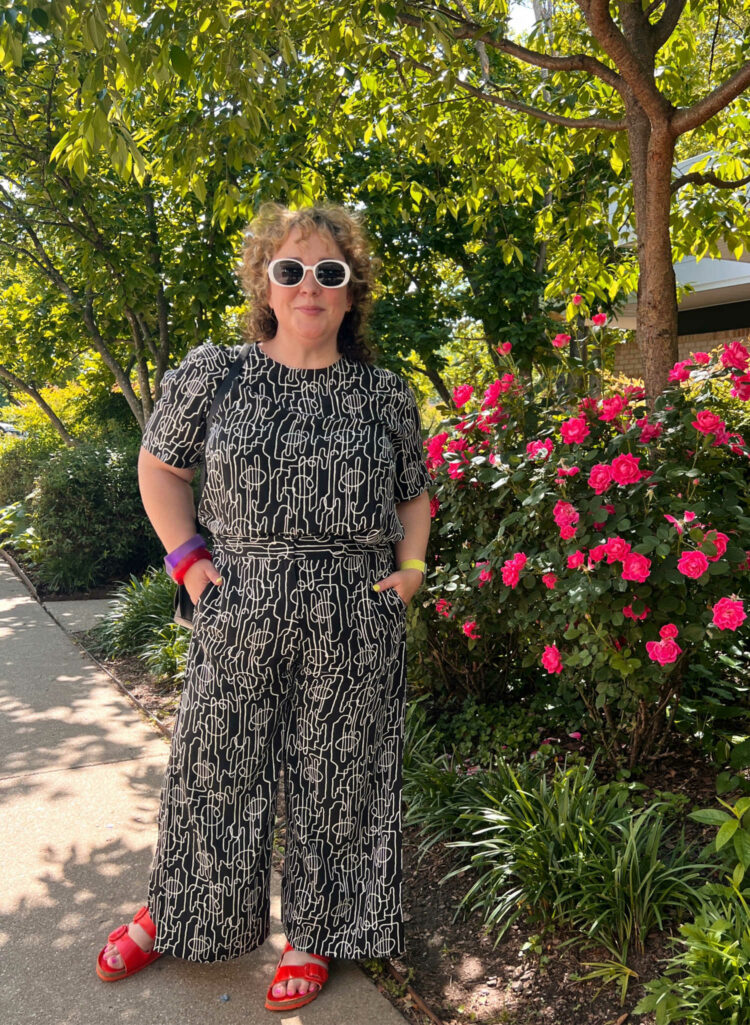 I wore it to a street festival in our city on a warm day. I knew the fabric could handle some sweat and wouldn't look a mess if I got sweaty and sat for a while. I kept the look casual with tomato red Birkenstock sandals, a pair of white sunglasses I got from Chico's last year (these are similar), and some silicone bangle bracelets my husband got me as a Christmas gift.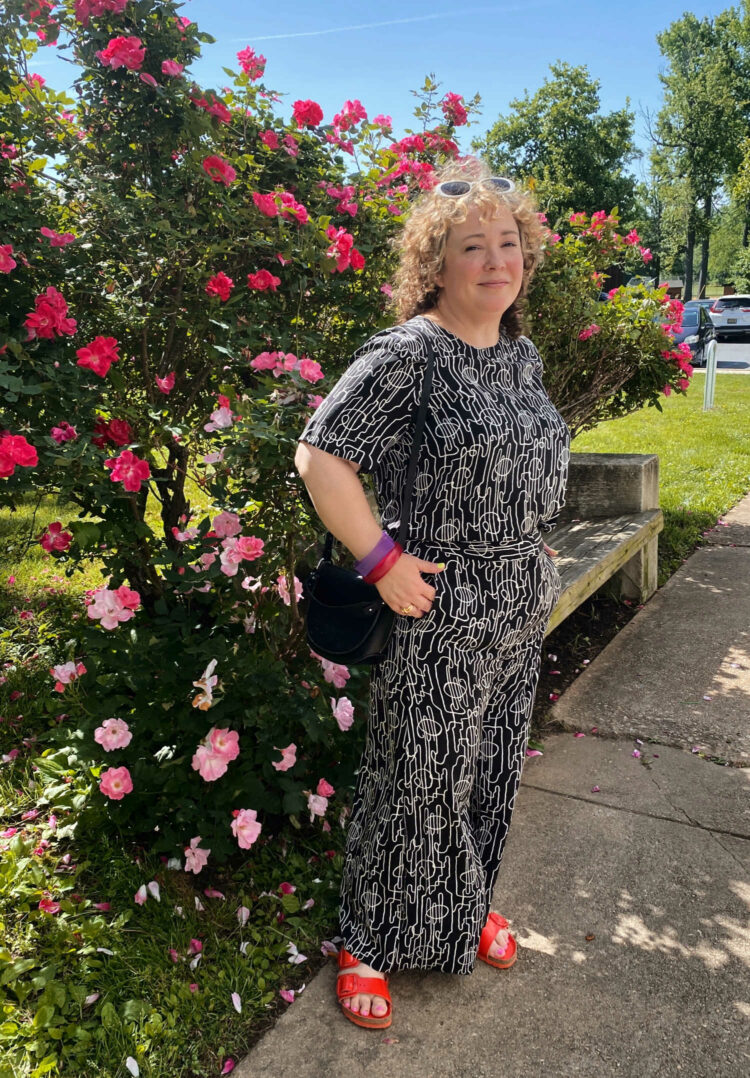 Not seen was for my daughter's piano recital, I wore the Symphony print Zhou culottes with the gold washable silk top from this outfit with my black Lissom flats and gold hoops. This wacky print is surprisingly versatile, easily dressed up and down. Speaking of dressed up…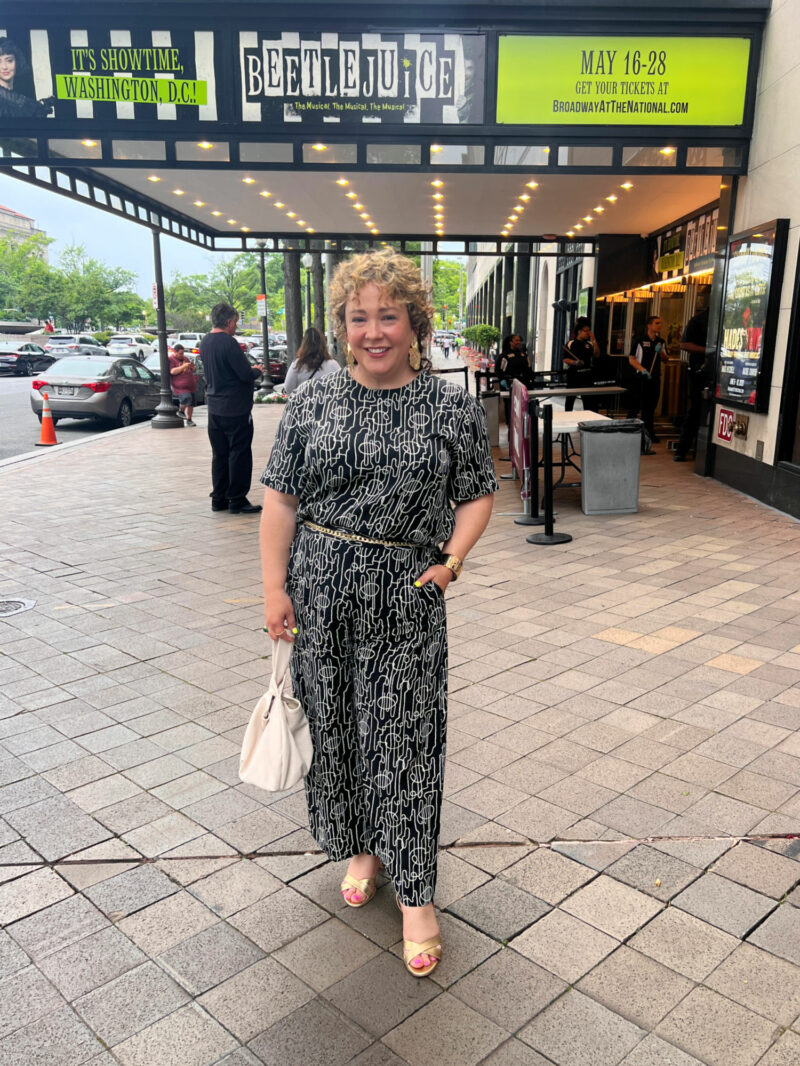 Later that week, my daughter and I went to see Beetlejuice the Musical at the National Theatre in DC. Many dress in theme for this Broadway show. I wasn't up for a costume, but chose to wear black and white in spirit of the evening. I again chose the Symphony print tee and pants, but dressed it up for the occasion.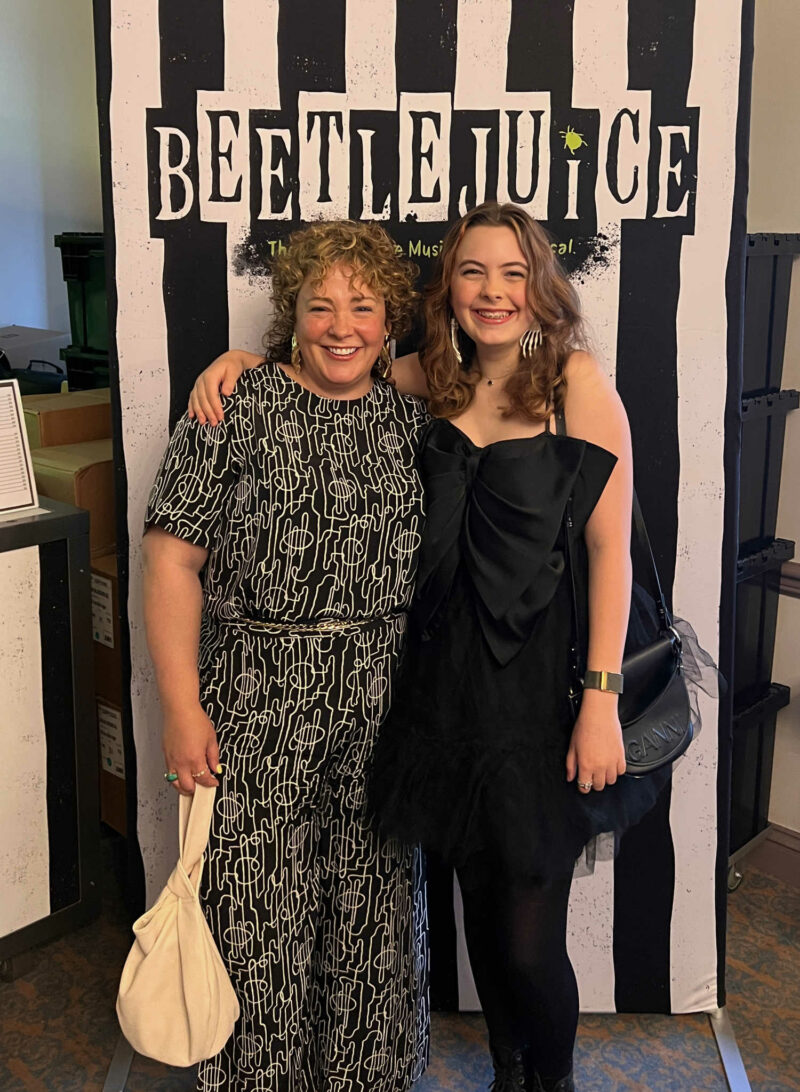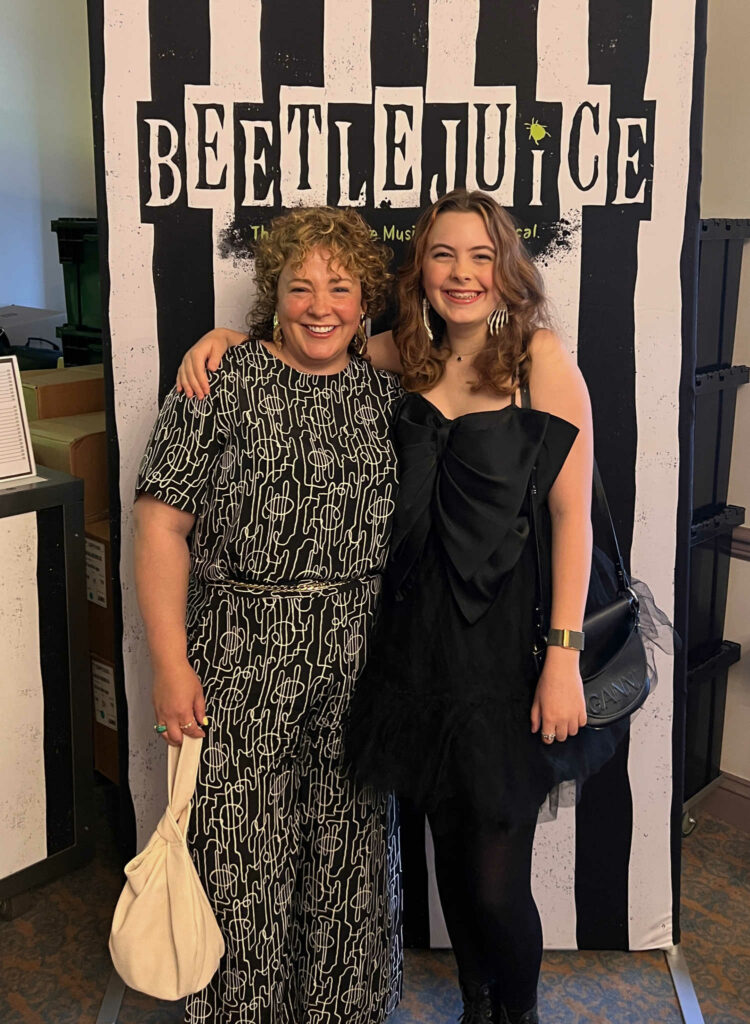 I am wearing my gold Margaux heeled sandals, a pair of modern gold earrings I found at Nordstrom a year or so ago (these are similar), and a gold chain belt I've had for over a decade (this is similar). For a bag, it's this one from Amazon; I've had this bag for years and love it so much. It's great for travel, it folds to nothing.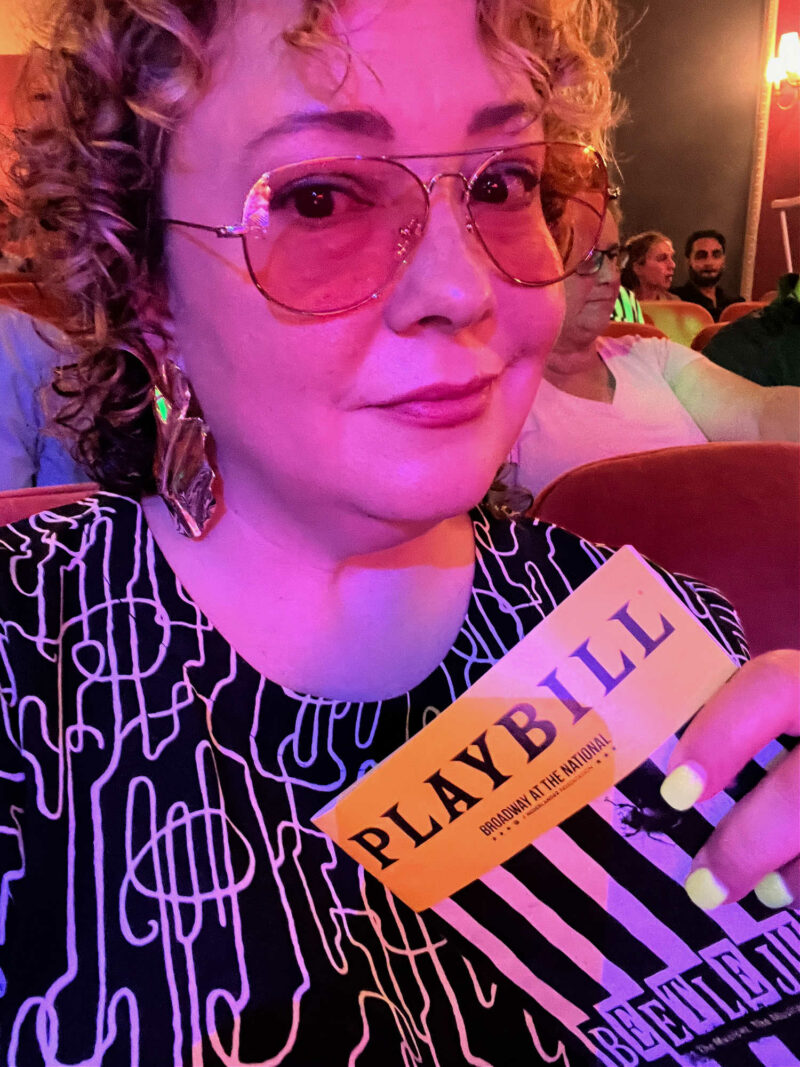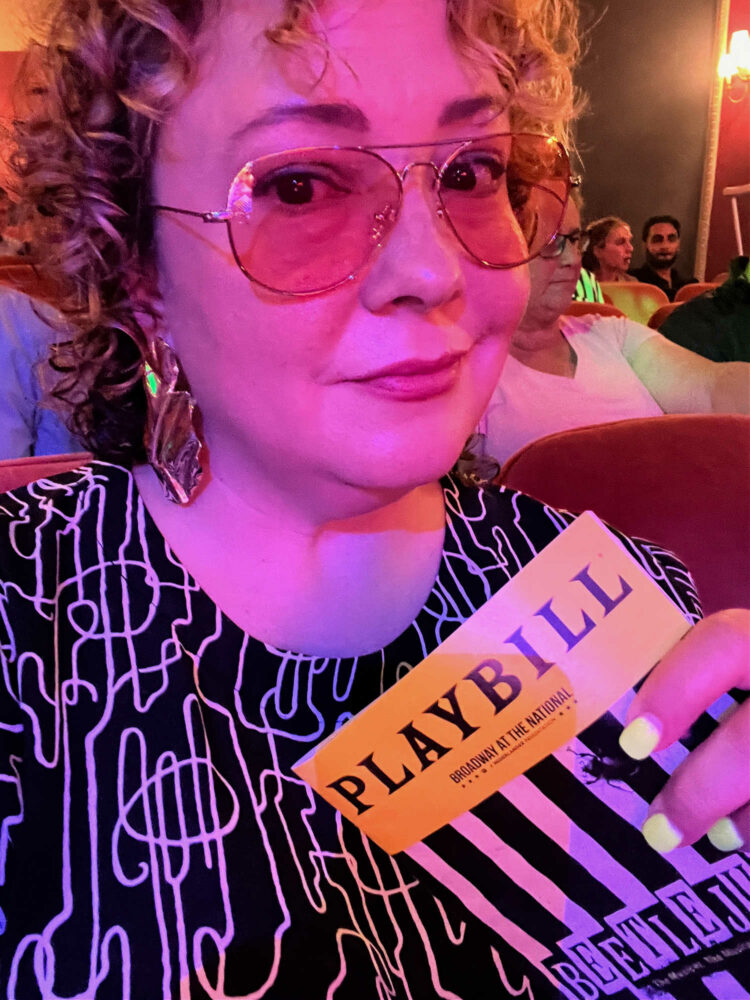 And since I am "of a certain age" and want to read my Playbill in a darkened theater, I brought my Caddis progressive reading glasses. These are the style "Mabuhay;" they are regular on the top and readers on the bottom so they can be worn while looking at a screen and reading documents, or looking at a stage and glancing at the Playbill. Also great for going out to dinner and chatting while perusing the menu!
M.M.LaFleur O'Hara Blazer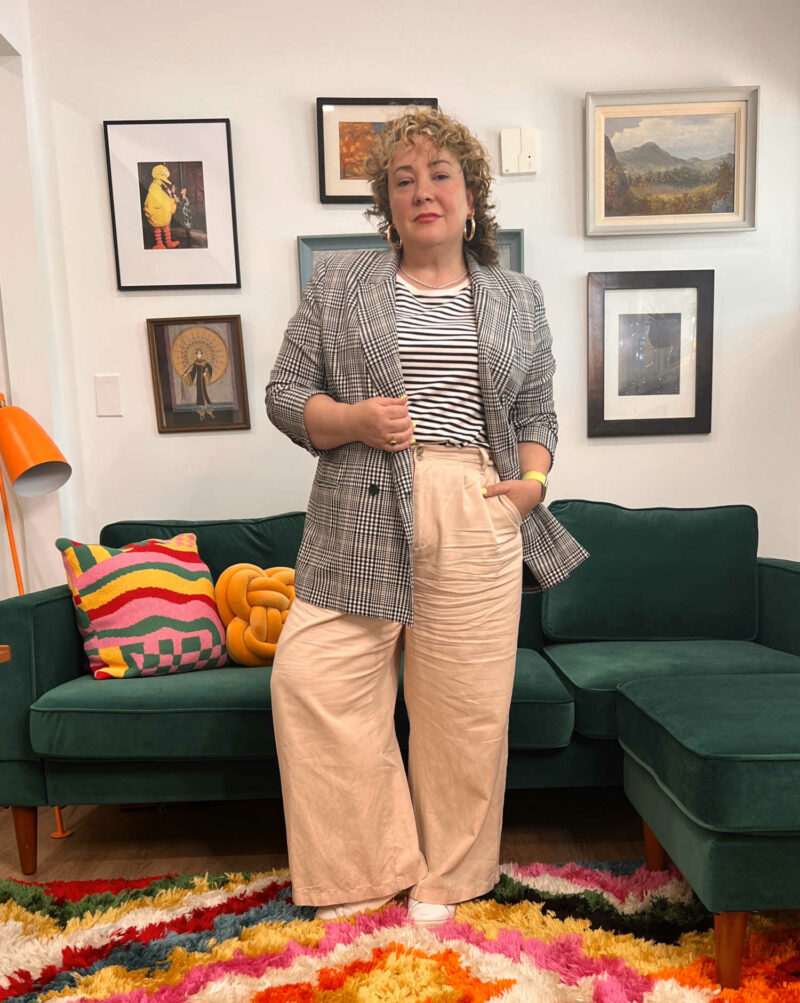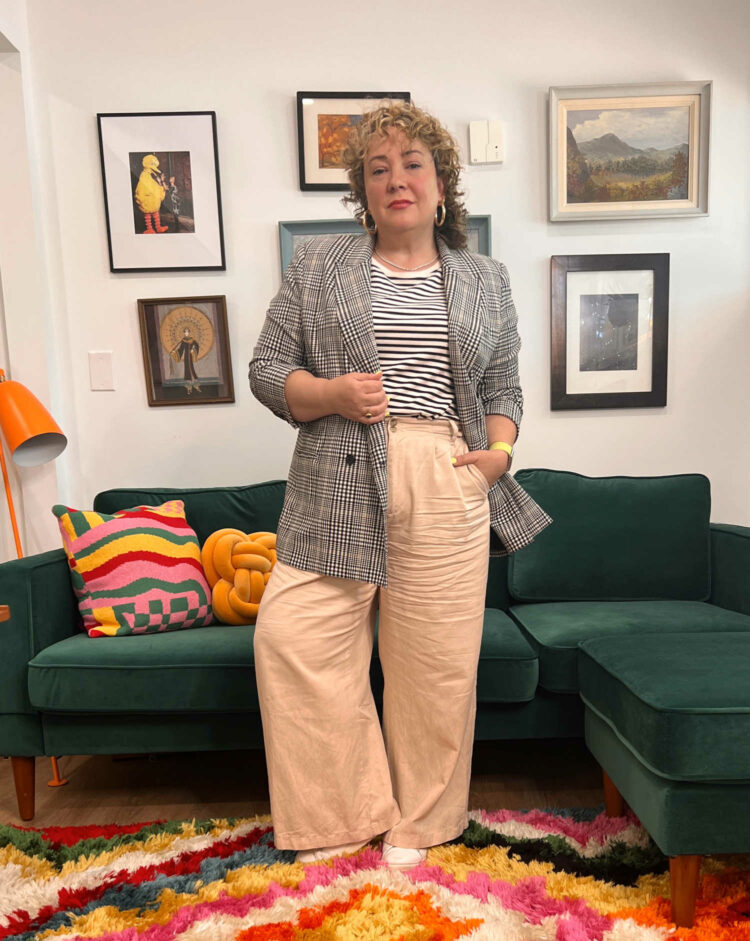 In this capsule wardrobe inspired by a boyfriend blazer, I featured this very same blazer. I am wearing a 16. Since that capsule was inspired by my own closet, I decided to recreate some of the looks from the capsule.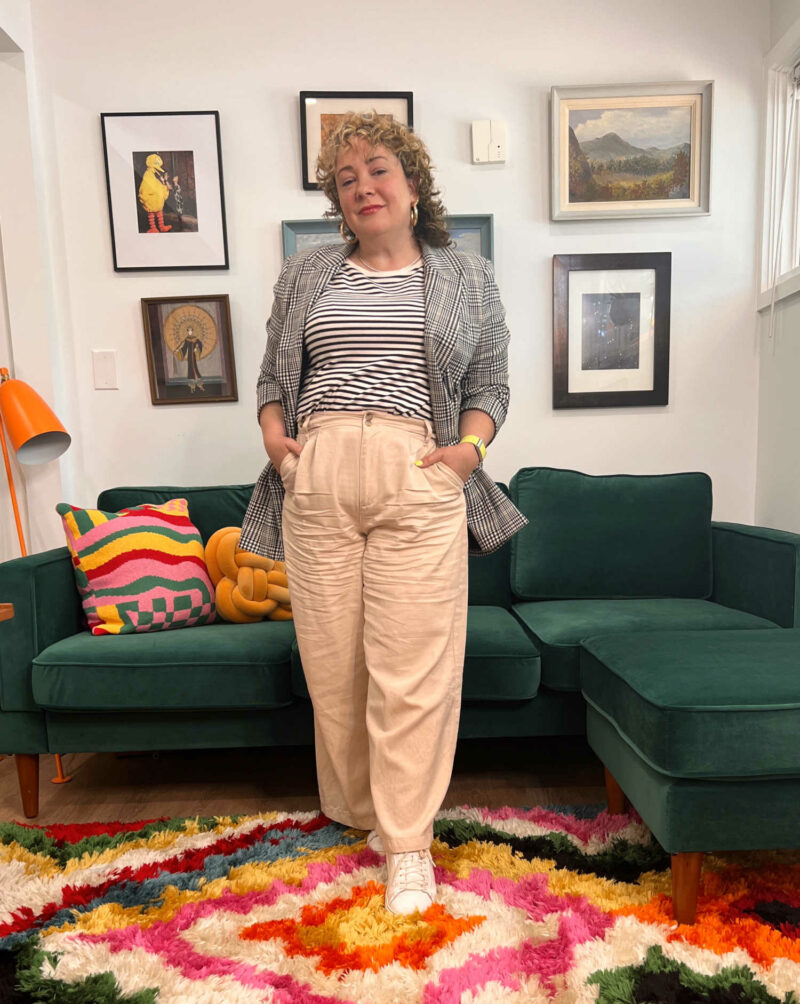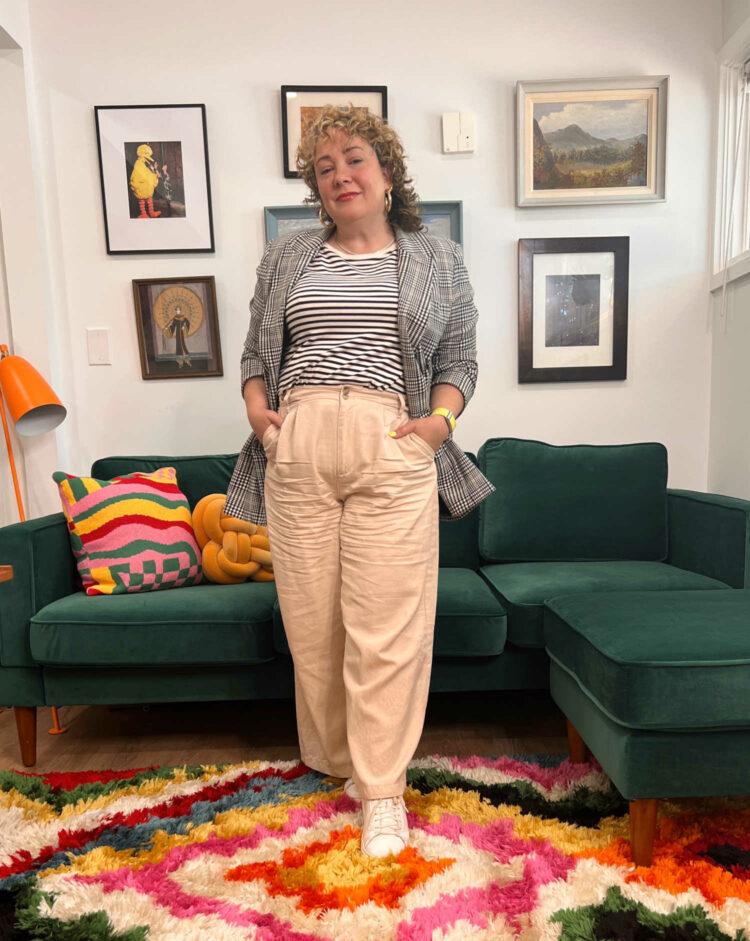 For this look, I took the Harlow Pants with the O'Hara Blazer and a striped Tee Rex from Universal Standard. Yes, you can mix plaid with stripes! They both have black and cream so they match. And the plaid has a hint of the same tan as the trousers so the look is cohesive. I added my Birkenstock Bend sneakers.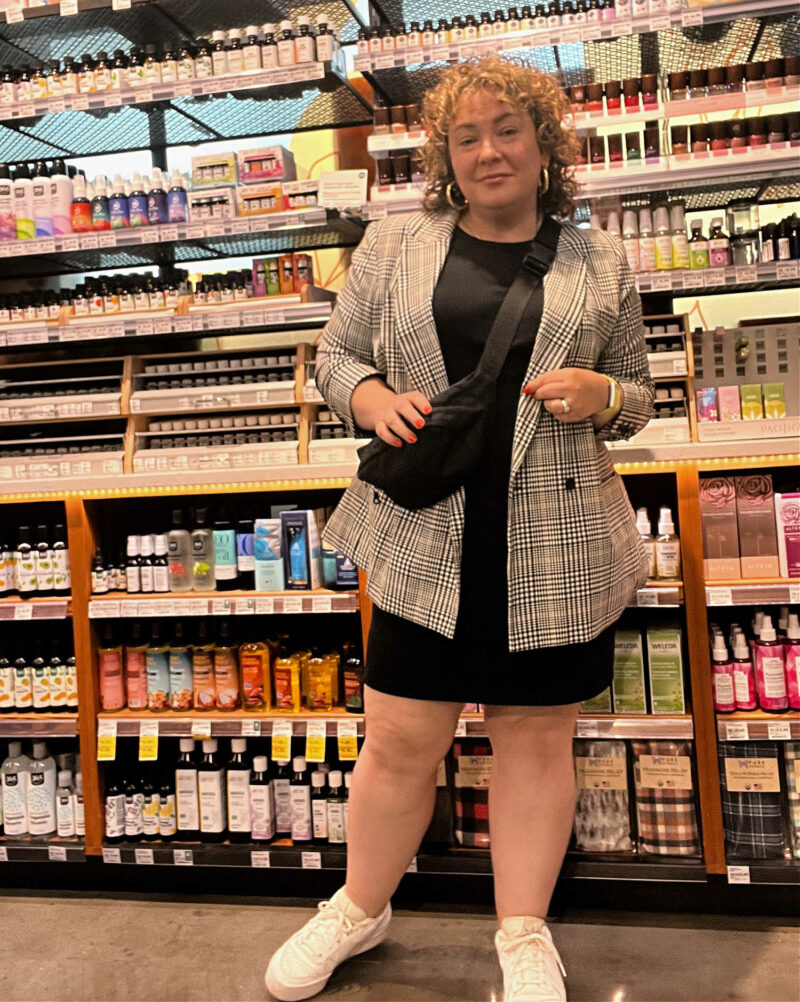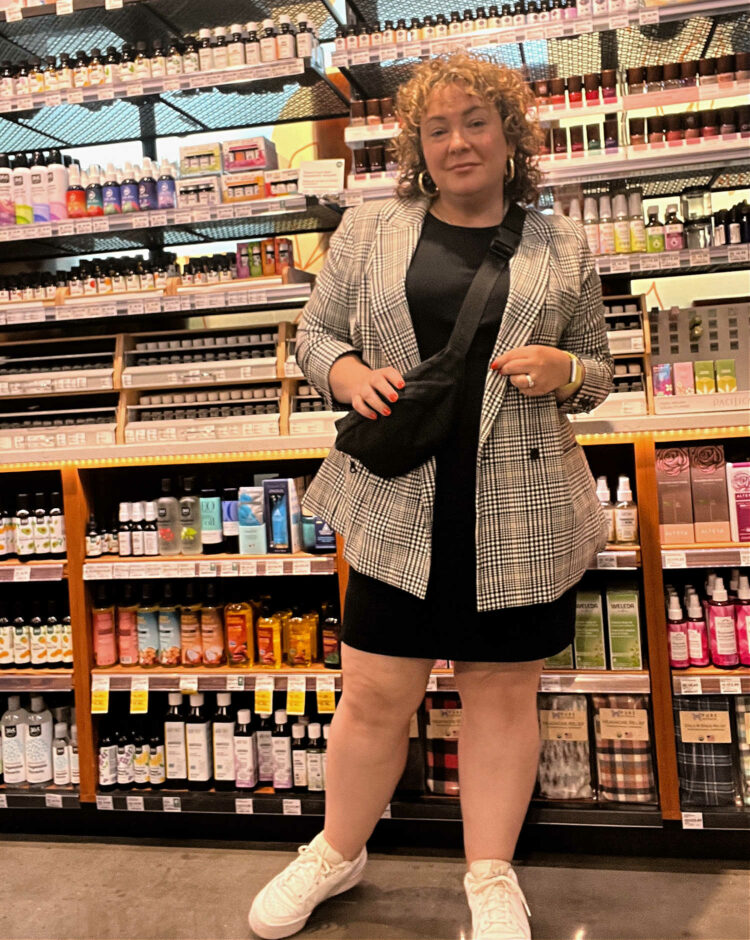 Here, I paired the same blazer with a black knit dress I already had in my closet which gave a similar effect as the dress and blazer look from the capsule wardrobe. This dress I got at Target or Old Navy, it has been washed so many times and is a throw-on and go dress for summer. But under a blazer it looks purposeful and polished. I added my Adidas Forum Bold sneakers to finish the look.
Madewell Harlow Wide Leg Trousers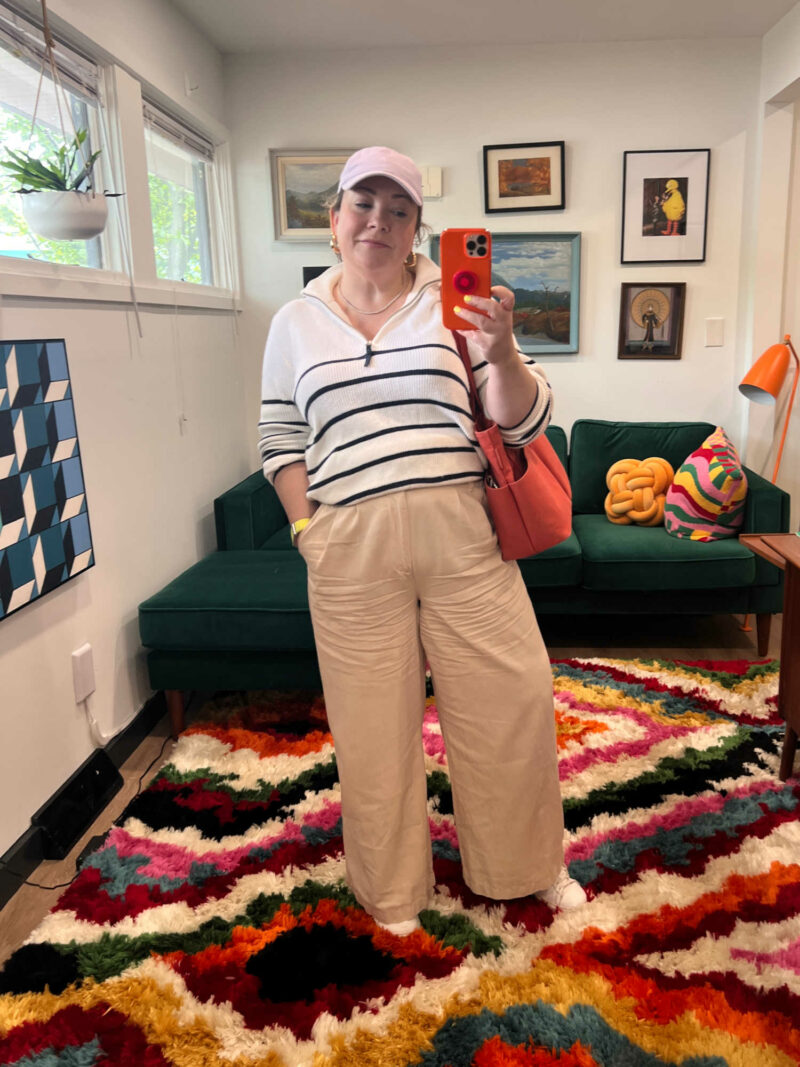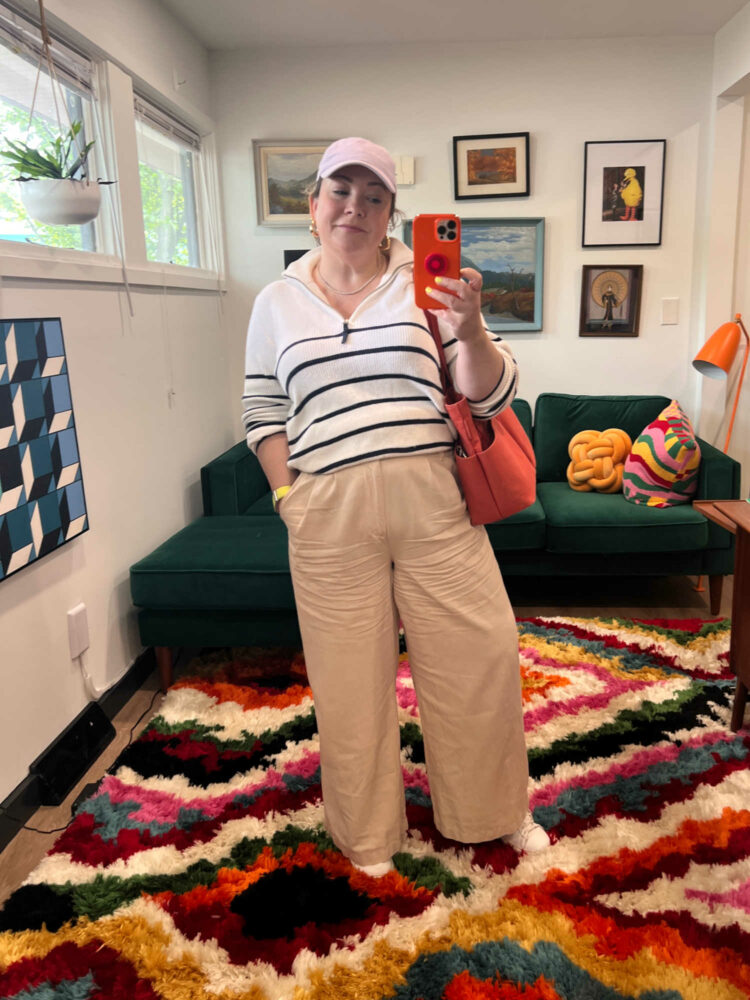 I raved about these pants last month too! And then I used them in this capsule wardrobe and also in this capsule wardrobe. I am wearing a 14 petite. Here I am wearing the with a cotton sweater from Joules (previously seen here; no longer available but this is familiar up to 4X; here's another similar one). I am wearing this cap from Old Navy and my Birkenstock Bend sneakers.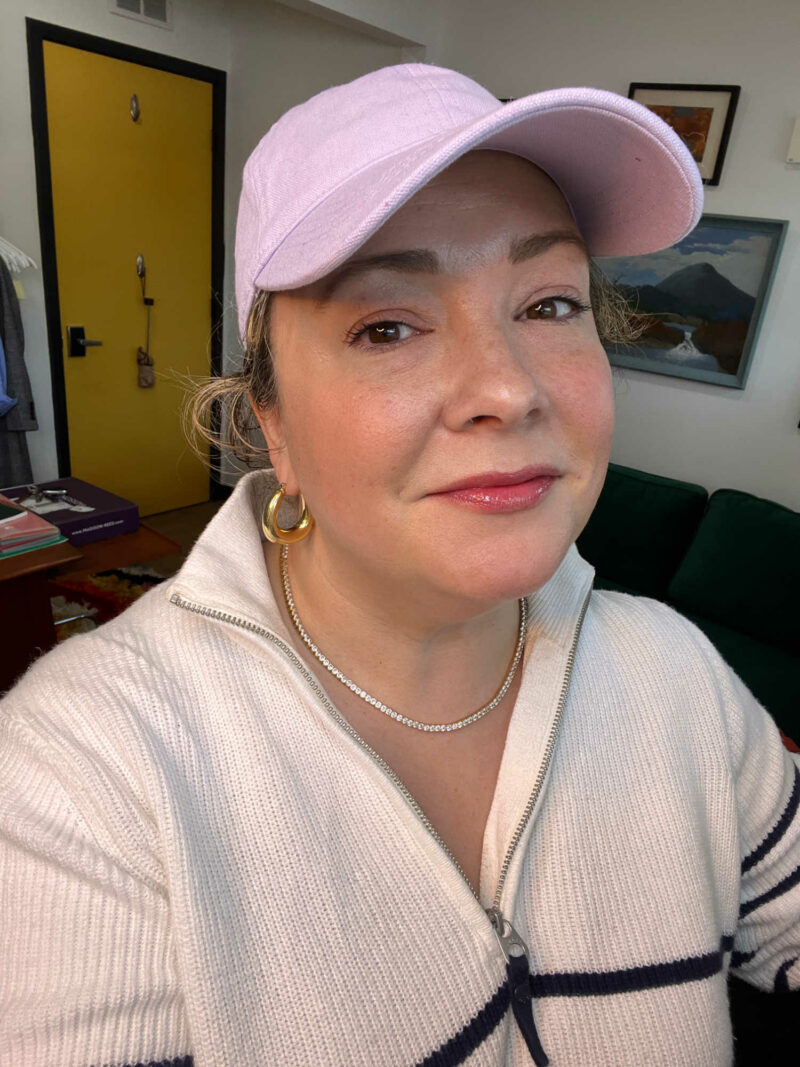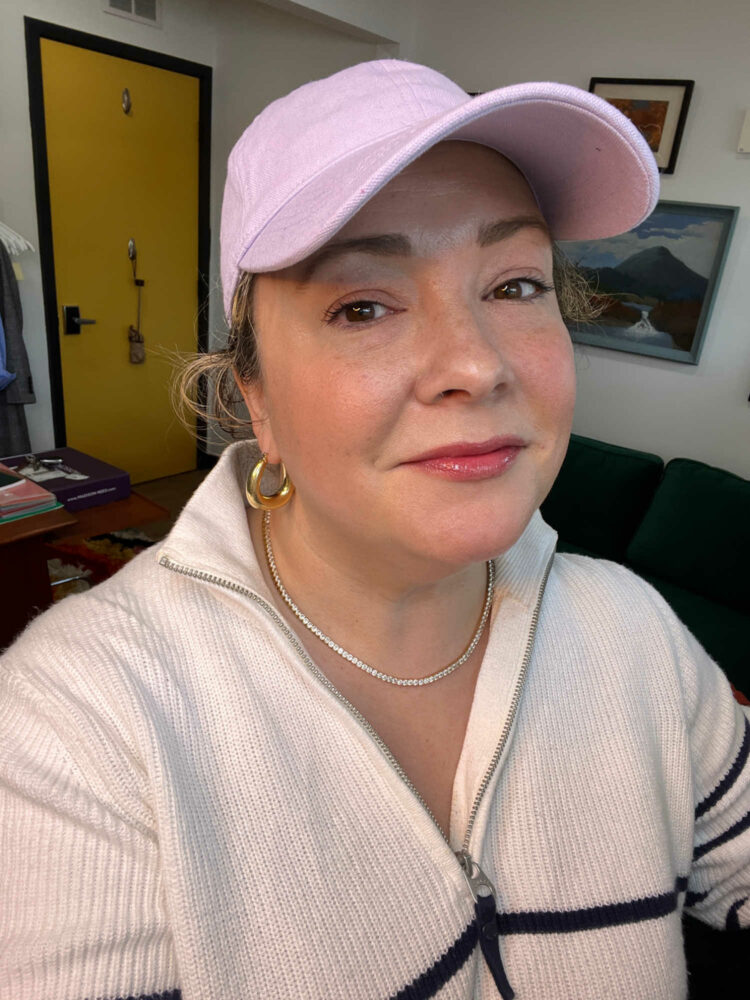 The tennis necklace is this one from LOFT. The hoops are these from Ann Taylor. The lipgloss is my Holy Grail, "Cheeky" from Fenty Beauty. Pretty alone, but it is glorious over a red lipstick, a nude lipliner, a mauvy-brown lipcolor, a wine red lipstain. My favorite is this lipgloss over NARS lipstick in Pigalle.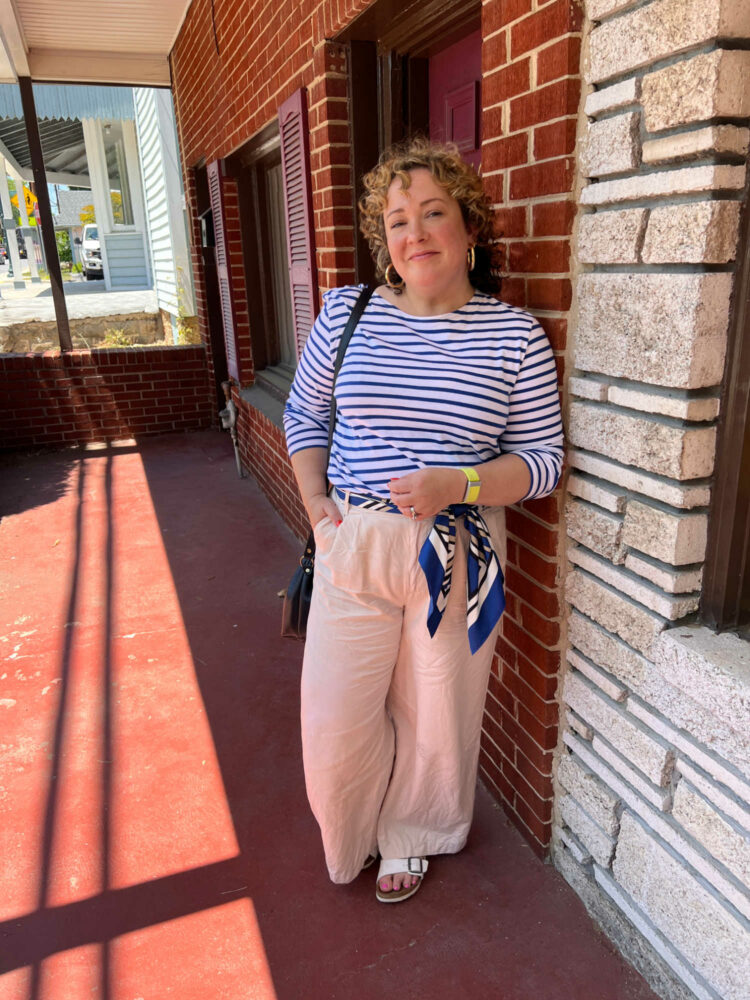 Folks joke about how many striped tops I have, but each one is different. And at least to me, this look is quite different from the one above. Same pants, but this time I am wearing this Saint James Breton top in XL (read my Saint James Breton review), this Banana Republic Factory scarf as a belt, and white Birkenstock sandals. My bag is the small version of this Portland Leather bucket bag. My hoops are the large Dalilah from Baublebar.
The Amazon Dress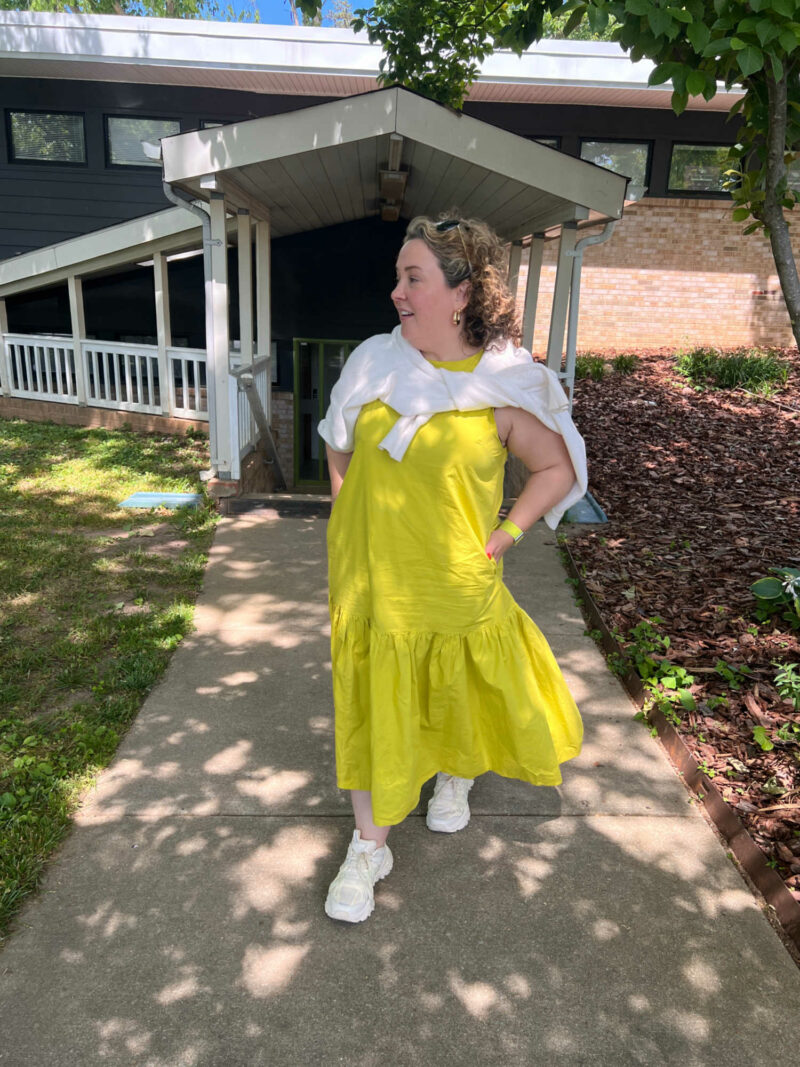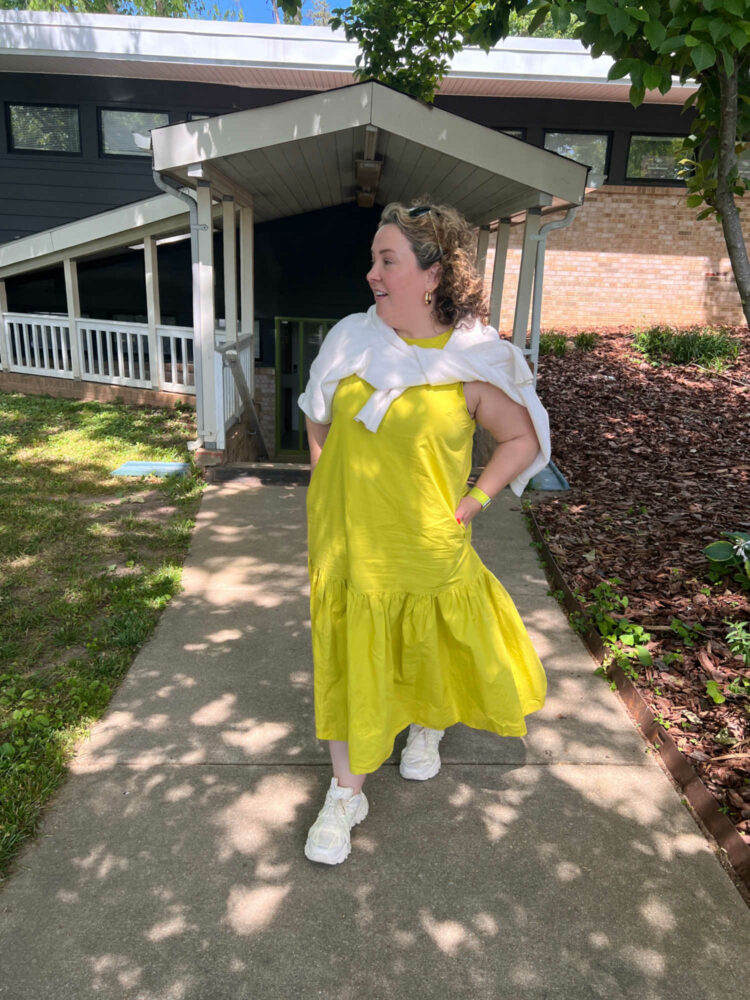 I shared this dress in Monday's blog post. I wear it so often I felt it deserved its own blog post. I've had plenty of folks online tell me this dress isn't "flattering" but I don't care. It's effing hot out there, and I'm sick of sacrificing comfort to look appealing to strangers. This dress sits so far away from my body it's comfortable AF in the heat and humidity. And I think the color is fun.
Universal Standard Shibori Print Set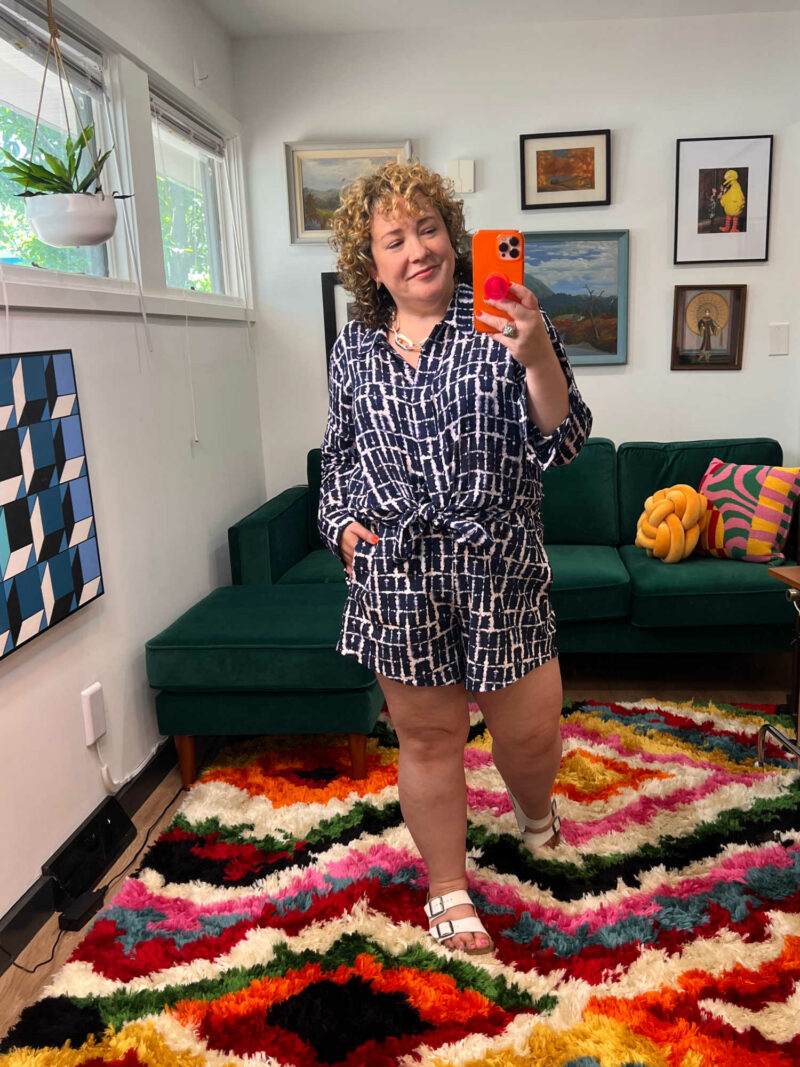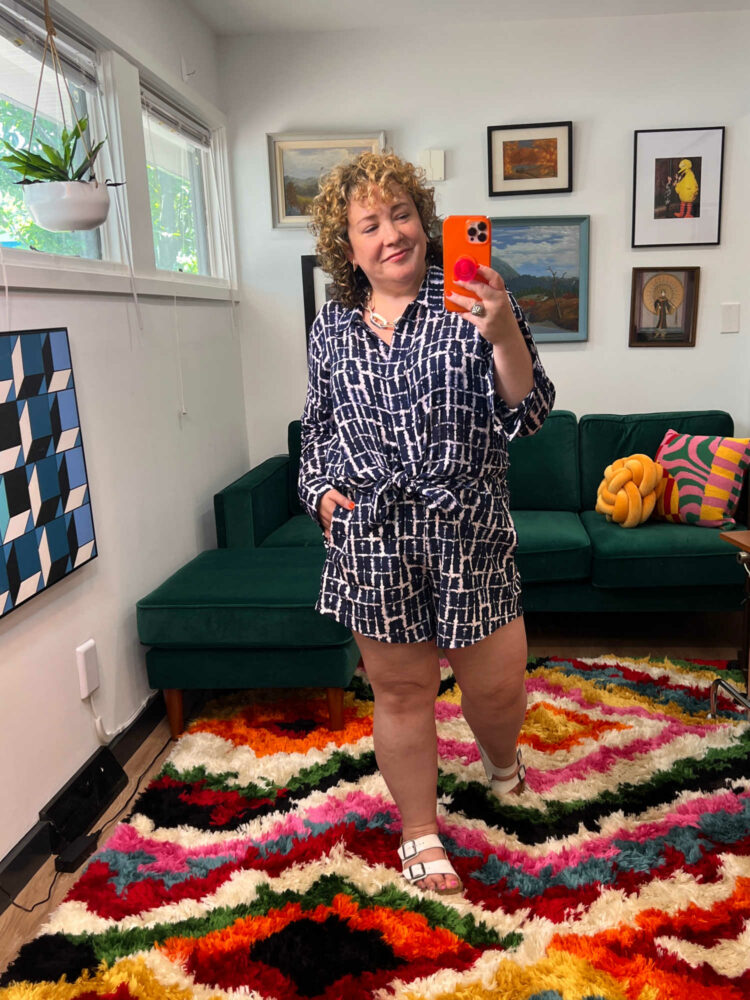 I love a matching two-piece set and was intrigued by this button-front top and matching shorts from Universal Standard. The pieces are very different fabrics (the shorts are the same as the active shorts in this post). I ordered both in XS.
I am really impressed that the prints are so perfectly matched on the different textiles. The top is silky but dries quickly, the shorts are the same style as the other Sunny Shorts I own. I did find this year's Sunny Shorts seem to run a bit smaller than my older pairs; if in doubt size up. This holds true with these and the solid colored. I styled with an old Jenny Bird link necklace; the brand has gone much more subtle with its designs, this is the chunkiest she makes now. And my white Birks.
That J. Crew Denim Jumpsuit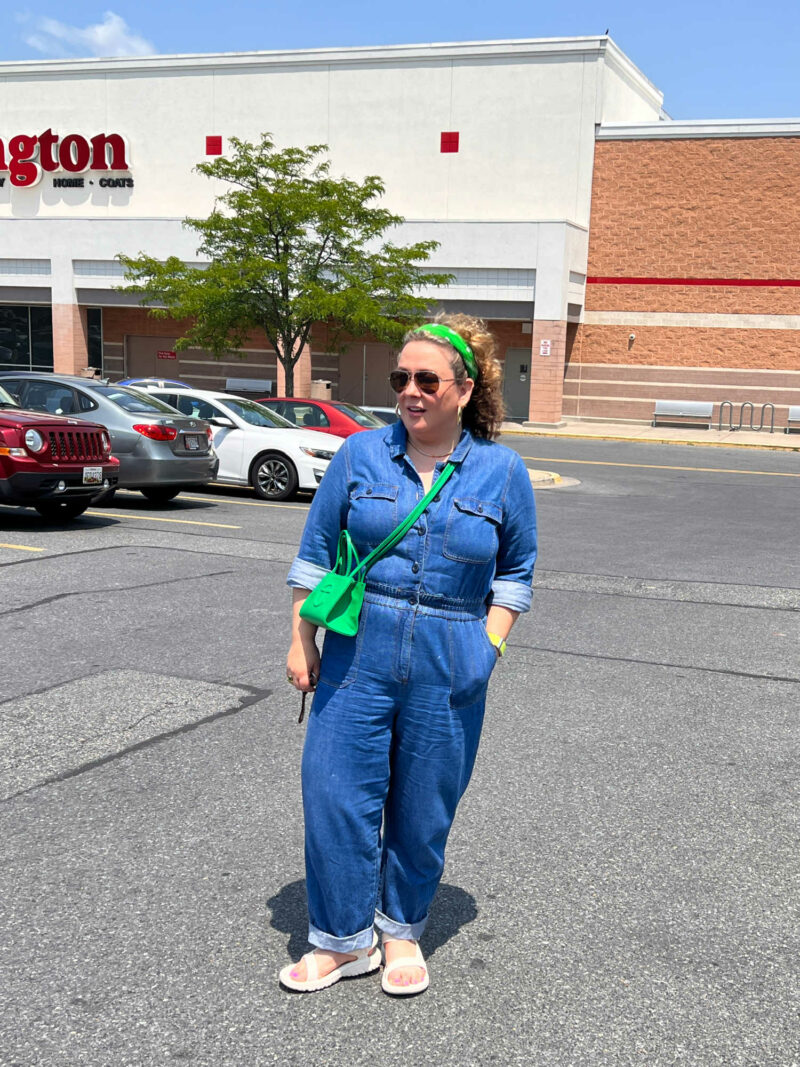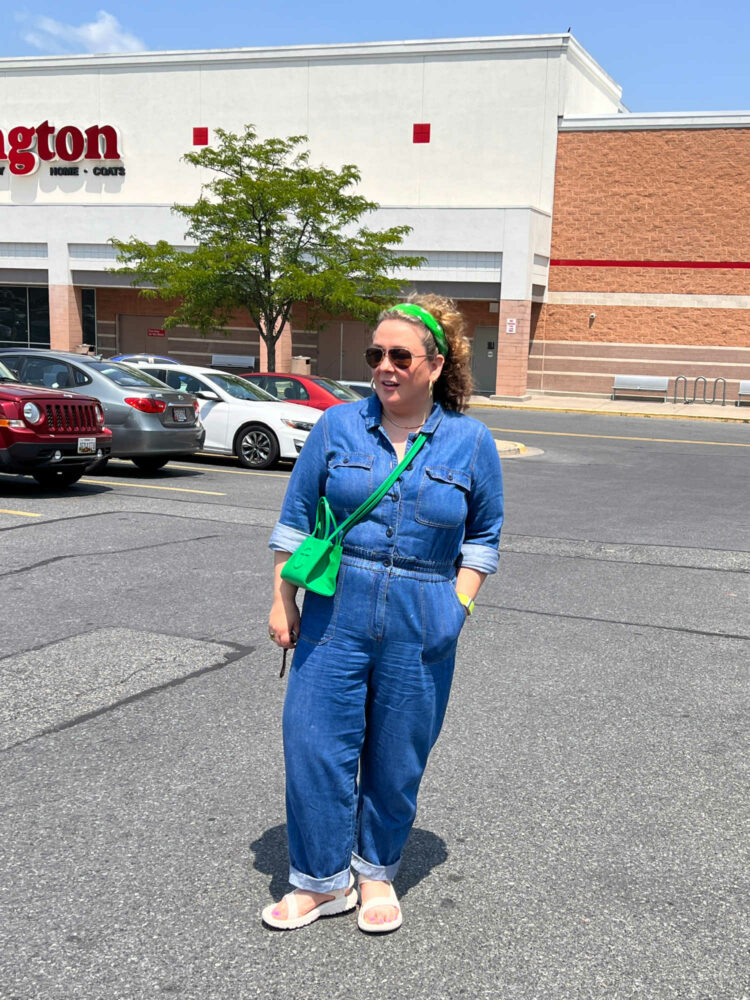 Last spring and summer, I wore this denim jumpsuit from J. Crew every week. I tucked the hems into boots to create a flight suit effect, I wore it with Birkenstocks, I wore it with sneakers, I wore it with Tevas. And this year is looking to be a repeat because I wore the same jumpsuit at least twice in May.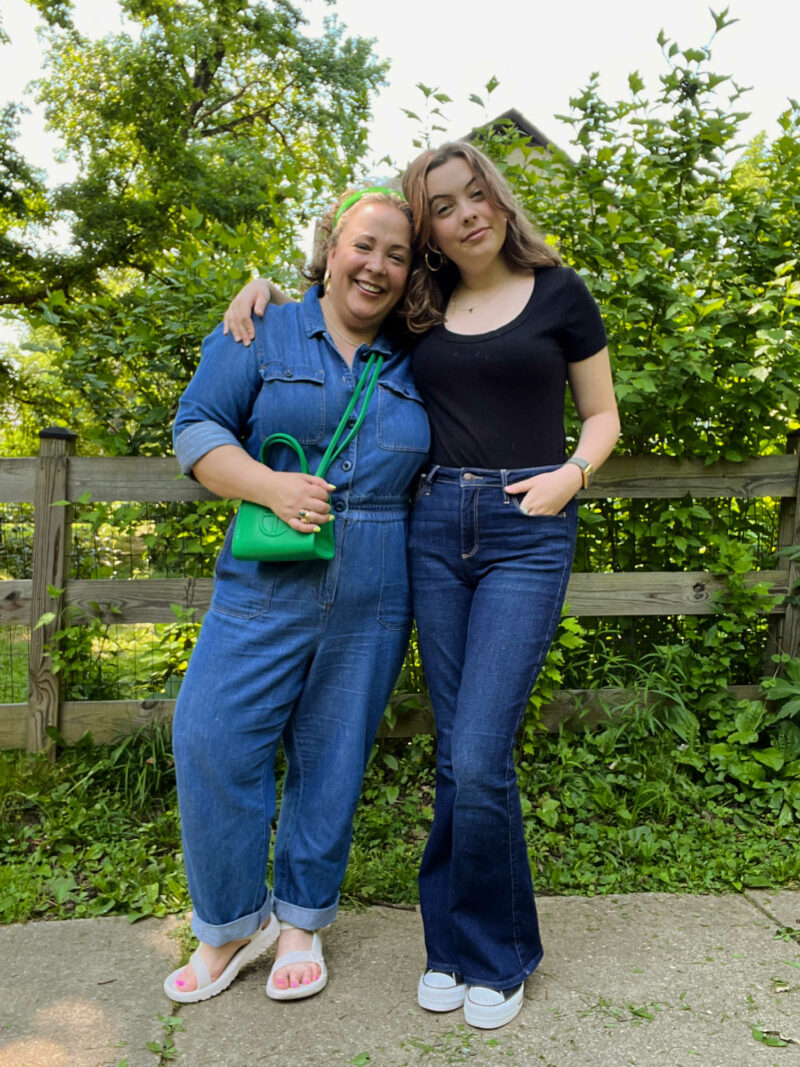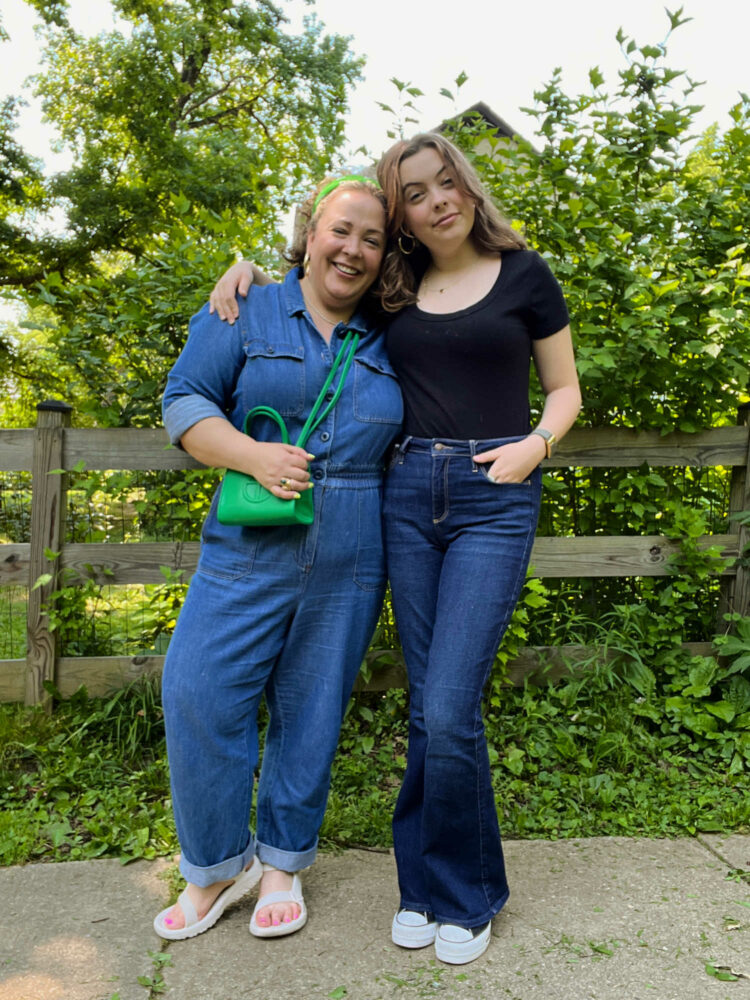 For a Sunday which included going to Target, the grocery store, and visiting my mom, I styled the jumpsuit with my small green Telfar shopping bag and a matching bandana as a headband. I wore my off-white Tevas and my gold Baublebar hoops with the look.