This article may contain affiliate links; if you click on a shopping link and make a purchase I may receive a commission. As an Amazon Associate, I earn from qualifying purchases.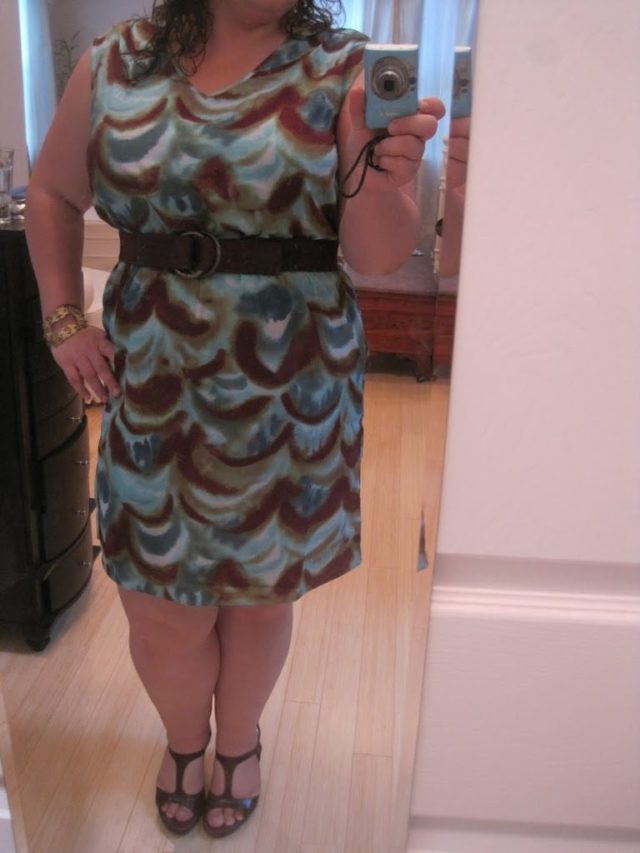 Sorry for pics before my hair was dry. Running a bit late today, and with this humidity, my hair was still a bit damp even by time I got to the office!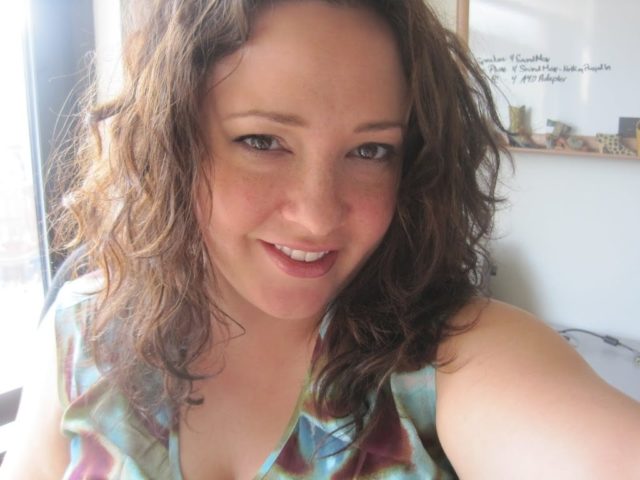 Now it's all full and beachy waves and goes far better with the dress.
Dress: LOFT, picked up during their Friends & Family event last week
Belt: Vintage
Shoes: Sofft
Bracelet: Twisted Silver
I actually bought quite a lot of stuff from Ann Taylor & Ann Taylor LOFT for their Friends & Family event. And all is going back except this dress (which I honestly think will look better next week when I'm not all PMS-y bloated).
What I got from LOFT:
Petite Abstract Waves Woven Dress – This is the dress I am wearing. I have to say if I didn't have the F&F discount and a store credit, this dress wouldn't be worth it. It's polyester, and that weird textured crepe polyester that from far away may look like silk but once you touch it you know it's synthetic something. Super super simple pattern, no fancy details. The waist is elasticized and covered with a black grosgrain ribbon which on its own looks very much as though something is missing. The dress has side pockets which is what made me consider returning this dress – the pockets make the sides stick out a bit weird, and make it look as though it's junk in my trunk and not extra fabric. I may use Stitch Witchery
to close them up.
However I kept this dress because it's lightweight, it's summery, I know it will look better if I lose weight or bloat, and my husband told me I look hot in it. 🙂
Petite Flutter Silk Dress – I saw this in several magazines and thought it looked gorgeous. Also thought it could be a nice red wardrobe replacement for my "secretary dress."
First, the dress doesn't flutter. It's packed so those ruffles lie completely flat. Smooshed flat, and the ruffles have raw edges so it just looks as though the dress is inside-out. I tried hanging the dress in the bathroom while I took a shower, thinking the steam may help flutter up the ruffles but no, they still looked awful. Oh, and the dress is see-through, like could see the lace on my skin-colored bra. And petite? I actually had to double-check the label and packing slip because this "petite" dress hot me mid-calf. FAIL.
Pleated Collar Shell – This doesn't seem to be still in stock, and may be because it was on sale. Anyway, it is a lightweight cotton voile (like my lovely JNY top), looked to have a deep notch v-neck with a multi-ruffled stand collar. The color was called Poppy Red, which looked more like hibiscus or watermelon to me.
This was NOT petite but it fit like it. Raised my hands and you could see my belly. It fit nicely over the bust, but was tight over the midsection (when does THAT happen?). The collar didn't stand as well as I would like because the fabric was so soft. And the neckline didn't fall open so it looked like a high-necked shell with a deflated clown collar. Another FAIL.
What I got from Ann Taylor:
Denim Pencil Skirt – At the time of my order, they didn't have 14 petite in stock. And after the skin-tight scary denim skirt I recently got from Gap, I was thinking maybe I should stick with 16. No 16 petite. So I ordered 16.
Yep, I am a 14 petite. This skirt is far too big. Even though I was swimming in this skirt, and even when I pulled it up to my ribcage it still hit below my knees, I knew it was a good choice. So good I am going to exchange it. The denim is heavy enough to not be clingy, but not so heavy that it looks stiff. It has fantastic seaming that enhance a curvy figure, a tiny kickpleat, a gorgeous dark hue that looks like real denim, but is totally work appropriate. I hate that my local Ann Taylor doesn't offer petites over 12 in their shop, so I have to order online. But I really think the 14 petite will be a great fit and just what I have been looking for. WIN.
Petite Cotton/Silk Blouse – No longer online but it was on mondo sale at the time of Friends & Family. Anyway, it is a gorgeous bright pink, is a non-stretchy cotton/silk blend shell with size zipper at the bottom side. The scoopneck is trimmed with small stiff ruffles. Fully lined.
If I wore suits on a regular basis, I would keep this top. The neckline is super flattering, the color and fabric gorgeous, it fit well, slightly loose in the body but no bra showing under the arms and more of a conservative fit perfect for Corporate America. However alone, it looked like a suiting shell. It is seamed, very tailored, and I couldn't make it look fun with trousers, skirts, or jeans. Not a FAIL, but not an Allie WIN.
Coralized Micro CZ Pendant Necklace – The one I got is no longer online, but it's sorta similar to this. The one I got has a longer, thinner chain and is solid gold with little CZ dots, no mother of pearl in the center. I think it's a cute pendant, like the old brushed gold look, and can totally see it this fall with simple dresses and come winter it will be fab with a merino turtleneck and a pair of dark slim jeans. the chain is adjustable, which is always a big plus with me. I always have major success with Ann Taylor jewelry!