This article may contain affiliate links; if you click on a shopping link and make a purchase I may receive a commission. As an Amazon Associate, I earn from qualifying purchases. 
We are not supposed to wear denim to work except on Fridays. Lately I have been cheating because, A. I only own like two pairs of trousers that currently fit and one is Dry Clean Only, and B. I work on the 9th floor (execs and 90% of the company is on the 7th floor) and sit behind two computers all day so like a newscaster, no one sees me from the waist down.
Today is a cheating sort of day. I wore my black pants yesterday (blackj New York & Company trousers with blood orange scoop necked fine gauge scoopneck sweater from Lands End and olive and silver bead necklace also from NY&Co) and I am not in a dress mood (or living in dress weather right now – Brrrr!).
I didn't take a picture because I haven't figured out yet how to take a picture in my house while it is still dark out without waking a baby or a husband. When I figure it out, I will resume with regular full-length photos. But here I am just five minutes ago at my desk: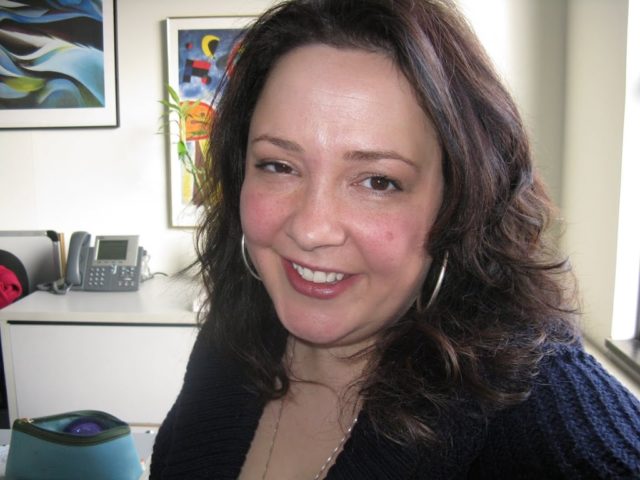 And yes, I did whip out my cosmetic bag to reapply my lipstick before shooting the picture! The evidence is sitting right on my desk!
Anyway, today I am wearing a navy waffle-knit shawl-collar sweater from
Ann Taylor LOFT
that I got on clearance AND with a store credit (more on that in a bit), my Seven jeans (no clue the style, they were on sale, they are stretchy, they have a fake scratch/tear in them at the right knee that is big enough for me to fiddle with during a boring meeting but small enough that I don't look like Lita Ford), my Bern boots from DUO (under the jeans – jeans not tight enough and boots not dark enough for the tuck-in look). Around my neck is a silver chain with my wedding band (nope, haven't gotten it resized yet), wearing silver hoops and my silver cuff.
Makeup is a blend of
Stila Illuminating Tinted Moisturizer
and
Estee Lauder Nutritious foundation
(the combo gives me a sheer look but isn't too pale or too dark – really trying to use what I have on hand),
Laura Mercier Secret Camoflauge
, Nars blush in Orgasm and a touch of
Laura Mercier Bronzer
over it. On eyes is my beloved
Revlon Colorstay shadow quad in Neutral Khakis
– khaki on the lid, brown in the crease and along lash lines. I splurged this holiday season and went back to
DiorShow
for my mascara. I had bought
L'Oreal Voluminous
but it dries out quickly, clumps the first week or two, dries out my lashes and just doesn't offer the same OOMPH of
DiorShow
. Anyhoo, that with a
Shu Eumura lash curler
is my fave combo by far. On lips is
Clinique Almost Lipstick in Black Honey
.
As for the hair… well yesterday I decided to straighten it with my
Croc wet-to-dry flat iron
. I thought it looked flat but got lots of compliments, even from my shy male new colleague. Hrm… well today it is "second day hair" so I just took big sections and twirled them around my
Vidal Sasson curling iron for fine hair
and then held it with a couple blasts of
Elnett
. It looked fabulous, but then I decided to try on my new hat from
LOFT
and really jacked it up (while realizing I only should wear hats when it is super duper cold out – I am not a floppy beanie sort of gal).
So anyway… my frugal tip for the day:
TAKE IT BACK!
I worked a decade in retail, and I hated hated HATED returns. Man, you would get people who would pull the DREGS out of their closet, bring it to the store and we had to accept it (one reason why return policies in stores have gotten far more tough – that and shoplifting and returning…).
However, I do returns. If I buy something and it breaks or doesn't turn out well after following the laundry directions to the letter, I return it. If I get buyer's remorse, I return it. And if I decide to clean out my closet during my holiday staycation and I find a pair of chinos and two sweaters I ordered from LOFT this past Spring with the tags still on and also find the shipping receipt… I return it. And I did return it and ended up with enough store credit to get myself a lovely berry-colored cable knit scarf, a matching beanie, and the sweater I am wearing today.
I also went through my closet and found a bunch of stuff I could return to Nordstrom – shoes I haven't worn, dresses with tags still on them, makeup still in the packaging. Things I bought over the year in an attempt to feel better with retail therapy. Luckily with Nordstrom, there isn't a time limit so these returns go straight back into my bank account. I received two items as gifts that I did NOT like and didn't open so I returned to Sephora for a lovely store credit. I also found a top I got at Old Navy that I didn't like – it had been less than 45 days and I took it back to the store for a refund back on my card.
"But it was only ten bucks!"
"I feel like a jerk"
"It's my fault for buying it in the first place"
"What a PITA to go back to the store"
"Ugh, I don't want to pay $5.95 to send it back"
The thing is, ten bucks is ten bucks. If you saw a kickass cashmere sweater and it was $10 off, wouldn't you be happy? Then return that silly top you picked up at Old Navy/Forever 21/H&M/Wal-mart that doesn't fit right, looks a bit cheap but was only $10. And use that $10 toward something really of value.
Yes, salespeople at stores HATE returns because it affects their bonuses, their sales, their standing with the company, yadda yadda. But a good salesperson doesn't roll her eyes at you and get nasty when you come to the counter – a good salesperson will be sweet as pie and figure out a way to make that return an exchange (or at least convince you to return and shop another time). And yes, it may cost to return and online purchase, but it's better to lose $5.95 for shipping than lose $12.95 on a stupid top you will maybe wear once.
FYI:
USPS
will do free pickups right to your front door. You can
register carrier pickups online
. This makes many returns much easier to swallow – no need to stand in line at the post office or drag that box to your place of employment!