This article may contain affiliate links; if you click on a shopping link and make a purchase I may receive a commission. As an Amazon Associate, I earn from qualifying purchases. 
It is amazing how a simple look or trend will start and then explode all over the place. Even after the runways and glossy mags are showing it, we American women cling to it with all our might. The bootcut jean stayed way past its prime, as did the empire waist, the peasant top (well the peasant top is still in full effect at many retailers). People just would NOT relinquish their leggings (so much so they made a comeback recently and have now transformed into jeggings). The ballet flat keeps gaining strength, and the belted look has completely exploded.
When a trend like this lasts longer than its effect on the fashion industry, it is for two reasons: either it is actually flattering to a real woman's figure, or it's a cheap way to look stylish or trendy.
Bootcut jeans came out and the majority of women across the globe squealed in glee. After decades of crazy costume-esque flares, zipper-ankled skinny jeans and all sorts of weird novelty jeans, it was so refreshing to have a style that balanced hips and tummies, could be worn with most any footwear, yet still looked hip.
Trends like the empire waist and the peasant top maintain popularity even though the designers have moved on to greener pastures and silhouettes because they are forgiving to a woman's body. An adjusted waist hides a tummy, wide hips, a full bottom. It is possible to wear a "trendy" top or dress and not invest in a wardrobe of Spanx.
So the belting craze… is it past its prime, and if so, does it really matter?
I have been a fan of the wide elasticized belt for a while now. Adding a belt under the bust will take a simple knit sundress and make it look polished and a bit more structured. I can have a dress perfect for sandals and a ponytail for a trip to the Sunday farmer's market, but then with a belt and a pair of pumps, the same dress can be work-appropriate (or even play appropriate!). A wide elasticized hits at the most narrow part of most women, accentuating an hourglass figure, but doesn't cut into the softness of a woman's body, as a solid leather belt may do. I love this trend for curvy women, but warn all about belt binging. You don't want to be The Belt Woman, and this look is extremely memorable. Keep it to once a week so that you don't need to be admitted to Belt Rehab.
A similar concept is the wrap belt. Sal at Already Pretty is the queen of the wrap belt and shows how it can completely transform the silhouette of a dress and create a lovely feminine silhouette. Budgetnista also shows how a wider wrap belt can really change the look of a dress.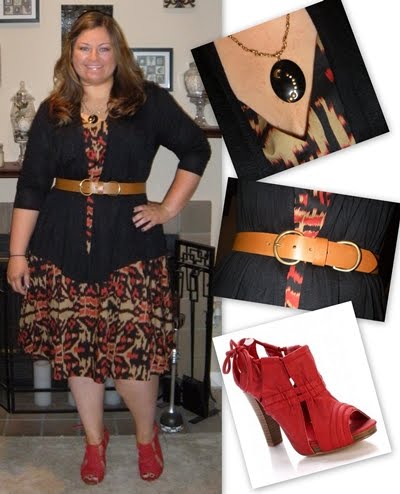 A classic leather belt can be a great choice too, depending on the width and your figure. Look for contoured belts (ones that are cut on a curve, and not like a single strip of material), and don't go so wide that it will cut into your curves. Wearing such a belt slightly above or below your natural waist will usually make this look be more flattering. Kimberly at Fab Finds Under $50 shows how a classic belt can create a really cohesive look with a cardigan and dress.
The past year has been about the narrow belt. It is seen adding texture to a simple sheath, or cinching a classic cardigan. I really like this look because it feminizes very straight and basic silhouettes, and adds interest and texture to simple garments. However every time I have tried it, unlike the cute bloggers above, I found it to be a style failure.
I started checking out images online, and women on the streets who wore this skinny-belt trend. It HAD to be successful on other women for it to be so popular for so long. It seems that the majority of women who really rock this look are those who have athletic, lean, or pear shapes. The belt either creates the look of an hourglass shape, or sits nicely on the waist before the curve of hips. When I have seen it on curvier women or women who carry weight in their tummies, it often looks more… forced. I also see a lot of curvier women wear the skinny belt up high (a la wide elasticized belt) which always looks as though the belt got hiked up on accident.
It didn't seem right to me, a trend that is as strongly followed as the skinny belt HAS to have a more universal appeal.
And then one day one of my coworkers came in the office wearing a skinny belt and she looked fantastic. She isn't skinny, she isn't athletic in build, she isn't a pear. She was the first woman with such a figure who really rocked this skinny belt trend. I realized it's not about the belt, but what you pair with the belt. The curvier your figure, the softer and more feminine the garments need to be.
If you have a straight or pear figure, a skinny belt at the waist can add femininity, but on a softer figure, it can actually hide or distort your curves. My coworker had cinched her skinny belt slightly higher than her natural waist, over a fit-and-flare cotton sundress and a very lightweight cotton cardigan. The belt held the cardigan slightly closed but had it flare out at the hips, creating an hourglass shape down the front of her torso; this whittled while elongating her midsection.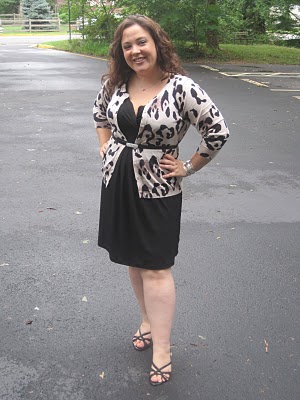 My first attempt at a skinny belt!
So I decided to try the skinny belt trend myself, to see what all the hype was about. I had a black matte jersey dress with a surplice neckline that was not appropriate on its own for the office, but would have been great with a cardigan. A cardigan alone looked a bit too much like "I am covering up a dress with a cardigan," and the addition of a belt would be just the thing to pull it all together into a proper ensemble. I had a skinny black snakeskin belt with pave belt that I bought at Express a decade ago. I placed the belt a hair above my natural waist, didn't cinch too tight, adjusted the cardigan so it created that hourglass shape down the front… and I finally understood why the belt trend has caught on for so darn long!
So, does one belt or not belt? I always say don't be a slave to the trends – if you aren't a belt person, then don't buy a belt. Style doesn't come from what you buy, but how you wear what you own. However if you do like this look, play with fabrics and silhouettes of the base garments, and play with the actual location of the belt. I do believe this trend is so popular because it is so easy and so wearable once you find the right combination. Have fun cinching it up!